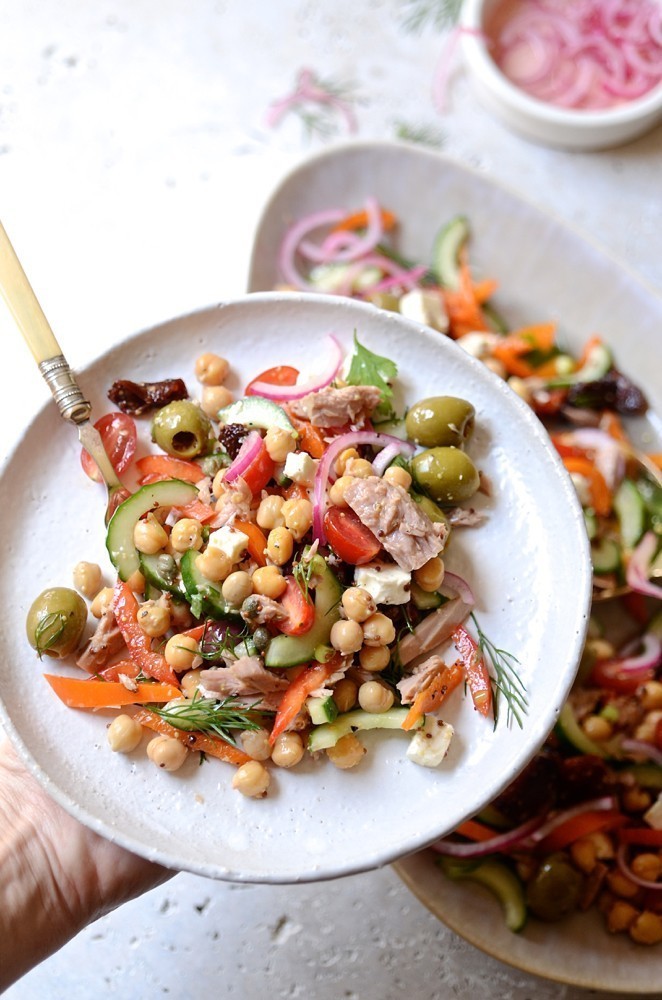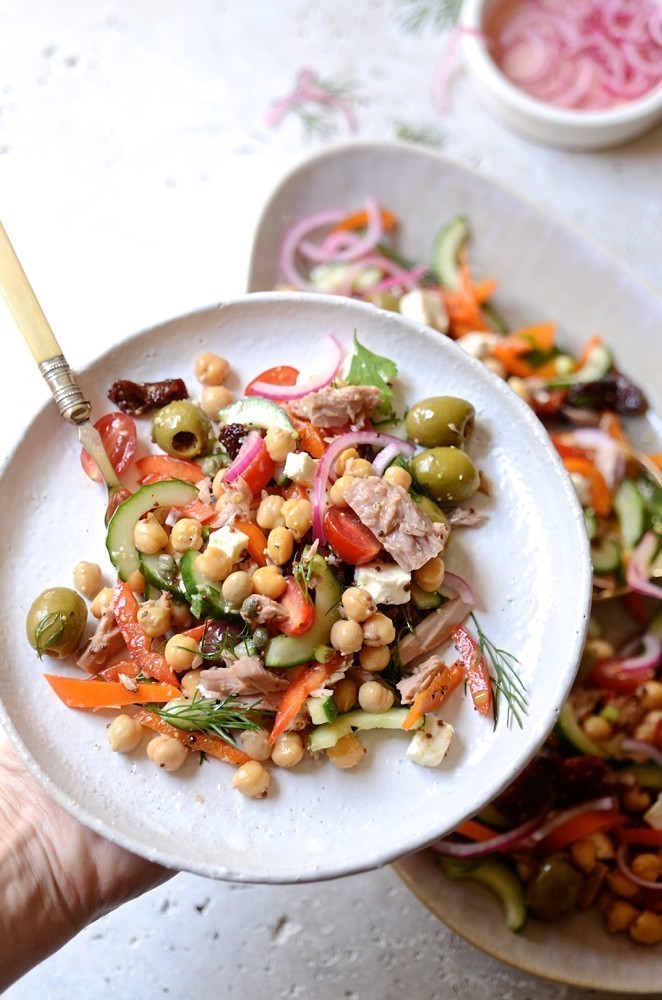 To ease us into January we're rustling up a mouthwatering Mediterranean tuna salad that supports good health and takes virtually no time to prepare. Over the next couple of weeks we'll also be taking a look at Food trends – what the world is eating and why? Are these trends flighty food diversions or will they become regular additions to our feasting tables? Do they influence the food choices we make and more importantly, how do we go about incorporating them into practical everyday cooking?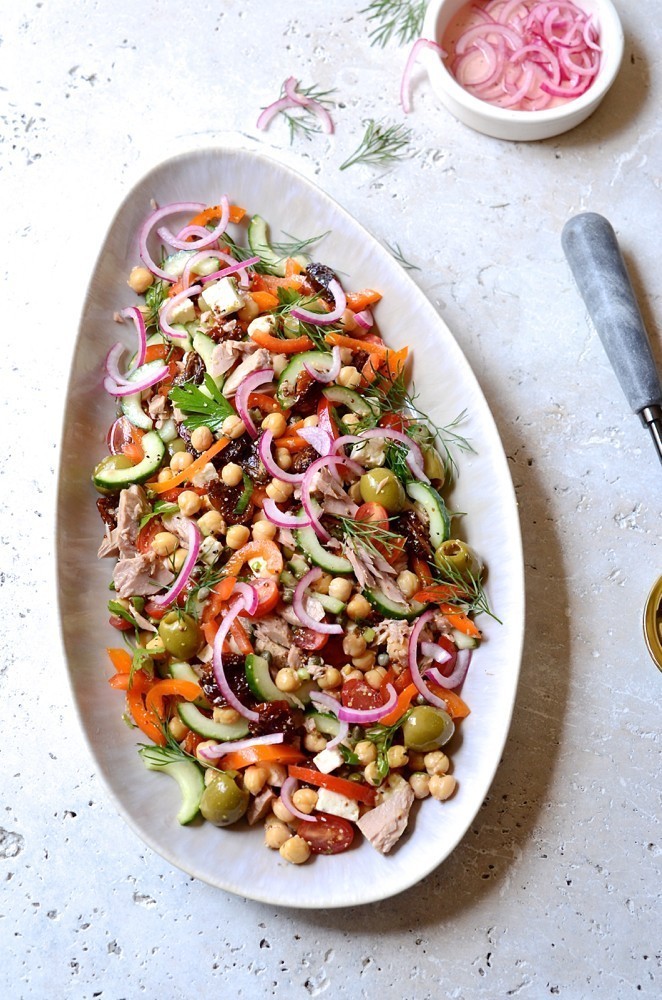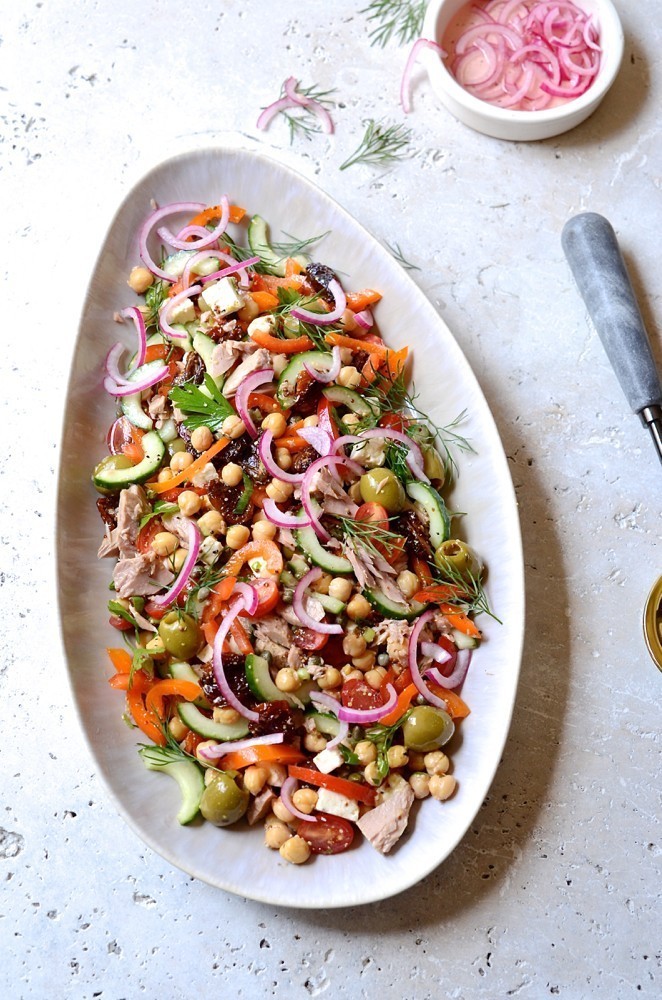 Dominating 2017's forecast are vegetables and I for one couldn't be happier. We're all familiar with the philosophy of nose to tail eating. The same concept now extends to the veggie patch with creative cooking techniques that utilise the lot, from earthy roots right up to the leafy tips. With the war on waste raging on, this concept makes use of what would usually be headed for the compost pit. The good news is cauliflower stays keeping company with carrots, sprouts, squash and kale. That said, I'm rooting for fennel and beets.
Homemade everything is in, from pickles to chutneys, nut milks, labneh and vegetable yoghurts. Herbaceous and floral spice notes are being used to elevate  flavour profiles in both savoury and sweet dishes. Smoking and open flame cooking has gained a considerable following abroad, although braai-loving South Africans hardly need motivation on this front!
According to the Huffington Post virtuous buddha bowls and grain bowls are still doing the rounds. Bowl food incorporates heaps of nutrient dense ingredients and are packed to the brim with colour, texture and hipster-style novelties. Super-yum and low fuss cooking. Thumbs up.
Condè Nast Traveller touts fried chicken as king of the roost. Crispy deep fried chicken gets the sandwich treatment for breakfast with OTT savoury waffles putting the squeeze on conventional chicken burger buns. Also getting in on the action are healthy snacks, insects (pass), gut healthy foods and kombucha (a big yes from me), empanadas and Portuguese food. Hardly a bland line-up, right? Guaranteed, there'll be something to strike palatable pleasure for everyone.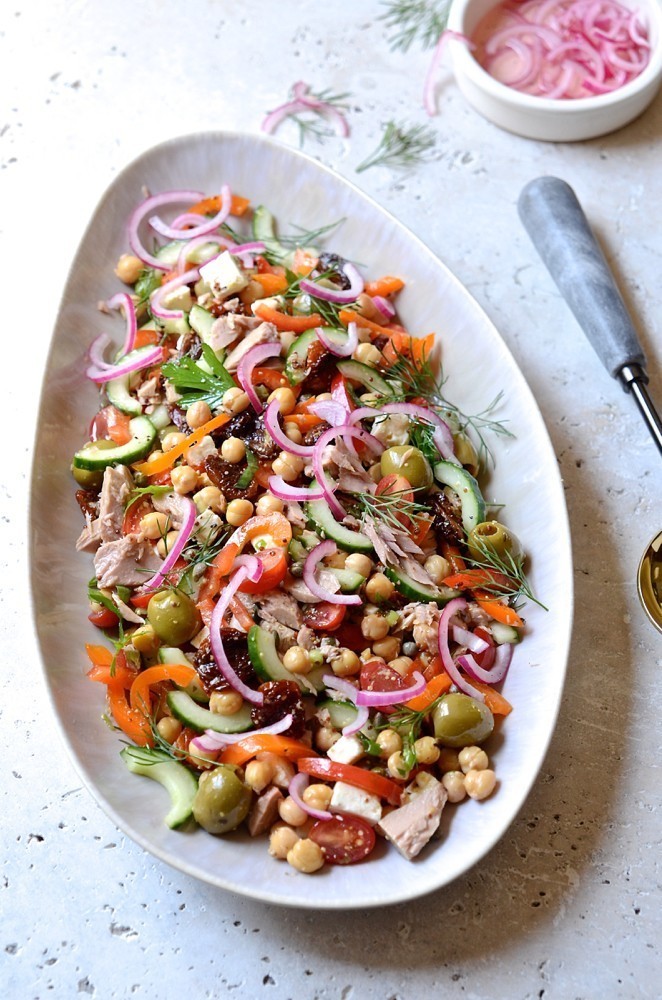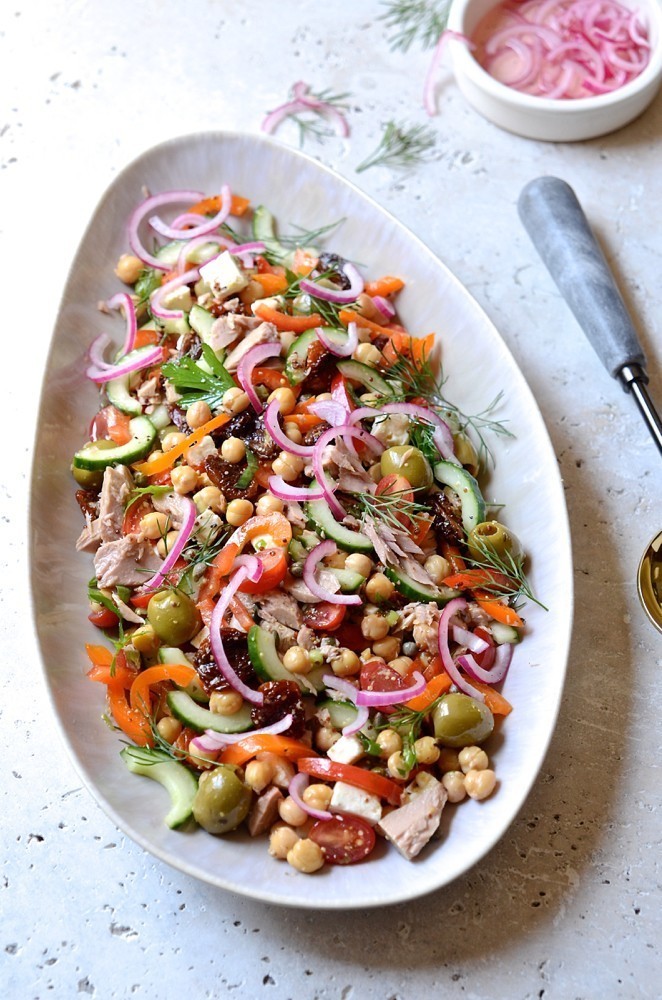 Each year sees the rise and fall of dietary trends. Although the Mediterranean diet is hardly revolutionary, it's definitely worth noting that statistically it's still regarded as one of the world's healthiest. While the words diet and regime imply restriction, the Mediterranean diet isn't focused on rigidity. No measuring or deprivation. Guidelines are – lavish seasonal vegetables and fruit, moderate amounts of seafood and poultry, less meat, plenty of nuts and of course, the best quality Extra virgin olive oil – cold pressed with grassy green, peppery notes. Couldn't be easier.
This Mediterranean tuna salad is my post holiday blues antidote. It's conveniently made with store cupboard basics cleverly supplemented with a splurge of fresh produce. Plus there's no cooking involved, just you and the chopping board. It tastes like summer in the Med. Chunks of omega-rich tuna mingle happily with olives, sweet peppers, capers and a quick red onion pickle. I'm tucking in here with care-free abandon as I contemplate all that this year has to offer. It promises to be deliciously good.

Mediterranean tuna salad
2 tins (170g each) tuna chunks, in vegetable oil, drained
400g tin chickpeas, rinsed and drained
1 of each, red and orange sweet bell peppers, sliced
1 cup (200g) rosa or cherry tomatoes, halved
2 Mediterranean cucumbers or 1/2 English cucumber, deseeded and sliced
3 scallions (spring onions), thinly sliced
1 heaping tablespoon capers, rinsed
100g (1/2 cup) feta, crumbled
1/3 cup olives, pitted
a generous handful semi-sundried tomatoes
a handful of fresh dill and flat leaf parsley, roughly chopped
Quick red onion pickle
1 red onion, thinly sliced into half moons
1/3 cup apple cider vinegar
1/2 teaspoon sea salt flakes
2 teaspoons castor sugar
grinding of black pepper
Dressing
2 tablespoons lemon juice
3 tablespoons extra virgin olive oil
1 teaspoon (5ml) honey
2 teaspoons (10ml) wholegrain mustard
salt and pepper, to taste
Start by making the pickle. Combine the vinegar, salt, sugar and pepper in a non-metallic bowl. Once the sugar has dissolved, add the onions and set aside for about 30 minutes.
For the salad, place all the ingredients except the tuna, in a large mixing bowl.
To make the dressing, whisk all the ingredients together until the oil and lemon juice emulsify.
Pour the dressing over the salad and toss together by hand. Lastly, add the tuna chunks and turn over lightly, trying to keep the tuna from breaking up too much.
Transfer to a serving platter.
Drain the vinegar off the onions and scatter over the salad. Serve immediately.
For more on salads – Quinoa and chard salad with halloumi cheese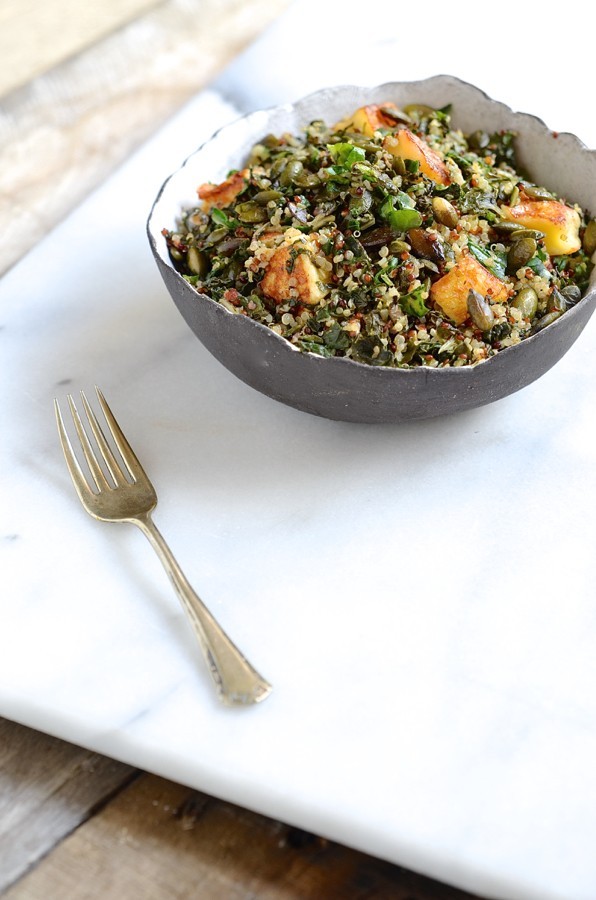 Chicken and quinoa salad with honey crunch apples, feta and pecans.