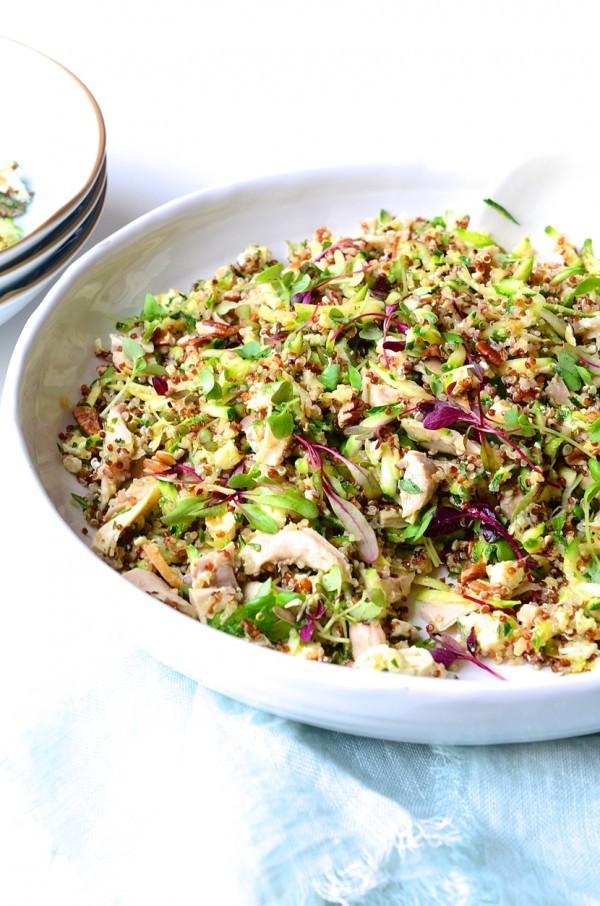 Today we're diving headlong into the salad bowl. This chicken quinoa salad is a revelation. It's super nutritious and packed with crisp fruit and vegetables. It sounds a little unusual, but the flavours are fresh and vibrant. I love adding nuts and seeds to salads. It boosts your intake of heart healthy oils and protein and transforms the flavour of any salad. Always buy raw and unsalted nuts. Roast them in a frying pan with just a drop of olive oil and a pinch of sea salt. Roasted nuts have a robust flavour so it's worth including this step.
Apart from cooking the quinoa, there's hardly any work to this salad. If you're pushed for time or are not too keen on the quinoa, substitute with bulgur wheat or couscous. Quinoa however, is a powerhouse of nutrients and protein with a nutty taste. The courgettes are freshly grated and un-cooked. For sweetness I've added my favourite honey crunch apples, which are now in season. They're crisp, slightly tart and the perfect foil to salty feta. (They're available from Woolworths) Dressed with a mild chilli and lemon vinaigrette, I'm sure this salad will soon feature as a regular on your healthy menu too.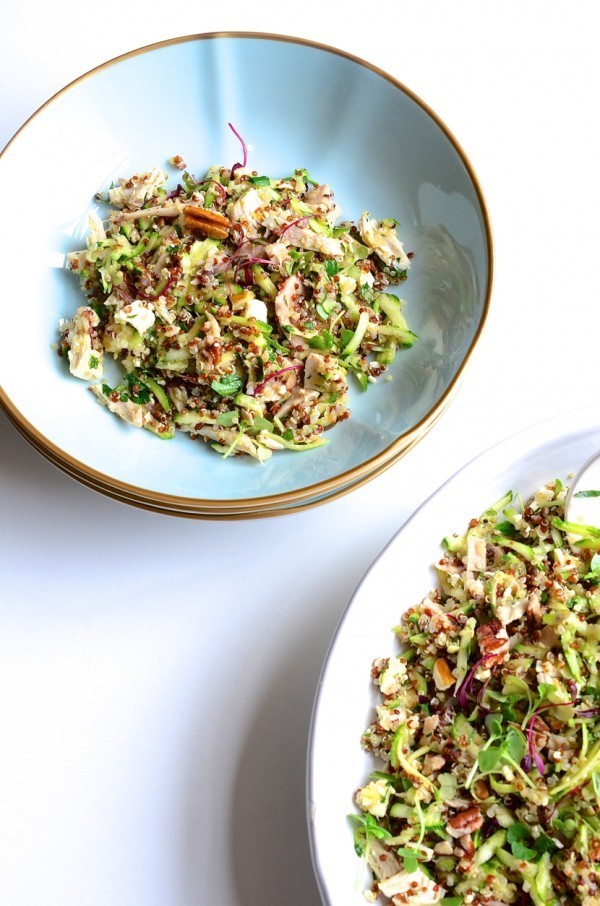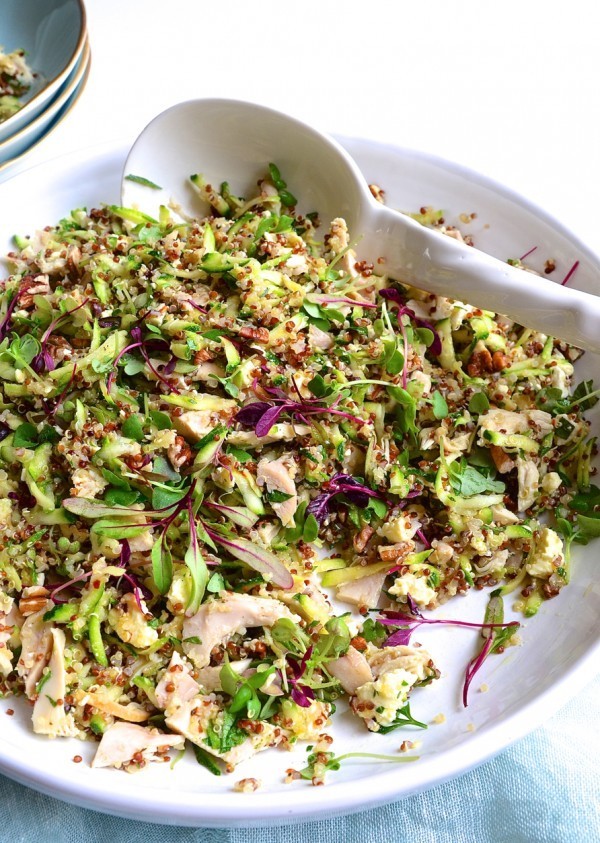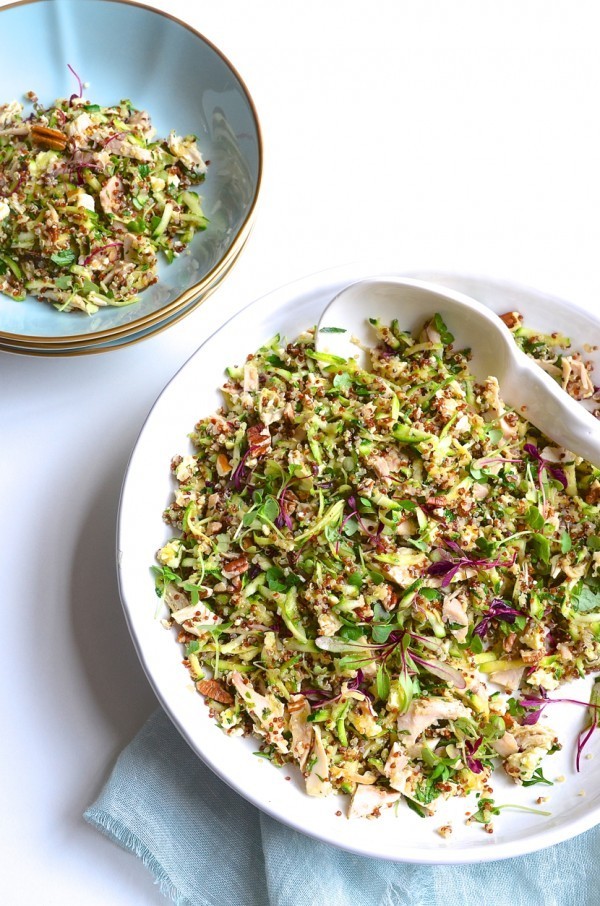 Chicken quinoa salad with honey crunch apples, feta and pecans
Serves 4-6
1/3 cup red quinoa
1/3 cup regular white quinoa
3-4 medium sized courgettes, grated (large grate)
2 cups roasted chicken, cut into bite sized chunks (Woolworths free range roasted chicken- not lemon and herb or barbecue)
1 honey crunch apple, cut into small cubes or grated
100g Fairview feta cheese, roughly crumbled
1/4 cup toasted pecan nuts, plus extra to serve
micro herbs and baby rocket to finish
Dressing
3 tablespoons extra virgin olive oil
2-3 tablespoons lemon juice
zest of half a lemon
pinch of castor sugar
1/4 teaspoon dried red chilli flakes
a generous handful of flat leaf parsley and mint, finely chopped
salt and pepper, to taste
Rinse the quinoa in cold water and drain. Place in a saucepan, cover with water and add a pinch of salt. Cook for about 20-25 minutes until tender. Drain off any excess water. I usually spread the quinoa out on a tray or board to air-dry for about half an hour. This will prevent the salad from becoming watery.
To a large bowl, add the cooled quinoa, grated courgettes, chicken, apple, feta and pecan nuts. Place all the dressing ingredients into a jam jar and shake it up. Pour the dressing over the salad and toss together lightly. Check if the salad needs a touch more salt or lemon juice. Remember, courgettes have quite a neutral flavour and thus need a bit of punch to bring out the taste.
Transfer the salad to a large serving bowl, scatter with a few extra nuts and the micro herbs. Serve at room temperature, not fridge cold. Pack any leftovers for lunch the next day.
Note All posts are done independently and without brand sponsorship. I include specific brand names or labels only when I love, use or believe that the product will best compliment the dish.