Fresh apple doughnuts with tahini roasted nut crumble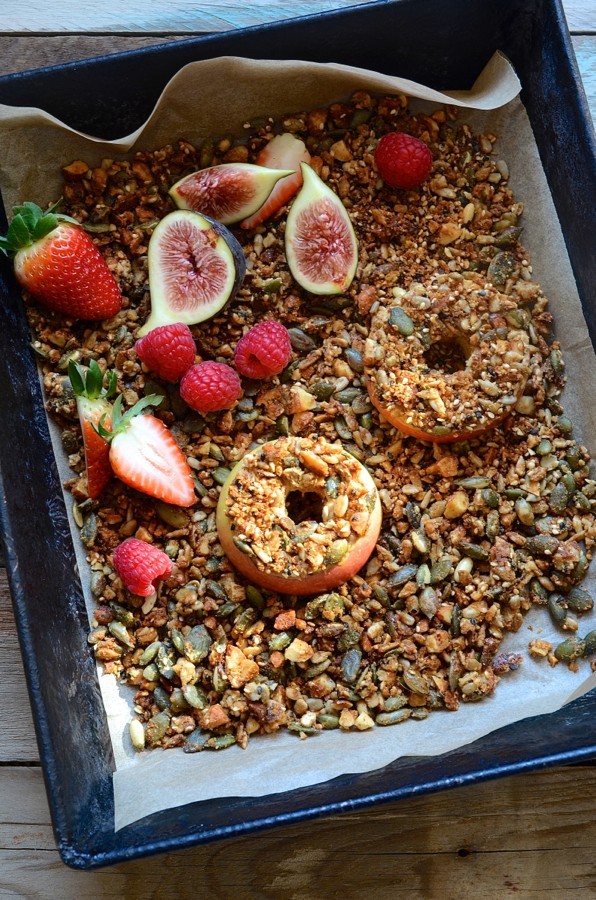 Over the next 3 weeks, we're talking doughnuts, exploring the endless varieties on offer and creating some mouthwatering alternatives for you to choose from. I'll be taking my cue from Indian restaurants, yes Indian, who considerately present you with curry options ranging from mild to medium or hot. Obviously my doughnuts will not be curried-up (sigh of relief!), but the menu board will read as follows: super healthy and fresh, a middle of the road baked not fried version and then of course, I'll cross over to the dark side and go deep-fried.
Getting us started are these supremely addictive, fresh apple doughnuts, spread with creamy almond nut butter and topped with tahini and honey roasted nut and seed crumble! Is it possible that healthy can taste this good? Once you get started with these tahini and honey roasted nuts, you'll be hooked. In fact, I'd be very surprised if they even make it onto the apple rings! Tahini is currently one of my favourite ingredients to use, either as a salad dressing or mixed into Middle Eastern cakes and tarts. It's incredibly versatile and partners well with savoury or sweet. Mixed with yoghurt, lemon juice and olive oil, it makes a luscious creamy-nut dressing for roast vegetable salads. Back to this doughnut story then. To best describe the taste, imagine it being almost like a crunchy halva apple crumble, but raw, healthy and just about the most exciting thing to hit the breakfast buffet in a while. Serve with fresh seasonal fruit, Greek yoghurt and a drizzle of honey for a relaxed weekend brunch or as a delicious in-between snack to get you through the afternoon lull. I like to use Honey crunch, Fuji or Pink lady apples. They're juicy and sweet with just the right amount of tartness. So here's your three in one fresh apple doughnut packed with guilt-free goodness. Next week we're stepping it up a notch with cinnamon and nutmeg baked doughnuts and a cinnamon chocolate dipping sauce, so check back here later…….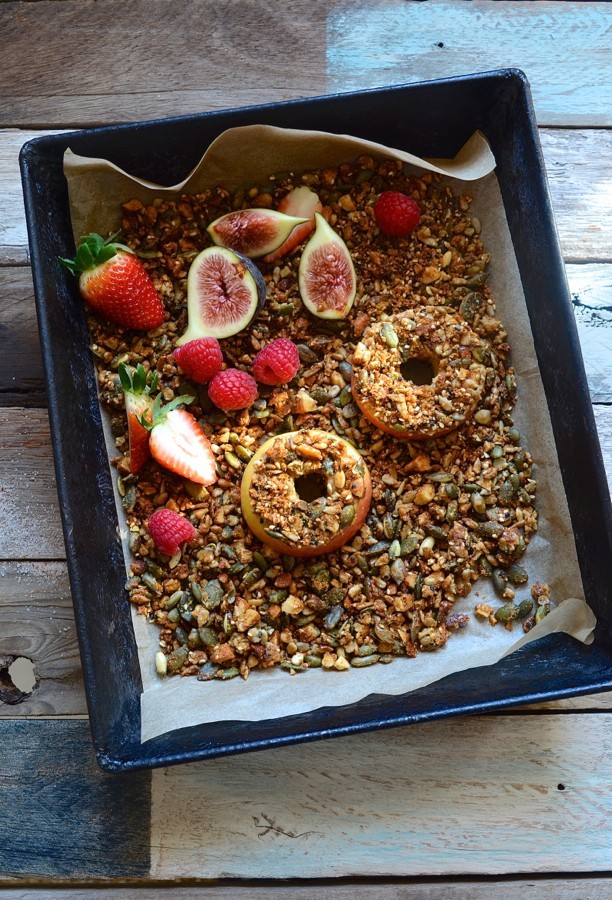 Fresh apple doughnuts & tahini roasted nut crumble
Makes roughly 1 cup
1/3 cup roughly chopped almonds
1/3 cup pumpkin seeds
1/3 cup sunflower seeds
2 tablespoons white sesame seeds
1 tablespoon black sesame seeds
3 tablespoons honey
2 tablespoons tahini
several apples, honey crunch or fuji are really good
nut butter of your choice, almond or peanut butter
Preheat the oven to 170º C. Line a tray  baking tray with parchment paper. In a bowl, mix together all the ingredients, except the apples of course. It's best to do this by hand to ensure the nuts and seeds are well coated. Spread the mixture out onto the tray and roast for 15-20 minutes, turning at 5 minute intervals to prevent catching. Set aside to cool completely and crisp up.
To make the apple doughnuts, core the apples and slice into 1cm rounds. Spread the tops with almond butter and press face down into the tahini nut crumble. Serve with fresh fruit and Greek yoghurt for a supremely delicious and healthy breakfast or snack.