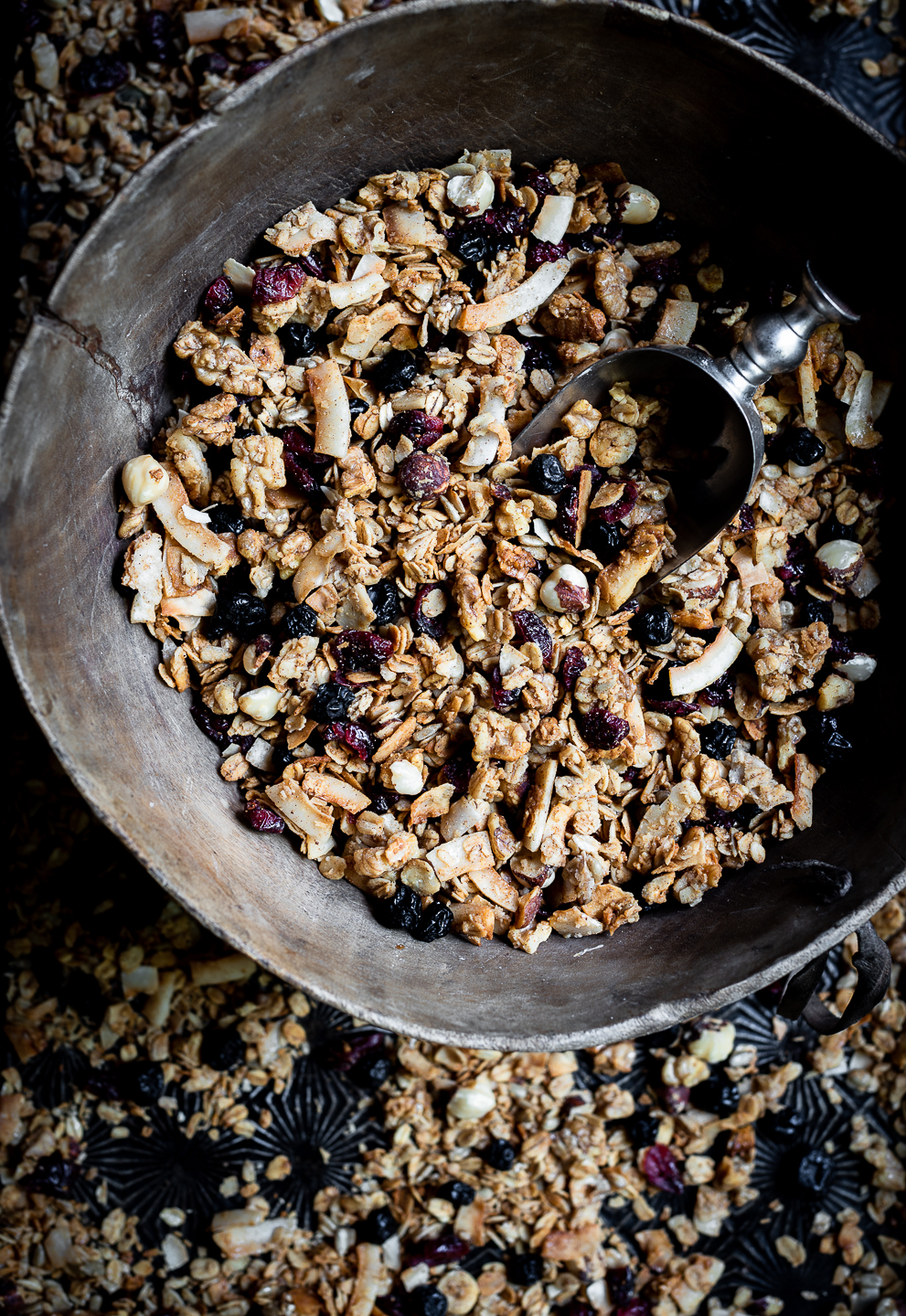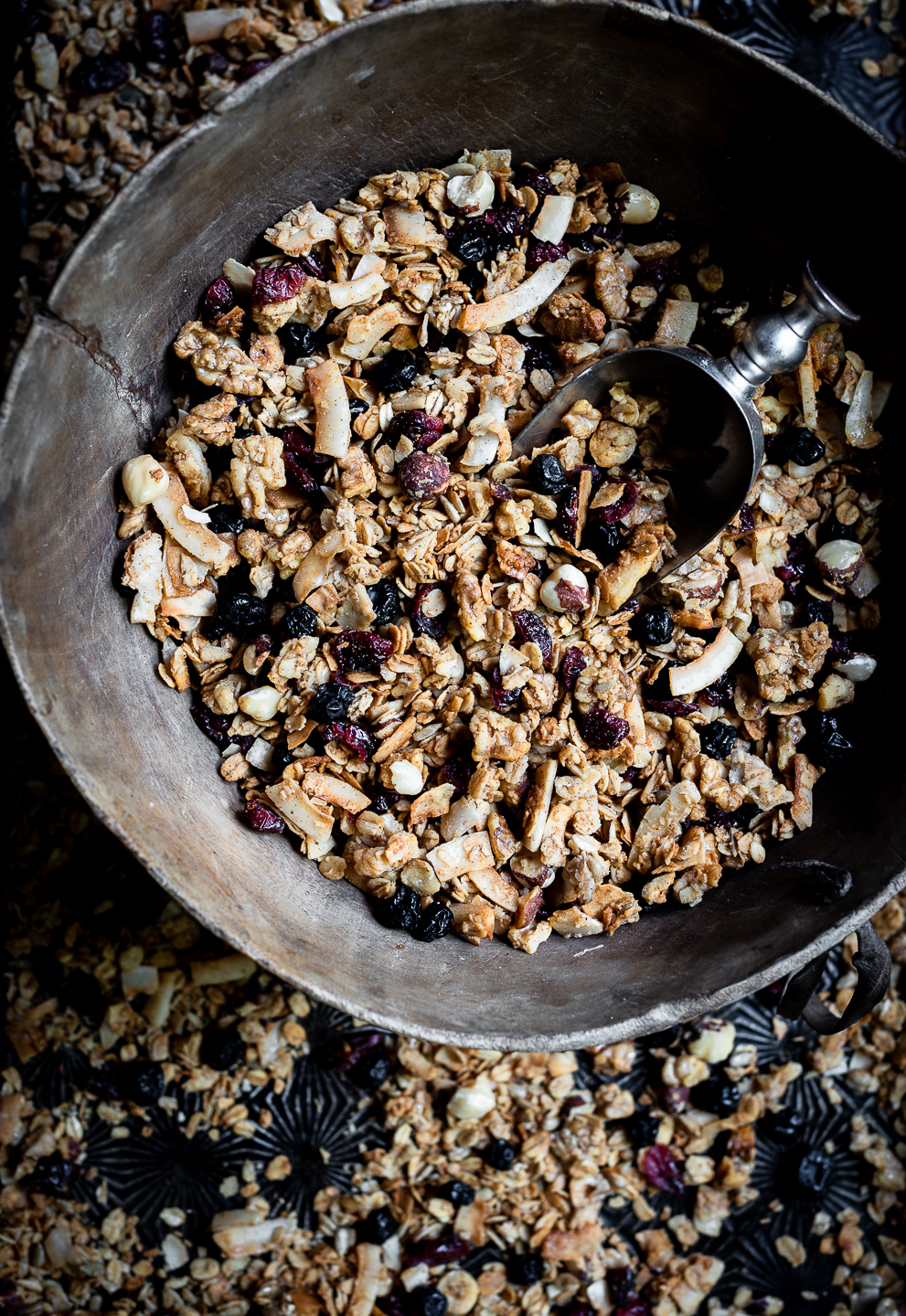 To make weekday breakfast easier and wholesome, I make a large batch of everyday nut and honey granola. Using whole rolled oats with free-handed measures of nuts and dried fruit, makes this recipe versatile and easy. We eat it like a snack, tossed into parfaits or as toppings for breakfast muffins. Often Skylar and I will sit gossiping on the kitchen counter late at night, the granola nestled between us, while I pick out the chewy blueberries and she, the honey coated almonds.
Growing up in the 70's, our standard weekday breakfast was warm Jungle Oats with a splash of cold milk. Often, we'd jackson-pollock the top with golden syrup. While the sweetenings weren't ideal, it was one way of making sure we ate our porridge. My pantry cupboard is never without several types of oats – oat flour, porridge oats and whole rolled. Without oats there'd be no crunchies.There's something so honest and nostalgic about oats. It's versatile, cheap and wholesome. To make this honey granola, you'll need all your favourite nuts, dried fruits, whole rolled oats, coconut and honey.
Side note: Order the dried blueberries from Faithful to Nature, South African's biggest on-line food site. They stock just about everything that you'd want to throw into this granola. Their dried sour cherries are really good. For more granola inspiration this gluten-free almond and puffed rice granolais another breakfast favourite on the Bibbyskitchen blog.
Cook's note: The granola is lovely for breakfast plates. Layer with berry coulis and a splodge of yoghurt. Top with roasted strawberries and a handful of Everyday honey and nut granola.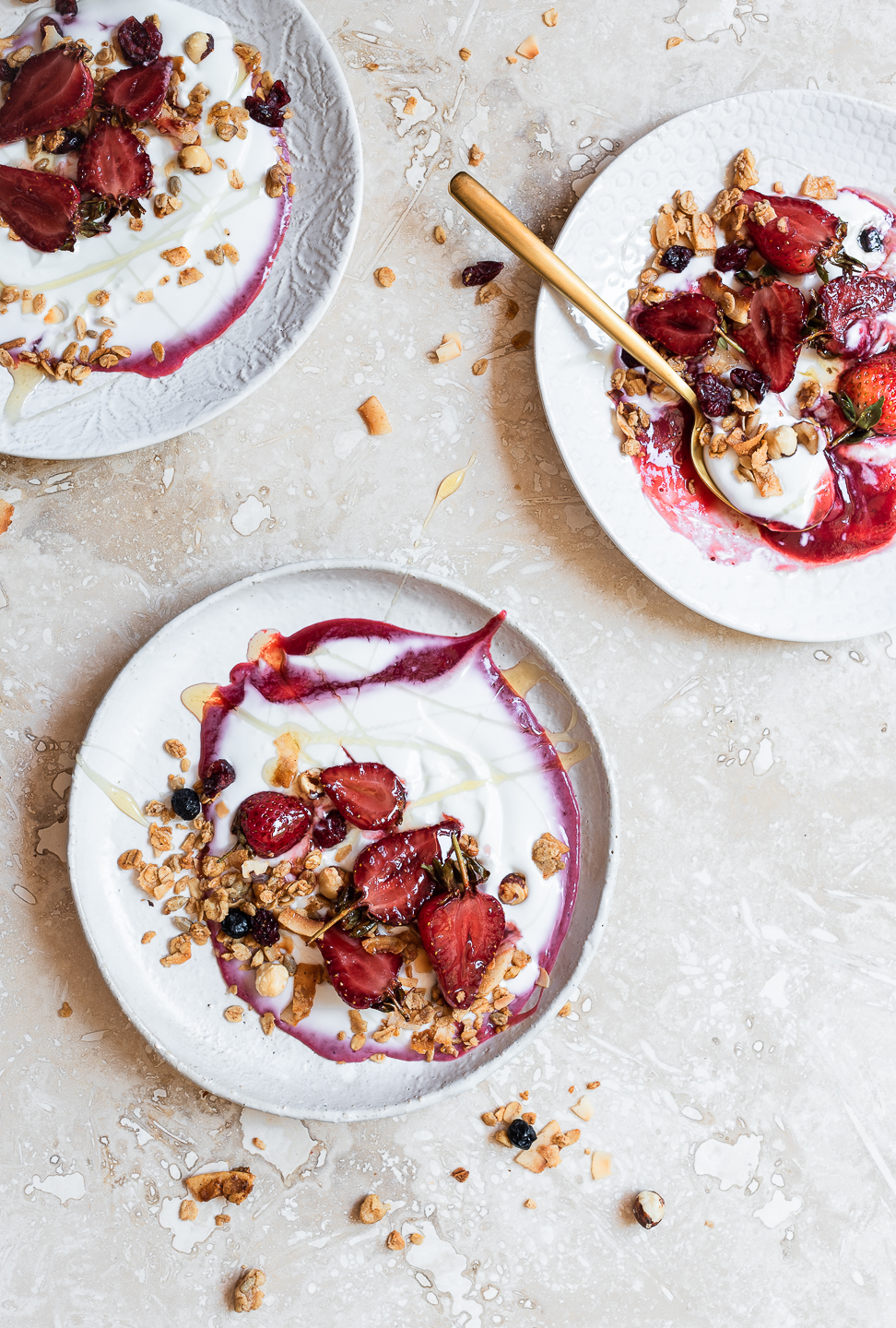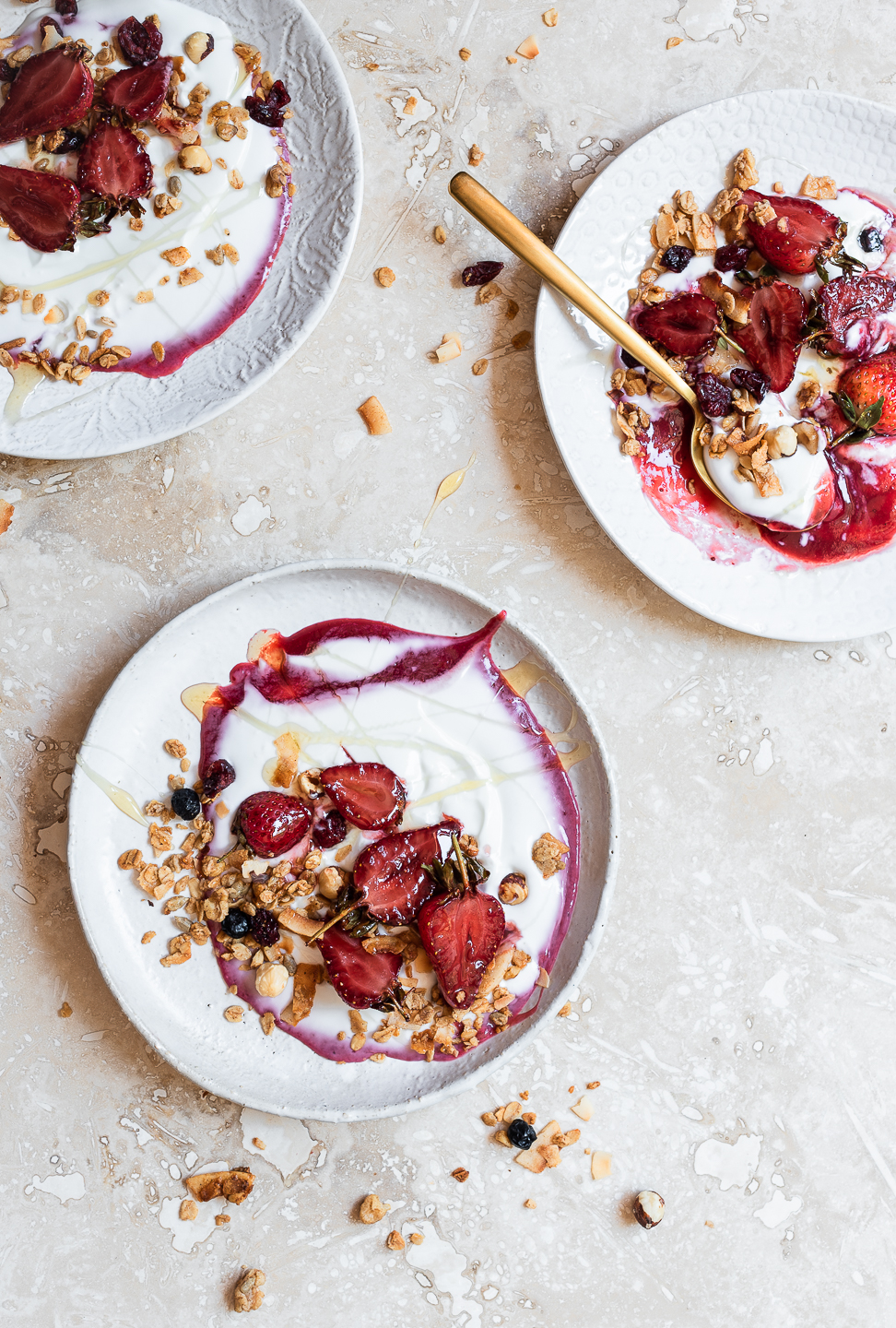 Everyday nut and honey granola
3 cups whole rolled oats
3/4 cup coconut shavings
1/2 desiccated coconut
1 1/4 cup raw almonds
1 cup raw walnuts or hazelnuts, roughly chopped
1/2 cup pumpkin seeds
2/3 cup sunflower seeds
1/4 cup sesame seeds
2 teaspoons ground cinnamon
pinch salt
1/4 cup coconut oil
3 tablespoons water
200ml (3/4 cup plus 2 tablespoons) honey
1 teaspoon vanilla extract
1 1/2 cups dried fruit (cranberries, blueberries, dried cherries and Turkish apricots
Preheat the oven to 170º C. Line a large baking tray with parchment paper or foil and spray with non-stick cooking spray.
Combine the oats, coconut, nuts, seeds, cinnamon and salt in a large bowl.
In a separate jug, heat the coconut oil, water, honey and vanilla. Whisk together to combine.
Pour the warm honey syrup over the oat mixture. Mix thoroughly to coat the oats.
Spread the mixture onto the tray and bake for about 30 minutes, turning over several times during the cooking time.
Remove form the oven and mix in the dried fruit. Cool completely before storing in an airtight container.
More wholesome breakfast ideas:
Creamy Overnight Bircher Muesli
Gluten-free puffed rice honey granola