The best healthy seeded oat crunchies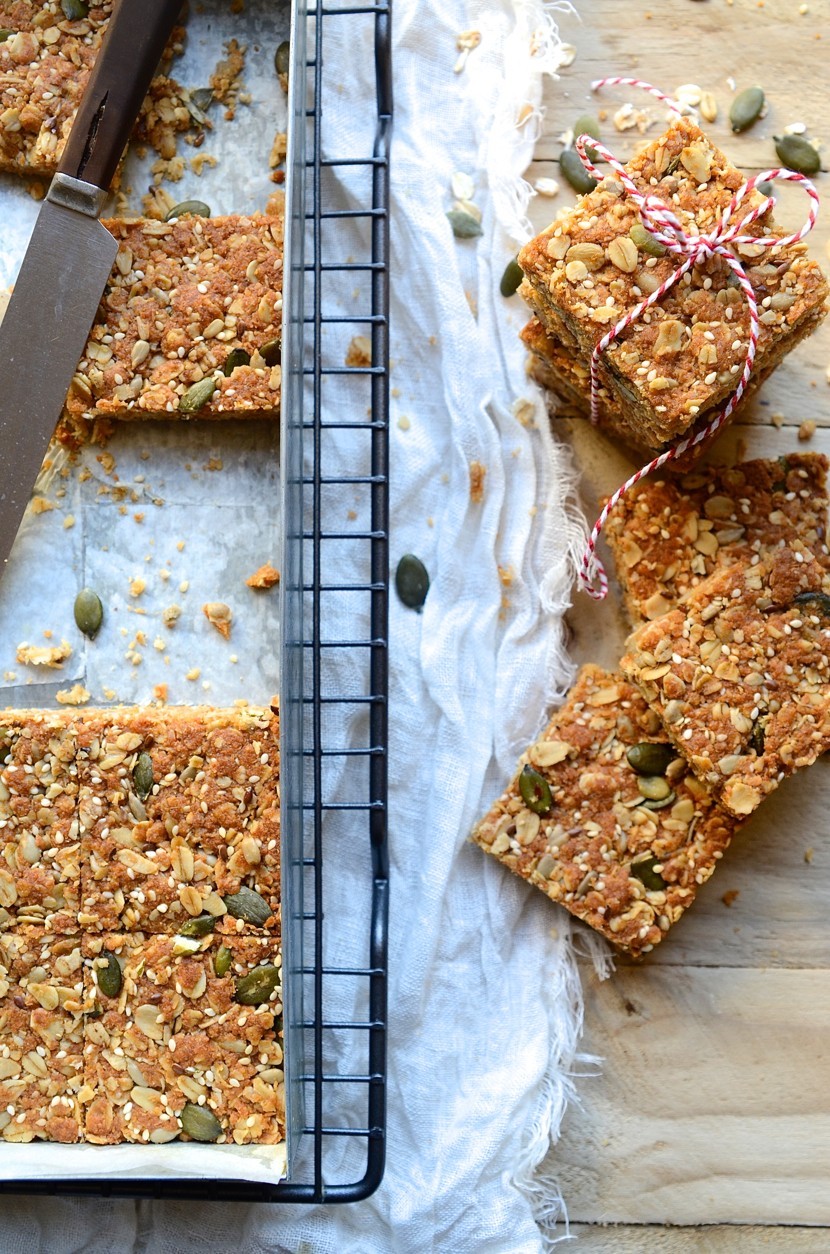 Banish the back to school blues with these super scrumptious, good for you oat crunchies. This all time favourite gets a remake, with wholemeal flour, coconut oils and omega rich seeds. Sweetened with honey and natural cane sugar, these are quite possibly the best healthy seeded oat crunchies I've ever made. A very munchable lunch box treat or breakfast on-the-go.
So, we're thirteen days into 2015. I hope you have your cooking game face on, 'cause there is going to be some super exciting food happening all over this space. That said, New Year's food resolutions are going to be a little sparse around here as they're usually a bit of a set up, so I'm veering left from drastic detox regimes and rigid food group eliminations. I do however, whole-heartedly support sustainable and doable good health foods that don't hint at deprivation but rather, dually provide good fuel and fabulous taste. This is one of those recipes.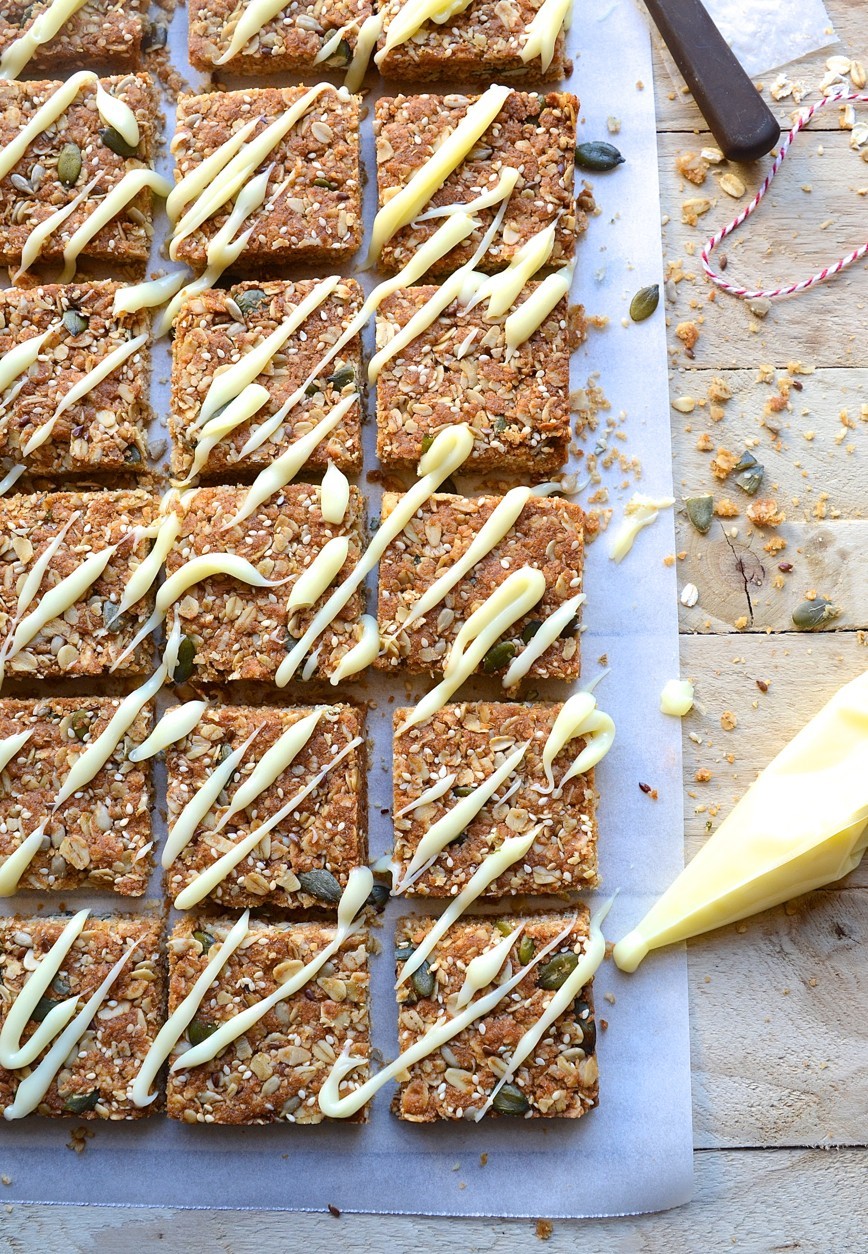 This oat crunchie recipe is like Grandma's best kept secret recipe that was scrawled on faded, old flimsy writing paper, but been hit repeatedly with the healthy stick. Anything with seeds or nuts and I'm there. Wholeome or healthy doesn't need to take on the personality of a plank and with a couple of clever swaps, these morerish oat crunchies are sure to be a new favourite. The chocolate and yoghurt drizzle is totally unnecessary and obviously restricts you from hoisting the super-healthy banner, but it's an optional extra if you need want to win points with the kids.
I've used a combination of both butter and coconut oil which helps to include the nutritional benefits of coconut oil, without sacrificing the richness that only butter can provide. If you prefer, you can use either one or the other. I've replaced the standard golden syrup with honey which really enhances the taste. These oat crunchies are quite simply, yum!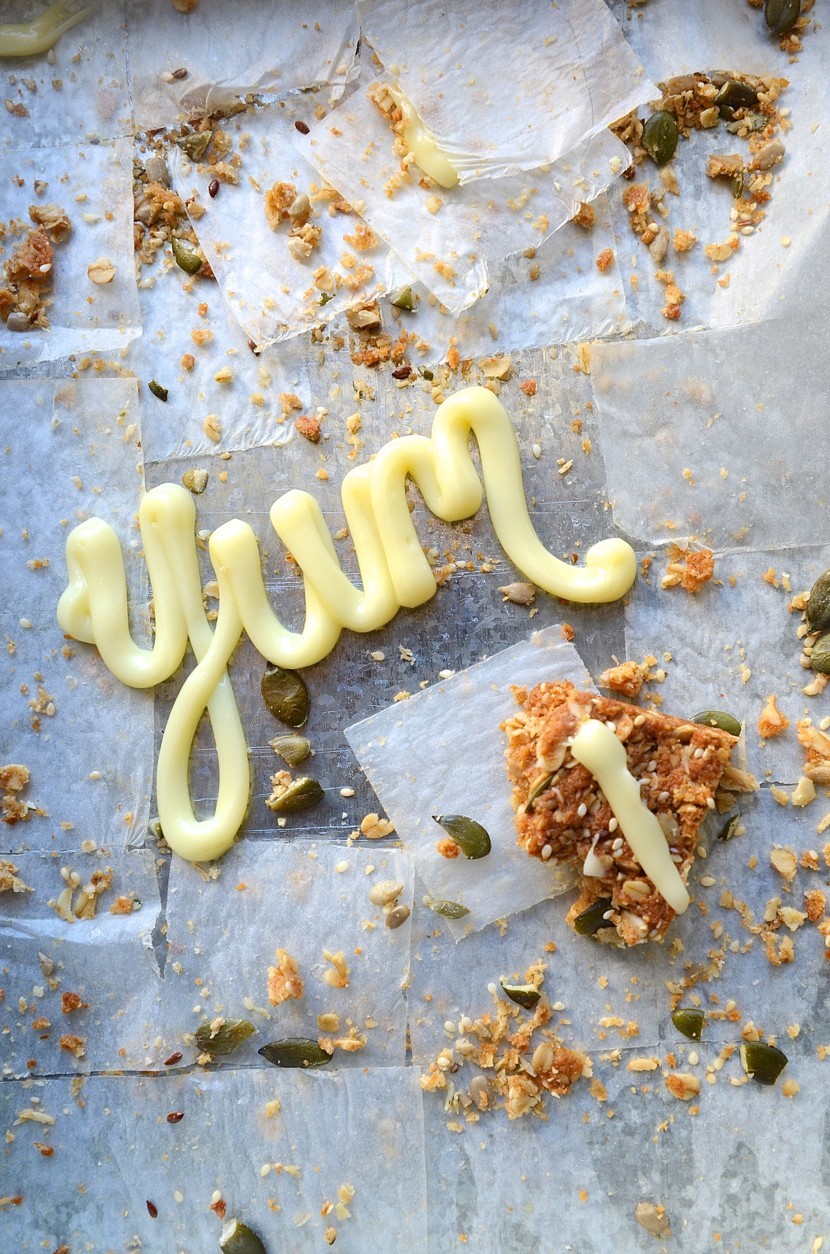 The best healthy seeded oat crunchies
Prep time:
Cook time:
Total time:
The best healthy seeded oat crunchies
80g butter
90g coconut oil
110g natural, brown cane sugar
60ml honey
100g desiccated coconut
200g whole rolled oats
70g wholemeal flour
70g all purpose cake flour or white spelt flour
a pinch of salt
1/4 cup pumpkin seeds
1/4 cup sunflower seeds
2 tablespoons sesame seeds
1/2 teaspoon bicarbonate of soda
40ml cold water
White chocolate and yoghurt drizzle
50g white chocolate
60g Greek yoghurt
Preheat the oven to 170º C. Grease and line a 28 x 18 cm baking tin with parchment paper. Place the butter, coconut oil, sugar and honey in a saucepan. Bring up to the boil, stirring from time to time until the sugar is dissolved. In the meanwhile, combine all the dry ingredients in a mixing bowl. Dissolve the bicarbonate of soda in the cold water and add to the honey butter.
The hot mixture will foam up and froth so watch that it doesn't boil over. Pour the hot liquid into the dry ingredients and mix thoroughly. Press the biscuit mixture firmly into the baking tin and smooth over with the back of a spoon. Bake for 35-40 minutes until golden and cooked through. Set aside to cool for about 5 minutes before cutting into squares. Allow to cool completely in the tin before placing on a wire rack to air.
If you're making the drizzle, heat the chocolate and yoghurt together in the microwave until melted. Drizzle randomly over the cool crunchies.