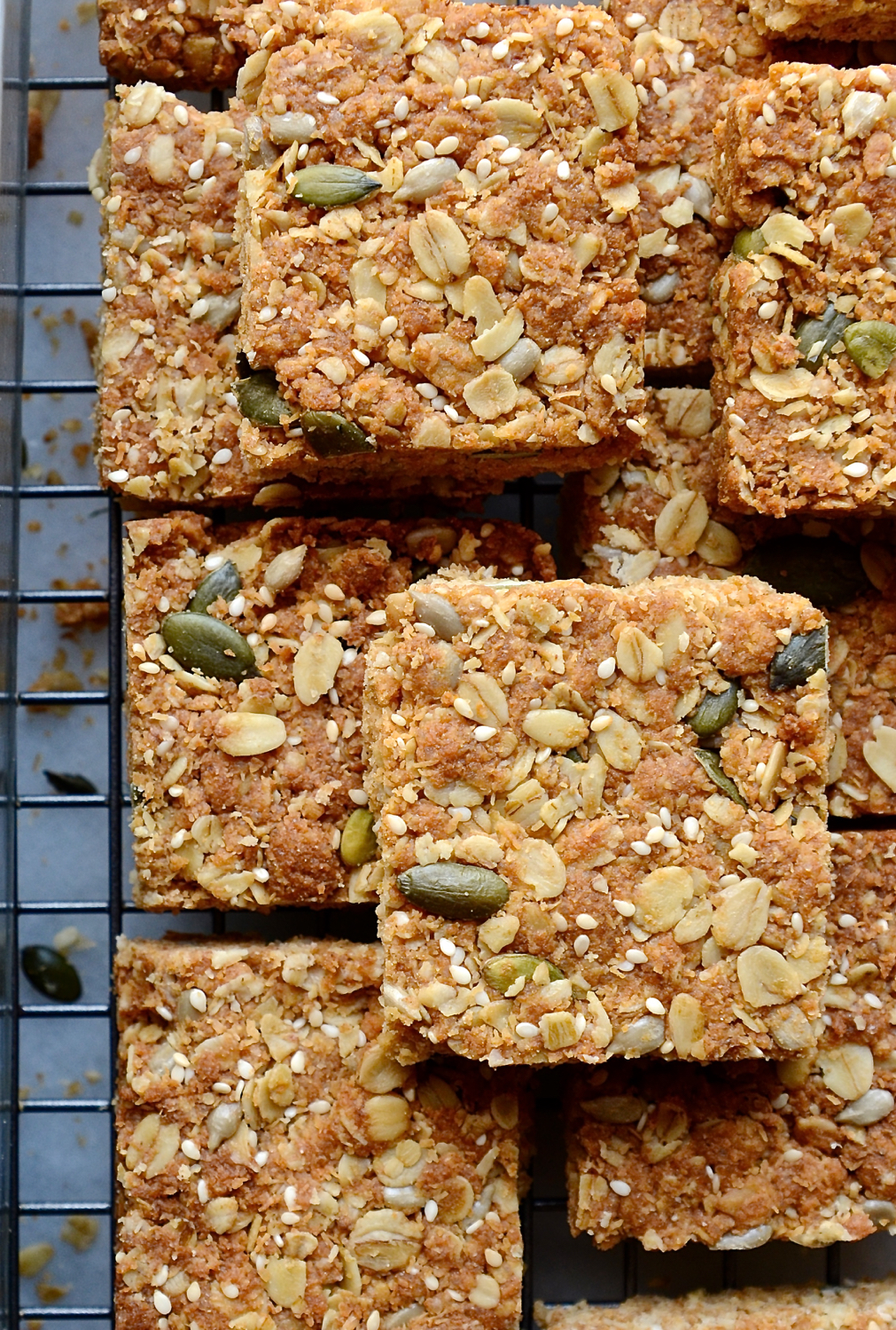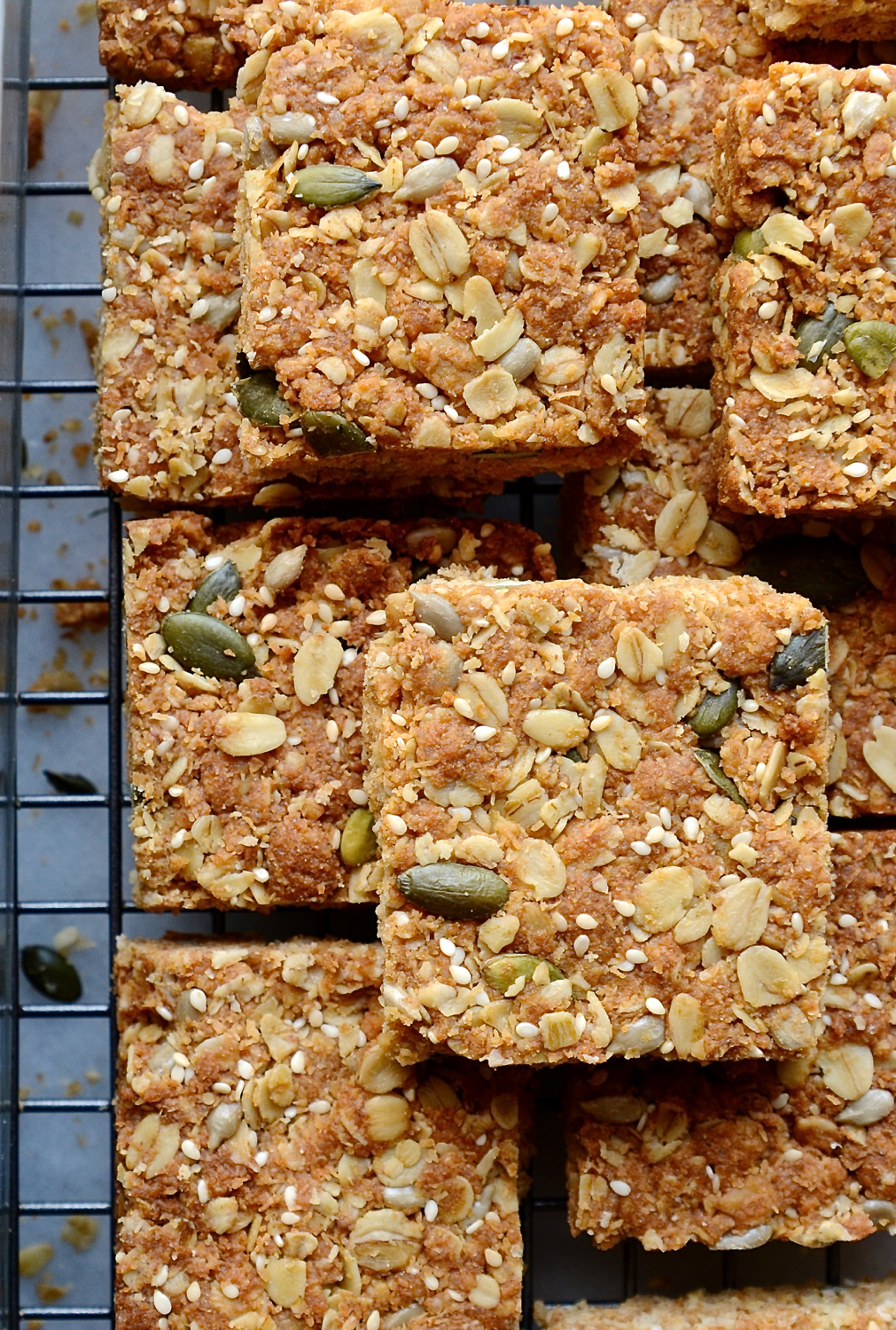 It's back to school this week. Time for packing lunch boxes and meal prepping for the week ahead. I'm mixing up a batch of seeded oat crunchies. They're very oaty and slightly chewy, as you'd expect a good crunchie to be. This South African favourite gets a remake with wholemeal flour, coconut oils and omega-rich seeds. I sweeten the mixture with honey and natural cane sugar. Honestly, they're the best healthy seeded oat crunchies I've ever made.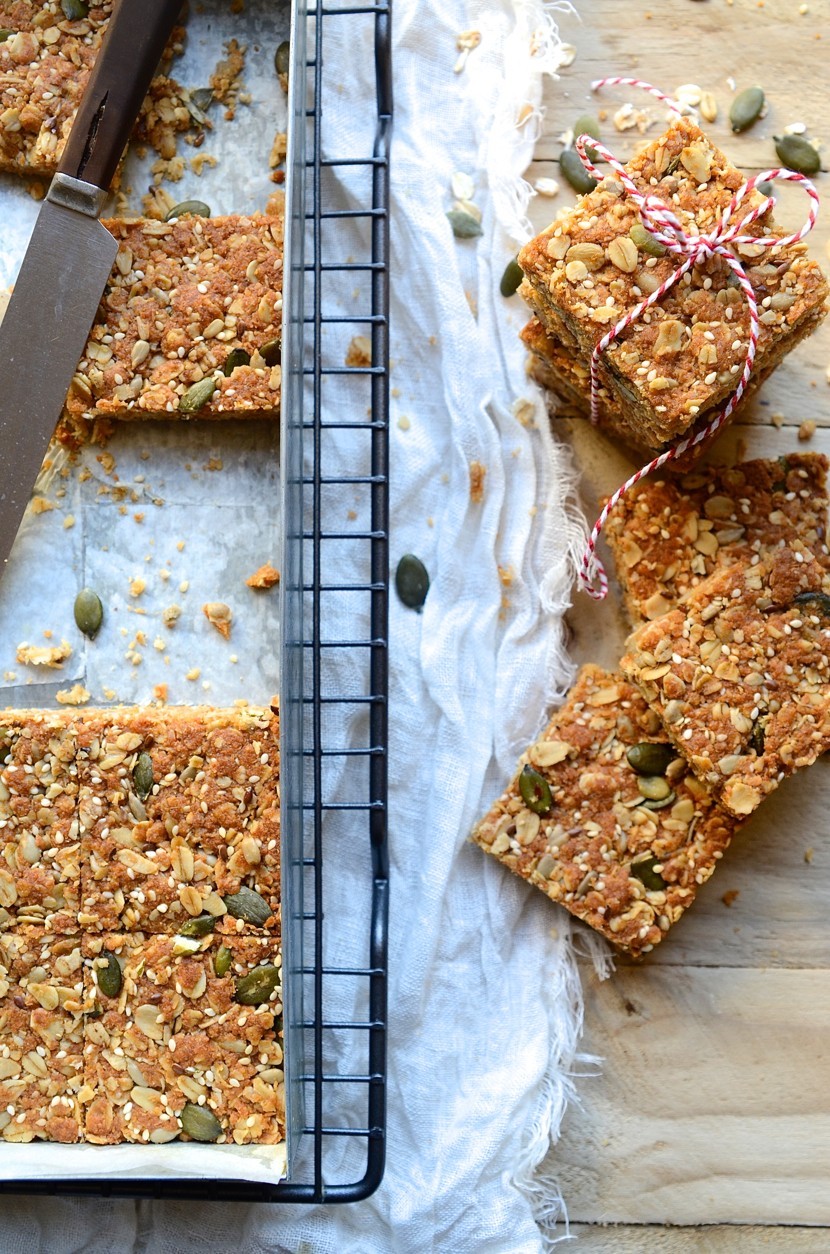 These healthy seeded oat crunchie recipe is like your Granny's secret recipe, but with a few healthier tweaks. The chocolate yoghurt drizzle is obviously unnecessary but for treat days, a really lovely addition. I've used a combination of butter and coconut oil. A 50/50 compromise helps to include the nutritional benefits of coconut oil, without sacrificing the flavour that only butter offers. I've replaced the golden syrup with honey. You could of course use maple syrup too. These oat crunchies are irresistibly good. Do give them a try.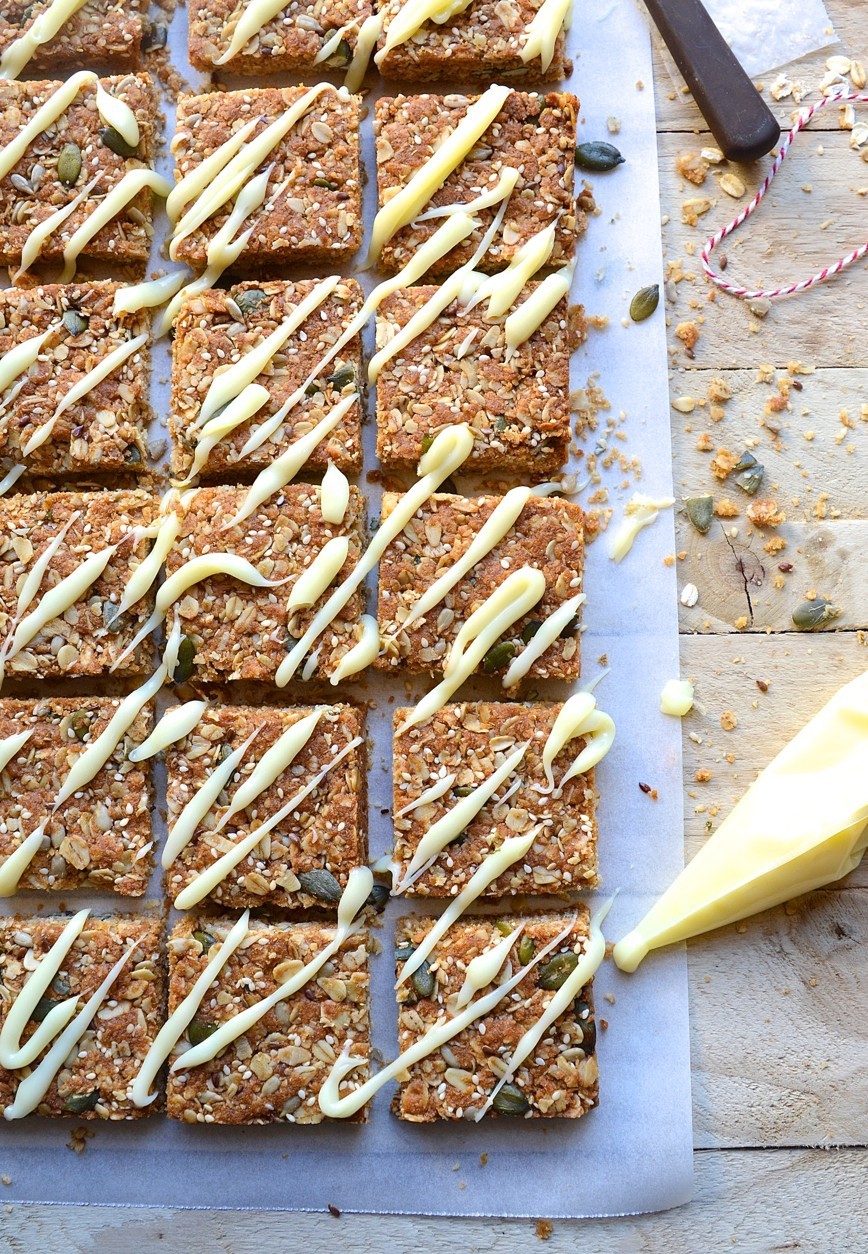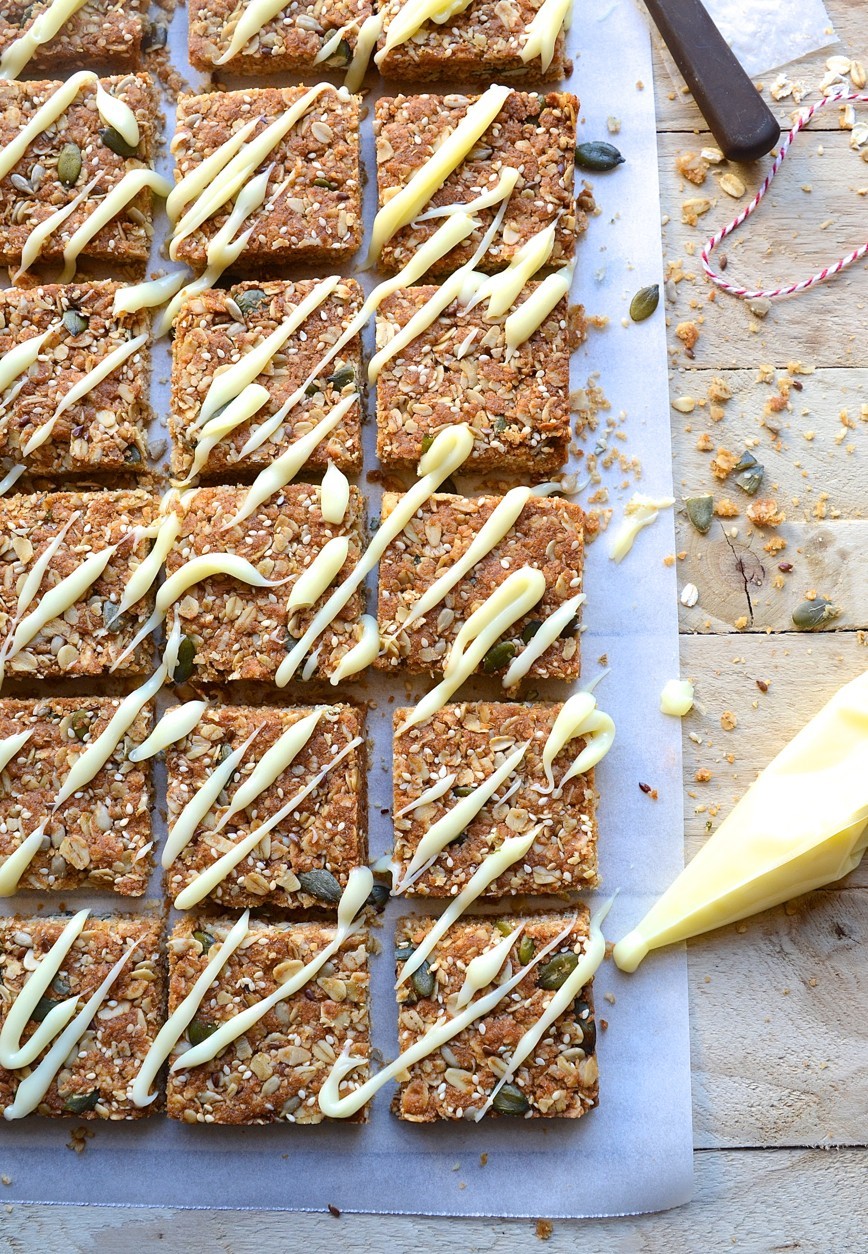 Best healthy seeded oat crunchies
Makes 24-30
80g butter
90g coconut oil
110g natural, brown cane sugar
60ml honey
100g desiccated coconut
200g whole rolled oats
70g wholemeal flour
70g all purpose cake flour or white spelt flour
a pinch of salt
1/4 cup pumpkin seeds
1/4 cup sunflower seeds
2 tablespoons sesame seeds
1/2 teaspoon bicarbonate of soda
40ml cold water
White chocolate and yoghurt drizzle
50g white chocolate
60g Greek yoghurt
Preheat the oven to 170º C. Grease and line a 28 x 18 cm baking tin with parchment paper. Place the butter, coconut oil, sugar and honey in a saucepan. Bring up to the boil, stirring from time to time until the sugar is dissolved. In the meanwhile, combine all the dry ingredients in a mixing bowl. Dissolve the bicarbonate of soda in the cold water and add to the honey butter.
The hot mixture will foam up and froth so watch that it doesn't boil over. Pour the hot liquid into the dry ingredients and mix thoroughly. Press the biscuit mixture firmly into the baking tin and smooth over with the back of a spoon. Bake for 35-40 minutes until golden and cooked through. Set aside to cool for about 5 minutes before cutting into squares. Allow to cool completely in the tin before placing on a wire rack to air.
If you're making the drizzle, heat the chocolate and yoghurt together in the microwave until melted. Drizzle randomly over the cool crunchies.
If you love a sweet little something to go with your tea, here are a few more delicious ideas:
Anzac biscuits by Ottolenghi and Helen
The best halva chocolate chip cookies