Anzac biscuits by Ottolenghi and Helen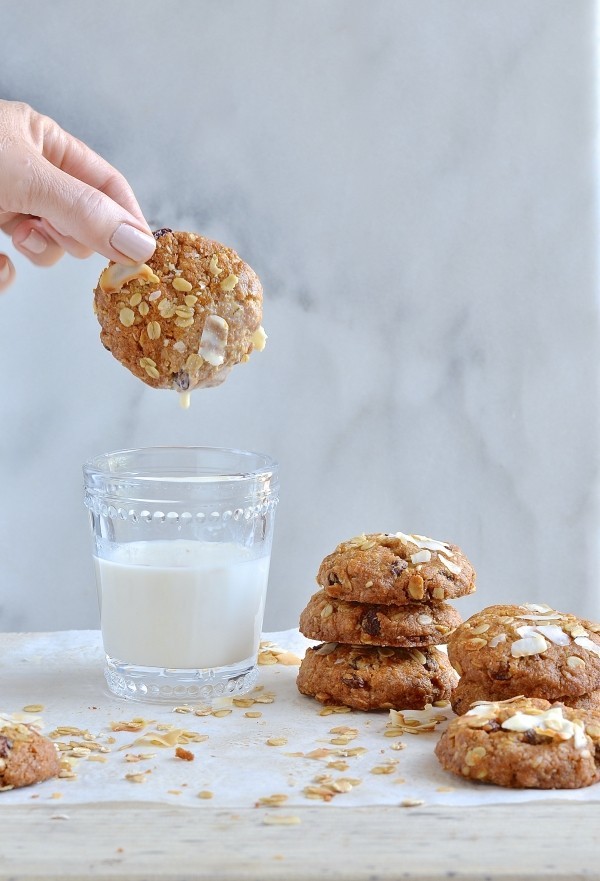 I feel a bit like Julie Powell, the Philadelphia secretary who cooked her way through Julia Child's book, 'Mastering the art of French cooking.' That's 524 recipes in 365 days. An impossible task for most, but admirable nonetheless. I watched the movie 4 times and each time Meryl Streep's immaculate performance as Julia made me want to rush into the kitchen and beat the fluff out of those egg whites, free style, until stiffly peaked and fluffed. Which brings me to these Anzac biscuits by Ottolenghi and Helen.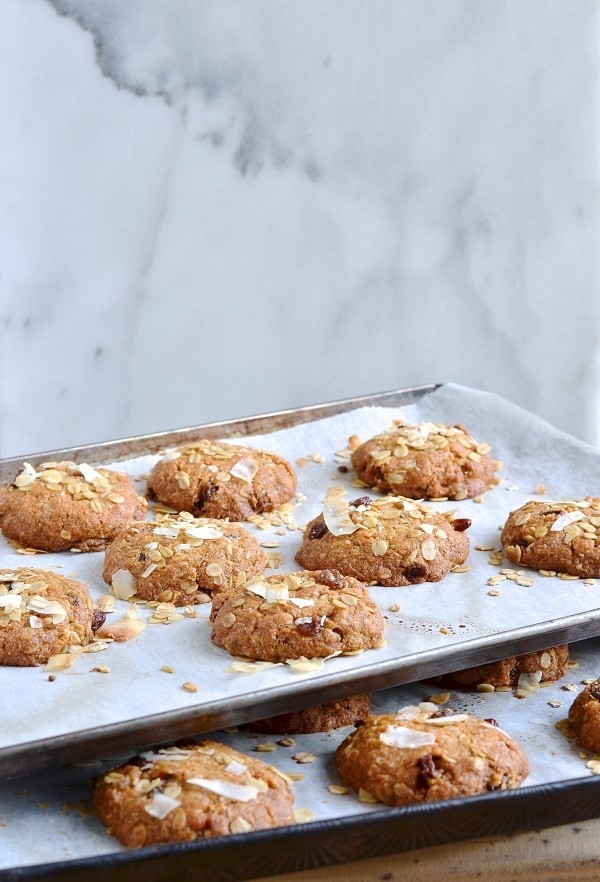 With the recent launch of Sweet, I'm tempted to quit work and take an adult gap year. Can adults even do that? Bake your way to happiness. As with most things bearing the Ottolenghi name, you can expect at least one but most possibly several, wild card ingredients that elevate the ordinary to exceptional. These Anzac biscuits are no exception. What can you expect from these biscuits? All the usual suspects, plus raisins, honey and bran flakes. The texture is slightly more toothsome and quite nutty.
Sadly, my one year baking sojourn has been reduced to 1 week. I'm calling it My week of Sweet. If all goes to plan, I'll be sharing 3 recipes this week that'll set you up for the holiday cookie bake. The fact that there'll be three tried and tested Sweet recipes on the blog shouldn't stop you from buying the book. Think of it as trailer. It's my #bookoftheyear.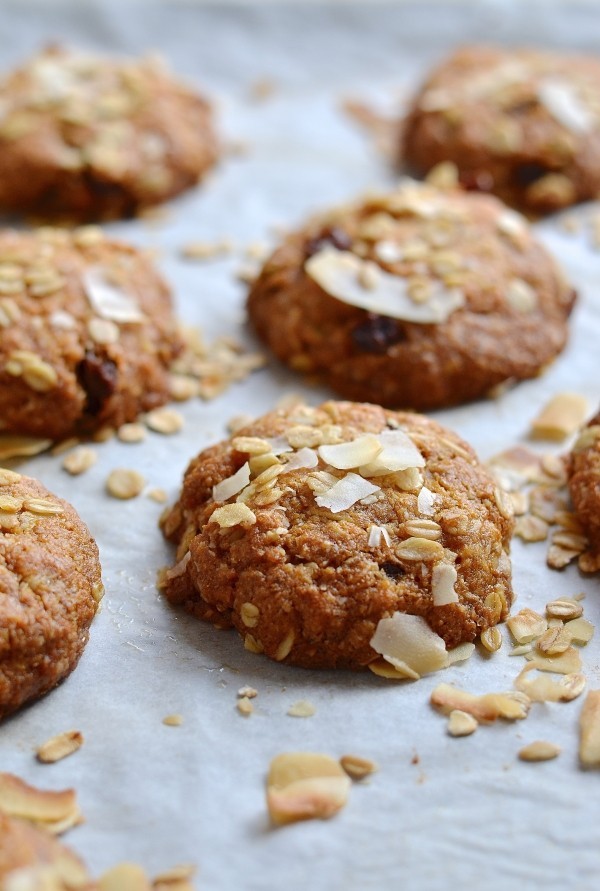 With each turn of the page, the choice of what to bake becomes increasingly difficult. The criteria for choice might lie with what's familiar, ingredients in your pantry or the challenge of something new. Honestly, there's not one bake in this book that I'd turn my nose up at. For my first recipe I settled on the Anzac biscuits. Anzac and I come a long way. We all have food history, the kind that steers us towards the choices we make and the way we eat. And this is mine.
My journey with food started almost 16 years ago. Falling on desperate times, I turned to food. Not the comfort eating kind but the bake to save your bacon kind. I baked what was familiar, like boerebeskuit (rusks) and Anzac biscuits. From 4am 'til way past midnight, our tiny oven was crammed with trays of cookies and rusks. We sold to everyone we knew and those we didn't.
And this is what I learnt. Everyone needs a cookie sometimes. I also learnt the value of true grit, faith and hope. That's a lot pressure for a simple cookie but it put food on the table and steered me on another path, one that's brought with it great joy and gratitude. I'm sure these Anzac cookies won't change your world as they did mine, but they'll taste awfully good with a cup of tea. Give them a go.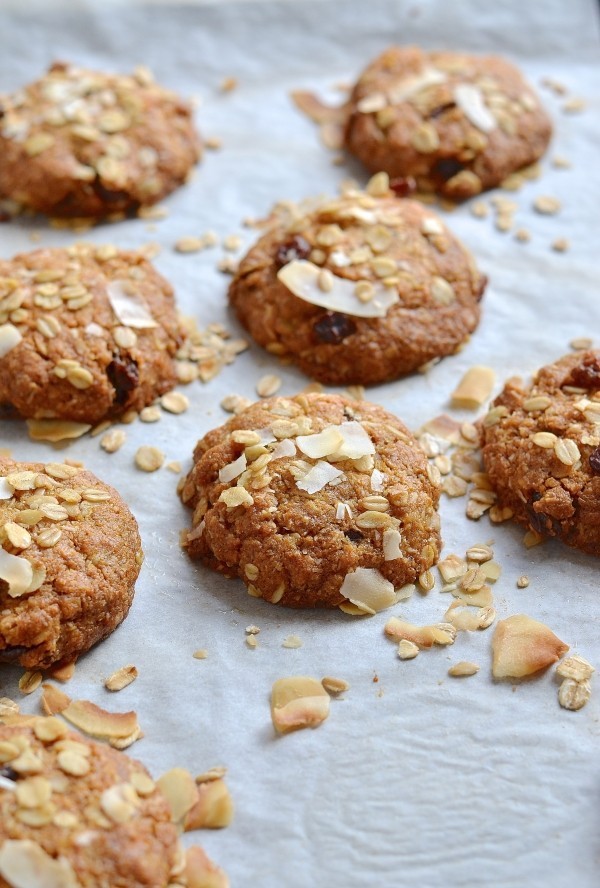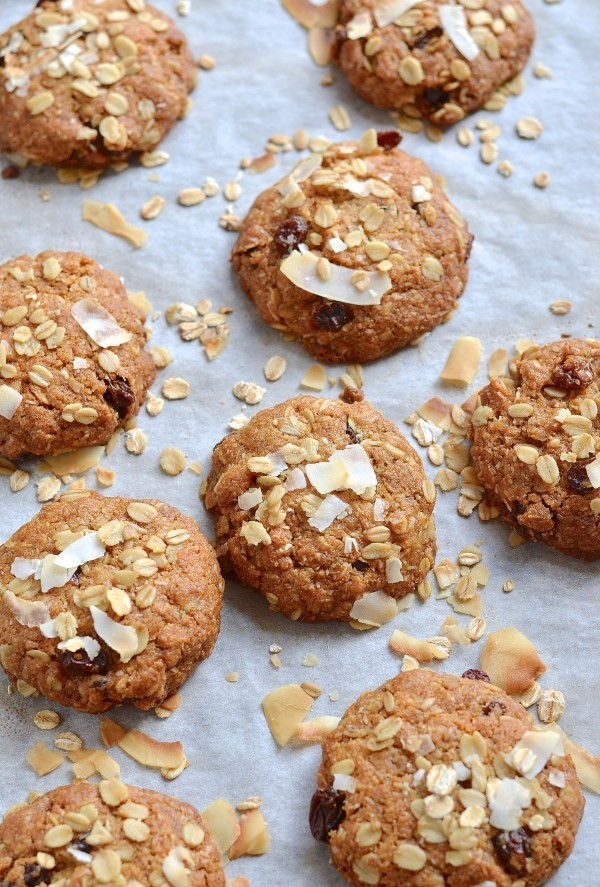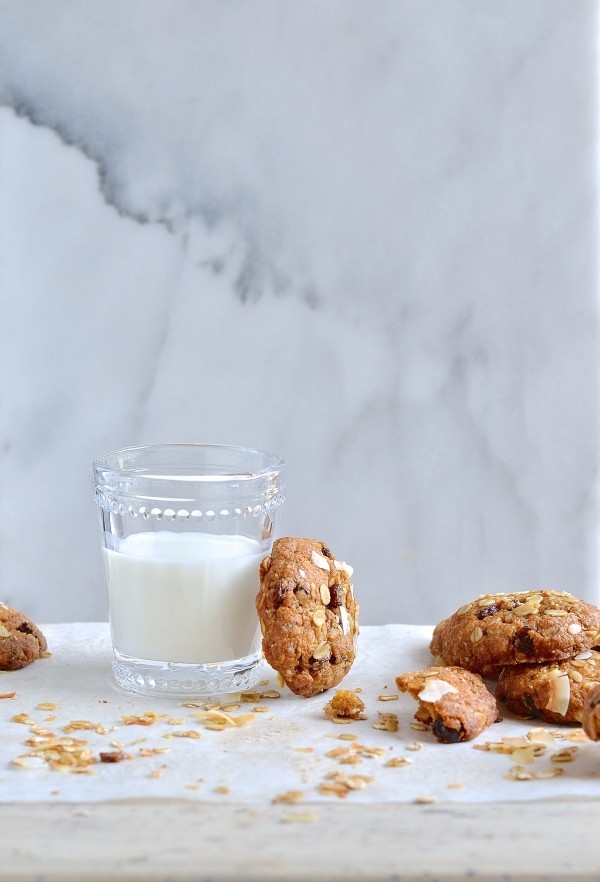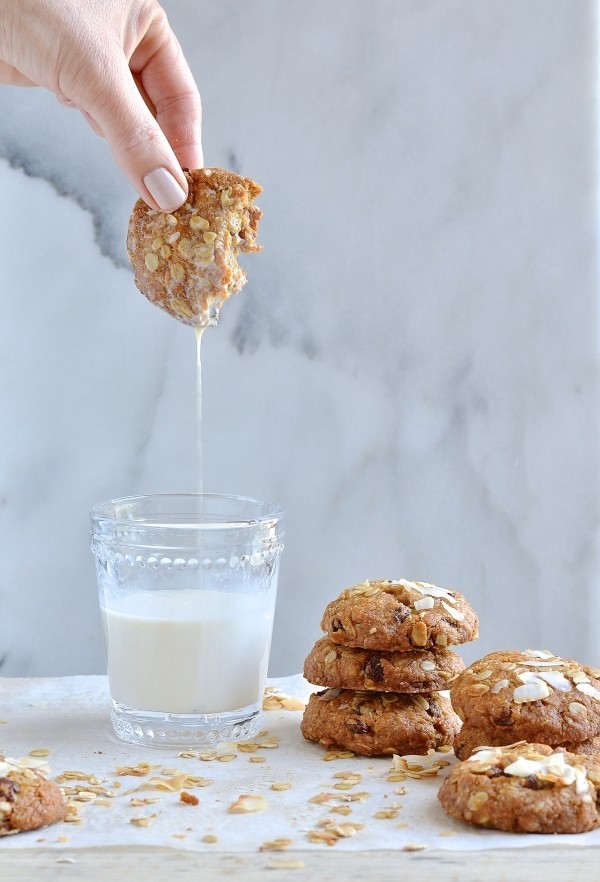 Anzac biscuits by Ottolenghi and Helen
Makes 20
Ingredients
100g rolled oats
50g bran flakes, crushed
90g desiccated coconut
185g plain or cake flour
pinch of salt
100g castor sugar
40g light brown sugar
100g raisins
160g butter
60g honey
45ml water
1 teaspoon bicarbonate of soda
Coconut flakes and whole rolled oats, for finishing
Method
Preheat the oven to 170º C.
Line a 2 baking trays with parchment paper.
In a large bowl, combine the rolled oats, bran flakes, coconut, flour, sugars and raisins.
Heat the butter, honey and water in a small saucepan.
Once the butter starts bubbling, add the bicarbonate of soda and stir briskly.
Pour the honey butter over the dry ingredients and mix to combine.
Press large tablespoon amounts of cookie dough into rounds and place on the baking sheet.
Scatter the tops with coconut flakes and rolled oats.
Bake for about 20 minutes until golden. Cool for several minutes on the tray before transferring to a wire rack to cool completely.
Here are several of my favourite biscuit and cookie recipes to fill the holiday cookie jar.
The best healthy seeded oat crunchies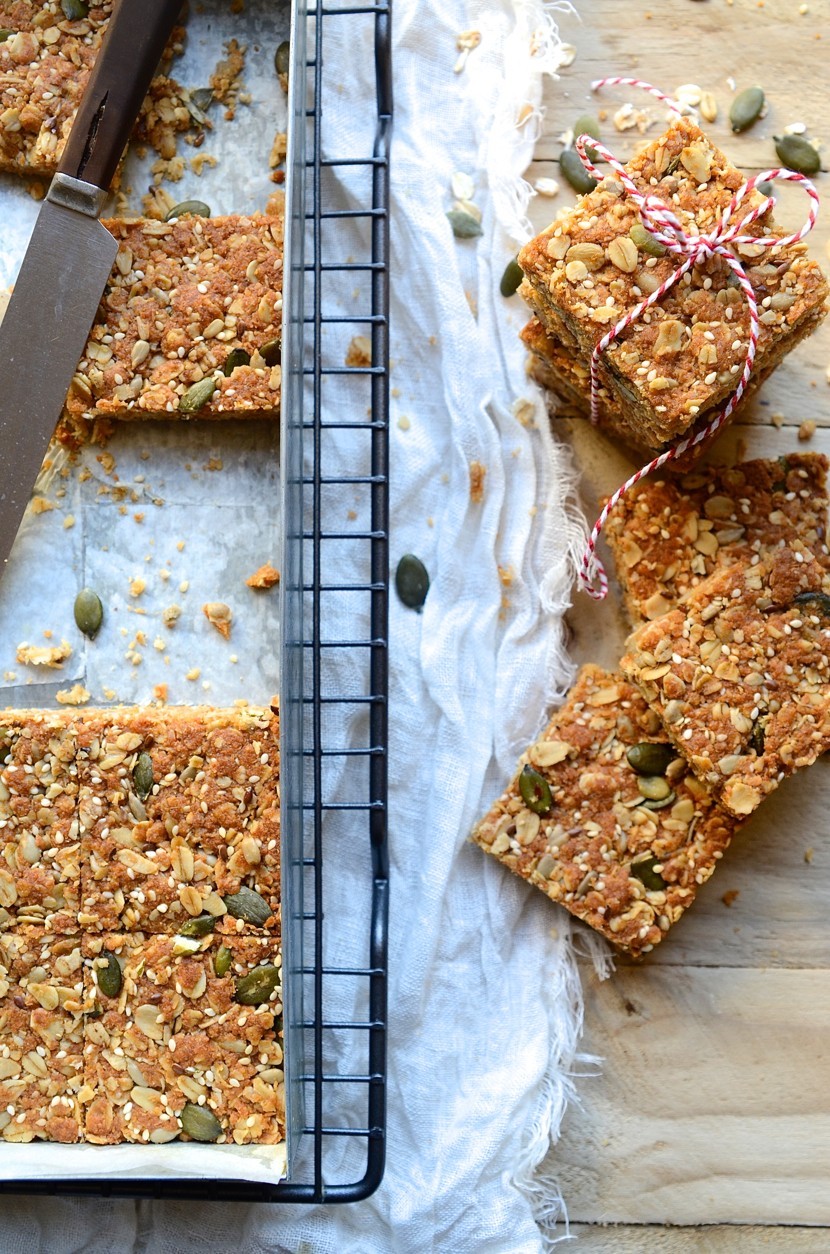 Brown butter chocolate chip cookies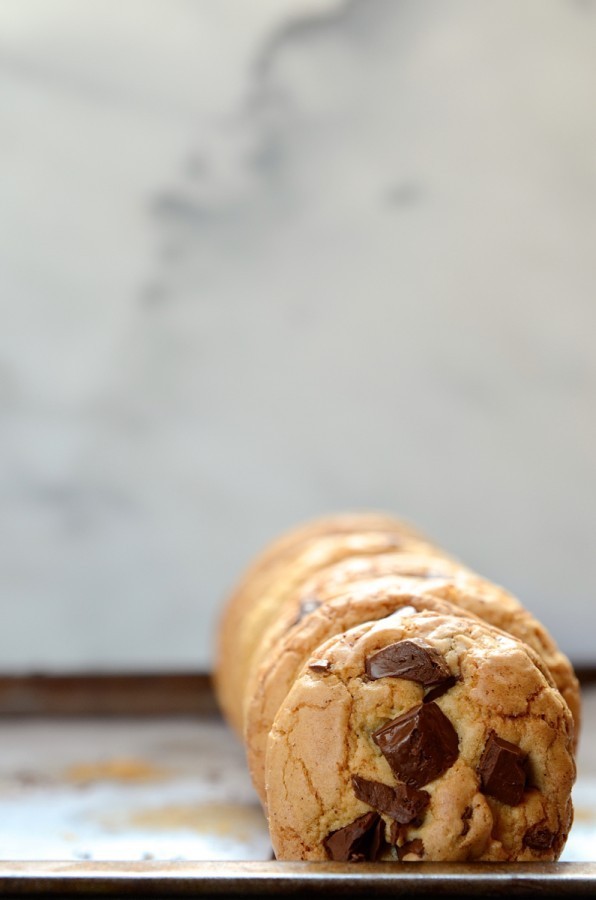 Nieman Marcus Peanut butter cookies