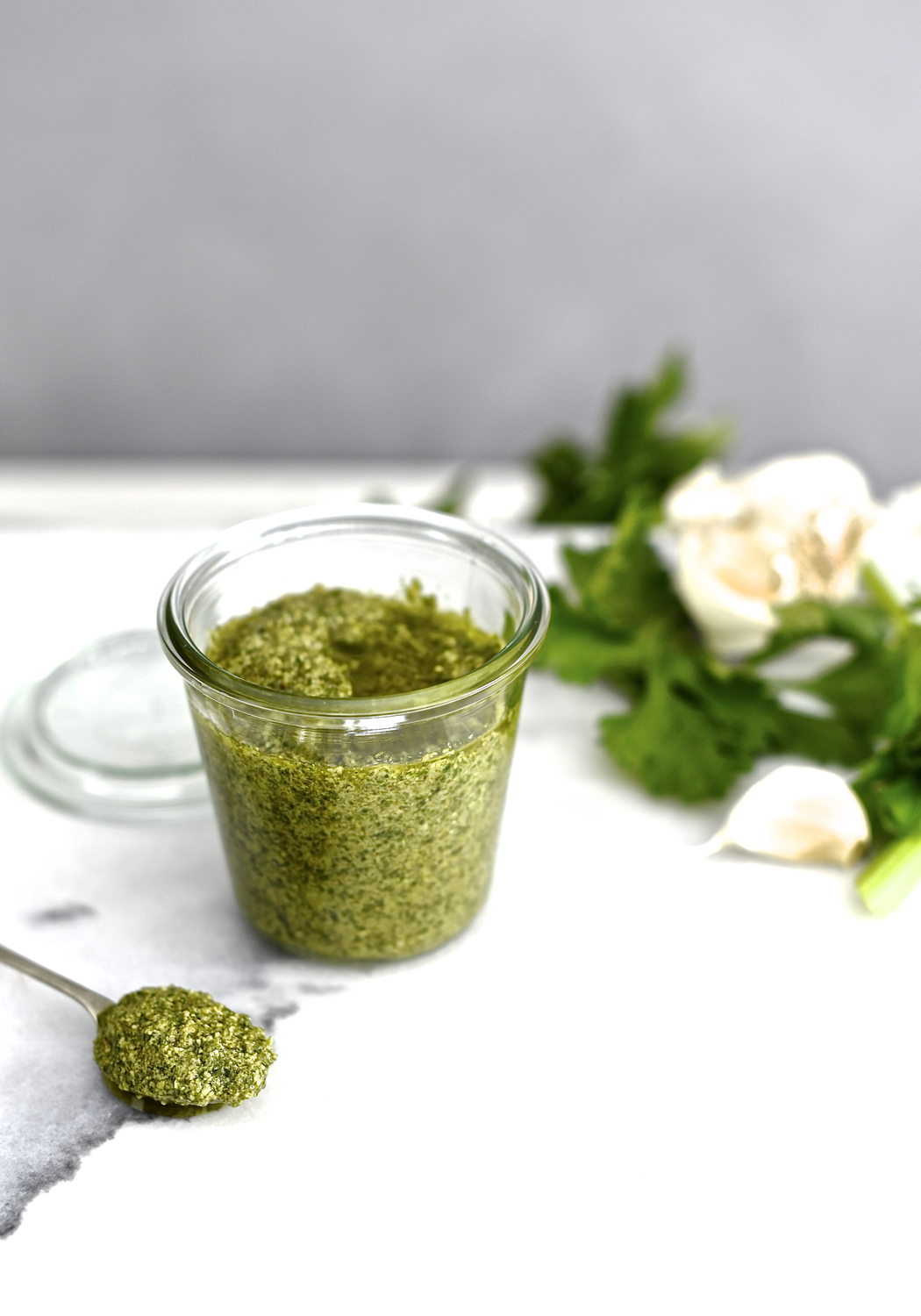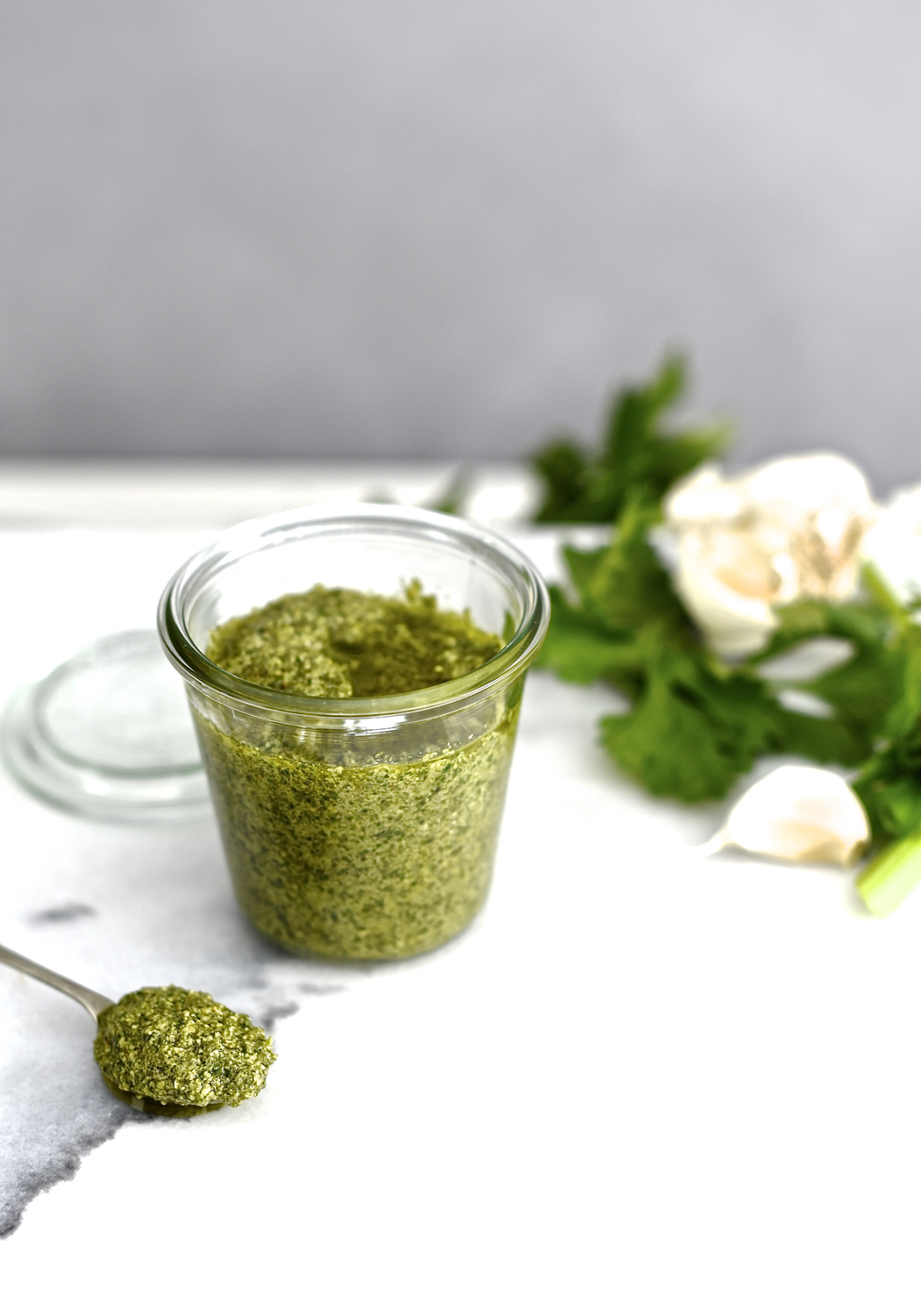 While not an avid follower of food trends, I have to admit that when I initially scanned through the list of what's hot for 2018, it immediately got a thumbs up from me. It favours aspirational food goals and mindful choices, rather than bizarre ingredients that offer little substance and scant flavour. Prompted by the 'nose to tail' philosophy, as veggie fans, we now embrace 'root to leaf' eating, which I'm delighted about. This detox celery leaf pesto supports vegetable-centred eating and opens the door to plenty more creative ways of lessening food waste. Besides, using leftovers to make something delicious is savvy and very good.
My fridge is never without some type of pesto. Our favourite recipe is this Ultimate green basil pesto. I usually make a large batch at least once a week which we use for basil pesto chicken sandwiches, pesto pasta or stirred into Italian style soups for an extra hit of herby flavour. Last week I ran out of basil, parmesan and pine nuts which, once again, proves that necessity is the mother of invention. Scavenging around the veggie draw can lead to good things.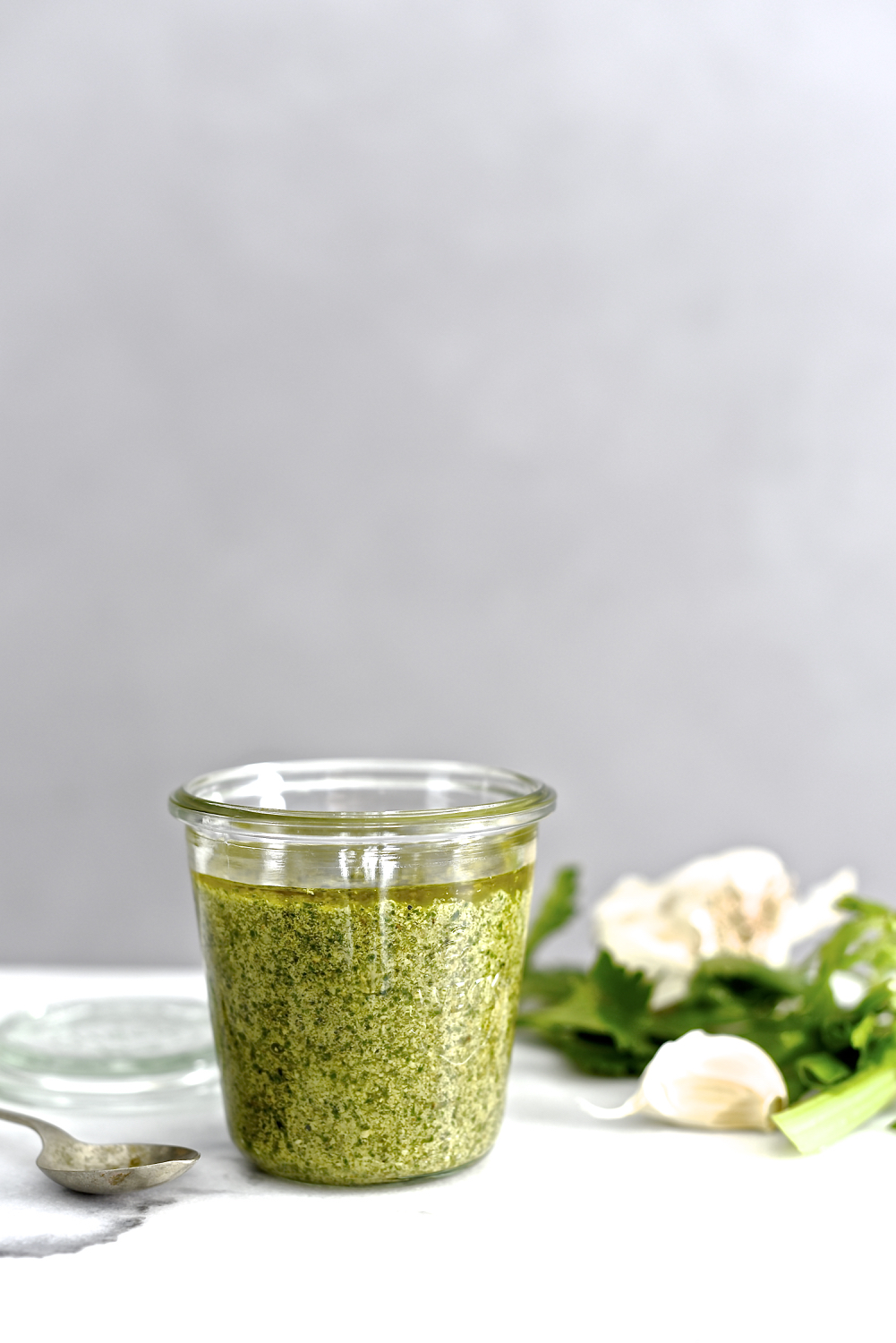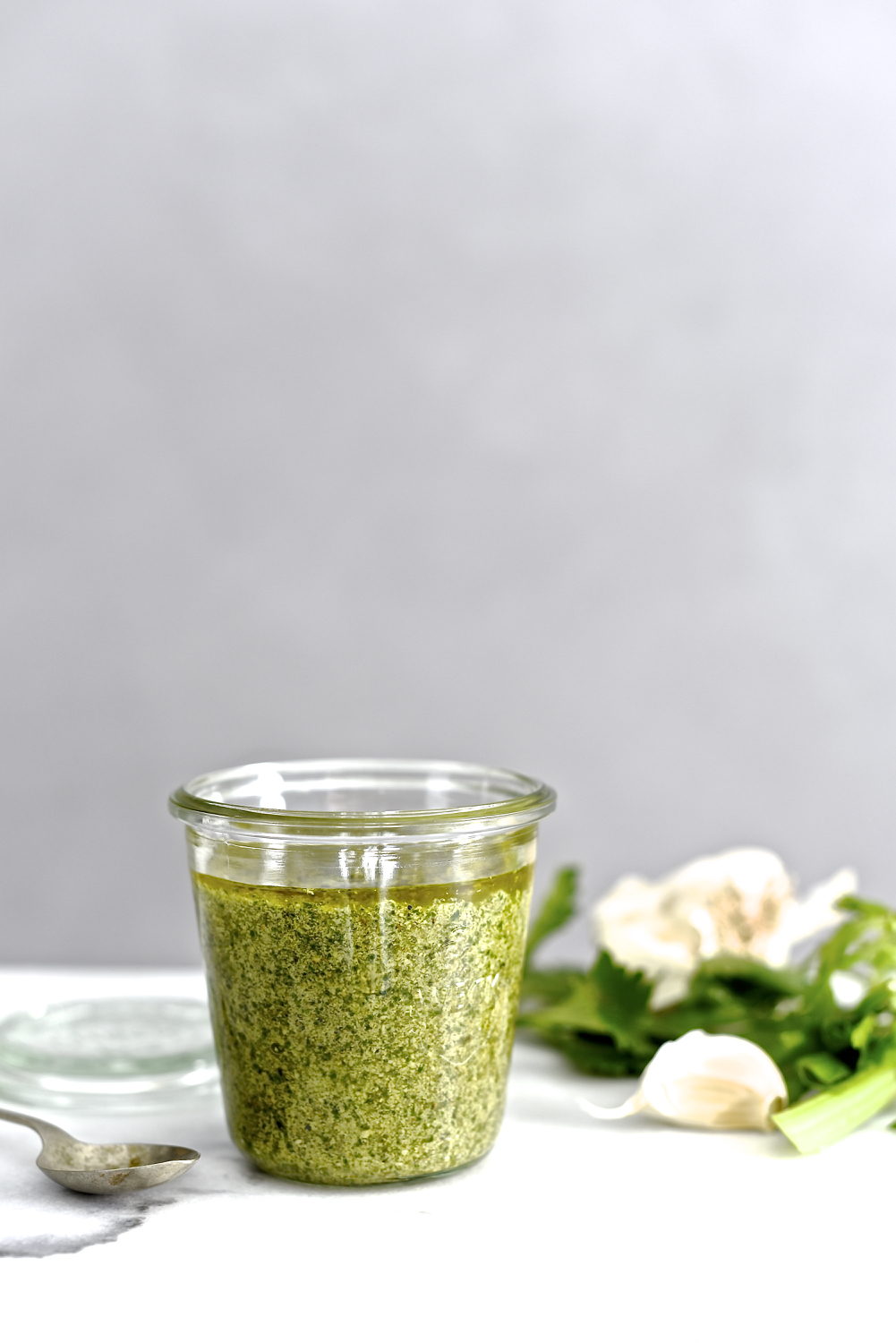 After a quick fridge forage, I managed to gather a few core ingredients that looked like pesto candidates. A bunch of celery, Italian parsley, garlic, olives and my latest pantry staple, nutritional yeast. After some initial tweaking and tasting, I ended up with this flavourful detox celery leaf pesto. It's also happens to be vegan friendly. I celebrated with avo toast with this pesto dolloped on top.
Cooks notes: Nutritional yeast can be found at most Health food stores or on-line at Faithful to Nature. It has a cheesy taste and is high in Vitamin B1 and 2 and folic acid. It's often used in vegan cooking to replace cheese. Substitute with parmesan cheese, if you're not following a vegan diet.
Detox Celery Leaf Pesto
Makes 1 cup
3 cups celery leaves
a handful flat leaf Italian parsley
1/4 cup pitted green olives
1 clove garlic
zest of 1 lemon
1/2 cup sunflower seeds, toasted
15ml (1 tablespoon) lemon juice
15ml (1 tablespoon) nutritional yeast flakes
125ml (1/2 cup) extra virgin olive oil
sea salt flakes and freshly cracked black pepper
Place the celery leaves, parsley, olives and garlic in a food processor and pulse until broken down and fine.
Add the sunflower seeds, lemon juice and nutritional yeast and blitz once more.
Add the olive oil and season with sea salt and black pepper and pulse to combine.
Transfer the pesto to a sterilised jar and pour a thin layer of olive oil over the top.
Seal until ready to use and store in the fridge.
Recipes to which you can add Detox Celery Leaf Pesto:
Chicken pesto pasta with parmesan and pine nuts
The Everything in Vegetable Soup