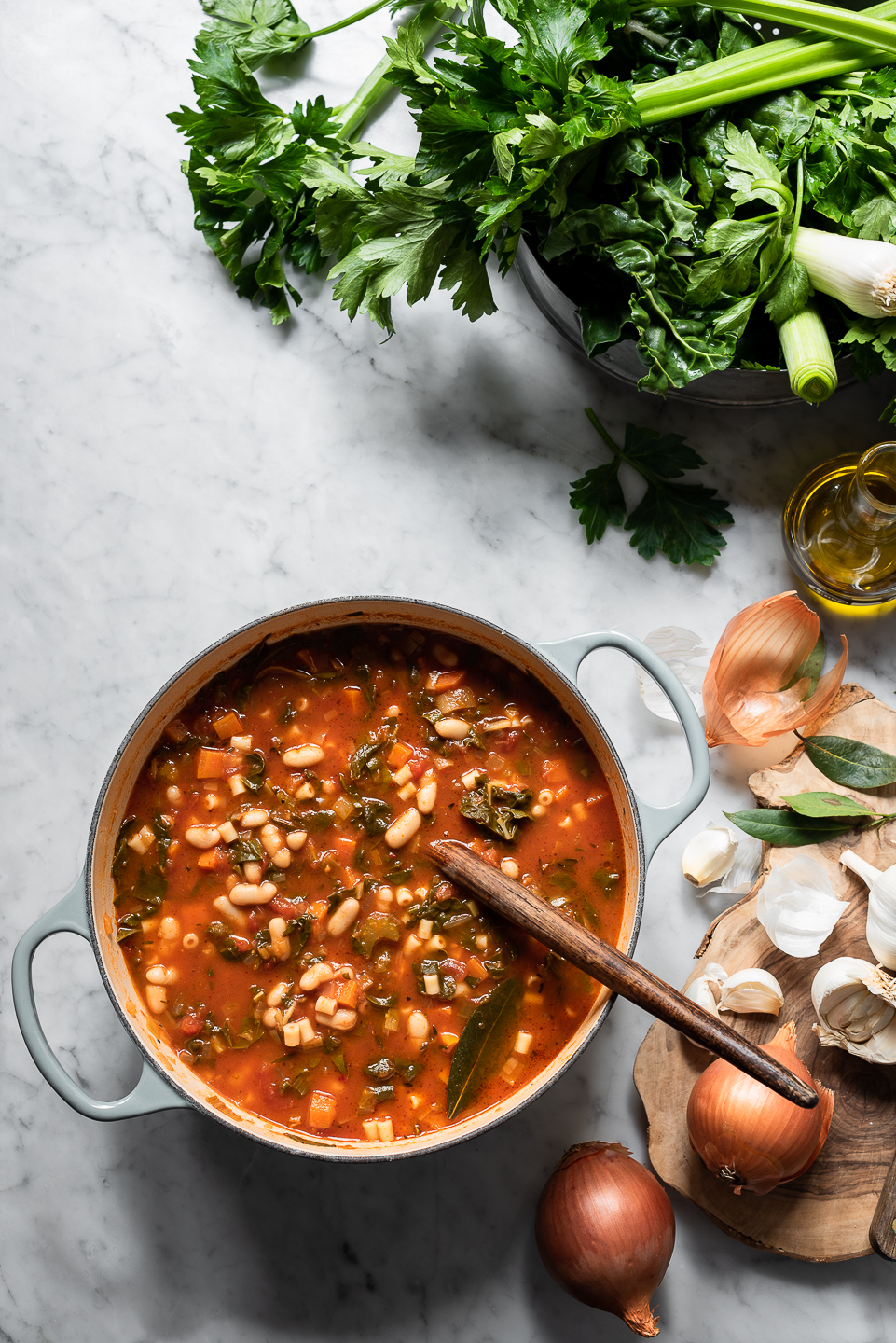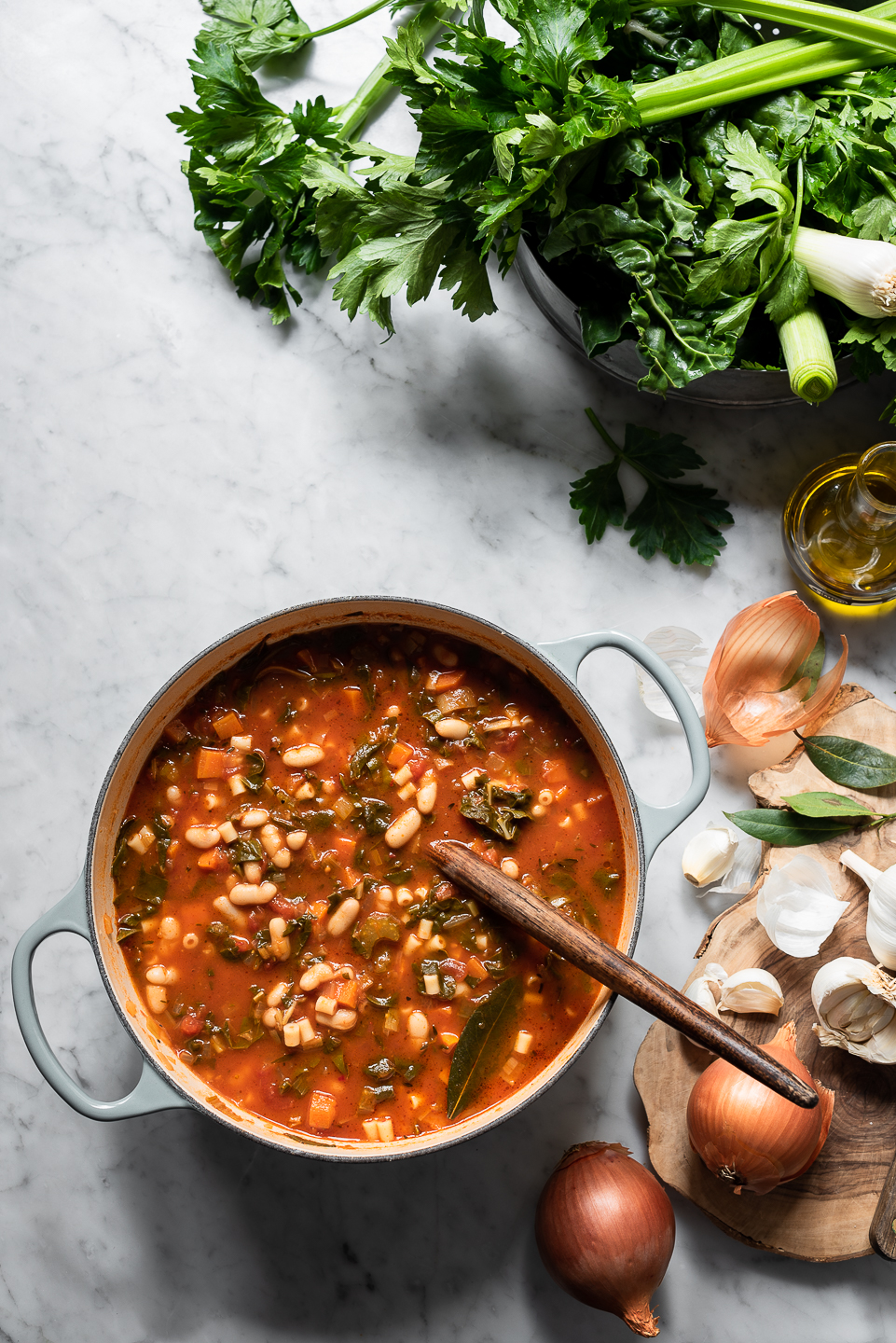 Despite its peasant roots, Pasta e Faglioli is a triumph of frugal Italian cooking. The recipe is from my new Ebook, Beautiful Home Food. The literal translation meaning, pasta and beans. It is generous and very Italian, straddling the divide between soup and stew. You might even mistake it for a sturdy minestrone. The recipe makes for a deep and plentiful potful, enough for several suppers.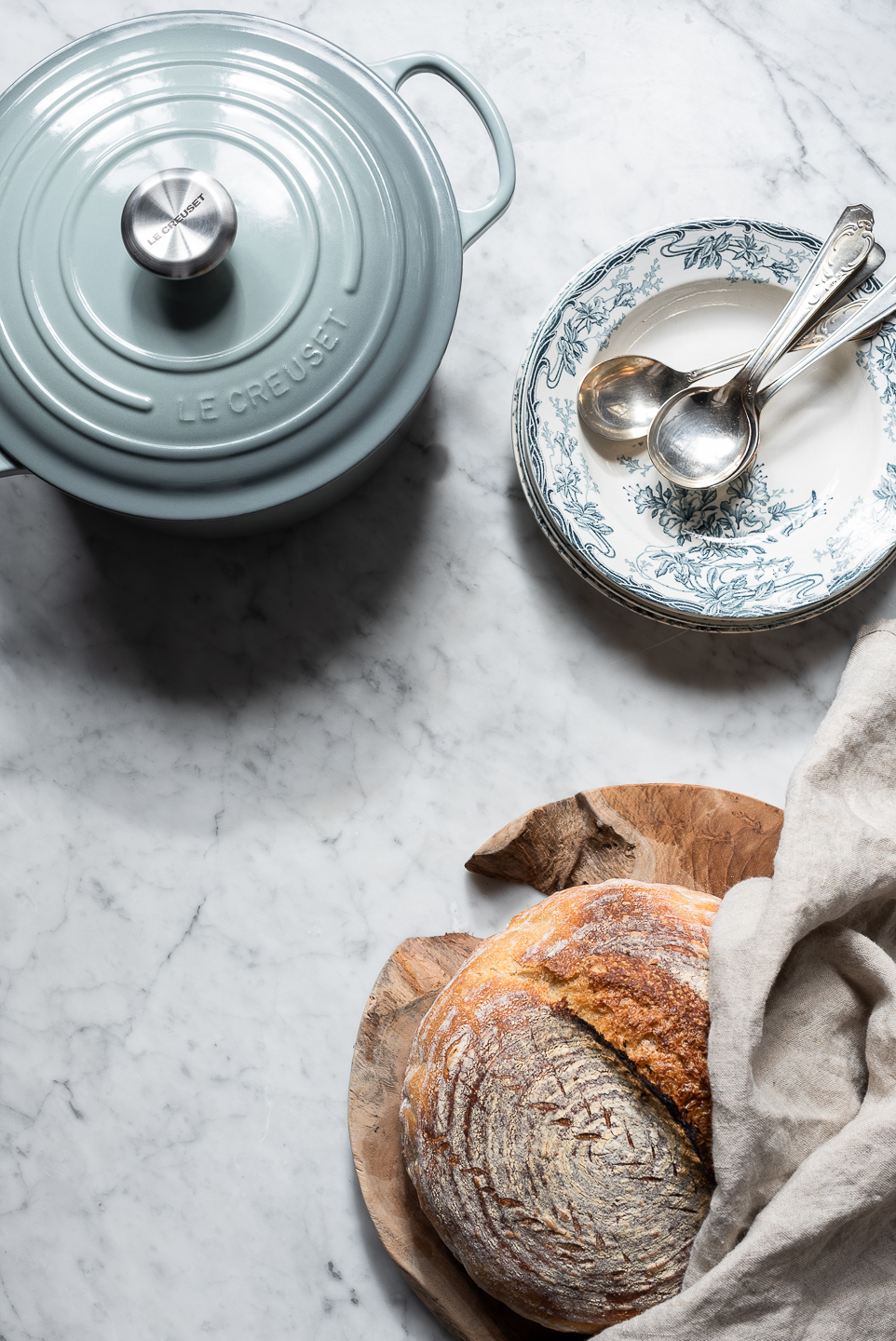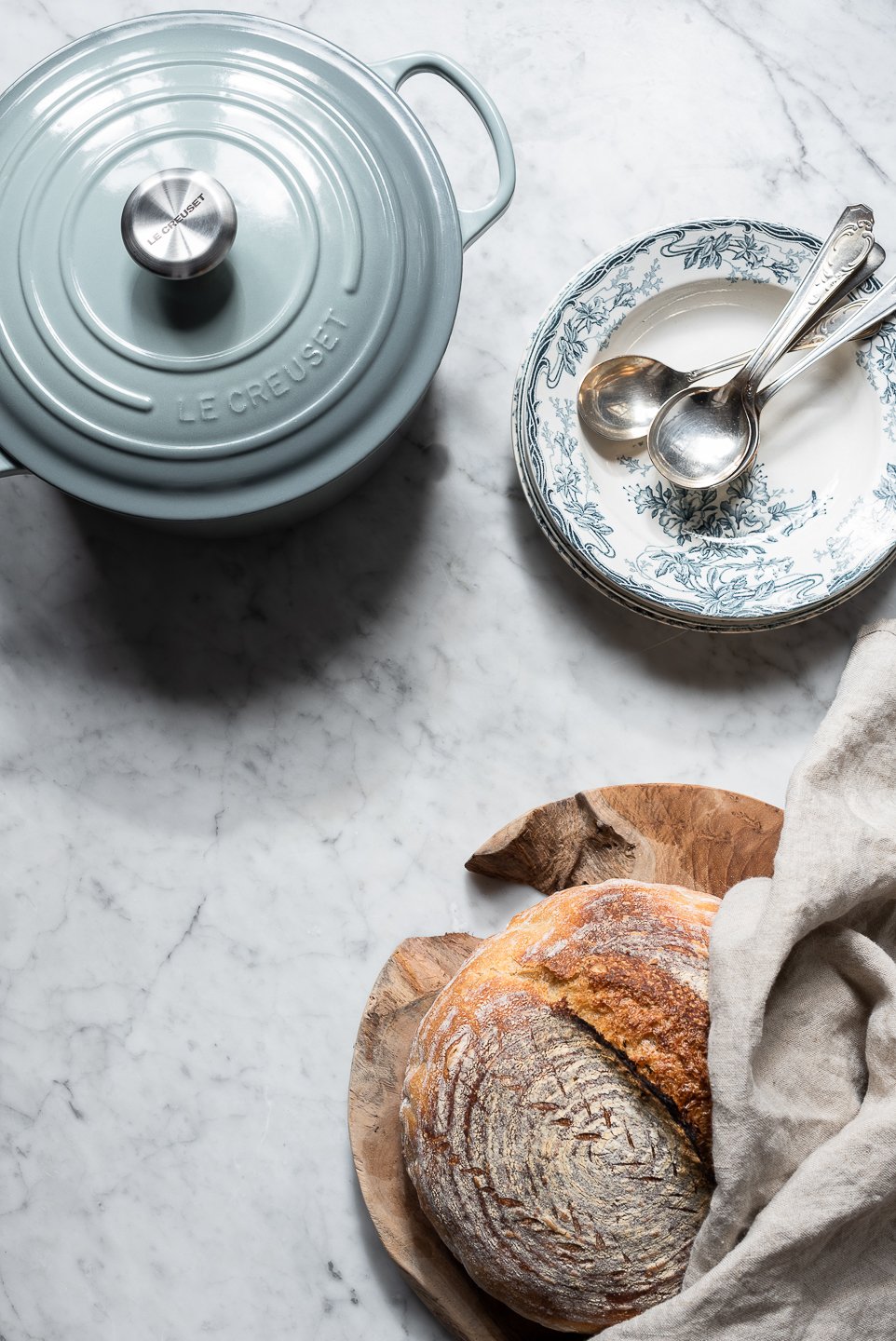 Like so many iconic Italian recipes, Pasta e Faglioli starts off with a simple soffrito – onions, carrots and celery. The key to making much from little, the cardinal rule of cucina povera, is enticing the hidden potential from what little you have. Bean soups in particular, are popular throughout Italy, although opinions and variations of the same recipe differ from region to region and, family to family. Dried store cupboard basics like beans and pastas are perfect candidates for fortifying recipes, and dare I say, this one is spectacularly good.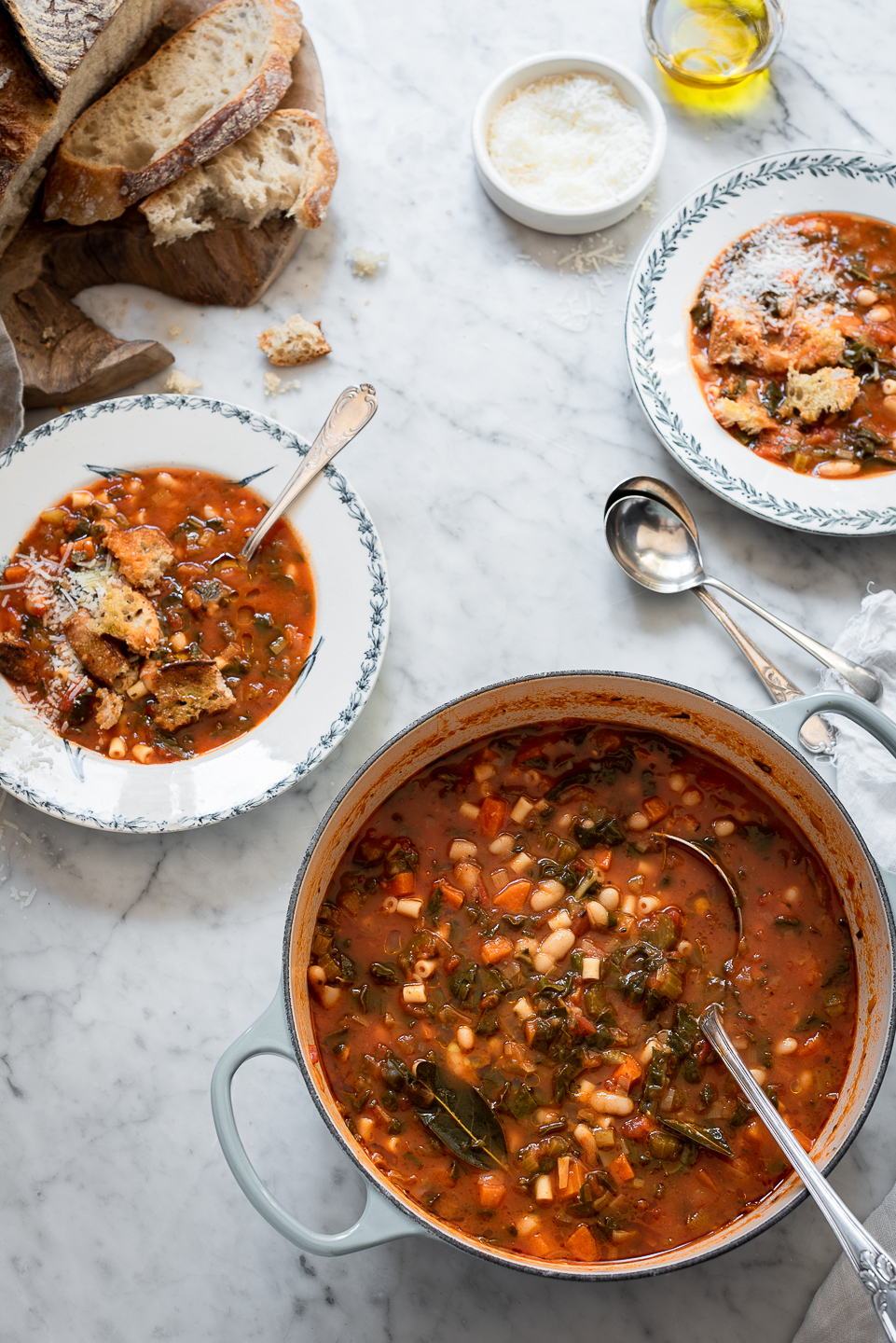 For the bean component, borlotti is what we're aiming for, although any creamy bean will happily stand in the gap. I've used all sorts, from the suggested borlotti, tinned mind you, cannellini, even butterbeans, when no one was watching. A note on the tinned beans – rinse them well and only add at the end, without vigorous stirring. Cannellini beans are somewhat tender, so approach with a gentle hand.
Although it is a pasta and bean soup, the latter is more dominant than the former. Any small pasta shape is considered acceptable, tiny macaroni or ditalini being the most suited. Cooking the pasta separately before adding to the soup may seem tedious, and it is, but I've made it both ways to test its merits. And yes, I'd say, precooked pasta is the better option. You'll be rewarded with al dente pasta that holds its shape well without soaking up too much of the tomato-y liquid. As far as greens go, Tuscan kale, Swiss Chard or regular spinach are competent players. Here, I've kept the recipe vegetarian although some variations include pancetta or the rendered fat thereof, for a muted umami-ness. Serve with your best olive oil and handsome chunks of crusty bread. My Epic Focaccia bread, which is also in the Ebook, would be a worthy contender.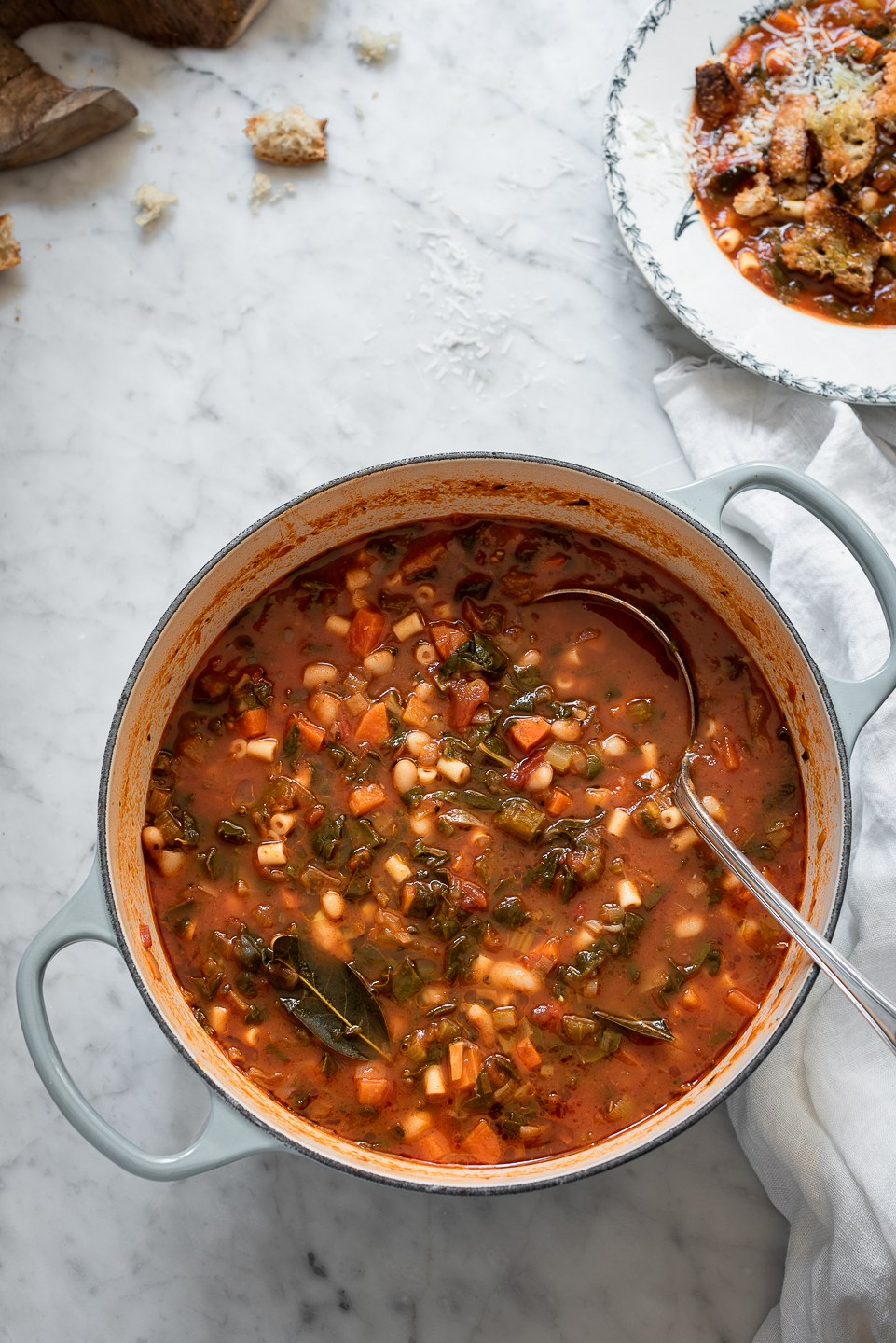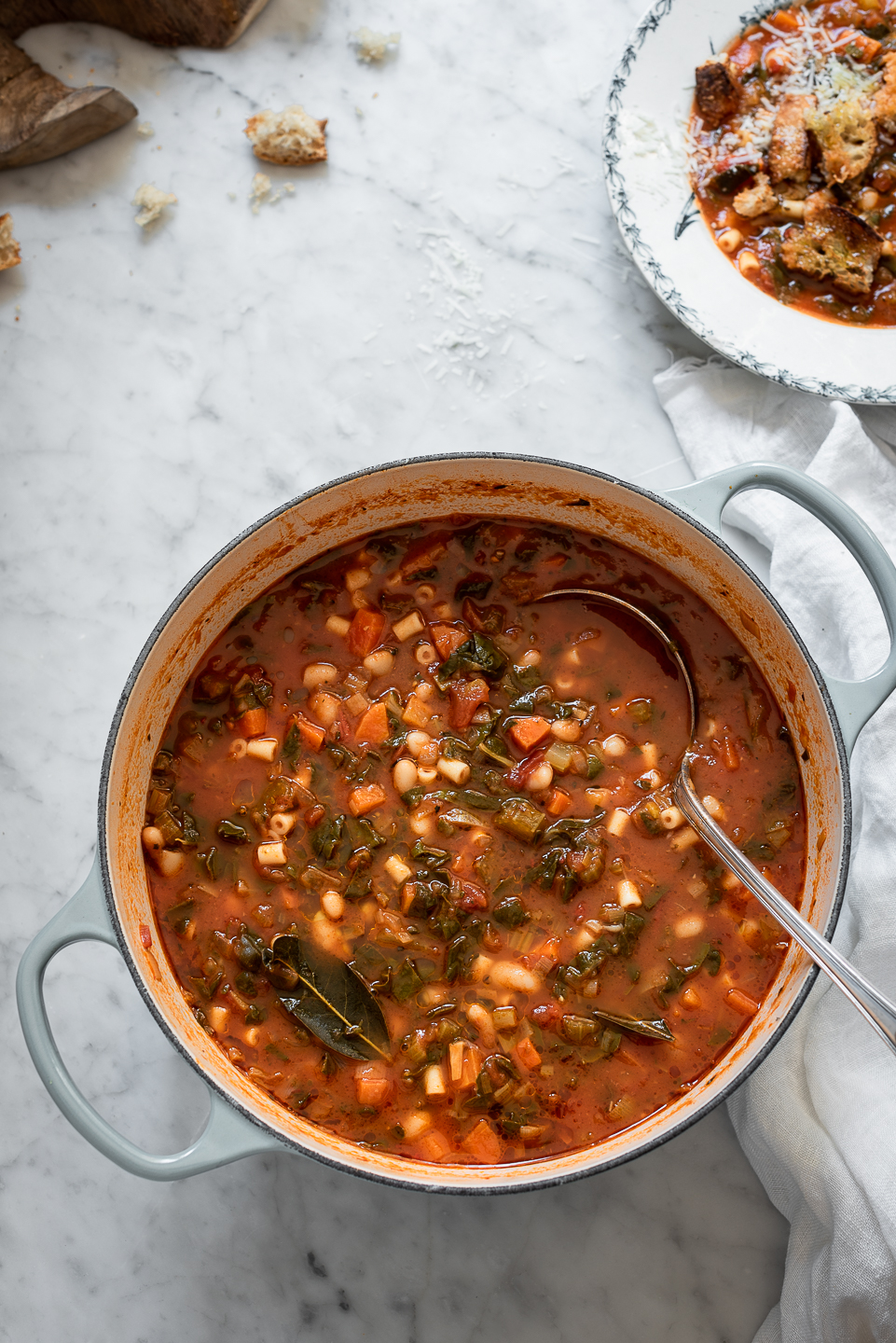 Pasta e Faglioli
 Serves 8-10 
olive oil, for cooking
1 large onion, finely diced
2 medium sized leeks, rinsed and sliced
2 cloves garlic, minced
3 carrots, coarsely chopped
3 stems celery, finely diced
1 bunch Swiss Chard, centre rib removed and shred-cut
2 x 400g tinned chopped tomatoes
125ml (1/2 cup) passata
1.25 litres (5 cups) chicken stock
3 bay leaves
3 sprigs fresh thyme
¼ teaspoon red chilli flakes
1 Parmesan rind
2 x 400g tinned beans, rinsed and drained (cannellini or borlotti )
½ cup ditalini pasta or small macaroni, cooked separately 
ciabatta bread, thickly sliced
grated parmesan, to serve
salt and freshly ground black pepper
Heat 2 tablespoons olive oil in a 26cm Le Creuset Round Casserole. Add onions and leeks and sauté until softened, around 5 minutes. Stir through the garlic and cook for another minute.
Drizzle in a little more oil before adding the carrots and celery. Sauté for a further 6 minutes. Season the vegetables lightly with salt. Cover with the lid and cook over a gentle heat for 6-8 minutes until the vegetables are collapsed, almost caramelized. Add the Swiss Chard, turn through the softened vegetables and cook for several minutes to wilt down.
Add the chopped tomatoes, passata, stock, bay leaves, thyme, chilli and Parmesan rind. Cover with the lid and simmer for about 40 minutes. Remove the Parmesan rind, add the beans and cooked pasta and heat through. Taste and adjust seasoning if needed.
Preheat the oven to 200°C. Arrange the ciabatta on a baking sheet. Brush with olive oil and bake for 10-12 until golden and crisp.
Tear the bruschetta into large pieces and divide between serving bowls. Ladle the soup into the bowls, half covering the bread. Finish with grated Parmesan and a drizzle of peppery olive oil.
A recipe extract from Beautiful Home Food, created in proud partnership with Le Creuset.
The Ebook is available to purchase Here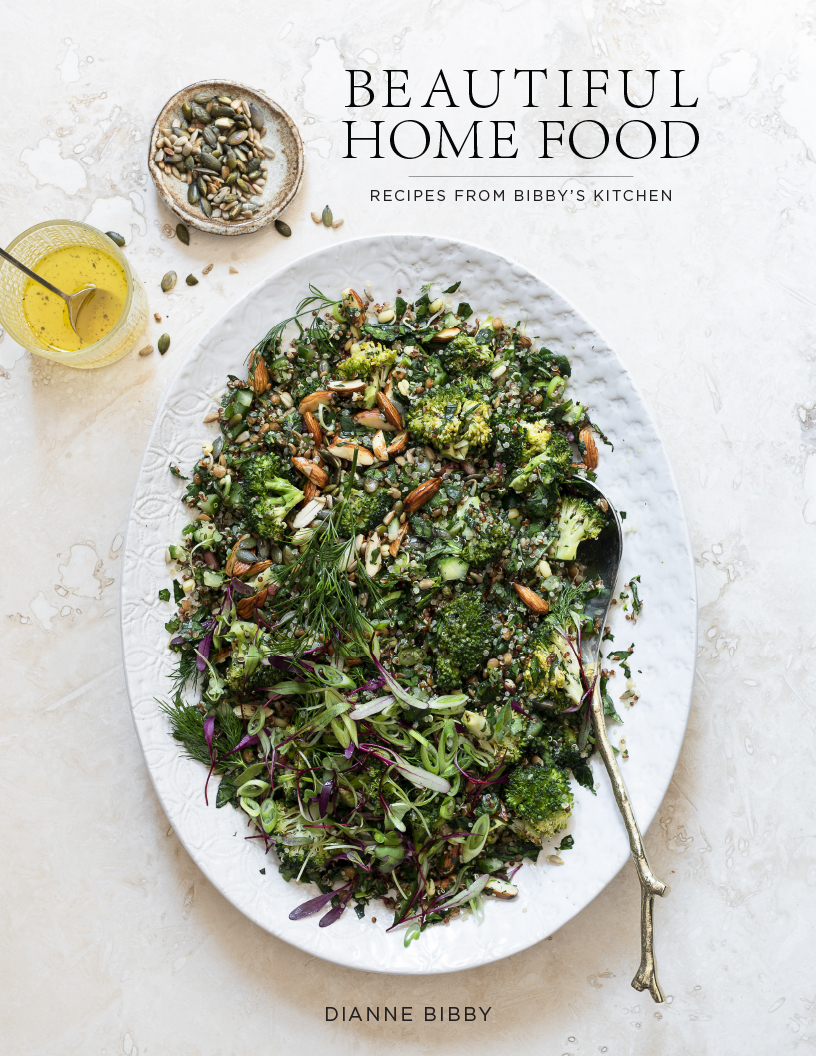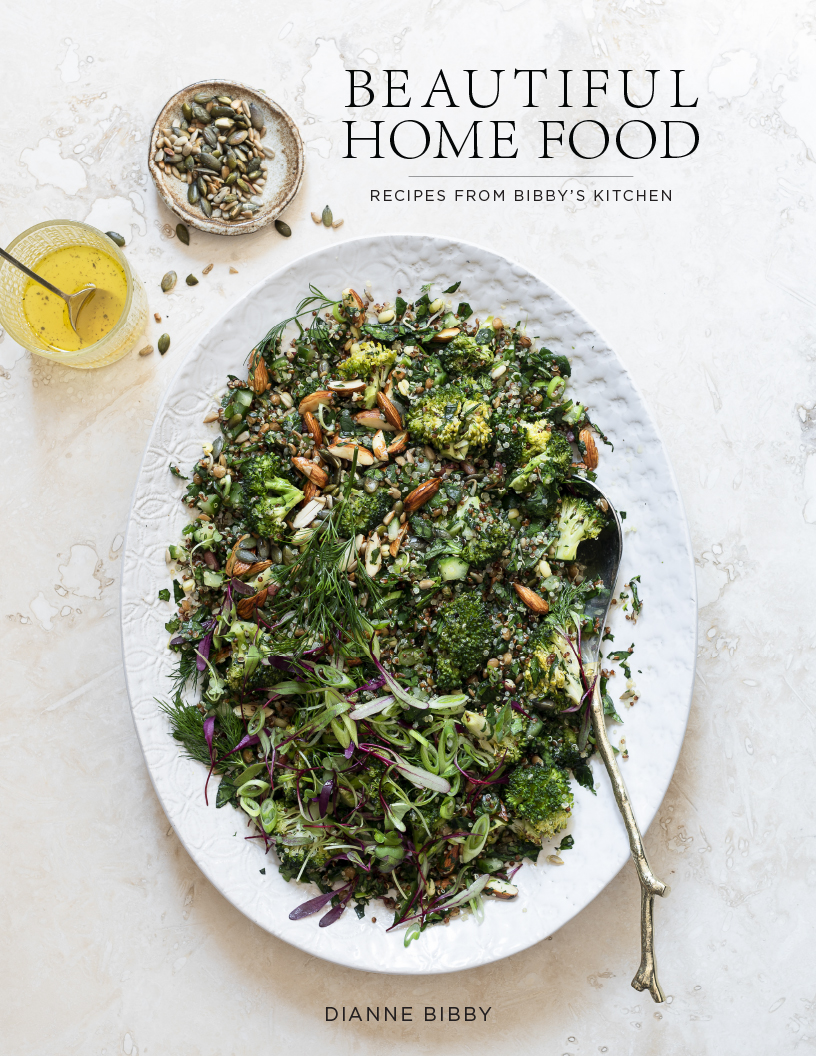 In keeping with our Italian theme, here is a peak at my Dalgona coffee and white chocolate Tiramisu – Full recipe in the Beautiful Home Food.