Roast butternut with feta, seeds and chimichurri dressing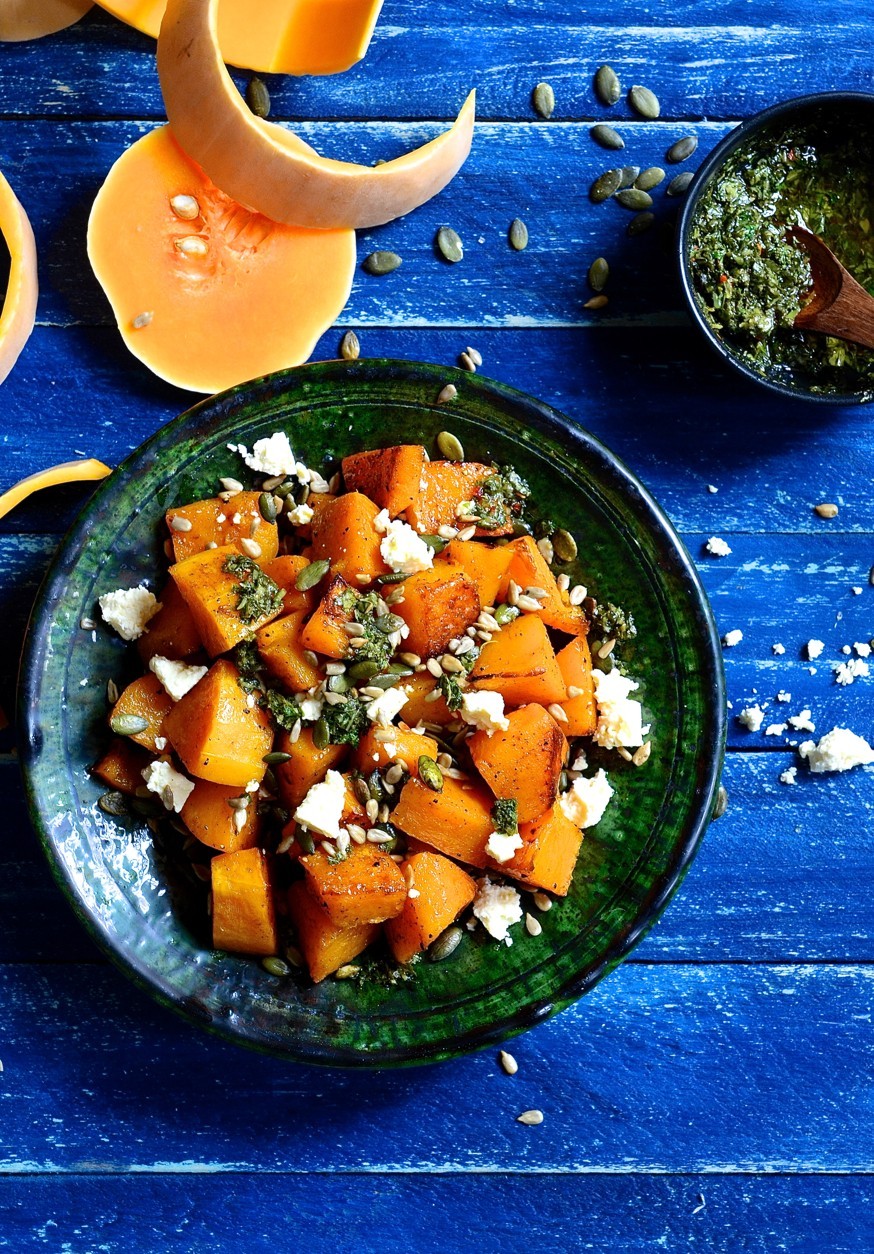 Today is not about who is on your side but rather, what's on your side? Say hello to a familiar friend, dressed in a fashionable new coat. Caramel tinged roast butternut is the ultimate Braai day side. The flavours are savoury and sweet with great texture and a hit of fresh chimichurri zing. Who says Chimi is just for meat?
Butternut is one of the most versatile vegetables and takes on any number of flavour additions. It's definitely one of my favourite vegetables. The plan is to share some exciting and novel ways of incorporating this vegetable into dinners and delicious bakes. As it stands, this dish might not be quite adequate as a Meat-free Monday main but, it makes a delicious side to serve with kebabs, roast chicken or a succulent fillet. This is the kind of salad I love serving with grilled meats on National braai day. Alternatively, for Meat-free Monday add a tin of chickpeas and roasted red peppers and serve with couscous for a delicious Middle-Eastern style salad.
I season the butternut with ground coriander and a touch of mixed spice, which lends a subtle earthy taste. The sharp contrast of minted chimichurri dressing off-sets the natural sweetness of the butternut. For nutty texture I've thrown in a couple of handfuls of toasted seeds, which by now, you all know is a given with all of my salad bowls. Feta and butternut are inseparable, but a creamy goat's milk will give a slightly sharper tang, if you prefer. The flavours of this dish are most pronounced when served warm, but room temperature will also do. Cold butternut is not worth bothering about, so rather don't go there. (PS. Make plenty and pack for office lunches.)

Roast butternut with feta, seeds and chimichurri dressing
Prep time:
Cook time:
Total time:
Ingredients
Roast butternut with feta, seeds and chimichurri dressing
2 tablespoons extra virgin olive oil
1 large butternut, peeled and roughly chopped (about 800g)
1/2 teaspoon ground coriander
a generous pinch of mixed spice
100g feta cheese
1/4 cup toasted pumpkin and sunflower seeds
Chimichurri dressing
generous handful flat leaf parsley, mint and basil
zest of half a lemon
juice of 1 whole lemon
3 tablespoons olive oil
a pinch of dried red chilli flakes
pinch of castor sugar
salt and black pepper
Instructions
Preheat the oven to 200º C. Line a baking sheet with parchment paper or foil. Spread the butternut onto the sheet. Do not over-crowd the tray as the butternut will steam and not roast. Drizzle with olive oil and season with coriander, mixed spice, salt and pepper. Toss with your hands to ensure that all the butternut is well coated. Roast for 45 minutes until the edges are tinged and caramelised.
Place all the dressing ingredients together and stir to combine. To serve, tip the butternut into a serving bowl, crumble over the feta, toasted seeds and drizzle with the dressing. Serve immediately.