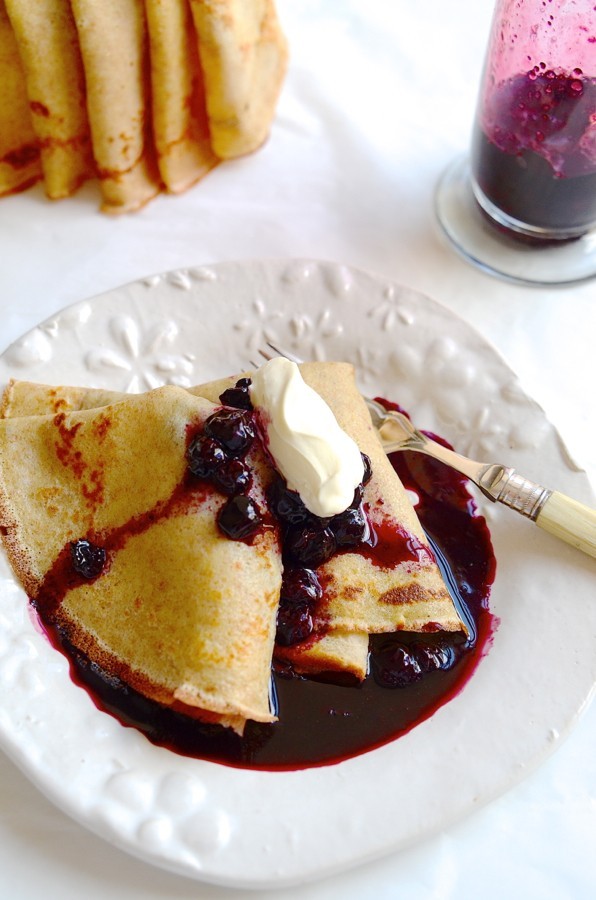 There are few things that won't benefit from a knob of butter. Even better though, is adding browned butter to sweet bakes. And these brown butter pancakes. They're obsessively good. We like them drenched in blueberry compote with spoonfuls of Greek yoghurt. Whether you know them as crêpes, pancakes or pannekoek, these delicate lacy edges are irresistible.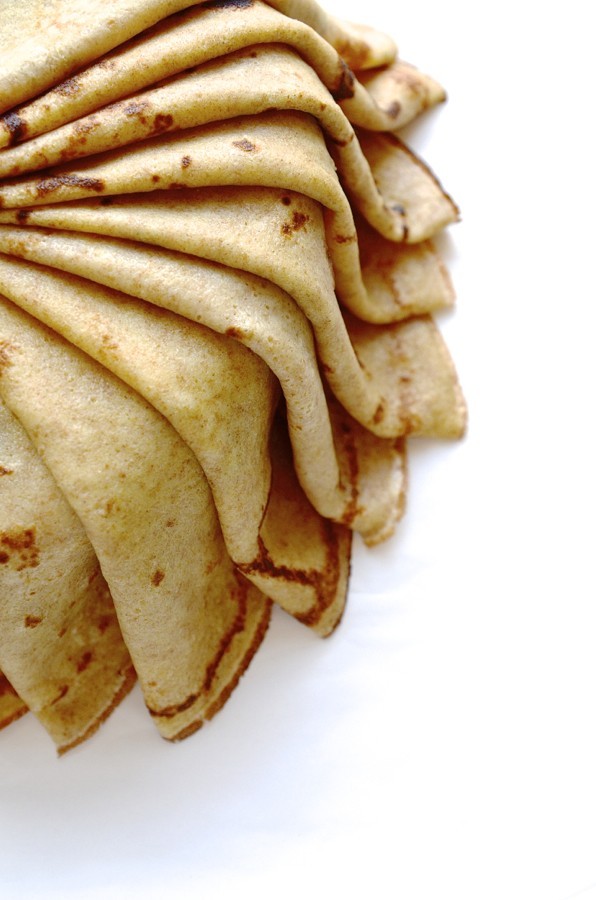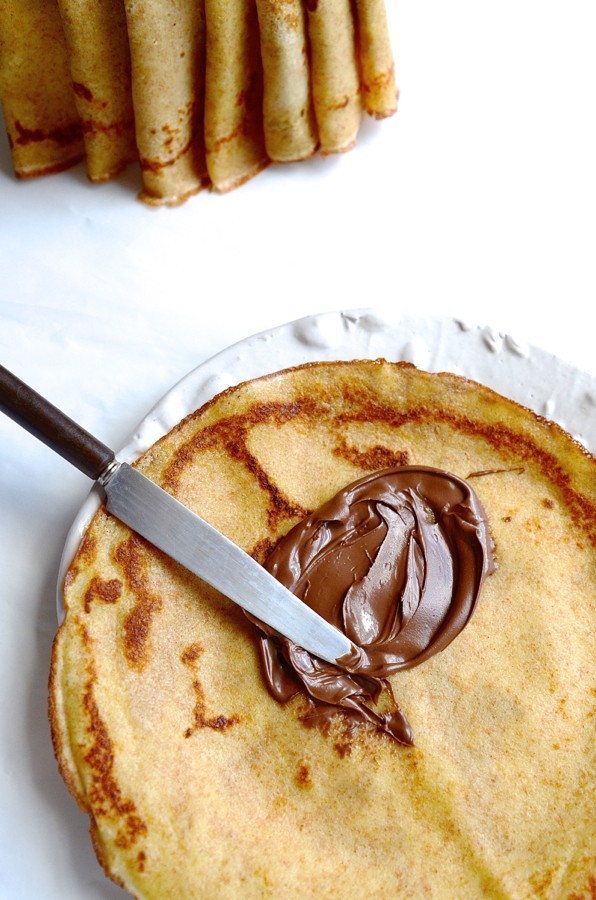 Growing up, a sprinkling of cinnamon sugar and lemon juice was our favourite way of eating pancakes, although the obligatory tin of golden syrup was always close at hand. Later in my adult years, while working in Paris, I discovered that no respectable crêpe should be without a voluptuous slathering of hazelnut chocolate spread. I couldn't agree more. In pancake-land, Nutella is king!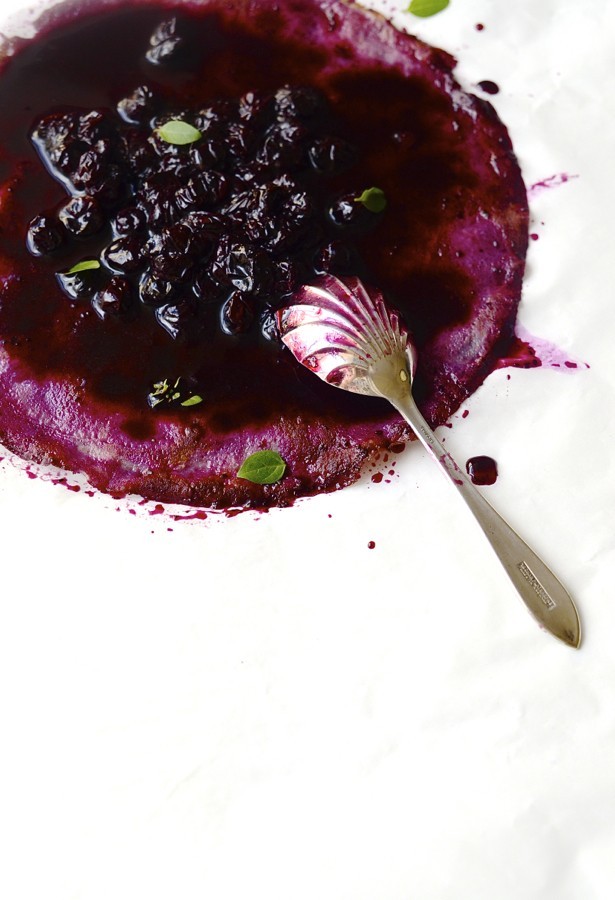 For a little haute glam, these funky blueberry syrup-soaked crêpes are exceptionally good with a few sprigs of basil. Pairing fruit and fresh herbs makes for an interesting combination that'll surprise and delight.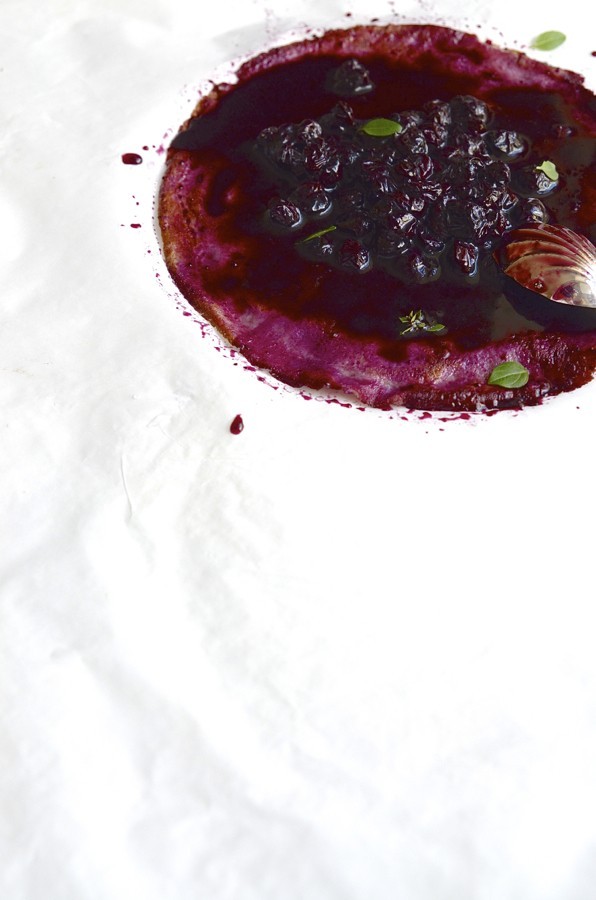 Brown butter pancakes with blueberry compote
Makes 10  – 12
1/2 cup stoneground, fine wholemeal flour
1/2 cup all-purpose cake flour
large pinch of salt
2 tablespoons castor sugar
2 eggs, lightly whisked with a fork
250ml milk
80 ml water
3 tablespoons (45ml) browned butter
In a small saucepan, heat the butter and allow it to bubble away on quite a high heat until it is smells nutty and has a rich, golden colour. Set the browned butter aside to cool.
Sift together the wholemeal flour, all-purpose flour, salt and castor sugar. Make a well in the centre, add the eggs and half the milk. Whisk thoroughly to combine, adding the remaining milk in stages to prevent lumps forming. Stir in the water to thin the batter down. Lastly add the cooled brown butter and whisk to incorporate. Cover and set aside to rest for at least 30 minutes.
Heat a 15cm non-stick pan until hot. Add a tiny drop of flavourless oil to coat the pan. Pour in a 1/4 cup of the batter and swirl around quickly to spread the mixture. Once tiny bubbles form on the surface, flip over and cook until golden. Continue until all the batter is used up.
Serve the pancakes with blueberry compote, Greek yoghurt and a drizzle of honey or maple syrup.
Blueberry compote
Makes about 200ml
200g blueberries (fresh or frozen)
2 tablespoons castor sugar
1 tablespoon lemon juice
Place all the ingredients in a small saucepan and bring slowly up to the boil. Simmer for about 8 minutes until the blueberries have broken down slightly and the syrup has thickened. Store covered in the fridge for up to 5 days.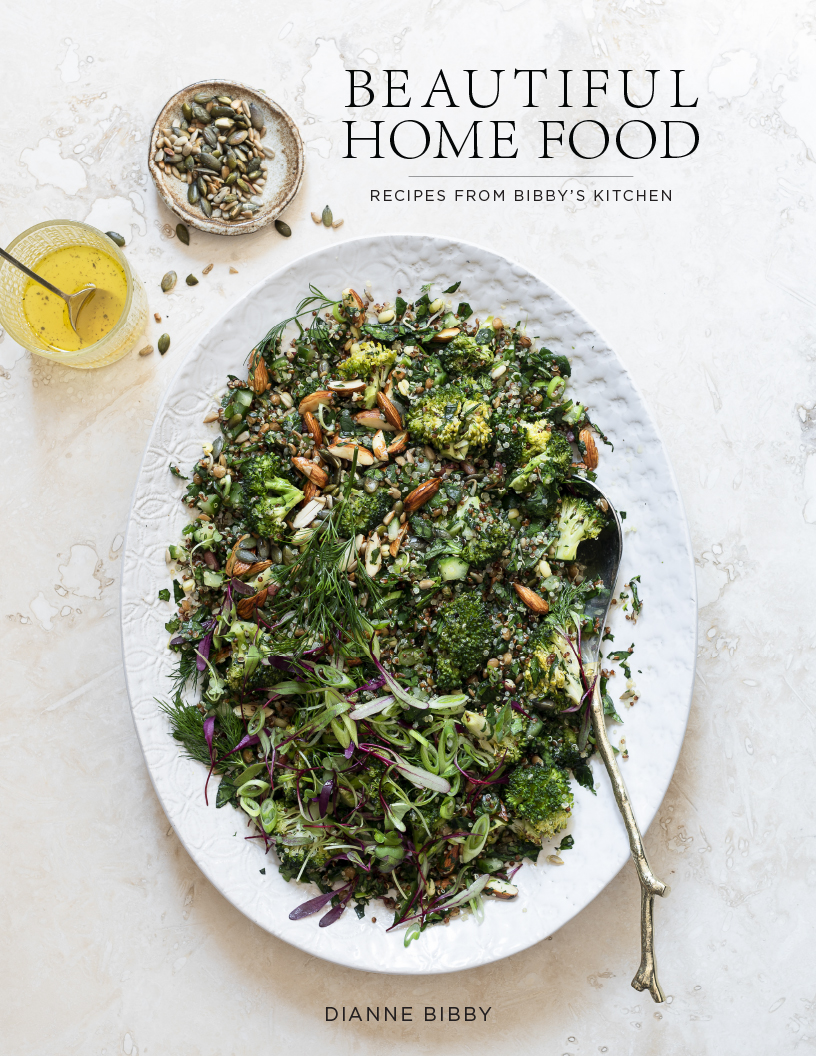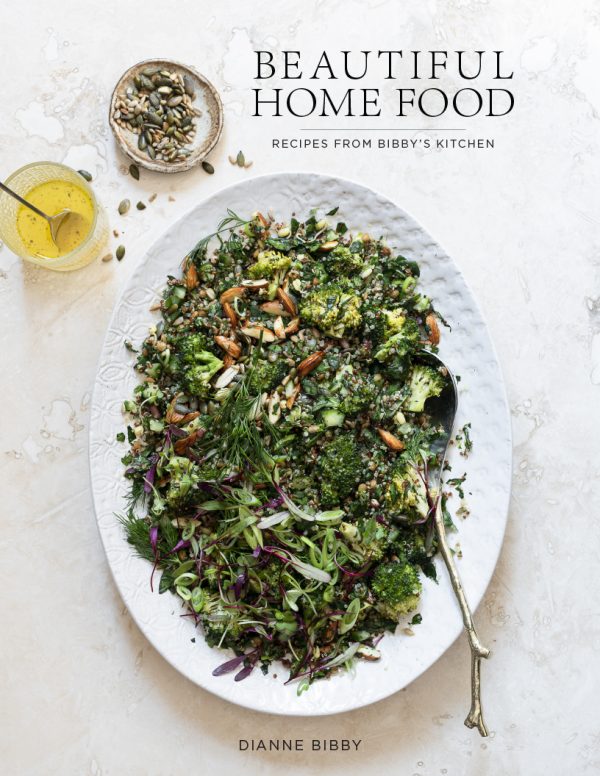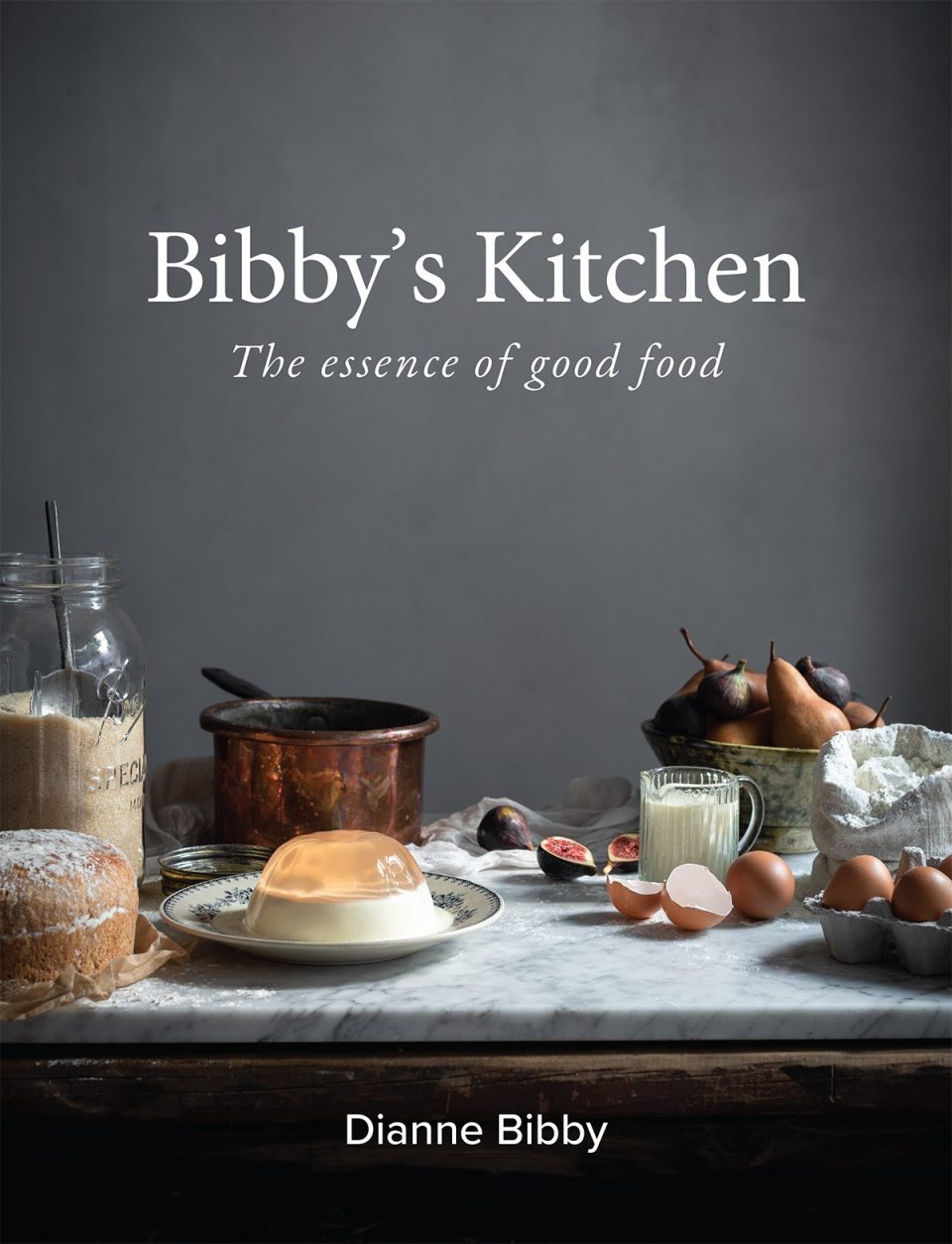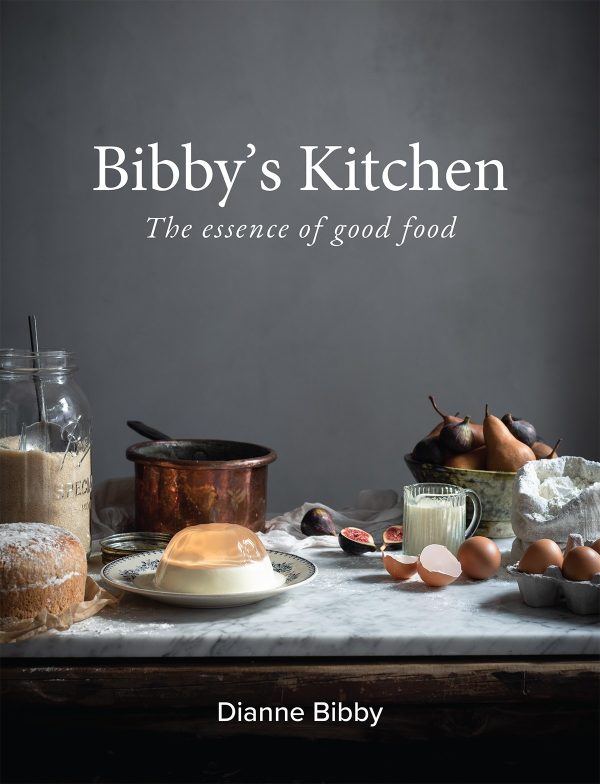 The Bibby's Kitchen Cookbook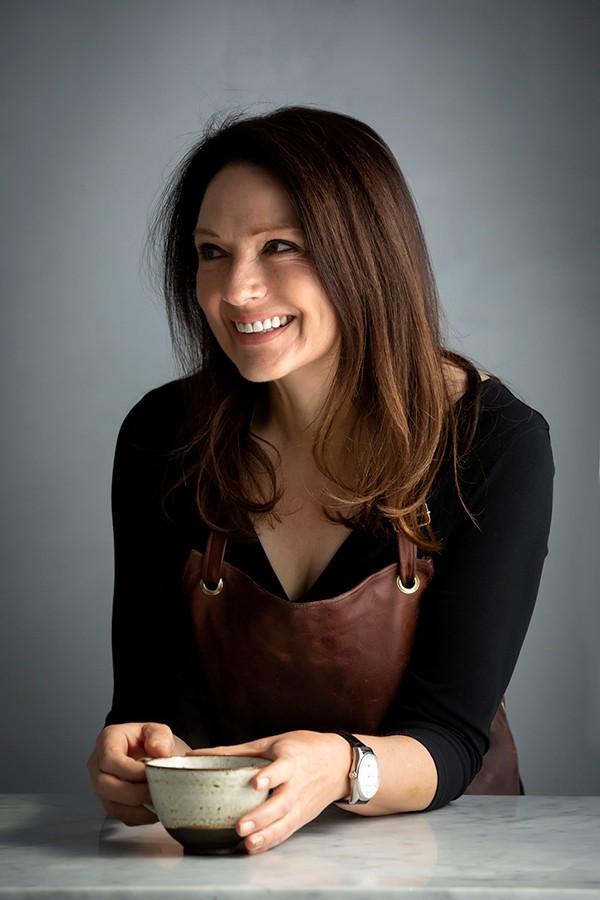 Hello, I'm Di
Welcome to my kitchen, a creative gathering place where meals are shared with family and friends, celebrating life and nurturing our connectivity.
Read more
Subscribe to our Newsletter