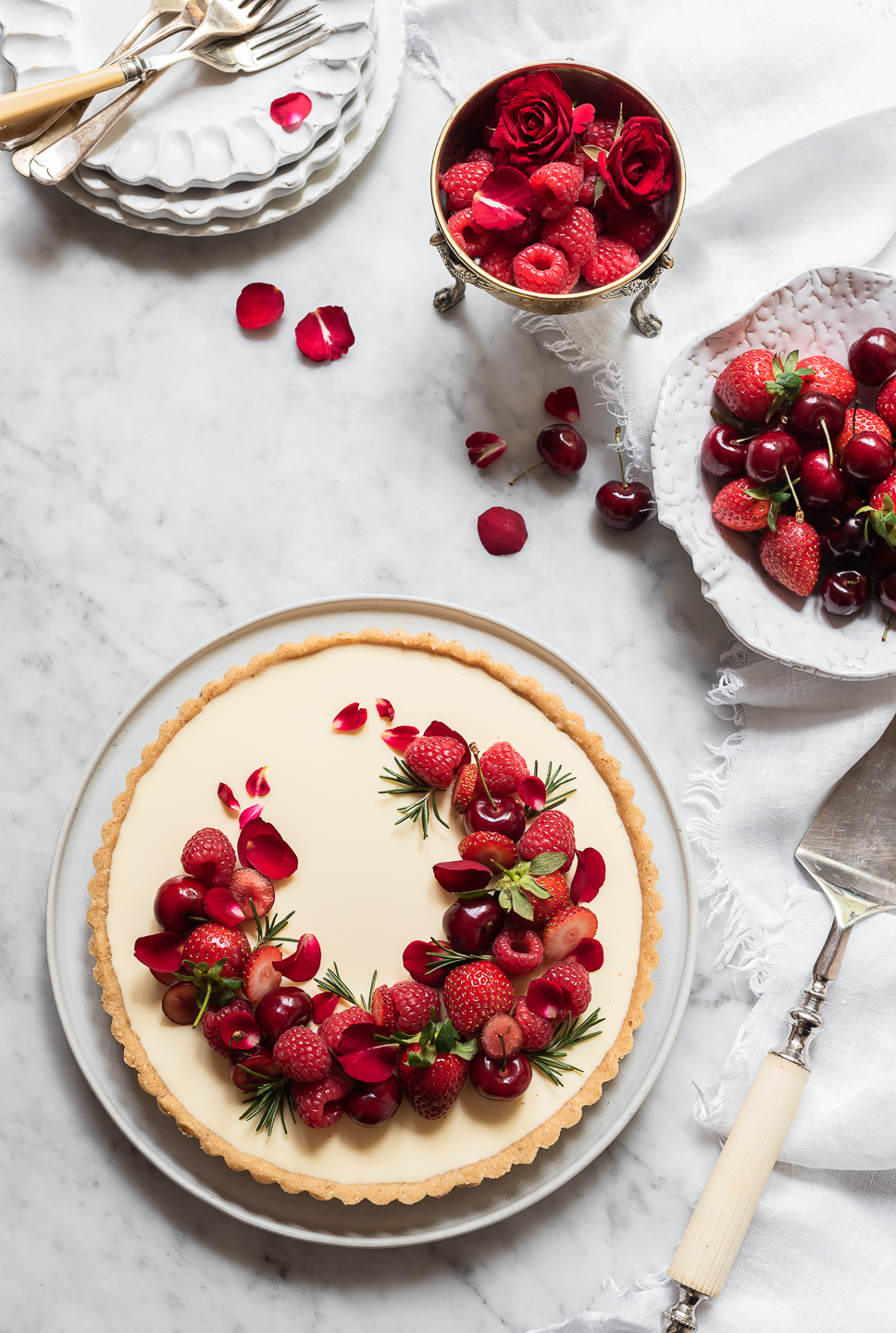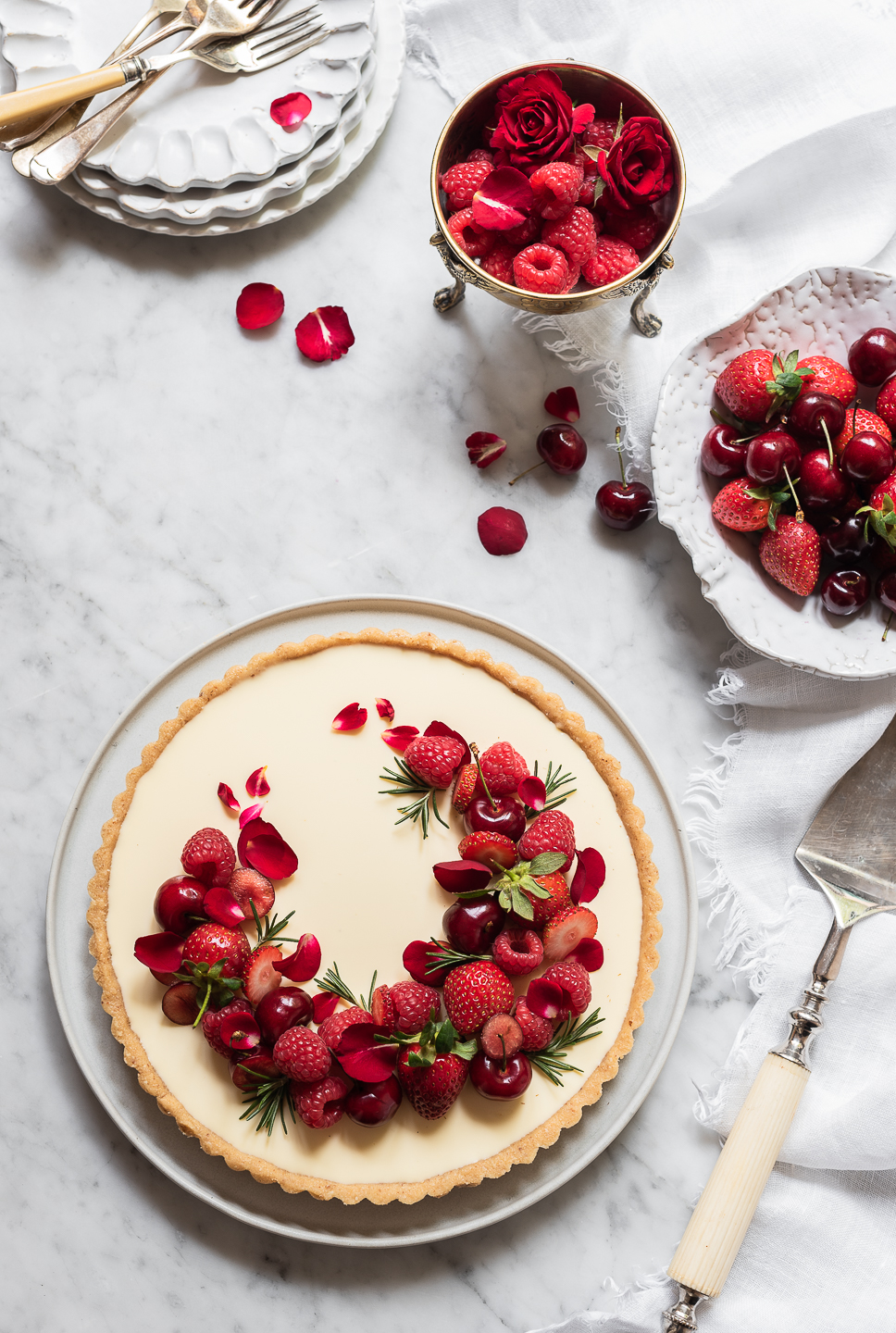 With its crimson red crown and satin-like texture, this vanilla pannacotta tart adds dramatic flair to the festive table. Its wreathed with summer berries and fragrant rosemary needles to contrast the richness of its creamy belly. Over the next two weeks I'll  be sharing several quick and easy recipes using Bakers Choice Assorted Biscuit Range. Expect easy entertaining recipes that can be prepared ahead of time, leaving you free to do what's most important. Reconnecting  with family and friends.
In our childhood kitchen there was a corner pantry cupboard and in that cupboard, on the very top shelf, unreachable to little hands, was the treat shelf. All the desirables lived there. Packets of salt and vinegar chips, chocolates, liquorice all sorts and biscuits, some in tear open packets, others in boxes lined with cellophane clad trays, most of which had a cheery little baker man encircled in red.  Bakers Biscuits, they were. We all had our favourites. Lemon creams, Romany creams, Tennis biscuits and of course,  Marie, who was generally relegated to the end of the month. Although the latter lacked the desired filling, its versatility saw it sauntering effortlessly from  s'mores, that famous fridge cake that all our mothers made when in a pinch, not forgetting the quintessential candy covered birthday cones, which back in the day, was the ultimate party favour.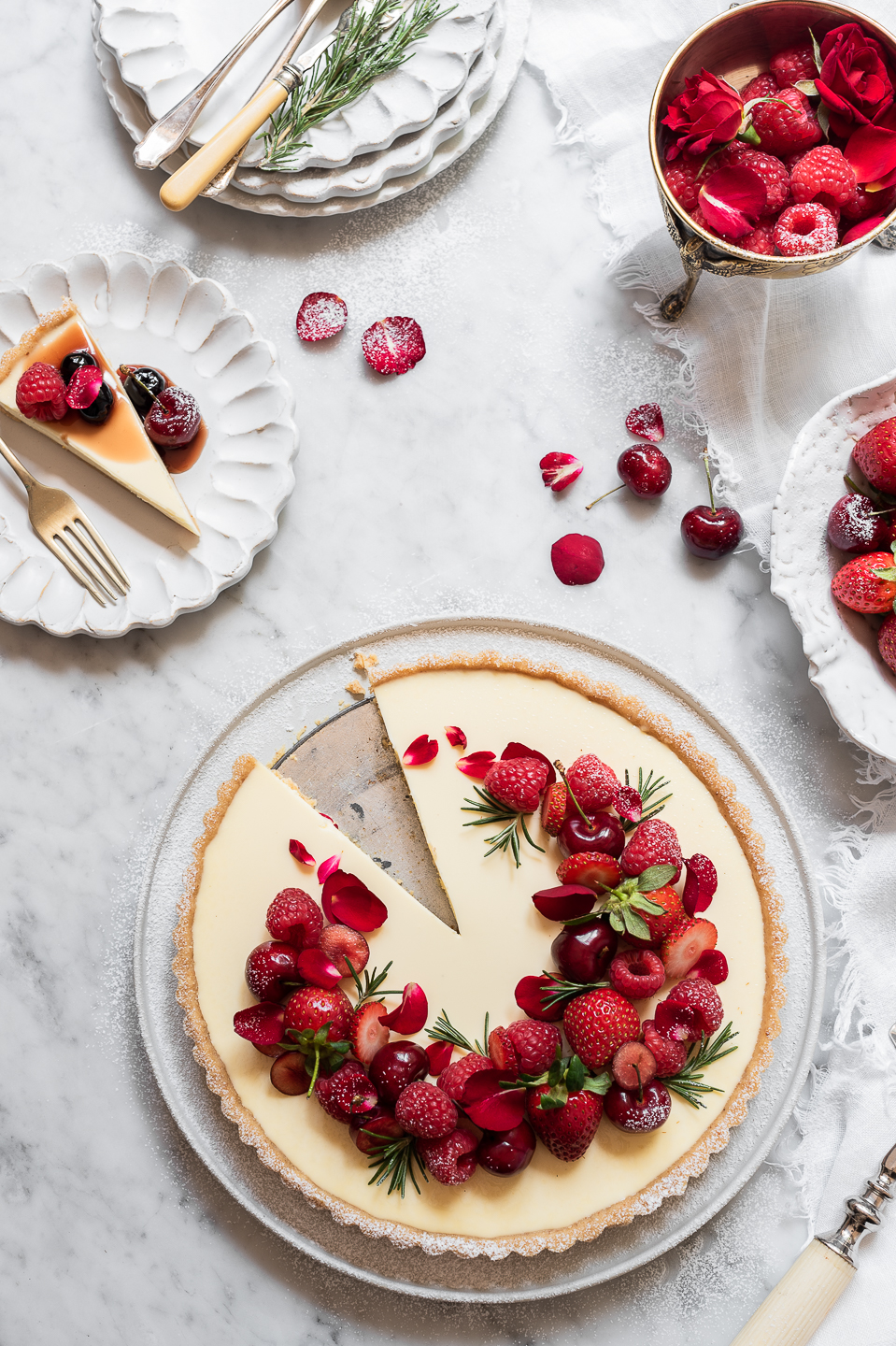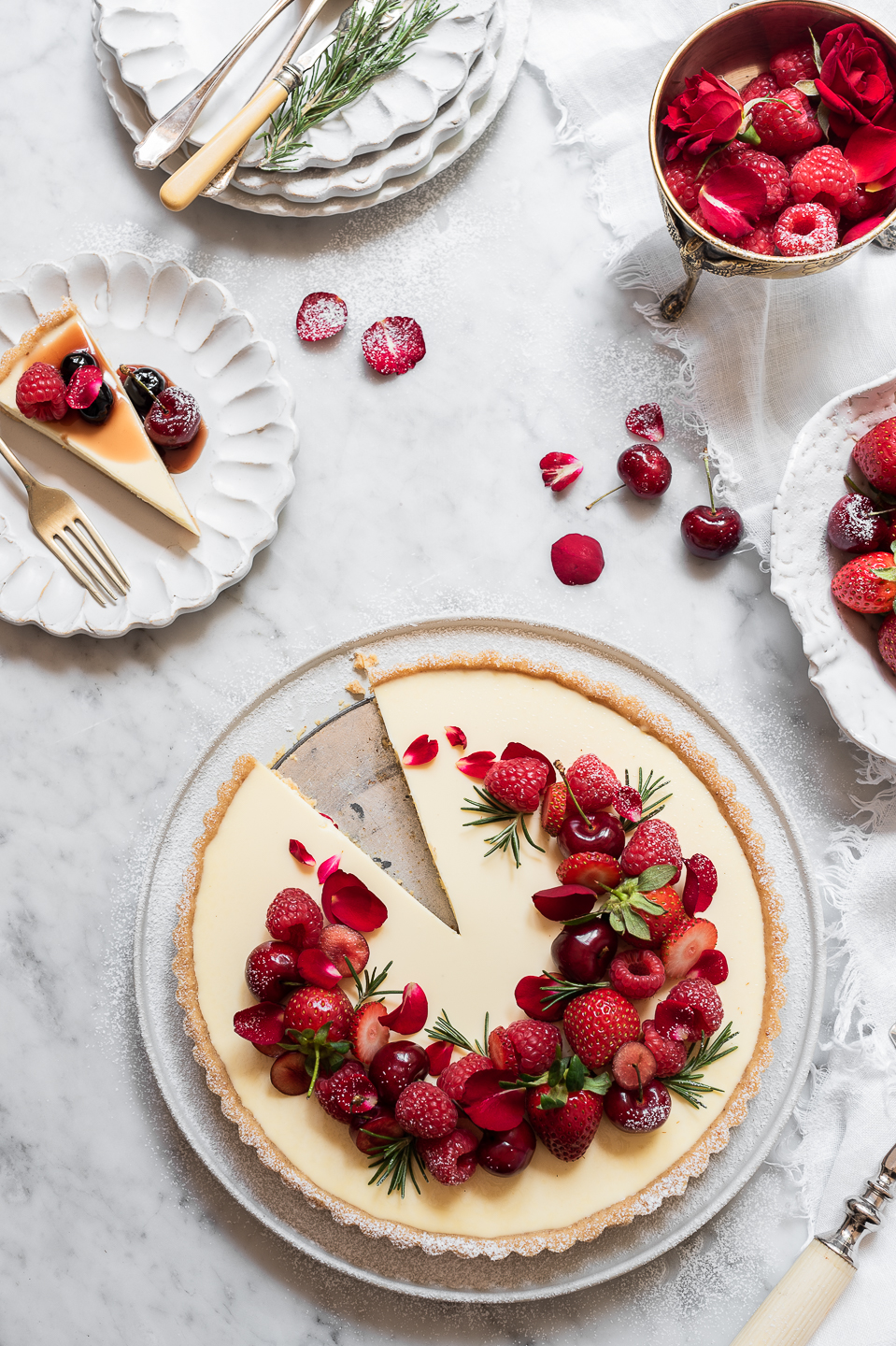 For my vanilla pannacotta tart crust, I've used Eet-Sum-Mor, a buttery, fine textured shortbread biscuit that's perfect for no-bake pastry cases. A handful of toasted almonds adds a nuttiness that's rather lovely with the smooth, creamy texture of the pannacotta. Pecan or macadamia nuts will also do nicely. The flavouring of the panncotta is subtle, leaning heavily on the floral perfume of good vanilla. Seek out a decent vanilla paste, extract or pods, if possible. To off-set the silky texture, a crown of summer berries provides the necessary bright tartness. A final wreathing of fruited adornments does a sterling job to evoke a festive closure at your gathered feast.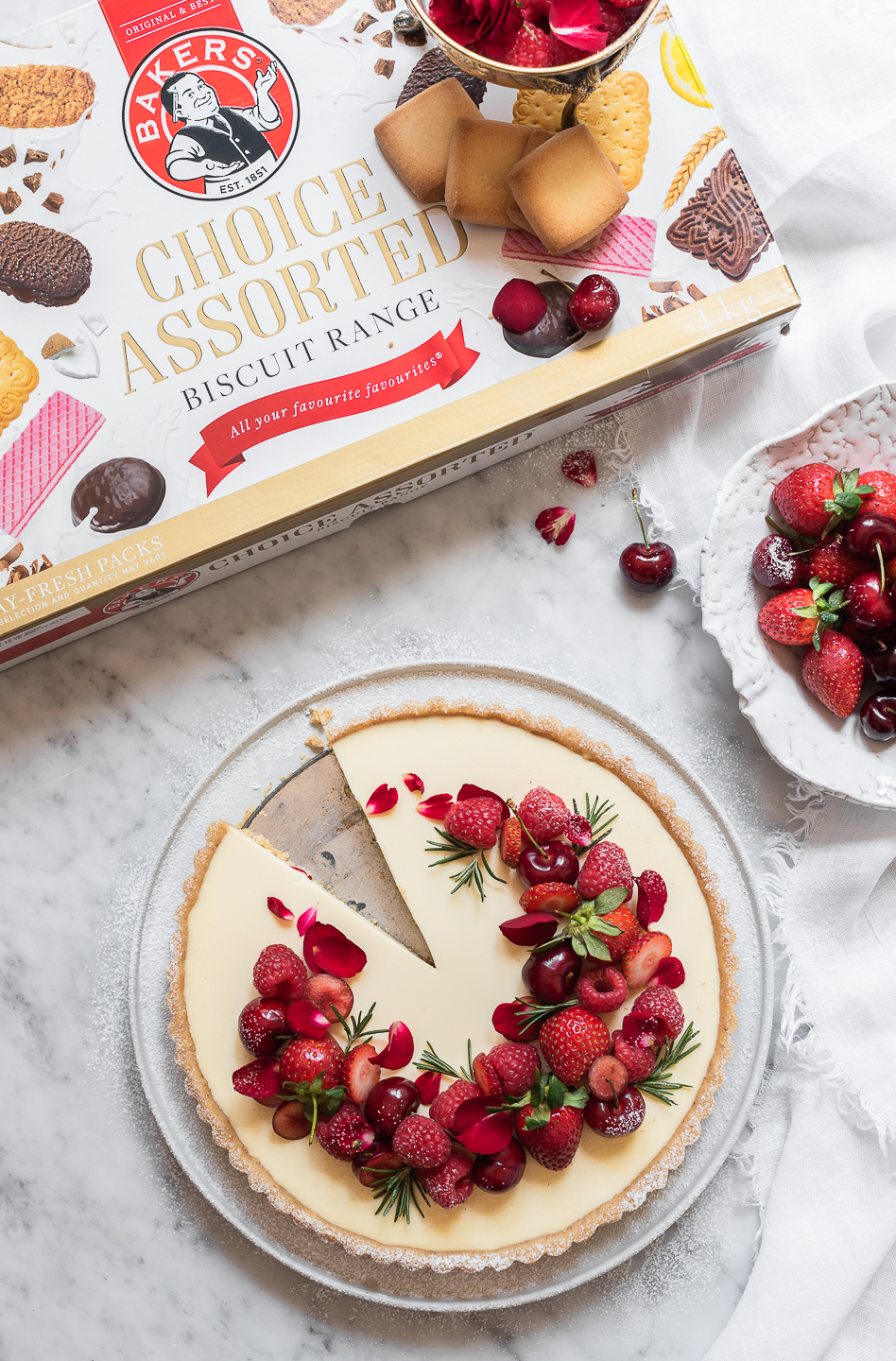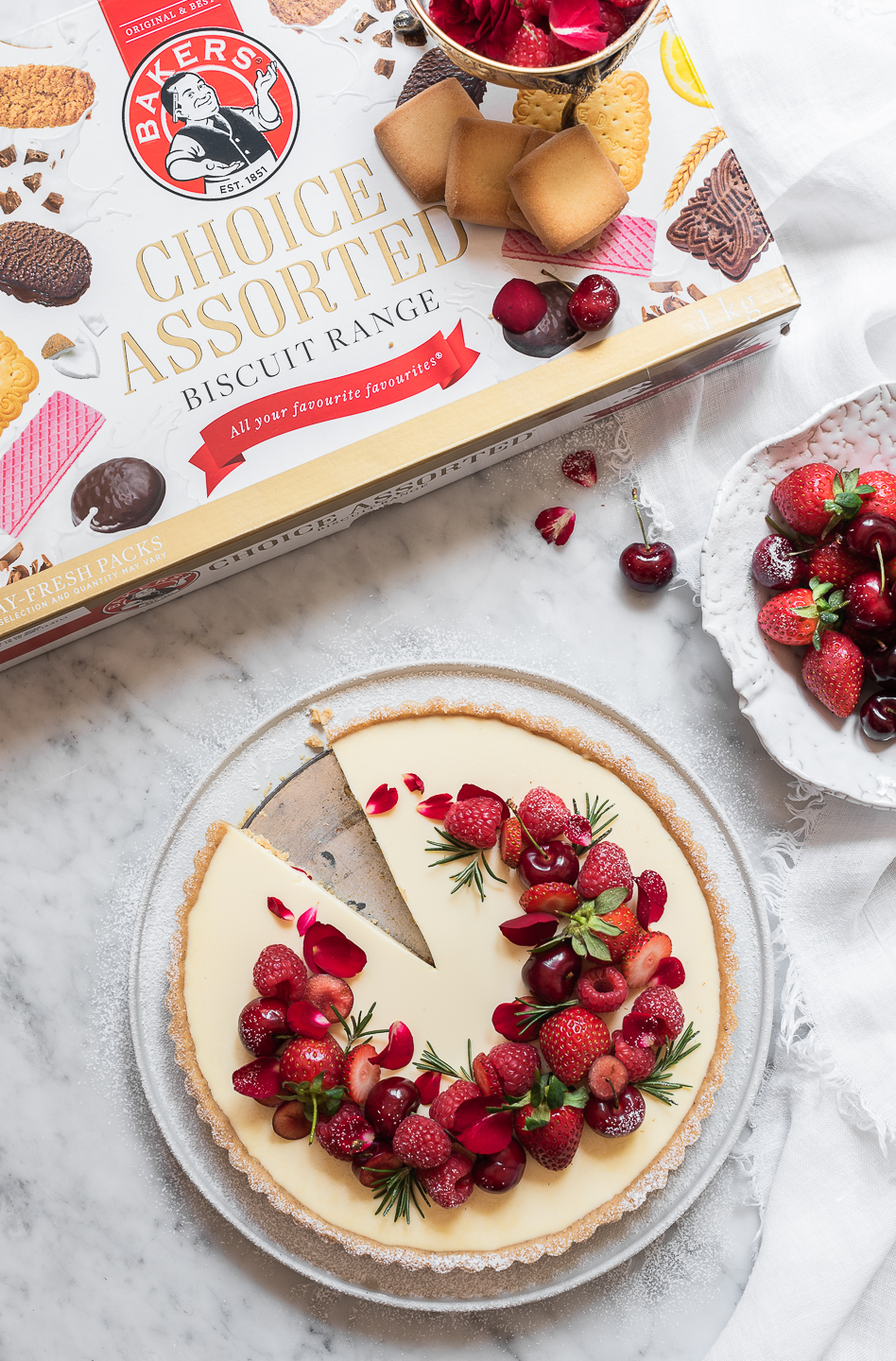 Vanilla Pannacotta Tart with Summer Berry Wreath
Serves 12
Crust
200g Bakers Eat Sum More biscuits
15ml (1 tablespoon) castor sugar
50g almonds, toasted and roughly chopped
60g butter, melted
Vanilla Pannacotta
500ml (2 cups) fresh cream
80ml (1/3 cup) castor sugar
5-6 gelatine leaves, depending on the softness preferred
7,5ml (1½ teaspoons) vanilla paste or extract
To finish
summer berries – Cherries, raspberries, strawberries
edible flowers
rosemary sprigs
powdered sugar, for dusting
Start by making the crust. Place the Bakers Eat Sum More biscuits, castor sugar and almonds in a processor. Pulse until fine. Add the butter and blitz to combine.
Tip the biscuit crumbs into a 22cm loos-bottomed tart tin and press down firmly to line the tin. Chill for 20 minutes.
For the pannacotta, soak the gelatine leaves in cold water to soften, about 5 minutes. In the meanwhile, place the cream and castor sugar a saucepan. Heat gently, stirring gently until tiny bubbles break the surface. Remove from the heat.
Squeeze the excess water from the gelatine and add to the cream. Whisk until the gelatine is completely dissolved. Add the vanilla paste and stir to combine. Pour the cream into a heatproof bowl and to cool to room temperature.
Pour the cooled cream carefully into the tart shell. Chill for several hours or overnight until set.
Gently un-mould the tart and transfer to a serving plate. To finish, arrange the berries and rosemary in a wreathe pattern on top. Dust lightly with powdered sugar.
Cook's note: Serve with a berry coulis, cherry syrup or balsamic glaze for a tangy flavour contrast.
For more no-bake dessert recipes, you may these simple yet spectacularly delicious ideas:
No-bake caramel walnut chocolate tart
No-bake salted chocolate tart with frosted berries
Silky No Bake Chocolate Cheesecake