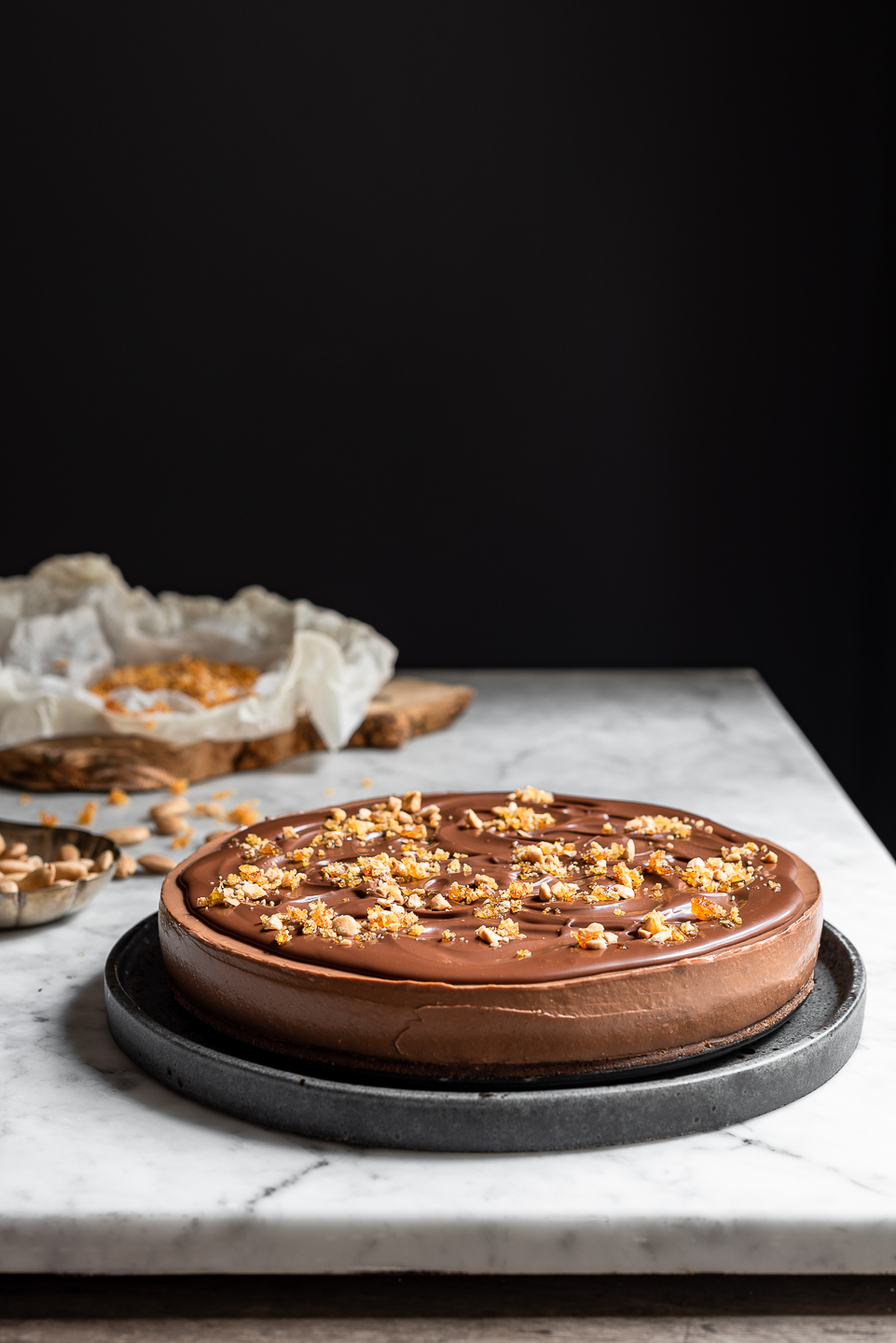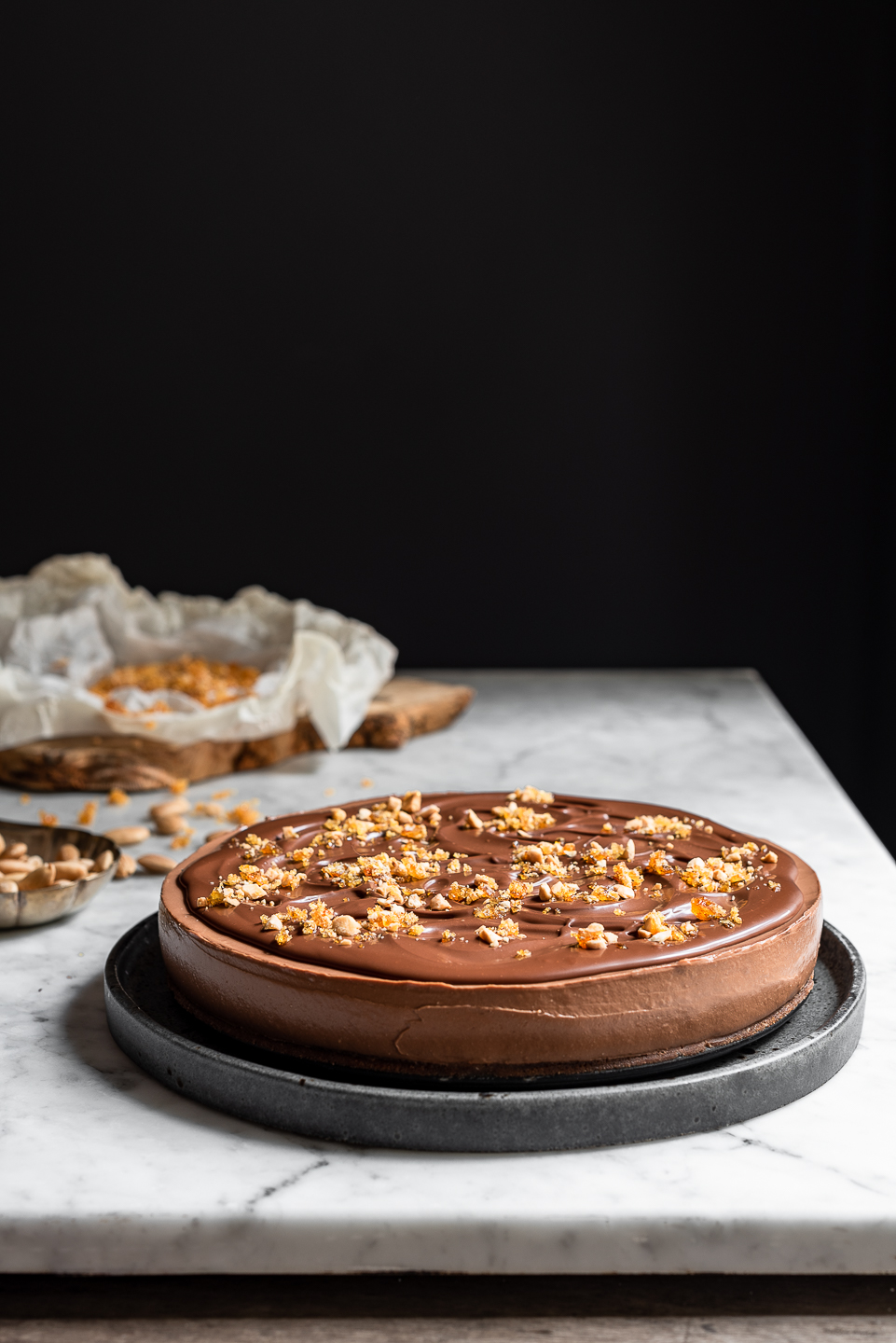 If you're a regular visitor to the Bibbyskitchen blog you'll know, skimping, especially when it comes to chocolate, is neither encouraged nor entertained. In for a penny, in for a pound. And we're throwing it all down with a Silky no bake chocolate cheesecake. No oven, no calorie counting, just reckless abandonment. There's an unusual ingredient hidden within its velvety chocolate belly. Waver a guess before scrolling down?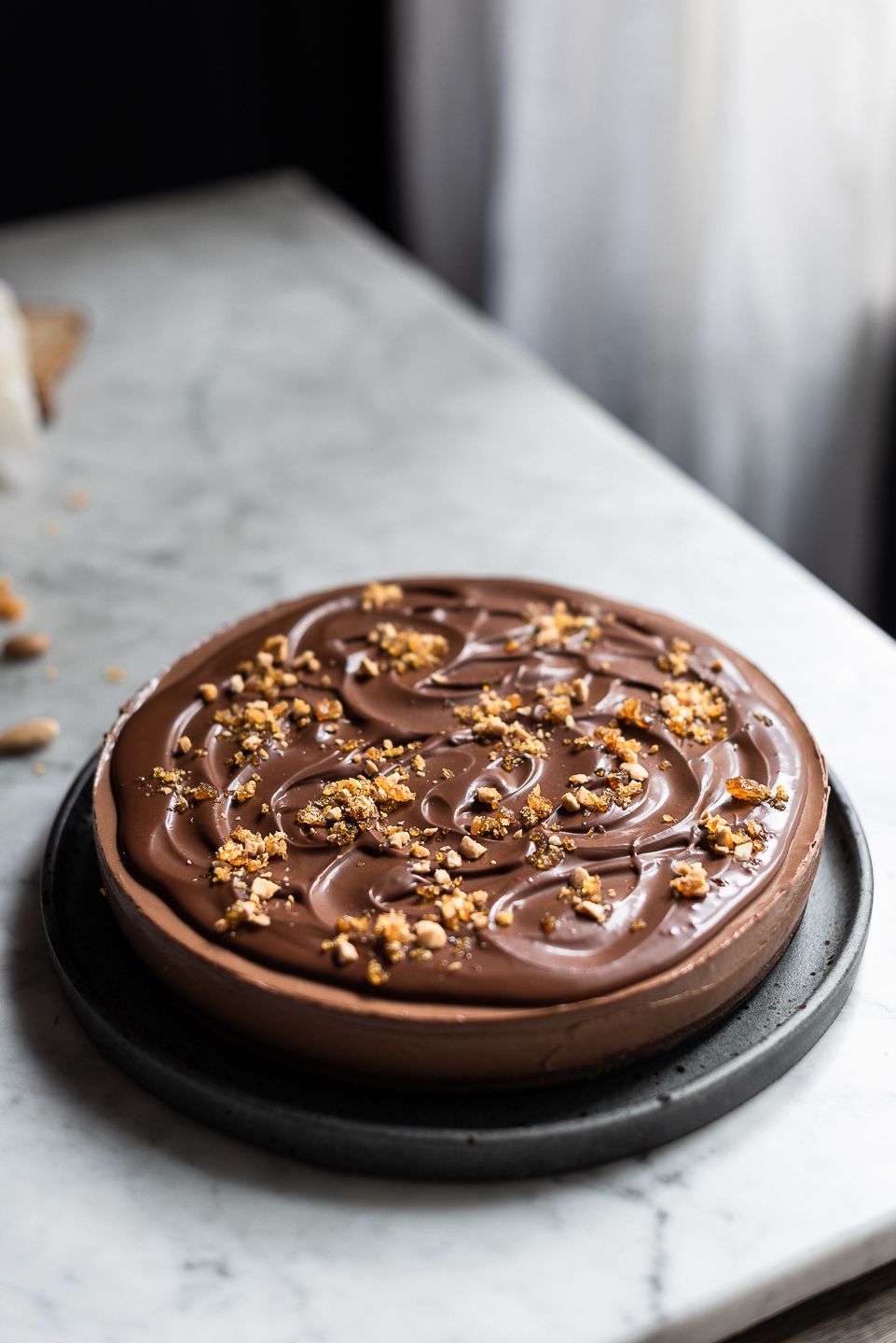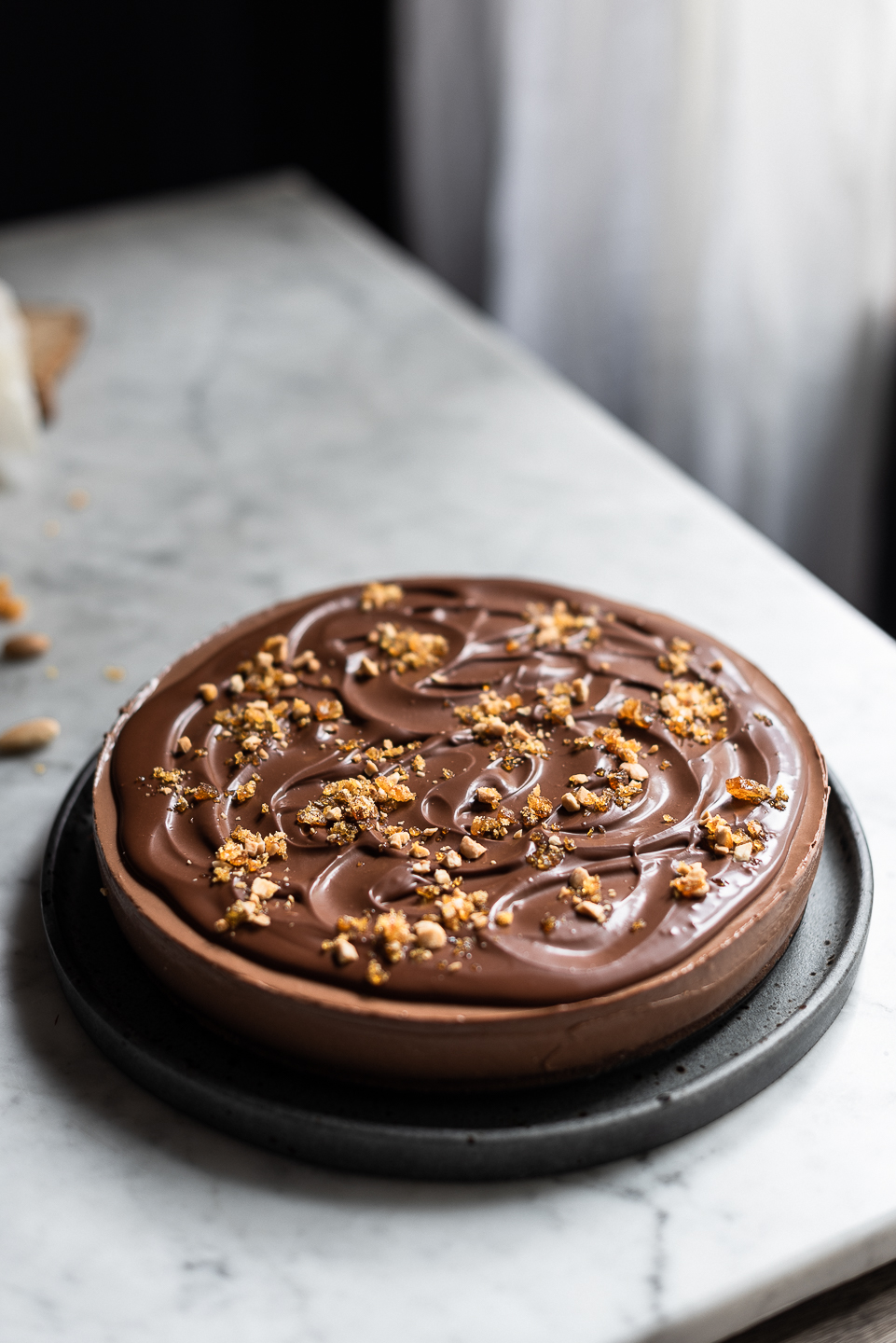 If curiosity had you checking the recipe, you'll know the secret ingredient is Amasi. Several months back, First Choice asked me to create a showy Easter inspired chocolate dessert, and since there's nothing I love more than a food challenge, I was in. I found 101 uses for the thick Amasi before deciding on this silky no bake chocolate cheesecake. This thoroughly South African fermented milk is also known as maas. It's similar to buttermilk but slightly more tangy. For the cheesecake recipe I've used the same principle of draining excess liquid as making labneh. The resulting curd is voluptuously soft and creamy.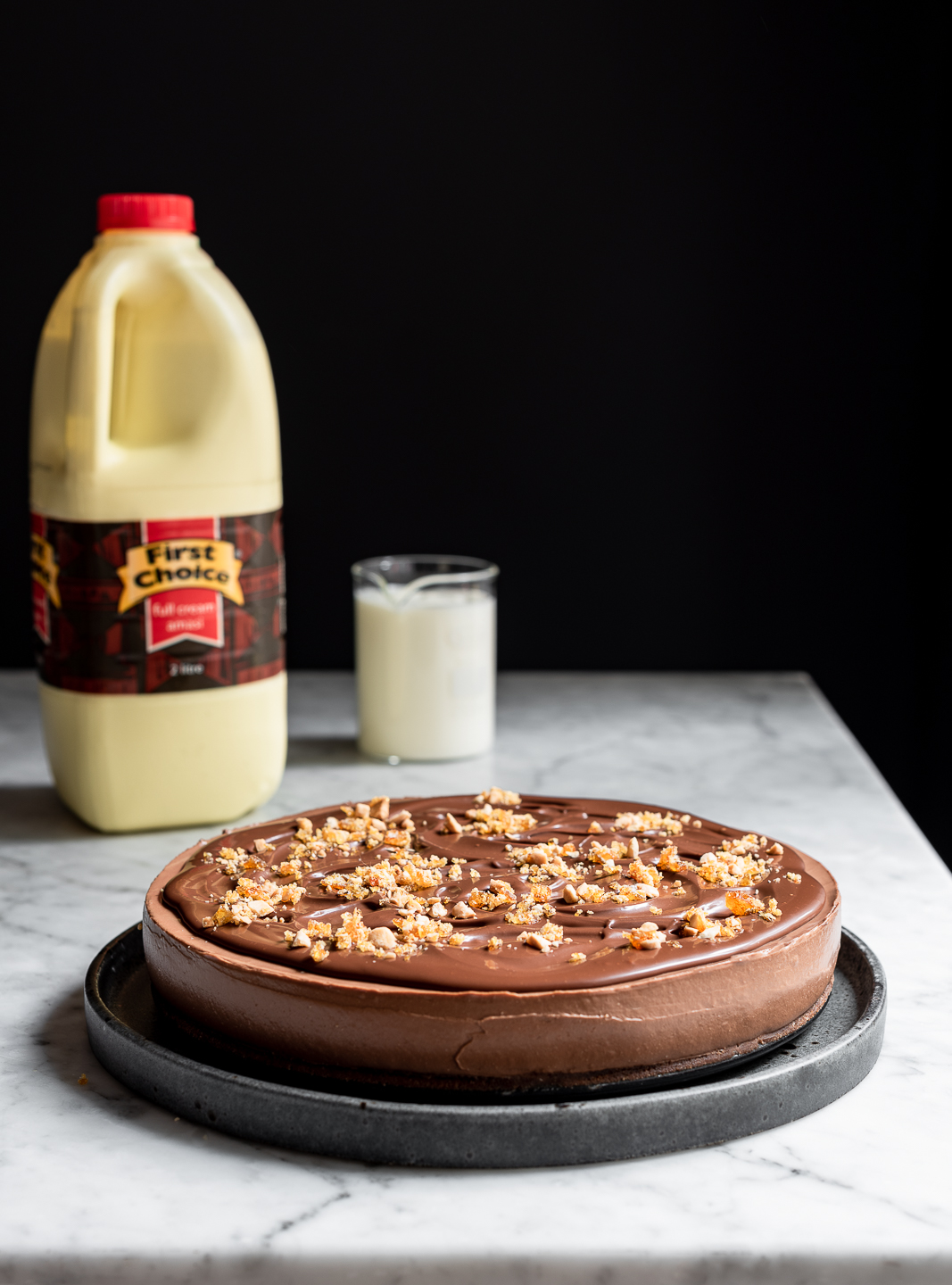 The recipe was tested repeatedly with different ratios and methods before deciding on the silkiest, most chocolatey iteration . Anyone who darkened our door during testing was presented with a slice. Although said slithers were requested by most, I read between the lines, so a slice it was. After the expected eye rolling and celestial mutterings, boxed slices were issued on departure. It was agreed that the almond praline was wicked, and the perfect textural contrast to the velvety cheesecake.
Cook's note: The cheesecake keeps well for several days, chilled, making it the ideal get ahead dessert. Scatter the almond praline over just before serving as the caramel liquifies when left too long in the fridge.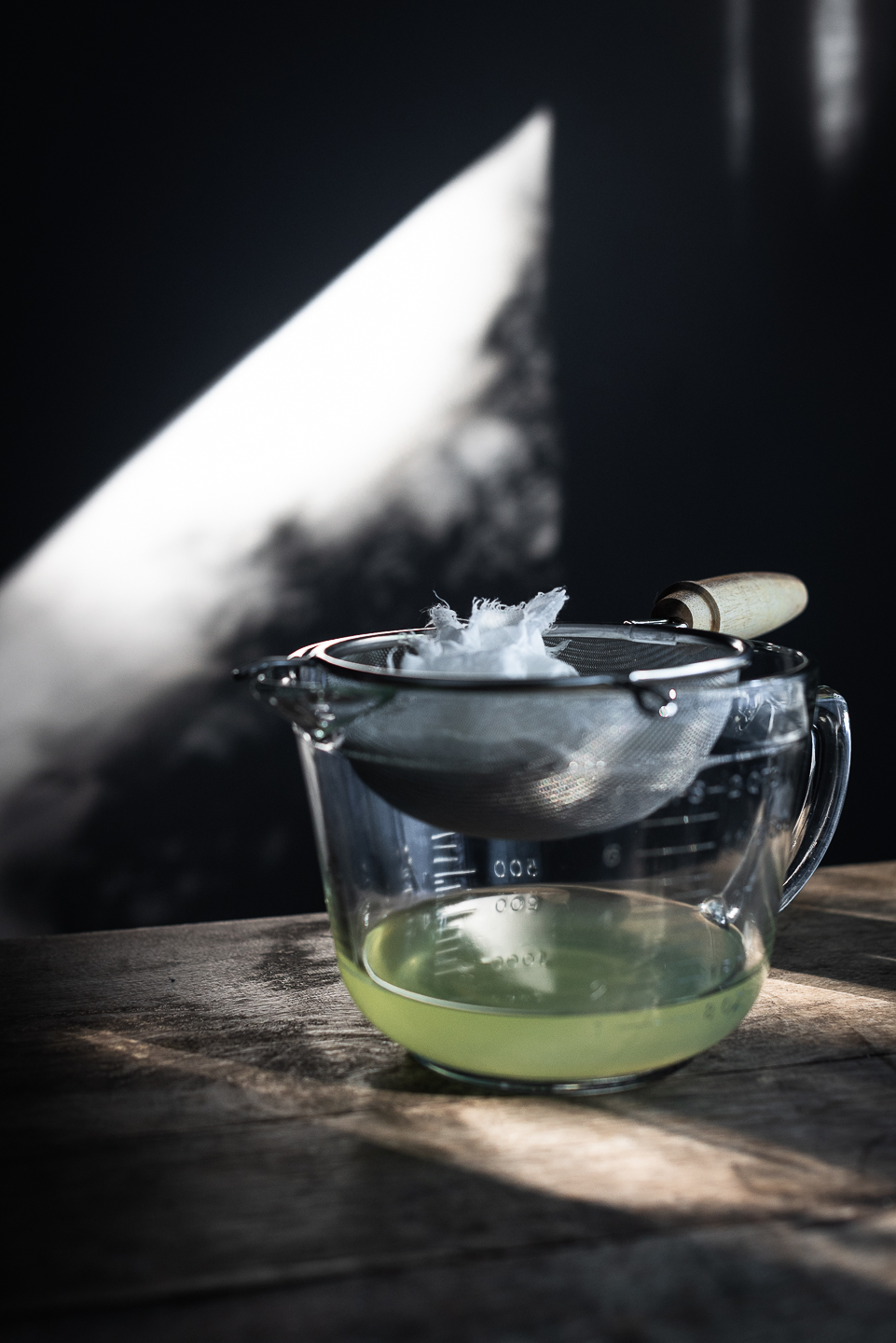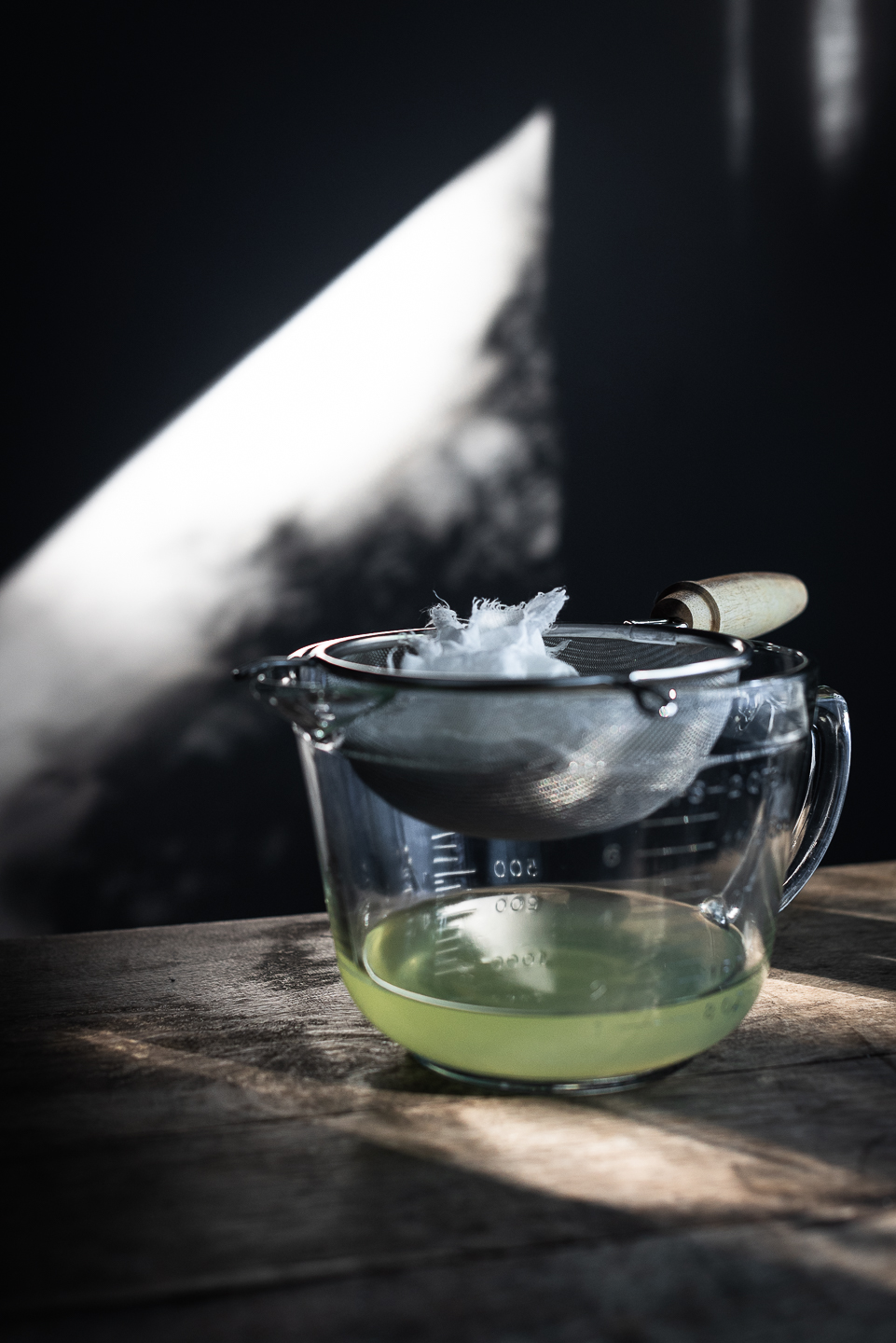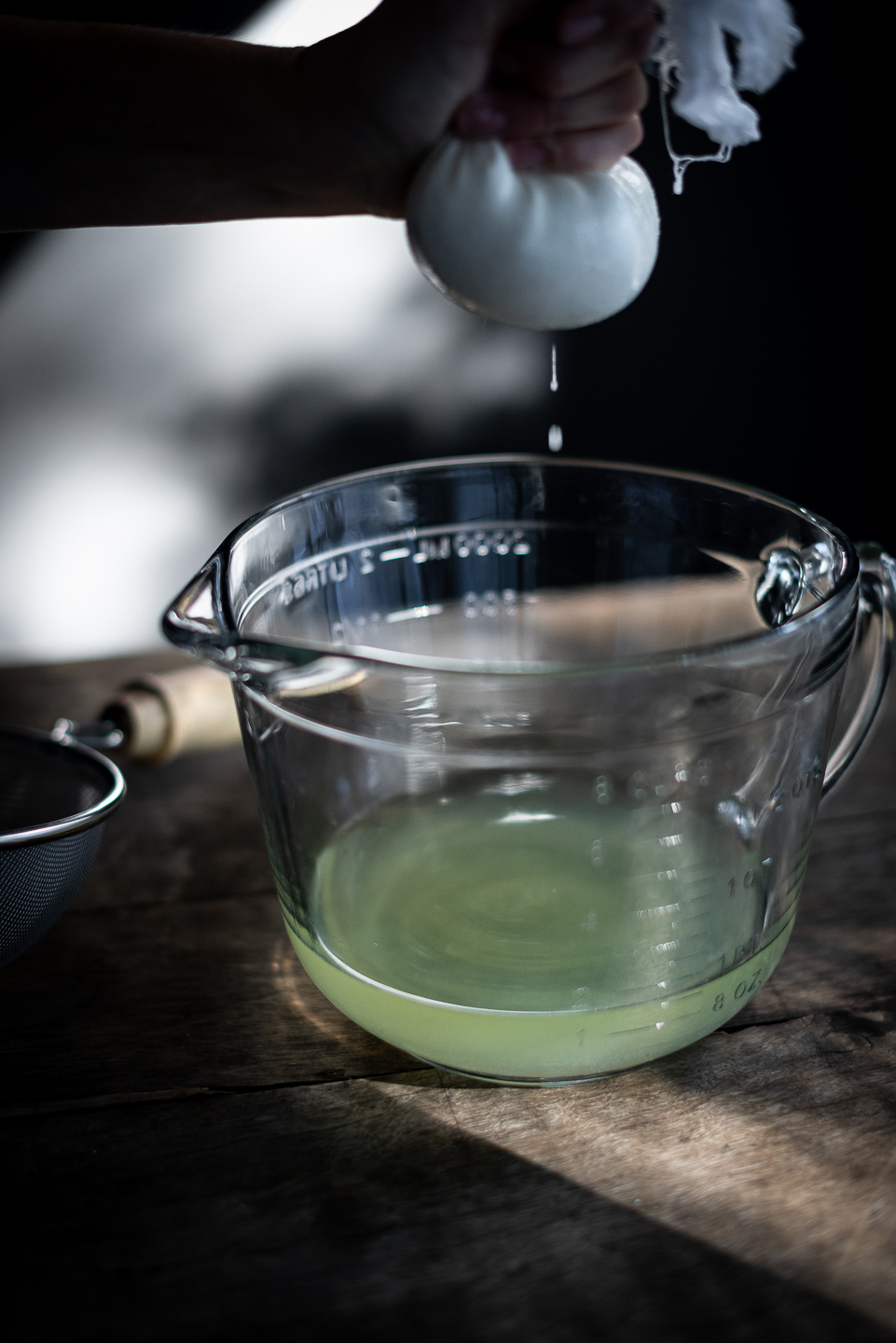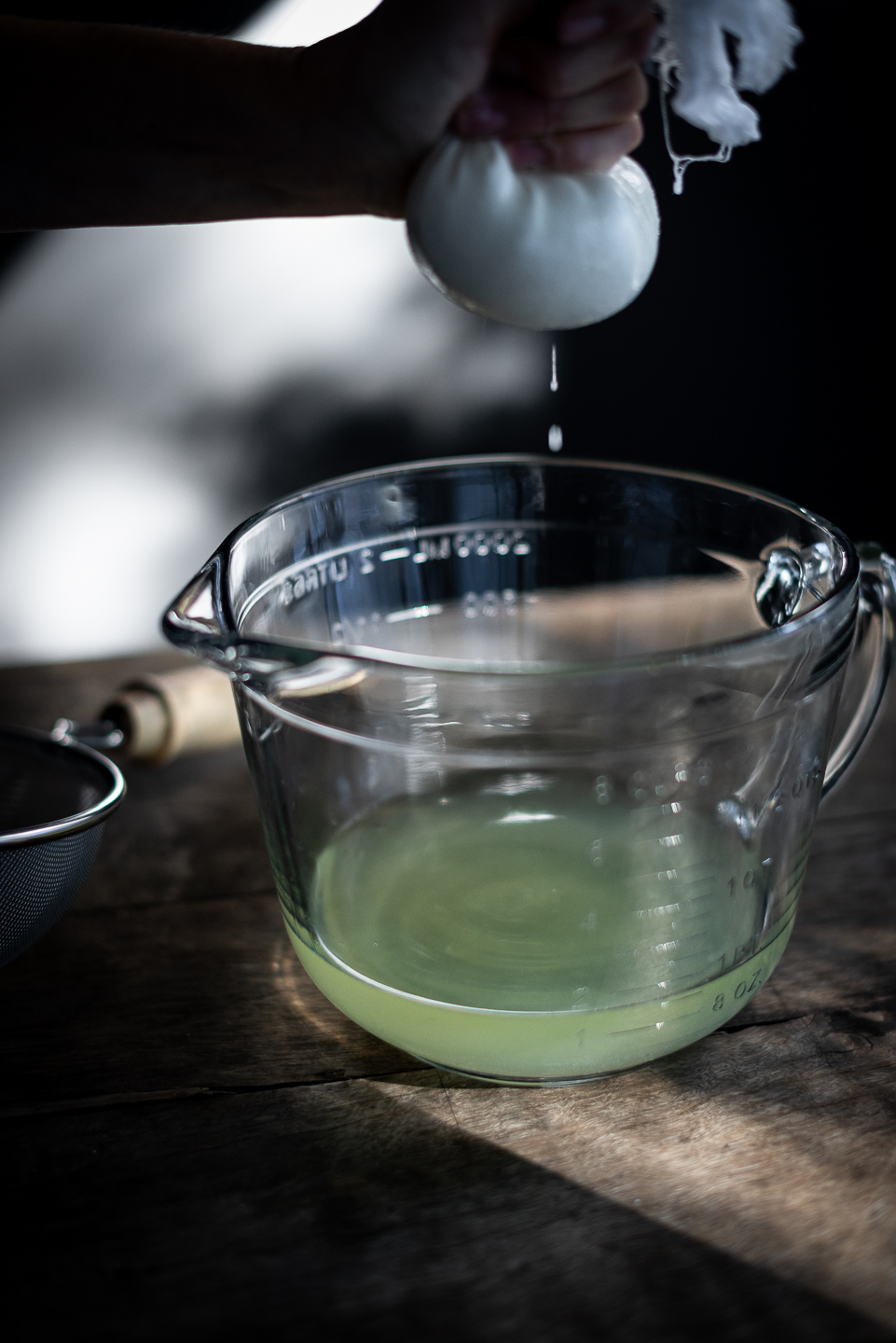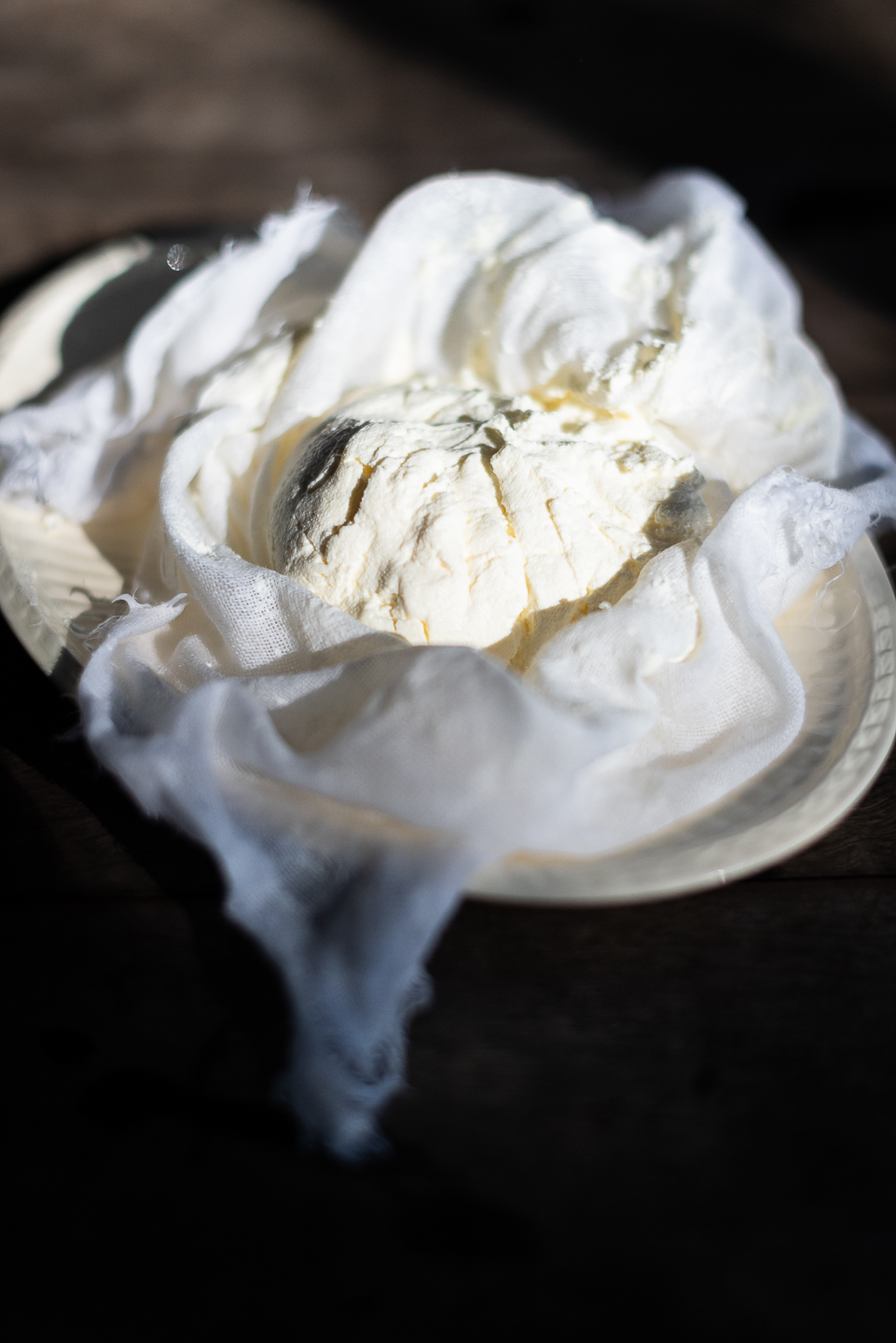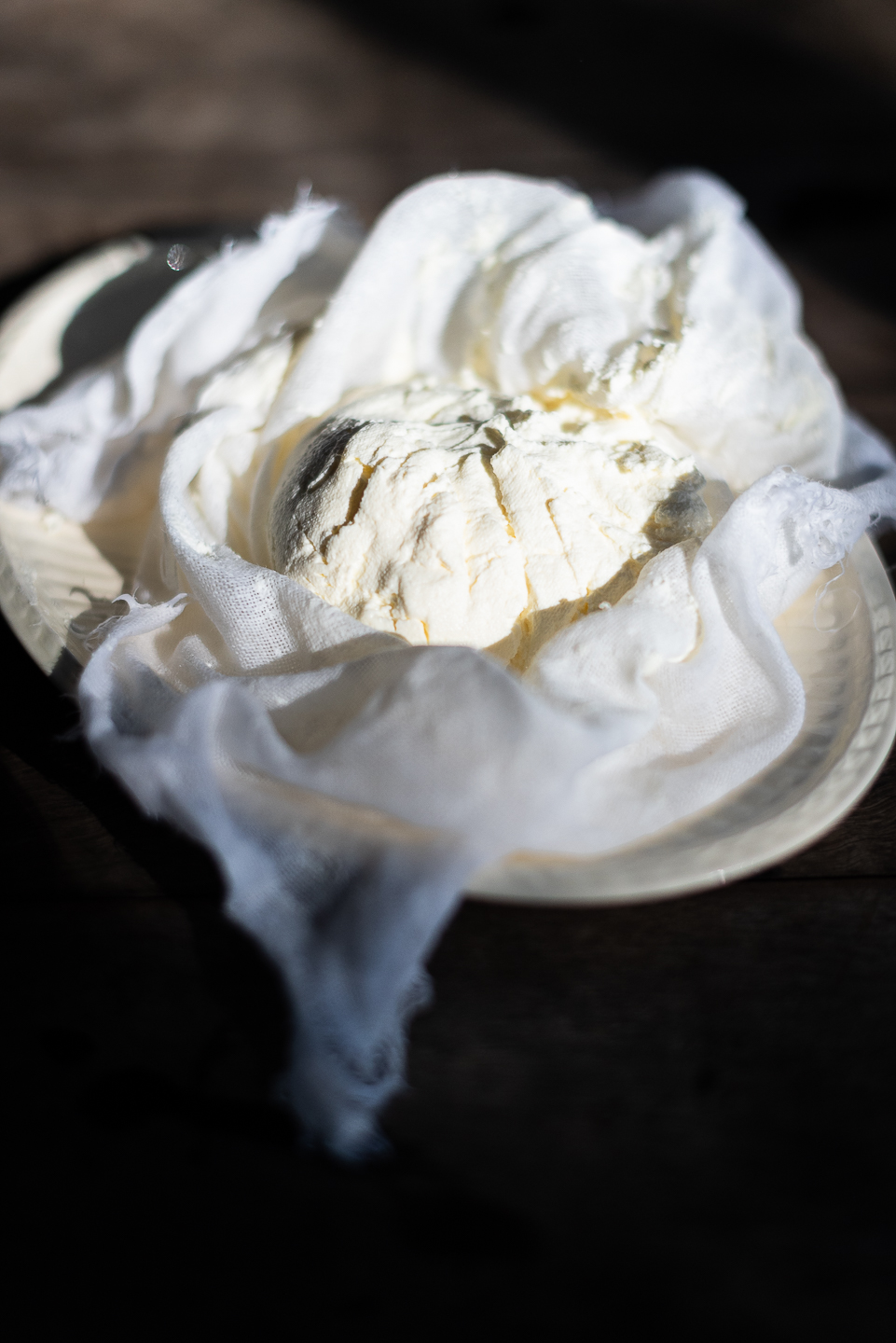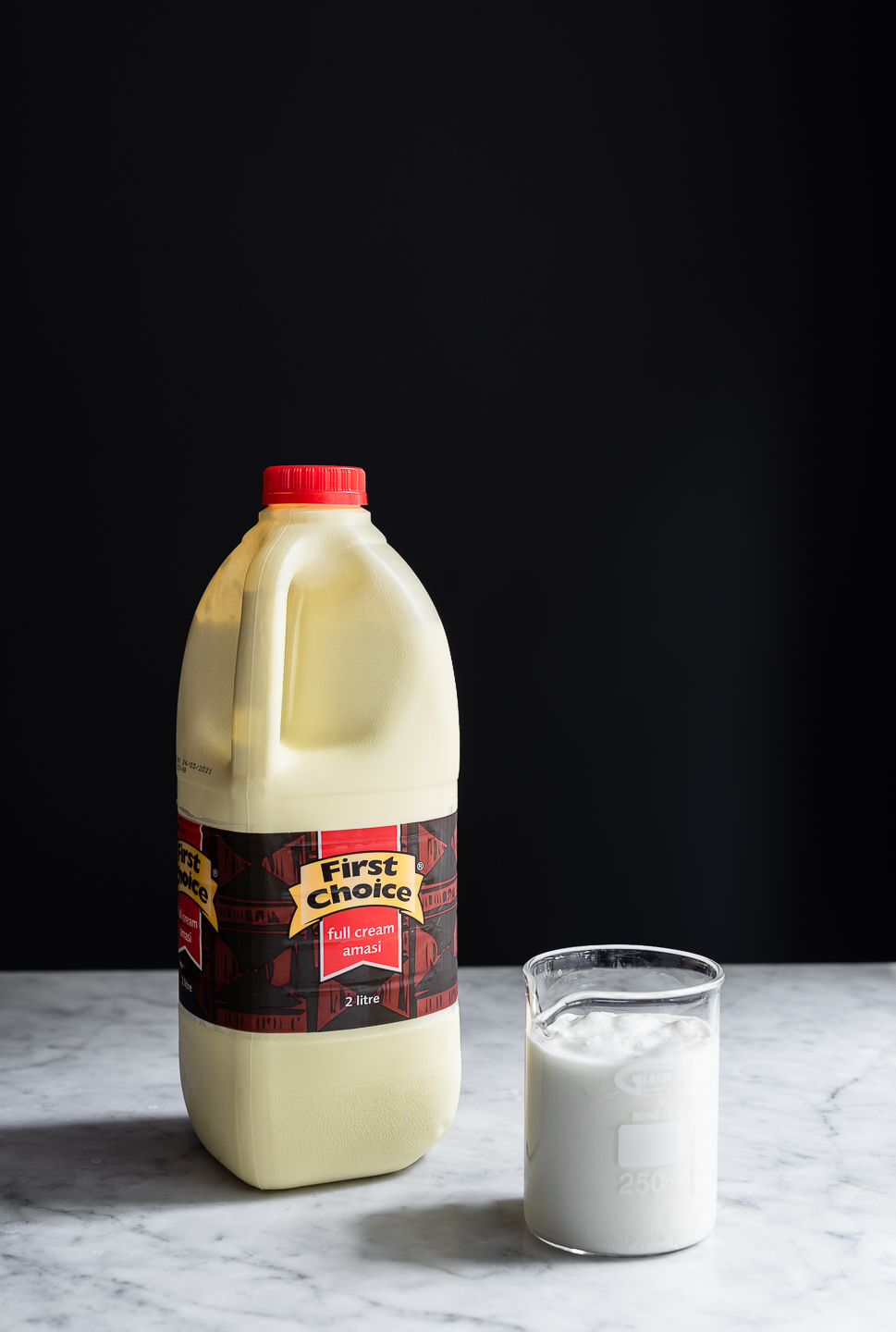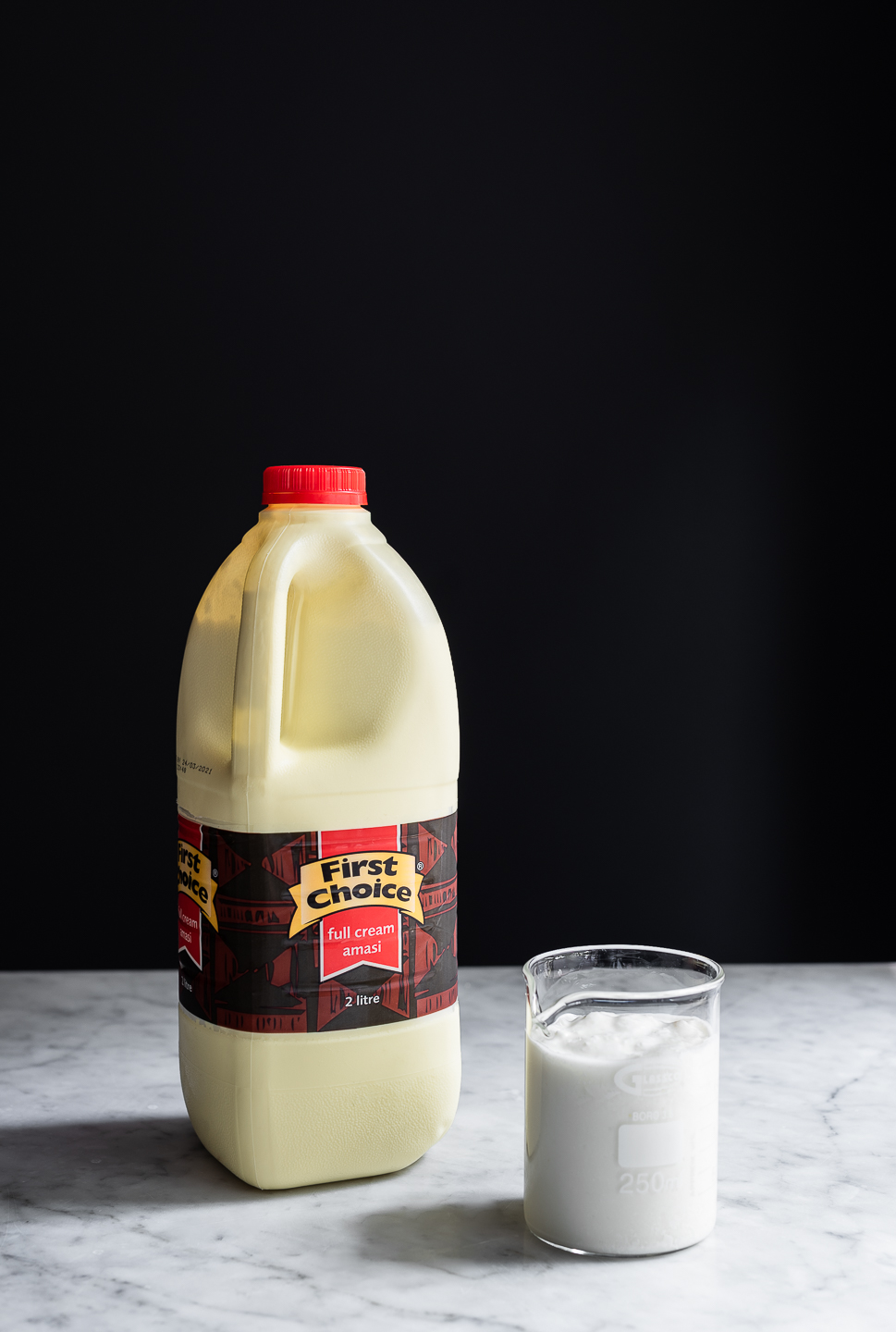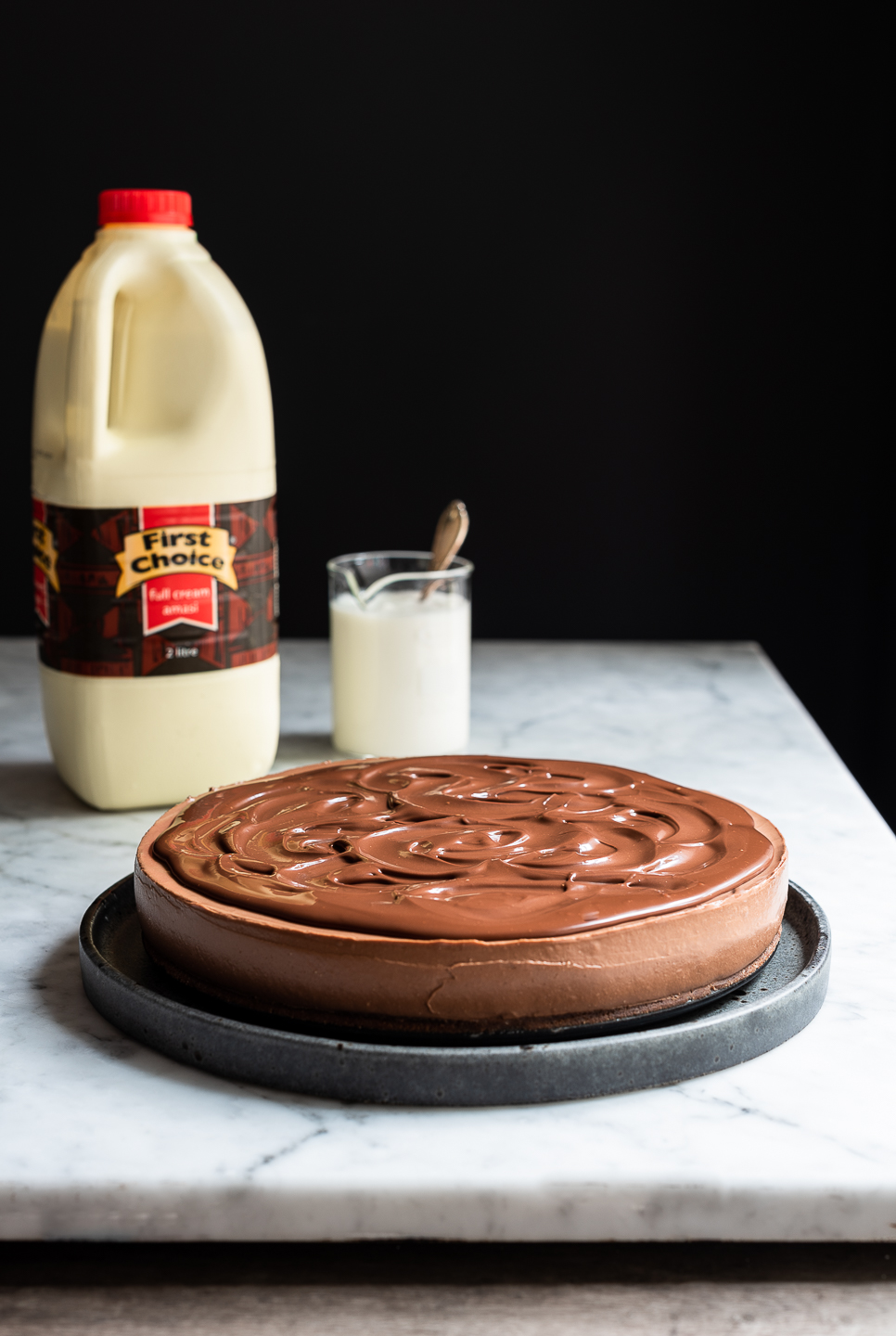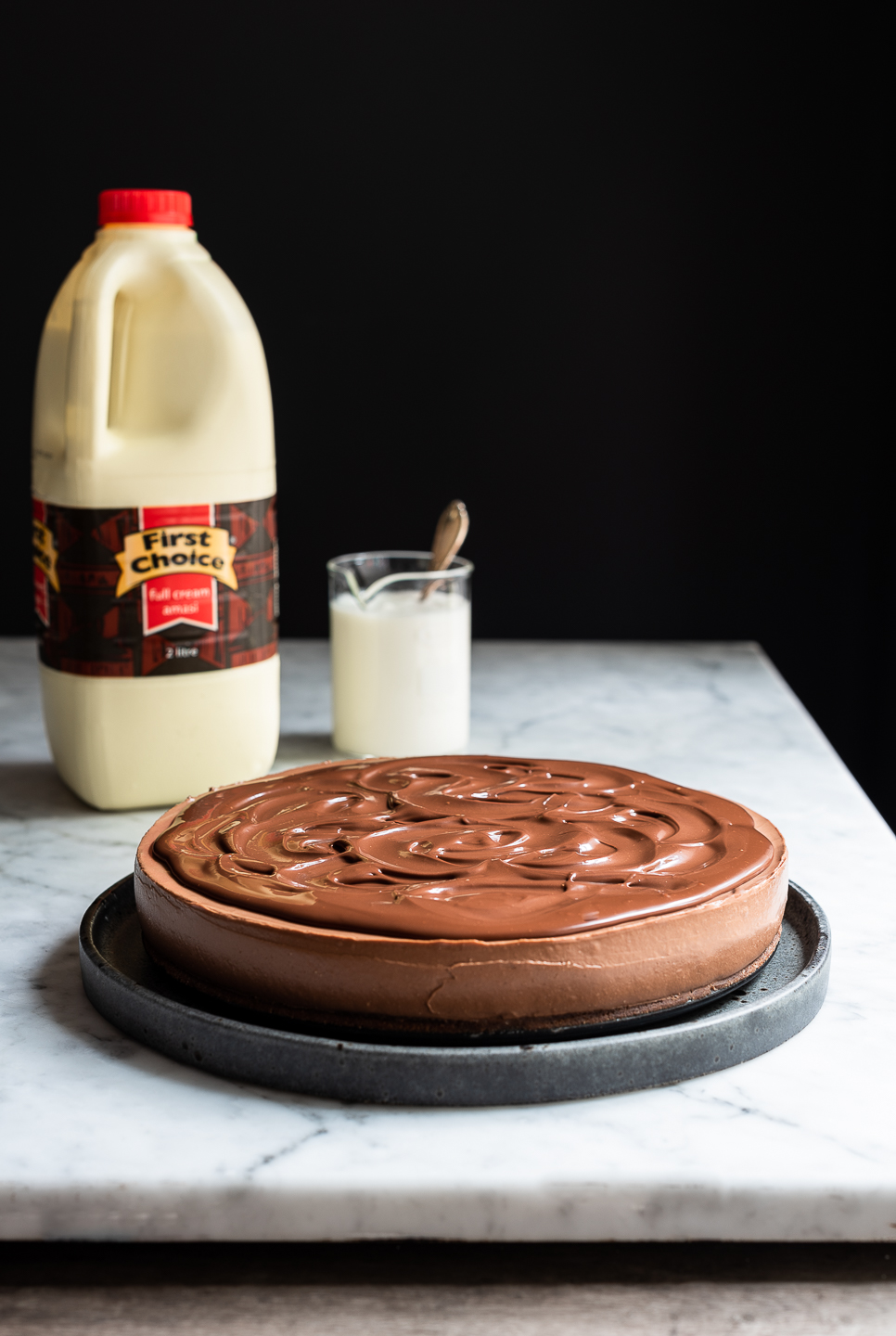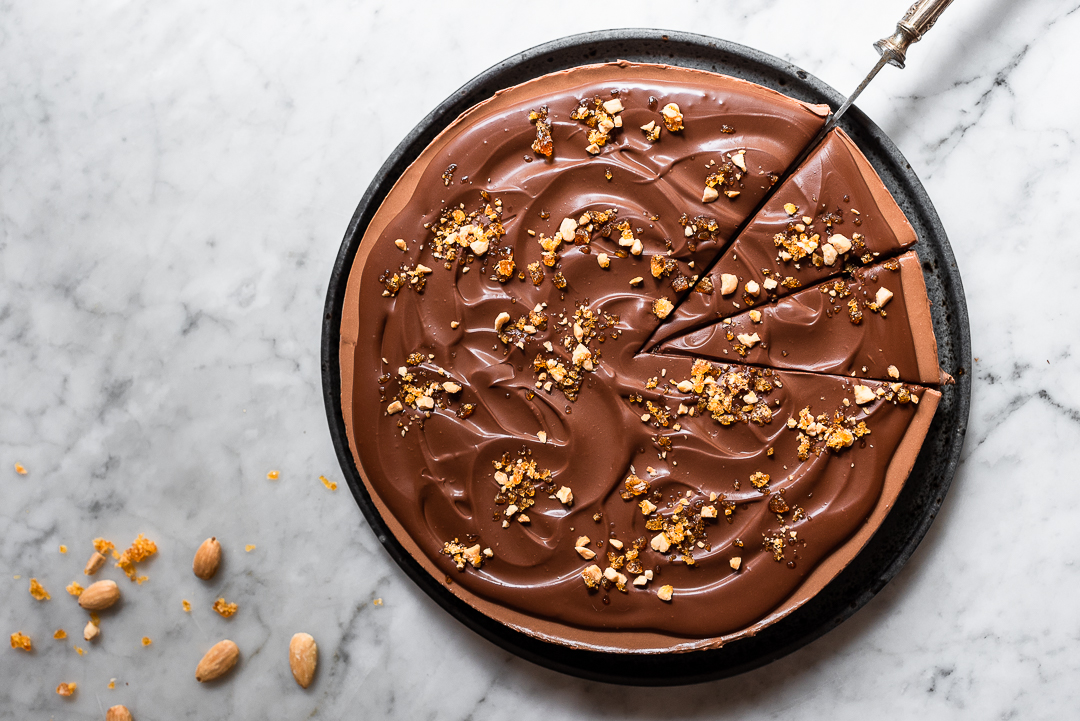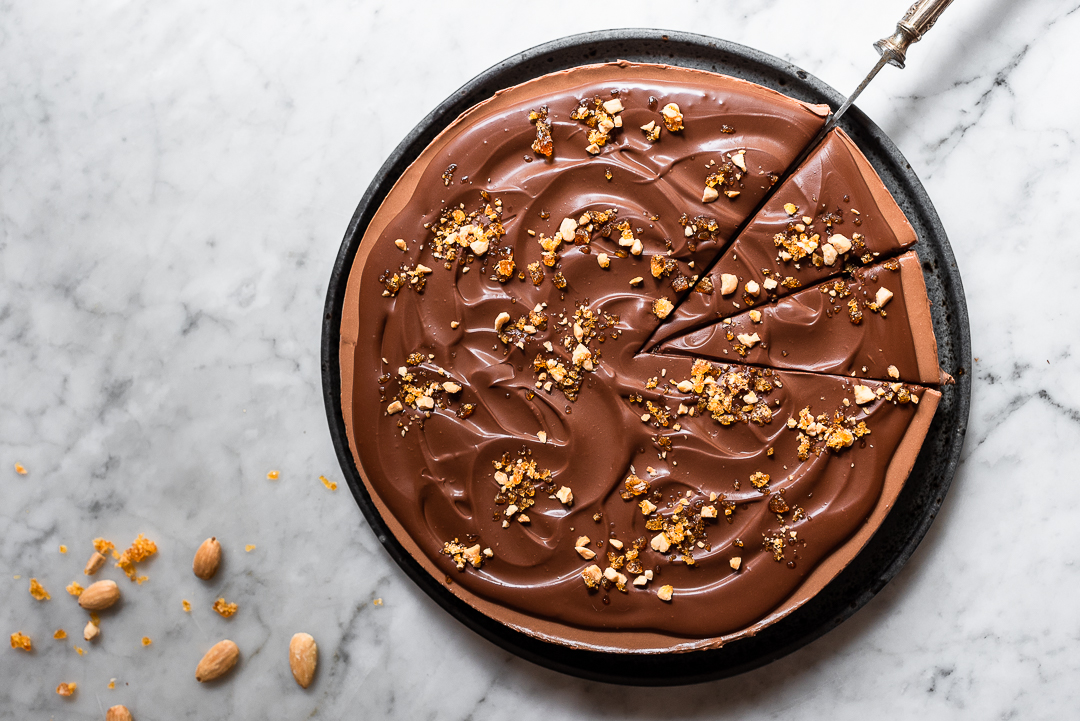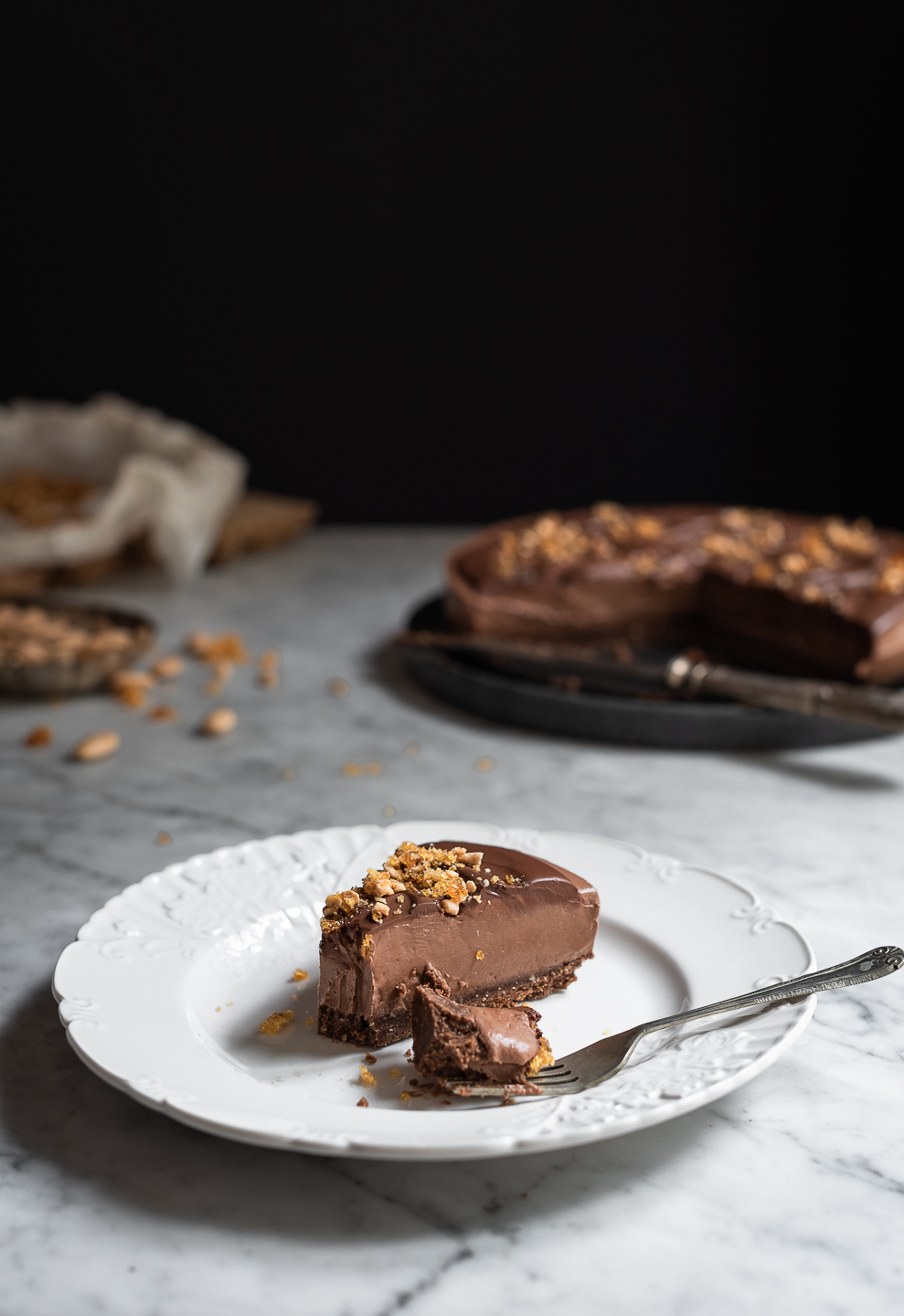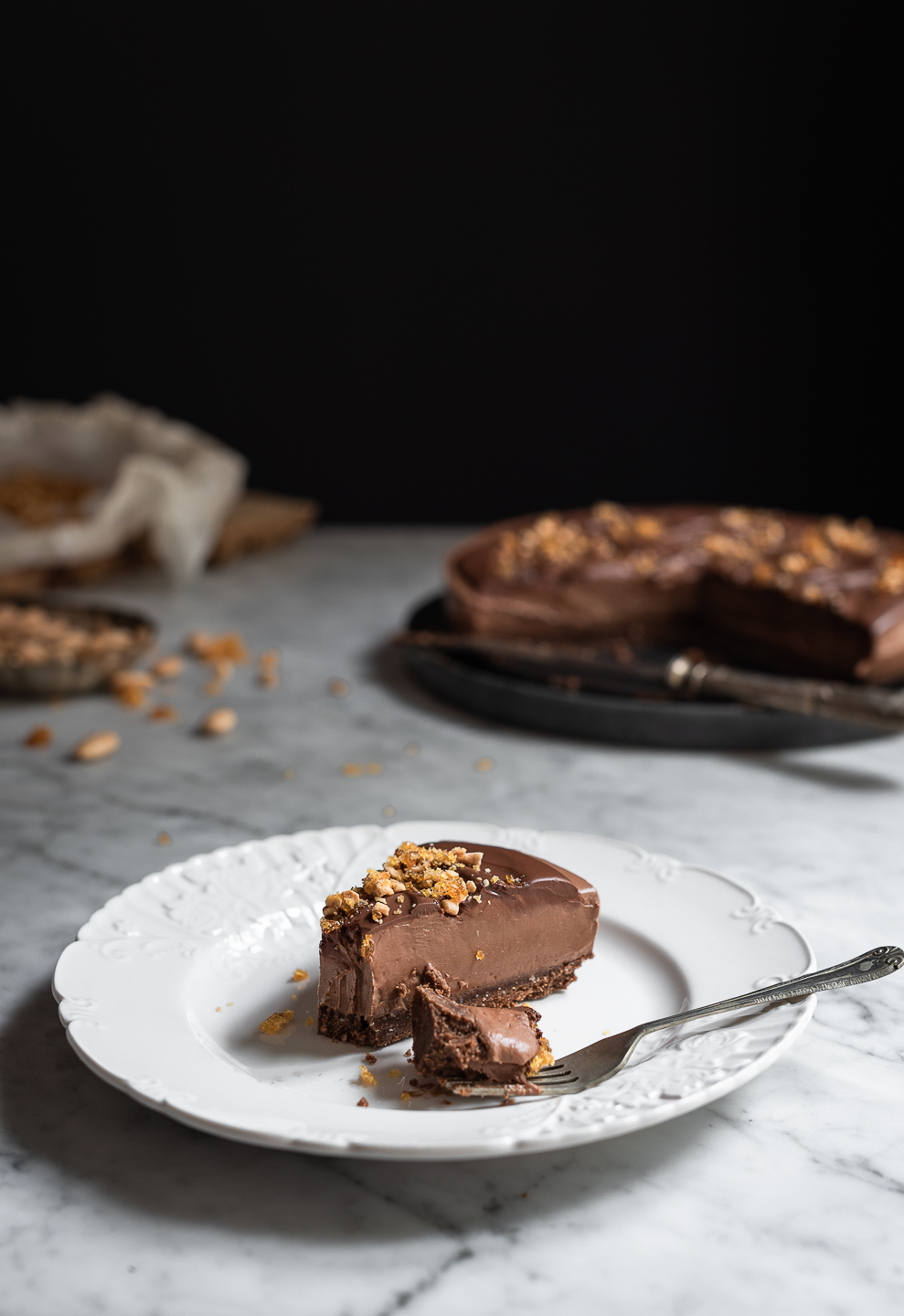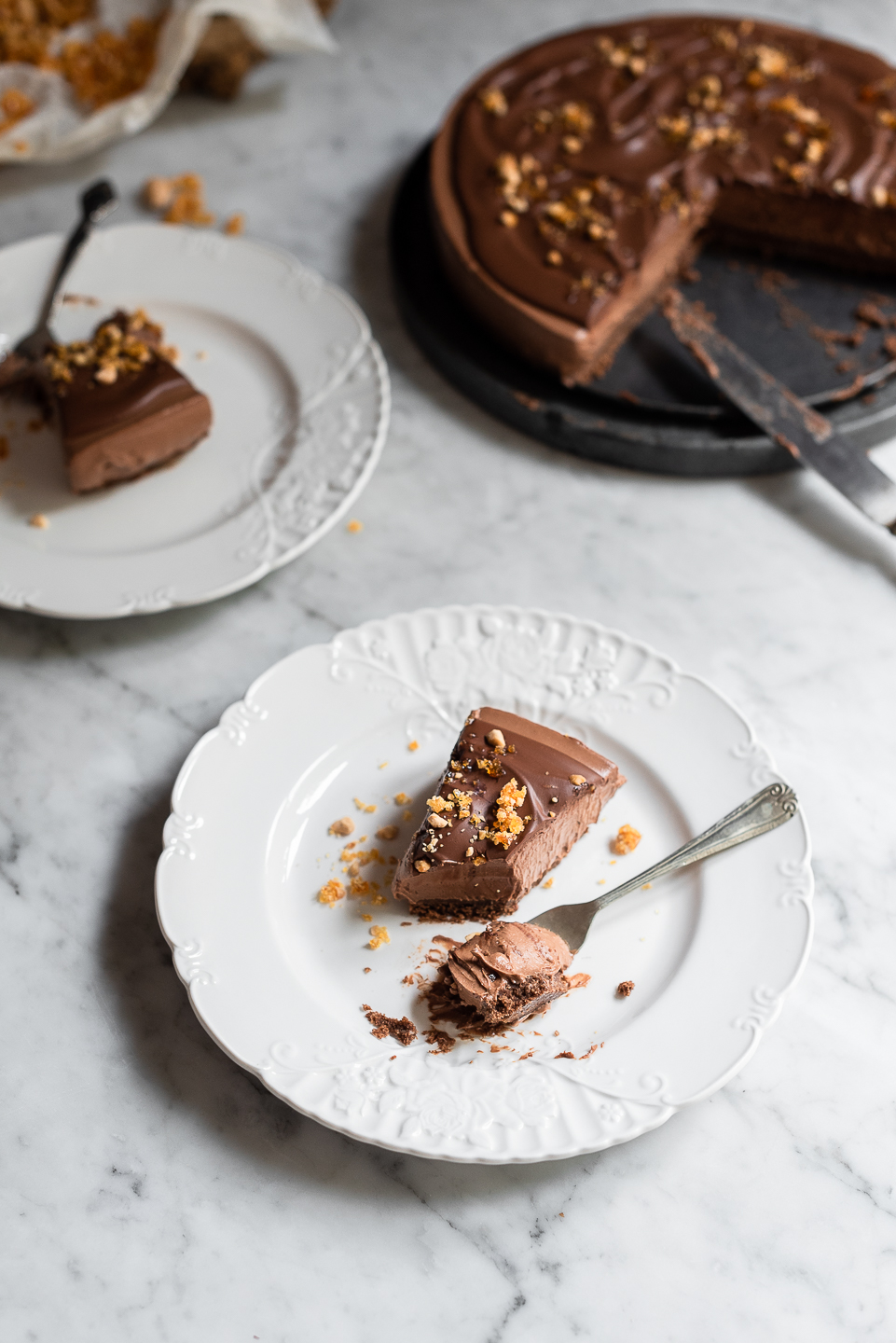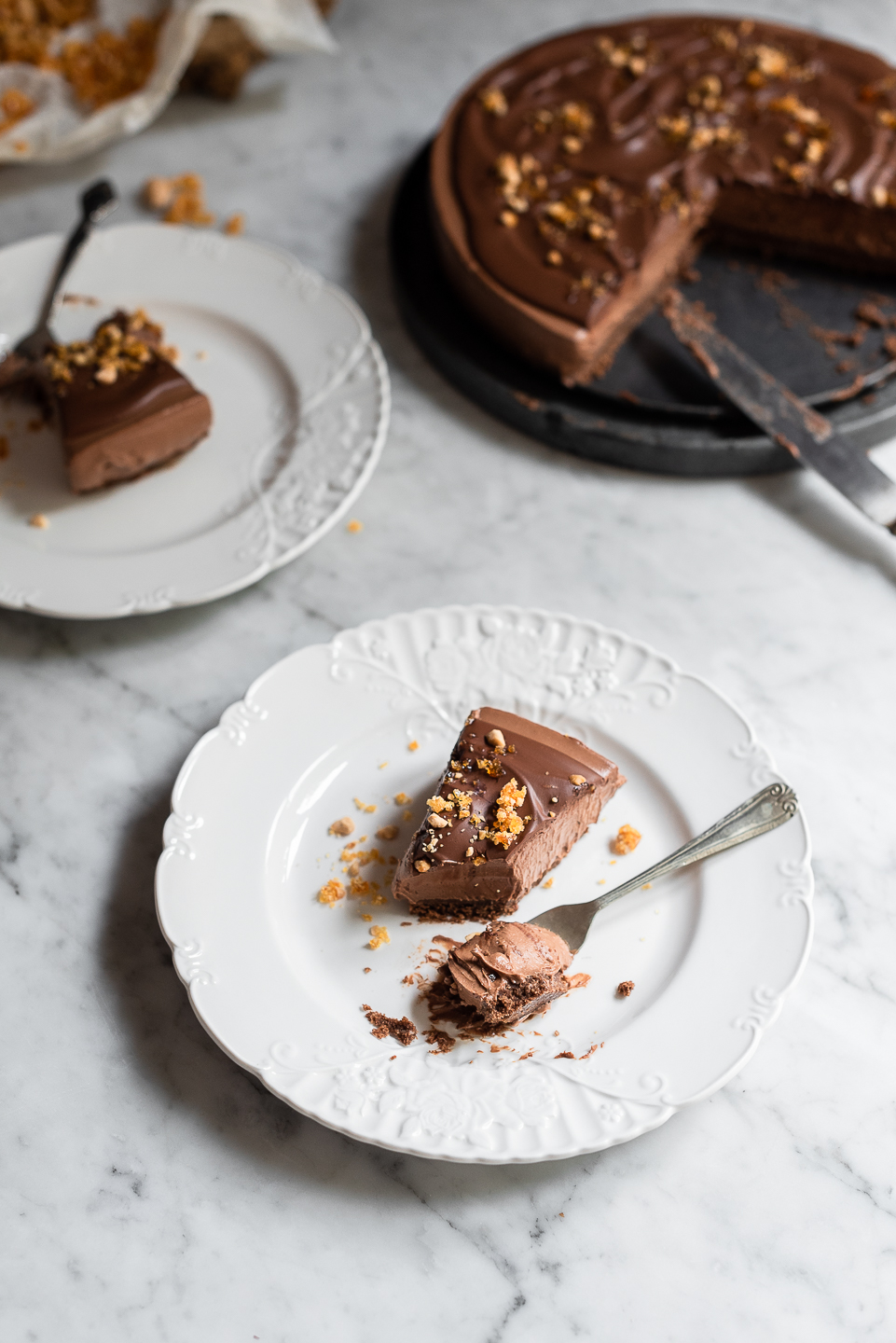 Silky No Bake Chocolate Cheesecake
Serves 10-12
Time : 35 minutes (excluding overnight draining)
Prep time : 20 minutes
Difficulty : Easy
Crust Base
200g coconut biscuits
30ml (2 tablespoons) cocoa powder
15ml (1 tablespoon) icing sugar
25g (1/4 cup) desiccated coconut
90g butter, melted
Filling
500ml (2 cups) First Choice Amasi
150g dark 70% chocolate, chopped
100g milk chocolate, chopped
125ml (1/2 cup) fresh cream
2 x 250g cream cheese (medium fat), room temperature
75g (1/3 cup) castor sugar
5ml (1 teaspoon) vanilla extract
a pinch of salt
Ganache
100g dark chocolate (70%), roughly chopped
125ml (1/2 cup) fresh cream
Almond praline
50g (1/3 cup) almonds, toasted and roughly chopped
110g (1/2 cup) castor sugar
Start by making the drained cheese the night before.
Set a sieve over a deep bowl and line with a muslin cloth. Pour the Amasi into the cloth and gather the ends together. Set aside on the counter to drain overnight, a minimum of 12 hours or up to18 hours.
Grease and line a 20cm loose-bottomed cake tin with baking paper.
Place the biscuits, cocoa, icing sugar and coconut in a processor. Blitz until fine. Add the melted butter and pulse to combine. Tip the crumbs into the cake tin and press onto the base.
Place the dark chocolate, milk chocolate and cream in a bowl set over a pan of lightly simmering water. Once the chocolate is melted, remove from the heat and set aside to cool completely.
In a large mixing bowl, whisk the cream cheese until smooth. Add the castor sugar and whisk for 2 minutes. Add the drained Amasi, vanilla and salt. Whisk well to combine. Add ½ cup of the cooled chocolate to the cream cheese mixture and whisk to incorporate. Slowly add the remaining chocolate and whisk to combine. Scrape the filling into the cake tin and smooth over with the back of a spoon. Chill for 3-4 hours or overnight.
For the praline, scatter the almonds onto a baking sheet. Heat the castor sugar in a saucepan, over a medium heat. Swirl the pan gently until the sugar is completely melted and golden. Pour the hot caramel over the almonds and set aside to harden. Once cooled, break up roughly. Using a mortar and pestle, crush lightly into splintery shards.
For the ganache, melt the chocolate and cream together until smooth and glossy. Set aside to cool, then spread over the cheesecake. Scatter with almond praline just before serving.
Cook's note: 1 x quantity First Choice Amasi drained cheese = 180g drained weight
This post was proudly sponsored by First Choice Amasi. 
If or shall I say, when, you make our silky no-bake chocolate cheesecake, do share it with us by tagging @Bibbyskitchen on Instagram using the #bibbyskitchen.
Here are two more cheesecakes recipes  that are worth bookmarking for later:
Milk tart cheesecake with rum caramel
Nutella Chocolate Cheesecake with Salted Caramel