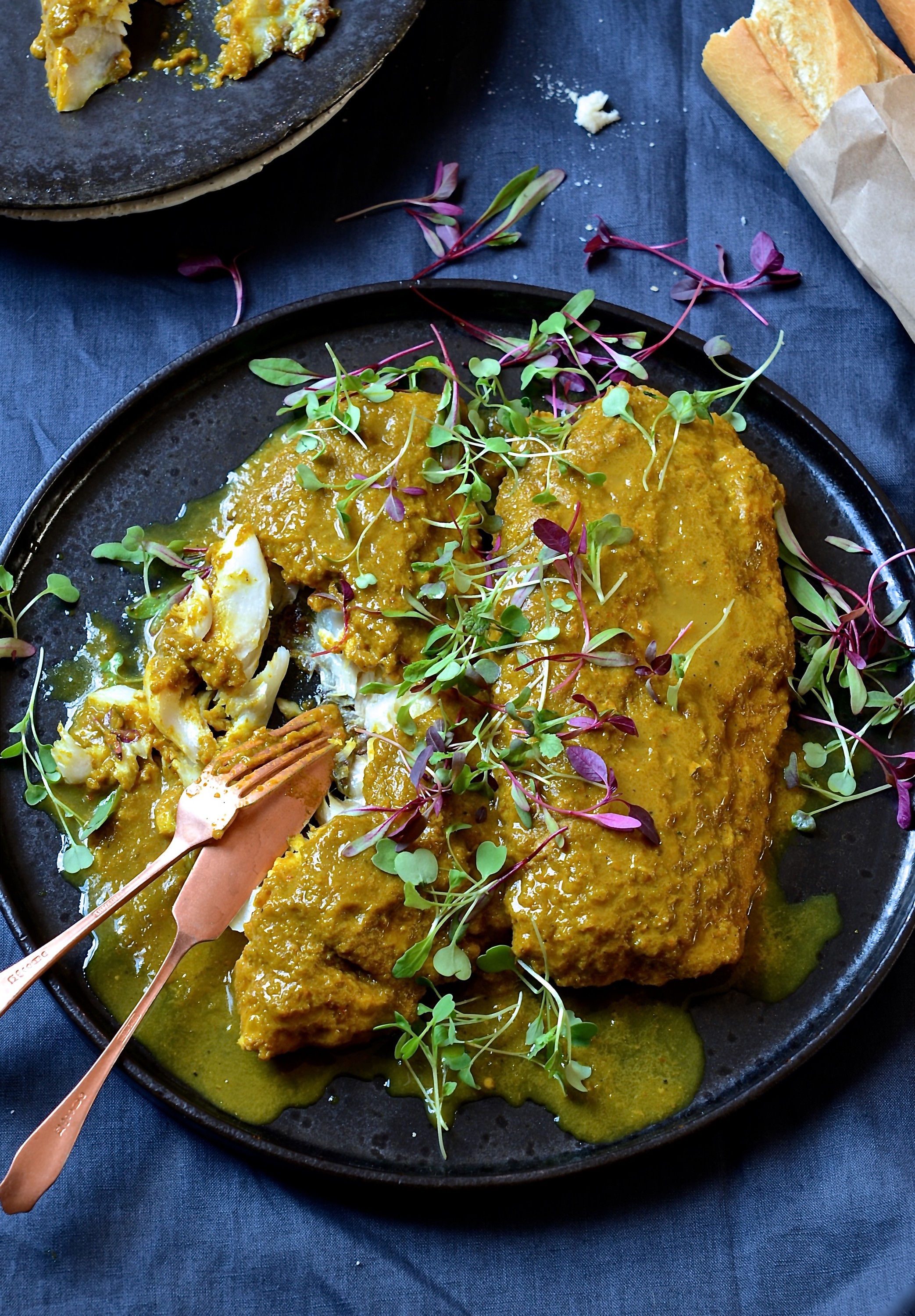 Traditional South African Pickled fish
Pickled fish is most often eaten at Easter. This year I'm making my first ever Traditional South African pickled fish. The recipe is loosely put together, guided by my mother Magdaleen van Wyk's book, Cooking The South African. I've meddled with the ingredients because that's what cooks do best.
I'm a firm believer in tradition. It's about customs and practises, passed down from one generation to another. And there's no better topic than food to elicit conversation. Ask any food-enthusiast about their best recipes and you'll find, most likely, it's those old family favourites scrawled on paper, paled and fingerprinted with love.
In our family home we grew up simply. Food in the 70's and 80's was basic and always homemade. Take aways were an exception. On these rare occasions we headed straight to the corner café for battered fish and deep-fried chips. Drenched in brown vinegar and wrapped in paper, we savoured every mouthful. We also ate white bread, food that came out of a tin and drank milky coffee with white sugar. Our British neighbors introduced us to baked beans on toast, which at the time we thought odd, but utterly delicious! Many good things came out of a tin, pickled fish being another.
I find most pickled fish recipes overly sweet, so I've reduced the sugar considerably. I've also added garam masala, crushed fennel and coriander to the sauce for depth. Those who're averse to pickled fish because of the onions will love this recipe. I've blitzed the sauce for a smoother texture. This step is optional but a nice change from the usual. I serve the fish with crusty baguettes, or this crusty Overnight ciabatta bread to soak up the golden turmeric sauce.
Traditional South African pickled fish
1 kg firm white fish (kingklip or hake), whole or cut into portions
30ml (2 tablespoons) olive oil
2 brown onions, finely diced
1 garlic clove, minced
thumb-sized piece fresh ginger, grated
2.5ml (1/2 teaspoon) fennel seeds, crushed
5ml (1 teaspoon) whole coriander seeds, crushed
5ml (1 teaspoon) garam masala
10ml (2 teaspoons) ground turmeric
15ml (1 tablespoon) curry powder
5ml (1 teaspoon) salt
45ml (3 tablespoons) sugar
3 bay leaves
375ml (1 1/2 cups) white wine vinegar
300ml water
Heat the olive oil in a large saucepan and sauté the onions for about 10 minutes until soft and translucent.
Add the garlic and ginger and cook for a further 2 minutes.
Now add all the aromatics (spices) and cook for a further 3 minutes.
Add the salt, sugar, bay leaves, vinegar and water. Simmer for 20 minutes.
Place the fish carefully in the pan and spoon the sauce over the fillet. Cover and Simmer for 20 minutes until cooked through.
Lift the fish carefully from the pan with a fish slice and place in a non-metallic dish.
Transfer the sauce to a processor and blitz until smooth. Pour the sauce over the fish and cover with cling film.
Chill for 2-3 days.
Serve the pickled fish at room temperature with red onion pickle if you wish and crusty baguettes alongside.
One of the most frequently asked questions in my cooking classes, is how to cook fish. If you're keen to try more fish recipes, these might be a good place to start.
Roast salmon with Rosé and shallot yoghurt
Sweet potato bake with tuna and veg
Linguini with Shrimp and fresh Tomato Sauce