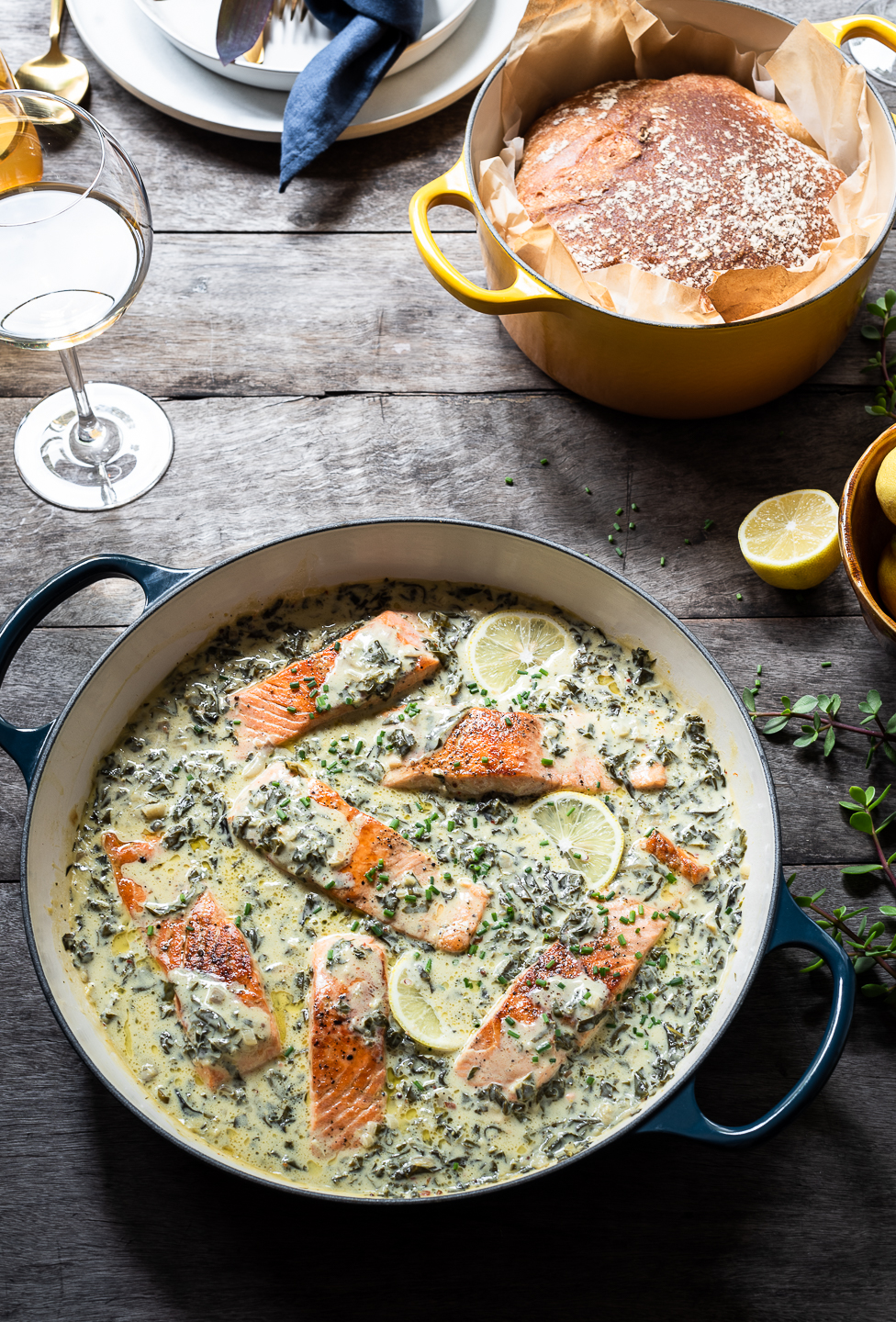 Artichoke dip harks back to the 50's, to a time when finger foods and sociable nibbles became acceptable. Knives and forks were tossed aside for starchy carriers like crusty bread, crackers and potato chips. Traditionally made with oil-soaked artichokes, a splodge of mayonnaise, Parmesan and enough garlic to make the bells chime. It has since evolved to include up to three, and in some instances, four types of cheese and often, heaps of vibrantly green spinach. Baked until golden and bubbly, it remains one of the most popular appetisers of all time. Riffing on the original, I'm using this retro but much loved recipe to make a gloriously creamy Salmon with Spinach and artichoke sauce.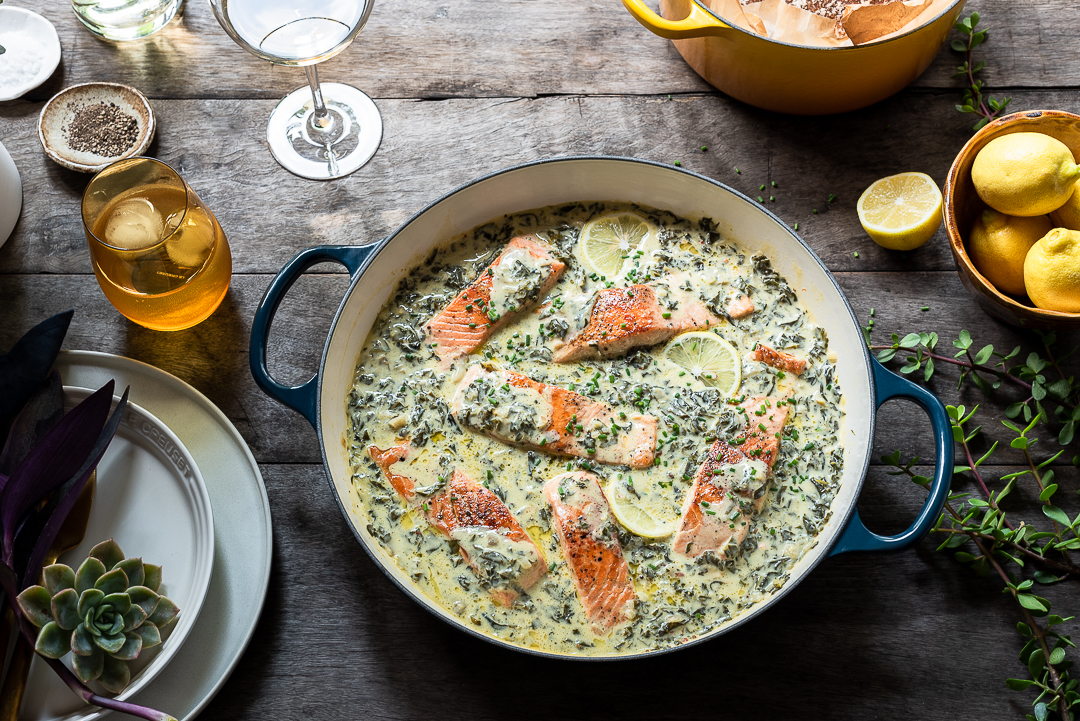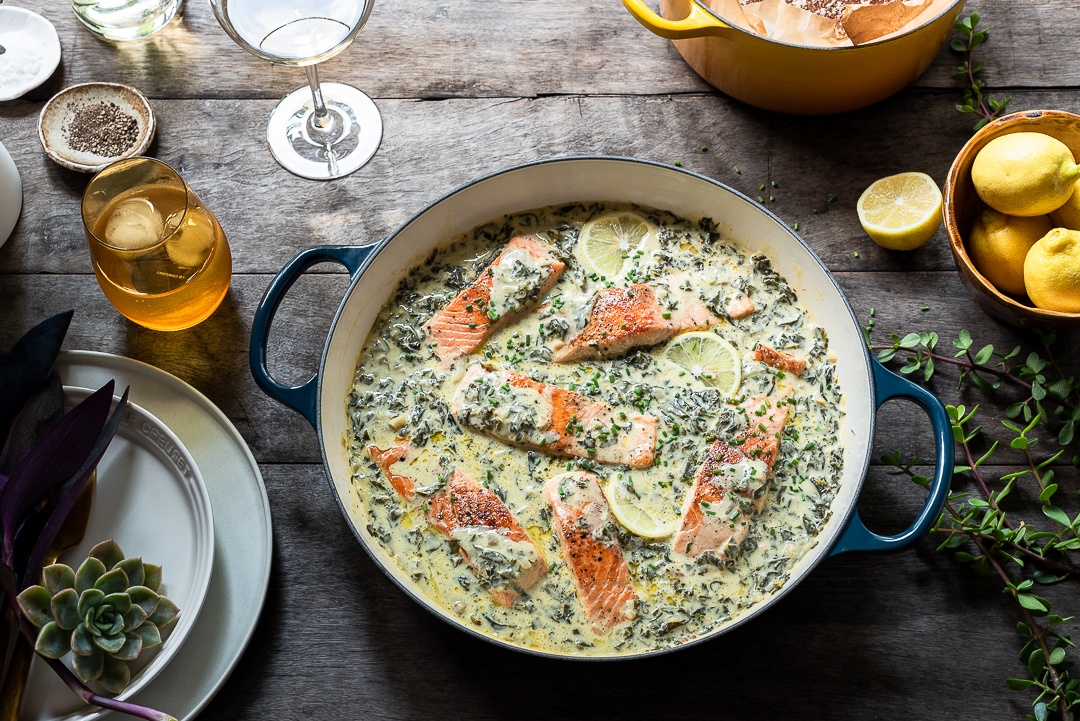 The recipe for this Salmon with artichoke and spinach sauce was developed for Le Creuset to mark the launch of their spectacular new Agave collection. The sauce is somewhat lighter and looser than a dip, a necessary consistency with the oily salmon although the recipe works equally well with chicken. Start by browning the chicken in a little olive oil, then set aside while you're making the sauce. Use the same pan when making the sauce, keeping all the sticky browned bits at the bottom of the pan. It's all flavour! Should you want to serve it as a dip, omit the salmon or chicken and bake in a hot oven until golden.
I served the salmon with some crusty pot bread. My Over-night Ciabatta recipe from the cookbook works a charm. You can find the recipe for the ciabatta here.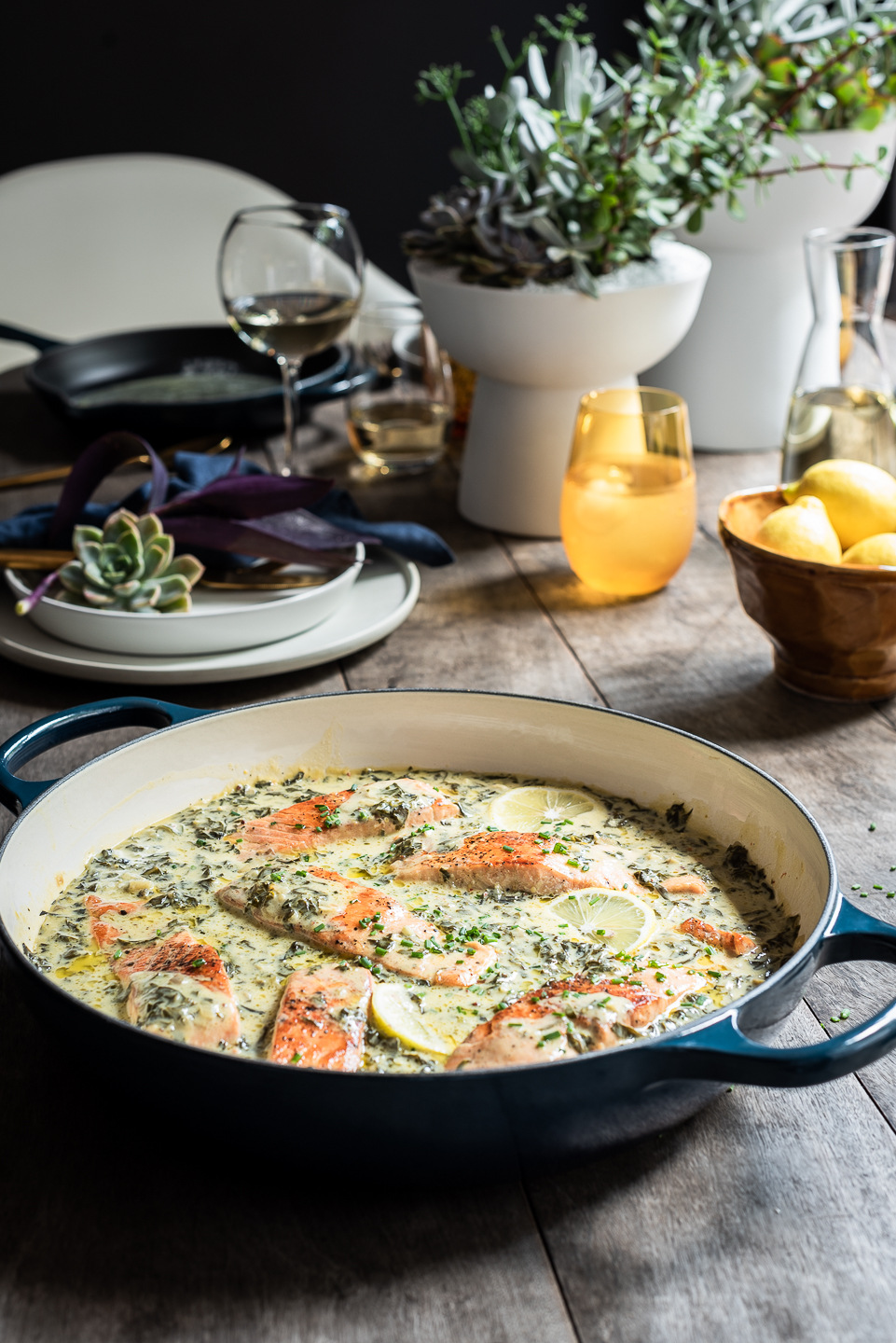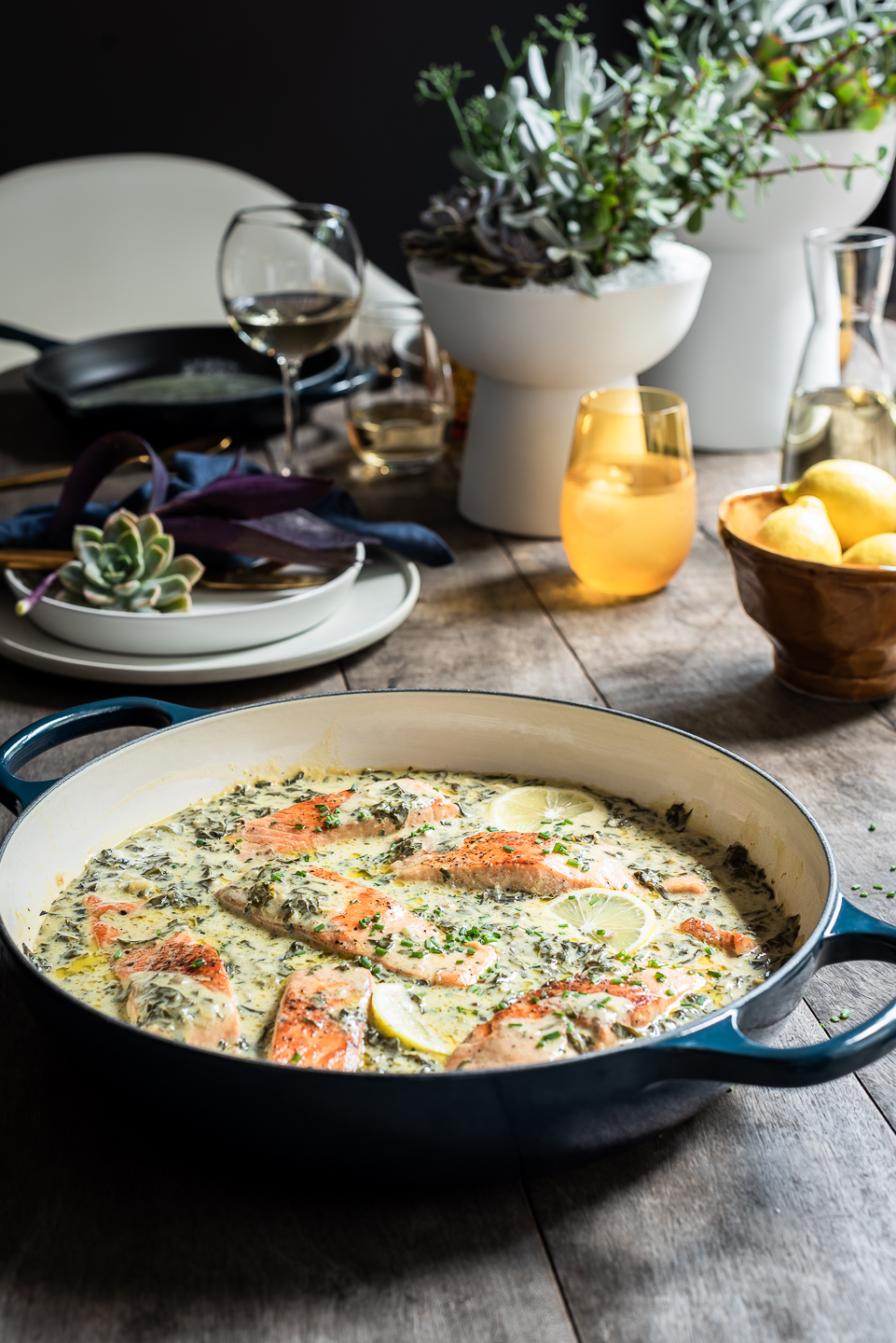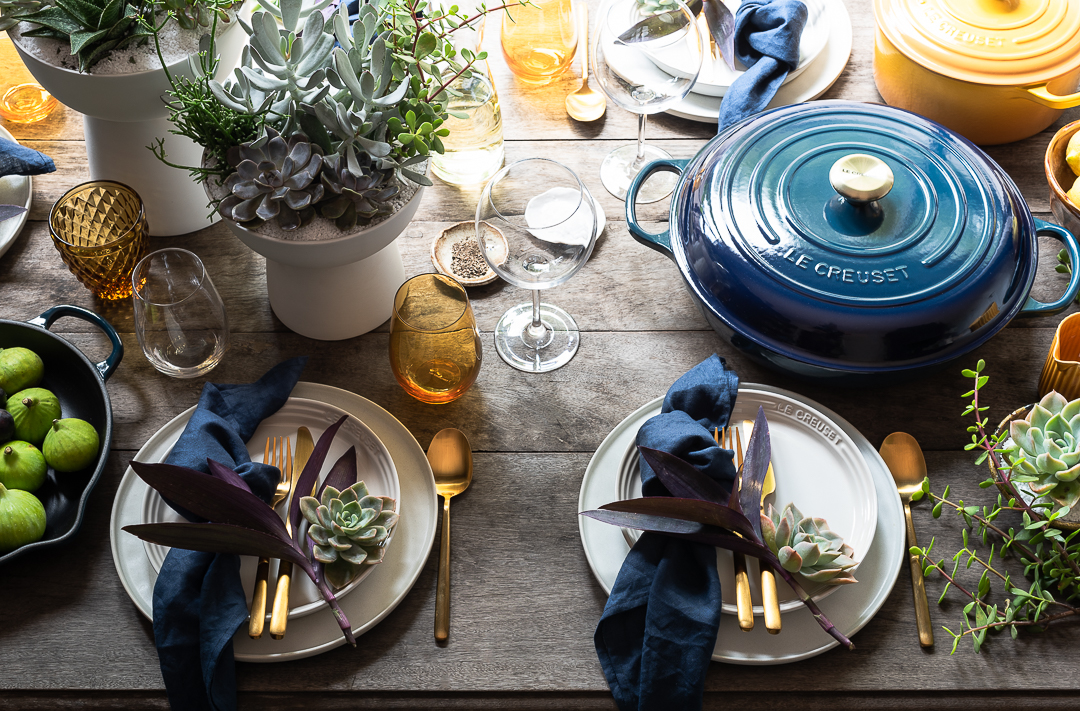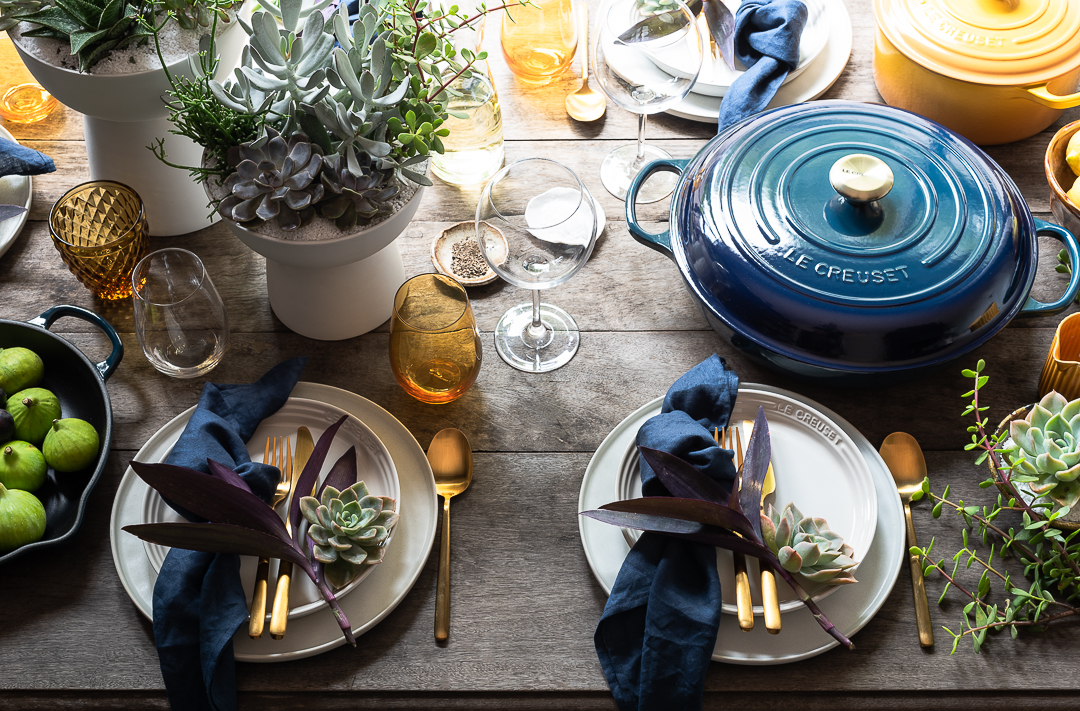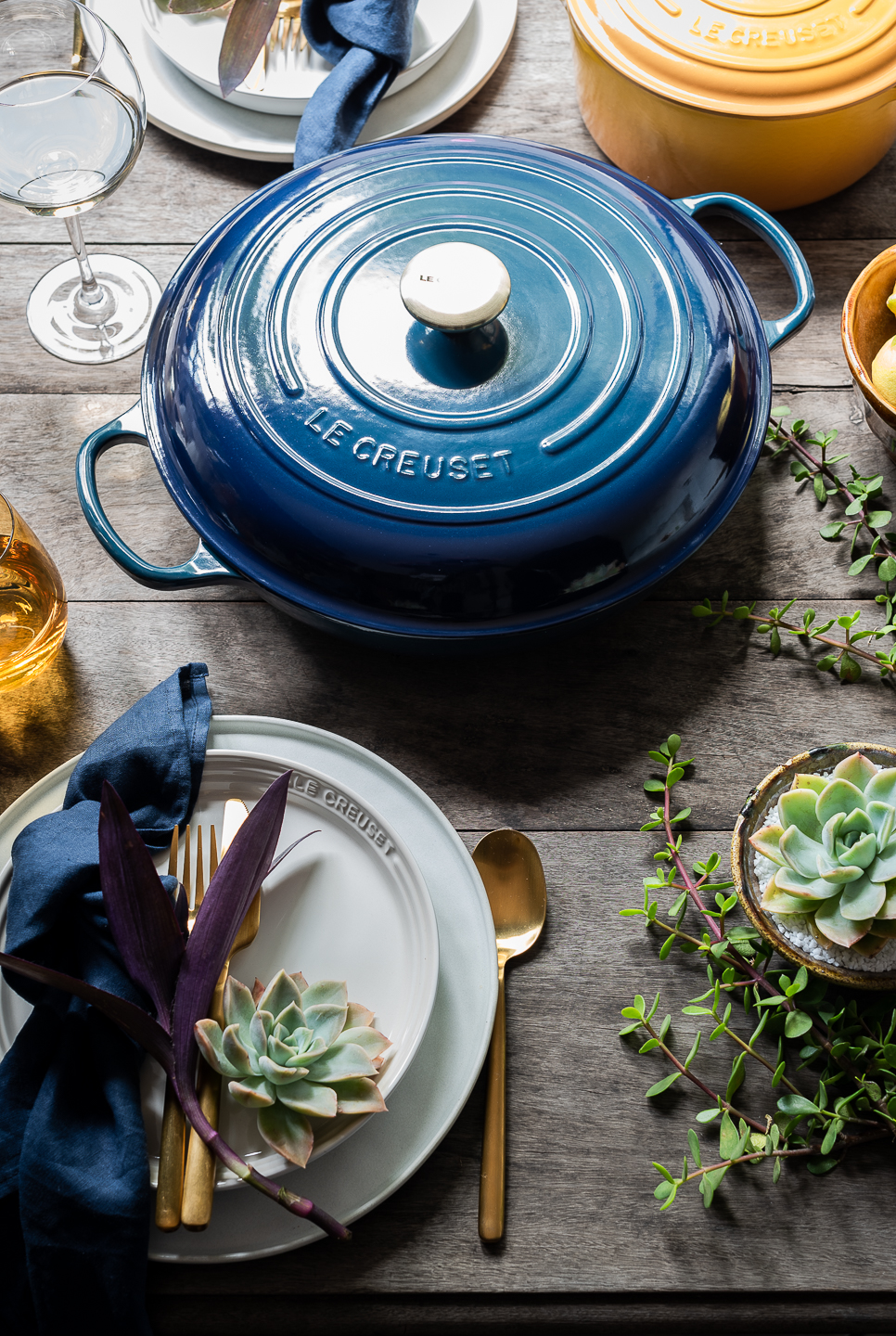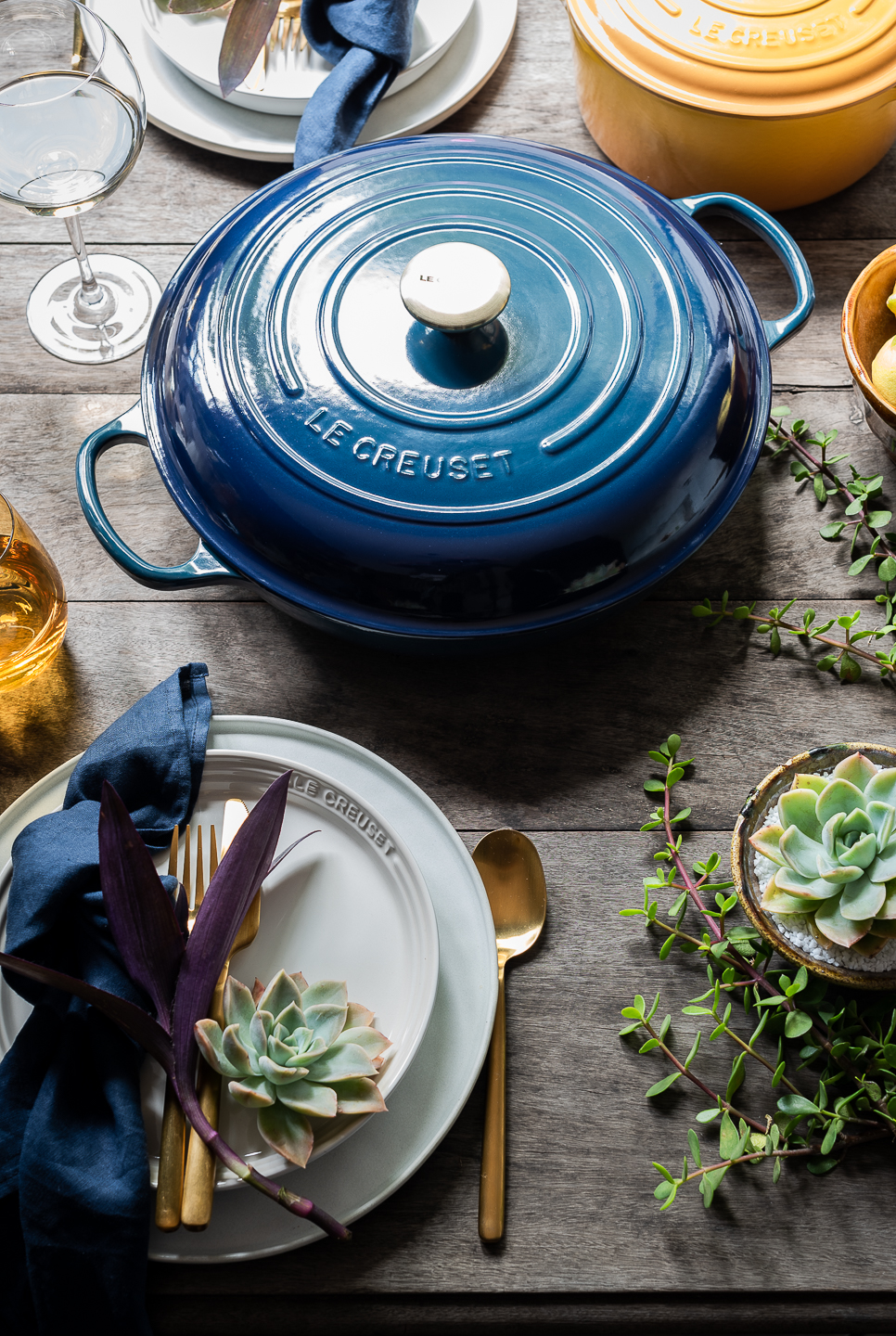 Salmon with Spinach and Artichoke Sauce
Serves 6
olive oil, for cooking
6 salmon fillets, skin on
30ml (2 tablespoons) butter
2 medium shallots, finely diced
2 cloves garlic, minced
400g spinach or Swiss chard, rinsed and shredded
10ml (2 teaspoons) wholegrain mustard
½ teaspoon red chilli flakes
zest of 1 lemon
15ml (1 tablespoon) lemon juice
250g (1 cup) medium fat cream cheese
250ml (1 cup) fresh cream
1 ½ cups (375ml) milk
125ml (1/2 cup) weak chicken stock
60g (1 ¼ cup) Parmesan or Gruyere cheese, finely grated
150g (1 cup) artichoke hearts in oil, drained and roughly chopped
chopped chives, to serve
salt and freshly ground black pepper, to taste
Heat the buffet casserole over a medium high heat.
Coat the salmon lightly with olive oil and season with salt and freshly ground black pepper. Place skin side down in the casserole and cook until the salmon is opaque half way through, about 3-4 minutes. Turn gently and cook for a further 2-3 minutes. Remove the salmon, cover and set aside.Drain off any remaining pan oils before continuing with the sauce.
Over a medium heat, melt the butter and 1 tablespoon olive oil in the casserole. Add shallots and sauté until softened, about 5 minutes. Stir in the garlic and cook for another minute.
Add half the spinach and wilt down before adding the remainder. Season lightly with salt and black pepper. Add the mustard, chilli, lemon zest and juice.Stir in the cream cheese, milk, stock and Parmesan. Once the cheese is melted, add the artichokes and stir to combine. Place the salmon in the sauce and simmer over a medium heat for several minutes, until the salmon is heated through and the sauce, thickened.
Scatter over the chives and serve with extra lemon, if you like.
You may like these easy, one pan family favourites too:
Sticky Chicken with Roasted Grapes
Skinny Chicken Cacciatore with mozzarella