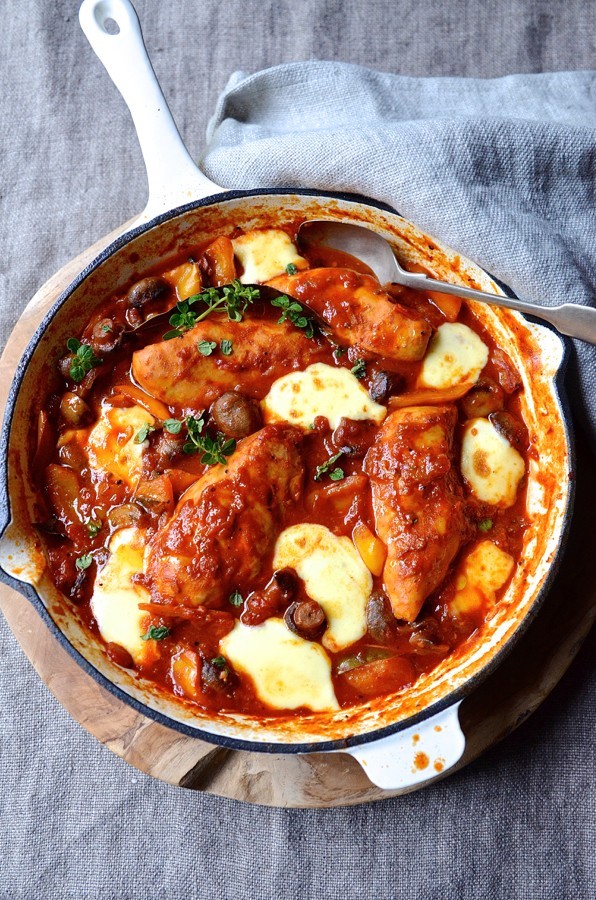 Chicken cacciatore, a classic Tuscan dish also known as Hunter's stew, gets a quick remake and is on the table in less than 30 minutes. Traditionally made using pigeon, guinea fowl, rabbit or chicken, all depending on the catch of the day. Slow cooked in a heavy cauldron, hung over a smouldering fire required time and patience before this flavourful hot pot was ready for eating. For tonight's supper, we're tucking into this Skinny chicken cacciatore. It's loosely put together around the original version but with added vegetables and grilled pools of melting mozzarella to finish.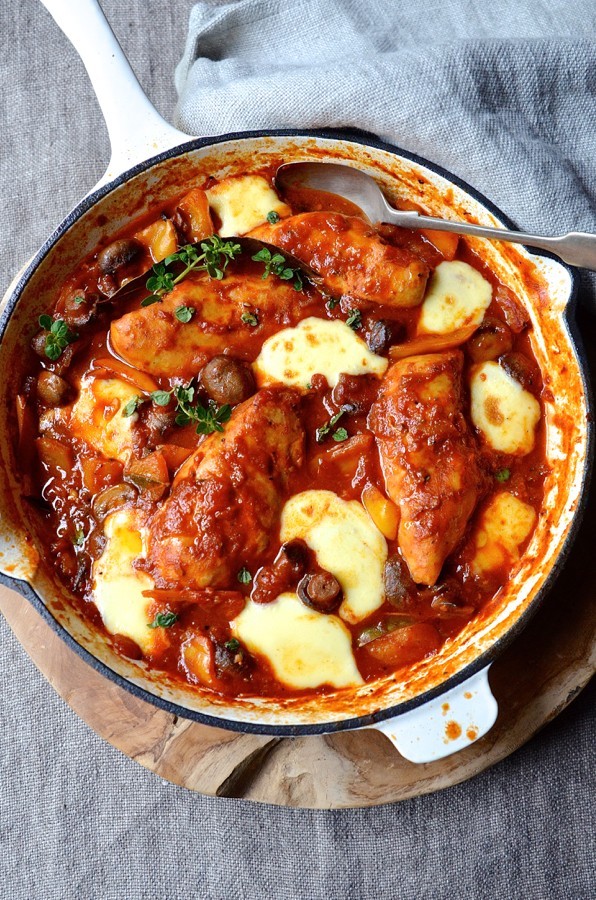 Many of Italy's iconic dishes are based around regionality and the availability of ingredients. Tomatoes are key to Italian cooking, regardless of the seasons. Fresh or tinned tomatoes are central to pasta sauces, stews and of course, pizzas! For this Skinny chicken cacciatore I've used tinned tomatoes, sweet peppers and portobello mushrooms. You can use any variety of mushroom, depending on what's available. For a meatier taste, fresh or dried porcini will add great depth of flavour to this stew. Thyme and chicken are always good together, so that goes in along with a few sprigs of oregano. And then, because lemons have the ability to lift any dish, strips of lemon peel added to the sauce imparts a gentle citrusy note. I think it does wonders to bolsters the overall taste and makes it rather special.
What to serve it with
Then we have serving options….. You know I'm going to say bread, right? Yes, I found a crusty ciabatta to be most useful to mop up all the rich tomato sauce. Bread is helpful that way. Alternatively, serve with cheesy polenta or buttery mashed potato. For anyone Banting, roast butternut or sweet potatoes will be very obliging sides. So there you go. A quick one pan supper that's pocket friendly and comforting. I'm sure it'll be a recipe you'll want to come back to time and again. If chicken is your go to choice for quick and easy dinners, then I'm sure you'll also love my Chicken and creamy leek casserole. It's perfect for relaxed family suppers and makes a sumptuous feast when you need to feed the crowds.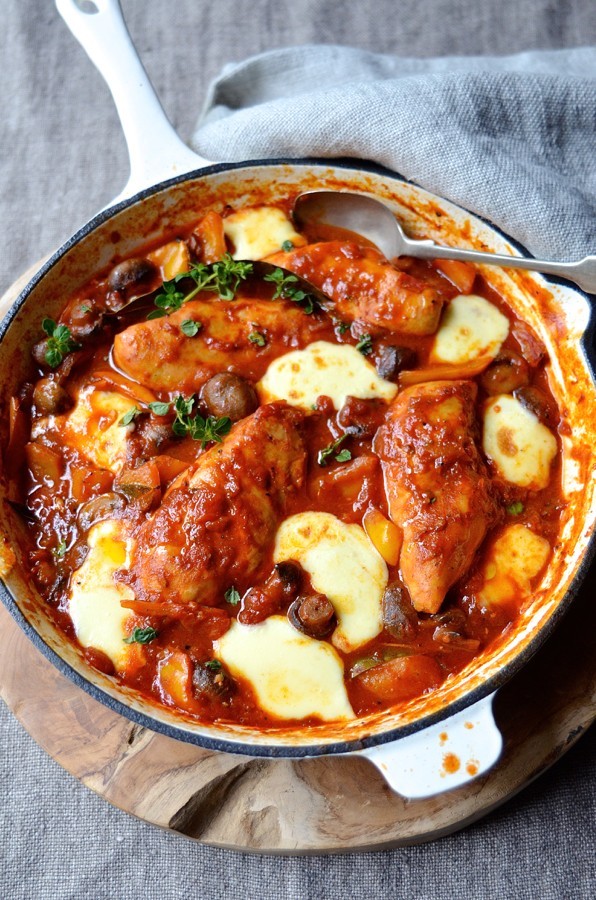 Skinny chicken cacciatore
20ml (2 tablespoons) olive oil
250g portobello mushrooms, halved or diced
a large red onion, diced
1 garlic clove, minced
 one orange and yellow sweet pepper, deseeded and roughy chopped
4 free-range chicken fillets, de-boned and skinless
1/3 cup dry white wine, Chenin Blanc will be good
400g tinned, chopped tomatoes
125ml (1/2 cup) chicken stock
1/4 teaspoon dried red chilli flakes
peel of 1 small lemon
3 bay leaves
1 teaspoon sugar
several stems fresh thyme and oregano
salt and pepper, to taste
roughly torn mozzarella ( I usually use about 100g in total)
Heat 1 tablespoon love oil in a deep sided frying pan. Sauté the mushrooms on a high heat for several minutes until nicely browned. Season with salt and pepper. Transfer the mushrooms to a plate. Heat the remaining olive oil in the same pan and add the onion. Cook over a medium heat until softened. Add the garlic and sweet peppers and cook for a further 2 minutes.
Season the chicken fillets on both sides with salt and freshly ground black pepper. Shift the vegetables to the side of the pan and brown the chicken on both sides. Deglaze the pan with the wine and reduce by half. Add the tomatoes, stock, chilli, lemon peel, sugar and herbs. Return the mushrooms to the pan, cover with a lid and simmer for about 20 minutes. Adjust seasoning if needed. Place the mozzarella on top and brown under a hot grill until the cheese is bubbling and golden.