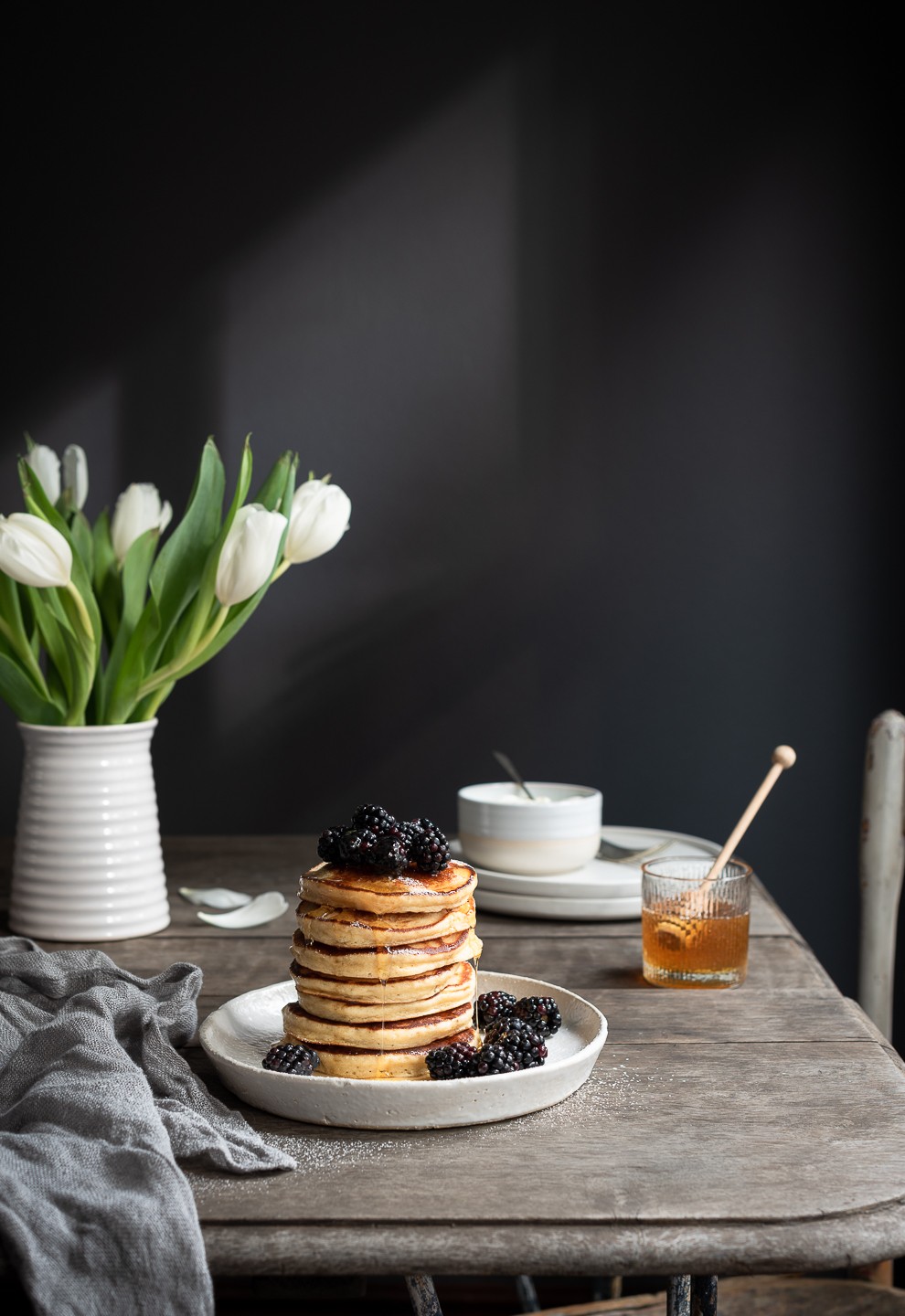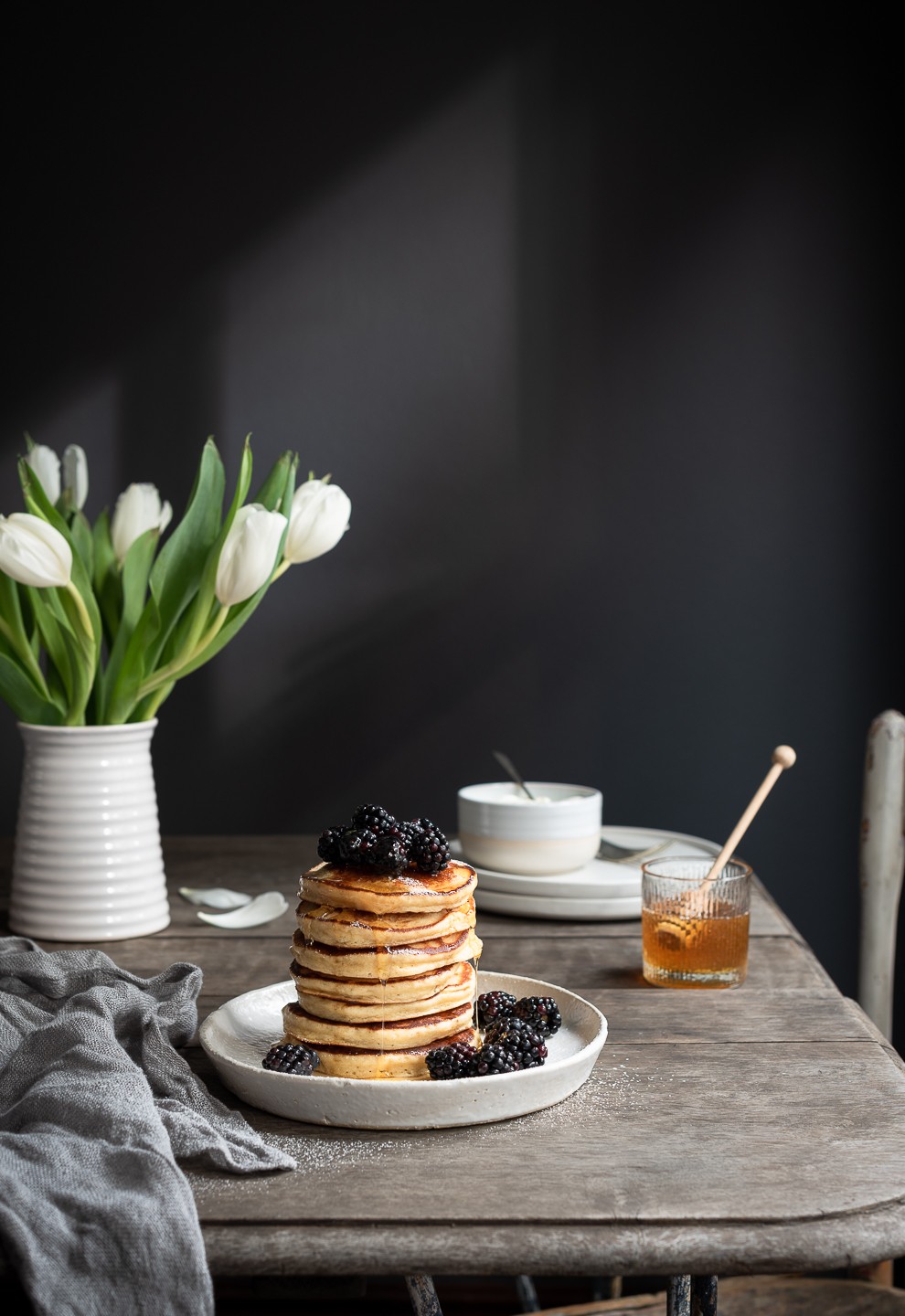 Yesterday I posted a collection of pancake recipes in anticipation of Shrove Tuesday. Today is officially pancake day, so I thought I'd share another quick blender recipe to add to the blog's ever-growing list. They're the fluffiest ricotta pancakes. I'd say they taste like cloudy vanilla cream sponges, tinged with honey. We ate them in our pyjamas, with black berries, thick homemade yoghurt and plenty honey. I'm happy just thinking about it. Definitely a recipe to bookmark.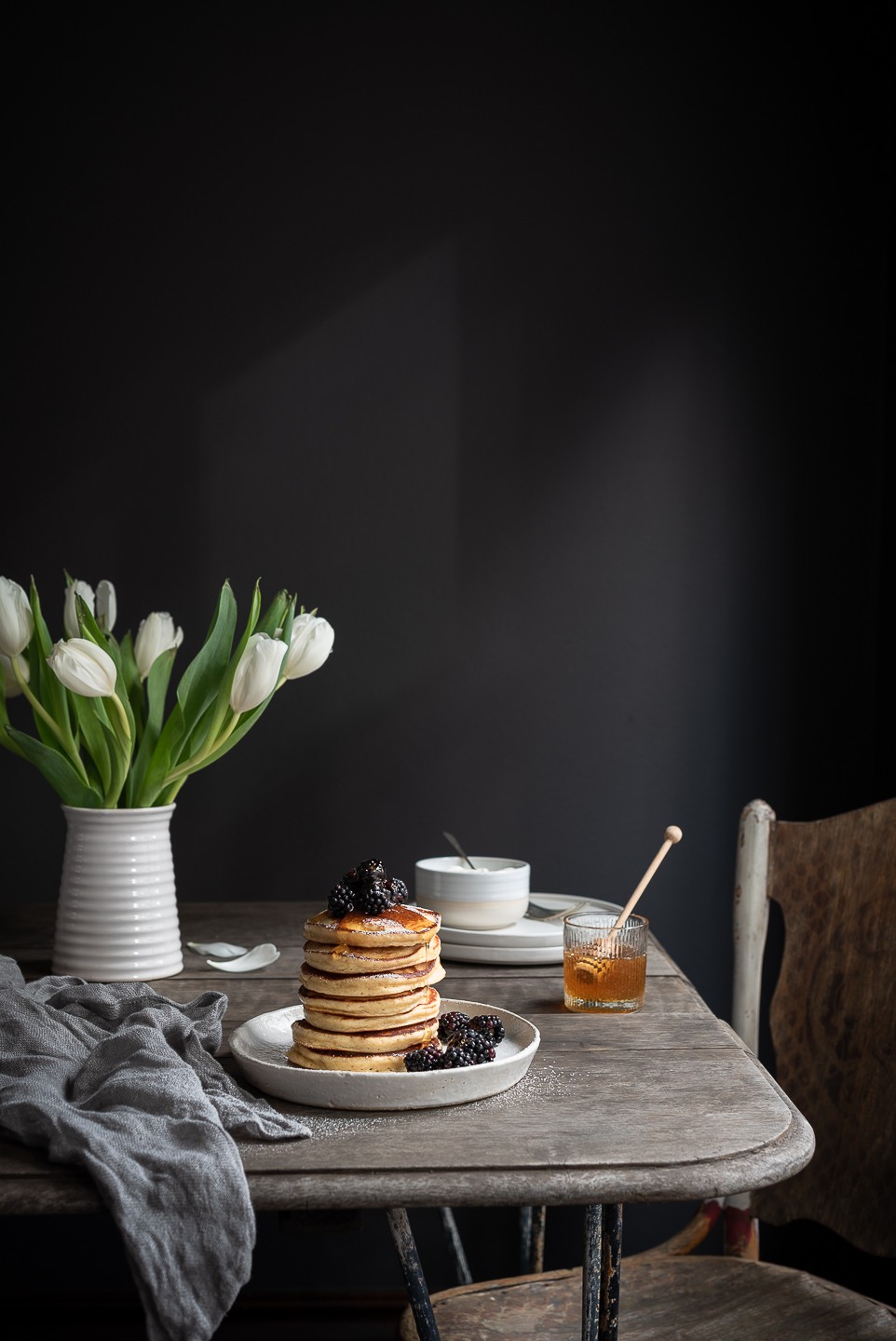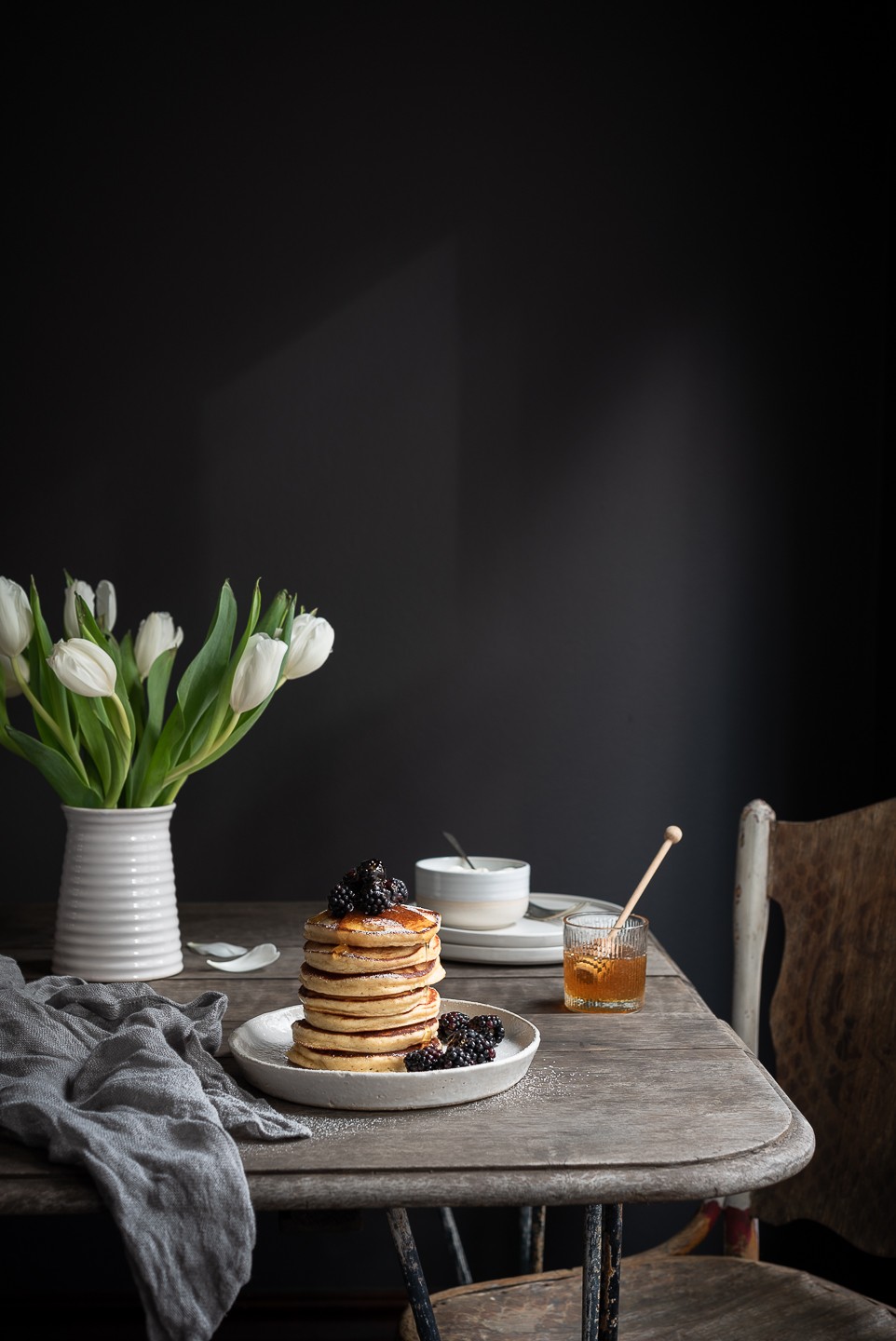 Top tips for the best pancakes:
Sift the dry ingredients several times – more air, more rise, more fluff
Combine the wet ingredients separately
Don't over-mix the batter – tiny lumps are quite acceptable
Rest the batter for at 10 minutes before frying off
Using buttermilk eliminates the acidic after taste of raising agents
Flavour sweet pancake with honey in place of sugar, along with a little vanilla
Don't overcrowd the pan – allow space for spreading
Only turn once bubbles appear on the surface
If cooking in butter, wipe the pan out between batches
Place cooked pancakes in a single layer on paper towels while cooking
To revive, pop in the toaster for a shy minute
Note : I used Woolworths Ayrshire Ricotta. It's soft and creamier than most. Highly recommended.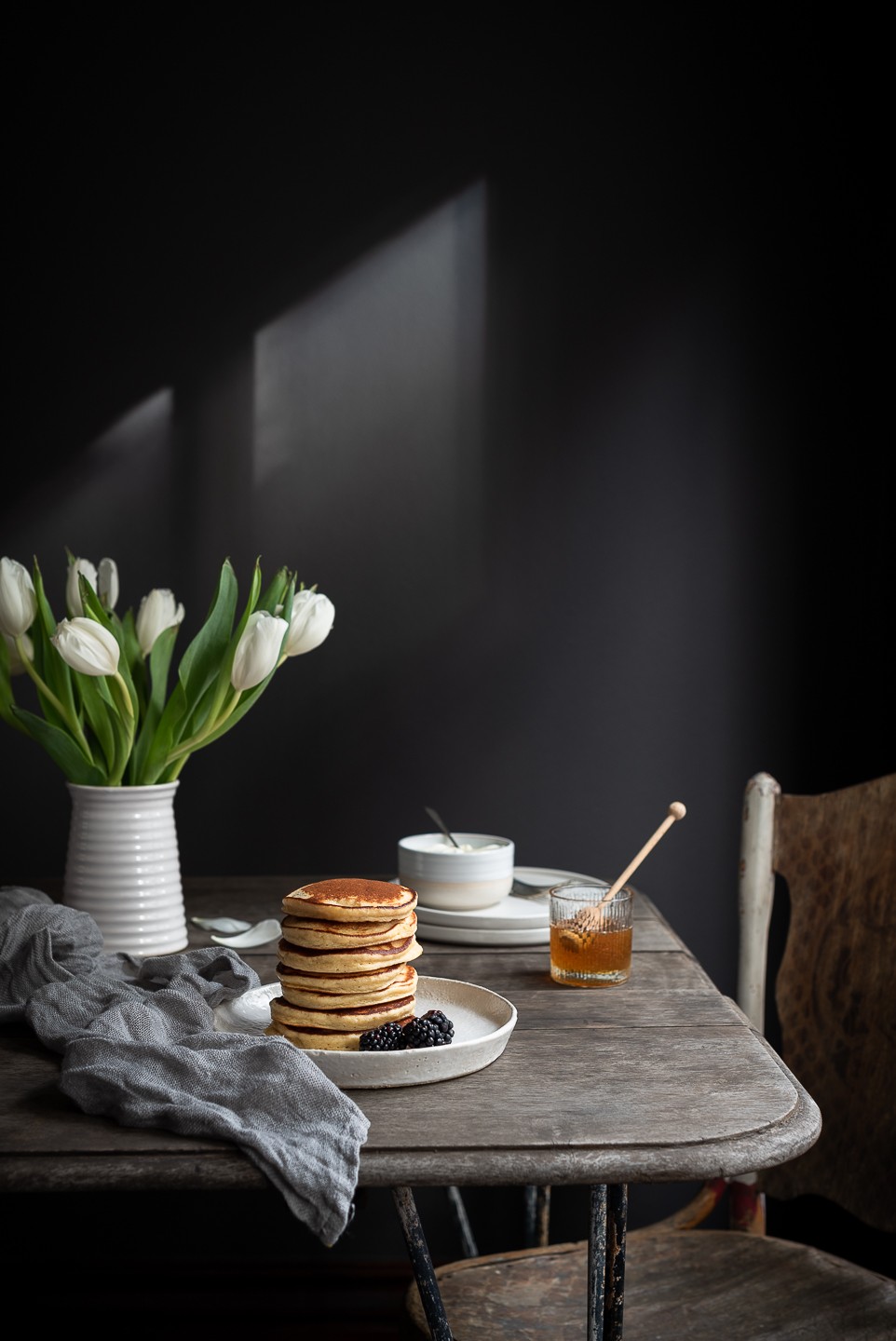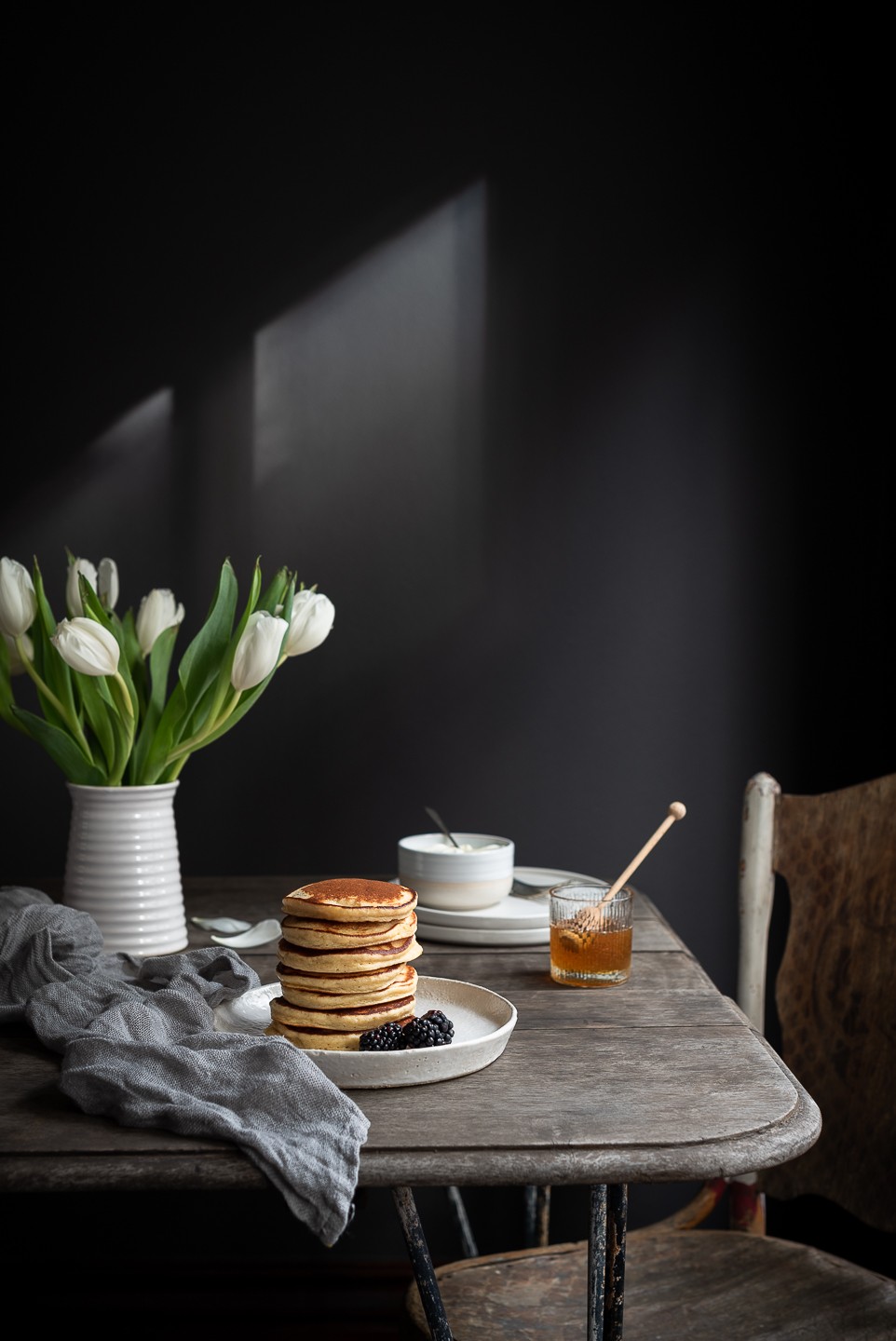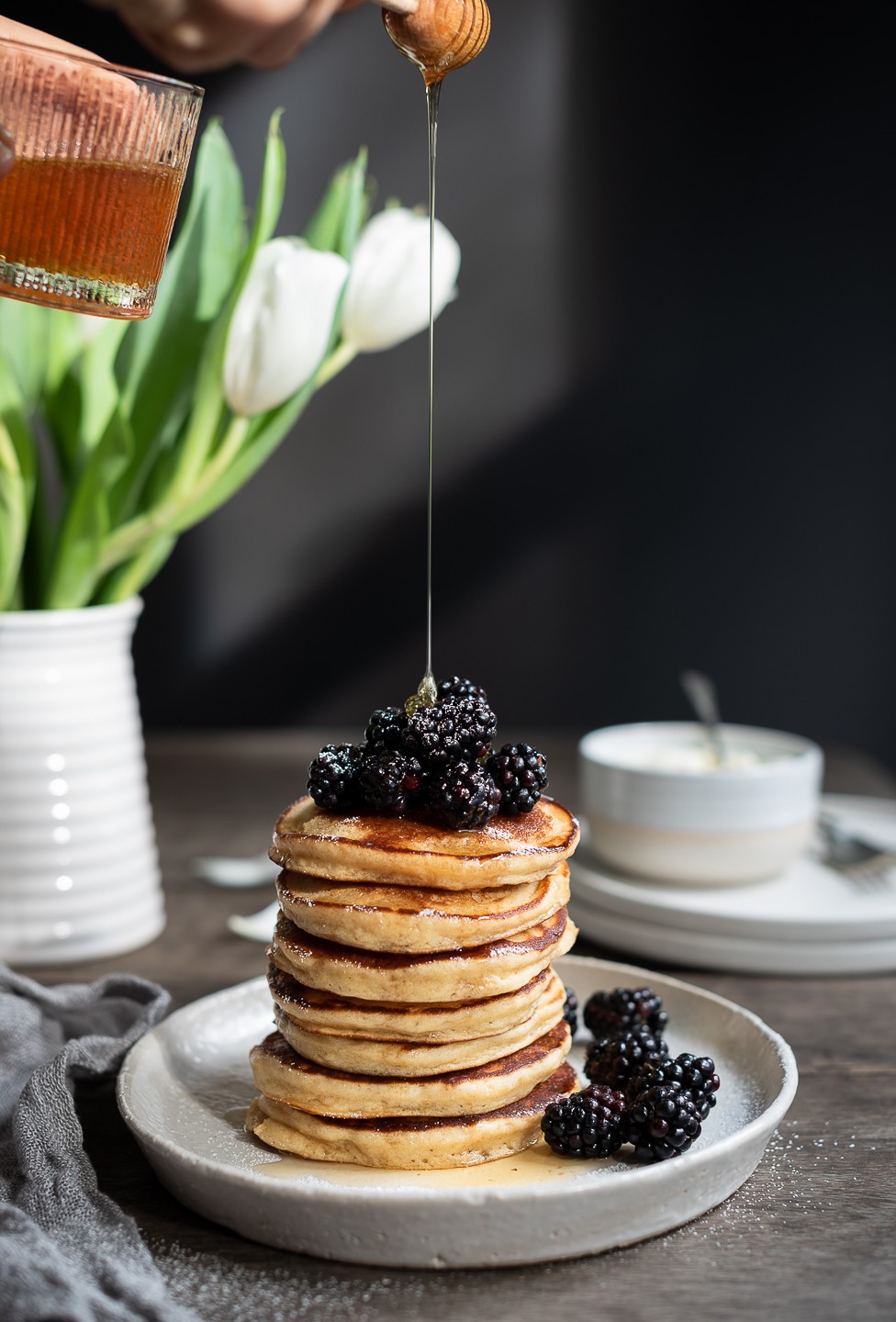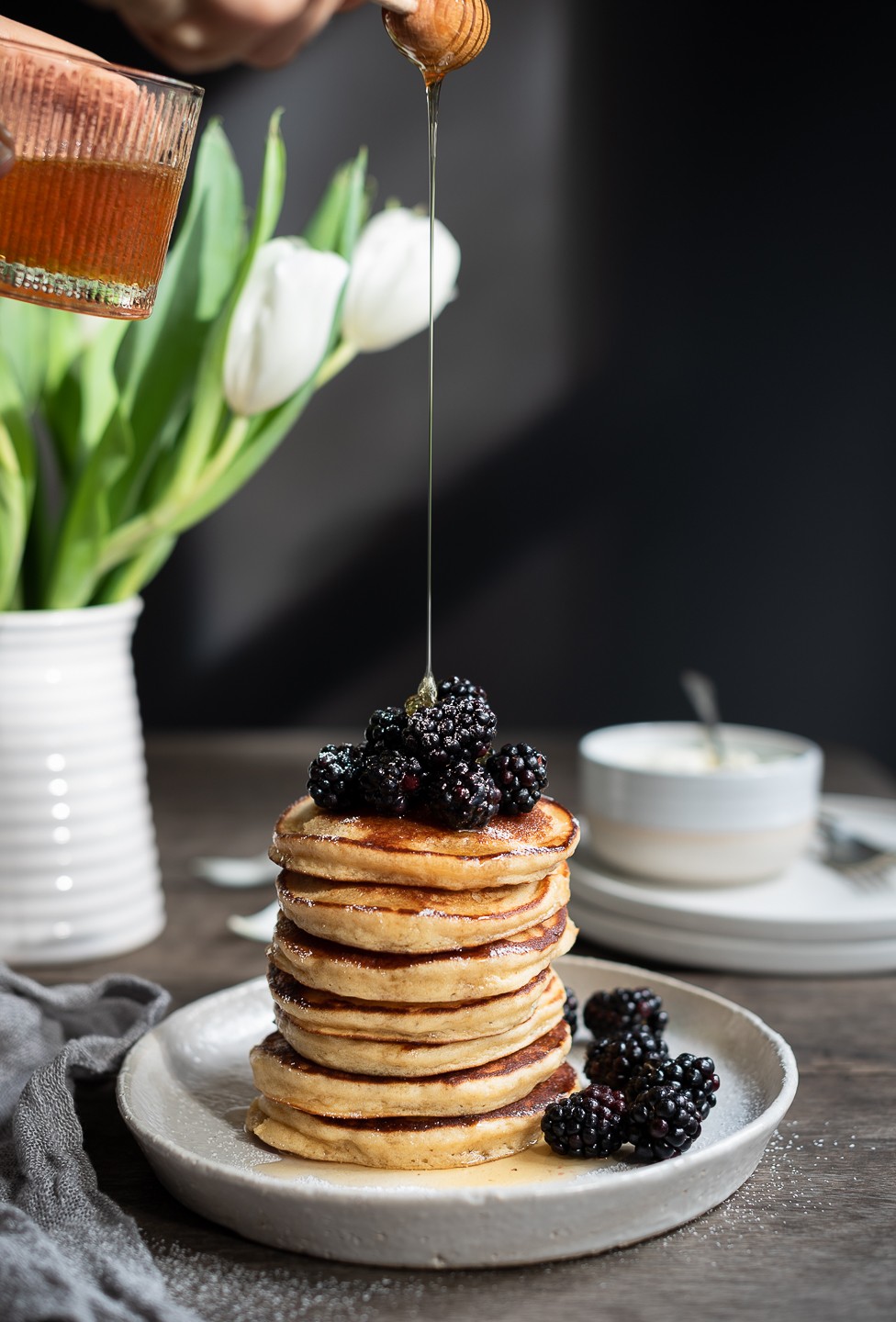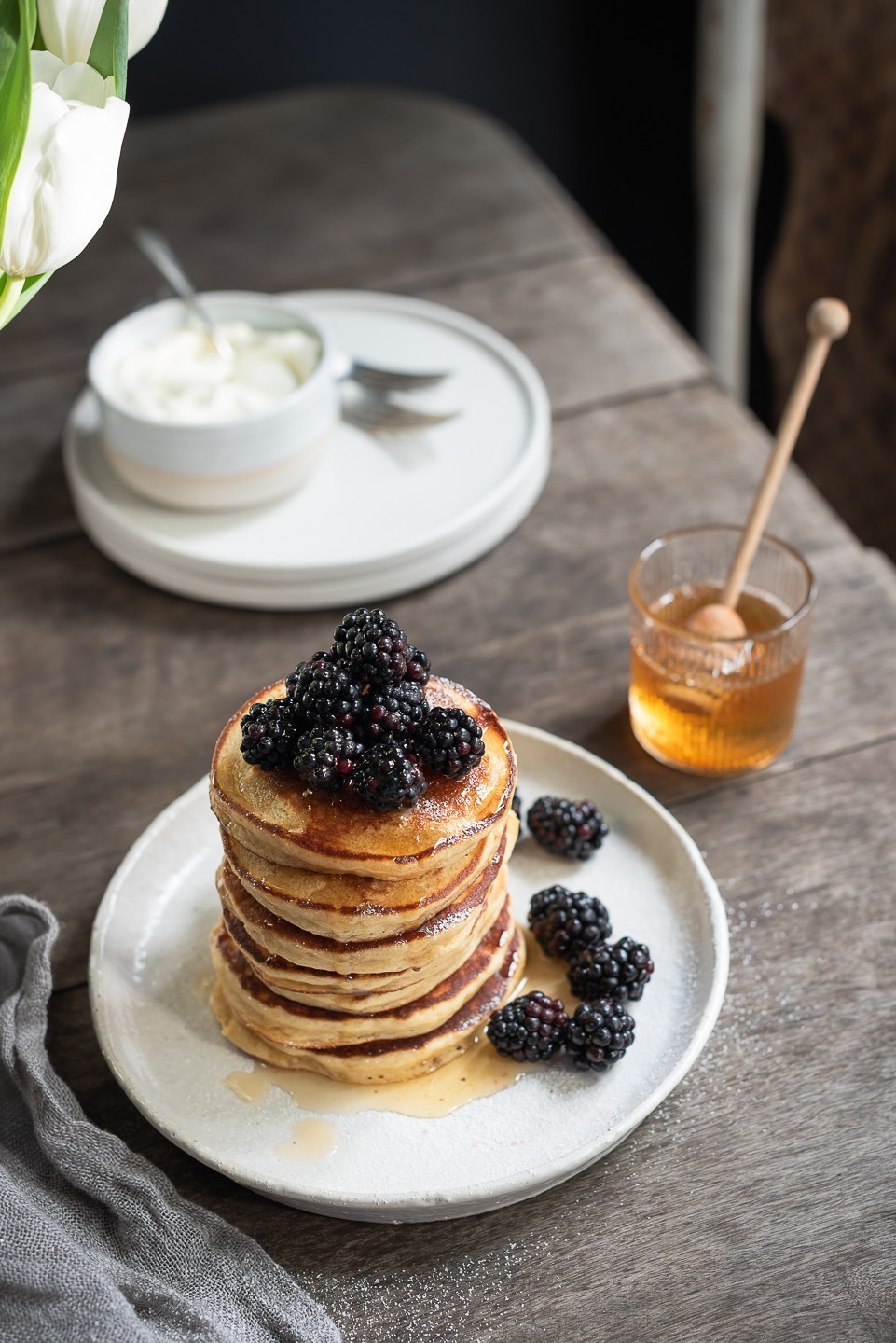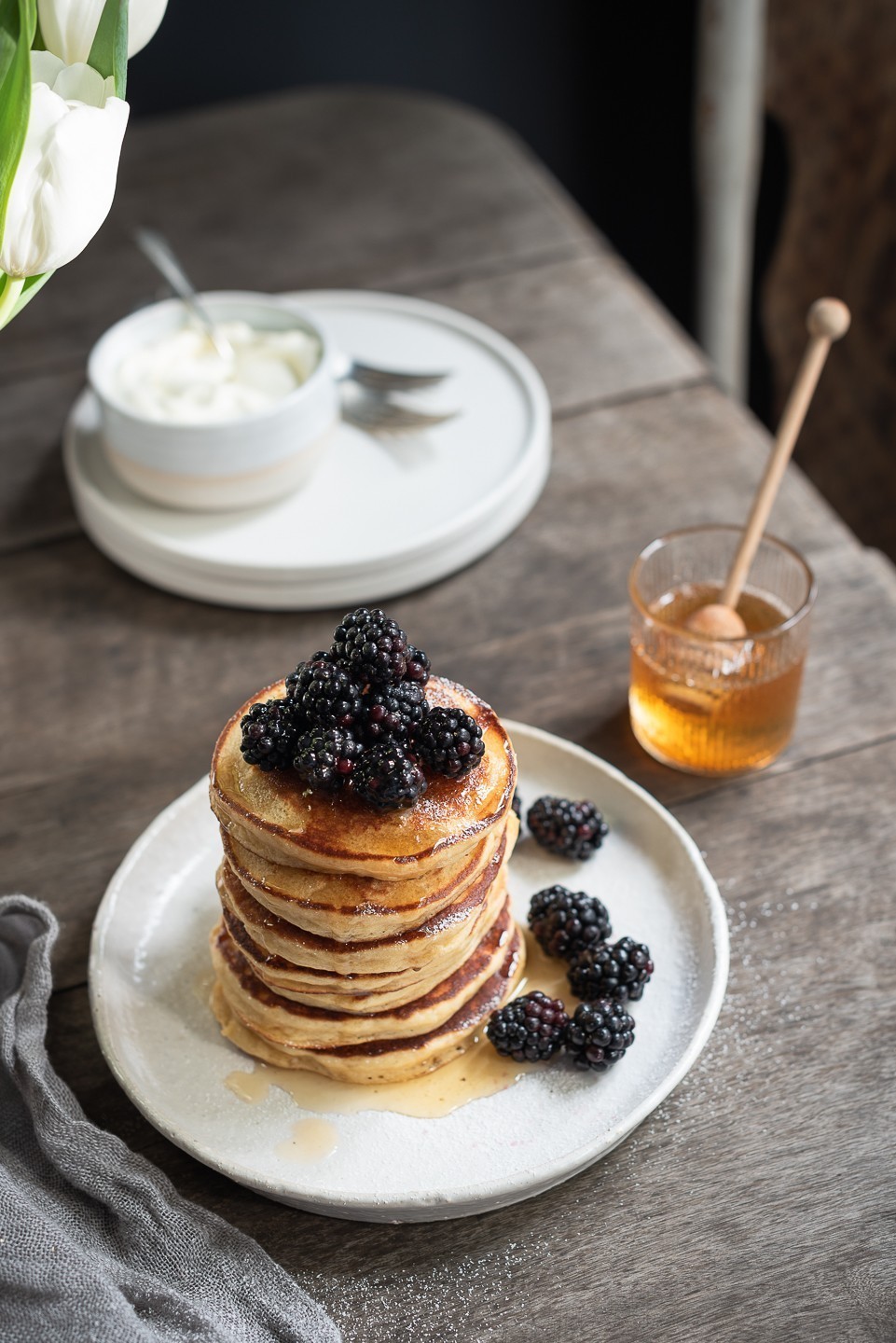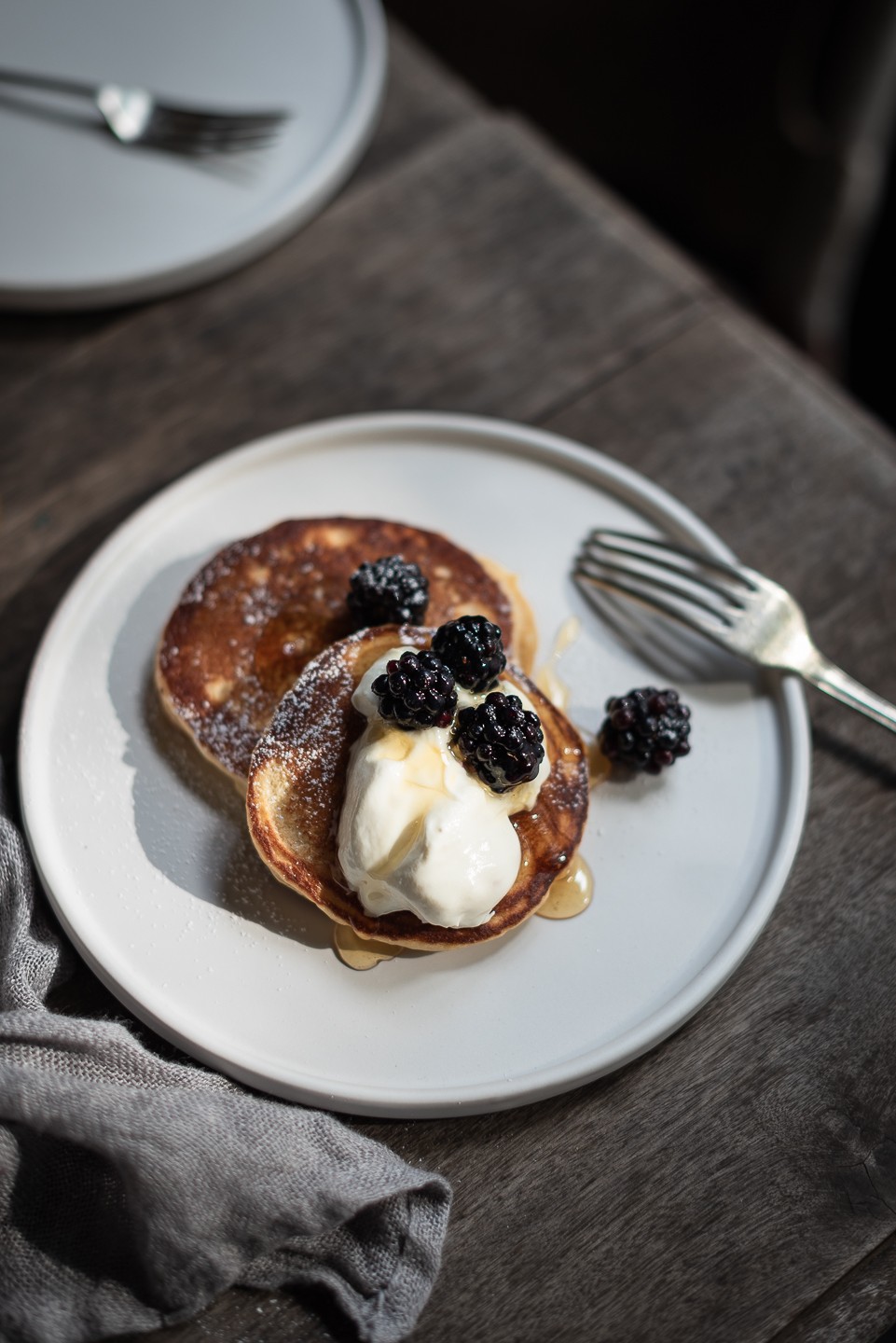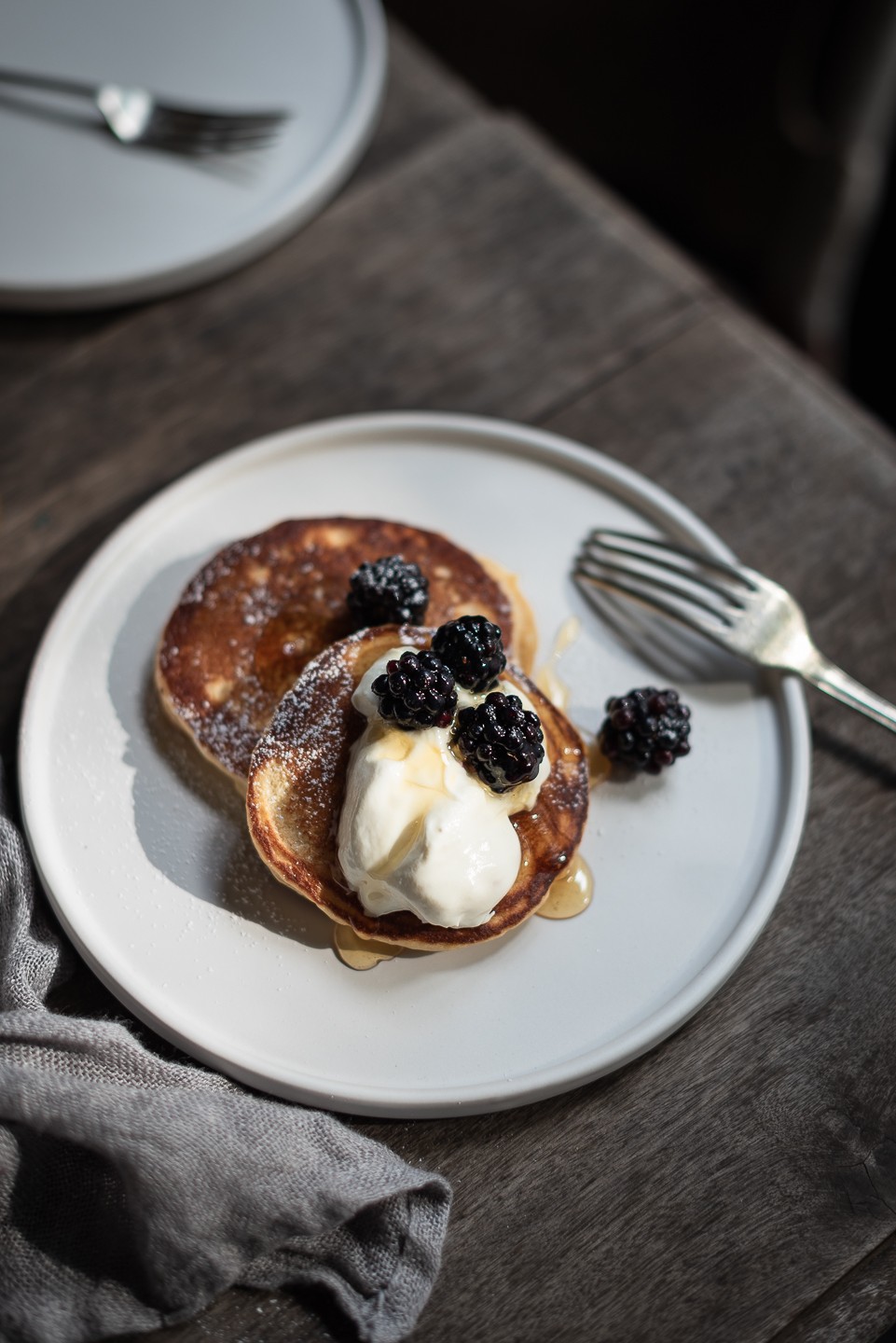 The Fluffiest Ricotta Pancakes
Makes 10
100g (2/3 cup) wholewheat spelt flour or regular, finely ground wholemeal flour
50g (1/3 cup) cake wheat flour
7.5ml (1 1/2 teaspooons) baking powder
1.25ml (1/4 teaspoon) fine salt
45ml (3 tablespoons) honey
30ml (2 tablespoons) coconut oil, melted
125ml (1/2 cup) buttermilk
125ml (1/2 cup) smooth ricotta
2 eggs (xl)
5ml ( 1 teaspoon) vanilla extract
coconut oil or butter, for frying
Into a large mixing bowl, sift together the wholemeal flour, cake flour, baking powder and salt.
Place the all the remaining ingredients, except the extra oil or butter for frying, in a blender. Whizz until smooth and creamy. Add the wet to the dry and fold together gently until just combined.
Heat a coconut oil non-stick pan until hot. Dollop in generous tablespoon amounts of batter. Cook for several minutes, then turn and cook for another minute or two until golden.
Serve warm with butter, fresh berries, thick yoghurt and extra honey for drizzling.
More reasons to get pancake happy about:
Fluffy choc-chip pumpkin pancakes
Wholemeal pancake stack with fruity ice cream whip
Milk tart pancake mille-feuille