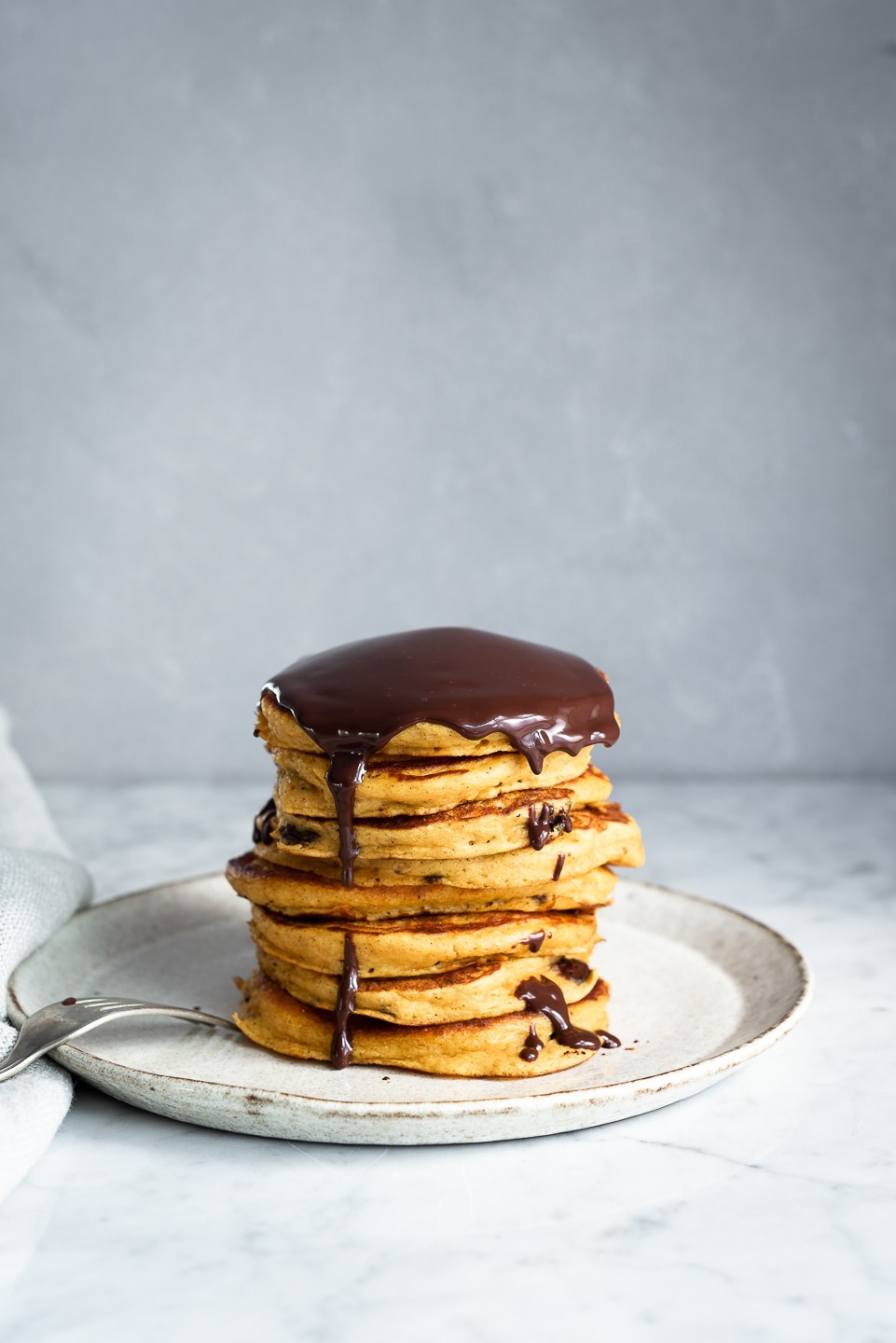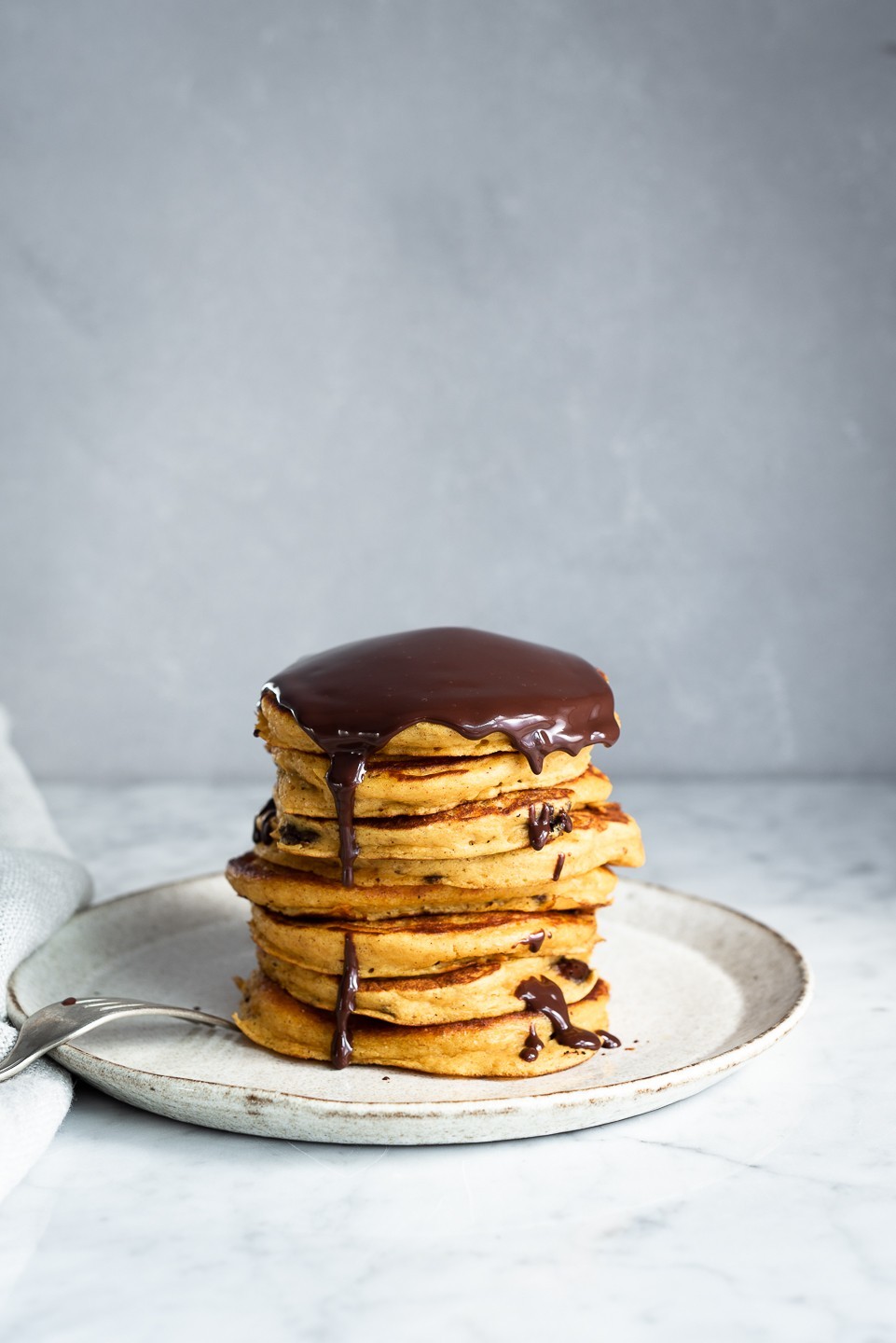 Who wouldn't love waking up to a stack of these Choc-chip pumpkin pancakes? They're not for everyday, but weekends, holidays and pyjama days wouldn't be the same without a pillowy stack of pancakes. I'm thrilled with how these pancakes turned out. The marriage of chocolate and vegetables has never been sweeter!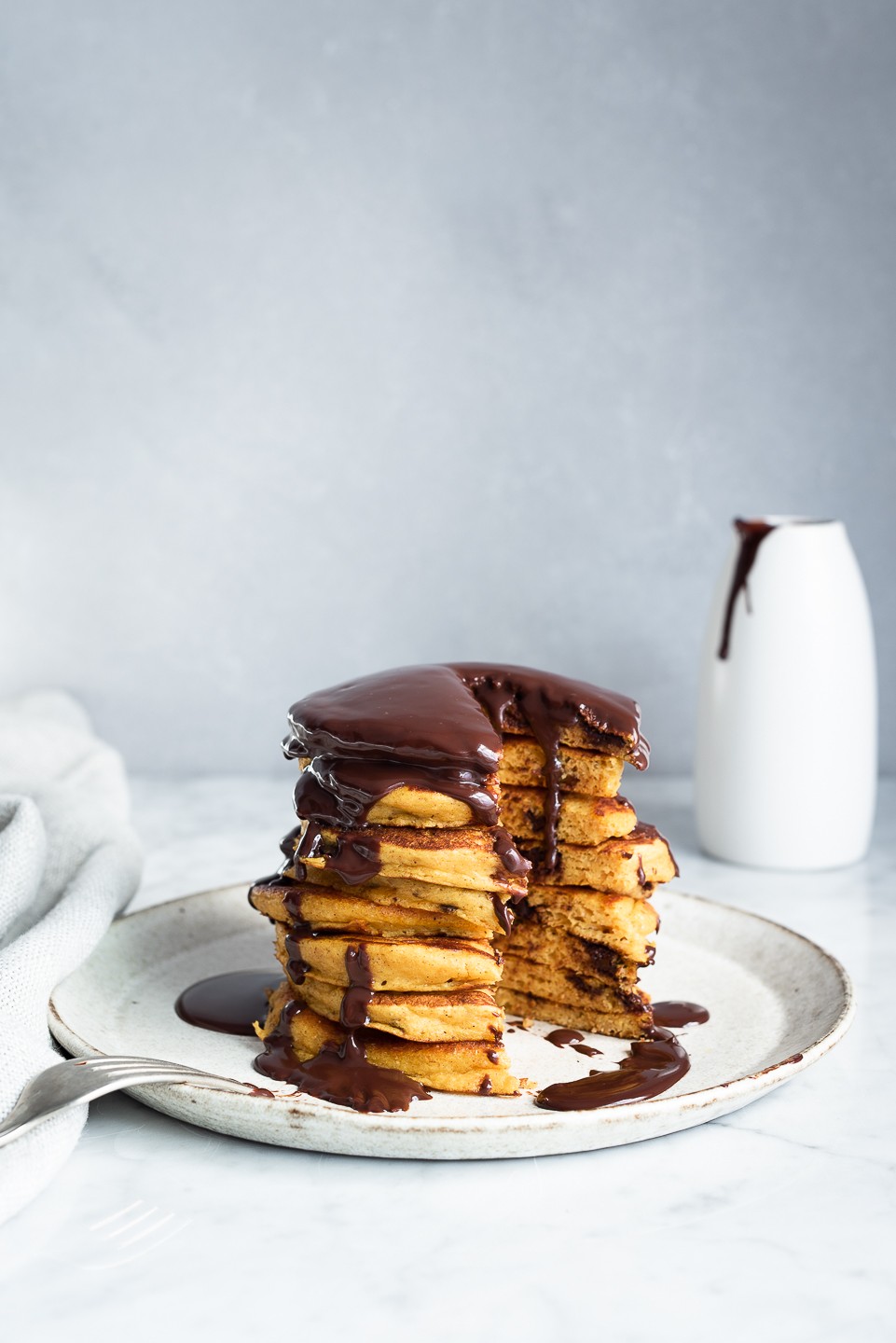 The first pancake never seems to reach it's full potential, which is why being the pancake maker is the job you want. I like to call it quality assurance. From there on, it's a piece of cake. Keeping up with the demand is the biggest challenge. Hot off the griddle is the only way to eat a pancake.
My girls always ask if I could please, just once, not add any vegetables to a recipe. I nod and reply, no problem. Then I make these choc-chip pumpkin pancakes. The pumpkin adds a subtle sweetness and a rather fabulous ochre colour, the same way saffron would taint a Milanese risotto. And because I refuse to denounce my allegiance to chocolate, some roughly chopped chocolate chips boost the feel-good endorphins.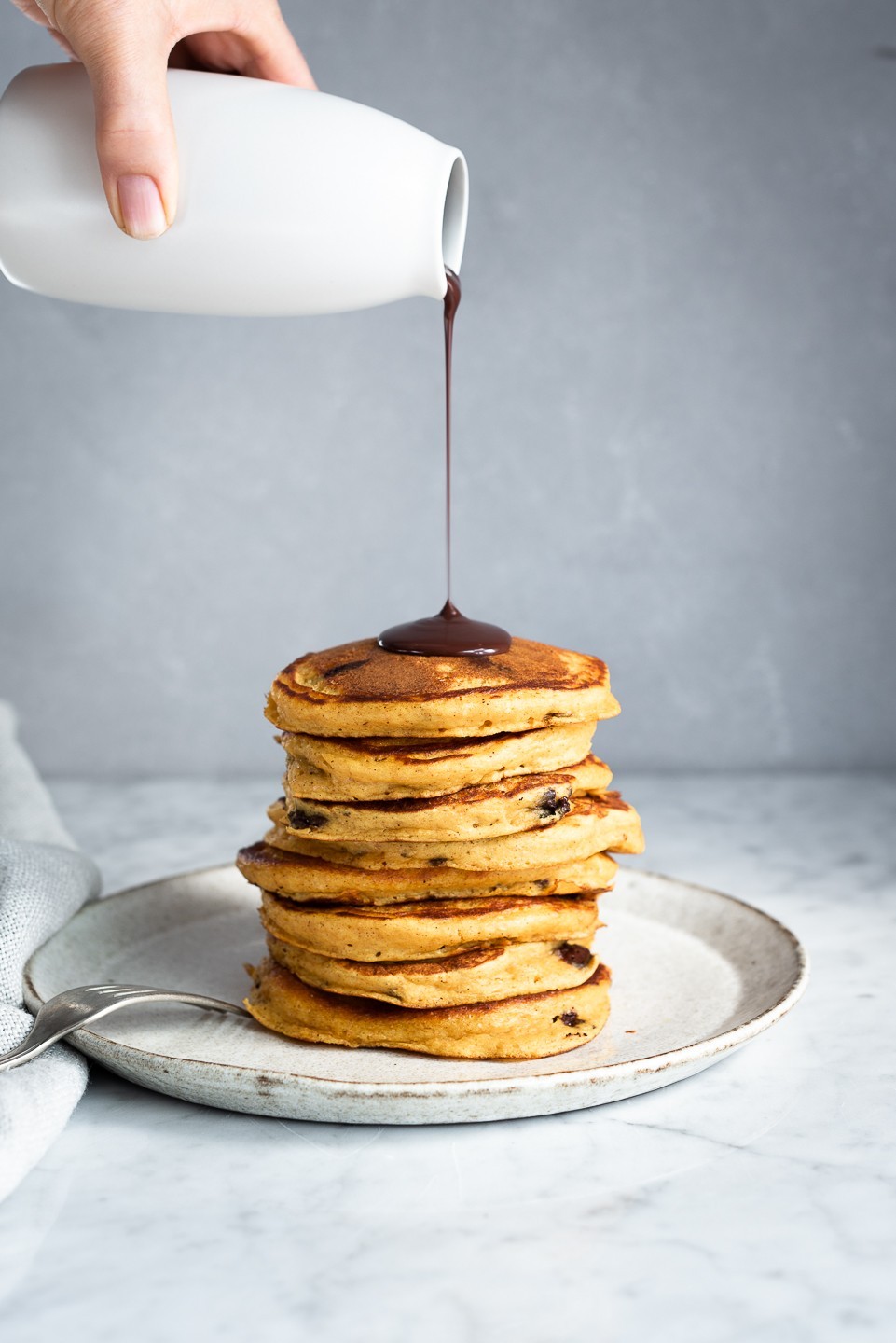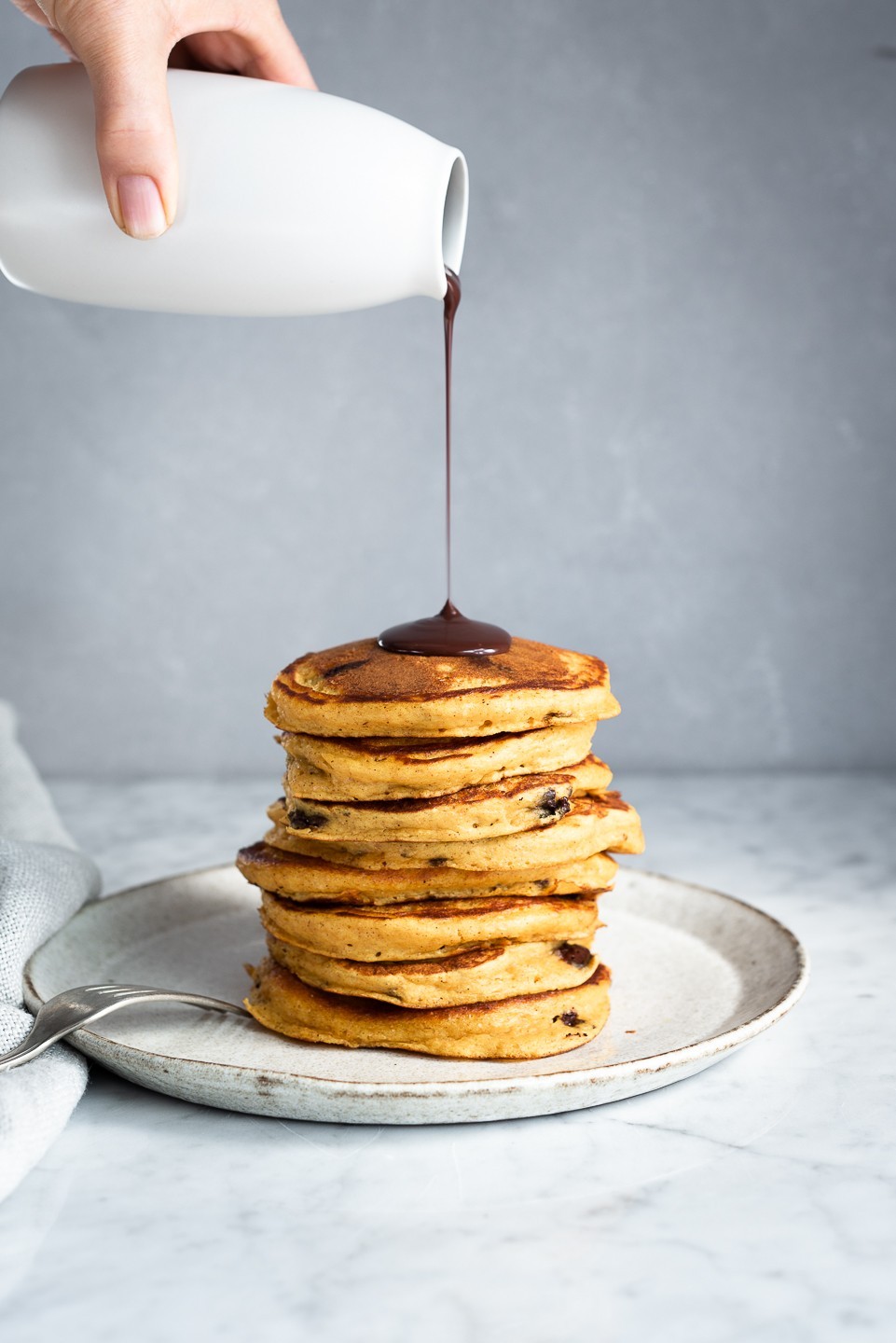 About the sauce. It's not necessary but guaranteed to get a round of applause. The recipe is simple. Dark chocolate, a gloop of honey and some milk. It's super handy for ice cream sundaes or waffles, too.
Side note: Pumpkin puree isn't easy to find in South Africa, so the best bet is to steam it yourself, then blitz in a processor. I make plenty, portion it out and freeze in batches.

Fluffy choc-chip pumpkin pancakes
Makes 10
coconut or vegetable oil, for frying
1/2 cup self raising flour
1/2 cup bran rich self-raising flour
1 teaspoon baking powder
2 tablespoons golden castor sugar
1 teaspoon ground cinnamon
a pinch of fine sea salt
2 eggs
1/2 cup pumpkin puree
1 tablespoon coconut oil
1 cup buttermilk
1/2 cup dark chocolate chips or roughly chopped chocolate
Chocolate sauce
1/4 cup 70% dark chocolate
1/4 cup full cream milk
2 tablespoons honey
Sift the dry ingredients into a large mixing bowl.
Place the eggs, pumpkin puree, coconut oil and buttermilk in a jug and whisk together.
Add the wet ingredients to the flour and mix to combine. Add the chocolate chips and fold through.
Heat a non-stick pan until hot. Add a drop of oil to coat the pan.
Ladle a 1/4 cup of batter per pancake into the pan and cook until bubbles appear on the surface. Flip over and cook for about 2 minutes.  Repeat until all the batter is used up.
For the sauce, place all the ingredients in a heatproof bowl and microwave for about 50 seconds. Stir until the chocolate sauce is smooth. Pour over the warm pancakes and serve with Greek yoghurt.
More pancake love:
Wholemeal pancake stack with fruity ice cream whip