Wholemeal pancake stack with fruity ice cream whip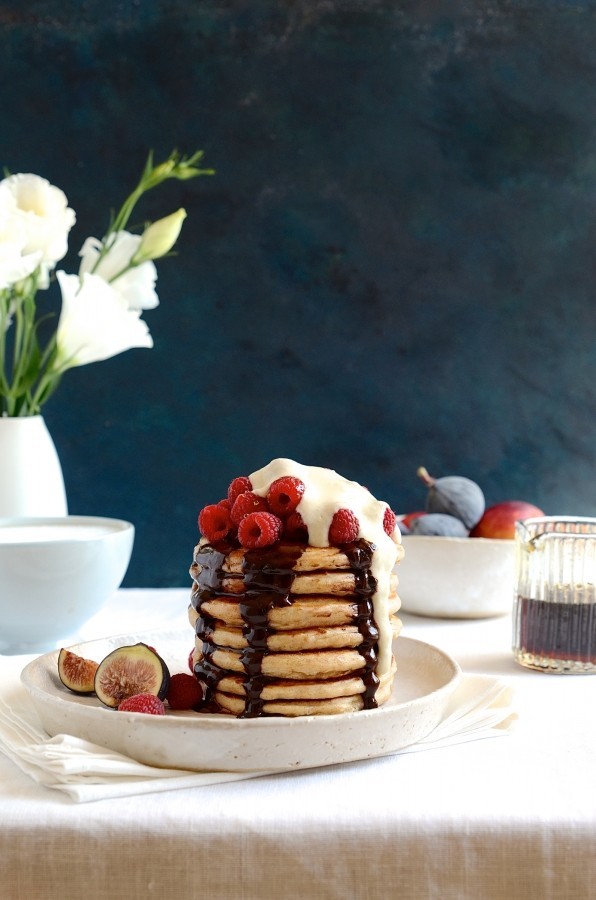 NutriDay is on a mission to help South Africa celebrate breakfast, everyday! No more dull and dreary cardboard crunch for breakfast, just bowls of delicious meals, seven days straight. When asked to join the Breakfast party bus, I obviously said yes 'cause who doesn't love a party, right? And since breakfast is my favorite meal of the day, I simply couldn't refuse. The brief was to come up with innovative ways of incorporating NutriDay's versatile range of yoghurts into new and exciting breakfast recipes.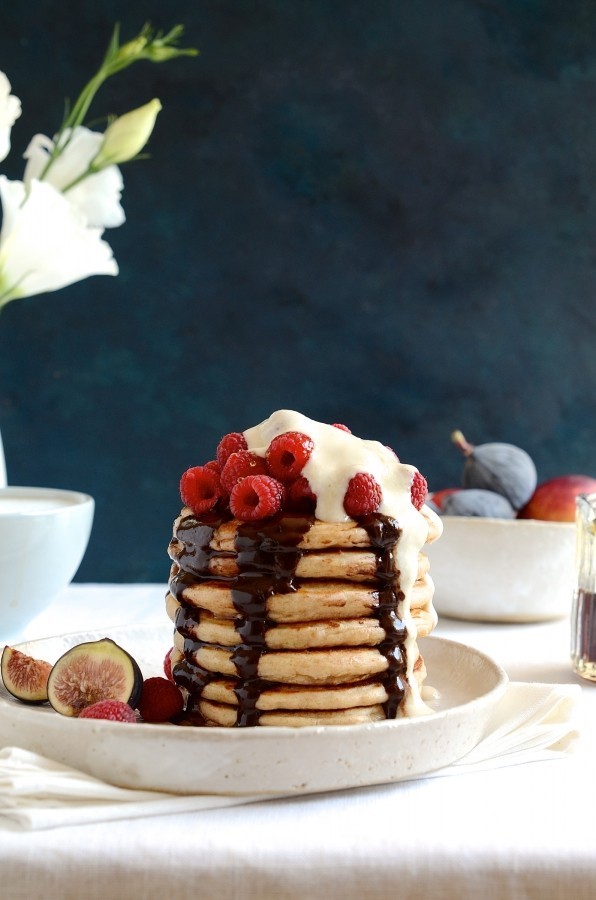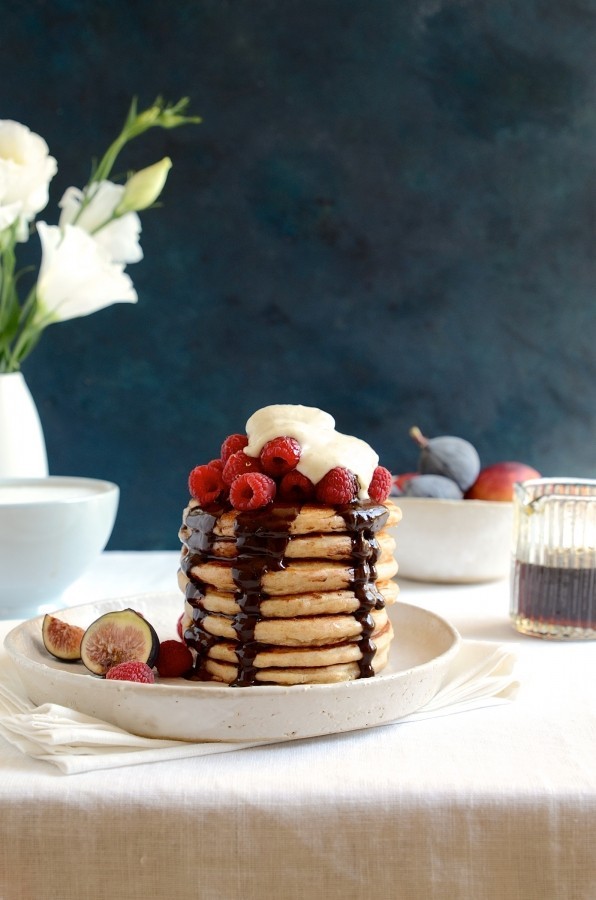 Truthfully, my fridge is always stocked with yoghurts, plain and fruited. It's convenient, smart snack food for my girls' lunch boxes and a nifty addition to our daily smoothies, muffins and bakes. Stirred into warming curries or served alongside spicy tagines, double thick yoghurt is a kitchen staple. In fact, it's hard to find a reason not to eat yoghurt everyday. Personally, I'm thrilled that there's a new addition to the NutriDay family – Double cream plain yoghurt. Whoop whoop!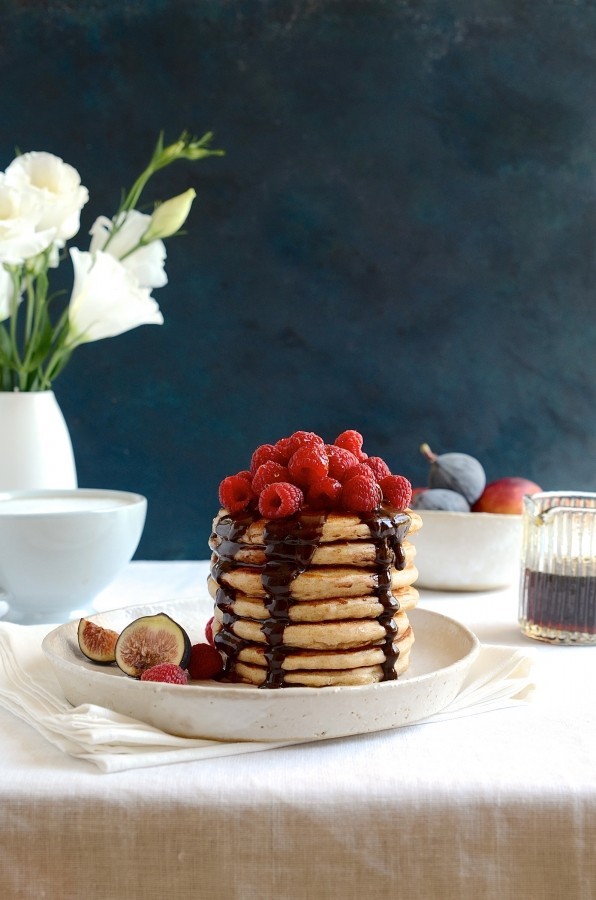 By definition, a breakfast party should be colourful and fun with food that makes you want to tuck right in. Whether it's a laidback Sunday morning brunch or speedy midweek breakfasts, these fluffy pancake stacks are the ultimate breakfast treat made with nutrient-rich ingredients. Topped with ice cream whip and heaps of fresh seasonal fruit, this breakfast party is proof that healthy and delicious food is completely doable – Monday to Sunday. When you're done whipping up a batch of these fluffy pancakes, be sure to head on over to Nutriday for more healthy recipe ideas.
Health food studies repeatedly show that probiotics aid digestion and promote good gut health. Another interesting fact – the gut is now regarded as the body's second brain, so looking after this 'clever' organ is vital. Getting a daily dose of probiotics helps to keep the gut in tip top condition and functioning optimally. Live cultures and Vitamins A, B, D and E found in NutriDay yoghurts help to keep you healthy and happy from the inside.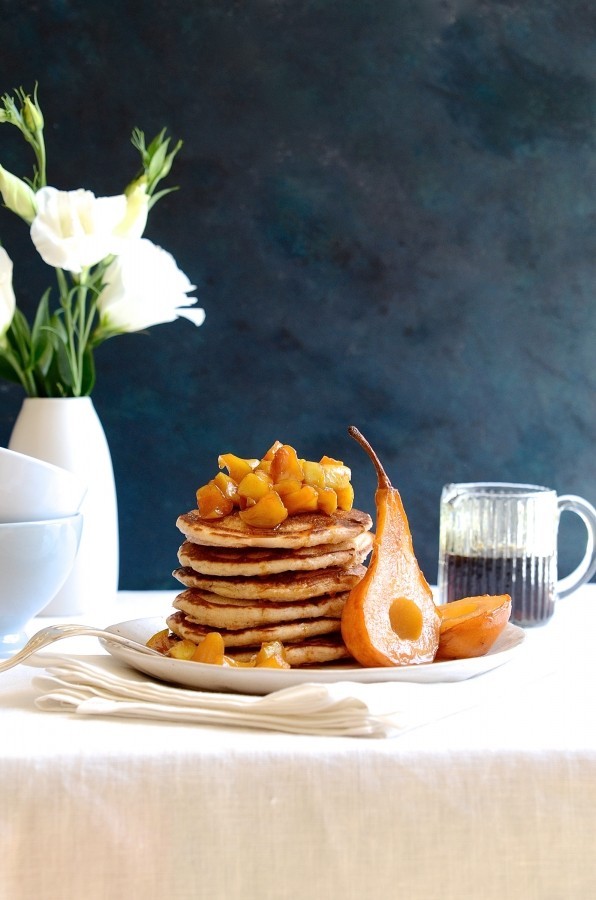 As a balanced breakfast keeps us fuller for longer, including fibre rich foods and protein is always a good idea. This breakfast has you covered. For the pancake mix I've combined wholemeal flour with almond meal for a great nutty taste. It also boosts Vitamin E and iron levels. Milk, buttermilk and NutriDay double cream yoghurt provide calcium and give the pancakes a light and fluffy texture. And the ice cream is guilt-free, made with frozen bananas and even more NutriDay Double cream yoghurt. To get ahead of the usual morning rush, most of the prep for this recipe can be done the night before. Simply mix the batter and chill overnight, ready for cooking the next morning.
Handy tip: Make a double batch of pancakes and freeze in zip lock bags. Pop into the toaster to reheat and crisp up. Real good, fast food.
Great parties almost always have party favours and NutridaySA is giving away some awesome cash prizes to help celebrate the #nutridaybreakfastparty.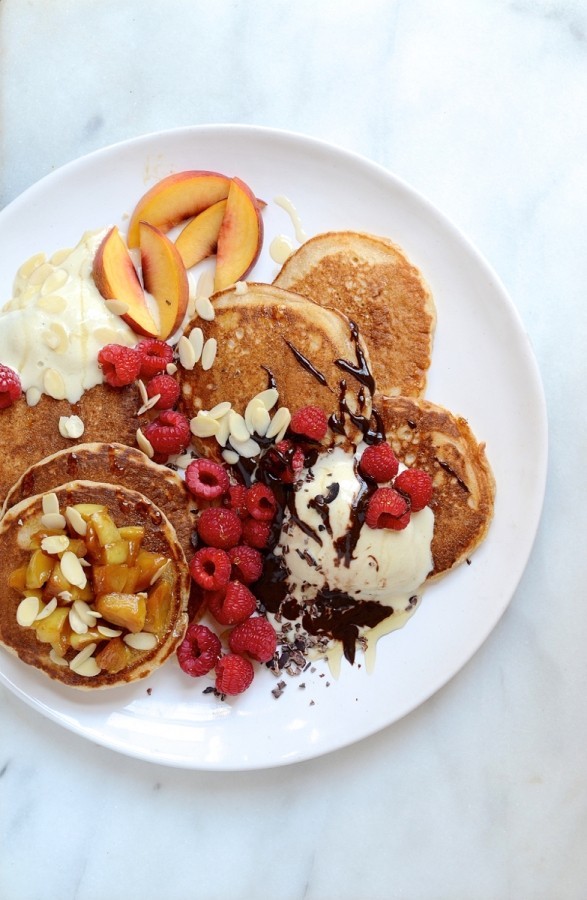 Wholemeal pancake stack with fruity ice cream whip
Prep time:
Cook time:
Total time:
90g (1/2 cup) wholemeal flour
45g (1/2 cup) self-raising flour
30g (1/4 cup) almond meal
7,5ml (1 1/2 tsp) baking powder
a pinch of salt
30ml (2Tbsp) coconut oil or melted butter
1 egg
30ml (2 Tbsp) honey
5ml (1 tsp) vanilla extract
125ml (1/2 cup) buttermilk
125ml (1/2 cup) Nutriday double cream yoghurt
60ml (1/4 cup) fresh milk
Optional toppings
Caramelised apples, pears, bananas, figs or nectarines
1 cup raspberries, fresh or frozen
Maple glazed bacon (great for lazy weekend brunch
Fruited nice cream whip
500ml (2 cups) Nutriday double cream yoghurt poured into ice cube trays and frozen
2 large bananas, peeled, roughly chopped and frozen
30ml (2 Tbsp) honey
1 teaspoon vanilla extract
Honey and nut butter, to serve (optional)
In a large bowl, sift together the wholemeal flour, self-raising flour, almond meal, baking powder and salt.
In a jug, whisk together the coconut oil, egg, honey, vanilla, buttermilk, yoghurt and milk.
Add the wet ingredients to the sifted flour and mix to combine.
Heat a non-stick pan until hot, add a knob of butter and ladle ¼ cup batter per pancake into the pan.
Cook until tiny bubbles form on the top, turn over and cook until golden.
Repeat with remaining batter.
For the fruited nice cream whip, place all the ingredients in a blender and blitz until smooth and creamy.
To serve, stack the warm pancakes in a bowl, spoon over the nice cream fruit whip, top with berries or caramelized fruit, drizzle with honey and a spoonful of chocolate nut butter.