Sticky Fig and Walnut Pudding
27 August 2020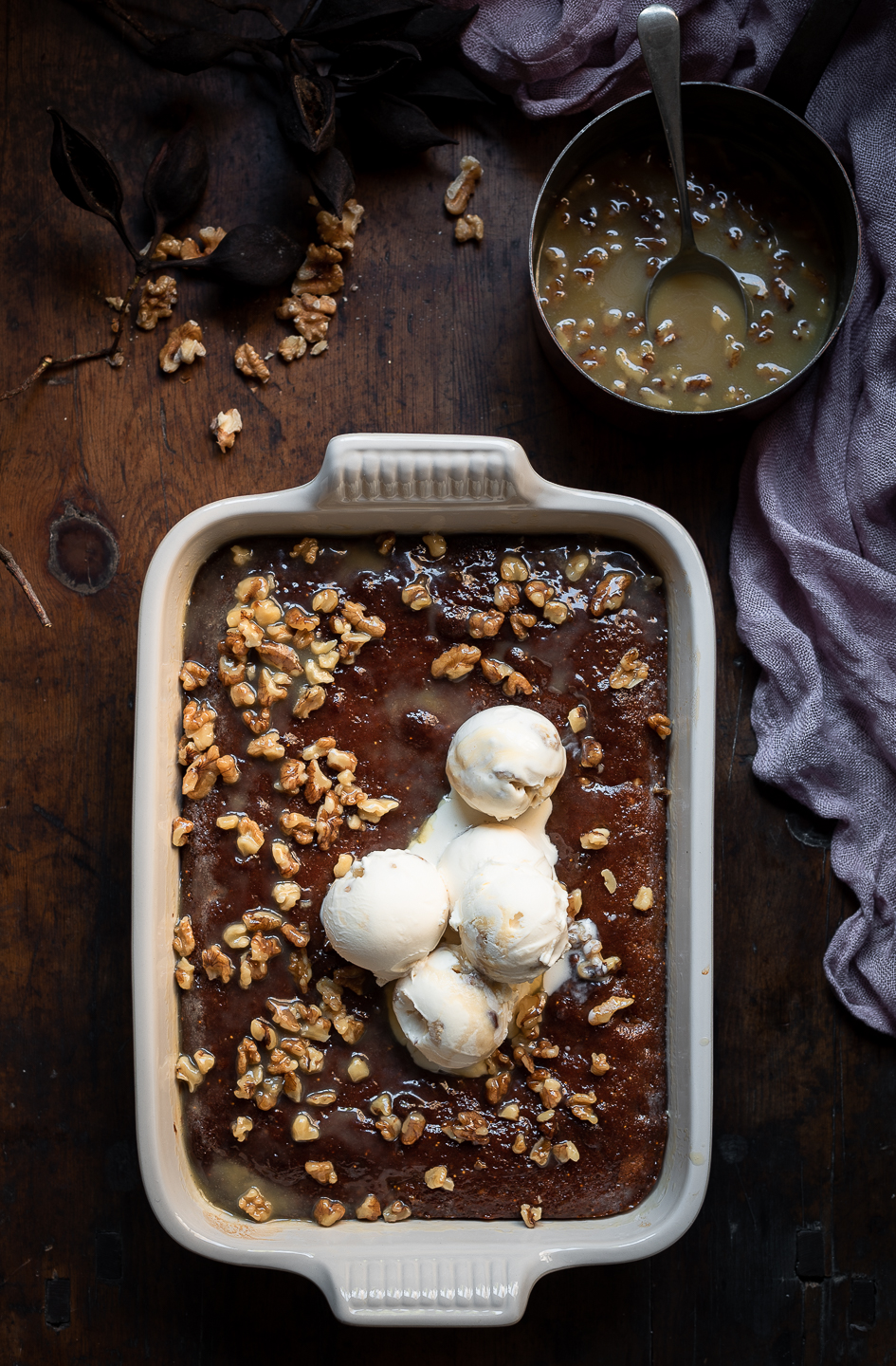 I can't think of a more delicious closure to winter than Sticky Fig and Walnut Pudding. It could be a distant cousin to our much loved South African favourite, Malva pudding, but with softened figgy bits and toasted walnuts. Once baked, the chestnut sponge is thoroughly drenched with a nutty butterscotch sauce. It's irresistibly sweet and worth every indulgent spoonful.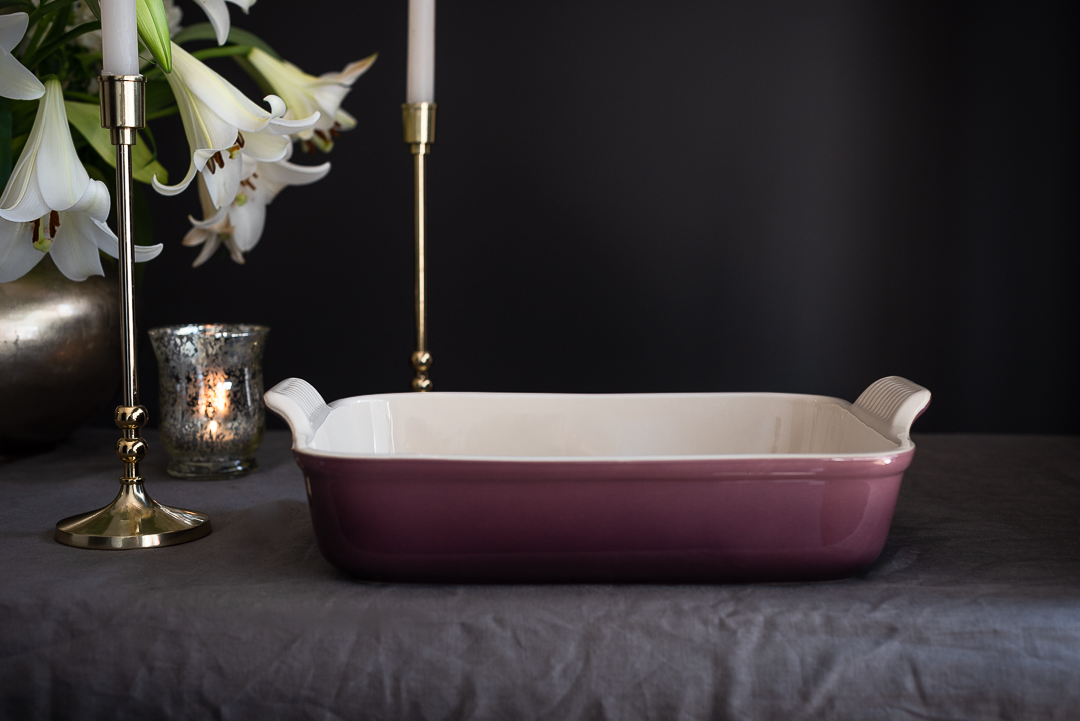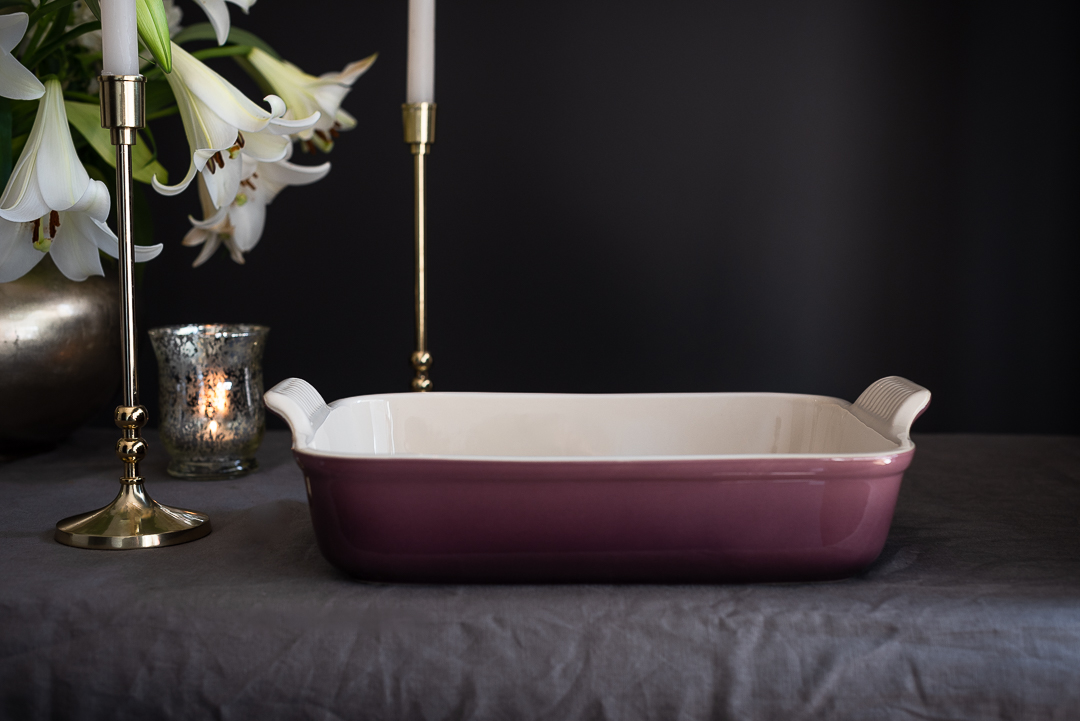 If you're planning on having family over for Sunday lunch, this would be the pudding to make. It's a generous pudding which isn't a problem at all if you're a pudding eater. The sauce is ample too, so here's what I did. Divide the sauce in half. The first half I poured over the sponge. I then divided the remainder in half again, reserving one portion for serving alongside and the other, to make a butterscotch walnut ice cream. For the ice cream, swirl the cooled sauce through 1 litre of softened vanilla bean ice cream and freeze until firm.
The recipe is courtesy of Le Creuset and marks the introduction of their latest Fig Collection. The colour is gorgeously classy – deep violet tinged with soft brown undertones. Absolutely beautiful!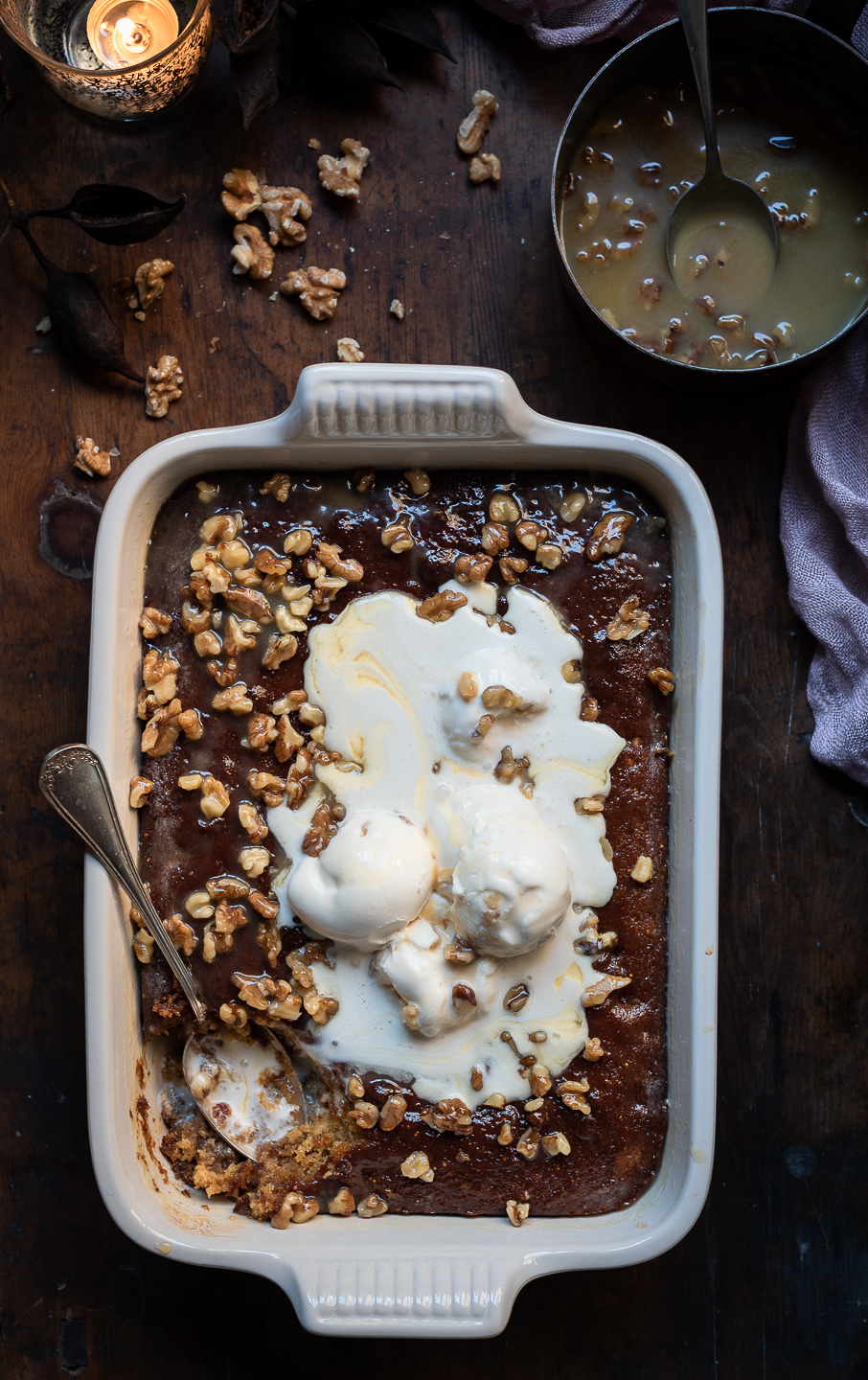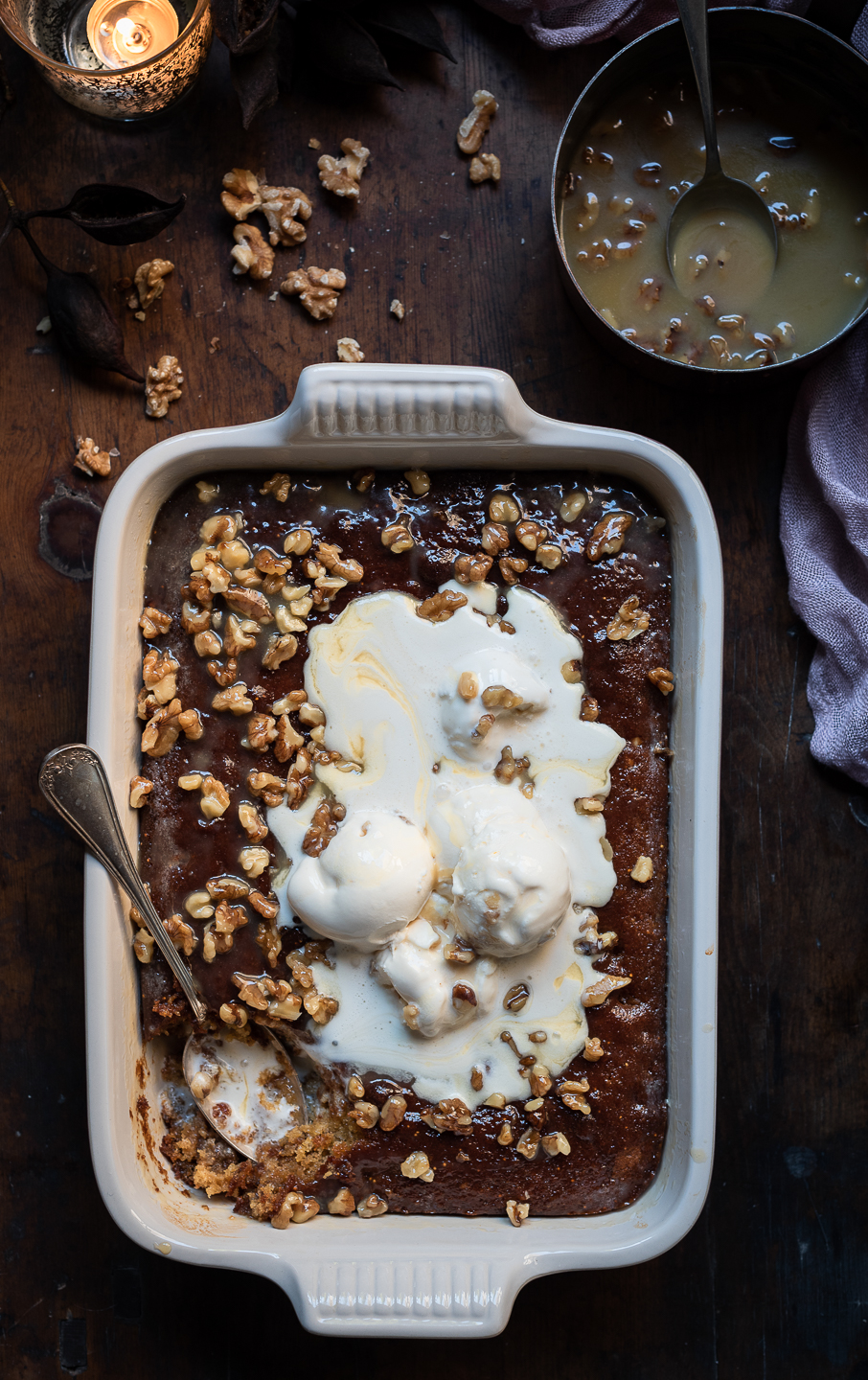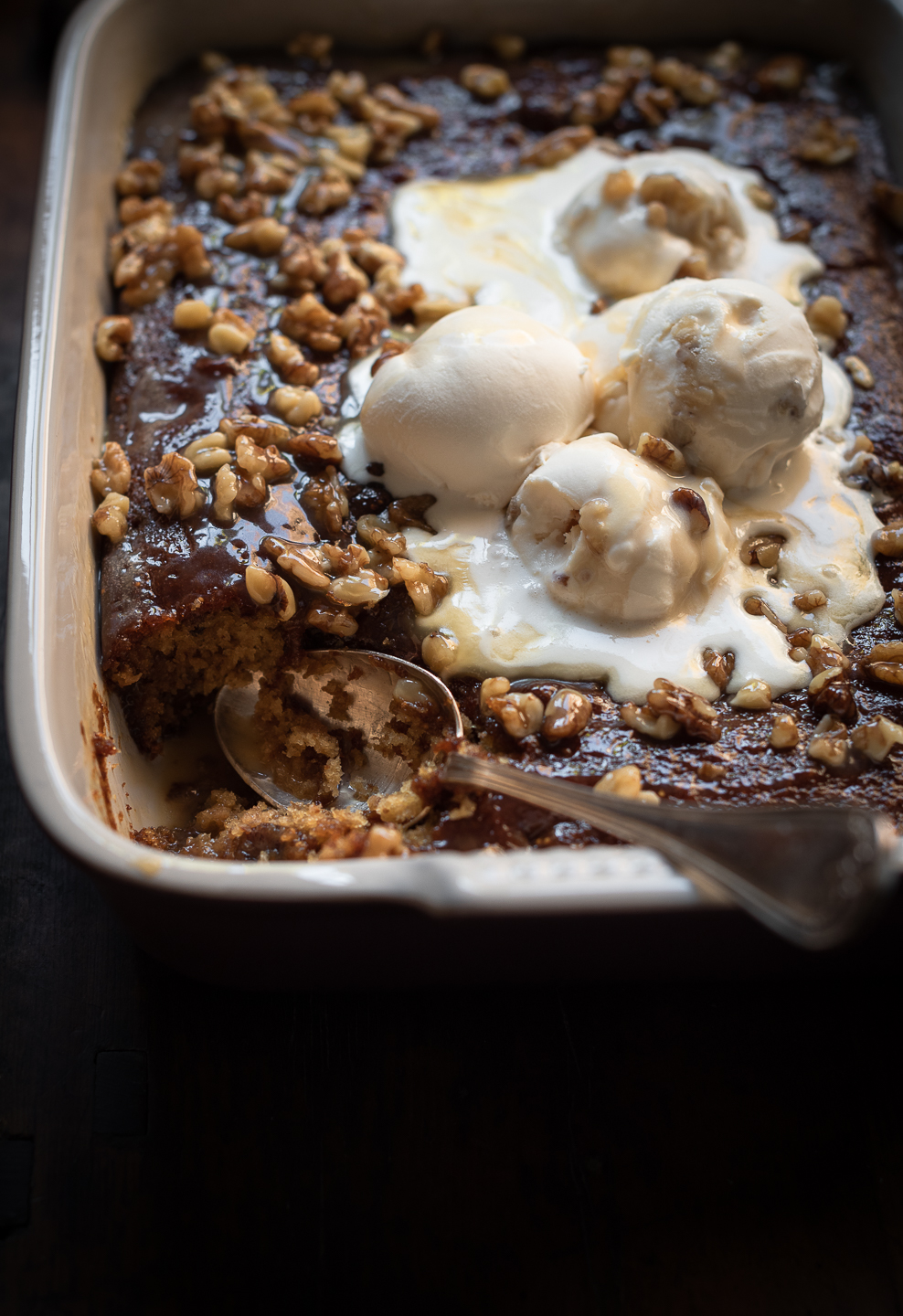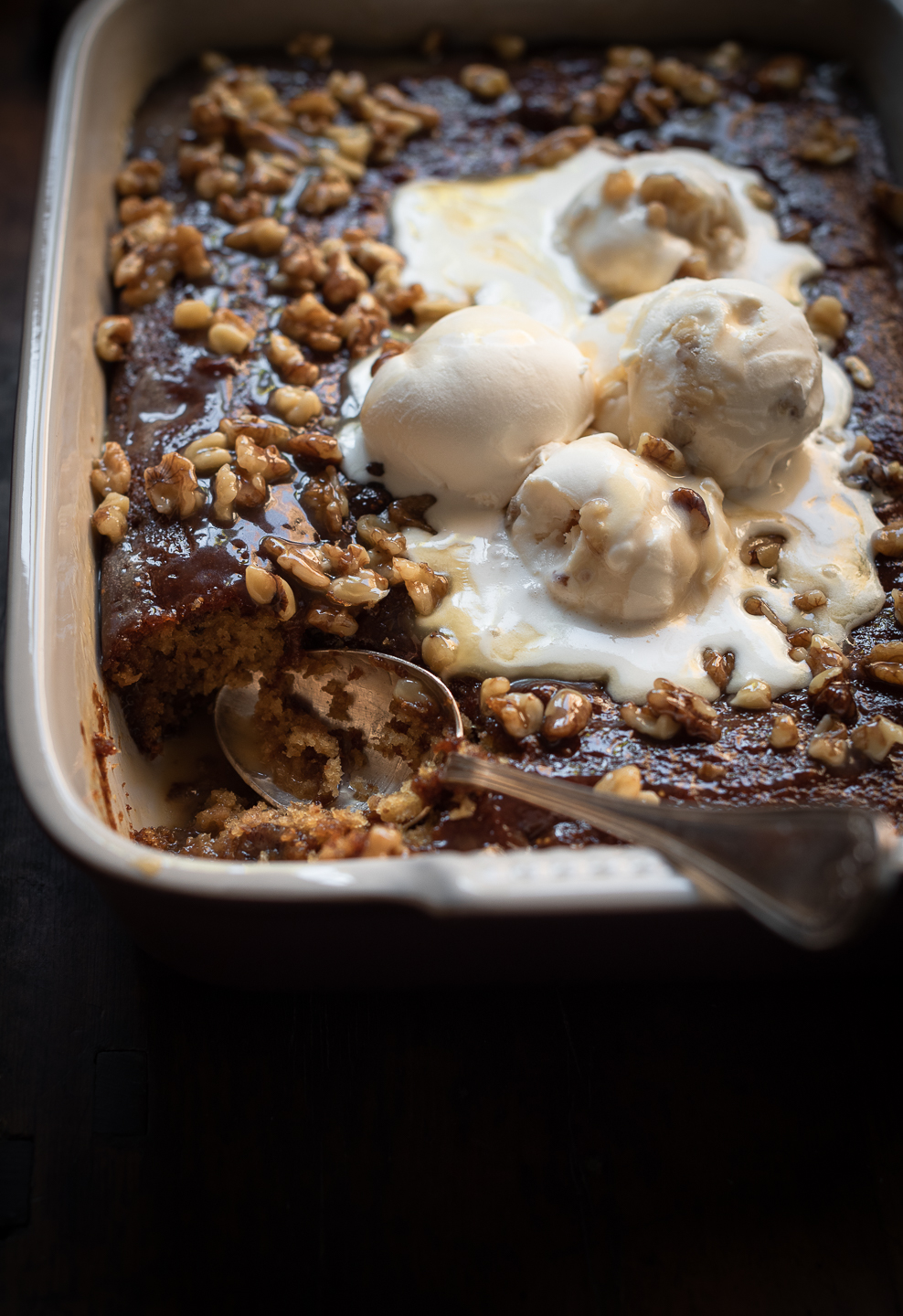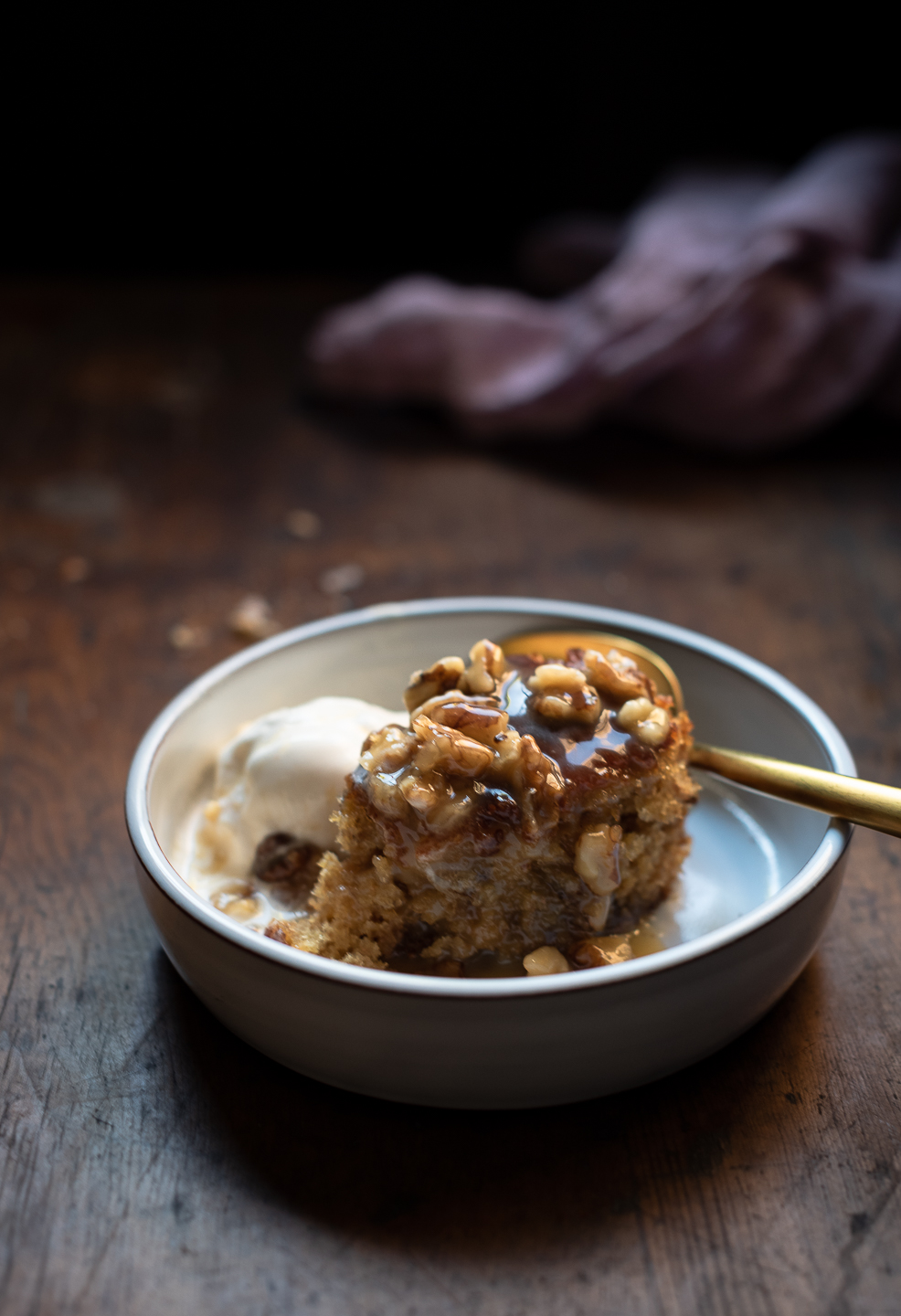 Sticky Fig and Walnut Pudding
Serves 12
For the Pudding
200g dried figs, roughly chopped
5ml (1 teaspoon) bicarbonate of soda
400ml boiling water
100g butter
200g soft brown sugar
5ml (1 teaspoon) vanilla extract
4 free range eggs
350g self-raising flour
a pinch of salt
100g walnuts, toasted and roughly chopped
Caramel Sauce
350g light soft brown sugar
150g butter
400ml fresh cream
5ml (1 teaspoon) vanilla extract
100g walnuts, toasted and roughly chopped
Preheat the oven to 180º C. Butter and flour the base of the Le Creuset Heritage Dish.
Place the figs in a bowl along with the bicarbonate of soda. Pour over the boiling water. Stir, then set aside to soften.
Using an electric mixer, cream together the butter, sugar and vanilla until light and fluffy. Add the eggs one at a time, beating well between each addition. Sift in the flour and salt and mix until combined. Add the walnuts and figs, along with all the soaking water and mix well. Scrape the batter into the dish and smooth over with the back of a spoon.
Bake for 35-40 minutes. Test with a skewer for doneness before removing from the oven. Pour half the sauce over the hot pudding, reserving the remainder to serve alongside. (See above for Ice cream option)
To make the sauce, place all the ingredients in a saucepan and heat gently, stirring all the while.
Serve the pudding warm, with custard whipped cream or vanilla ice cream and extra sauce on the side.
For more wintery baked puddings, here are a few blog favourites:
Cookie crumble sticky toffee pudding
Pear and Treacle Sponge Pudding