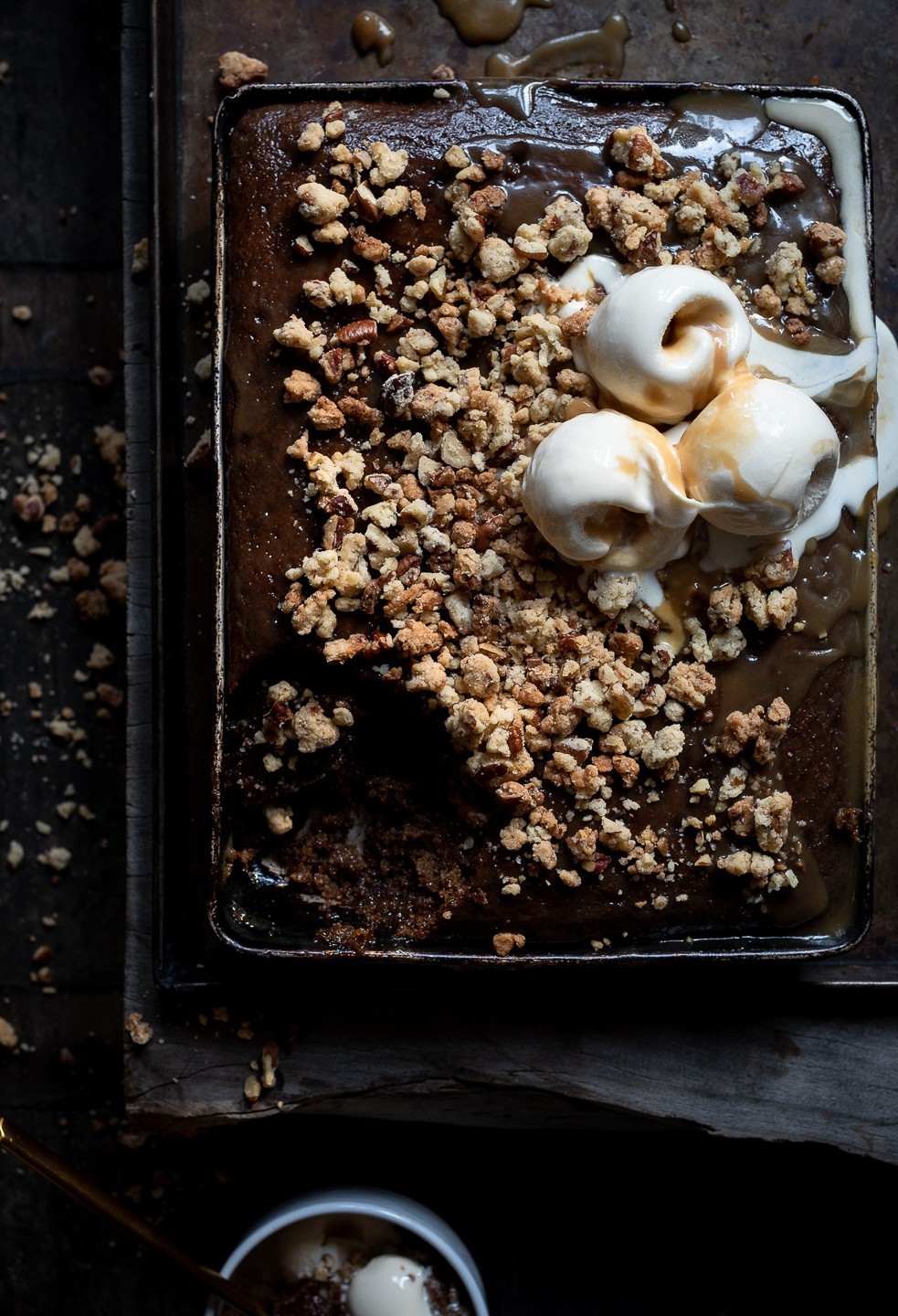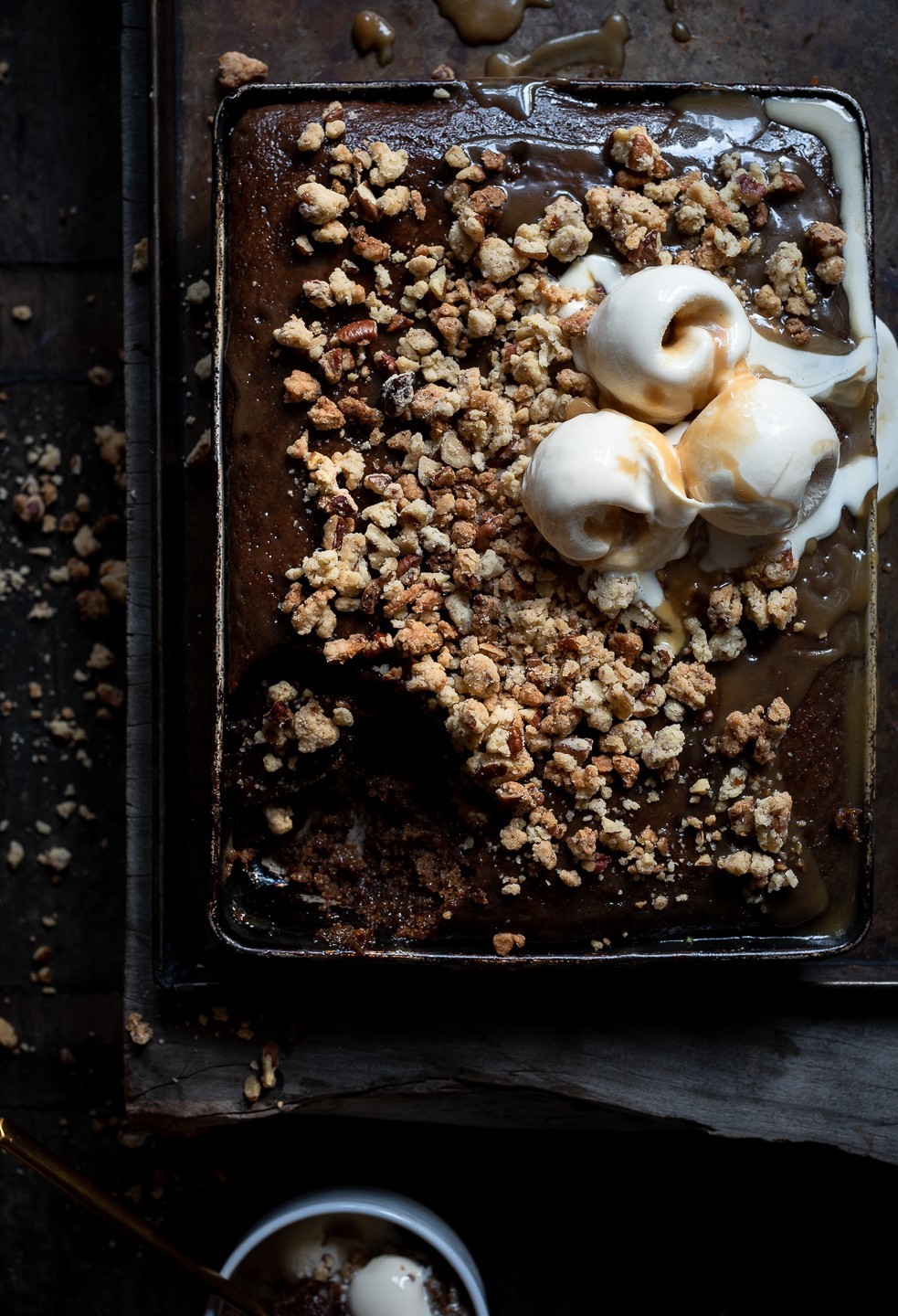 This is what happens when you spend too much time in the kitchen. You start playing with the classics and end up with possibly the best cookie crumble sticky toffee pudding ever. Imagine buttery pecan cookies strewn over a toffee sauce-soaked date pudding. Virtuous, it certainly isn't. Dessert of your dreams? Absolutely.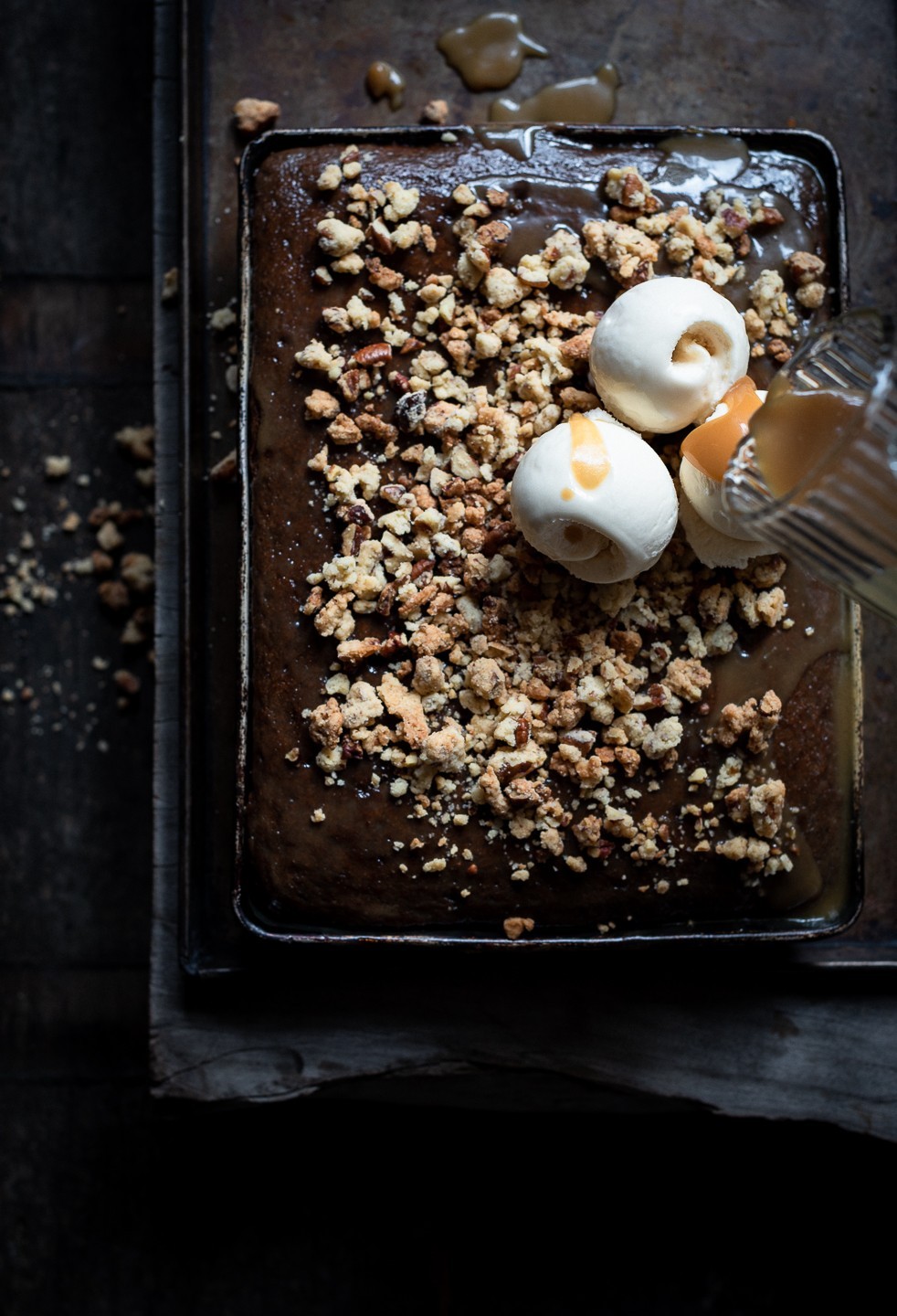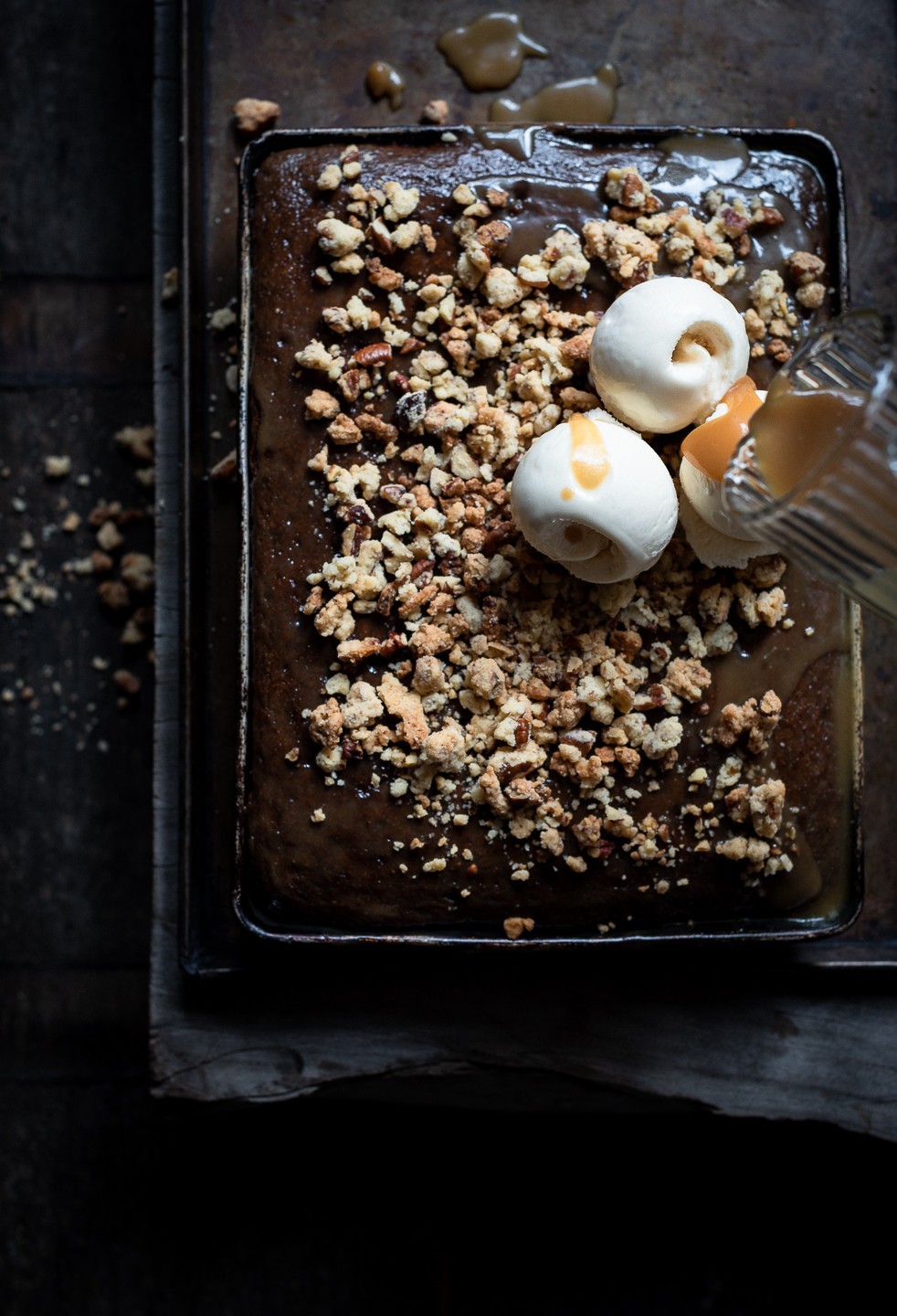 I've been making this sticky toffee pudding for years, although this is the first time I've added a pecan cookie crumble. It took a creative detour after I botched the sauce. As usual, I was juggling several recipes at the same time while making the sauce and flipping through about 8 different cookbooks, in search of my Tandoori marinade recipe. Left to splutter away on the stove, the sauce started resembling a toffee confection. As anyone who's made a malva or baked pudding will know, there's nothing more frustrating than when a sauce pools on top and goes nowhere. Fortunately, it's not Masterchef and starting over wasn't an option. I added some more cream and moved on to Plan B. This involved poking offensively huge holes in the top to get the sauce to absorb, almost like a Poke Cake. Best plan ever. The sauce seeped in like cold water on hot desert sand. The top, though, looked a little questionable. That's where the cookie crumble idea comes in.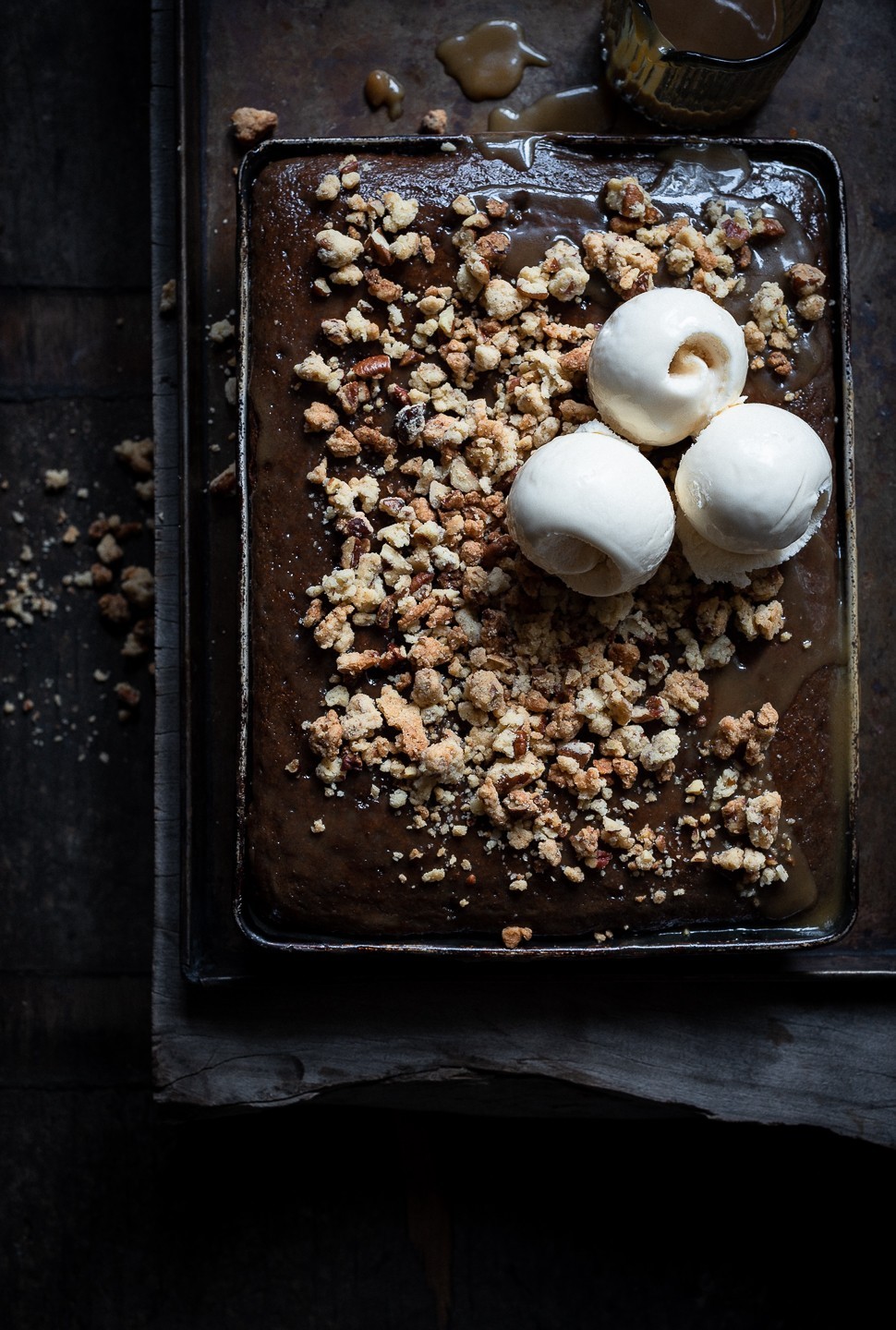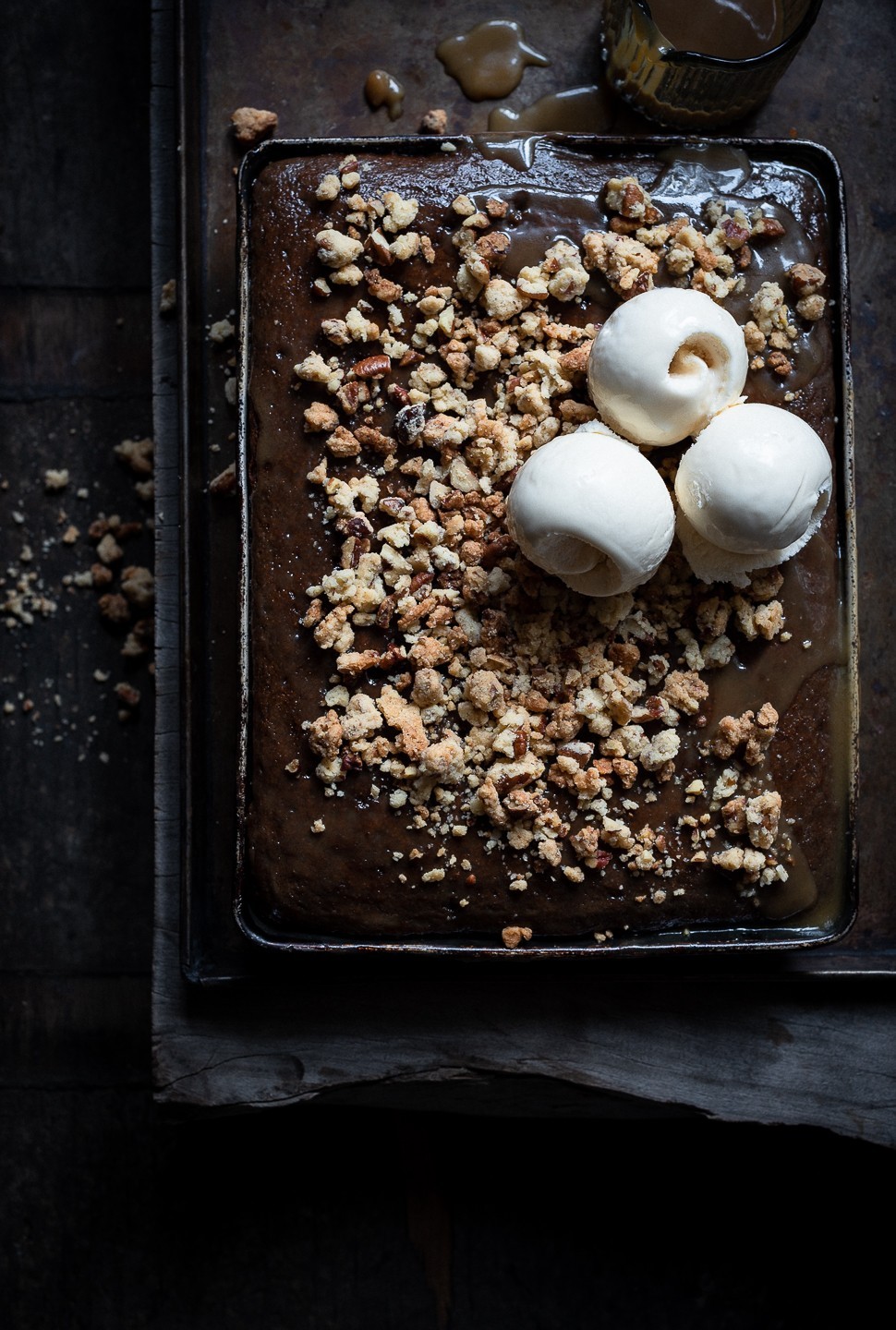 My mother says it's a sin to turn your back on a pudding. Of course, it is. Salvaging disaster is what makes food interesting. And this is the most interesting pudding we've eaten in a while. It's also the most spectacularly indulgent. There's no mistaking the buttery richness of pecan cookies or the caramel-y taste of sticky medjool dates. The only way to conclude this unrestrained dessert story is with scoops of cold vanilla ice cream balled onto said warm pudding.
PS: Bookmark the recipe for Father's Day lunch.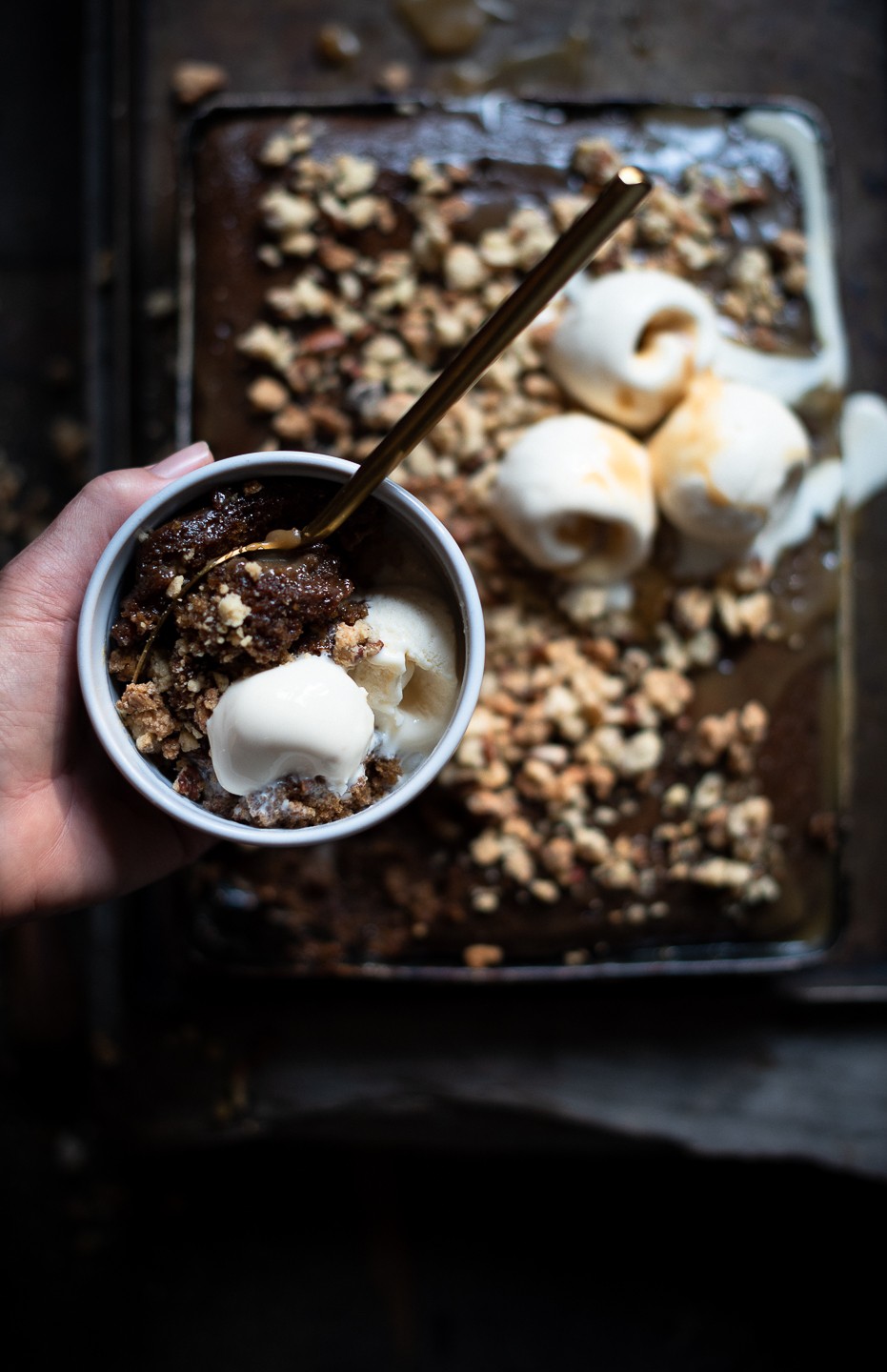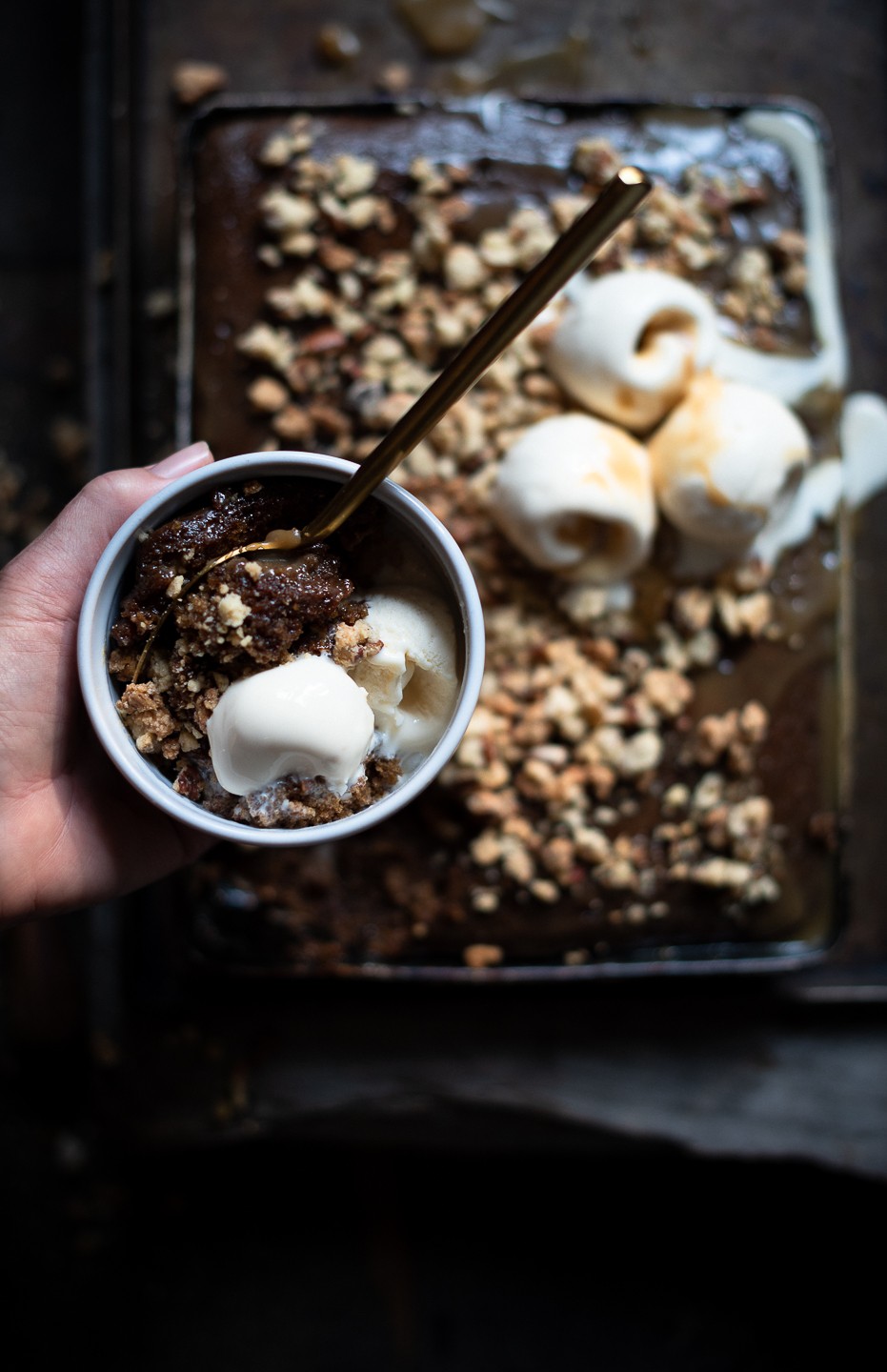 Cookie crumble sticky toffee pudding
Serves 10-12
250g medjool dates, pitted and roughly chopped
5ml (1 tsp) bicarbonate of soda
250ml (1 cup) boiling water
100g butter, at room temperature
160g (2/3 cup) golden castor sugar
3 eggs (xl)
5ml (1 tsp) vanilla extract
250g self-raising flour
1/2 teaspoon fine salt
Toffee sauce
250g demerara sugar
80g butter
325ml (1 1/3 cup) fresh cream
5ml (1 tsp) caramel essence
a generous pinch of sea salt flakes
Pecan cookie crumble topping
75g (1/2 cup) cake wheat flour
pinch of salt
30ml (2 tablespoons) castor sugar
45g (3 tablespoons) butter
50g (1/2 cup) pecan nuts, roughly chopped
15ml (1 tablespoon) cold water
Preheat the oven to 170º C. Grease a 2 litre baking dish with butter.
Place the dates and bicarbonate of soda in a heatproof bowl. Pour the water over and mix to combine. Set aside to soften for about 15 minutes. Transfer the dates and the soaking water to a blender and blitz until smooth.
Cream the butter and sugar together until fluffy and light. Add the eggs one at a time, whisking well between each addition. Add the vanilla and date mixture to the butter and mix to combine. Sift in the flour and salt and beat on a low speed until the batter is smooth. Scrape into the baking dish and bake for 40-45 minutes.
For the toffee sauce, place the sugar, butter and cream in a saucepan. Bring up to the boil, stirring until the sugar is dissolved. Reduce on a medium high heat until the sauce is slightly thickened and turns a caramel colour, about 8-10 minutes.
While the pudding is still hot from the oven, poke multiple holes all over the top. Ladle the sauce slowly over the pudding.
For the cookie crumble, combine the flour, salt and sugar. Add the butter and rub through until breadcrumb stage. Add the pecan nuts and water and mix together to form rubble-like clumps. Spread the cookie crumbs onto and baking sheet and bake for 15-18 minutes until golden brown. Turn the mixture over once halfway through to ensure even browning.
Scatter the cookie crumble over the warm pudding and serve with a good vanilla ice cream.
More hot baked puddings to make this winter:
Caramel malva pudding with cognac pears
Spiced Cape Brandy Pudding aka Tipsy Tart