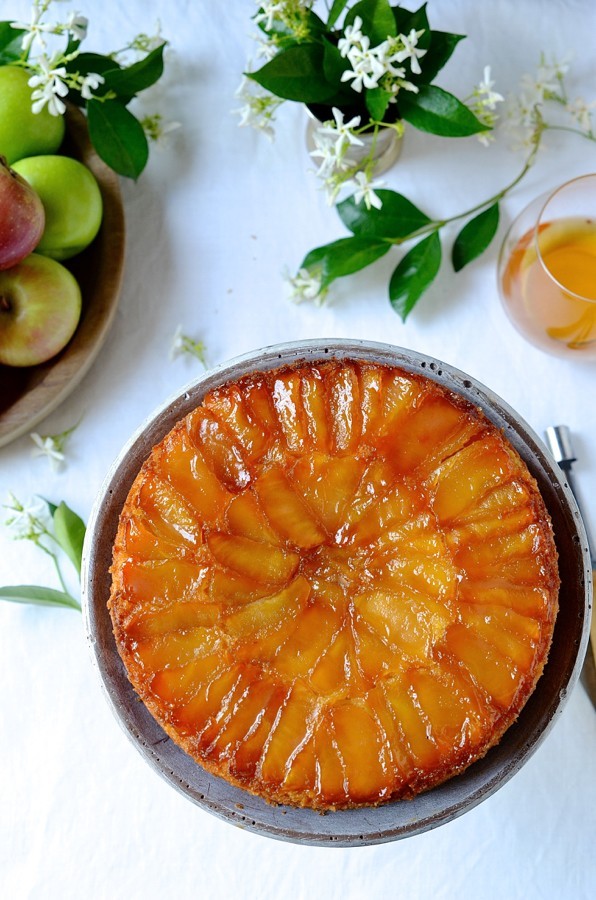 Inspired by the 300th anniversary of Martell Cognac, I've created a very special bake for this weeks Cake Friday – Vanilla butter cake with caramelised Cognac apples. A sublime combination of buttery cake enriched with amber-tainted baked apples. This Cognac apple cake has all the flavour profiles of a classic tarte tatin but with the luxurious addition of the finest quality cognac.
This week I attended a luncheon hosted by Martell Cognac, in collaboration with sensory food experience designer Caro de Waal and award winning caterer Vicky Crease. A sensational three course meal was paired with a range of cognacs form this prestigious brand. Merging high end design with exceptional food showcased the adaptability of this iconic range of cognacs. Expert mixologists created a cocktail menu that reads like liquid dessert! Armed with a complimentary bottle of Caractère Cognac, I couldn't think of a better dessert than this delectable apple cake.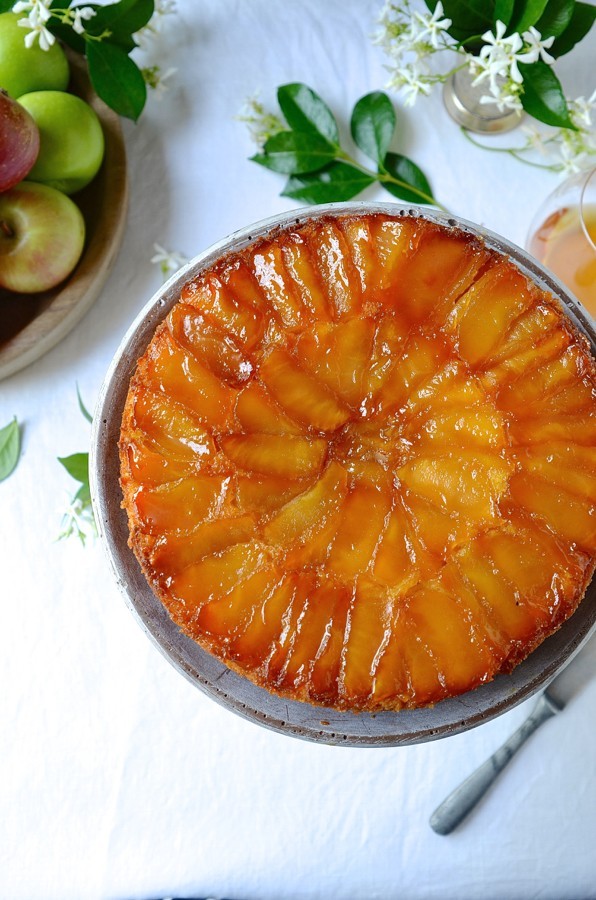 To compliment the fresh lively notes of this cognac, I've paired it with citrus and vanilla, two characteristic of this particular cognac. You could also use Calvados brandy if you prefer. Cooking with wine or spirits imparts a wonderful depth of flavour to food, especially when paired with meat or in this instance, fruited cakes.
I've kept the recipe simple and do-able so that there'll be no excuse not to make this apple cake for Sunday lunch. I'm calling it the 150g cake. It's impossible to forget – 150g butter, sugar and flour, with subtle hints of lemon and vanilla. Quite evident here is the buttery-yellow crumb! I've added ground almonds to the batter which'll help to keep the cake moist while complimenting the apples with a mild, nutty taste. Serve warm for dessert with vanilla bean ice cream or for afternoon tea with generous dollops of lightly whipped cream. As we're heading for the colder winter months here in South Africa, I've definitely got my eye on this buttery autumn bake for relaxed weekend entertaining.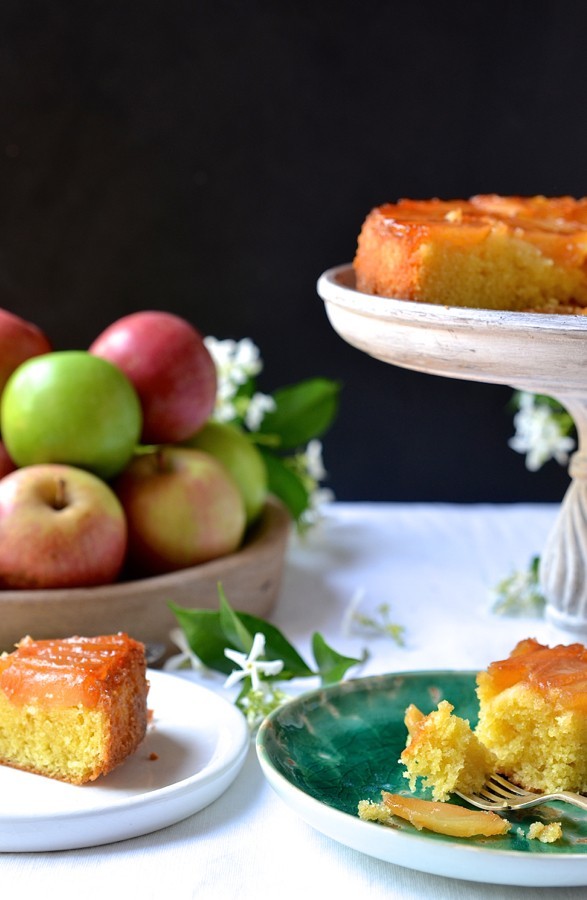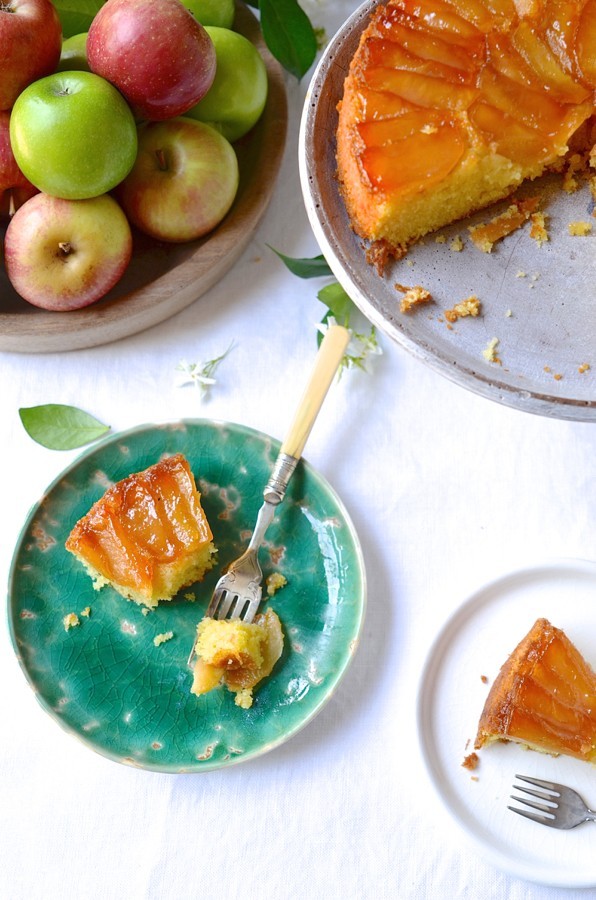 Cognac Apple Cake
Serves 12
For the apples
5 apples, cored, peeled and cut into wedges
2 tablespoons castor sugar
3 tablespoons butter
pinch of sea salt flakes
1/4 cup (60ml) Martell Cognac
For the cake
150g butter, at room temperature
150g castor sugar
2 eggs
zest of half a lemon
1 teaspoon vanilla extract
150g self raising flour
50g ground almonds (almond meal)
pinch of salt
3 tablespoons milk
Preheat the oven to 180º C. Grease and line a 20cm round springform cake tin with parchment paper.
Place the castor sugar, butter and sea salt in a large based pan. Cook for about 12-15 minutes until all the juices have evaporated and the apples are caramelised, with good colour. It's important to keep turning the apples to prevent burning. Now deglaze the pan with the cognac and reduce down on a high heat until the apples are sticky once more. Set side to cool.
To make the batter, cream together the butter and castor sugar. Add the eggs one at a time and whisk until until creamy. Now add the lemon zest and vanilla extract. Sift the flour, ground almonds and salt together. Add the dry ingredients and milk to the butter mixture in two stages. Beat slowly to prevent over-mixing.
Arrange the cooled apples on the base of the cake tin. Spoon the batter over the apples and smooth the top. Tap the cake tin firmly on the counter before baking for 30-35 minutes. Check for doneness after 30 minutes.
Rest the cake in the tin for 15 minutes before unclipping the sides. Leave to cool for an additional 10 minutes before turning over onto a serving plate.
This is not a sponsored post. No remuneration was received. All opinions and views are independent there-of.