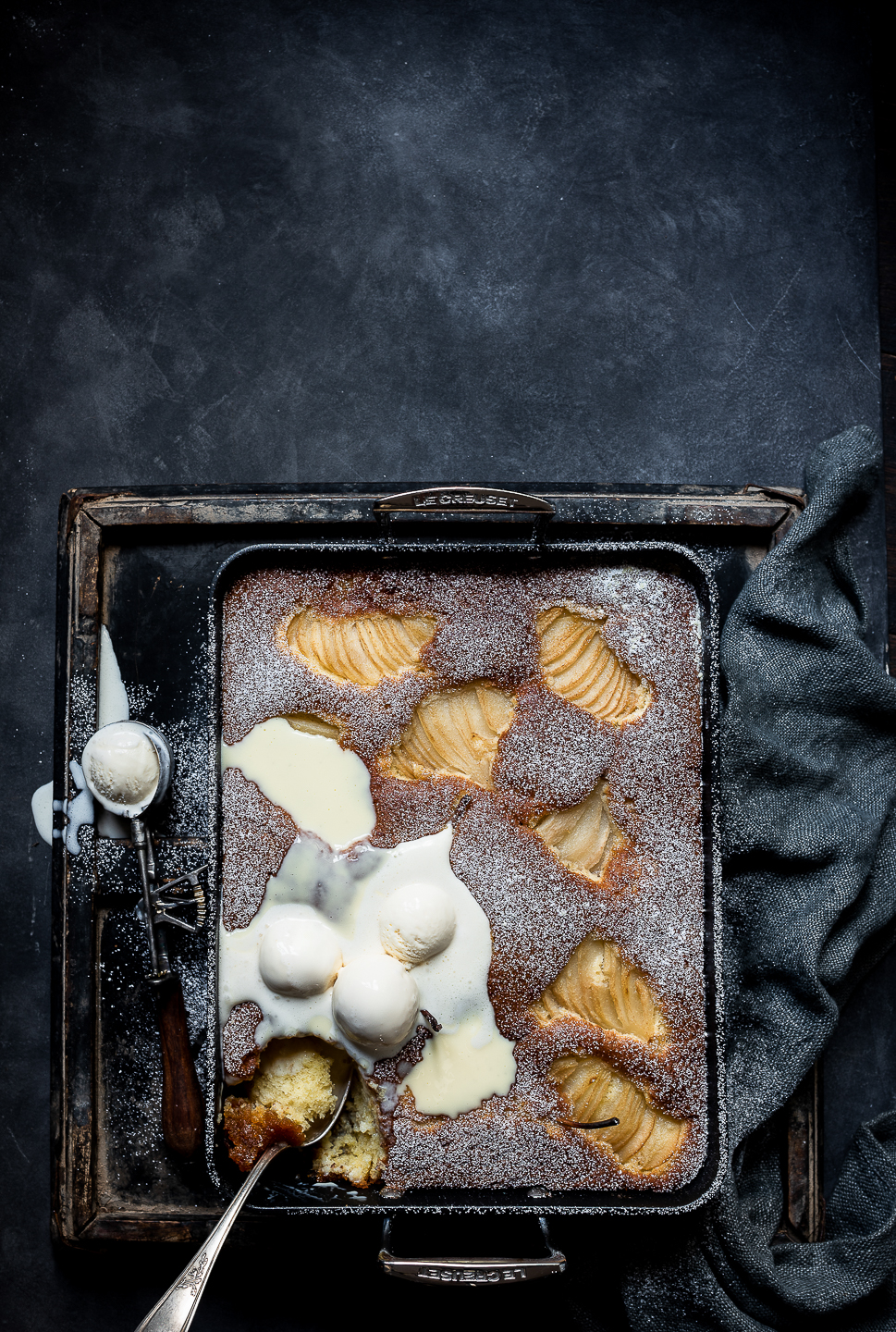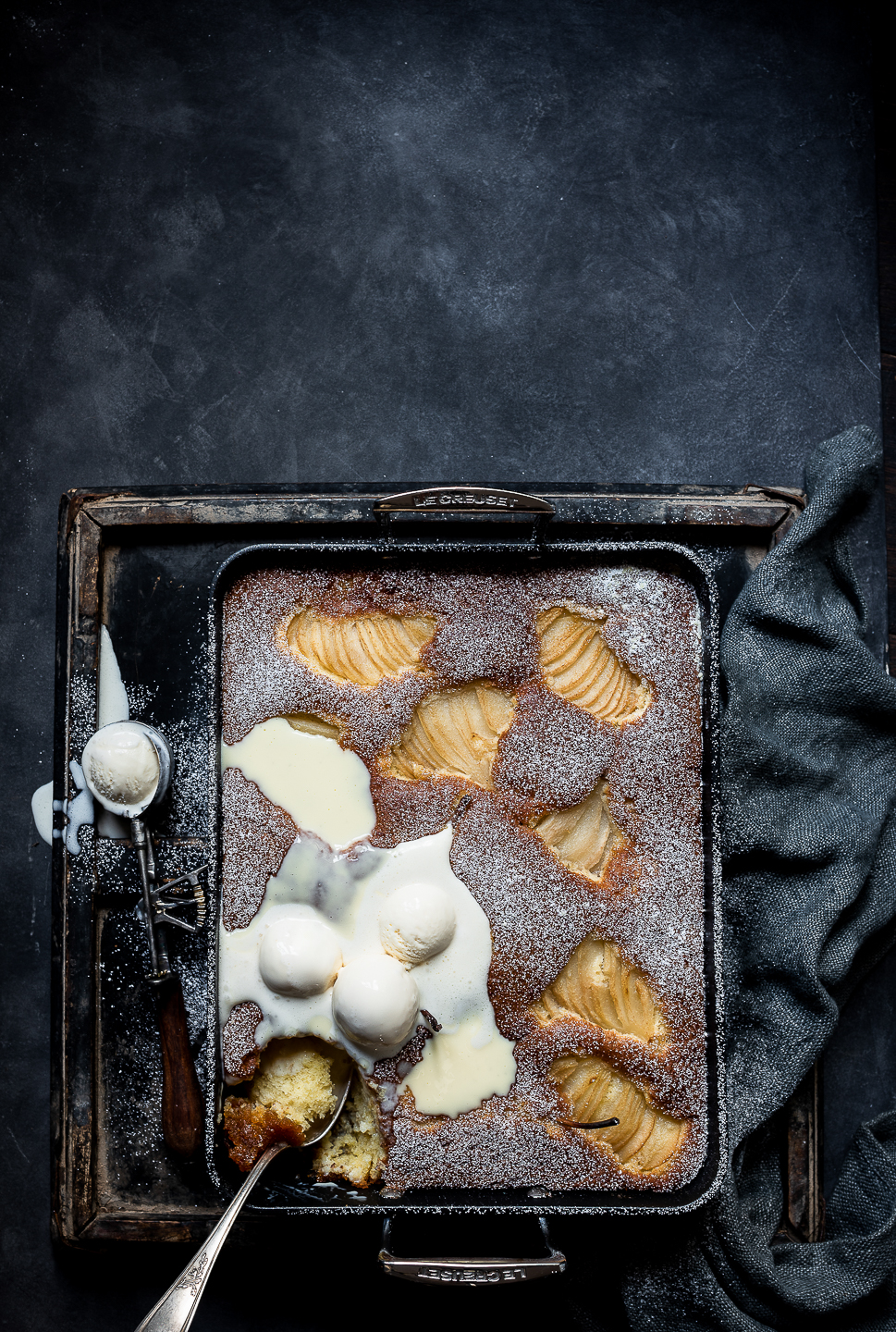 Pear and Treacle Sponge Pudding
Serves 16-18
If ever there was a dessert that exuded autumnal comfort, this syrupy Pear and Treacle sponge pudding is it. It plays on the luscious stickiness of a classic treacle tart and turns it into a warm spongy pudding. Served with homemade custard, it's rather splendid. And if you're going for broke, a good vanilla ice cream should clinch the deal.
As a food stylist, you often end up eating pudding for breakfast. No complaints here. I recently had the pleasure of shooting this Treacle sponge pudding for Le Creuset using their Toughened non-stick cookware. I loved it instantly and with such intensity that I asked permission to share it here. And yes, it is one hundred percent stretch pants worthy, although by now, I'm sure most of us have one in every colour at the ready for situations such as this. Let's call it our Sunday treat then, a Father's Pud that will impress the socks off any ambitious contenders.
The recipe calls for pears although you could also use thinly sliced apples if that's what you have to hand. For those who prefer their pudding fruitless, plain is deliciously good too. What I will suggest though, because of it's generous nature, is to maybe halve the quantity, if there are few at the table. Better yet, bake in two separate dishes and pudding-drop for someone in need of sweet cheer.
For the Treacle
100g unsalted butter
500g maple flavoured syrup
150ml stem ginger syrup
200g fresh breadcrumbs
For the Sponge
500g unsalted butter
500g golden caster sugar
6 balls of stem ginger, finely grated or chopped
500g plain flour
1 ½ teaspoons baking power
8 eggs
45ml (3 tablespoons) milk
5 firm Conference pears, skin-on
Preheat the oven to 190⁰C.
In a pan, over a medium heat, gently melt the butter, golden syrup and stem ginger syrup. Pour the melted syrup over the breadcrumbs, stir to combine and allow to soak for 5 minutes.
Lightly grease the rectangular roaster with a little butter before spooning in the syrup and breadcrumbs. Set aside whilst you make the sponge.
Cream together the butter, golden caster sugar and grated ginger until light and fluffy. Sieve together the flour and baking powder.
Crack in one egg at a time to the butter mixture along with a tablespoon of flour and mix until well combined. Repeat with all the eggs before carefully folding in the remaining flour and the milk to keep the mixture airy.
Gently spoon the batter over the syrup and breadcrumbs being careful not to disturb the breadcrumb layer too much.
Slice the pears in half and remove the core carefully. I use a melon-baller for this. Cut the pears into thin slices, leaving the top stalk intact. Fan out gently and arrange on top of the batter.
Bake for 1 hour. Cover the top with foil for the last 10 minutes of the baking time. Test for doneness with a skewer before removing from the oven. Bake for a further 5-10 minutes if needed.
Remove from the oven, allow to rest for 5 minutes then sprinkle with a little icing sugar before serving with custard, cream or ice cream.
If you're needing warm, baked comfort, you may like these blog favourites.
Cookie crumble sticky toffee pudding
Spiced Cape Brandy Pudding aka Tipsy Tart
Bibby's Chocolate and Pear Malva pudding
Blueberry chocolate cobbler pudding