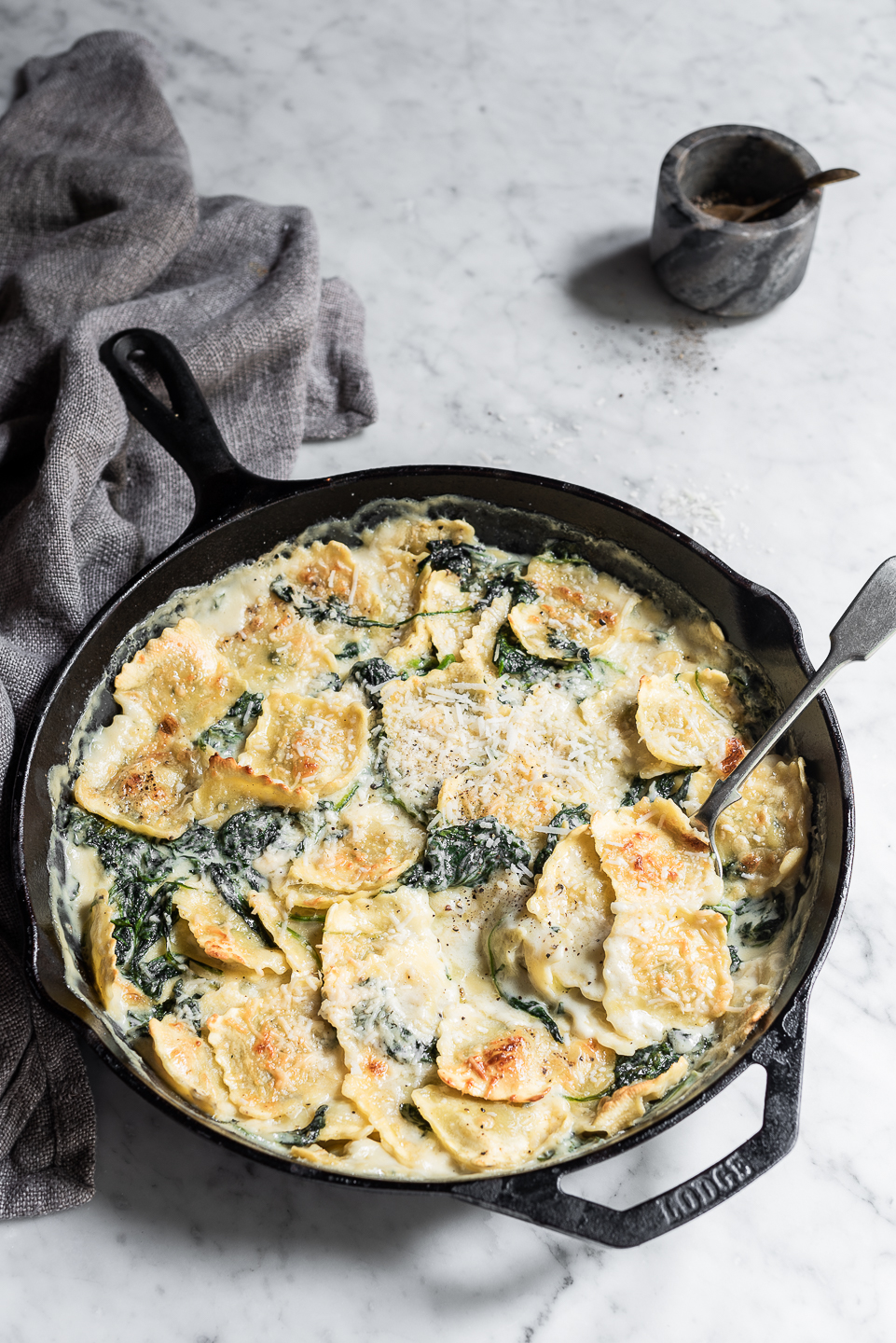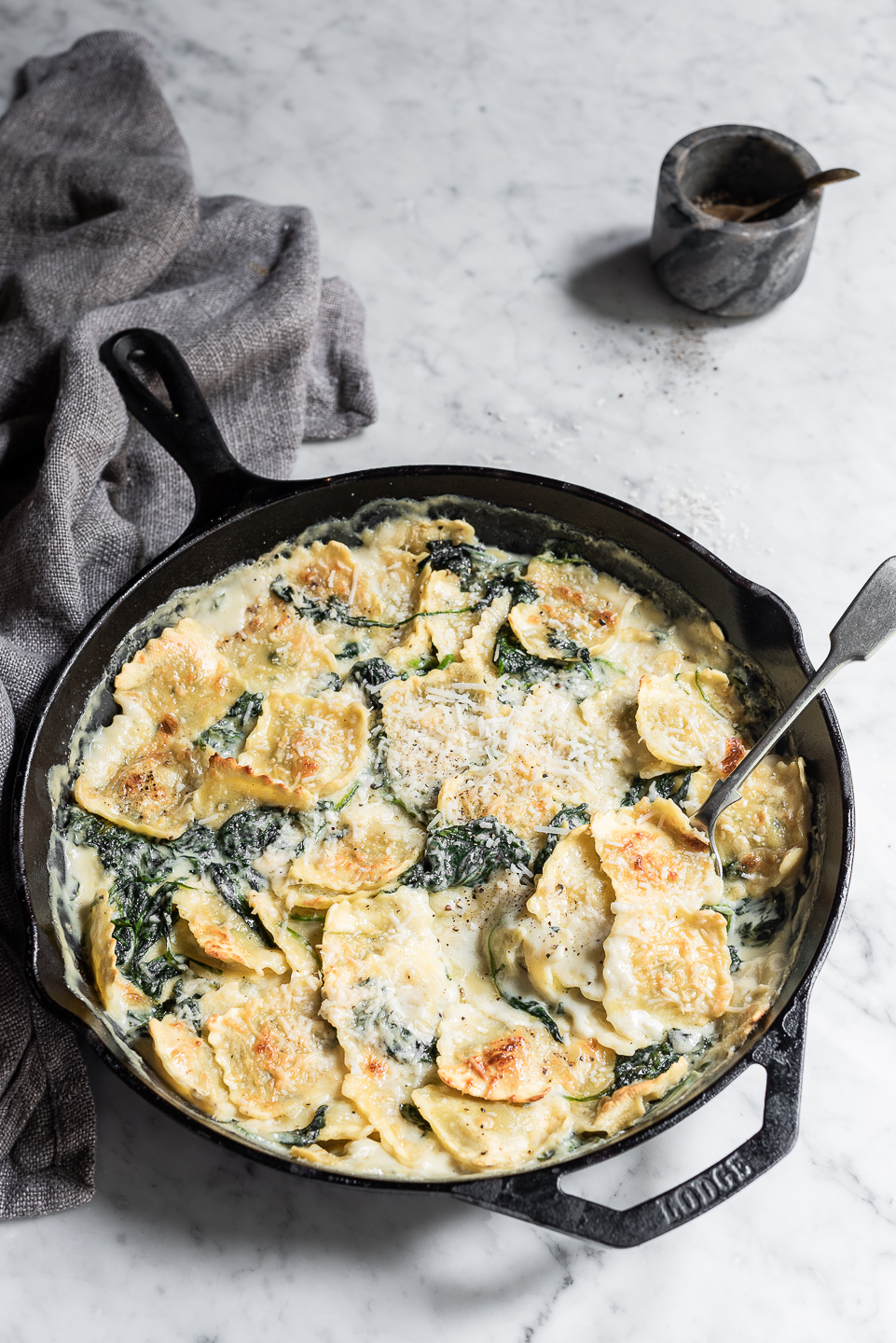 Weeknight suppers, Mondays in particular, need to be quick and simple. No faffing around with long-winded anthing. That's when having a throw together pasta recipe made with only a handful of ingredients can save the day. Assuming you have a wedge of Parmesan squirrelled to the back of the fridge, this Spinach Ravioli and gorgonzola bake could be on the table tonight.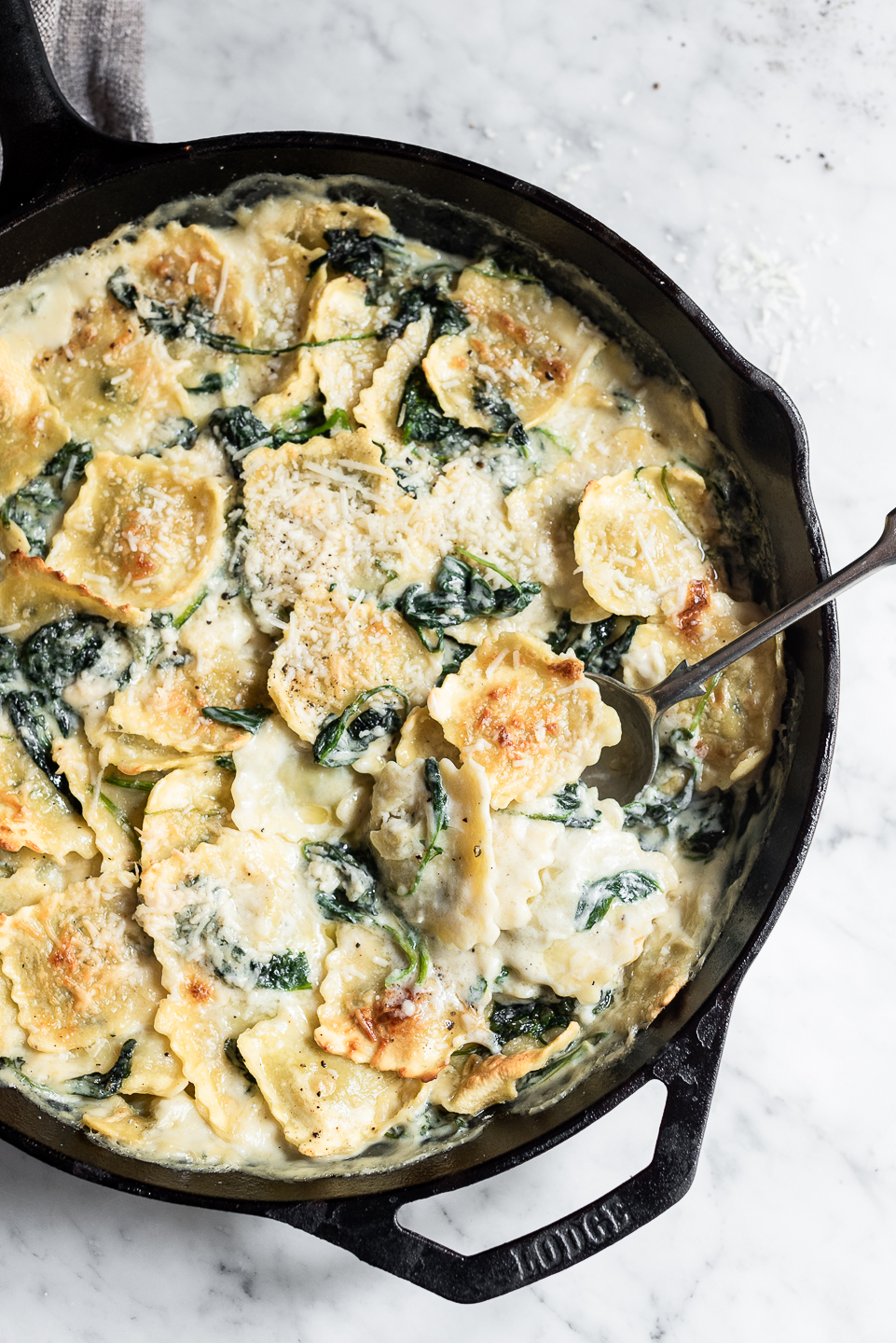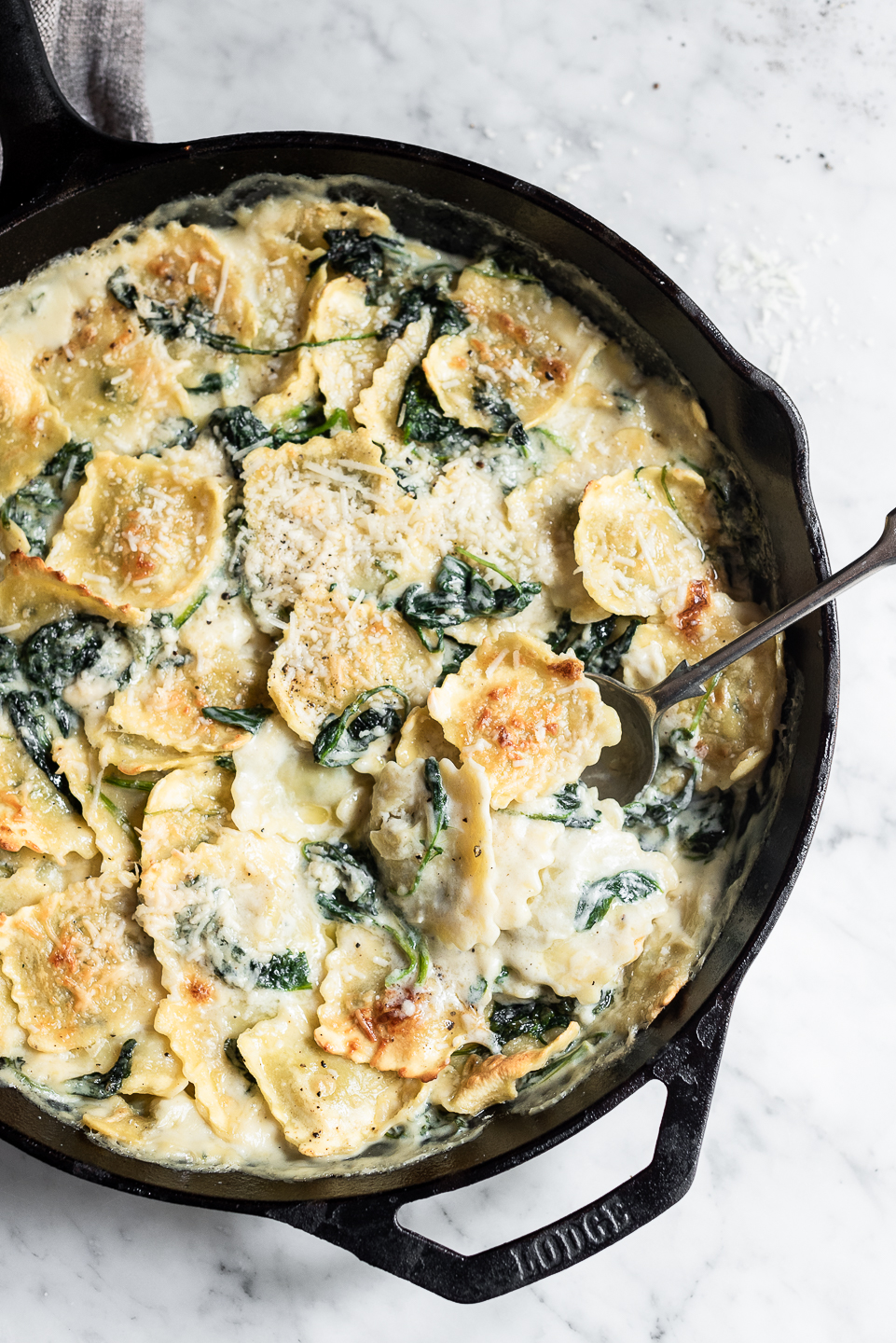 Here's what you'll need to make tonight's Spinach Ricotta and gorgonzola Bake:
Ready made pasta – Any filling will do – four cheese, butternut or spinach and ricotta
A really good blue cheese – not too overpowering, dolce de latte is my favourite
Proper Parmesan – no imposters
Baby spinach
Cook's note: Even though the ravioli is cooked before baking, it will continue to absorb liquid (cheese sauce), as it bakes so keep an eye on the clock. Expect the ravioli to jut-out slightly from the sauce. This allows the frilled edges to bake golden, almost crisp. So good!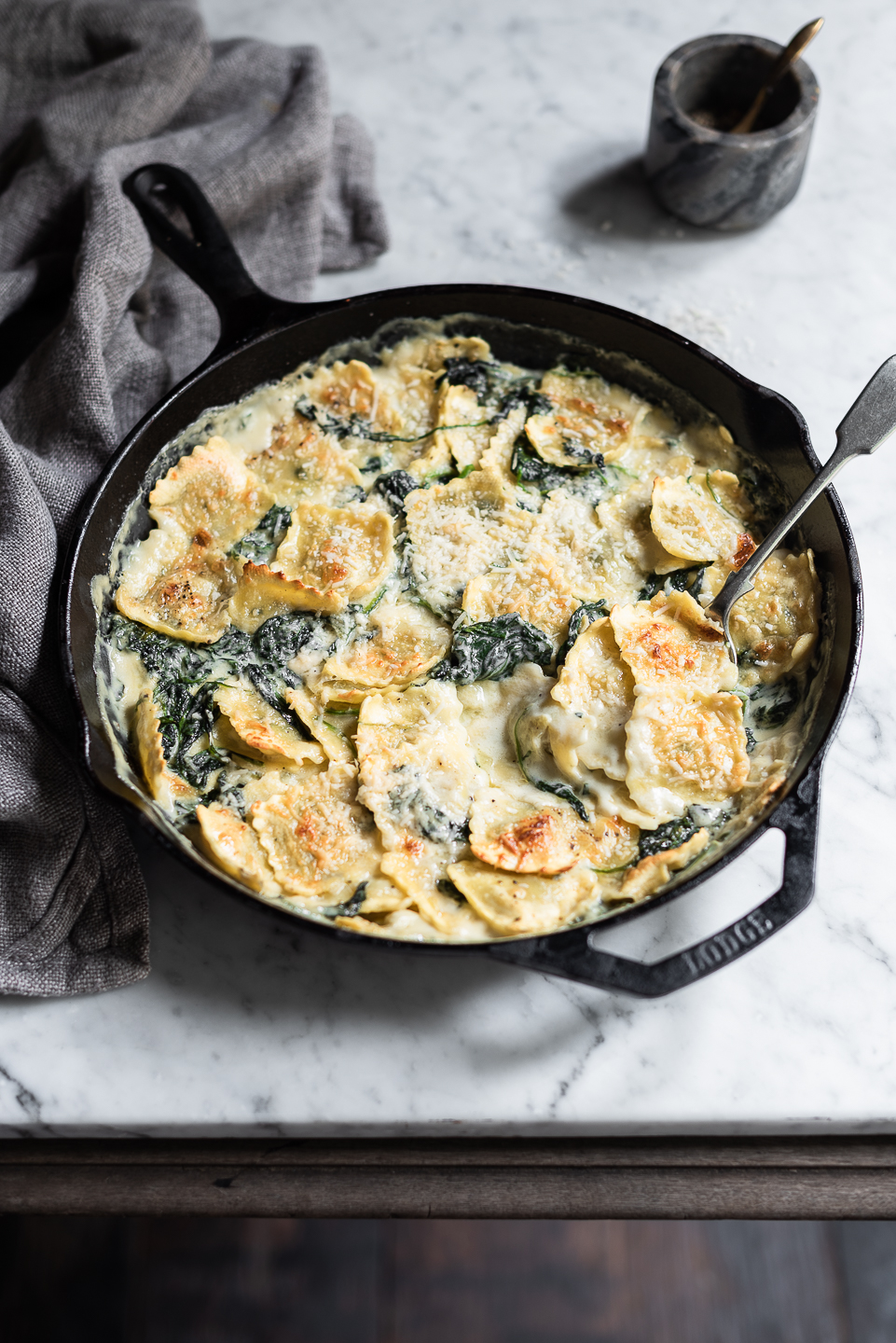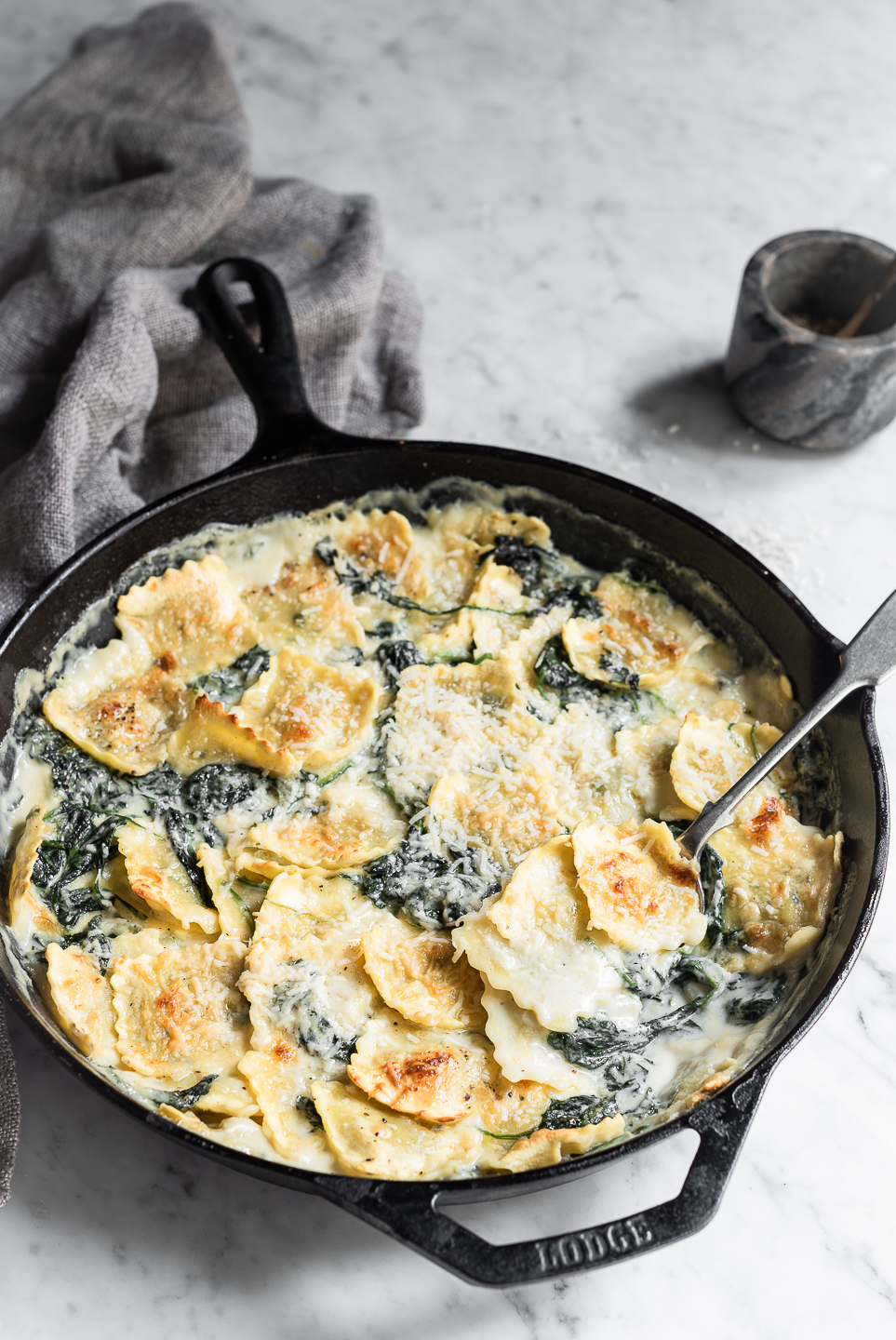 Spinach Ravioli and Gorgonzola Bake
Serves 4-6
Gorgonzola Sauce
30ml (2 tablespoons) butter
30ml (2 tablespoons) cake wheat flour
750ml (3 cups) full cream milk
80ml (1/3 cup) pouring cream (low fat)
100g gorgonzola cheese
salt and white pepper, to taste
2 x 400g packs Spinach and ricotta ravioli (Ready made)
200g baby or young spinach
½ cup Parmesan, grated plus extra to serve
Preheat the oven to 200 C. Butter the sides and base of a baking dish.
For the sauce, melt the butter in a deep saucepan. Add the flour and mix to combine. Cook for just a minute or so before slowly adding the milk. Whisk with a balloon whisk to ensure the sauce is smooth. Simmer for 2-3 minutes. Crumble in the gorgonzola and whisk to combine. Once the cheese is melted, season to taste with a little salt and white pepper.
Bring a large pot of well-salted water up to the boil. Add the spinach in one go and press down to submerge. Blanch for just a minute or two. Using a slotted spoon, remove the spinach and place in a colander to drain.
Add the ravioli to the water and cook for 2-3 minutes. Once the pasta rises to the surface, remove from the heat and drain.
Press any excess water from the spinach and add to the sauce along with the ravioli. Transfer to the baking dish. Scatter over the Parmesan and bake for about 25 minutes until bubbling and golden. Serve immediately with extra Parmesan.
For more easy weekday pasta recipes, you may want to breeze past these:
Arrabbiata Napoletana ravioli pasta bake
Ten minute walnut and sage ravioli