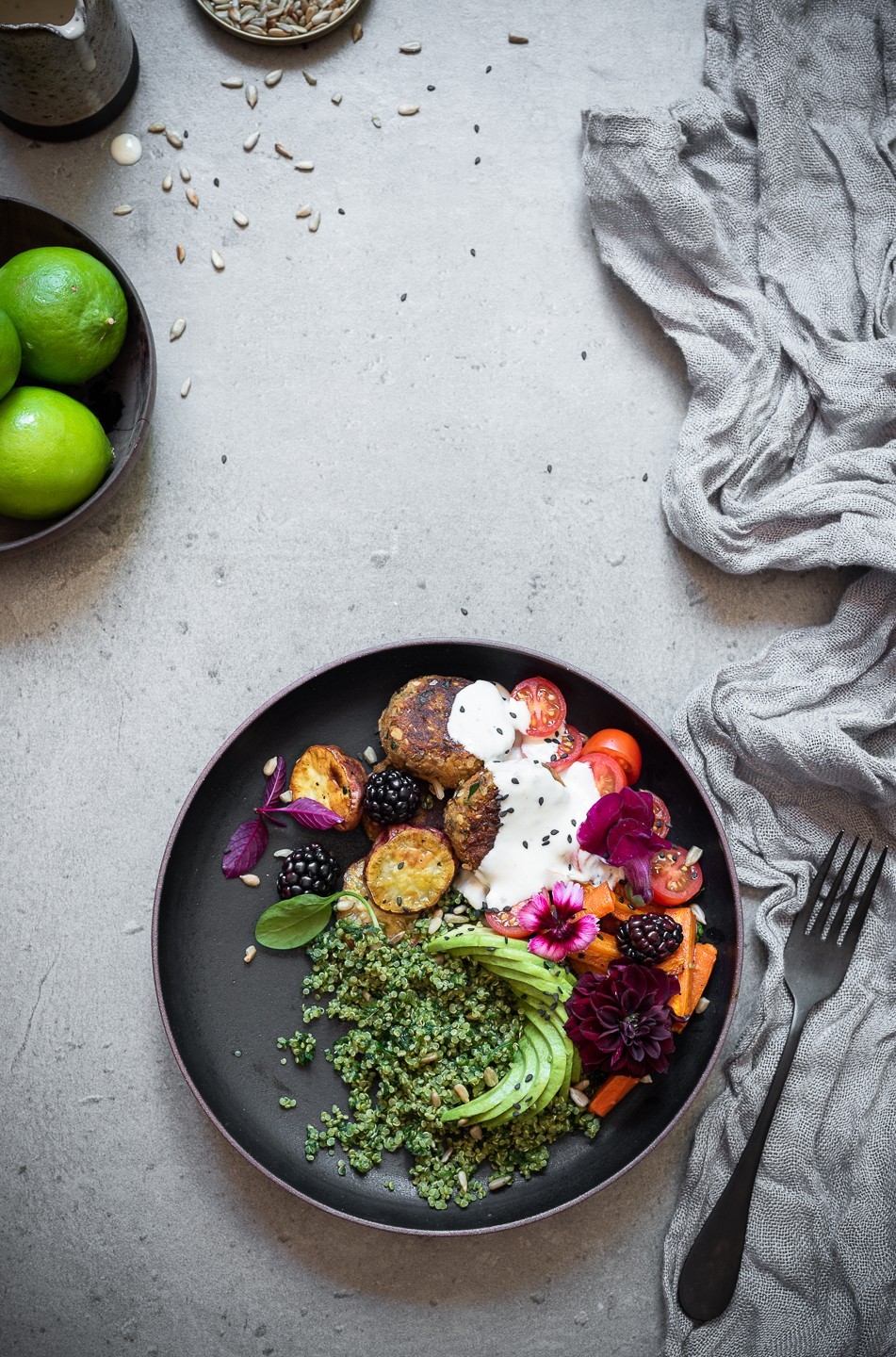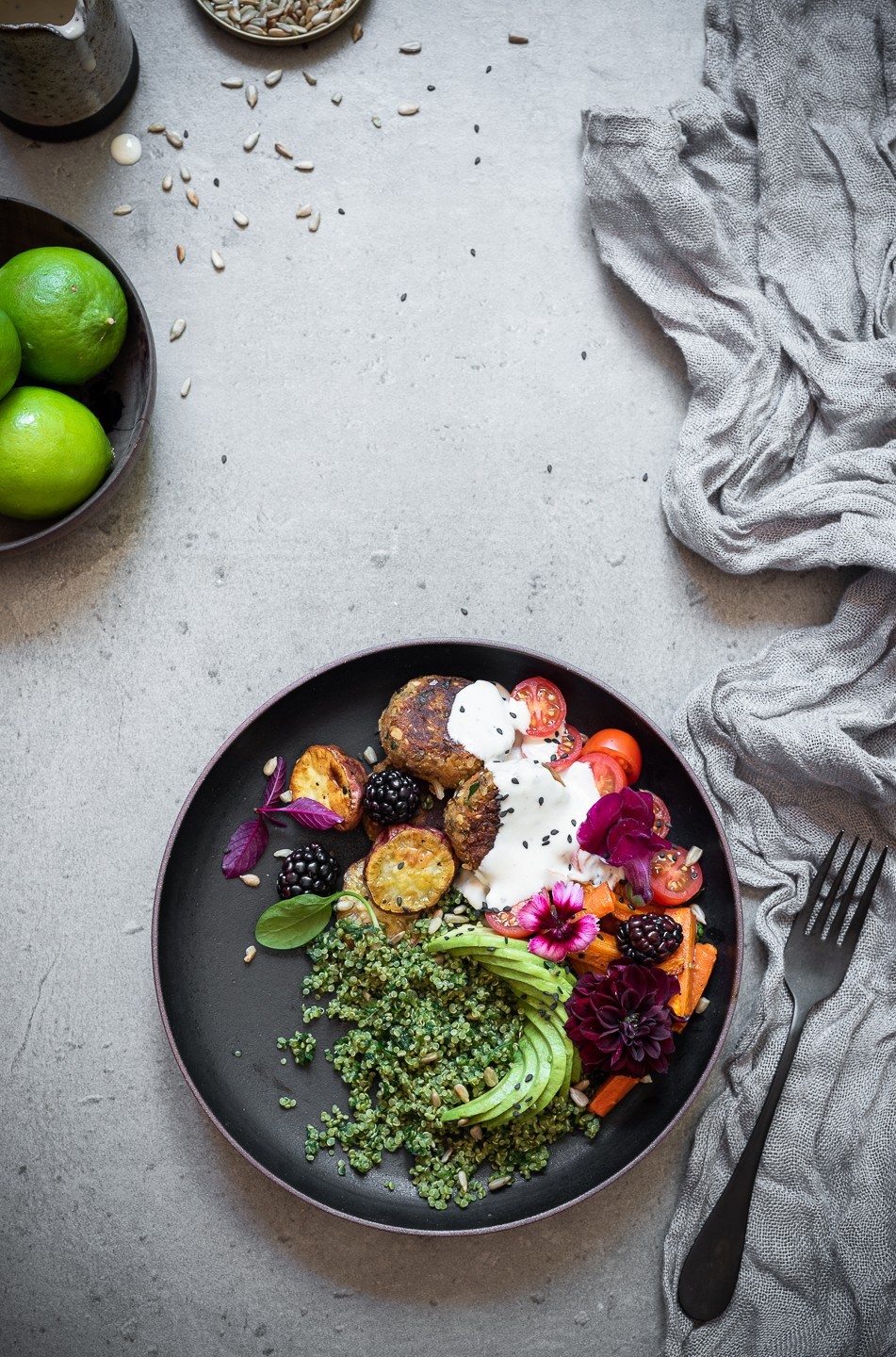 The definition of a Buddha bowl is broad. Anything goes really, as long as it's crammed with wholesome foods that nourish and restore balance. For me, this means plant colour – lots of it – and plenty texture, enough to chew on and not feel short-changed. I could eat this spinach and quinoa buddha bowl everyday and be very happy about it.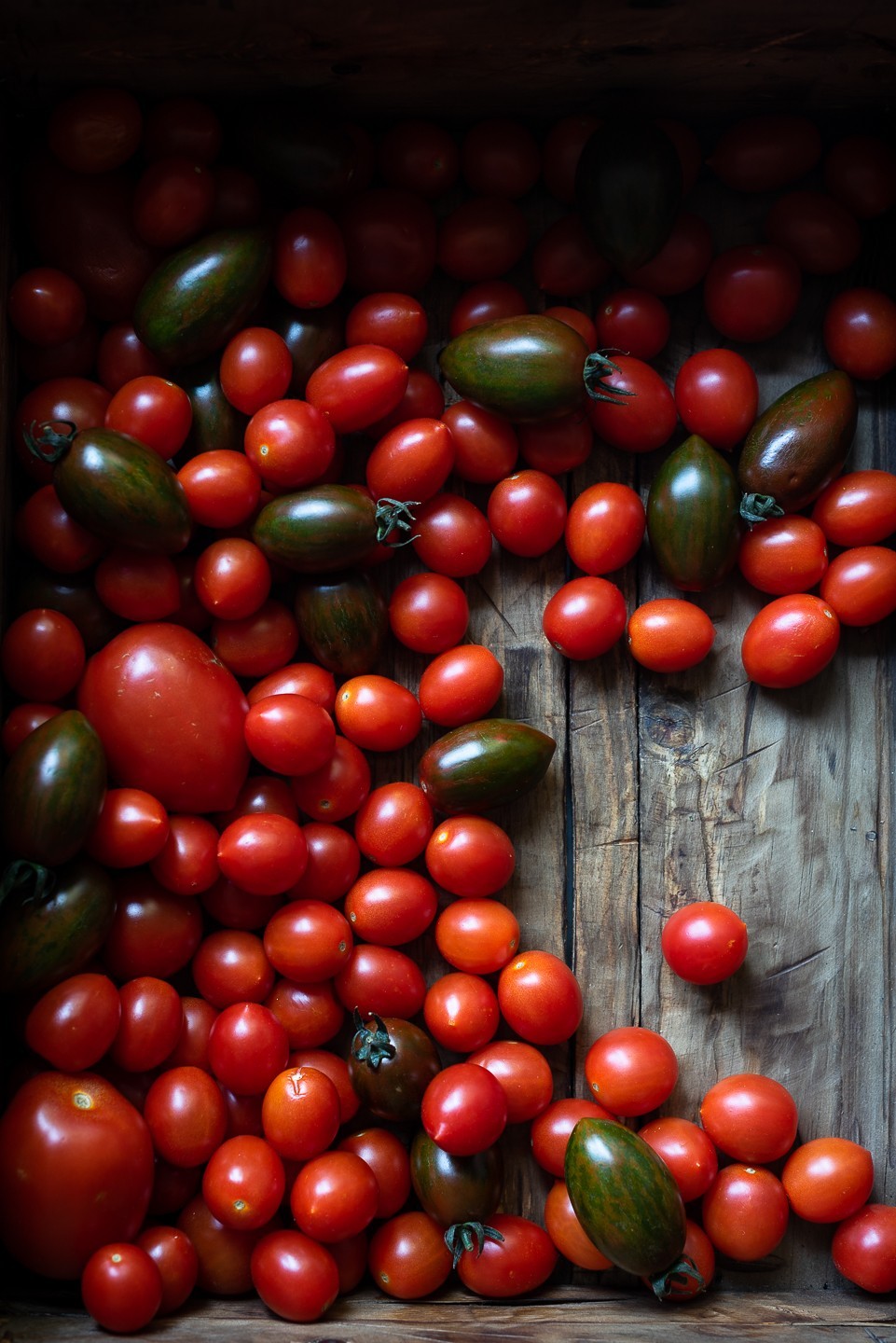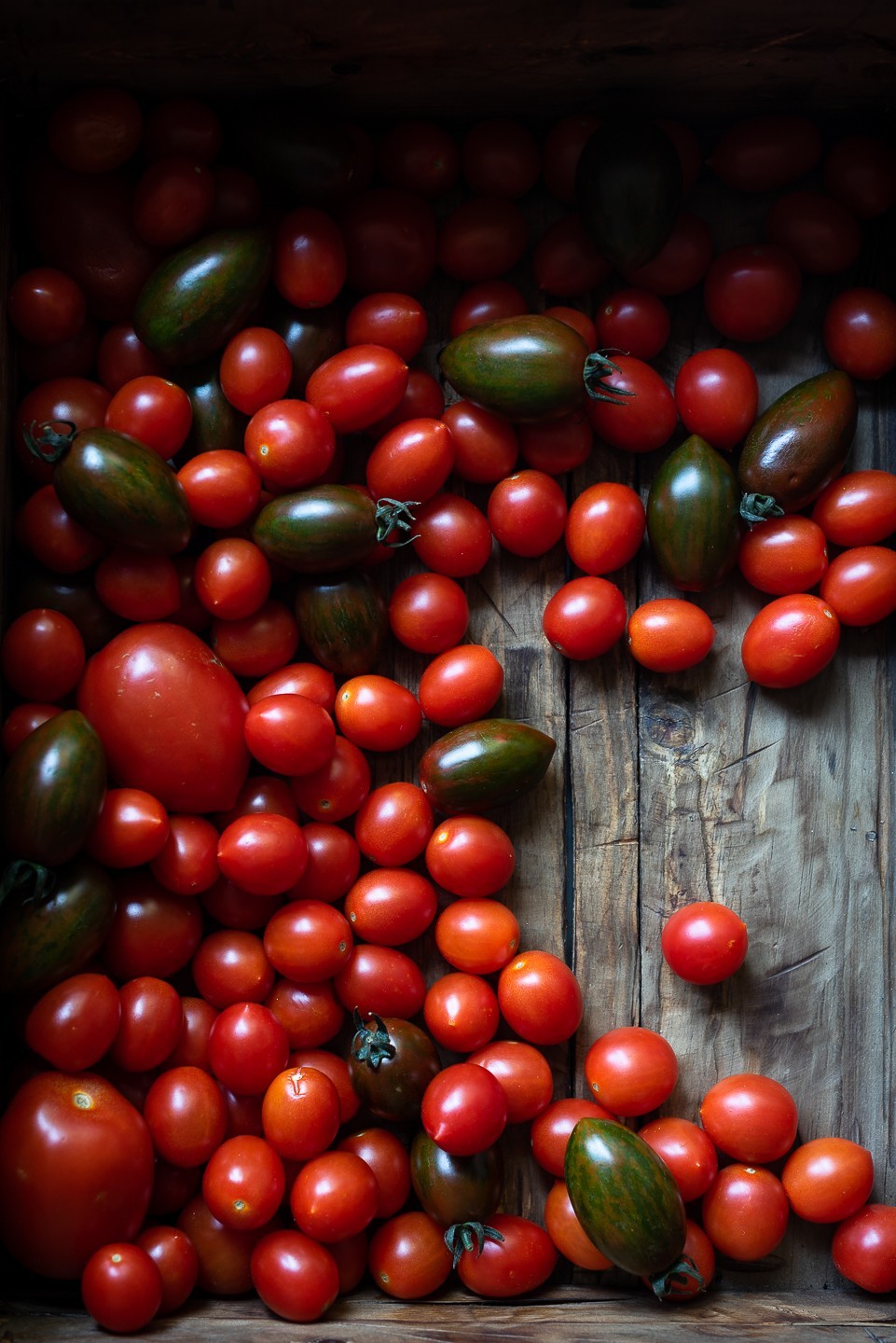 This recipe was one of many on the list of 'possibles' for my Cookbook coming out in October. Deciding which to include was more difficult than I'd imagined. Almost like picking out your favourite child. Not quite as dramatic, but when you're under pressure and tired, making decisions is like wringing water from dry bones. As it happened, this buddha bowl got side-lined. Not that it isn't top class, but in the end, it was a case of Russian roulette elimination.
As for the recipe, it's more suggestive than prescriptive. A quick rummage through the pantry cupboard and fridge should be your guide. Grab whatever you have in the veggie draw or dry rack and roast in a hot oven (200º C) for about 40-45 minutes. Butternut, sweet potatoes, carrots, red onions and sweet peppers are a great starting point. When I have time, I add falafel too, because anything with falafel is clearly better. If you need a recipe, try this One. They're good baked or fried. The green quinoa gets its colour from finely chopped spinach and herbs. If you're not such a fan of quinoa, opt for wild rice or barley.
Most salads benefit from nuts and seeds. Use whichever you have on hand or prefer, but do remember to toast them for an intensely, nutty flavour. Cementing a salad together is the job of a good dressing or drizzle. Here, I never skimp. Do keep balance in mind though. Too much acid or salt can easily overpower and ruin the individual flavours, so taste and adjust accordingly. Here's to putting our green-feet forward.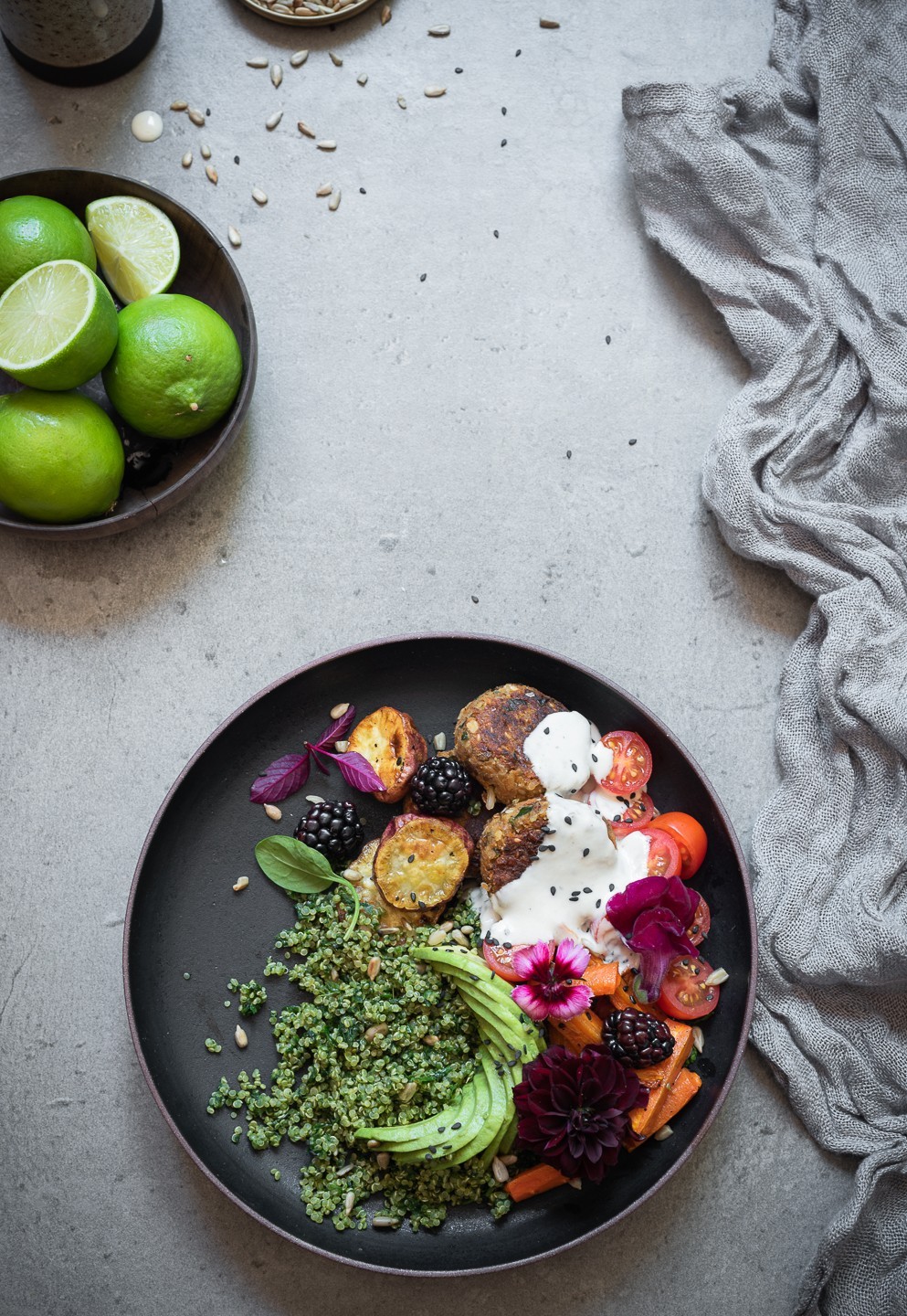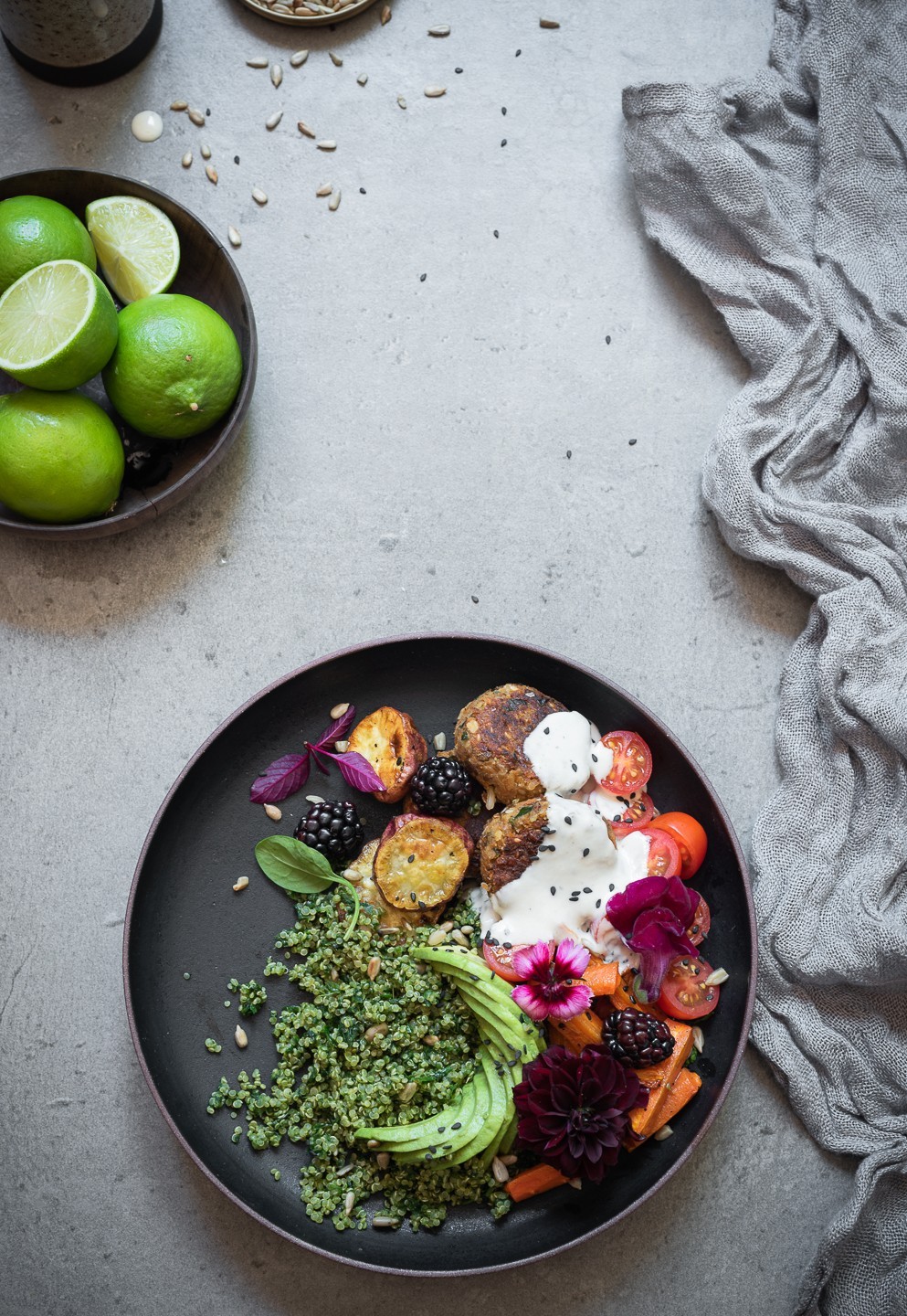 Spinach and quinoa buddha bowl
Serves 4 
1 cup dry measure quinoa, cooked as per instructions and cooled
80g baby spinach
a generous handful mint and flat leaf parsley, roughly chopped
15ml (1 tablespoon) lemon juice
15ml (1 tablespoon) extra virgin olive oil
roast carrots and sweet potatoes
1 cup cherry or romanita tomatoes, halved
1 avocados, sliced
falafel (optional)
blackberries
toasted sunflower seeds
Tahini sauce
60ml (1/4 cup) tahini
15ml (1 tablespoon) lemon juice
45-60ml cold water
salt and black pepper, to taste
Pile the baby spinach, mint and parsley together and chop until relatively fine. Add to a bowl, along with the quinoa. Drizzle over the lemon juice and olive oil and toss together.
For the tahini sauce, mix all the ingredients together until smooth.
To assemble, divide the quinoa between 4 bowls. Arrange the remaining ingredients alongside and drizzle liberally with the tahini sauce.
More enticing ways for eat your plants
The Ultimate Buddha Bowl harvest board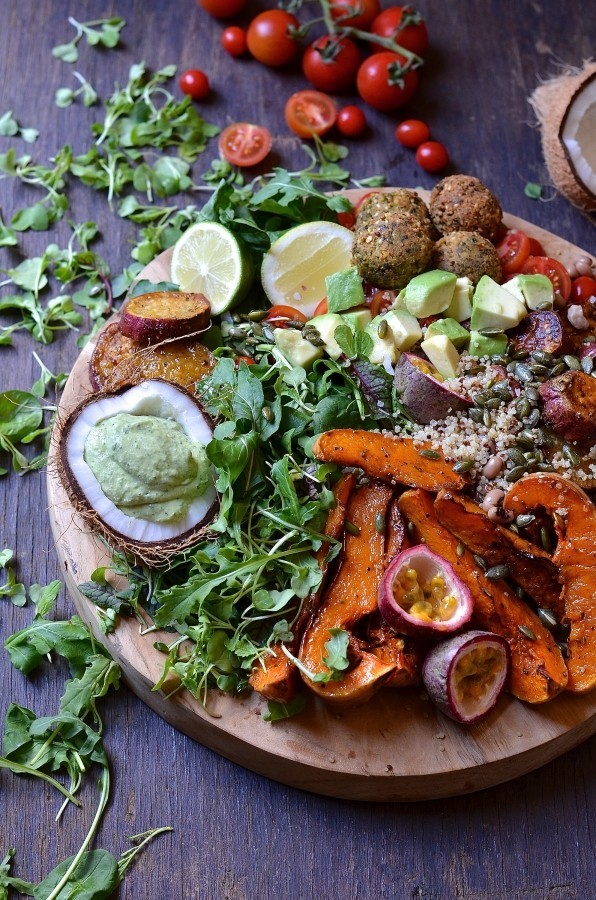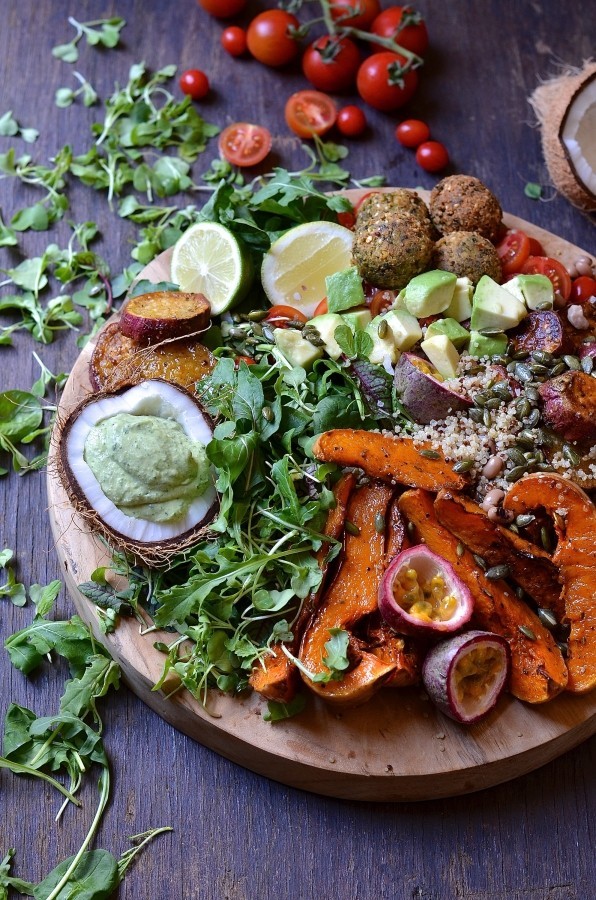 Roast Aubergines with miso and pomelo