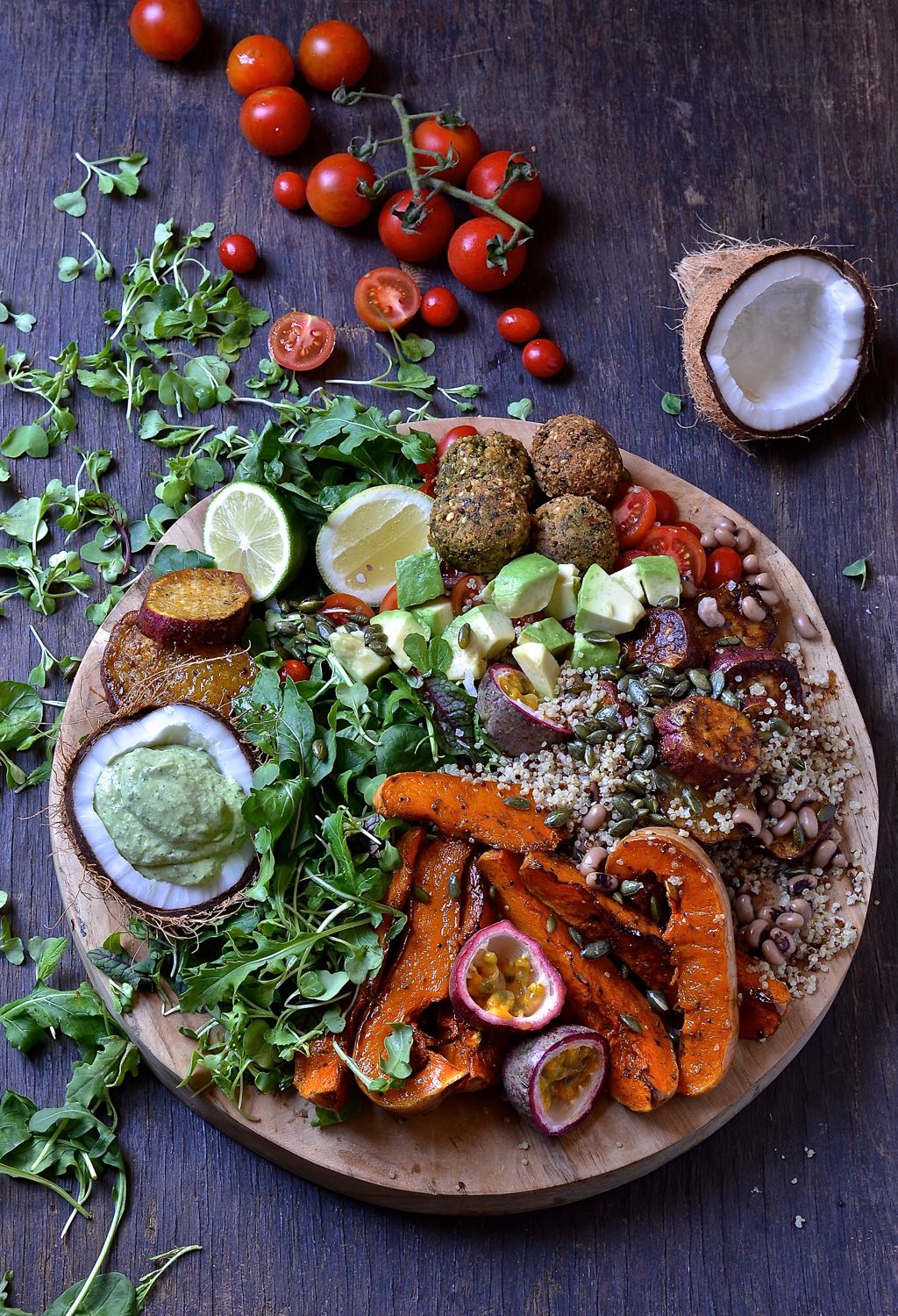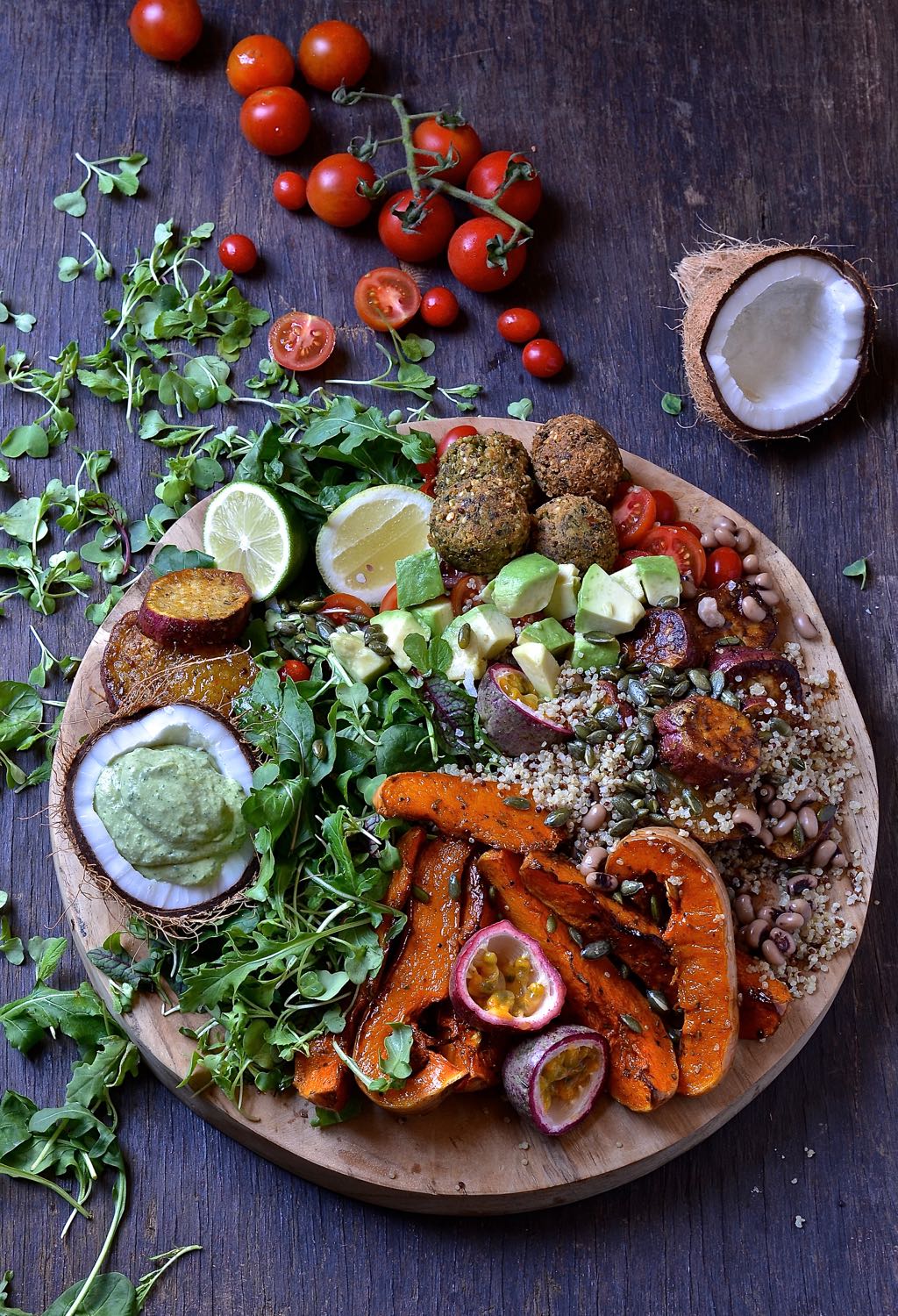 This Buddha Bowl Harvest board epitomises everything I love most about food. Central to almost all sensory food is vibrancy, texture and flavour. What makes food even more memorable is the simple act of sharing plates and this board is built for sharing. I call it joyful food. It nourishes, feeds and restores. Instead of waiting until January when 'post-feast remorse' kicks in, I thought we'd start with the veg-feasting now.
Apart from the freshest ingredients, cornerstone to any great salad is the dressing or in this instance, the pale pistachio cream spilling from the coconut cup. I feel as excited about this 'dressing' as I do about my tahini and miso drizzle. Stalwarts of the Bibby Kitchen, they are. To make the avocado cream, I soak raw cashew nuts until softened and then blitz them together with coconut milk and the flesh of one whole avocado. With its subtle, creamy flavour, avocado lends itself well to both savoury and sweet dishes. To contrast the sturdy flavours of this harvest salad, I've brightened the avo cream with plenty of fresh herbs and lemon. Think parsley, mint and coriander. It's addictive in the best possible way. If coriander isn't your first choice, just add more parsley.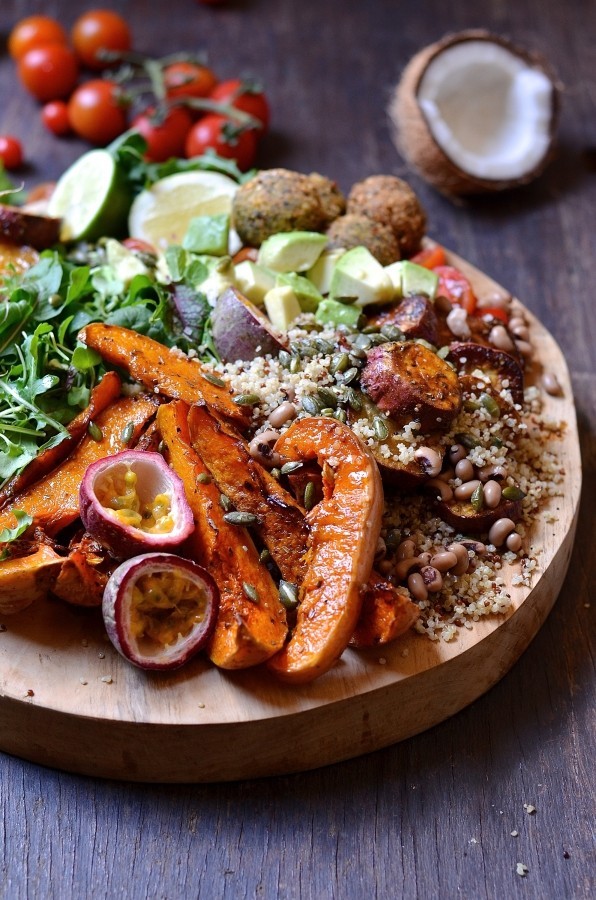 There's no one single definitive Buddha bowl recipe. It's more of a gathering place for loads of vegetables, if you will. Think of it as a fridge clean out. Roast, chop, slice and dice until you're completely excited by what you see. Quinoa, beans, chickpeas, nuts and seeds are pantry staples in my kitchen, but feel free to replace the quinoa with bulgur wheat or couscous if that's what you have in yours.
Since my visit to Israel in 1989 when I ate my first falafel, I've wanted to make this Middle Eastern speciality. Yes, I know this sounds pathetically sad, but there it is. Twenty eight years later and finally I'm falafel-ling. And now I can't stop. Although untraditional for falafel, spinach and quinoa fitted the Buddha bowl profile, so that's where we're at with this recipe. They are s.p.e.c.t.a.c.u.l.a.r. I'll be sharing the recipe for these in the next couple of days so remember to swing by later.
This is my perfect weekend vegan platter. Serve it as a main or alongside your best Sunday roast if you're hard-pressed to pass on the protein. Either way, it's deeply satisfying.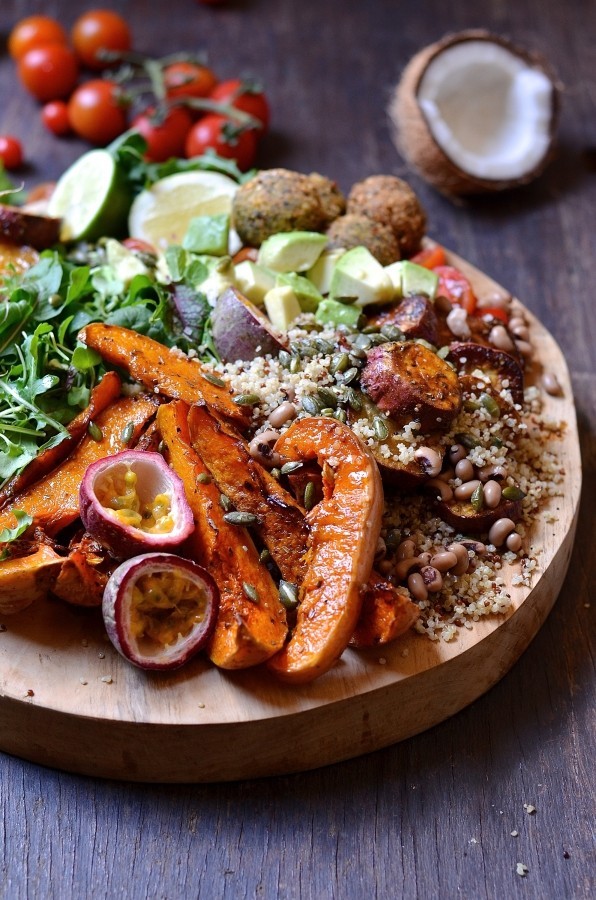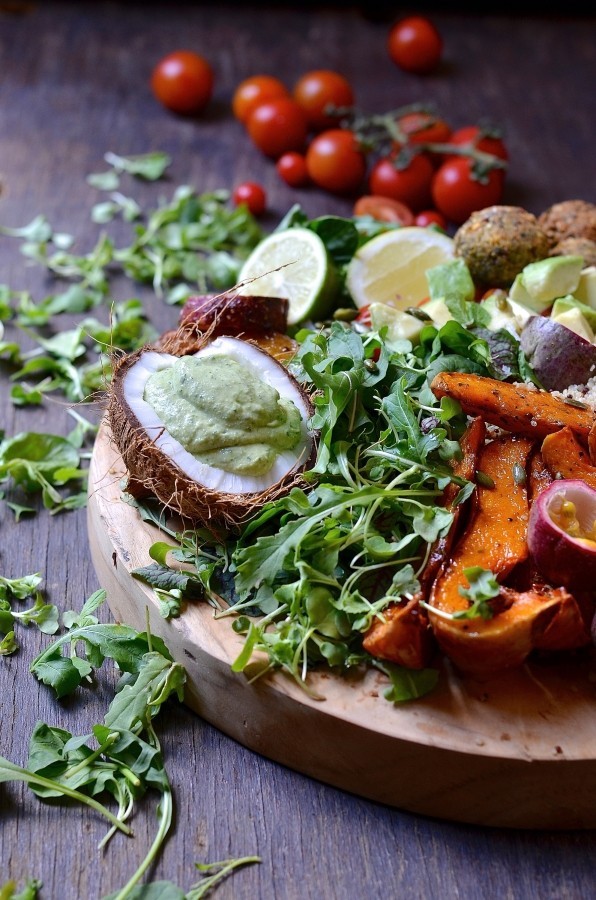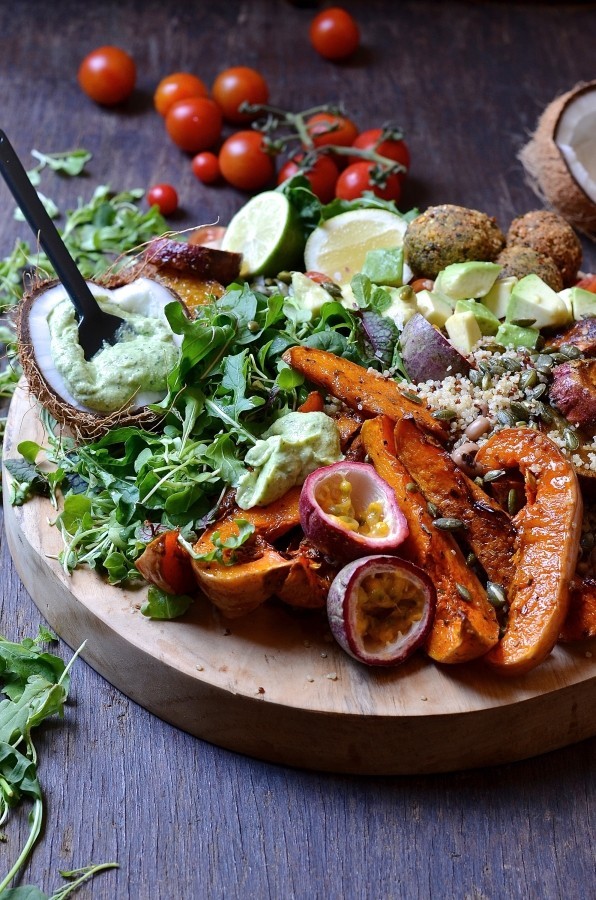 The Ultimate Buddha bowl Harvest Board
Serves 4 
Avocado and cashew nut cream
1/2 cup raw cashew nuts
1 avocado
1/2 cup coconut cream
zest and juice of half a lemon
a handful of fresh mint, parsley and coriander leaves
sea salt and cracked black pepper
Roast butternut and sweet potatoes
2 baby butternuts, skin on and cut lengthways into 8 wedges
2-3 sweet potatoes, scrubbed and sliced
2 tablespoons olive oil
1/2 teaspoon of each, dried oregano, paprika and mixed spice
For the harvest board
rosa tomatoes
baby spinach
wild rocket
1 1/2 cups cooked quinoa
1 cup black eyed beans
toasted pumpkin seeds
falafel (store bought or homemade)
avocado slices
lemon cheeks, to serve
To  make the avocado cream, place all the ingredients in a blender and whizz until super smooth. Adjust seasoning and chill while you prepare the vegetables.
Preheat the oven to 200º C.
Line and grease a large roasting tray with foil.
Place the butternut wedges and sweet potatoes on the tray. Drizzle with olive oil and season with salt, pepper and spices.
Roast for 45 minutes.
To assemble the Buddha board, arrange all the pulses, grains, roast vegetables and fresh veggies on the board. Squeeze over some fresh lemon juice. Season with sea salt and cracked black pepper. Fill several hand bowls with the avo cream and serve with extra lemon cheeks on the side.