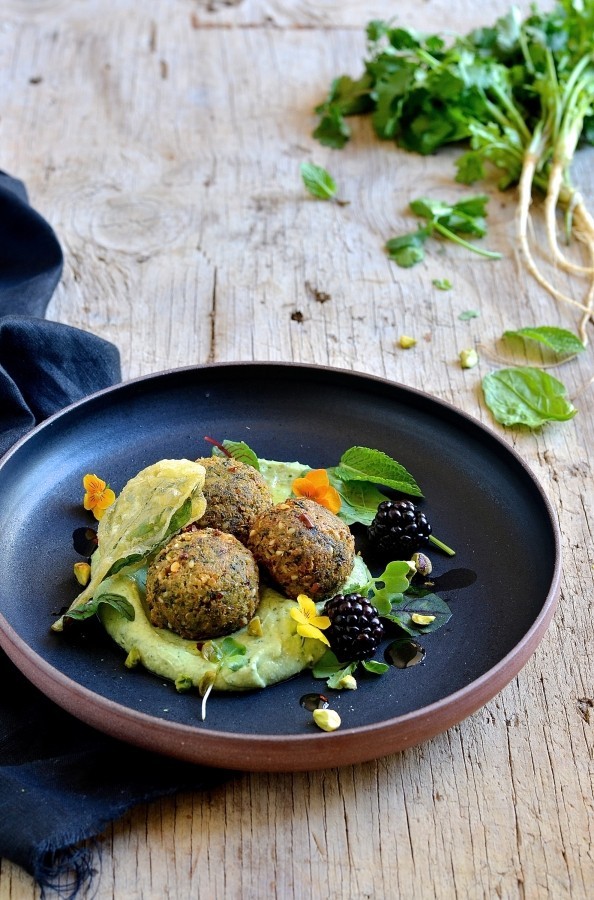 It's been close on thirty years since my falafel initiation in Jerusalem. In hindsight, backpacking through Israel just weeks before the Gulf war broke out might not have been the smartest move. I'll chalk it down to youthful ignorance. Our lodgings in a ruinous hostel situated in the Arab quarter was less than rudimentary and crammed with backpackers seeking cheap accommodation. With 'no room in the inn' we were offered the penthouse suite, aka the rooftop. The view was impressive, the rest, not so much. No bed, electricity, water or shade from the heat, just discarded rubble and a mass of aerial cables connecting an ancient city with the modern world.
We spent 3 nights under the stars. Daytime temperatures soared to 42º C. From 4am the call to prayer echoed eerily over the hot, still air. I remember being hungry for most of our 3 month European escapade. We ate once a day and drank from public fountains or communal village taps from which water flowed freely. I think this might be why my first falafel will forever be remembered as heavenly manna.
Making our way onto the crowded streets, we're led by the single-minded purpose of appeasing our belly-rumbling hunger. Lining the cobbled streets, vendors set up their makeshift food carts and prepare themselves for the day's trade. Wafts of freshly baked pitas and the smell of oily deep-fried food is unadulterated seduction. Gingerly handing over my precious shekel, I'm rewarded with a Middle Eastern street food staple, falafel. Pita pockets filled with deep-fried chickpea balls, stuffed to overflowing with fresh salad and anointed with pale tahini sauce. Since that first mouthful, I've been hooked.
So then, you'd think there would be a legion of tried and tested recipes on the blog. Sadly not. I'm rather embarrassed to admit but this is my first attempt at making chickpea balls. Perhaps I was afraid they wouldn't measure up to the status I'd elevated them to? The good news however, they're even better than I'd hoped. Breaking with tradition, I added quinoa and spinach to the mix for texture and a nuttier flavour.
Instead of a traditional pita pocket, we're jazzing it up, all fancy like. I paired the falafel with an avocado crema from this Buddha bowl recipe. The avo cream is citrusy and bright which off-sets the earthiness of the chickpeas. I also threw in some blackberries and a spinach tempura because food always needs a wild card. To be honest, I had some difficulty photographing this dish, not because it was un-photogenic, but I simply couldn't wait to dive in. I'd serve it as a starter course at a special dinner party or for everyday eating, skip the fiddly stuff and make yourself the most epic homemade falafel pita with all the trimmings.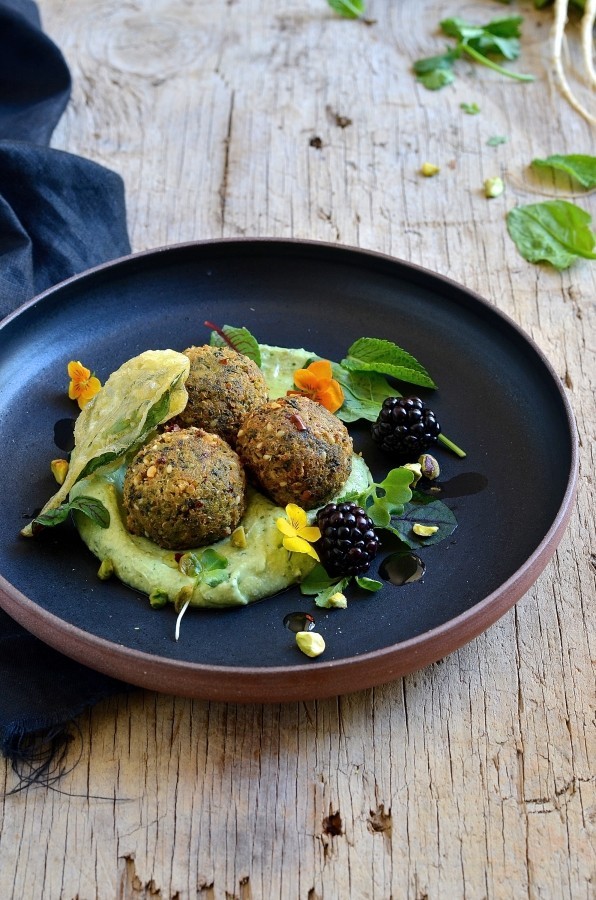 On the topic of food, what can we expect for 2018? Luckily this recipe already ticks a couple of boxes. I'm really excited for what's on the list this year. Ironically, most of these so called new trends are in fact old school council for how to live well and be mindful of what we put on our tables. I love it. Current trends incorporate both lifestyle and ingredients, so all the bases are covered. No surprise here, veganism is still on the rise as one of the fastest growing food trends.
Here are a handful that resonate with me, the appeal of which lies in logical simplicity.
Kimchi – yes it's still in there and flourishing
Pickling – supporter of good gut health and cheap as chips for DIY (more about getting into a pickle later)
No waste mantra – is waste garbage or food?
Miso – Amen! (Keep an eye out for my miso caramel brownies coming soon)
Mocktails – Yes, everyone can now sip chic alcohol-free party drinks. (Watermelon Rooibos iced tea coming to the blog)
Tea – Floral infusions galore for the quintessential cuppa and unusual desserts.
Plant protein – Thank you, this quinoa and spinach falafel!
Mindfulness – Consideration for provenance, quantity and quality of produce.
Local – Support local community driven producers. (seasonality of produce – less food miles)
Tactile food – My no 1 consideration always – flavour, texture, colour, smell and taste – sensory food
Vegan – Thank you again, quinoa and spinach falafel.
Middle Eastern food is in the spotlight and all I can say is YES! My all time favourite cuisine. Range on Hummus fans…..
And that's your food capsule for 2018. Grab onto the ones with a good fit for you and maybe one or two that scare you just a little. Who knows, you might just love it? #trysomethingnew
On a healthy note, bookings for our first 2018 cooking class is now open. Head on over to the cooking classes page for more info. It promises to be healthy and delicious.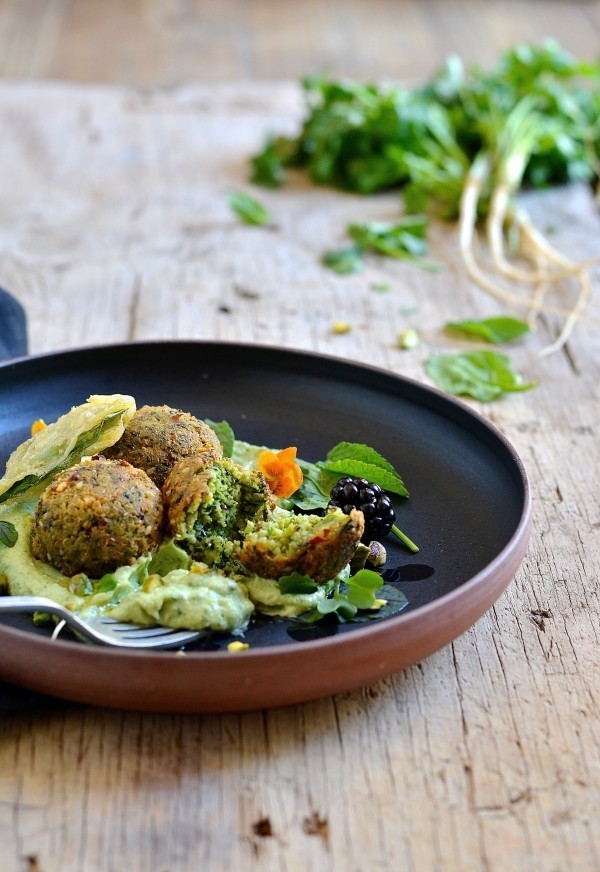 Quinoa and spinach falafel with avocado cream
Prep time:
Cook time:
Total time:
Serves: 4
Quinoa and spinach falafel with avocado cream
100g baby spinach, rinsed, drained and patted dry
400g tin chickpeas, rinsed and drained
1 garlic clove, minced
1 teaspoon ground cumin
1/2 teaspoon ground coriander
a handful fresh coriander
1/4 cup fresh breadcrumbs
1/3 cup cooked quinoa
1 tablespoon sesame seeds
1 teaspoon olive oil
salt and cracked black pepper
vegetable oil, for frying
Place the spinach in a processor and blitz until fine.
Add the chickpeas, garlic, spices, fresh coriander and breadcrumbs. Pulse once more. The chickpeas should be broken down but still have some texture.
Transfer to a bowl. Add the quinoa, sesame seeds and olive oil. Season with salt and black pepper. Mix to combine.
Roll into balls and chill for about 30 minutes to firm up.
Heat the vegetable oil until hot. (180º C or 350 Fahrenheit)
Cook 4-5 falafel at a time until golden. Drain well on paper towels.
Serve with avocado cream or pita breads and all the usual trimmings.
Something for tahini fans – Cashew and tahini bliss balls