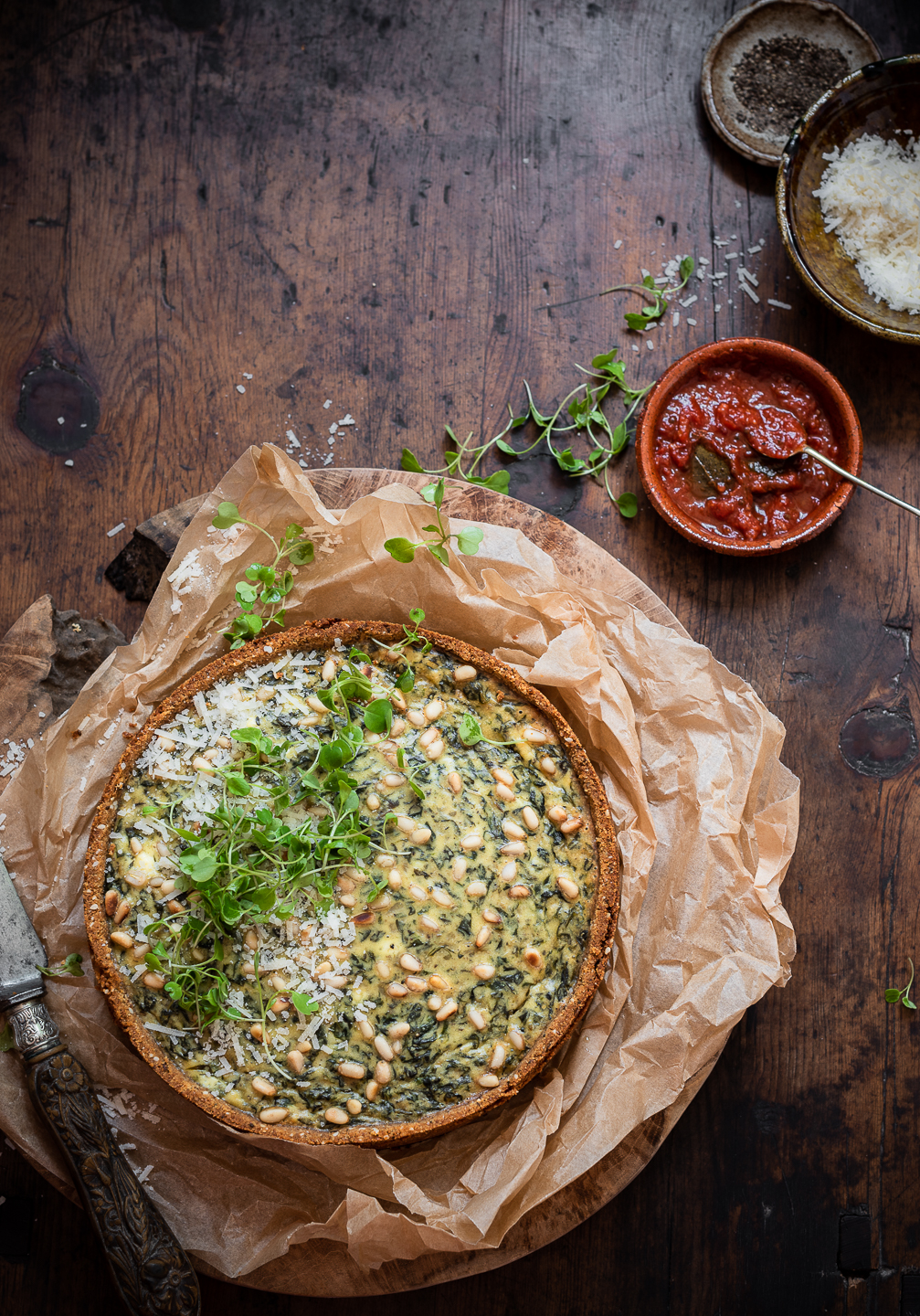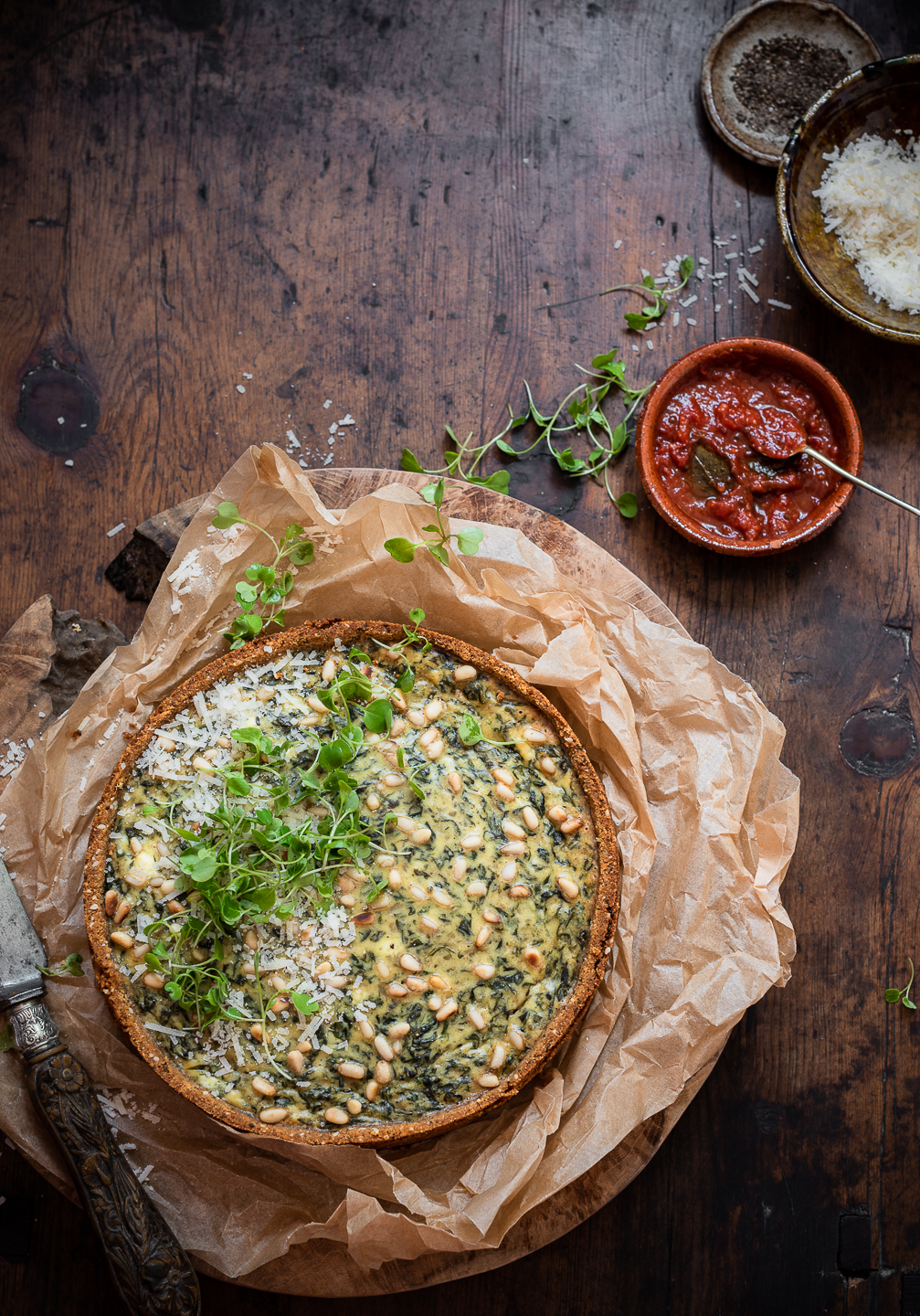 I cannot wait to make this Spinach and Ricotta Cheesecake again. The crust is nutty, almost like a cheese cracker, with a pepperiness that opposes the ricotta filling. Flavoured with woody herbs,  lemon and the saltiness of feta, it's modern Mediterranean. When testing the recipe, I first made this spinach and ricotta cheesecake with cream cheese. Overall, the flavourings were good, but the taste, a little too rich. Swapping the cream cheese for ricotta yielded the perfect texture and taste.
For the crust, I used a combination of Provitas and Wheatsworth biscuits from Bakers Snacktime Assorted Crackers. To this, I added a handful of sesame seeds for texture, freshly cracked black pepper and a handful of Parmesan. The result is a crumbly biscuit base that tastes like a peppered cheese biscuits. Butter and olive oil bind biscuits while imparting even more flavour. It is worth noting that the biscuit base will be on the crumbly side unlike a classic pastry crust. But therein lies its delicious toothsomeness.
How to serve your Spinach and Ricotta Cheesecake
A savoury cheesecake is best served slightly warm or at room temperature. Too hot or cold will mask the flavours. Keep a little extra Parmesan on hand to scatter over just before serving. When it comes to food, contrasting flavours and textures make for interesting eating. For this Spinach and Ricotta Cheesecake, a spicy tomato chutney is excellent. It offsets the creaminess of the ricotta and delivers a tangy sweetness that pairs well with feta. I'd haul the cheesecake along for picnics or offer as a first course, light lunch or at a lazy weekend brunch. If you make the cheesecake, do send us a snapshot. Remember to tag us at @bibbyskitchen. Happy Baking!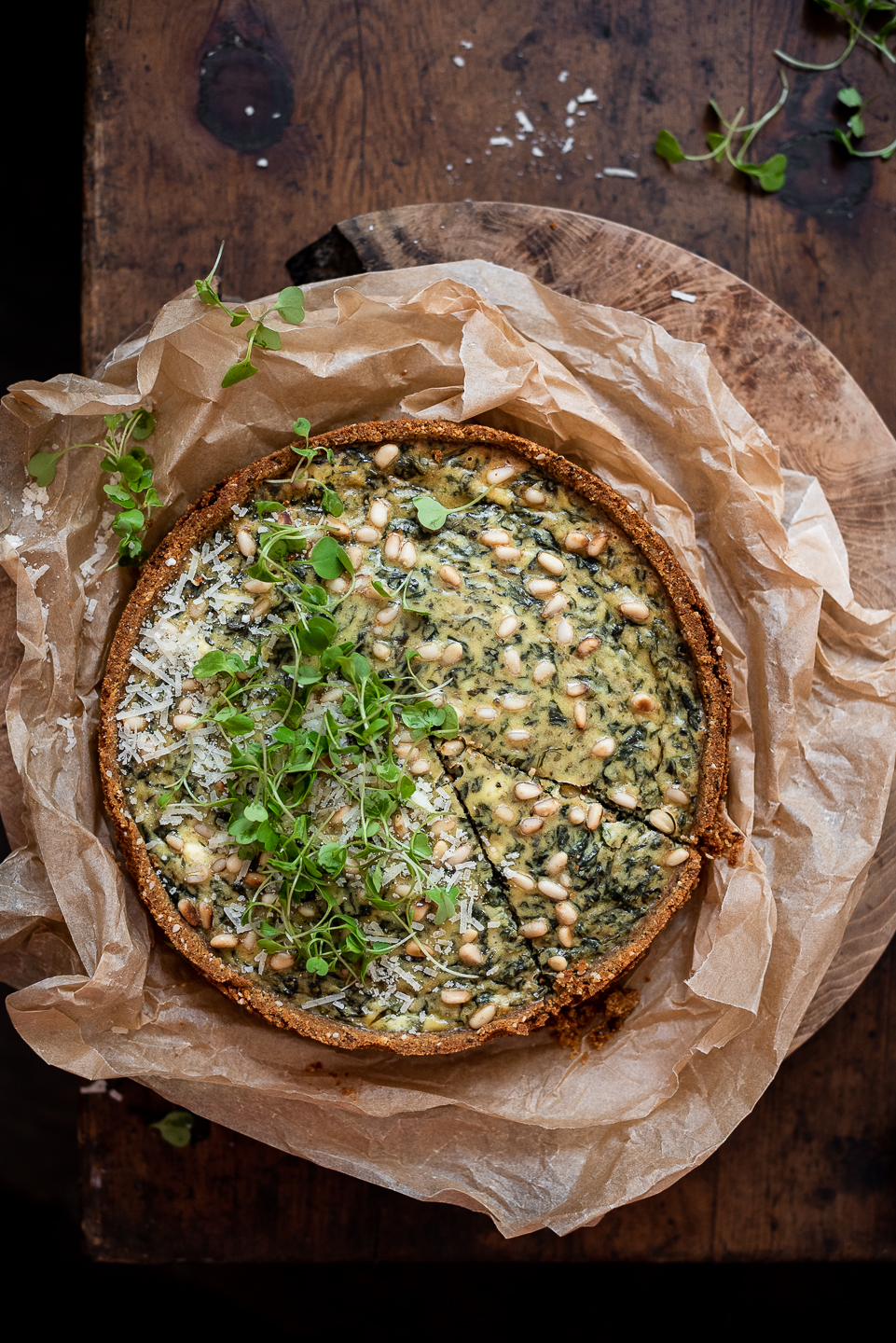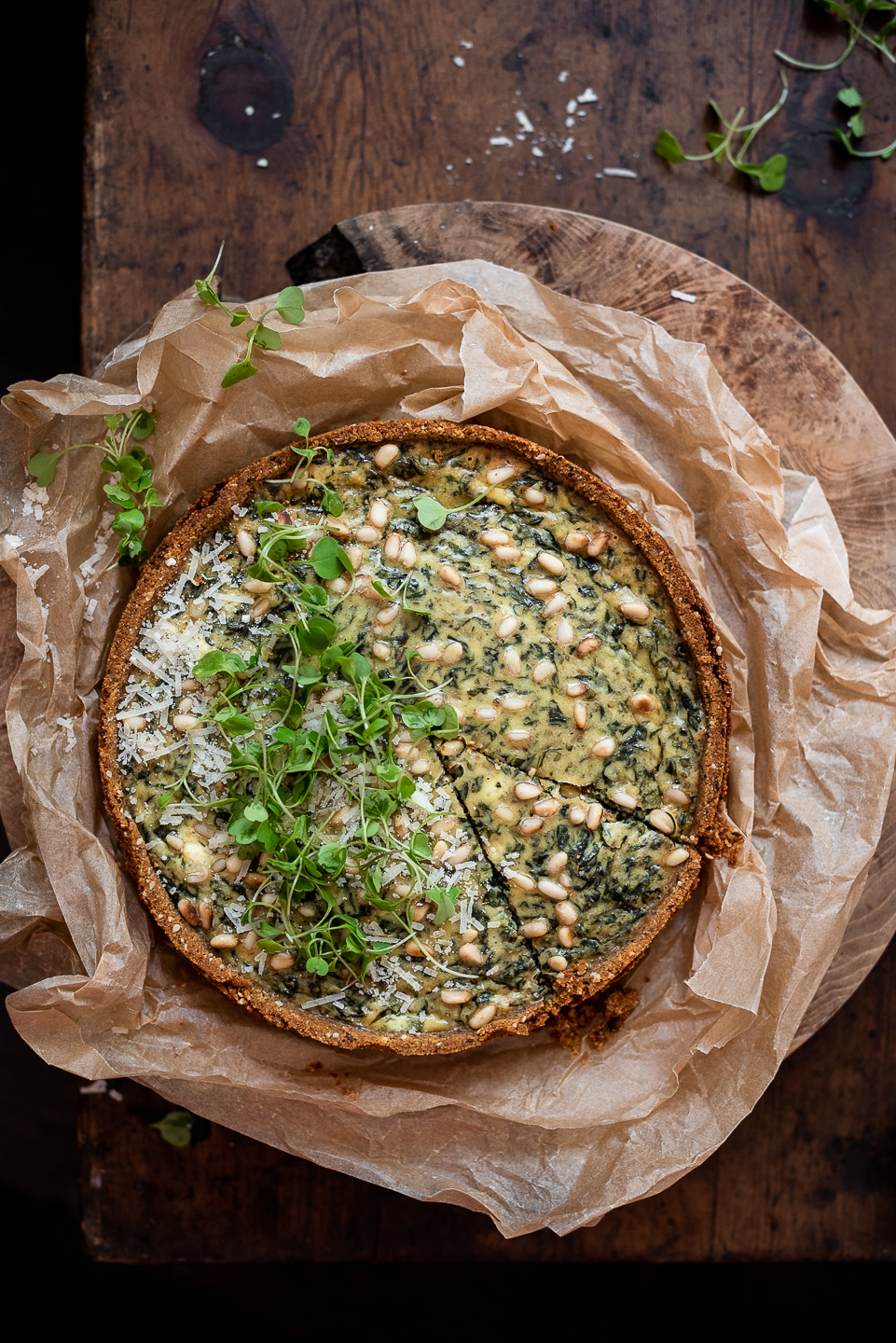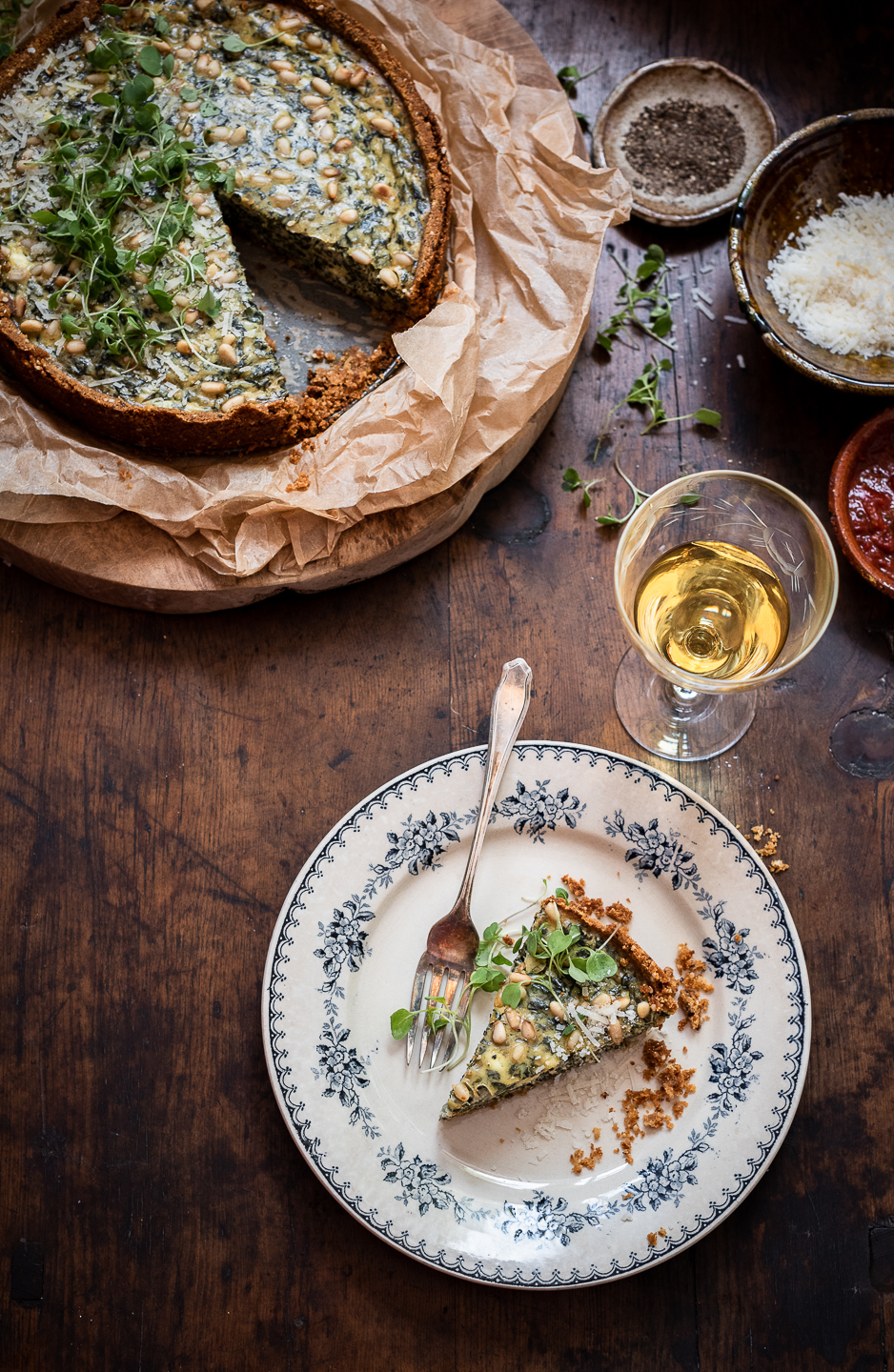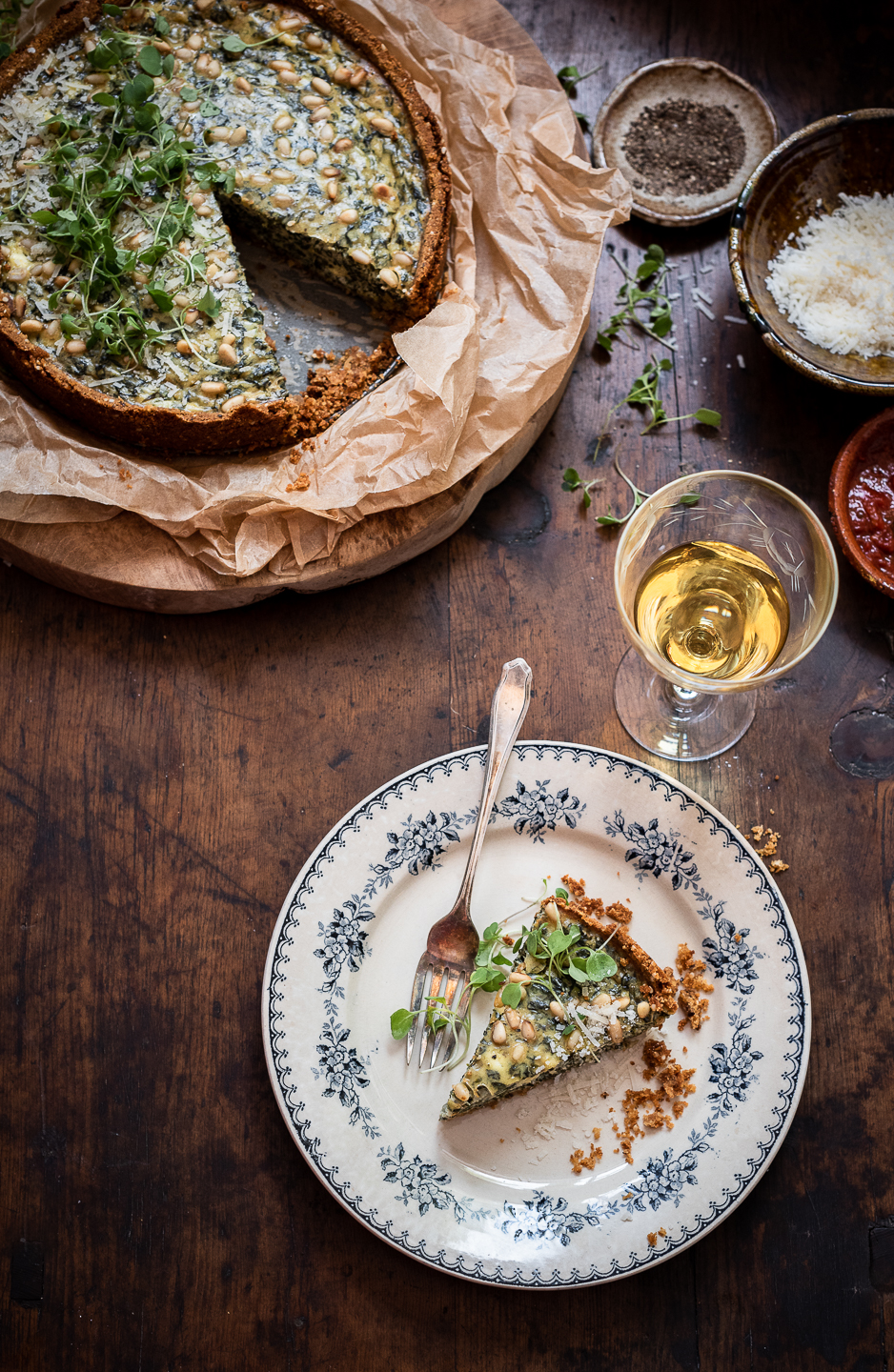 Spinach and Ricotta Cheesecake
Serves 10
Biscuit Crust
150g Bakers Assorted Savoury biscuits (Wheatsworth and Provita)
30ml (2 tablespoons) sesame seeds
1/4 cup Parmesan cheese, grated
freshly cracked black pepper
45g butter, melted
45ml (3 tablespoons) olive oil
10ml (2 teaspoons) cold water
Spinach and Ricotta Filling
15ml (1 tablespoon) olive oil
1 large brown onion, finely diced
300g young spinach, roughly chopped
5ml (1 teaspoon) dried oregano
5ml (1 teaspoon) dried thyme
1 1/2 teaspoons ground cumin
zest of 1 lemon
salt and freshly cracked black pepper, to taste
250g (1 cup) creamy ricotta, at room temperature
4 eggs
50g feta cheese, crumbled
15ml (1 tablespoon) pine nuts
Preheat the oven to 180º C. Grease and line a 22cm spring-form cake tin with baking paper.
For the crust, place the Wheatsworth, Provitas and sesame seeds in a processor. Blitz until broken down and crumbly. Add the Parmesan and black pepper and pulse to combine. Drizzle in the butter, olive oil and water. Pulse briefly until the crumbs start clumping together. Tip the crumbs into the tin and press firmly onto the base and upwards, about 4cm, for the side crust. Chill while preparing the filling.
In a wide-based pan, sauté the onion in the olive oil until softened and just starting to caramelise, about 10 minutes. Add the spinach in batches, wilting down between each addition. Season lightly with salt and black pepper. Add the oregano, thyme, cumin and lemon zest. Set aside to cool slightly.
Whisk  the ricotta in a large mixing bowl, then add the eggs one at a time, whisking well between each addition. Season lightly with salt and black pepper.
Fold the cooled spinach mixture into the eggs, along with the feta. Pour the filling into the chilled base. Scatter over the pine nuts and bake for 60-65 minutes. Cover with foil for the last 10 minutes of the baking time to prevent the crust darkening too much.
Rest on a wire rack for about 10 minutes before un-moulding. Serve warm or at room temperature.
If you're keen to include more spinach recipes in your weekly meal plan, here are several blog favourites:
Roast Butternut Crustless Quiche
Salmon with Spinach and Artichoke sauce