Spicy Mexican meat plait with Manchego cheese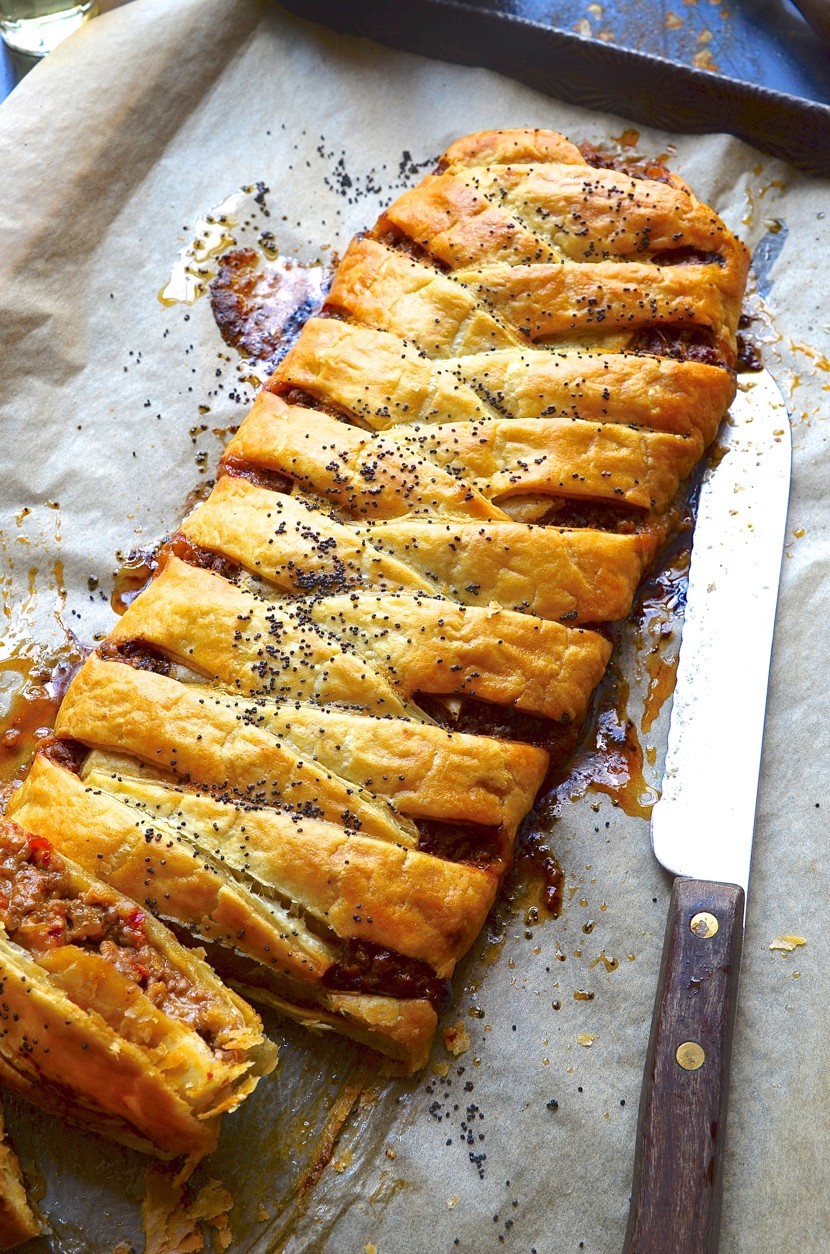 Stop the bus! Tonight we're having pie. A Spicy Mexican meat plait with Manchego cheese and a poppy seed puff pastry crust. It involves a spicy meat and sweet pepper filling spiked with Manchego cheese, paprika and chilli, all wrapped up in buttery puff. Clearly, you're not going to win the World' s healthiest meal badge, but if you're after serious dude food, you'll have this one in the bag.
I first made this savoury meat plait 8 years ago when I started my cooking classes. As with most recipe development, this pie was made and tested repeatedly until eventually I thought I might rather starve than let it pass by my lips one more time! This recipe was filed away under done and dusted. Until today. I remember now why it was such a crowd-pleaser.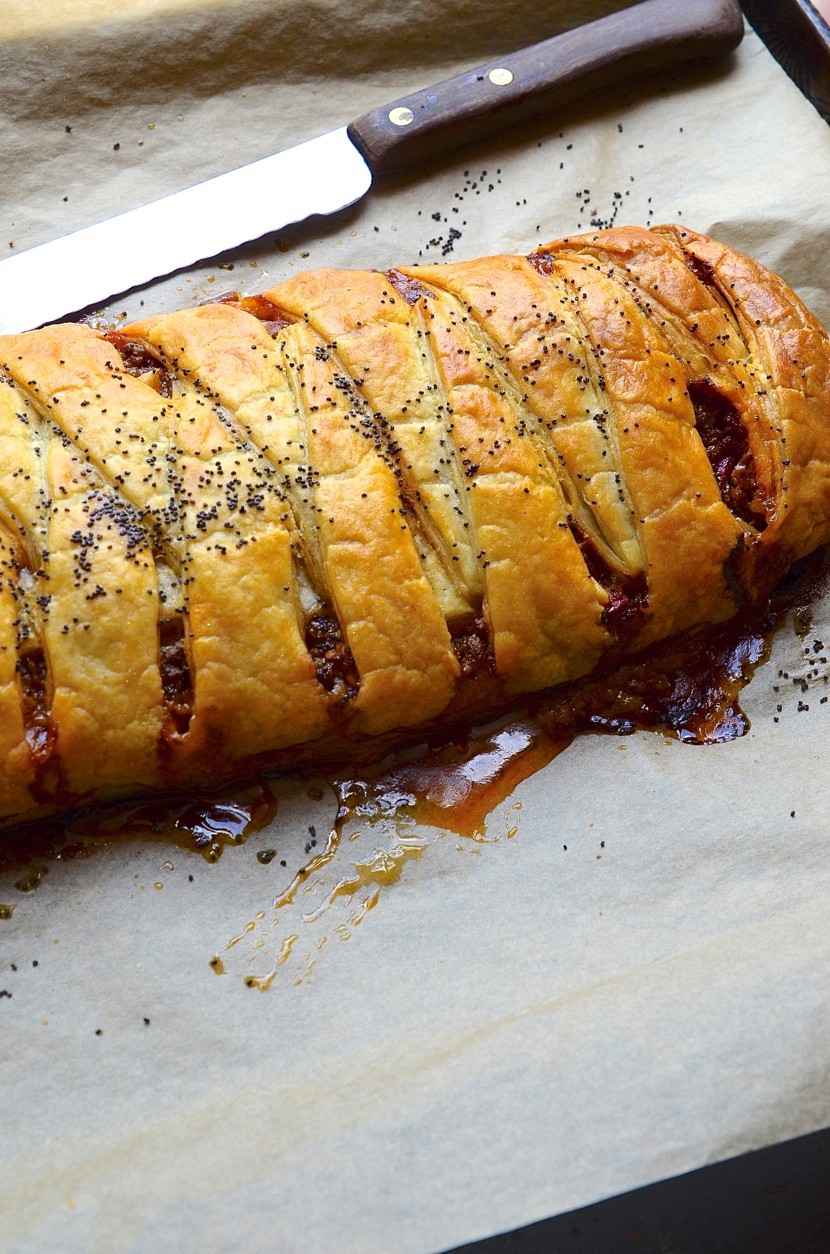 The most frequently asked question in my cooking class is usually, 'Can we freeze it?' I mean, really? What level of questioning is this? However on second thoughts, bearing in mind our frenetic lifestyles and general lack of time, this would be a handy little supper to have on hand, just in case. So, here's it is then. YES! You can freeze it. Make 1, 2  or even 6 if you like? These meat plaits can be baked from frozen but remember to increase the cooking time by about 10 minutes. They're great grub to feed a house full of hangry (the definition of angry from hunger), people and a convenient midweek supper, when you don't have the time or inclination to 'rustle up' anything.
'Pie' doesn't happen too often in our household, but when it does, it's gloves off, move aside and everyone for themselves. All sense of decency and good manners are thrown aside in the frenzy to secure a decent slice. I'm not even going to try and 'sell' you this pie. Just make it once and pin that 'Rocking Pieman' badge to your pinny.

Spicy Mexican meat plait with Manchego cheese
Serves 6-8
2 tablespoon olive oil
1 red onion, finely diced
1 clove garlic, minced
1 small red and yellow sweet pepper
500g lean beef mince
1 teaspoon dried oregano
1 teaspoon cumin
1/2 teaspoon dried red chilli flakes
1/2 teaspoon smoked paprika
1 teaspoon Dijon mustard
half a cup weak beef stock
45ml fruit chutney
1 cup Manchego cheese, grated or mature cheddar
400g store bought puff pastry
egg wash, made up with 1 egg and 2 tablespoons water, beaten together
1 tablespoon poppy seeds
Preheat the oven to 200º C. Heat the olive oil in a saucepan and sauté the onion, garlic and sweet peppers for about 8 minutes. The onions should be soft and translucent. Add the mince and brown until the meat starts to catch on the bottom of the pan, making a dry scratching sound. This step is essential to intensify the flavours and natural sugars of the meat. Season generously with salt and freshly ground black pepper. Add the oregano, cumin, chilli flakes, paprika and mustard. Stir the spices through before adding the stock and chutney. Place the lid on and simmer for about 20 minutes.
Remove from the heat and allow to cool to room temperature. Add the grated cheese and stir through to combine. On a well floured surface, roll out the puff pastry to a 3mm thickness. Place the pastry onto the parchment paper. Trim the edges so that you have a neat rectangle of about 30 x 45 cm. Visually, divide the rectangle into three down the length of the pastry. On the two outer edges, cut 2.5cm strips at a slight angle, leaving the centre piece intact. Place the filling neatly down the centre. Start by plaiting the pastry from the top, overlapping as you move downwards. Fold, tuck and seal the open ends with a little water.
Transfer the pastry onto the baking sheet. Brush the pie surface with the egg wash and scatter over the poppy seeds. Bake for 40-45 minutes until the top is golden brown and crisp. Allow to cool for several minutes before slicing with a serrated knife. Serve with roasted vegetables or a mixed green garden salad.
BK Handy tip: To freeze, complete up to the final sealing of pastry edges. Brush with egg wash before baking.