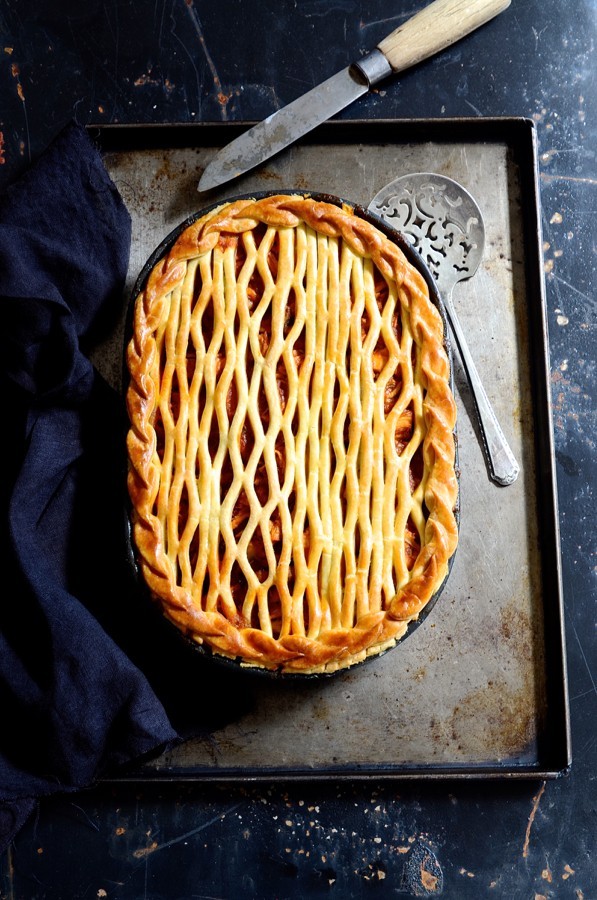 I've always secretly harboured the hope that somewhere within the family tree, there'd be traces of Indian, Spanish, Italian or even Middle Eastern roots. This would go to supporting my bias towards the bold flavours that typify these cuisines. Sadly, no luck. That said, on the menu tonight is a mouthwatering Spanish chicken pie with chorizo and sweet peppers, topped with buttery homemade shortcrust pastry.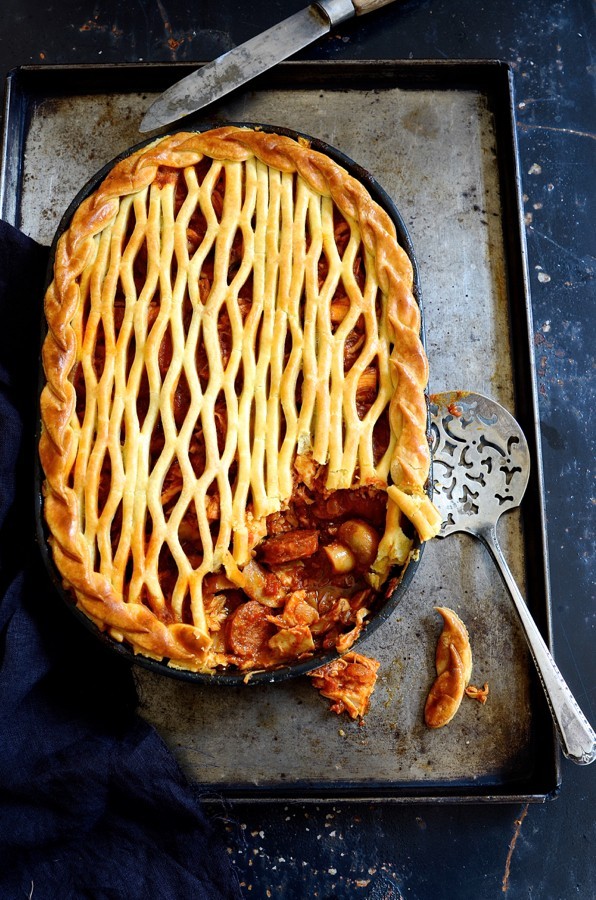 Easing us into the autumn zone are warming bowls of soup, creamy pastas and of course, pies. As you'd expect, the flavours are bold! Spicy tomato with the unmistakably taste of chorizo. It's warm but not hot like the the kind of heat that'll mute your taste buds.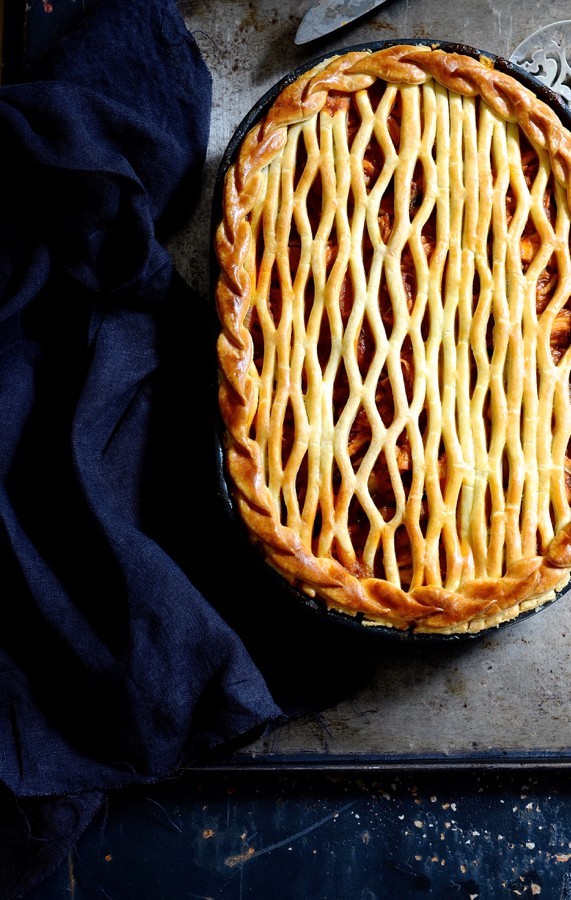 And then there's the pastry. This is my feeling on pastry. Making filo pastry is for the experts. In fact, if you value your sanity, I strongly suggest against it! Puff pastry however is a bit of a fence-sitter. I've made Edd Kimber's rough puff pastry from his Pâtisserie made simple and it is as promised, simple and superb. Light, buttery, milti-layered and crisp. Heavenly really.
If all this is too much of a palaver, there are plenty of good quality store-bought versions on the market. About shortcrust. Shortcrust should always be homemade. It's simple enough to make, really. The secret, which is not really a secret 'cause everyone knows it, is cold butter, cold water, cold hands and a warm heart. When making the shortcrust, double the recipe and freeze half for later.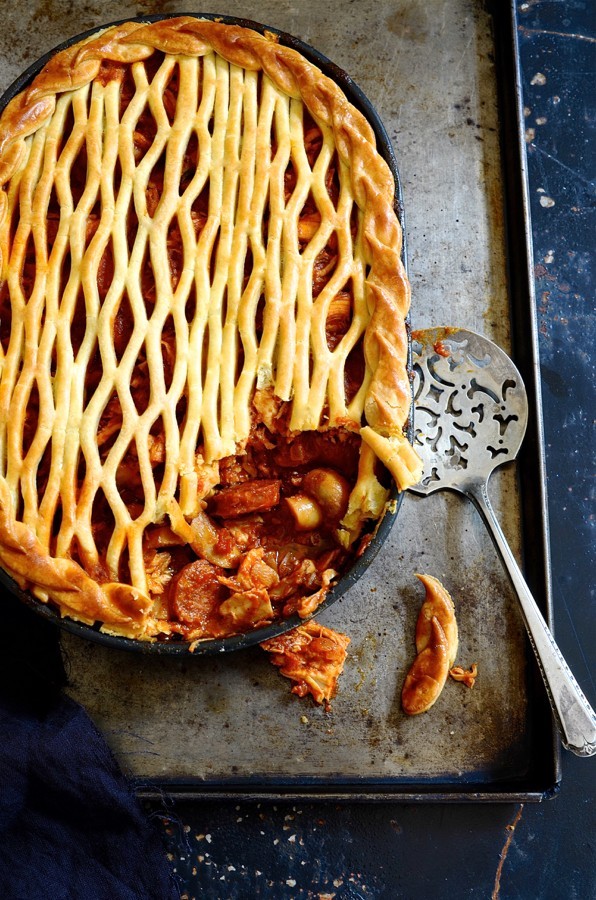 Now for the filling. A great pie is made up of 2 essentials. Good pastry and an even better filling. The filling here tastes like tapas. Red peppers, mushrooms, chicken and chorizo in a spicy sherry tomato sauce. It's dude food and very Moorish.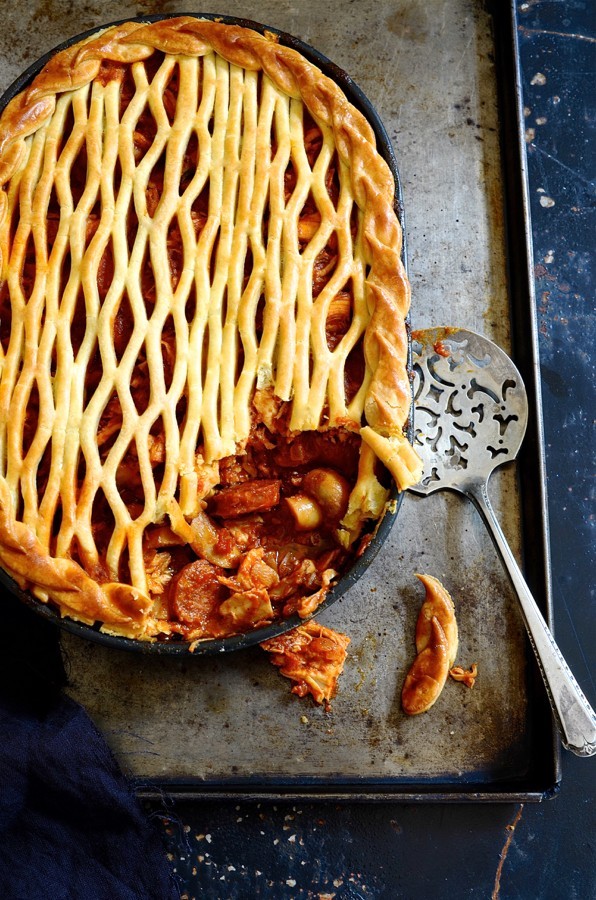 Spanish chicken pie with chorizo and sweet peppers
Ingredients
2 tablespoons olive oil
1 red onion, diced
250g portabellini mushrooms, sliced
1 clove garlic, minced
120g chorizo sausage
1 red pepper, deseeded and roughly chopped
1 1/2 teaspoons smoked paprika
1/2 teaspoon dried oregano
1/2 teaspoon dried red chilli flakes
1 teaspoon brown sugar
2 tablespoons tomato paste
1/4 cup medium cream sherry (or use white wine, if you prefer)
1/3 cup chicken stock
400g tin chopped tomatoes
2 cups roasted chicken, cut into chunks
Shortcrust pastry
250g all-purpose cake flour
1/2 teaspoon salt
140g cold butter, cut into small pieces
1 egg yolk
3-4 tablespoons cold water
1 egg yolk plus 2 tablespoons water whisked together (egg wash)
Instructions
Start by making the pastry. Place the flour and salt in a wide-rimmed bowl. Add the butter and work through the flour with your fingers until fine breadcrumb-like texture. Add the egg yolk and water. Combine with a fork until the dough comes together.
Press the dough lightly together, wrap in cling film and chill for an hour.
To make the pie filling, heat the olive oil in a large pan. Add the onion and sauté until soft.
Turn up the heat and add the mushrooms. Fry until nicely coloured. Season with salt and pepper. Stir in the garlic and cook for another minute or two.
Add the chorizo and sweet peppers to the pan and cook for several minutes. Now add all the remaining ingredients, except for the chicken pieces. Reduce the heat to medium, cover with a lid and simmer for 20 minutes.
Check the seasoning and stir through the chicken.
Preheat the oven to 200º C.
Transfer the chicken filling to a 2 litre capacity oven-proof dish.
Roll the pastry out on a floured surface to about a 3-4mm thickness. Lift carefully and lay over the chicken filling. Trim the edges and brush with egg wash.
Bake for 30-35 minutes until the pastry is golden and cooked through.