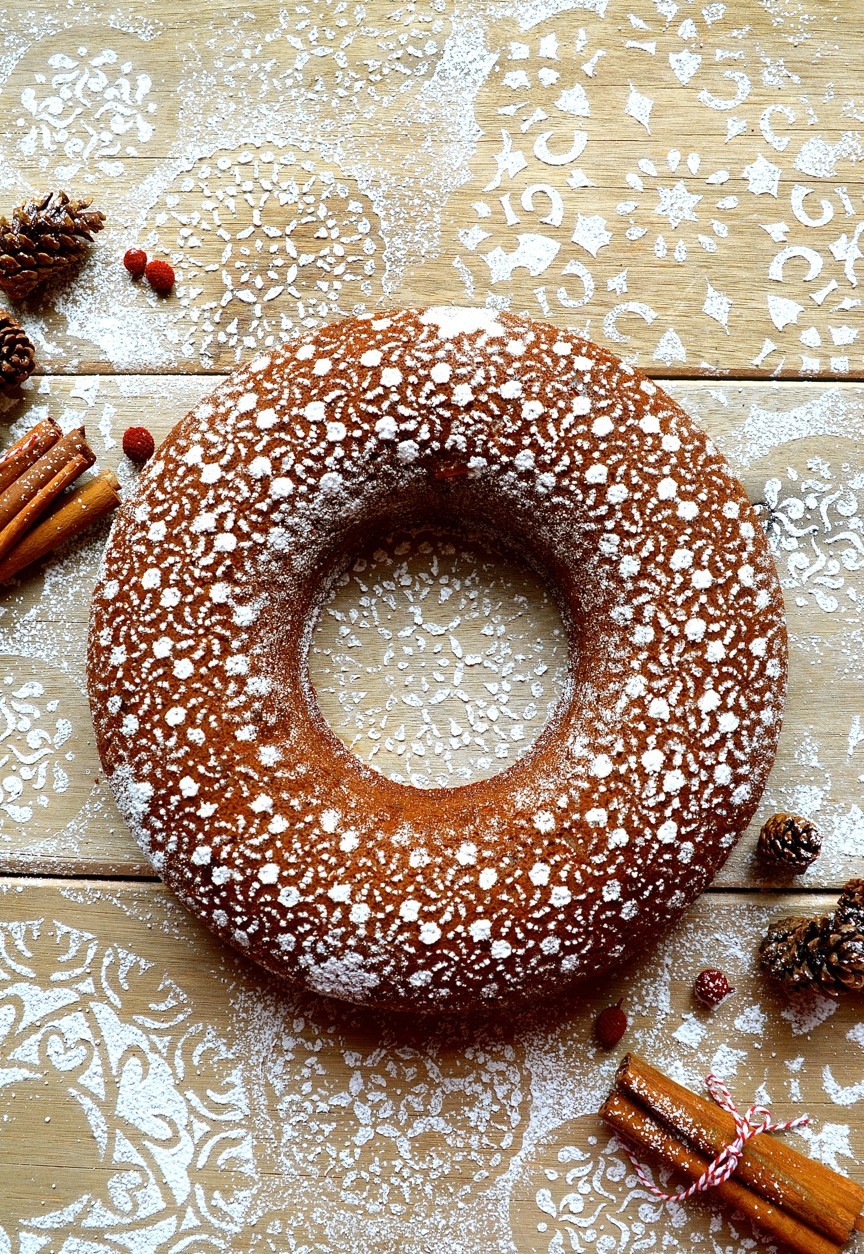 Cinnamon spice and all things nice……. My outright favourite Gingerbread Bundt cake with warming spices, preserved ginger pieces and a snowy dusting of white powered sugar. If a traditional fruit cake is not quite your cup of tea, then this gingerbread bundt might just well be.
If there was a local Bundt club, I'd sign up.  I love a good Bundt. Nothing flashy or wildly exciting, just honest and simple. It remains one of the easiest cakes to bake. Bundts recently made a comeback, casting off their retro image with reckless abandon and sauntering in with spectacular new domed shapes to choose from. A Bundt  is essentially a cake with a hole in it, so eloquently explained in the movie, My big fat Greek wedding. There's no fussing about with layers, frosting or fillings. It is what it is. Simplicity can be both comforting and necessary, especially for those who find a trip to the hardware store more appealing than whisking together a batter. The only challenge you'll encounter here is the tedious patience of waiting for the cake to cool.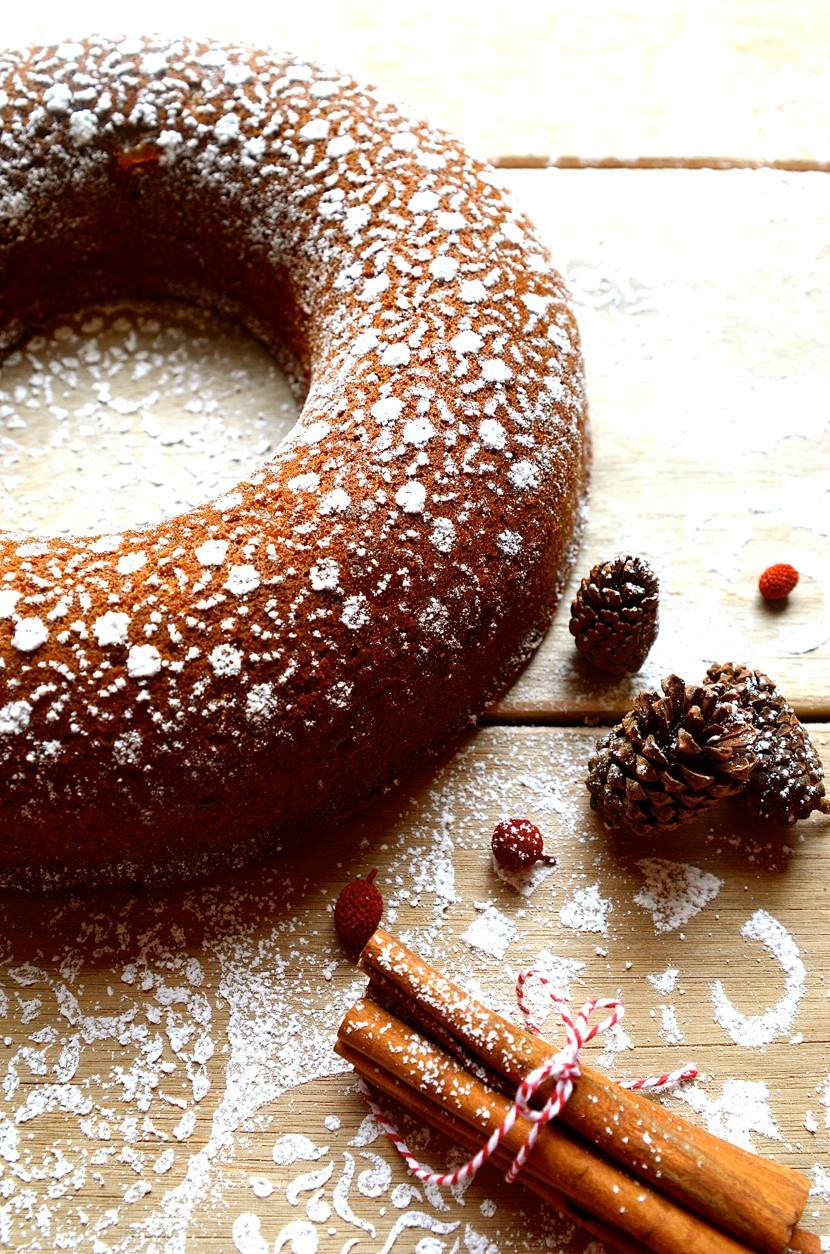 Without a sweet buttercream to bolster the taste, it's essential that the flavourings of the cake holds its own. This gingerbread bundt cake is spiced with seasonal aromatics that wafts through the kitchen and smells like welcoming Christmas cheer. It also happens to make the most delectable edible Christmas wreathe. If you're going to a Christmas 'bring and share' dinner, why not bake one to take along and serve with after-dinner coffees. Personally, a slice of cake with my morning coffee seems completely right for this time of year. A dollop of cream wouldn't go amiss either. The gingerbread will keep well for several days in an airtight container. I have a few ideas of turning any leftovers into a nostalgic Christmas trifle.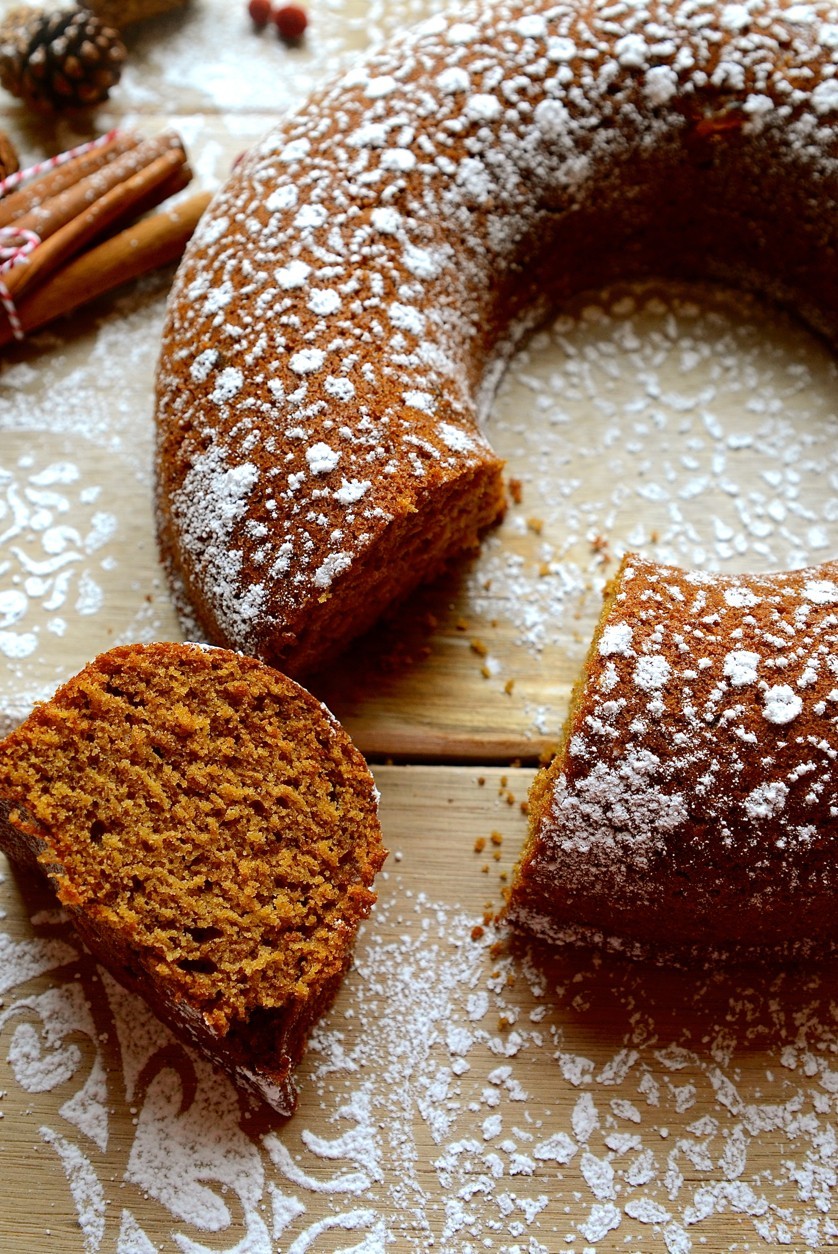 Gingerbread Bundt cake
125g muscavado sugar
170g butter, softened
80ml vegetable oil
2 eggs
140g golden syrup
60g sweet molasses
300g all purpose cake flour
1 teaspoon baking powder
1/2 teaspoon bicarbonate of soda
1/4 teaspoon salt
4 teaspoons ground ginger
1 teaspoon cinnamon
1/2 teaspoon mixed spice
a generous pinch of nutmeg
250ml coffee, cooled (you could substitute with rooibos tea)
4 knobs preserved ginger, cut into small pieces
Preheat the oven to 180º C. Spray a Bundt or round cake tin with non-stick baking spray. Beat the sugar, butter and oil together until creamy. Add the eggs, one at a time, beating well after each addition. To the egg mixture, add the syrup and molasses. Whisk until well combined.
Sift together the flour, raising agents, salt and spices. Add the flour and coffee in three alternate stages, starting and ending with the flour. Fold through the ginger pieces and pour into the prepared baking tin. Tap lightly to settle the batter and bake for 40-45 minutes. Test with a skewer for doneness. Rest the Bundt until it is cool before unmoulding. If you turn the cake out too soon, it could stick or collapse as the crumb is tender and light.
Once the cake is completely cool, dust with confectioner's sugar.