No-bake Christmas fruit cake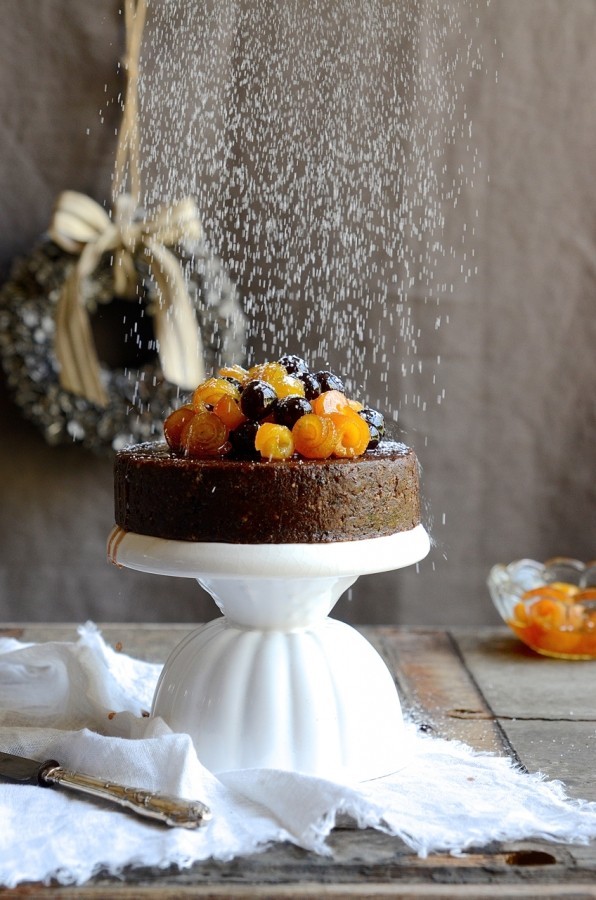 Tradition has it that for an exceptionally good Christmas fruit cake, the bake should be done at least 6 weeks in advance or better yet, 12 weeks before Santa's first house call. This is followed by an upside down hibernation in a dark tin housing, snugly wrapped in baking parchment and foil, with a weekly anointing of brandy. If like me you've missed the deadline and 'faffed' around with real pressing life stuff, there's no need to swallow the bitter pill of remorse. At this point, just making it through 2016 is a personal triumph, cake or no cake! Which brings me to this – a never too late – No-bake Christmas fruit cake. To all the last minute.com bakers out there, you're not alone.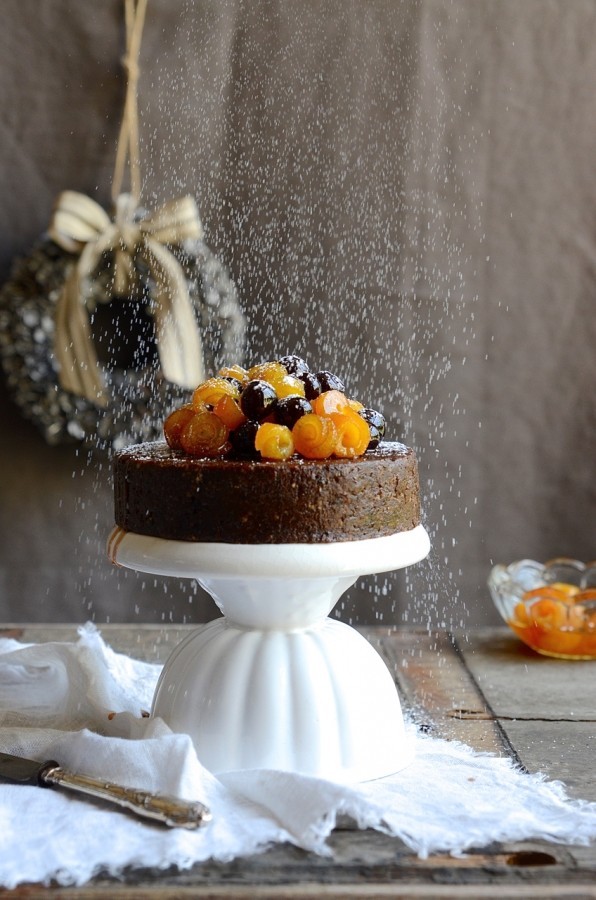 There are scores of benefits to making this Christmas cake, the least of which is a no-bake deal.
In a nutshell, here's a list of cake credentials:
Gluten-free
Can be made ahead of time and frozen for easy holiday entertaining
Is packed with health-boosting whole food ingredients
Plant based and dairy-free
Vegan-friendly
Made in a blender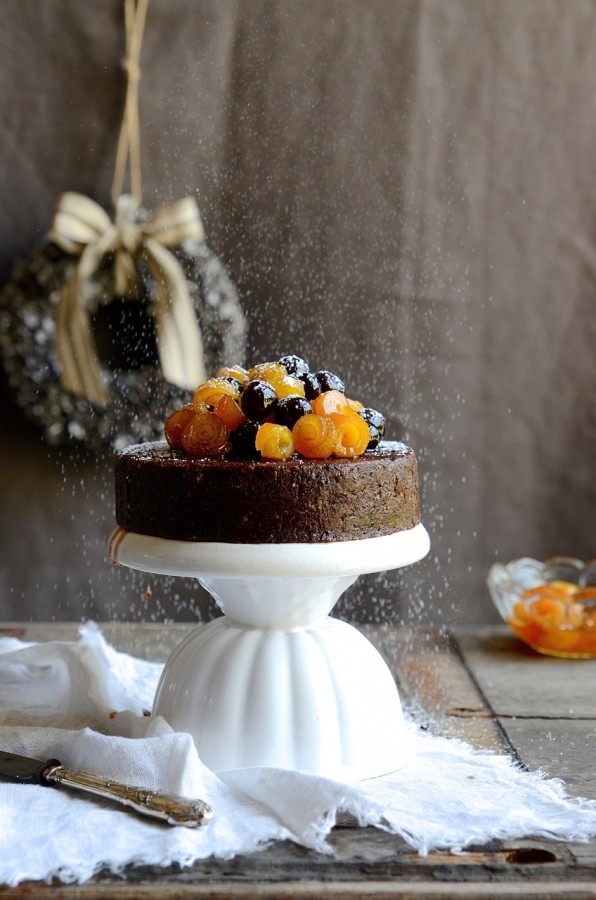 The core ingredients are Medjool dates, nuts, dried fruits and all the warming Christmas spices you'd expect from a proper baked fruit cake. Holding it all together is sticky toffee-like dates, coconut oil and a drizzle of maple syrup. To bolster the flavour, I dry toast the nuts in a pan before blending. As any seasoned fruit cake baker will attest to, brandy or sherry is obligatory for a full-bodied Christmas bloom, so I plump up the fruit with a quick maceration. If you're serving it to children, you can easily substitute the tipple with rooibos tea or orange juice.
Acting as our cake 'facinator', I've piled on sweet preserved orange twirls and onyx-baubled Amarena cherries. A jar of these syrupy cherry beauties arrived in my kitchen just in time. Thank you Michele! How I appreciate luxury food gifts like these. I'd imagine well-ripened figs and nectarines would also make a delectable crown topping. As the cake is relatively rich, I'd aim for slithers rather than thickly sliced wedges.
Serve with after dinner coffees, or as part of a cheese board with a selection of fine cheeses and fresh seasonal fruits. If you're a taste junkie, savoury crackers, a wedge of this Christmas fruit cake and soft gorgonzola cheese is like stepping over a revolutionary culinary precipice. It's a sublime palate stimulation in each textural mouthful. #trysomethingnew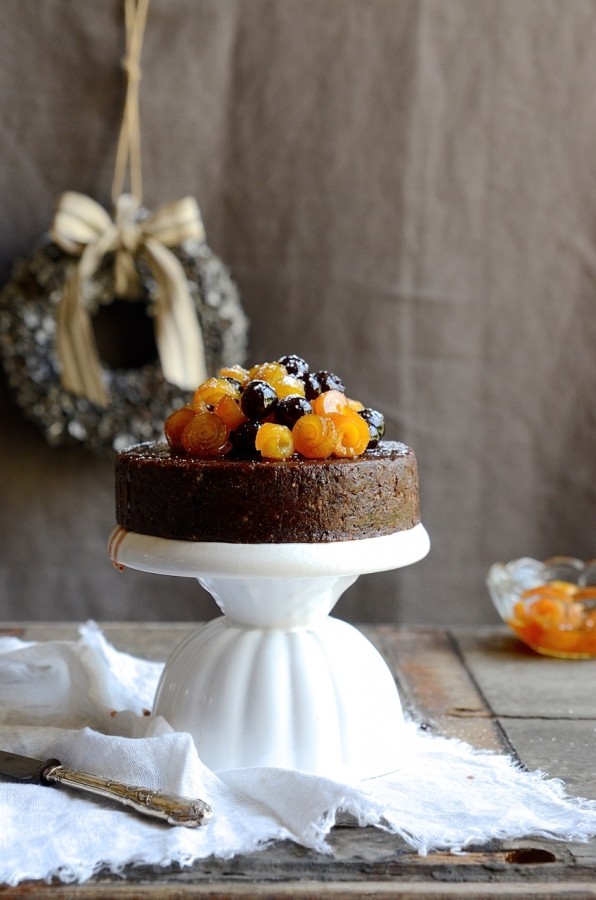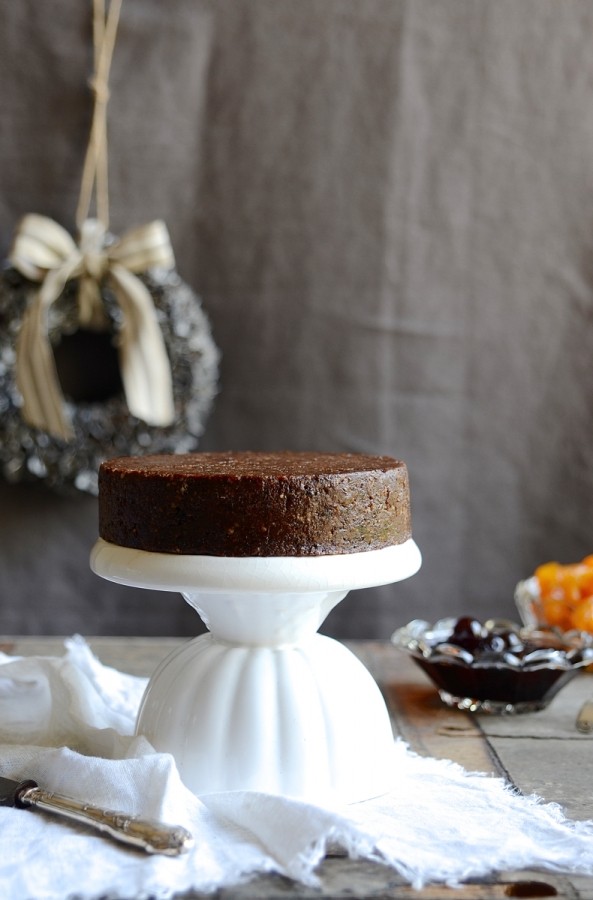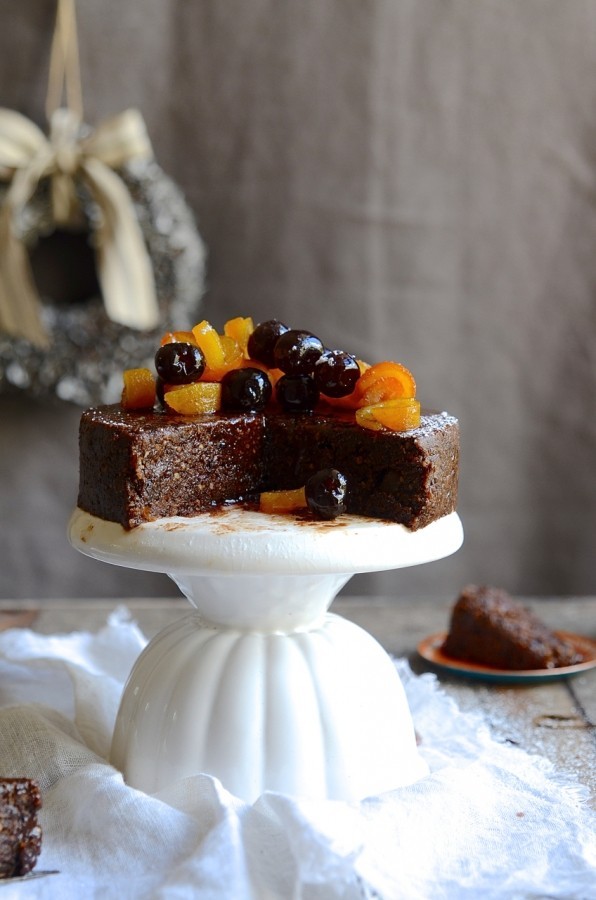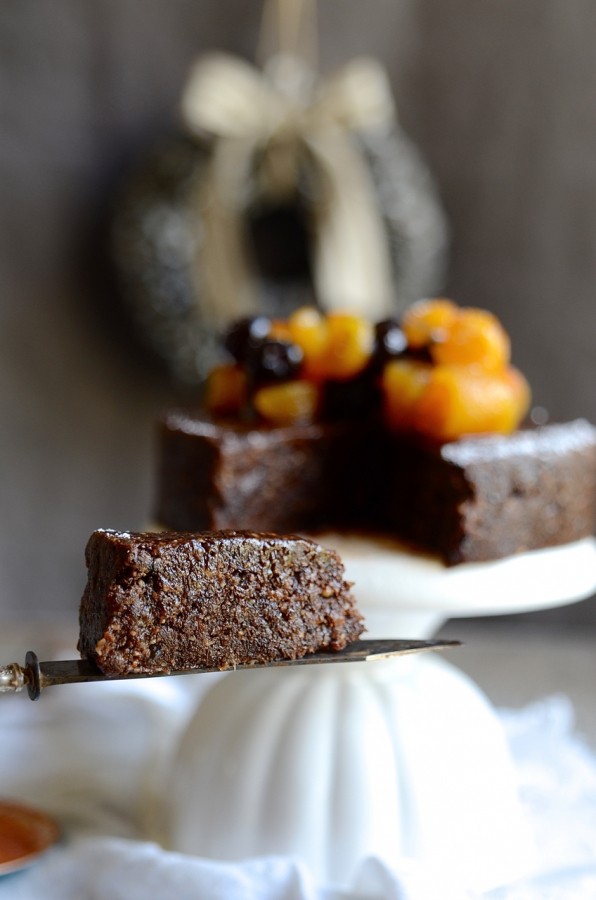 No-bake Christmas fruit cake
300g (2 cups) dried fruit cake mix (raisins, currants, sultanas, orange peel, cranberries)
1 knob preserved ginger, finely chopped
45ml (3 tablespoons) brandy or sherry
100g (1cup) raw walnuts
100g (1 cup) raw pecan nuts
150g (about 1 cup) Medjool dates, pitted
1 1/2 teaspoons ground cinnamon
1/2 teaspoon ground ginger
1/4 teaspoon mixed spice
a generous pinch of nutmeg
45ml (3 tablespoons) cocoa powder
pinch of salt
1 tablespoon coconut oil
1 tablespoon maple syrup
preserved fruit or fresh fruit, for finishing
Combine the dried fruit mix and preserved ginger pieces with the brandy in a bowl. Set aside to macerate for an hour or to speed up the process, heat in the microwave for 40 seconds.
Toast the nuts in a pan over a medium heat until they smell fragrant and nutty. Set aside to cool.
Place the pitted dates in a food processor and blitz until broken down.
Add all the spices, cocoa powder, salt, coconut oil and maple syrup to the dates and pulse to combine.
Transfer the date mixture to a mixing bowl. Pulse the nuts and all the macerated fruit until fine, but still with some texture.
Add the nut mixture to the dates and work together by hand until all the ingredients are incorporated.
If your food processor is large enough, add all the ingredients at once and pulse to combine.
Press the cake mixture into a greased 15cm round cake tin, cover with foil and freeze until firm, about 3 hours.
To un-mould, run a smooth-bladed knife around the sides and turn out onto a cake stand. Top with preserved or fresh fruit just before serving.
Keep the cake chilled in the fridge. It can also be frozen for up to 3 weeks ahead of time. Defrost in the fridge overnight.
For more no bake dessert recipes, you may like to try these two Bibby's Kitchen favourites.