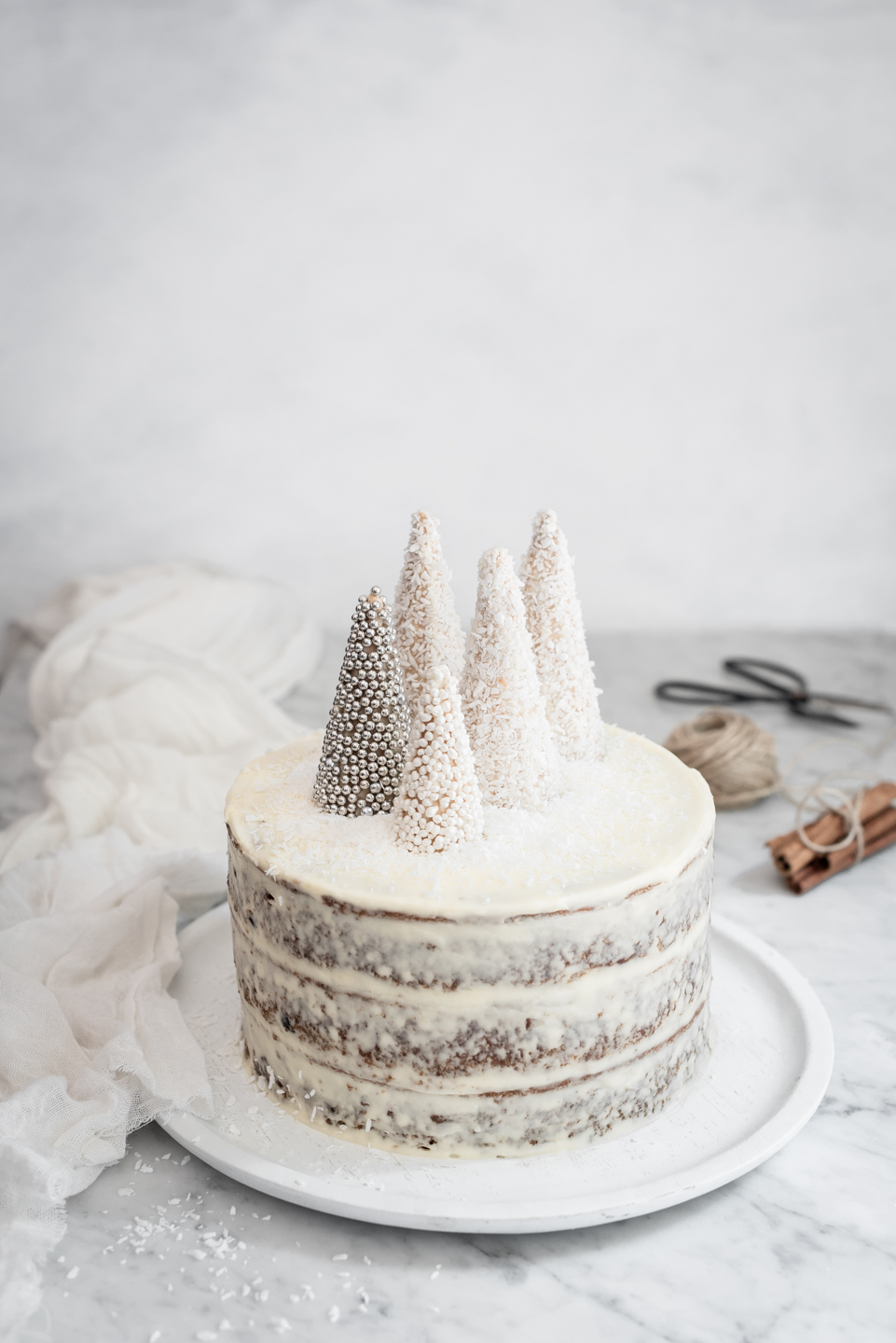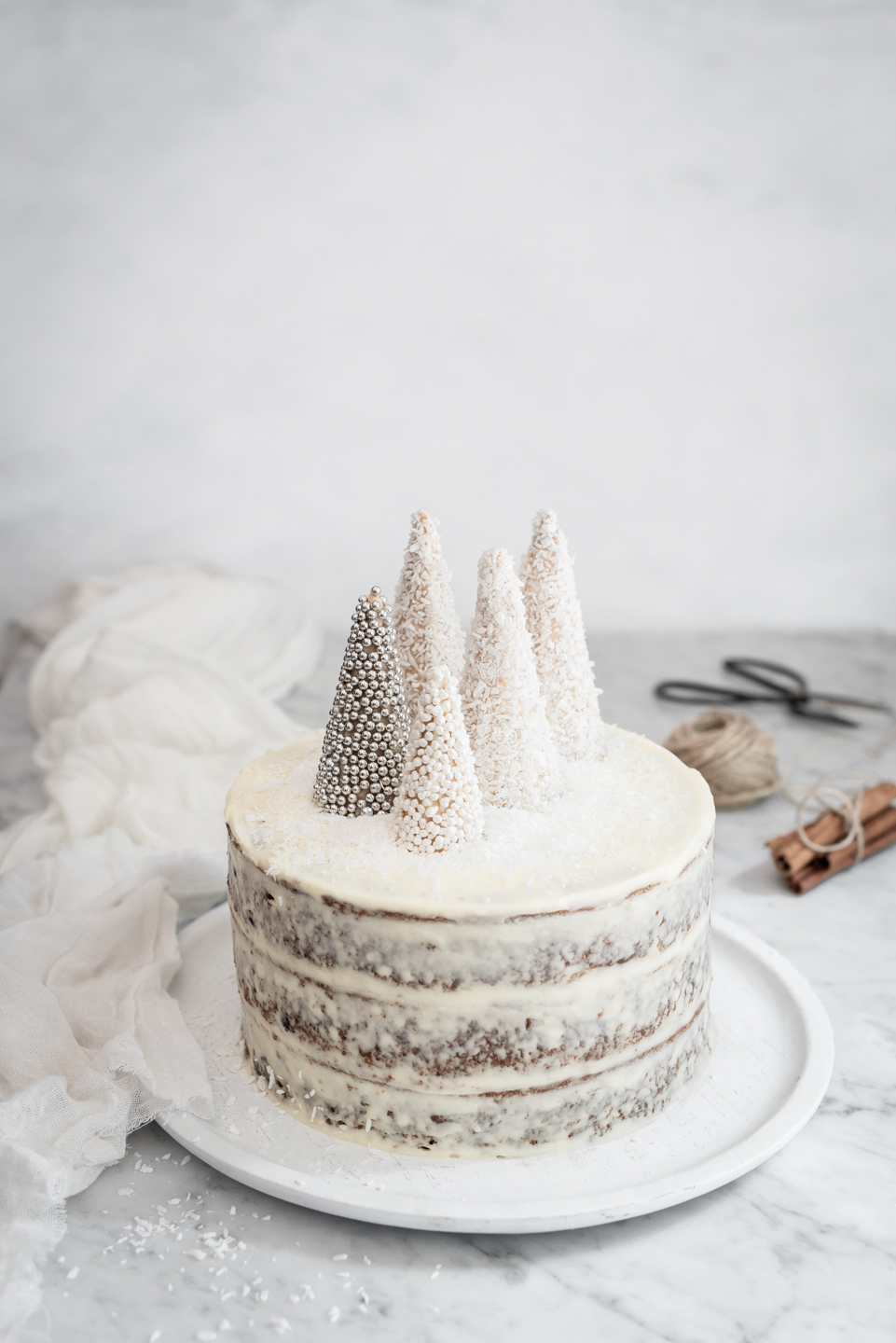 There are two kinds of people in this world. Non-Christmas cake eaters and those who so besotted that they do Christmas twice. Once in July and again in December. I'm with the latter, lover of all things fruity – mince pies, steamed pudding and a good old brandy-ied up fruit cake. Underneath these white capped snow-cones, lies the marriage of two favourites – Sticky toffee pudding & Christmas cake. Now you can have your cake and pudding in one!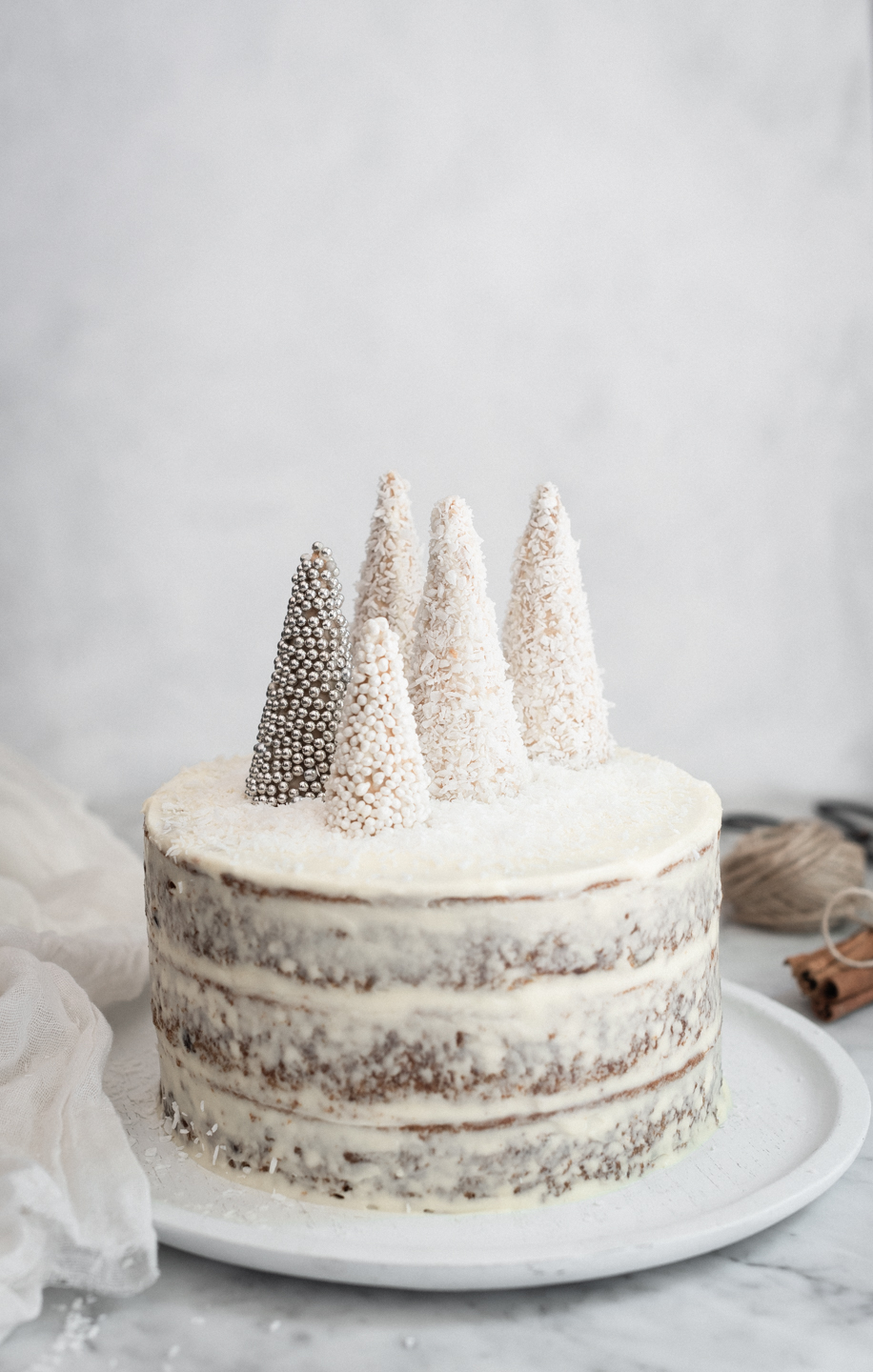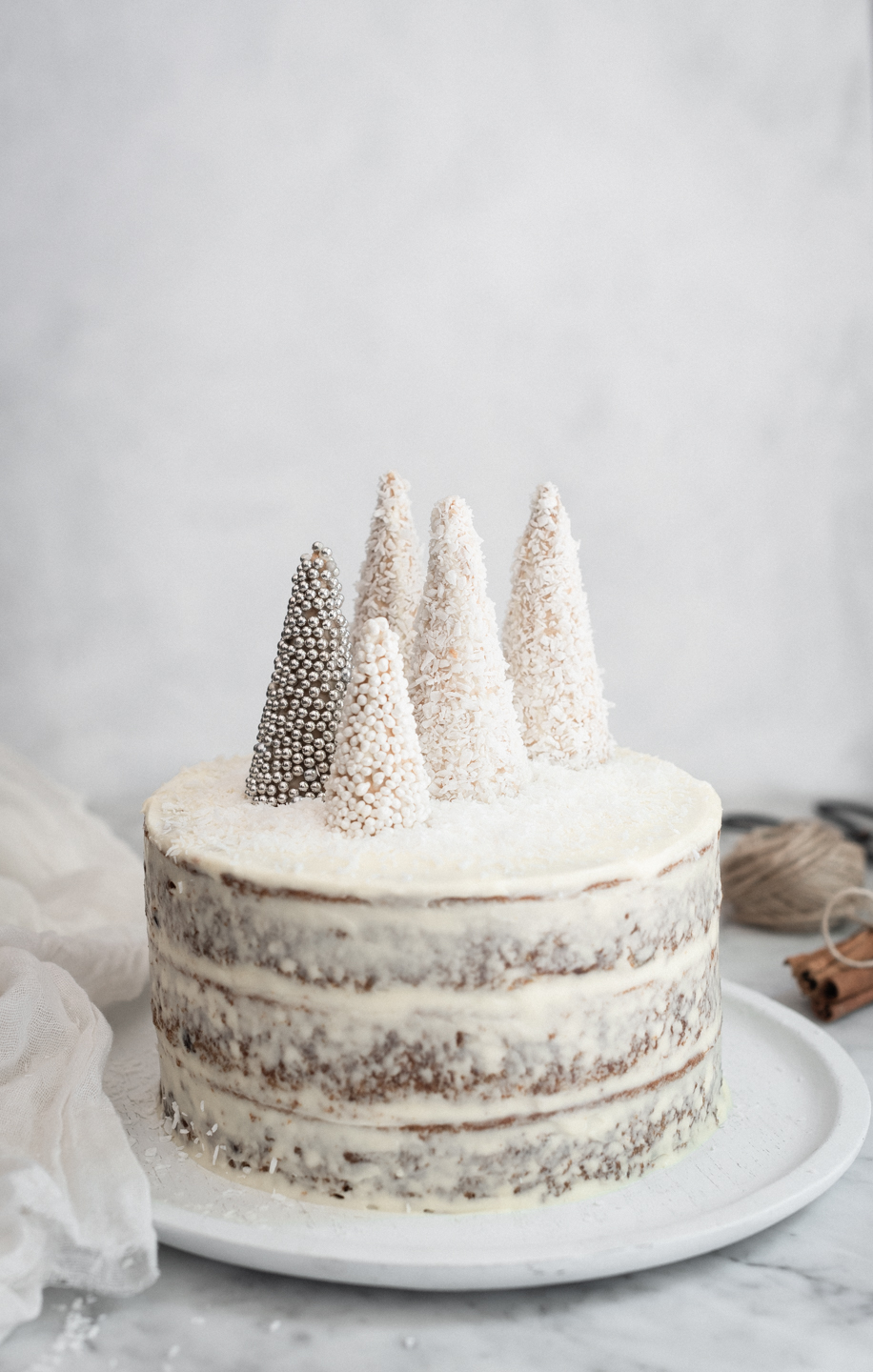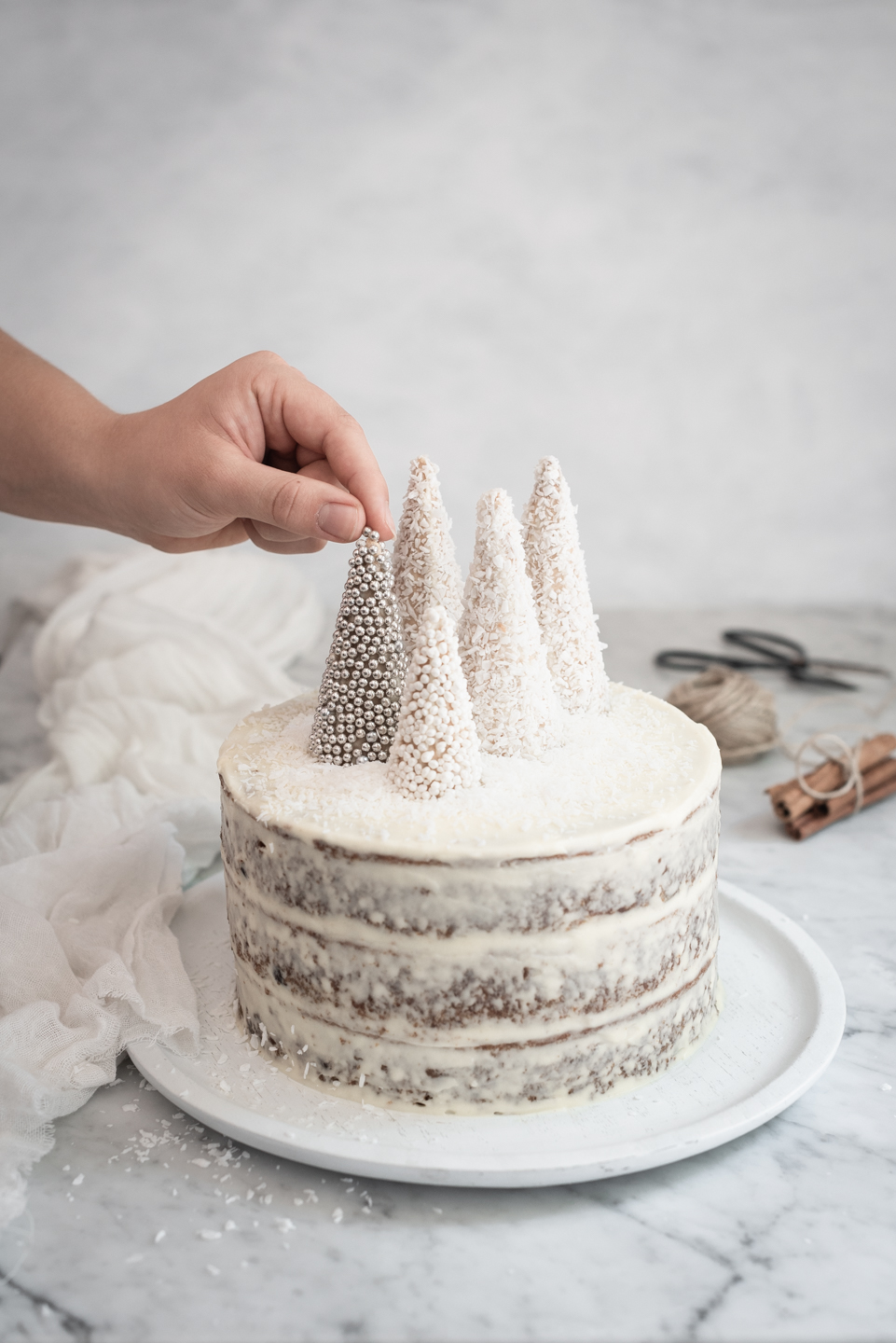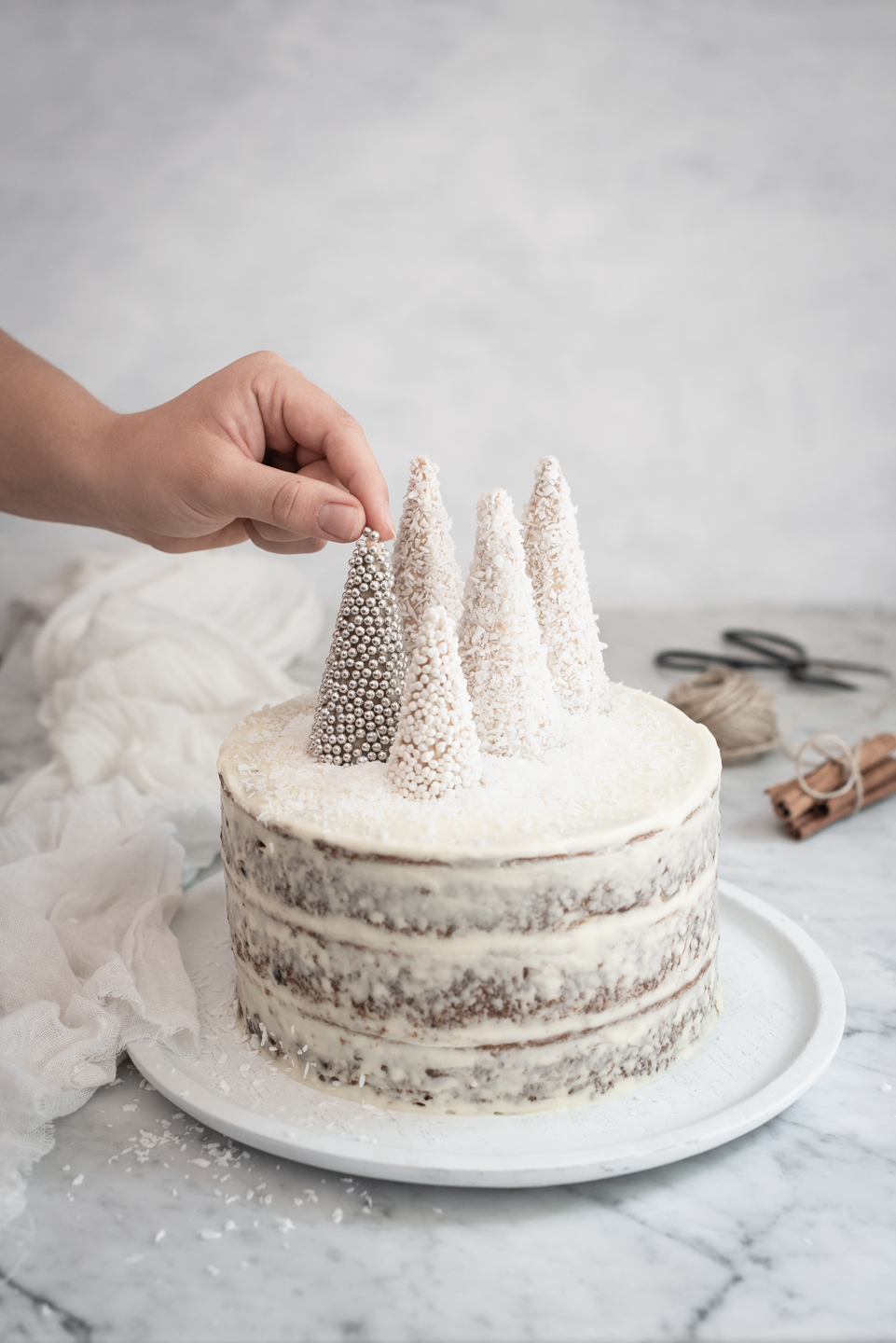 To test whether I could sway the opinion of non-cake eaters, I dolled out slices for testing. Mmmmmm… Oh, wow! What is this? It's divine. Ok, just one more slither …..  And just like that, there were cake converts. The flavour of this cake is all toffee pudding-ish with plumped-up brandy fruits. Sounds rather fabulous! There are a couple of very convincing reasons to making this Christmas cake. If, like me, you're slow out the blocks and miss the cut-off date for when you should've baked the Christmas cake by, this recipe will save the day. There's no boozy feeding schedule or perfect maturity date. It's a case of frost it, eat it. Grab the plates & cake forks and dig in! Now that's a cake I can get behind.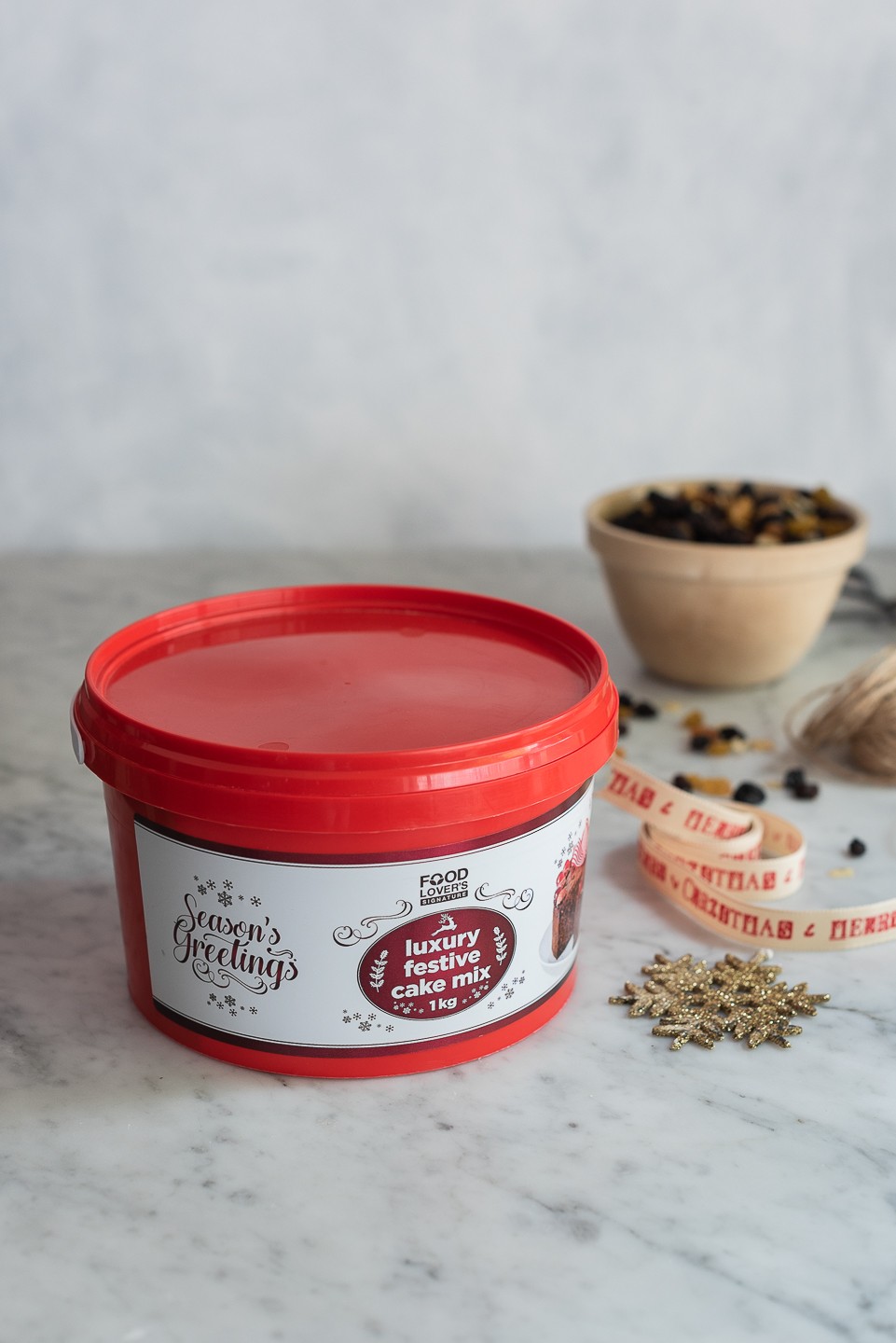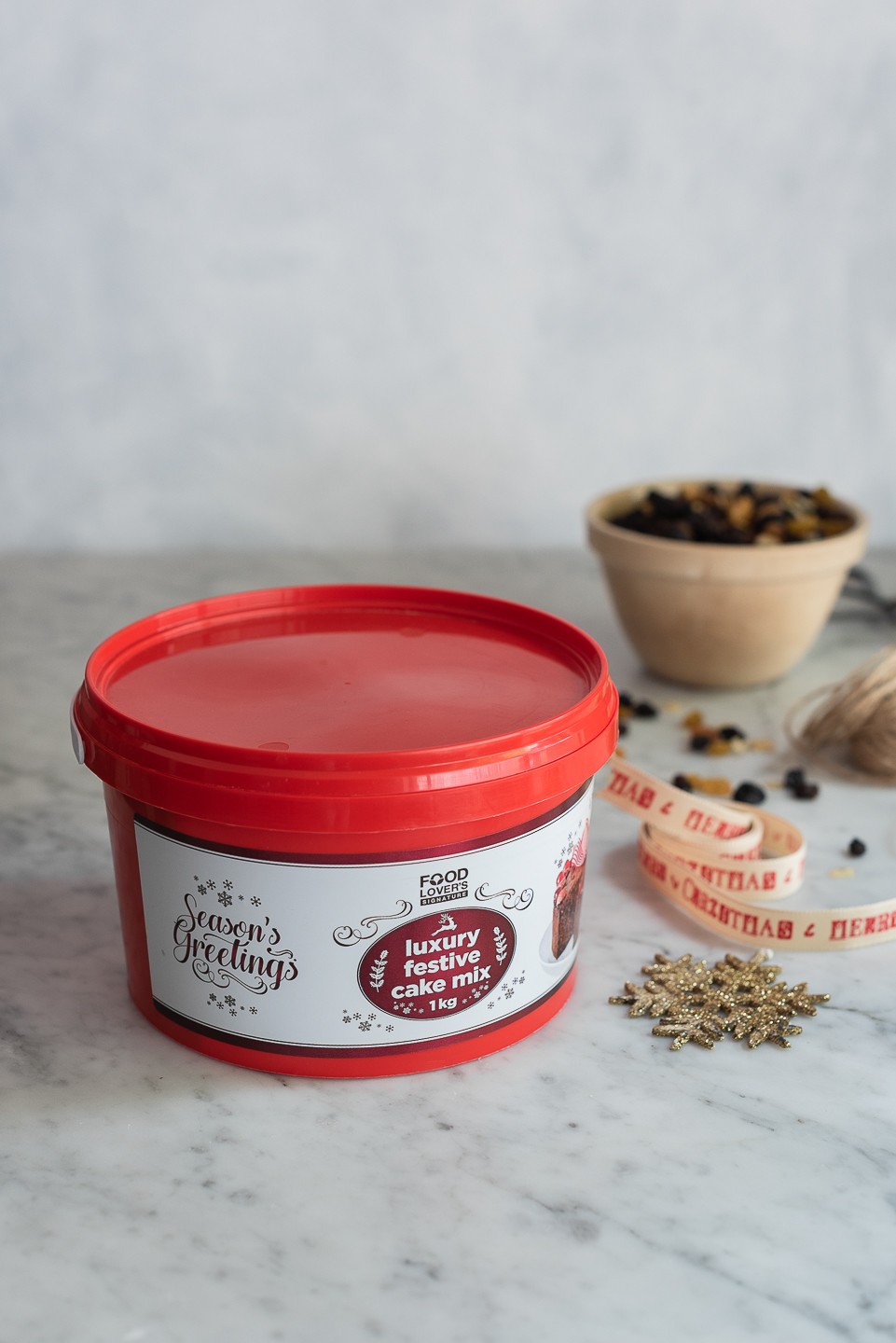 So here's what you need to get going….. A red bucket. Yip, that's it. Food Lover's have made end of year festive baking a breeze with their Luxury Festive Cake Mix. It's packed with more than enough glazed fruit and nuts to bake several cakes. The nifty red bucket is available exclusively at Food Lover's markets. You can grab one for R 69,99. I had plenty left over, so I'm going to be sharing a quick saucy dessert recipe with you soon. If you do a bring and share for Christmas dinner, this toffee pudding cake will be a lovely addition to the dessert table. The kids will love it, too. To add a little whimsical magic, I've topped the cake with snow cones and a shower of coconut. It's dreamy, white and very Christmassy..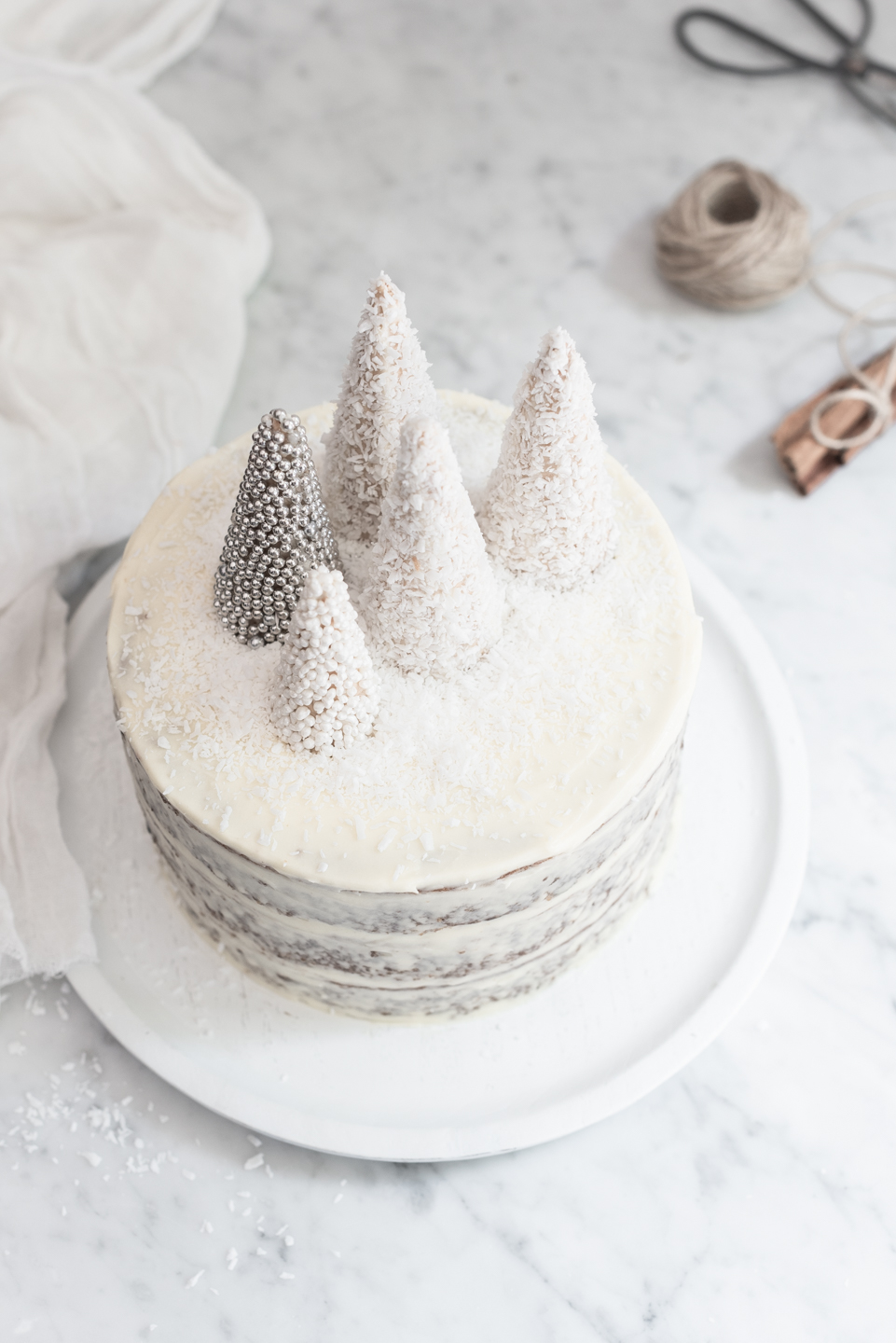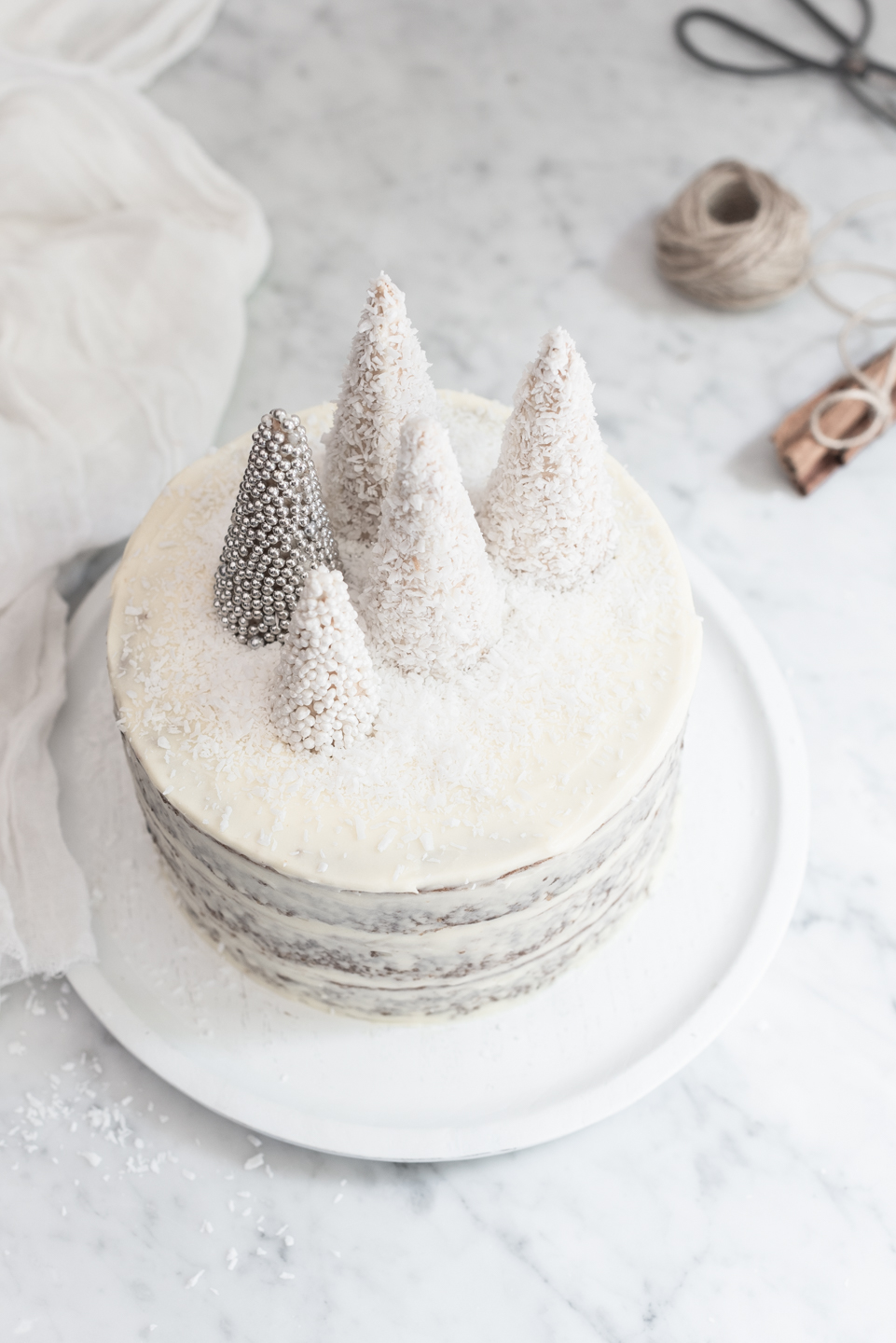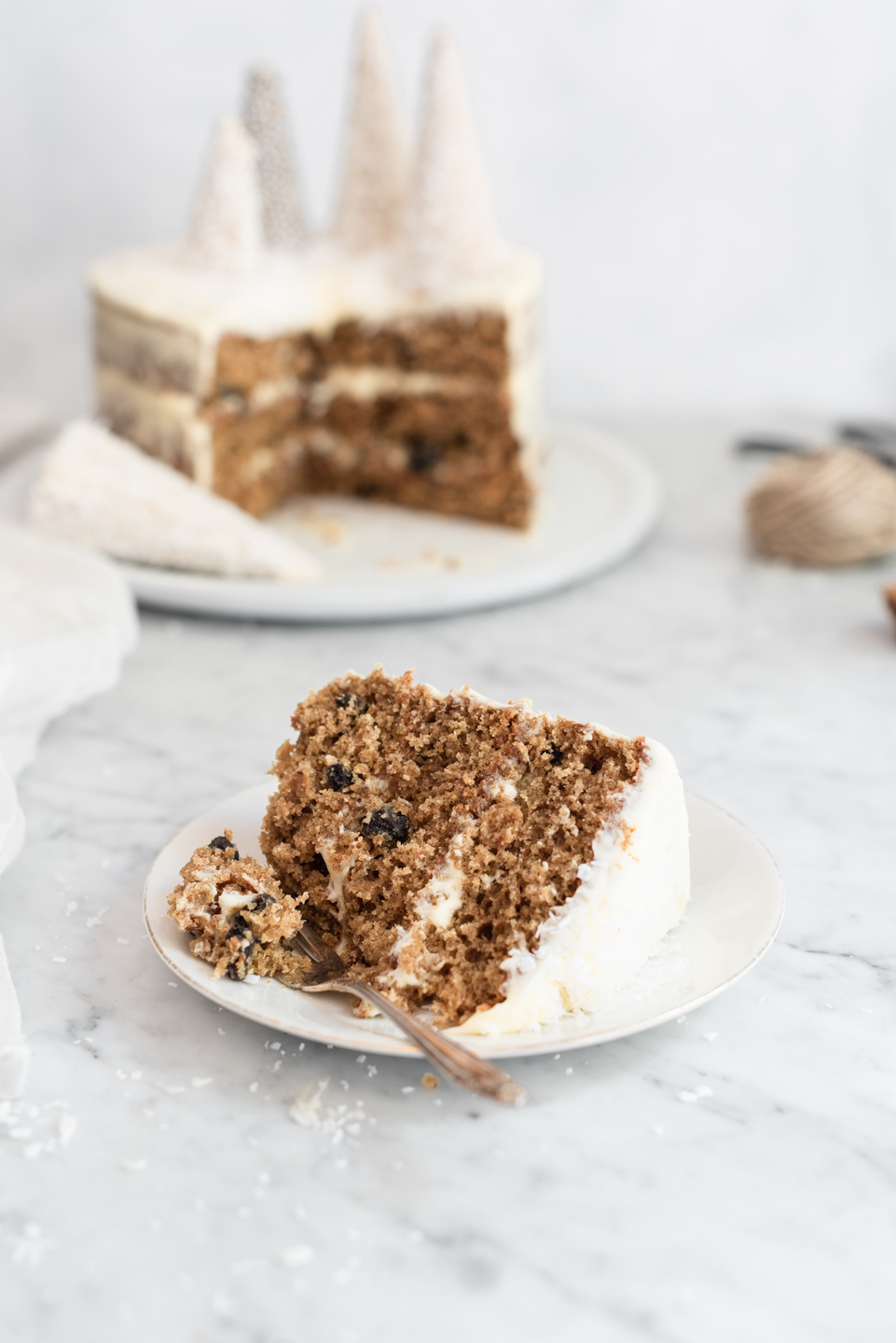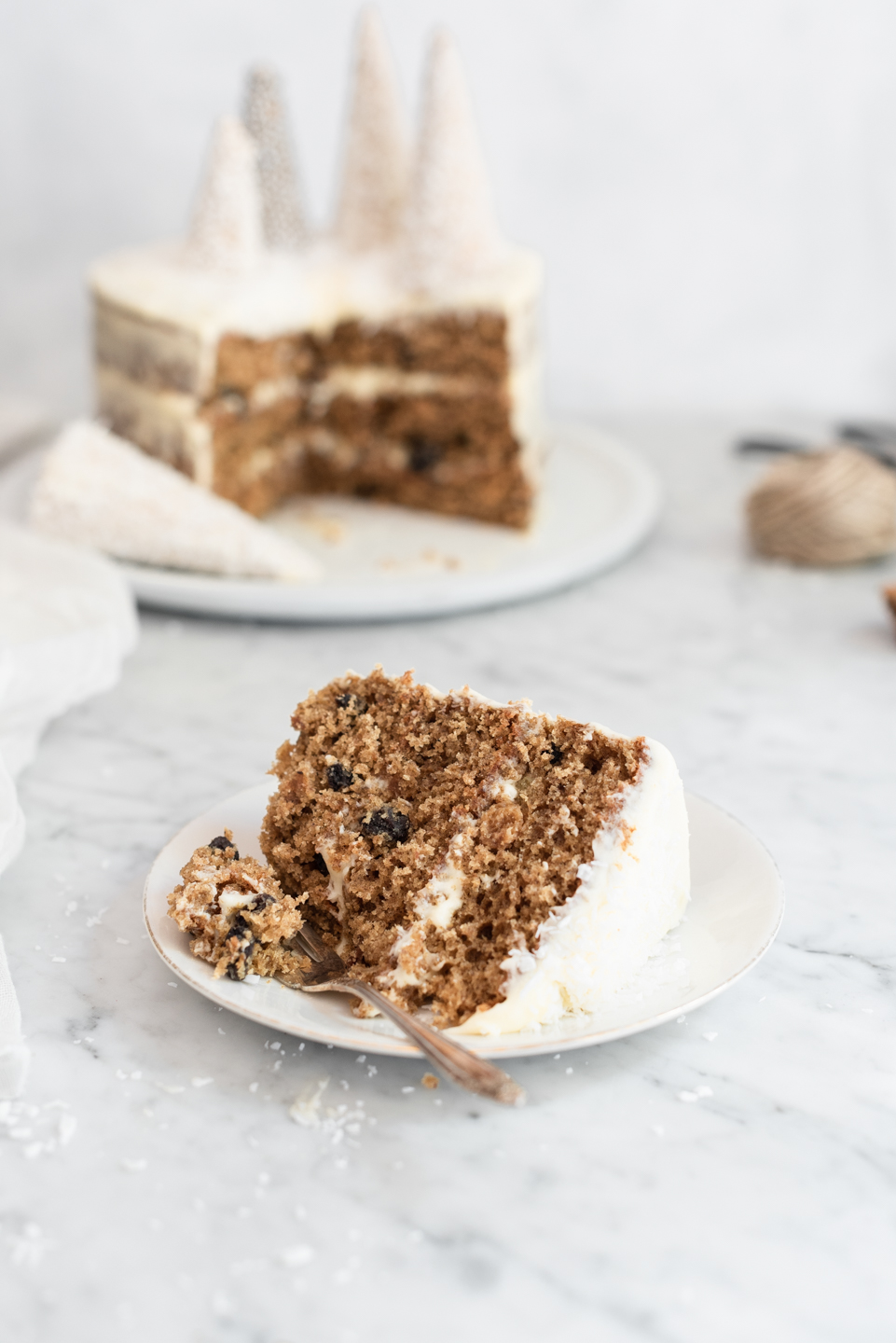 To WIN a Food Lover's baking hamper worth R1700, tell us in the comment section below, what you'd make with their Luxury Fruit Cake Mix. I'll be choosing a winner shortly. Good luck!
Sticky toffee pudding Christmas cake
Serves 12
125g ( 1/2 cup) packed dates, roughly chopped
3/4 tsp bicarbonate of soda
60ml (1/4 cup) boiling water
210g (1  1/3 cup) Food Lover's Luxury Festive Cake Mix
30ml (2 tbls) brandy or orange juice
200g  (1 1/2  sticks plus 1 tbls) butter, room temperature
180g (3/4 cup) soft light brown sugar
30ml (2 tbls) treacle syrup
3 eggs
5ml (1 tsp) vanilla extract
160ml (2/3 cup) full cream milk
350g (2 1/3 cups) cake wheat flour
10ml (2 tsp) baking powder
a good pinch of salt
Frosting
125g butter, at room temperature
250g full fat cream cheese
5ml (1 tsp) vanilla extract
225g (1 1/2 cups) icing sugar, sifted
Snow Trees
5 sugar cones (2 trimmed at the base to shorten)
desiccated coconut and silver sugar balls, to coat
Method
Preheat the oven to 180º C. Grease and line 3 x 20cm round cake tins with baking paper.
Place the dates in a heat proof bowl. Add the bicarbonate of soda and boiling water. Set aside for 10 minutes to soften, then blitz in a processor until smooth.
Put the dried fruit in a bowl and cover with boiling water. After 5 minutes, drain off all the water and pour over the brandy.
Cream the butter, sugar and treacle together until pale. Add the egg one at a time, beating well between each addition. Add the pureed dates, vanilla and milk. The mixture will look curdled at this stage, but comes together once the flour is added.
Sift the flour, baking powder and salt together. Add to the egg mixture and mix slowly, just until the flour is incorporated, then fold through the brandy-soaked fruit. Divide the batter between the tins and bake for 25-30 minutes. Coo in the tins for 10 minutes before turning out.
To make the frosting, whisk the butter until light and pale. Add the cream cheese and beat to combine. Add the sifted icing sugar and beat for about 3 minutes, until the frosting becomes pale and fluffy.
To ice the cake, spread a thin layer of frosting between each layer. Cover the sides sparingly and the top, more generously. Smear a thin layer of frosting on each cone and roll in coconut or baubles. Arrange on top of the cake and shower the top with coconut.
For more inspired Christmas bakes, have a look in here