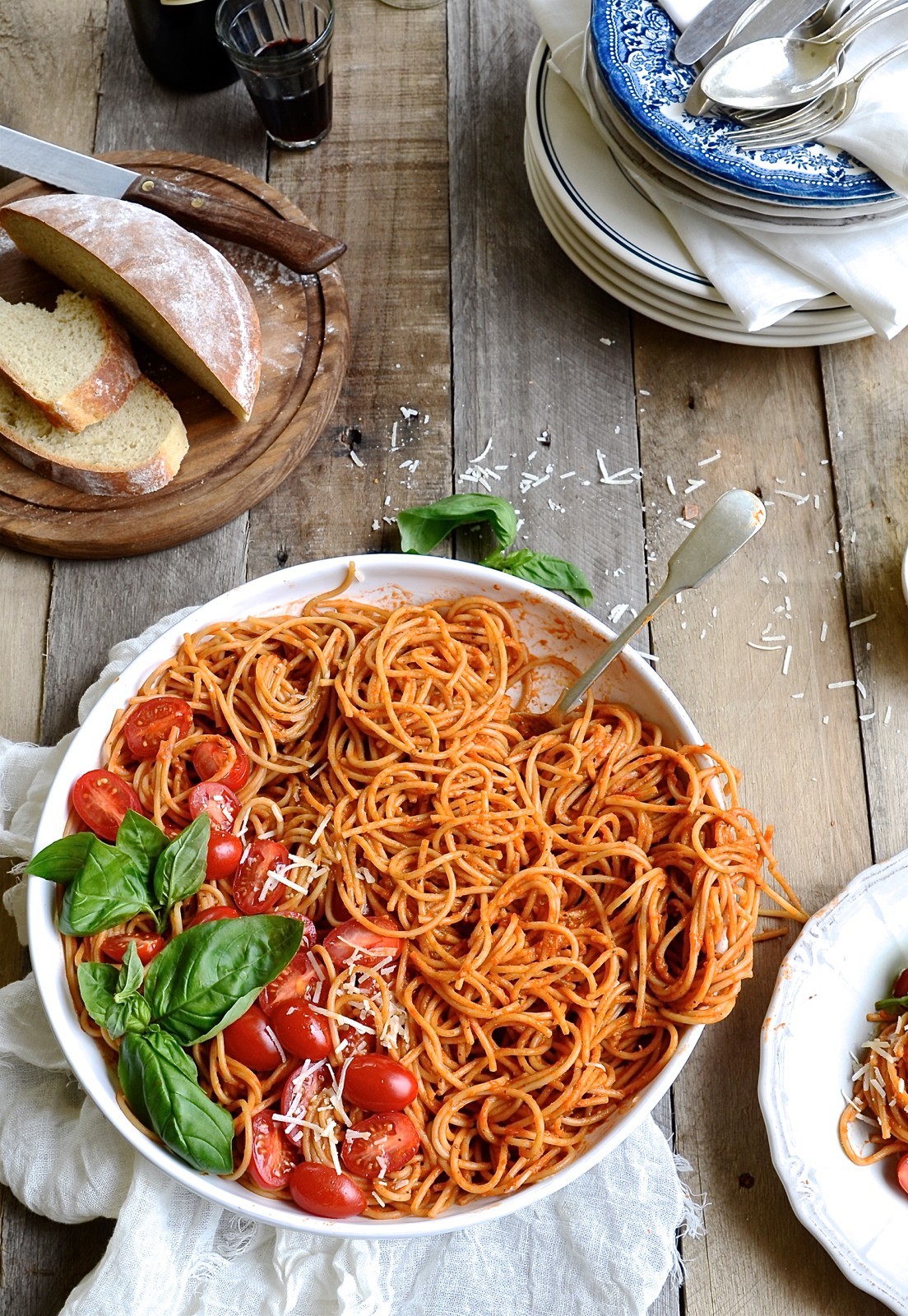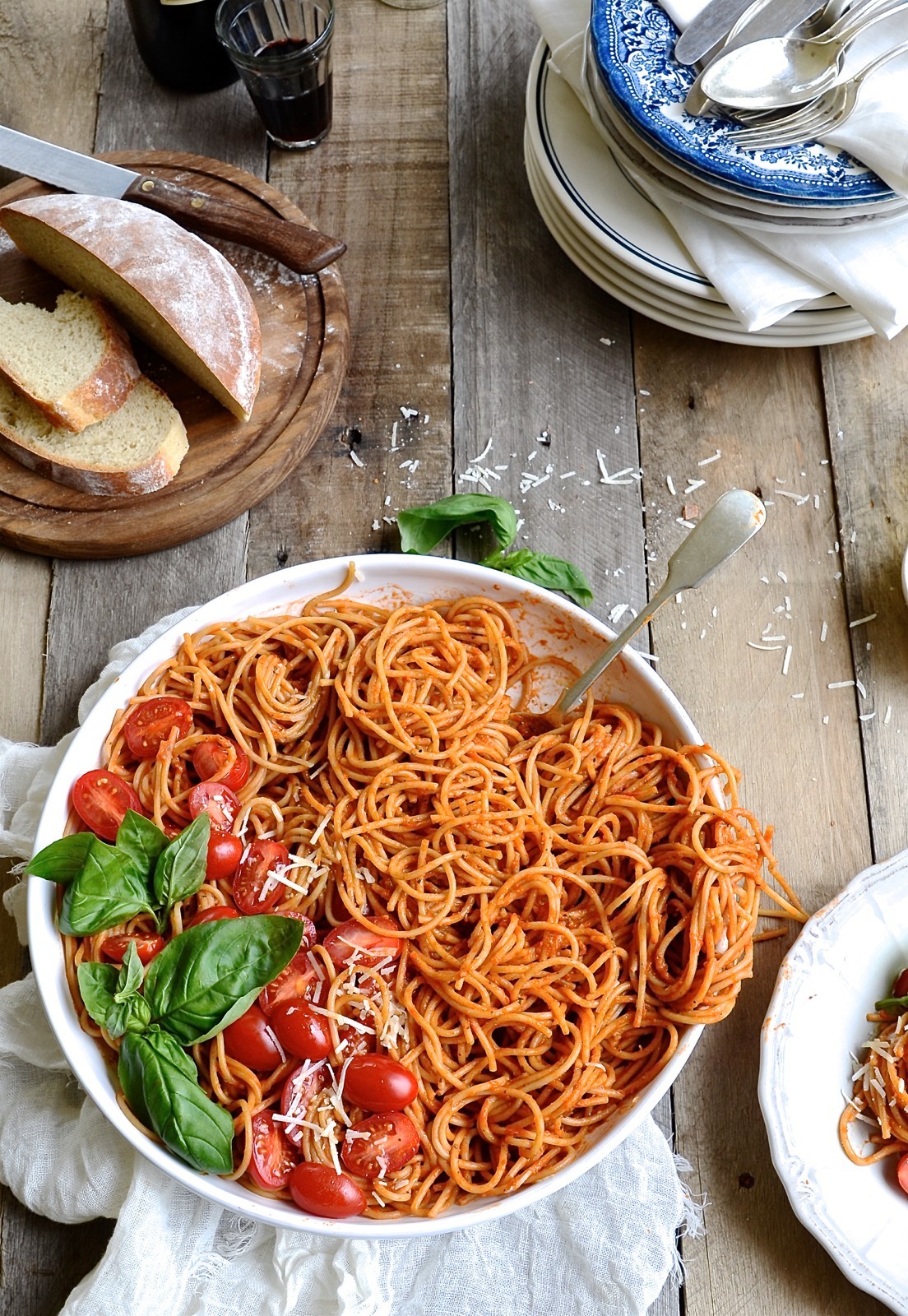 This is Italian conviviality – casual, relaxed and very inviting. Using three quintessential Italian ingredients tomatoes, aubergines and sweet peppers, this Meat-free Monday Spaghetti with roasted tomato sauce is super easy and so good!
Reasons to make this Spaghetti with roasted tomato sauce:
If pasta is Sophia Loren's secret weapon, I'm in.
It's a quick make-ahead pasta sauce, that's freezer-friendly
The recipe is hands-free cooking where the oven does all the work.
Oven roasting does the best job of intensifying all those deliciously sweet Mediterranean flavours.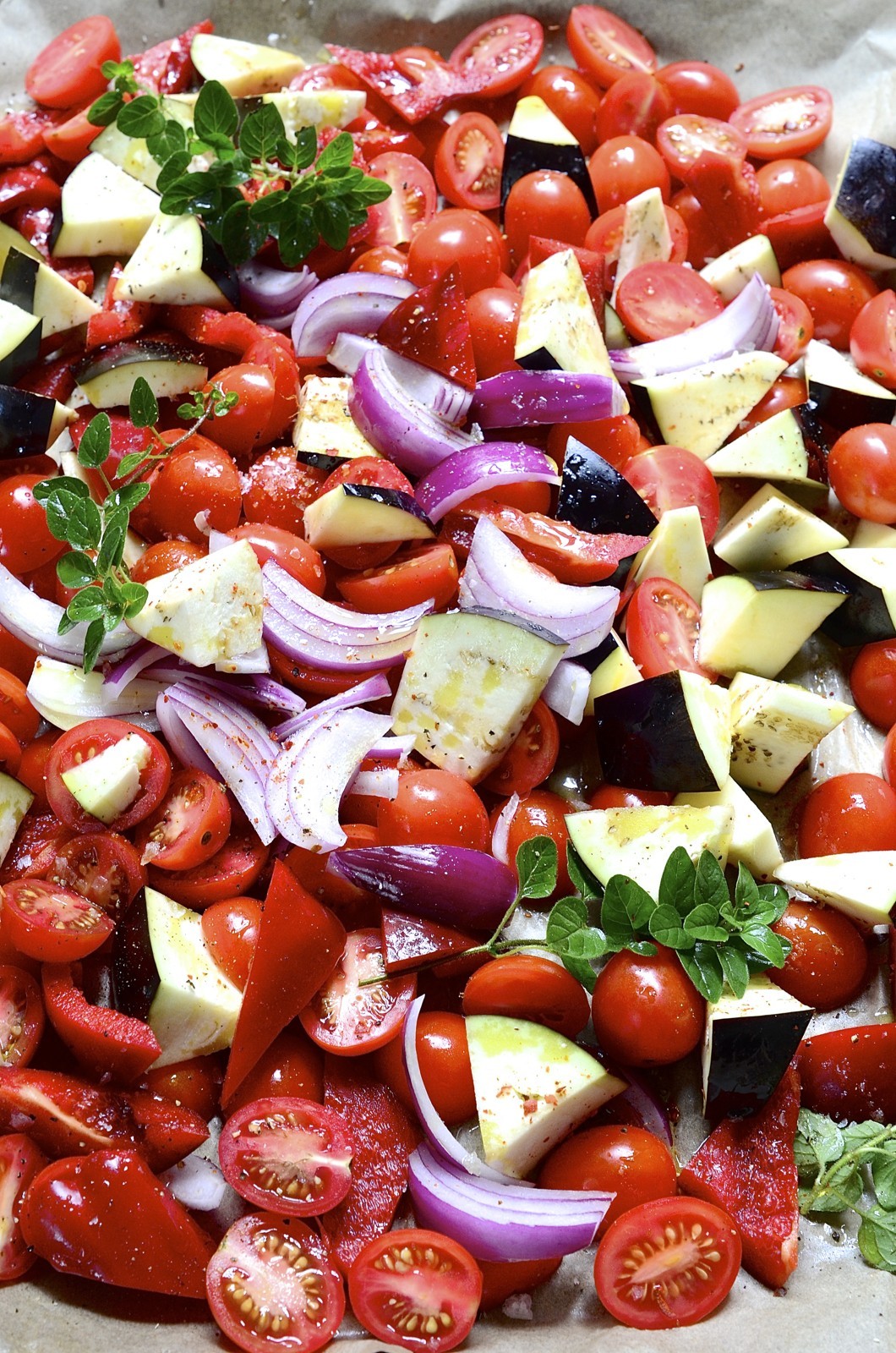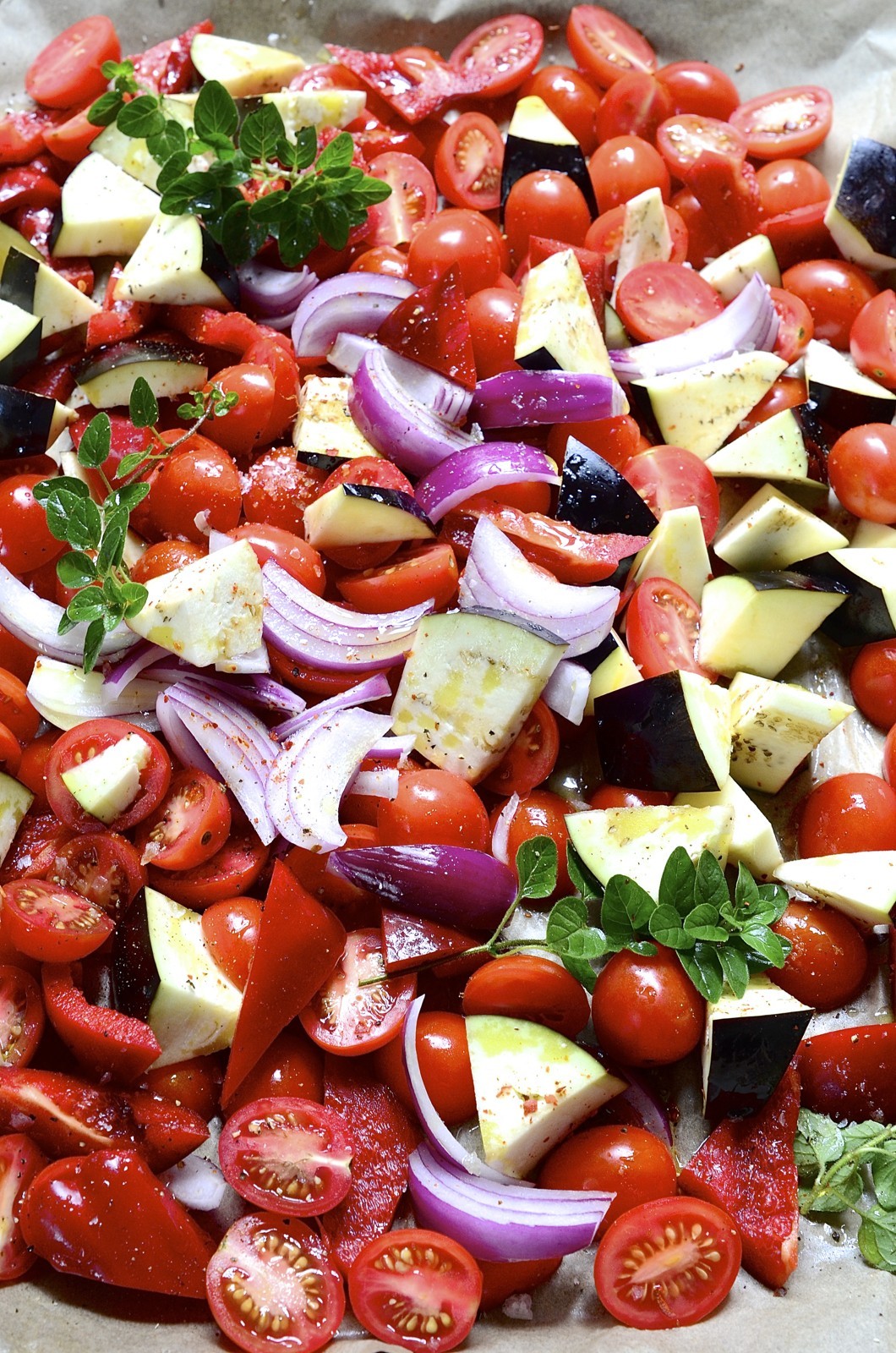 Vegetables, garlic and oregano are piled onto a tray and drizzled with extra virgin olive oil. Add some blistering heat, then scrape all those sticky, collapsed vegetables in the processor. Toss with wholewheat pasta and wait for the strands to soak up all the red goodness.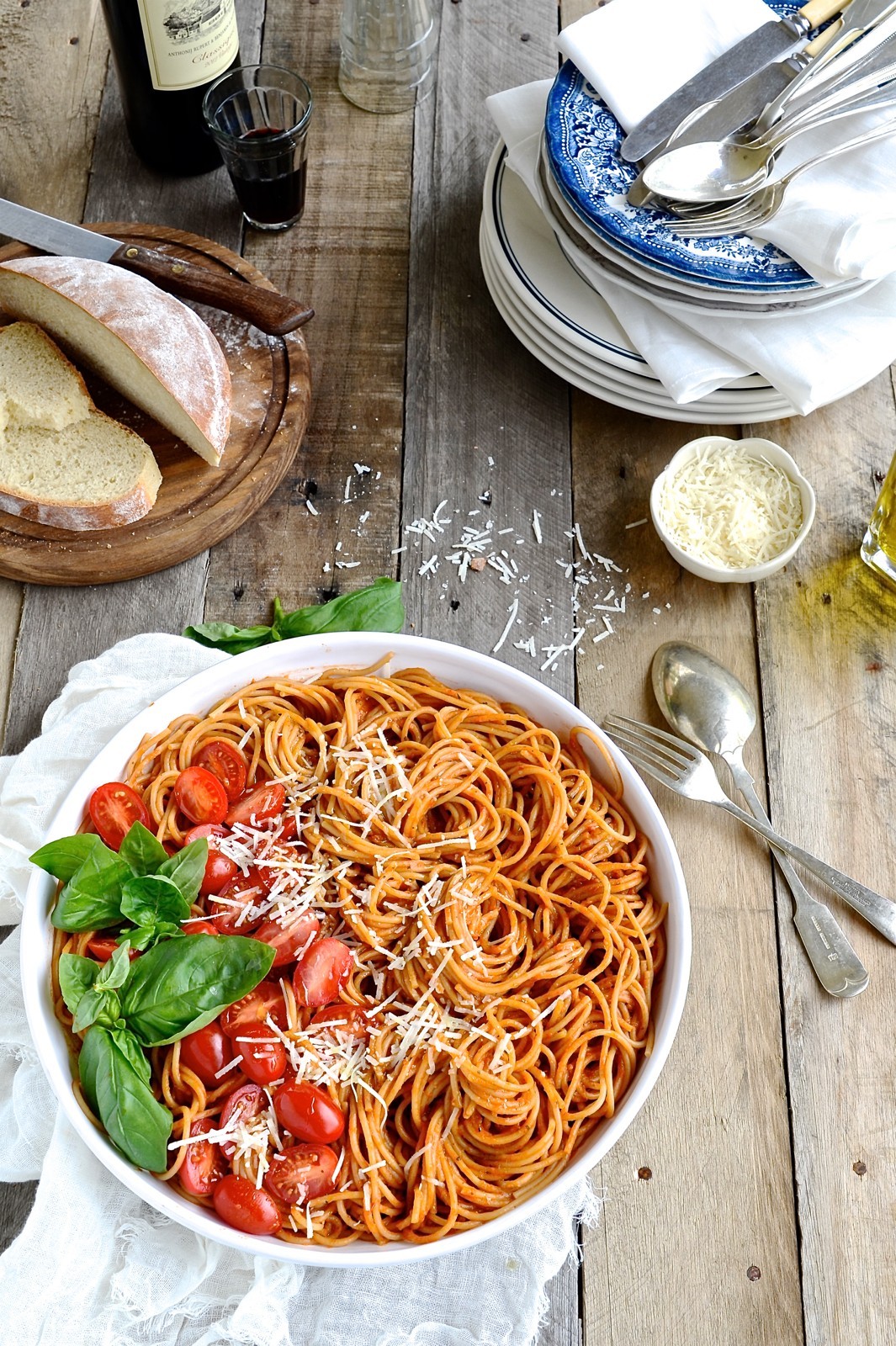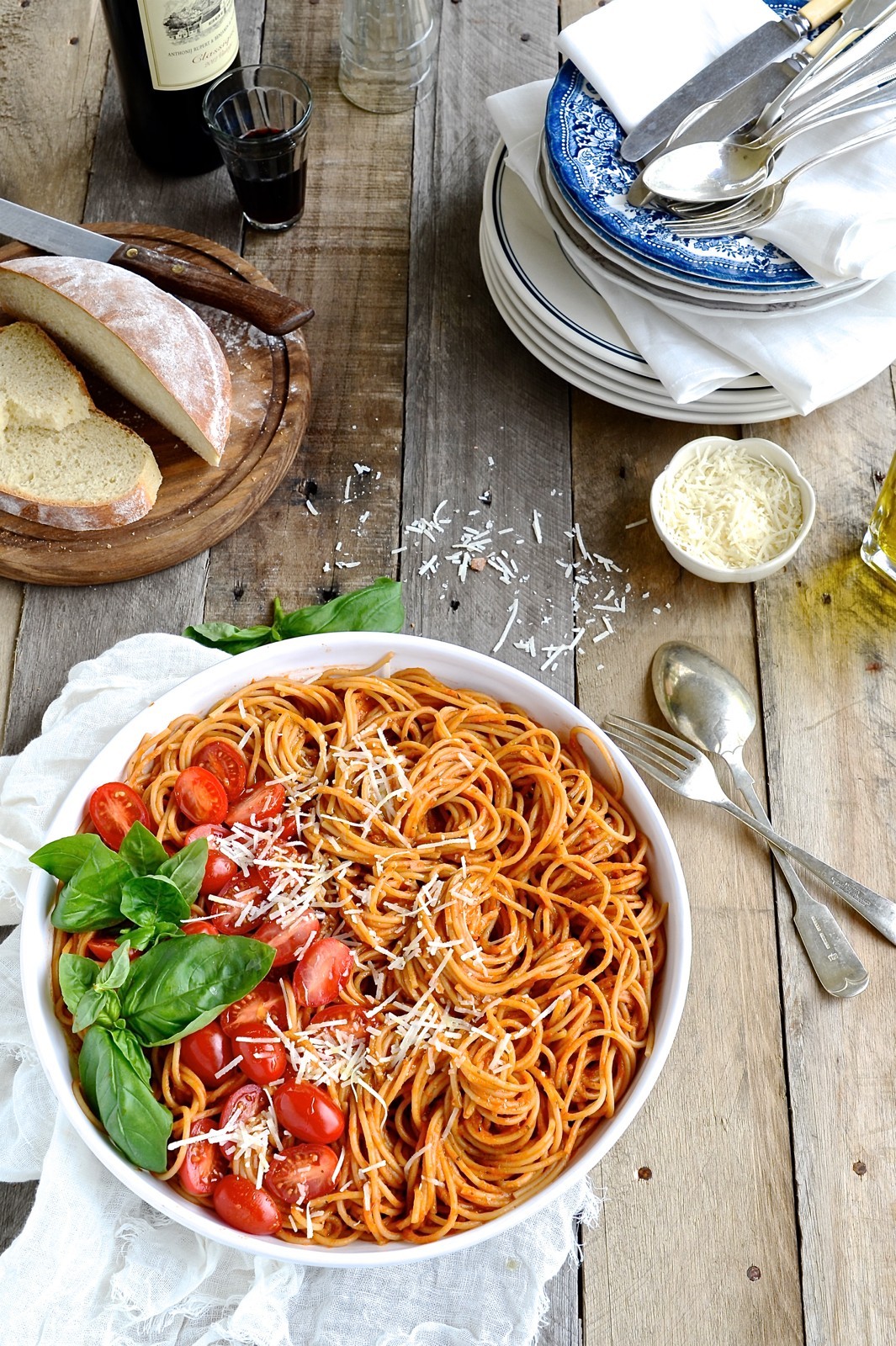 Spaghetti with roasted tomato sauce
Serves 4-6
For the roasted tomato sauce (sugo)
3 tablespoons olive oil
1 garlic clove, bruised
500g rosa or cherry tomatoes, halved
1 red onion, sliced into wedges
1 large aubergine, skin-on and cut into chunks
1 red pepper, deseeded and roughly chopped
2 stems oregano
1 teaspoon sugar
1/2 teaspoon red chilli flakes
salt and black pepper
For the pasta
350-400g wholewheat spaghetti
100g cherry tomatoes, halved
fresh basil, for serving
parmesan cheese, freshly grated
Preheat the oven to 200º C. Line a large oven tray with foil or parchment paper. Spread all the vegetables onto the tray and drizzle with the olive oil. Season generously with the salt and pepper. Sprinkle over the sugar and chilli flakes. Tuck the oregano under the vegetables to prevent them from scorching. Roast for about 45 minutes until the vegetables are sticky and tinged with colour around the edges.
Transfer all the vegetables into a blender and blitz until you have a smooth tomato sauce. Add approximately 150 -175ml hot water to thin the sauce down slightly. Check the seasoning and adjust if necessary. If the tomatoes are too acidic, add a touch more sugar.
Cook the pasta in plenty of boiling water. Retain at least 1 cup of the cooking water before draining the pasta. Pour the roasted tomato sauce into the saucepan and heat through briefly before adding the pasta. Toss to coat, add some of the reserved water to loosen up the sauce and serve immediately with basil, fresh cherry tomatoes and plenty parmesan cheese.
Pasta remains one of the quickest ways to get dinner on the table. Here are several recipes that you might like to add to your list:
20-Minute chicken and spinach pasta
The ultimate green basil pesto pasta