Slow braised Red wine Oxtail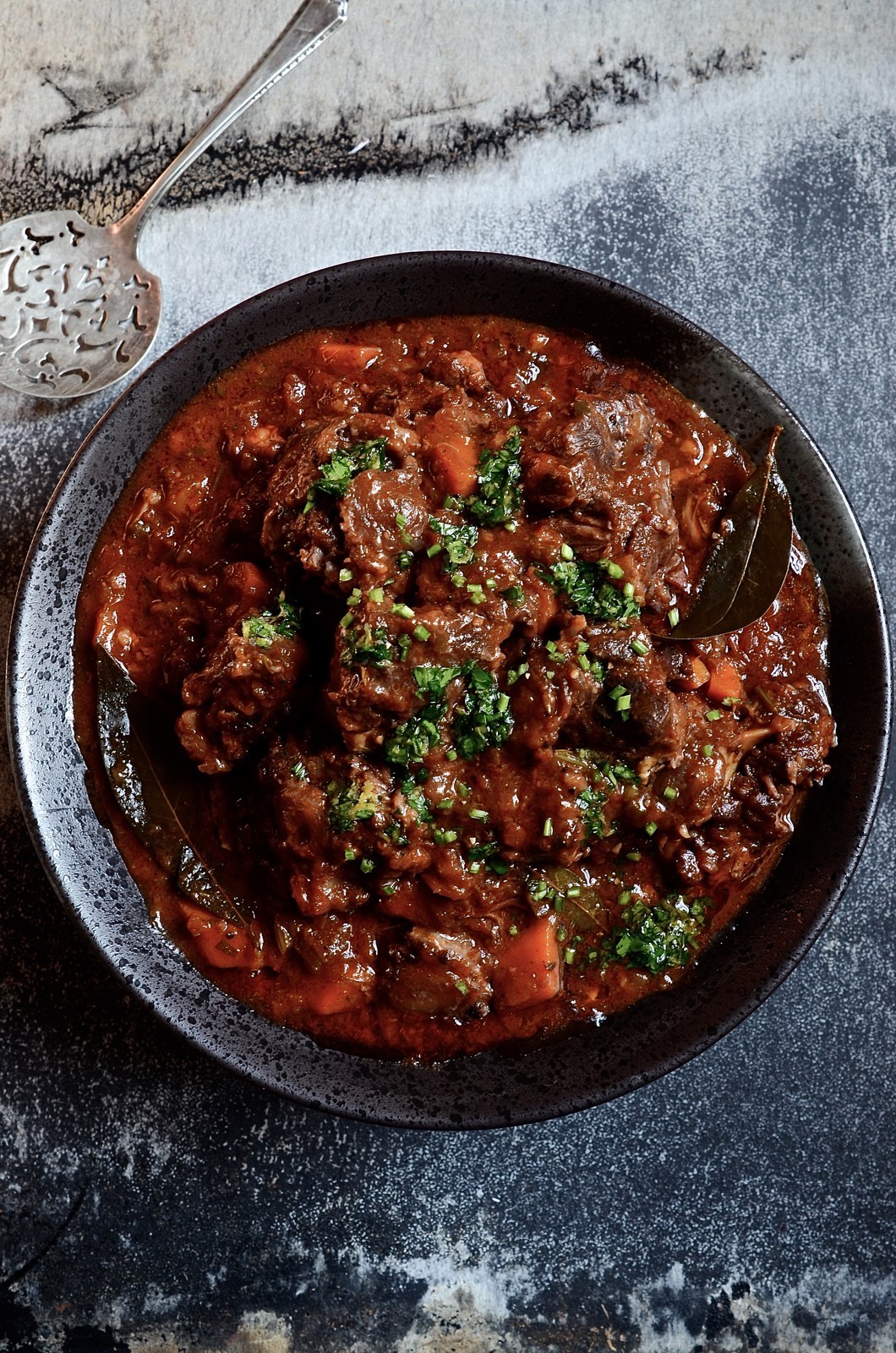 Weekend food. Time for slow cooking and lazy lunches, shared with good friends and restorative conversations. There's not much I can say here other than, if you're 'meat-minded', as many South Africans are, and you find yourself in hibernation mode with a crackling fire to warm your toes and a glass of ruby red in hand, this hearty slow-braised red wine oxtail has your name on it.
Ever since visiting the Morgenster Wine and Olive Estate in the Cape last December, I've been intent on making a comforting oxtail. Although it was in summer that we visited , I remember sitting outside, shaded from the heat by cascading grape vines, sipping on chilled wines and eating pillowy-soft ravioli filled with shredded oxtail. When you make this, try setting a meagre portion of the meat aside, if at all possible, to make leftover ravioli.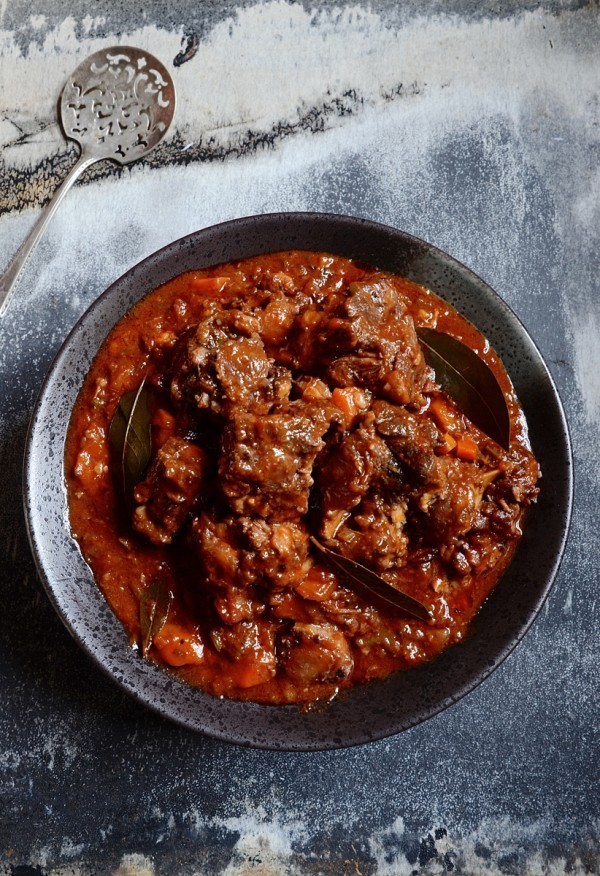 Anyone who's made oxtail knows, it's hardly challenging, needing only a few ingredients, but heaps of patience. Oxtail is a waiting game. The oven does all the work, slowly eliciting mouthwatering gelatinous flavours. If you're ravenously hungry, as a winter belly tends to be, it's best to leave the room and catch up on your Sunday reading. Before you know it, the hours have passed and you're rewarded with a sticky red wine sauce and spoon tender oxtail, ready for the weekend table.
A rich meat such as this, needs somewhere to land, like say, fluffy mashed potatoes or maybe these rosemary roast potatoes. I rather like the idea of creamy parmesan polenta, but that's probably my Italian side rearing it heads. I usually keep the vegetable sides light. Perhaps steamed green beans or orange and thyme poached carrots. Bread will also help – for bowl mopping. A spectacular main deserves a classy finish. My spicy Cape brandy pudding will to put paid to any further ambitions of rushing off from the Sunday feast. Leigh, this one's for you, my friend. Happy weekend.

Slow braised red wine oxtail
2 tablespoons olive oil
1.8kg oxtail, trimmed of excess fat
1 large red onion
2 garlic cloves, thinly sliced
2 long celery sticks, diced
3 carrots peeled and roughly chopped
2 tablespoons tomato paste
several stems of fresh thyme and oregano, de-stalked
4 bay leaves
zest of half lemon
2 teaspoons brown sugar
1 cup red wine
400g tin chopped tomatoes
2 cups beef stock
1/2 cup water
bunch of fresh parsley, finely chopped
2-3 tablespoons Morgenster lemon enhanced olive oil
zest and juice of half a lemon
pinch of Kalahari desert salt
Preheat the oven to 180º C. Heat 1 tablespoon olive oil in a deep cast iron pot or oven-proof saucepan. Season the oxtail generously on both sides with salt and black pepper. Brown the meat in batches on both sides and then set aside.
Add a little more oil to pot and sauté the onions until softened. Add the garlic, celery and carrots and cook for a further 4-5 minutes.
Stir in the tomato paste, herbs, lemon zest, sugar and tomatoes. Pour in the wine and allow to bubble up to lift all the meaty flavour at the bottom.
Add the chopped tomatoes, beef stock and water. Place the oxtail pieces back into the pot along with all the resting juices. Season lightly with salt. Cover with the lid and cook in the oven for 3 1/2 to 4 hours. Check the meat after 2 hours and add a little more water if necessary.
Once the sauce is reduced and thickened, check the seasoning.
In a small bowl, combine the parsley, olive oil, lemon zest and salt flakes. Serve the oxtail with the herb oil, mashed potatoes or polenta and steamed green beans.