Roast Sweet potatoes with orange & honey syrup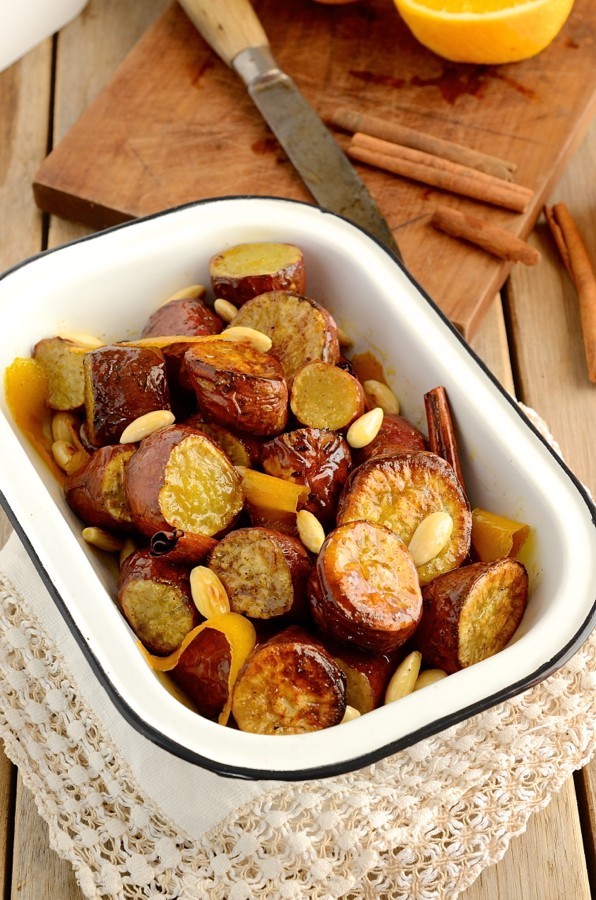 Children are like a breath of fresh air. Let's face it, honesty trumps diplomacy, which is not only rare but rather welcome. My girls are honest to the point of brutality. As my chief taste-testers, I've had my fair share of, 'Ugh, that's disgusting Mom!' Thankfully there's not too much of that, otherwise I would vacate this site and not subject any further suffering upon them or yourselves. If a recipe appears on your screen, it's been through the quality assurance department several times to save you the disappointment and drama of food failure, which brings me to these Roast Sweet potatoes.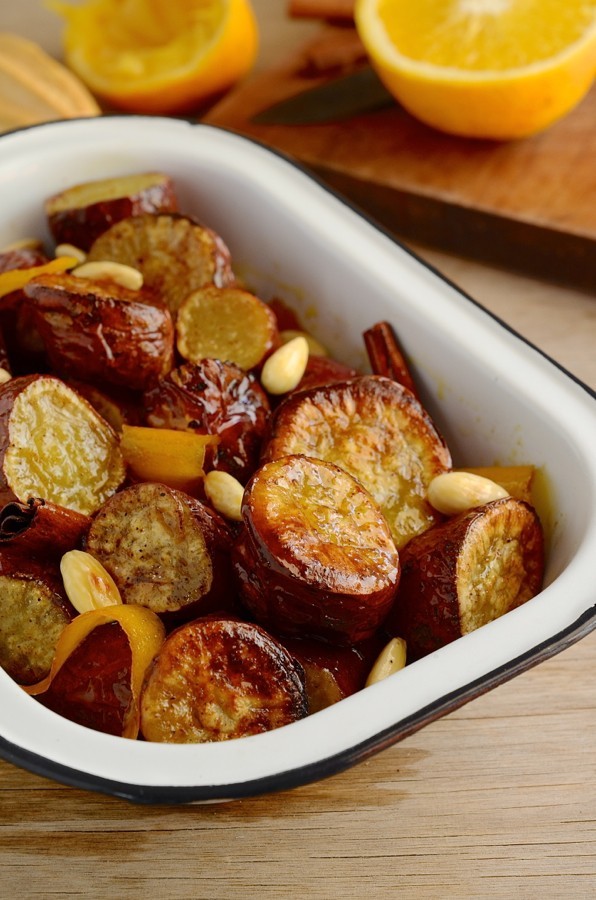 Sabrina, my youngest, has always had a very advanced and well developed palate. At the age of three, she decided that dark (70%) chocolate, suited her better than milk or white chocolate. Skylar on the other hand, while more conservative, has a set of sensory skills that'll put a pack of sniffer dogs to shame. Before it even enters her mouth, she'll decode the dish with a list of ingredients, which makes it rather impossible to hide anything! When I asked Sabrina, the gentler of the two critics, what she thought of these roast sweet potatoes, the response was instant. 'Oh, it tastes just like pampoen koekies', another local favourite.
Drenched in a honey and orange syrup with cinnamon and orange zest, it's an ode to the pampoen koekie.  And because anything with nuts is simply better, a handful of roasted almonds finishes the deal. These Roast Sweet potatoes make a great accompaniment to any Sunday roast, particularly lamb or chicken. I've replaced the usual brown sugar coating with honey, which pairs well with the citrusy orange syrup. Nostalgic cinnamon bolsters the sauce and is the perfect spice partner for sweet potatoes. I intended this dish as a side, but when testing, it became my main meal. With a generous block of soft Danish feta to hand, I added chunks of this creamy cheese and there it was, a delectable vegetarian meal that could've passed as pudding!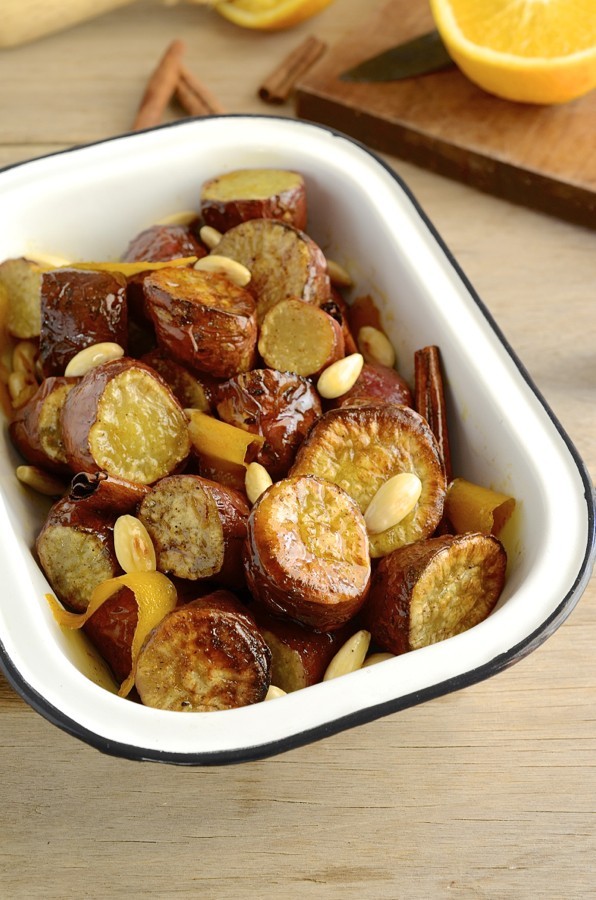 Roast sweet potatoes with orange and honey syrup
Roast Sweet potatoes with orange & honey syrup
Prep time:
Cook time:
Total time:
Ingredients
Roast sweet potatoes with orange & honey syrup
6 -8 white sweet potatoes, skin on and scrubbed
2 tablespoons olive oil
1/2 teaspoon mixed spice
salt, to taste
1/4 cup roasted almonds, whole, nibs or flakes
Orange and honey syrup
juice of 3 oranges (about 300ml), strained
zest of 1 orange
2 tablespoons honey
2 cinnamon sticks, roughly broken
1 tablespoon butter
Instructions
Preheat the oven to 200º C. Line a baking tray with foil or baking paper. Chop the sweet potatoes into 3cm chunks and spread onto the tray. Drizzle with olive oil and season with the mixed spice and salt. Roast for about 30 – 35 minutes until tender, but not too soft.
To make the syrup, place all the ingredients except the butter, in a small sauce pan and boil on a rapid heat until reduced by two thirds. The sauce should be thick and syrupy. Add the butter and whisk through. Pour the hot syrup over the cooked sweet potatoes and scatter with toasted almonds. Serve hot, with or without the Danish feta.