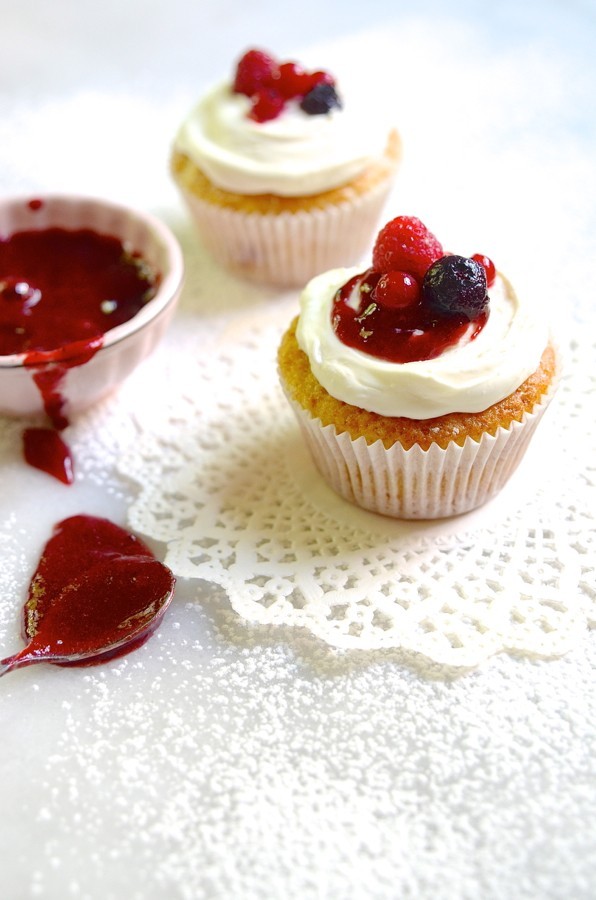 Not strictly a muffin, but not quite a cupcake either, these luscious white chocolate raspberry muffins are the perfect weekend treat. The appeal of a muffin lies in the easy mix and bake batter. No special baking equipment is required. Just one bowl, a jug and you're done.
The key to a light and fluffy muffin is a slightly lumpy batter, so keep the mixing to a minimum. For this recipe, I've used a vegetable oil in place of butter, which helps keep the muffin moist. A flavourless coconut oil or rapeseed oil will work equally well. The flaked almonds and sugar topping add textural crunch and give them that irresistibly crisp muffin-top dome.
These muffins require nothing more than a light dusting of icing sugar to finish alongside a pot of hot tea, although a dollop of  whipped cream and a spoonful of berry coulis will make them rather indulgent!
Other muffin recipes you might love: Blueberry and coconut crumble muffins, Pumpkin muffins with scrunchy walnut toppings, Healthy Apple and carrot breakfast muffins.

White chocolate raspberry muffins
200g self raising flour
25g ground almonds
a pinch of salt
4ml baking powder
130g castor sugar
100ml vegetable oil
1 egg
125ml milk
80ml buttermilk
1 teaspoon vanilla extract
zest of half a lemon
125g raspberries
80g white chocolate, chopped
flaked almonds
granulated sugar, for topping
Preheat the oven to 180º C. Line a 12 hole muffin tin with cupcake liners. Sift together the flour, ground almonds, salt, baking powder and castor sugar. In a small jug, whisk together the vegetable oil, egg, milk, buttermilk, vanilla and lemon zest.
Make a well in the centre of the flour and pour the wet ingredients into the dry. Fold through until lightly combined. Add two thirds of the raspberries and all the chocolate. Do not over-mix as this will result in a toughened crumb. Divide equally into the cupcake liners. Top with the remaining raspberries, a scattering of flaked almonds and a light sprinkling of granulated sugar. Bake for 25-30 minutes.
Allow the muffins to rest in the tins for 5 minutes before placing on a wire rack to cool completely. For a little extra indulgence, serve with clotted cream, a drizzle of berry coulis and finish with a selection of fresh berries.