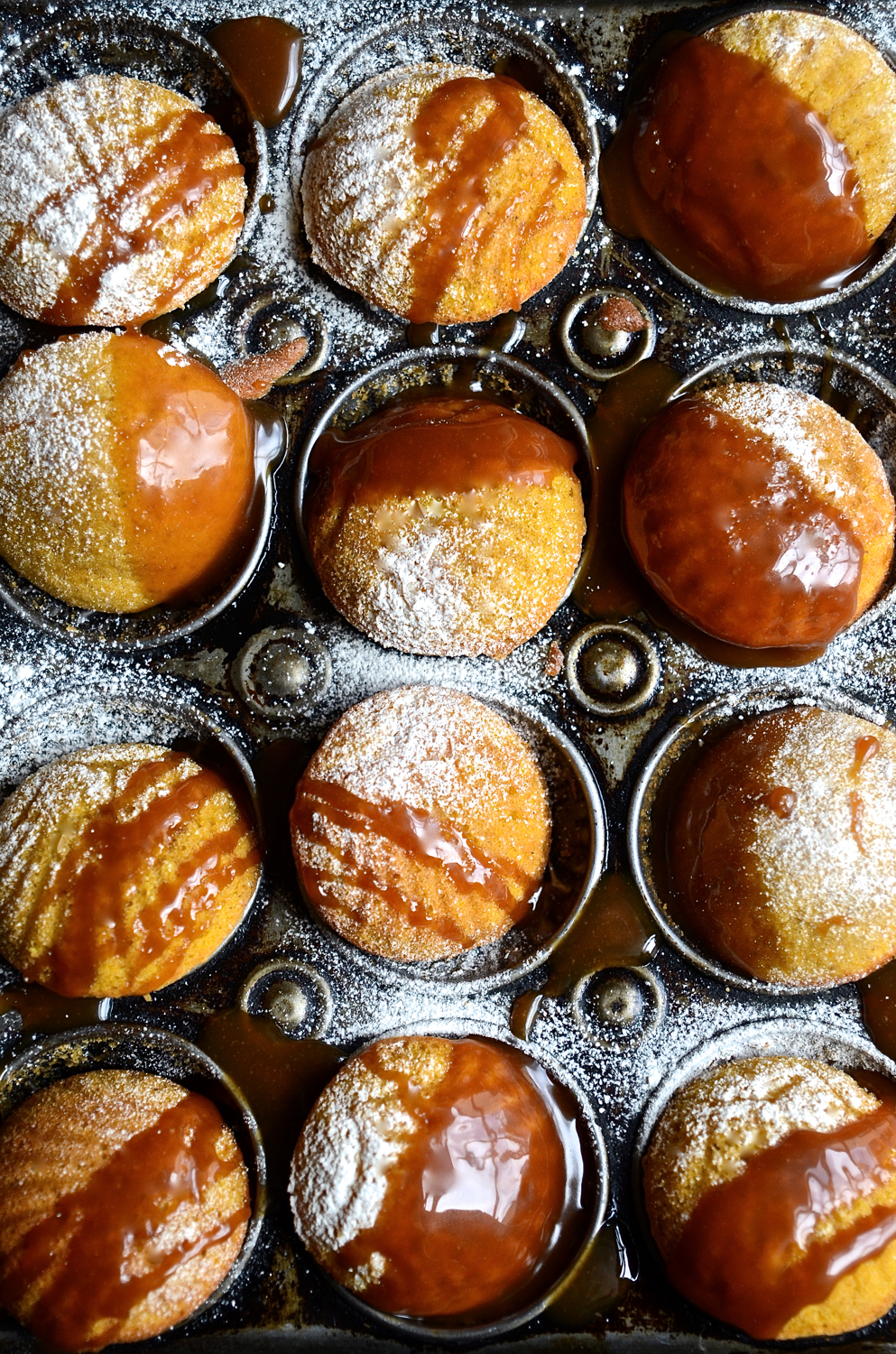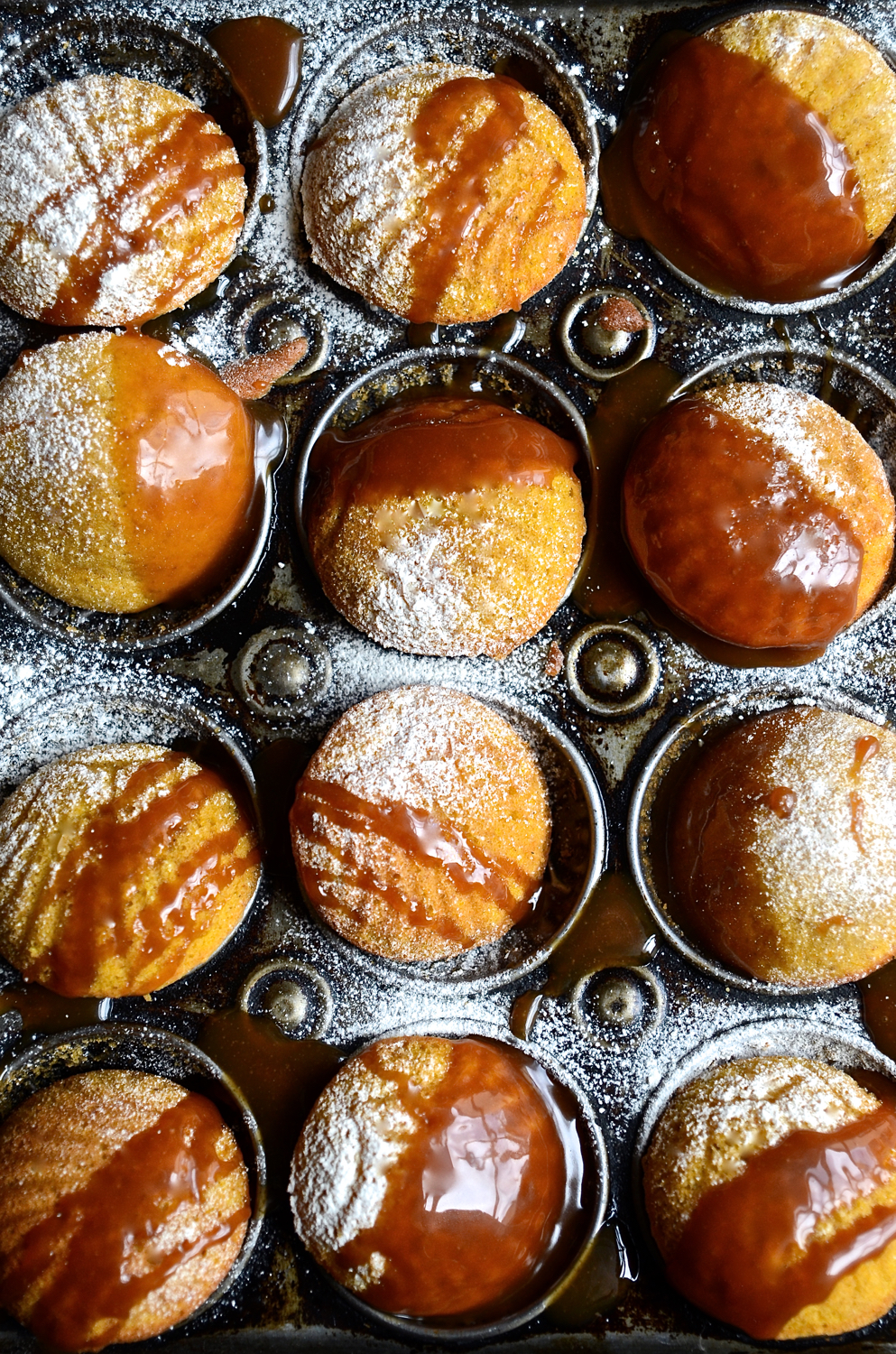 Named after 19th century pastry chef Madeleine Paulmier, these Pumpkin madeleines with caramel drizzle are light and fluffy with a rich buttery crumb. I think of madeleines as miniature sponge cakes without the fuss or frosting. And because October is pumpkin month, they come with cinnamon spice and all things nice.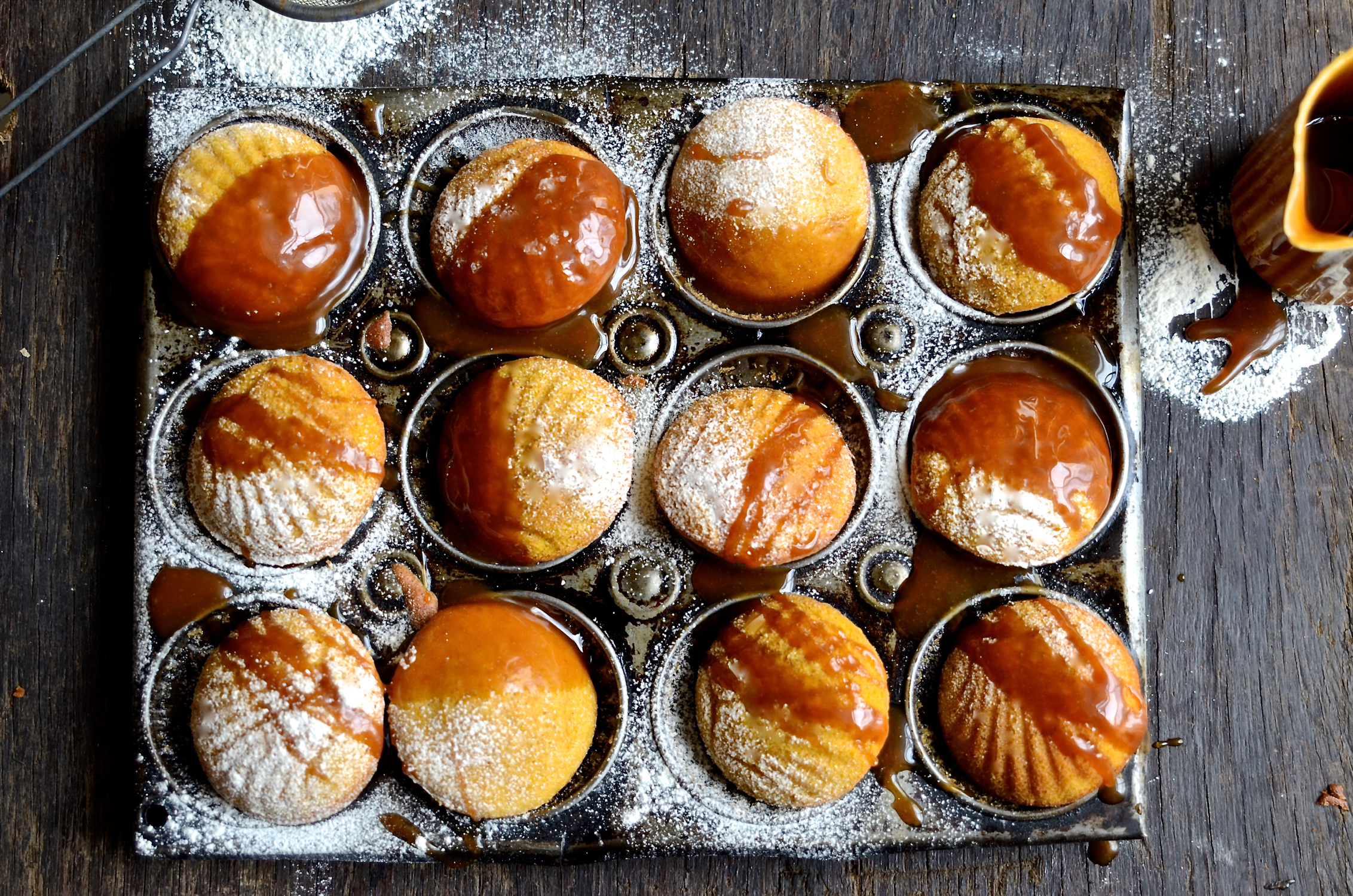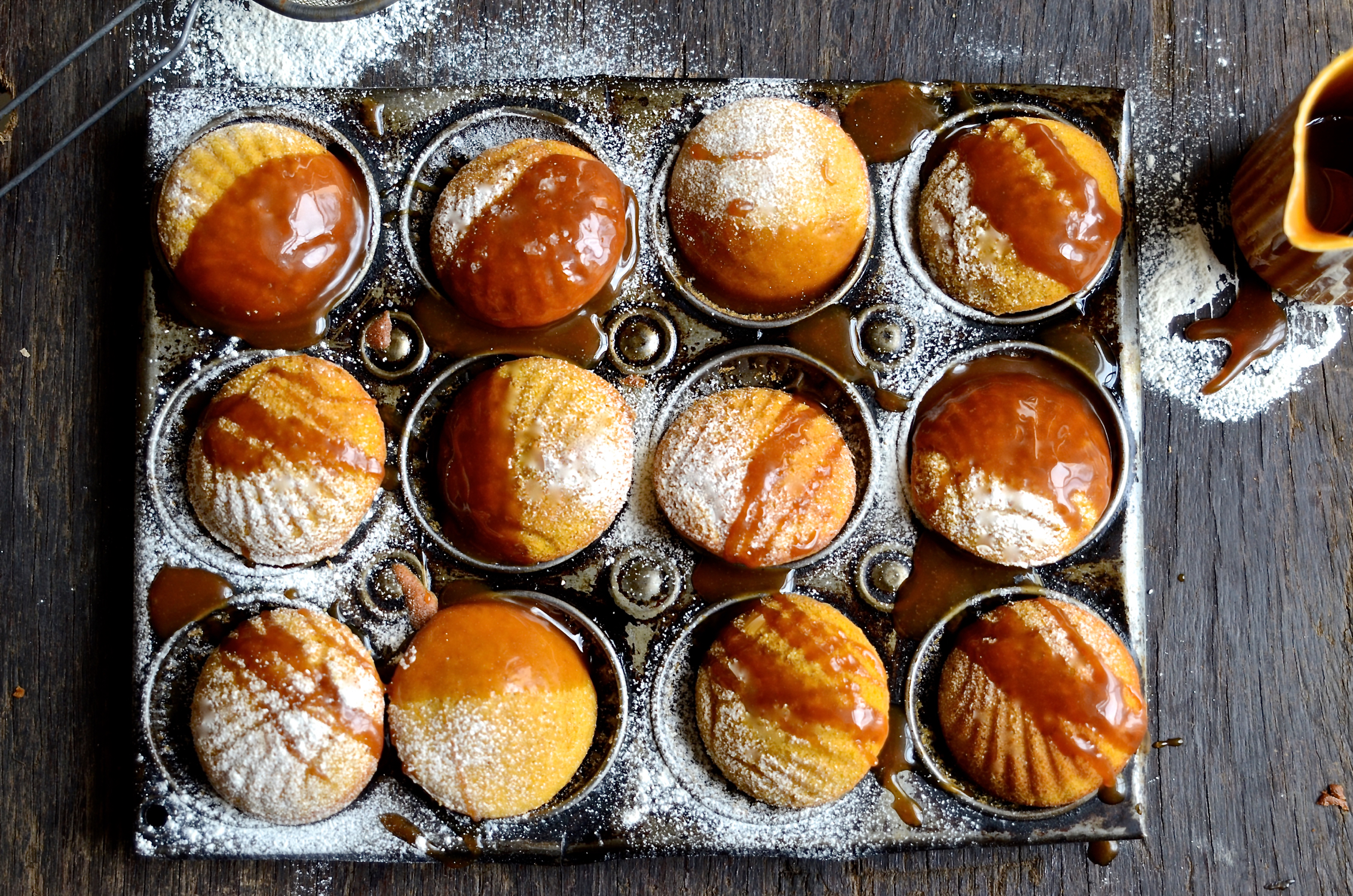 Mixed into batters, pumpkin adds wonderful flavour, colour and moisture. Growing up, we weren't that keen on plain, steamed pumpkin, far preferring them in  in pumpkin fritters, known affectionately as South Africa's famous pampoen koekies,. It would be a shame to limit this versatile vegetable to autumn and winter when clearly its talents reach far beyond two seasons. If you're a fan of pumpkin bakes, batch cook plenty of pumpkin until tender in a little water. Once all the liquid has evaporated, blitz with an immersion blender until smooth. Divide the puree into portions and freeze until you need it.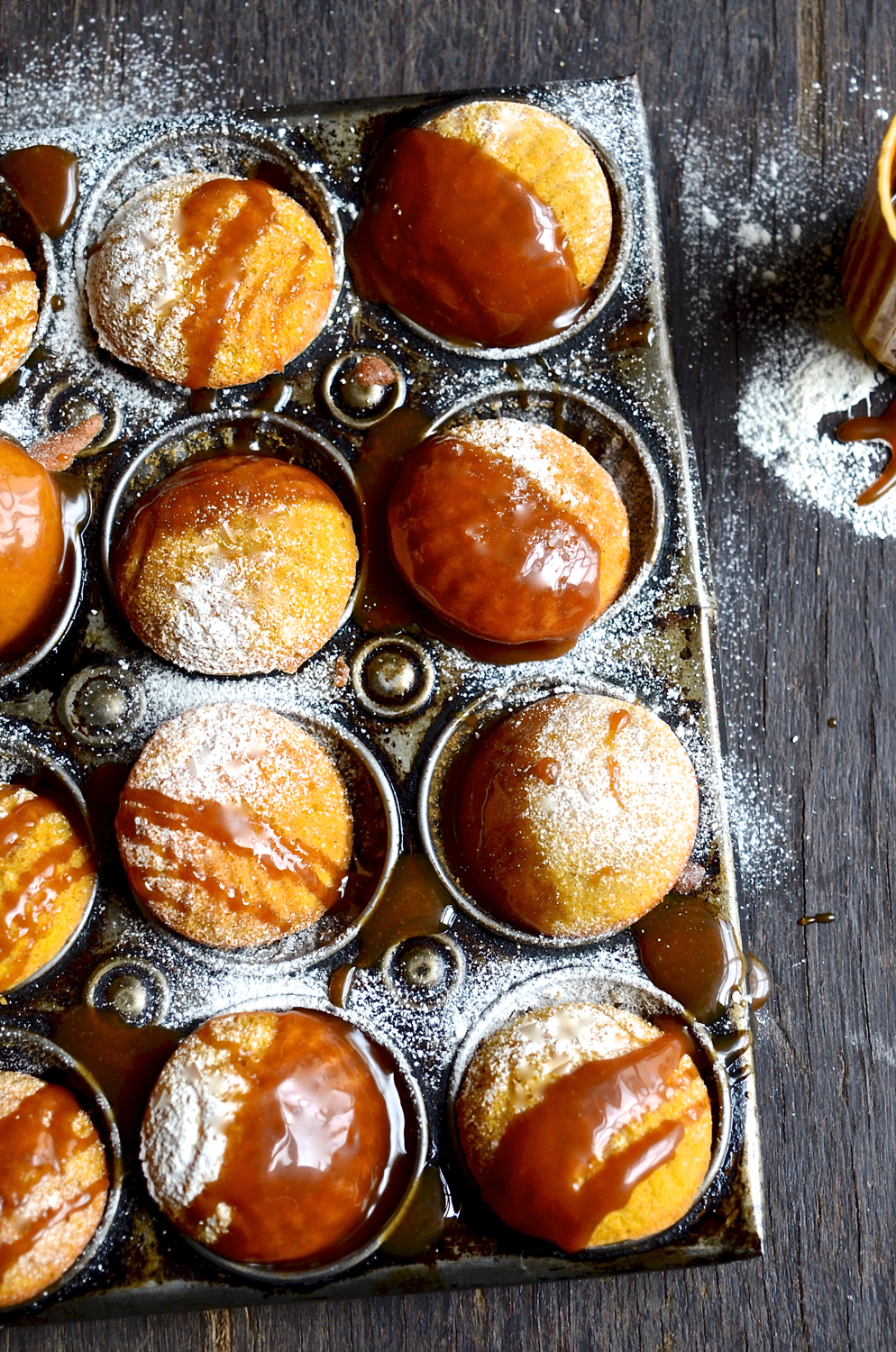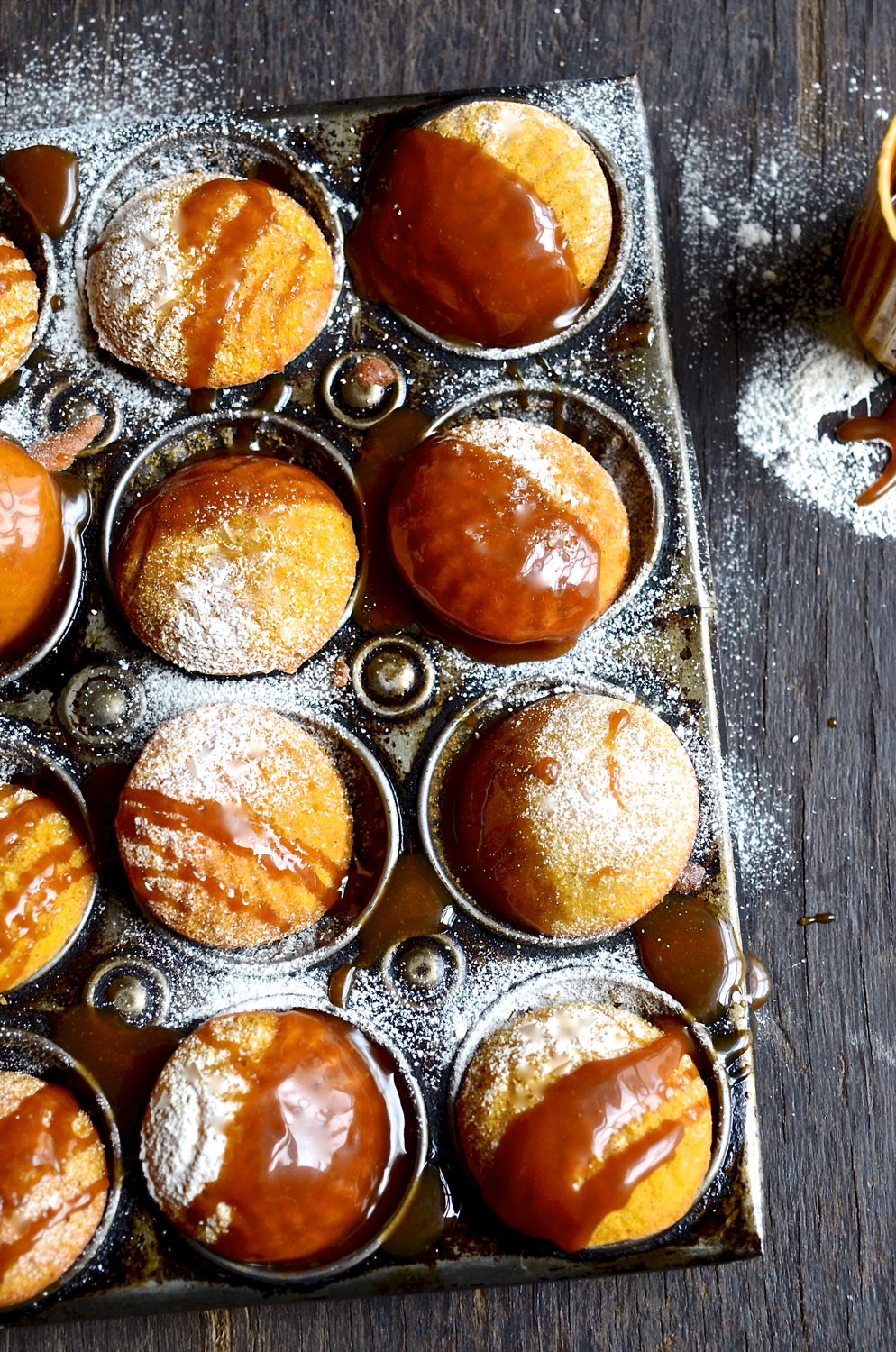 If you don't have a traditional madeleine tray, any shallow baking tray will do. These are rounder and slightly more generous, almost like whoopie pies. They're impossibly light, buttery and completely irresistible. Here is my go-to caramel recipe.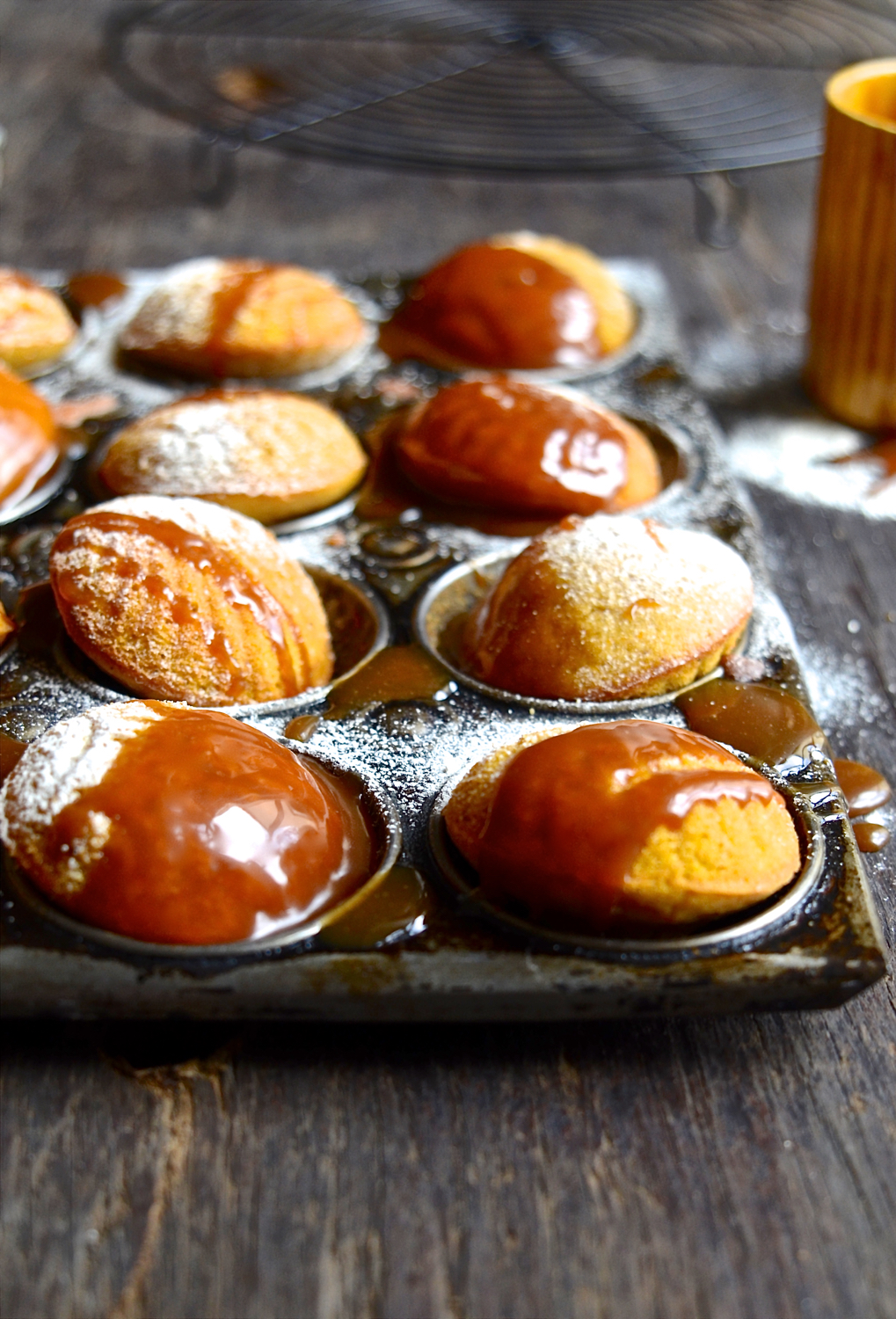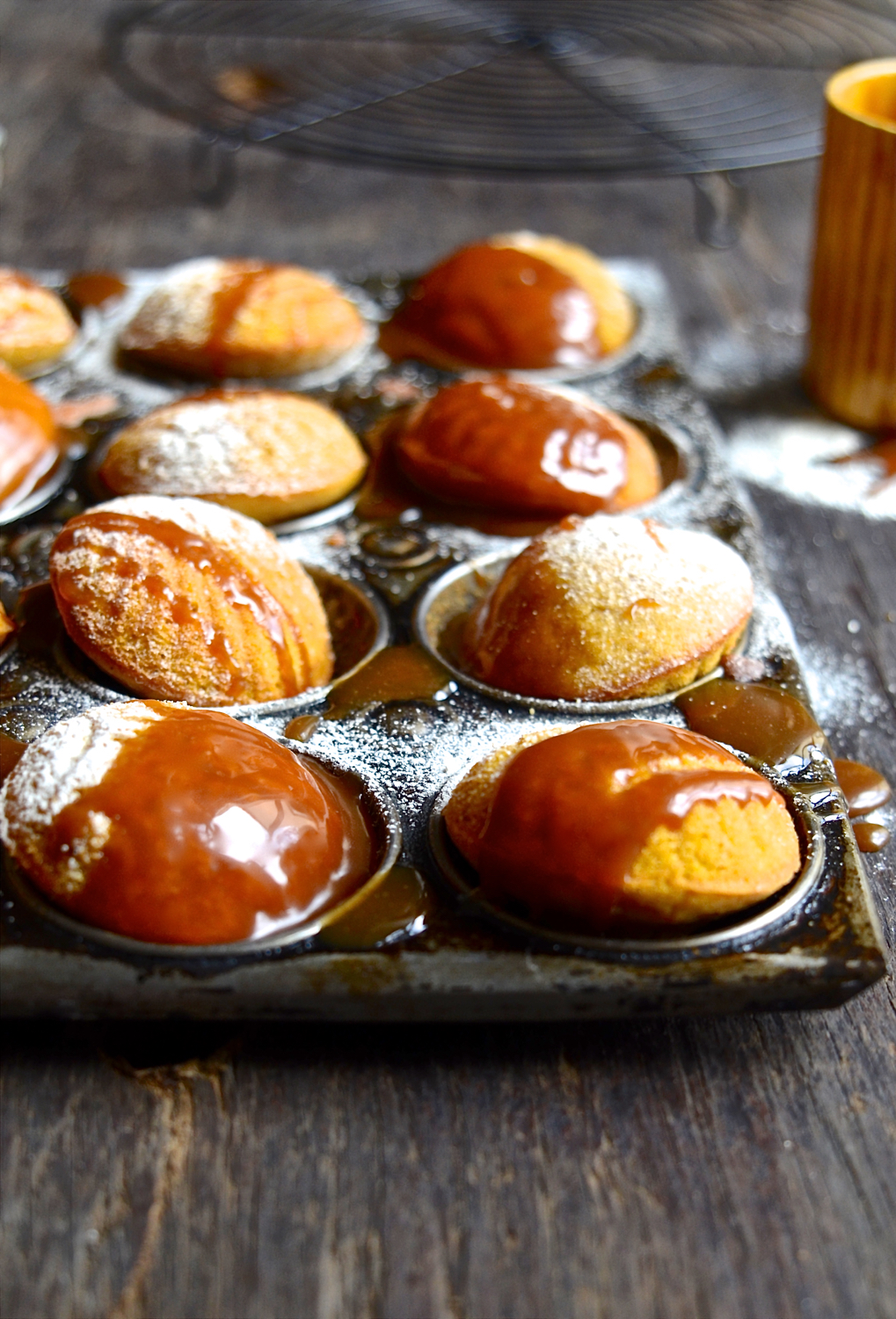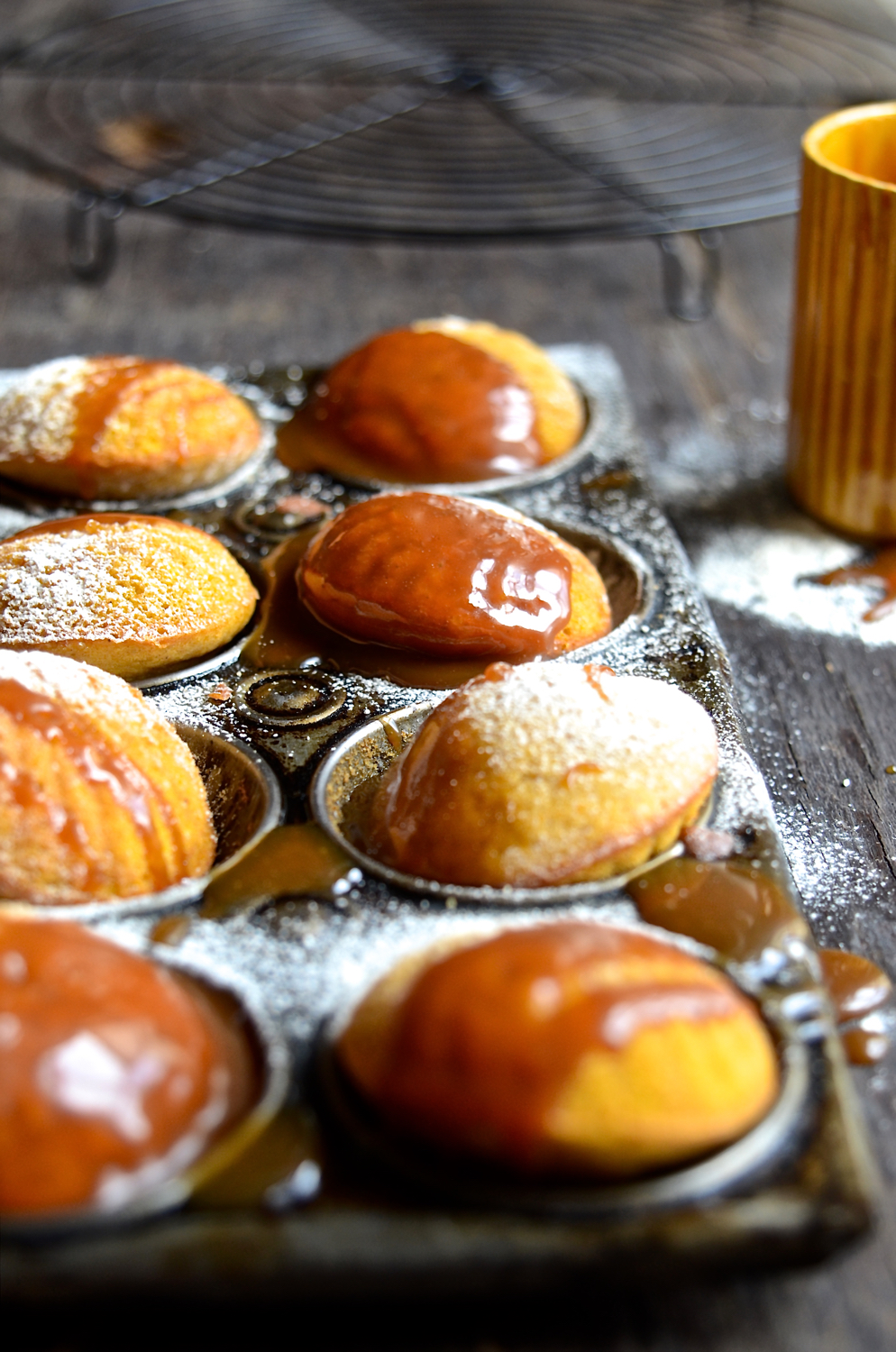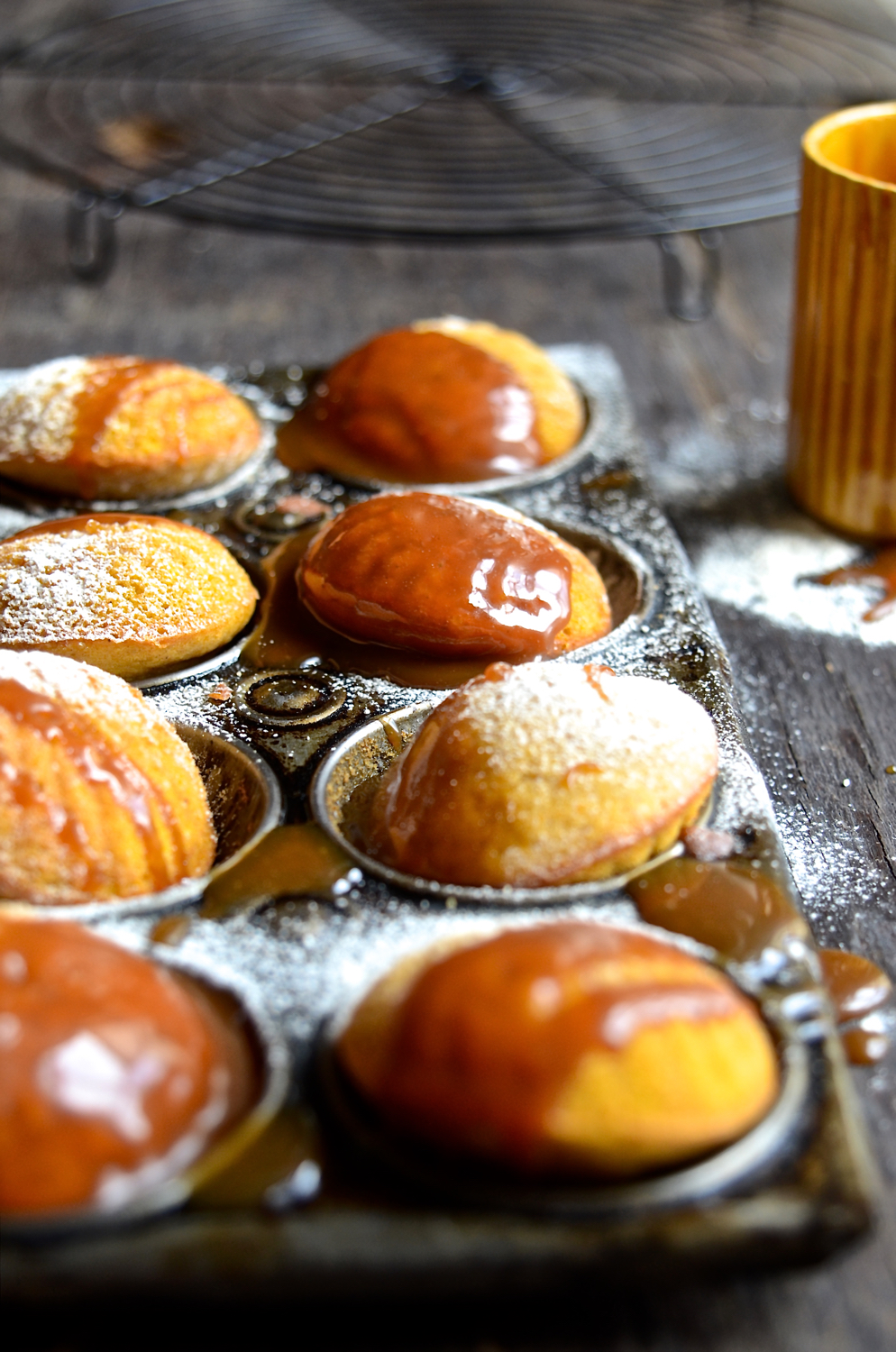 Pumpkin madeleines with caramel drizzle
1/2 cup (90g) butter, melted and cooled
1 tablespoon maple syrup
2 eggs
1/2 teaspoon vanilla extract
1/3 cup (70g) golden castor sugar
3/4 cup (110g) all-purpose cake flour
1 teaspoon baking powder
1/2 teaspoon ground cinnamon
1/4 teaspoon mixed spice (all spice)
pinch of salt
1/3 cup pumpkin puree
Preheat the oven to 180ºC. Grease a madeleine tin or a 12-hole shallow muffin tin with butter and dust with flour. Tap out the excess flour.
Combine the butter and maple syrup. Add the eggs, vanilla and sugar to the butter and whisk to combine.
Sift the flour, baking powder, spices and salt into a mixing bowl.
Add the wet ingredients into the flour and whisk until the flour is incorporated. Don't over work the batter.
Lastly, add the pumpkin puree and stir thoroughly to combine. Set the batter aside to rest for 5 minutes.
Spoon into the prepared moulds, tap to remove air bubbles and bake for 10-12 minutes until golden and puffy.
Cool on a wire rack before dusting with powdered sugar. Serve as is or with a pot of warm caramel for dipping or drizzling.
For more pumpkin recipes, you may like to try these:
Fluffy choc-chip pumpkin pancakes
Cinnamon spiced pumpkin muffins with walnut crumble