Prawn and coconut cream curry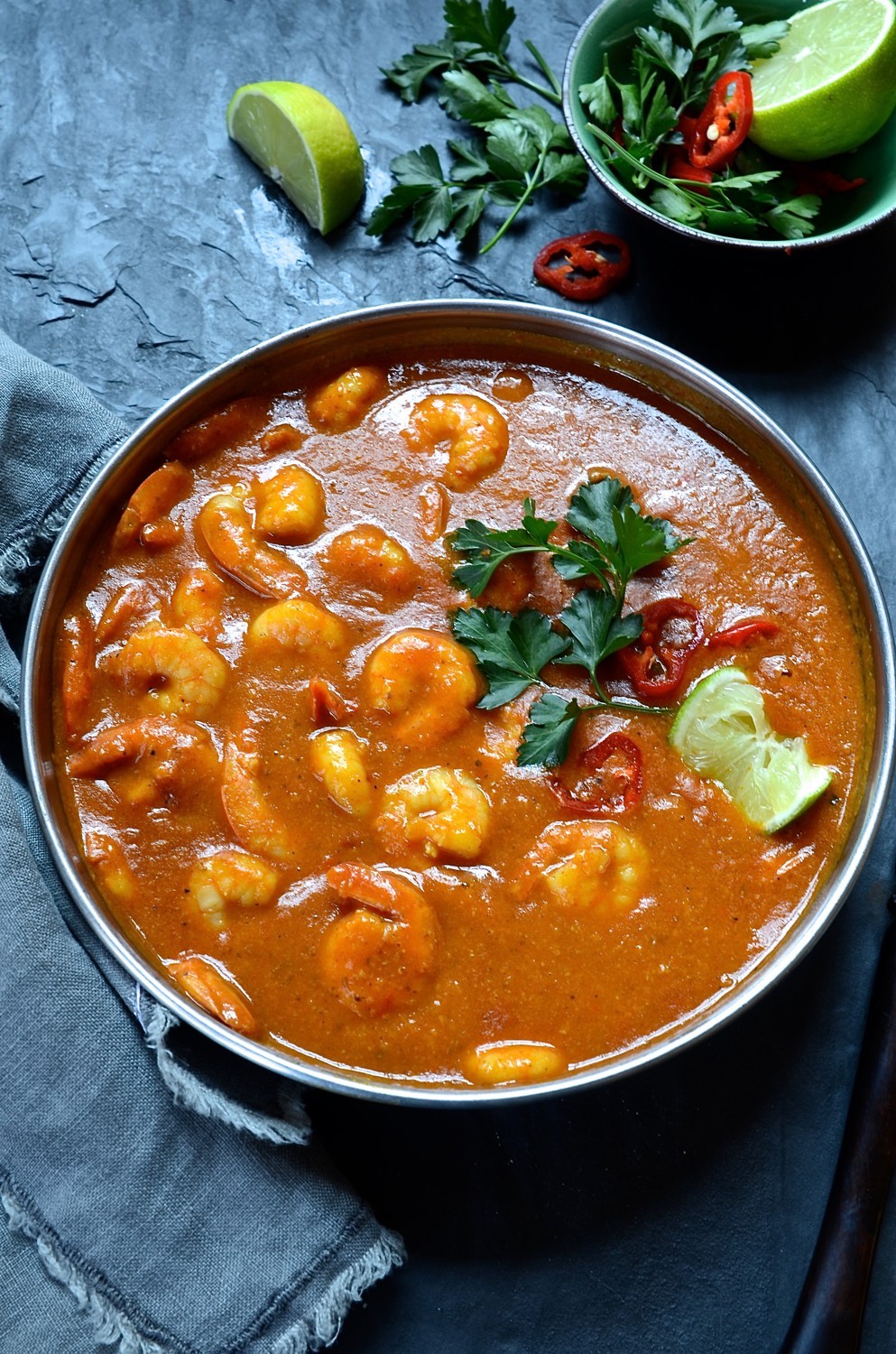 You simply can't beat a good curry. This prawn and coconut cream curry with chilli and ginger is full of flavour and really simple to make. I've included my make from scratch curry paste. It's versatile enough to use with chicken, fish and vegetables. Having a ready-made curry paste on hand makes midweek suppers super simple.
The paste is really quite straightforward and better than any store-bought version. Midweek suppers need to be uncomplicated but still delicious. To this end, I like to have short-cut options. And this is where ready made pastes and rubs come in. They add instant flavour, needing only a few other ingredients to turn them into a speedy supper. If you're don't have time for this homemade paste, a good store bought one will also do. If you're going ahead with this homemade paste, it's worth doubling up on the recipe. It keeps well, stored in a sterilised jar, in the fridge.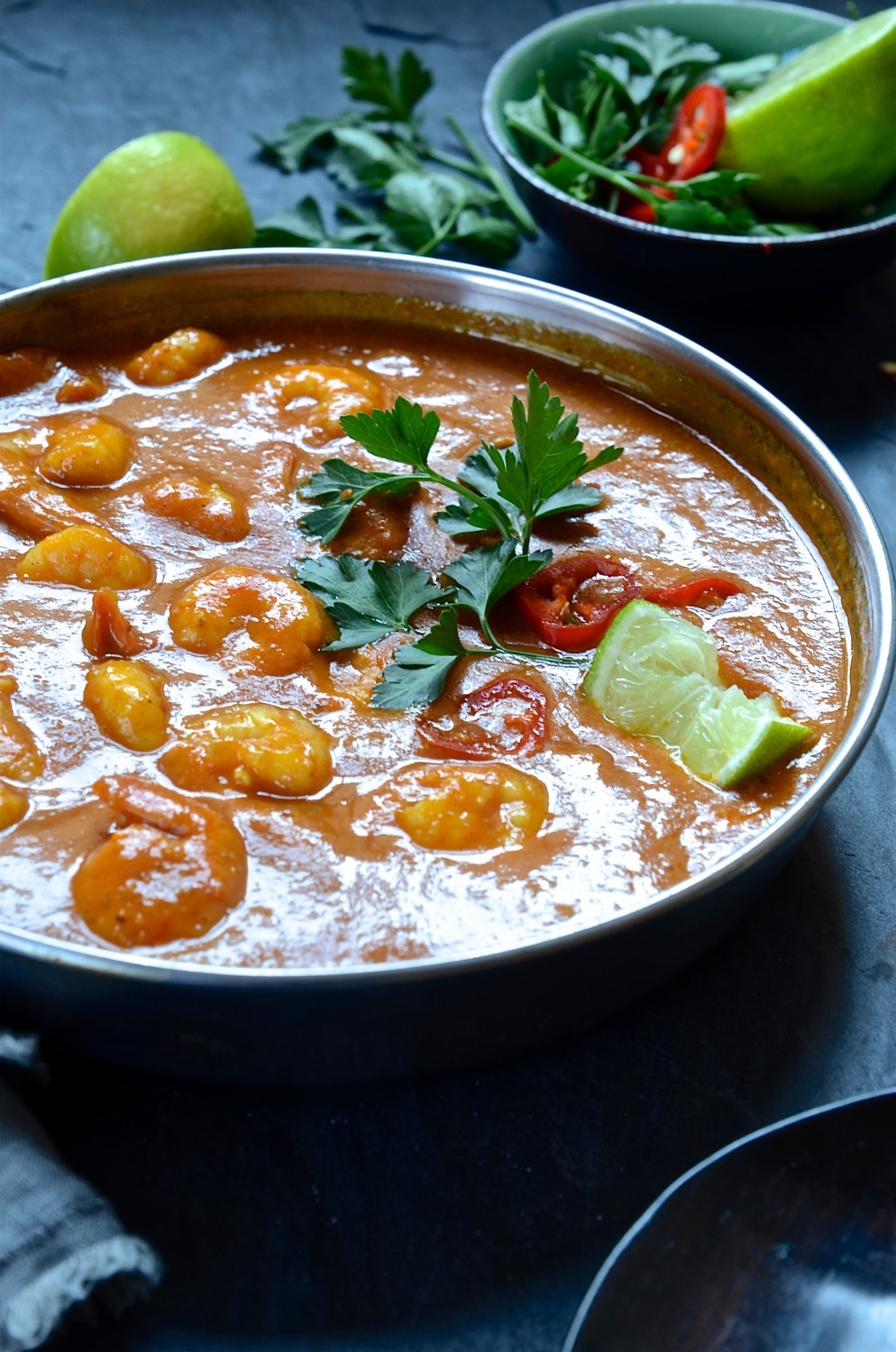 This prawn curry has a mellow heat that. You can of course, up the level according to taste. I've used three different types of chilli in the paste, each of which contributes a particular type of heat. Made with red chillies, dried chilli flakes, chilli powder and just enough ginger to add a mild, sweet heat.
Good curries are about building flavour profiles. Dry toasting the whole spices release their natural oils and provide intense flavour. Caramelising the onions slowly over a gentle heat will provide subtle sweetness to the paste. Once the paste is done, you're on the home stretch to the quickest curry ever! Prawns require minimal cooking time, so make sure you have the rice ready.
Prawn and coconut cream curry
Serves 4
1 tablespoon vegetable oil
1 x quantity curry paste
2 tablespoons tomato paste
1/2 cup (125ml) tomato passata or tinned, chopped tomatoes
1/2 teaspoon sugar
400g tinned coconut milk
500 – 600g deveined prawns, tails on
juice of half a lime
salt, to taste
For the paste
1 teaspoon cumin seeds
1 teaspoon coriander seeds
1/2 teaspoon brown mustard seeds
2 tablespoons vegetable oil
2 shallots, diced
1 garlic clove, minced
3 cm ginger, grated
1 red chilli, deseeded and chopped
1 1/2 teaspoons garam masala
1/2 teaspoon turmeric
1/2 teaspoon chilli powder
1/4 teaspoon dried red chilli flakes
3/4 teaspoon salt
1 teaspoon sugar
1/4 cup water
1 tablespoon lime juice
Start with the paste. In a dry frying pan (no oil added), toast the cumin, coriander and mustard seeds over a medium heat until fragrant and the mustard seeds start to pop. Transfer to a grinder or place in a mortar and pestle and crush until fine and powdery. In the same pan, heat the vegetable oil and sauté the onion until soft and caramelised. This should take about 8 minutes. Add the garlic, ginger and chilli and cook for 2 minutes. Now add in the masala, turmeric, chilli powder, chilli flakes, salt and sugar. Stir through for several minutes. Lastly add the finely ground spices, water and lime juice. Mix to combine.
Transfer the paste to a processor and blitz until smooth. If you've made double, store half in a sterilised jar and cover the top of the paste with a tablespoon of vegetable oil to retain it's flavour and freshness. Store in the refrigerator.
To make the prawn curry, heat 1 tablespoon vegetable oil in a pan. Add 1 x quantity curry paste, tomato paste, chopped tomatoes and sugar. Bring up to a gentle boil and then add the coconut milk. Simmer uncovered on a medium heat for 10-12 minutes. Add the prawns to the sauce and cook for 3-5 minutes, until cooked through. Add the juice of half a lime and check the seasoning. Serve immediately with your choice of sides.
More curry ideas
Cape Malay chicken curry with roasted bananas