No prove hot cross bun bread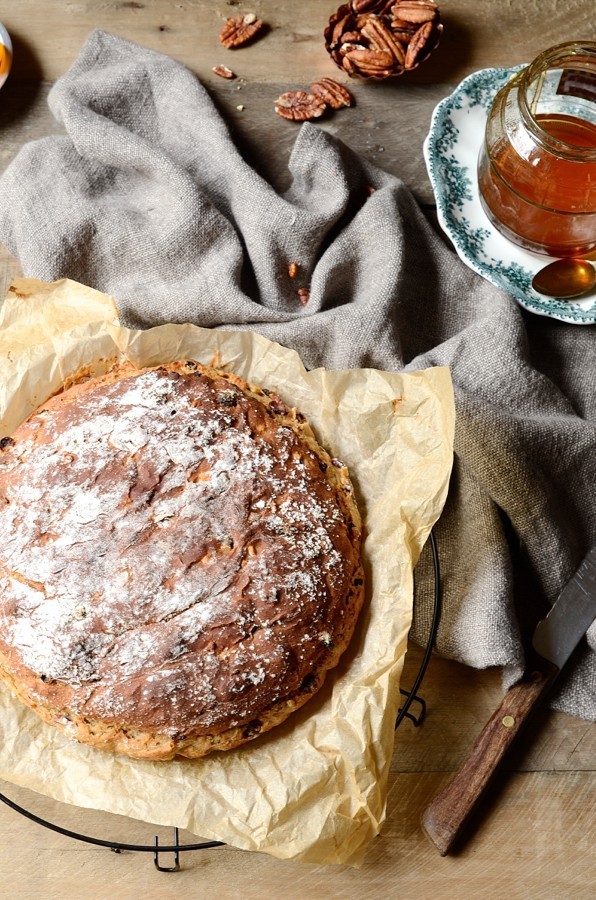 Matt Preston sparked this whole affair. Referring of course to the acceptability of clever kitchen hacks. He managed to make the casual weekend baker look like a hard-core, artisanal bread-baking master. So if the thought of sourdough starters and kneading have you running to the nearest bakery, this no prove hot cross bun bread could be your salvation. Filled with the warming spices of traditional hot cross buns, but in one handsome, home-baked Easter bread.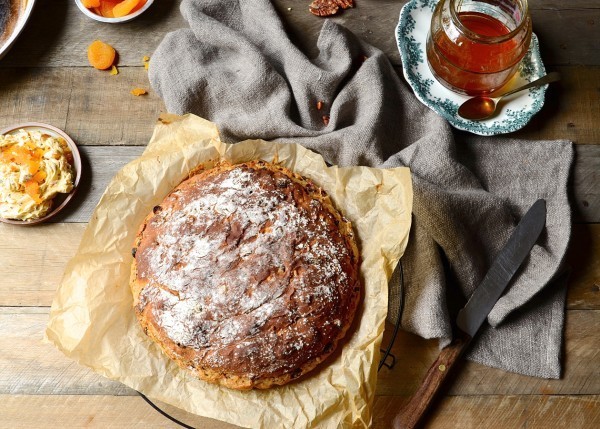 The original no prove bread recipe first appeared on Masterchef, Australia. Love or loathe it, Masterchef was possibly the first cooking show that ignited hopeful wannabe chefs to dream big about aspiring careers in food. Personally, I loved the masterclass most. Who could refuse learning insider tricks and methods at the hands experienced professionals. Admittedly, some of these inventions were probably never going to happen within the four walls of my kitchen. Others were inspiration for adventures in food. Adriano Zumbo's croquembouche had me hurtling headlong into the airy, puffed world of choux, complete with caramel dipped profiteroles all towered up and sugar-spun. Needless to say, burn shield spray and bandages helped to ease bodily damage, so too did the joy of eating dainty puffs of custard-filled patisserie.
Back to the hot-cross bun story. It was in one such masterclass that Matt Preston revealed his 'no prove bread' kitchen-hack. Iv'e made the original recipe more times than I can remember, adjusting it to include wholemeal, spelt and seeded loaves. Once you have the wet to dry ratios firmly in place, the dough is open for creative flavour substitutions. And then this happened. It's by far my absolute favourite! I'm completely charmed by this sweetened Easter bread version. Enriched with butter, dried fruits and warming spices, it's tastes distinctly like the plump little buns we've all come to love with a cup of tea on Easter Sunday. It is however, infinitely simpler to make and requires no kneading. The actual hands-on time is probably 5 flimsy minutes with a quick mix the night before and baked the following morning. Wafts of cinnamon scented air will draw those late slumbers from between the sheets and straight into the kitchen. The seductive smell of sweet, autumn spiced homemade bread is so worth waking up to.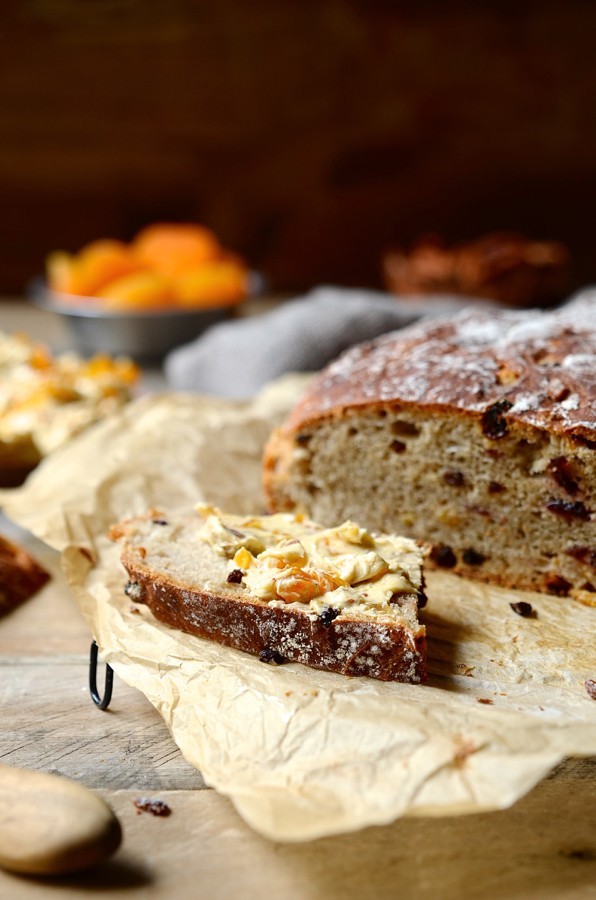 The crumb texture is surprisingly light with a splintery hard, darkened crust. A slow overnight proving creates thousands of tiny air pockets which gives the bread an almost ciabatta type of texture. Without knocking the dough back, it's tumbled directly out onto a baking sheet and straight into the hot oven. Once baked, waiting for bread to cool, as greedy carb-lovers will attest to, is going to be your greatest challenge. Never mind, I'll risk it! Gather around the table, slather your hot cross bun bread with whipped honey and apricot butter and revel if the pleasure of freshly baked morning bread.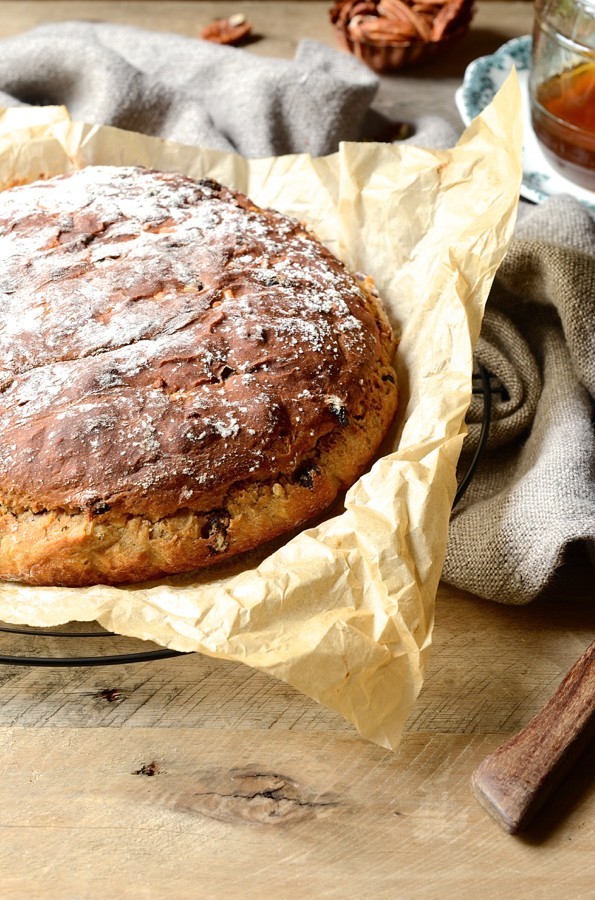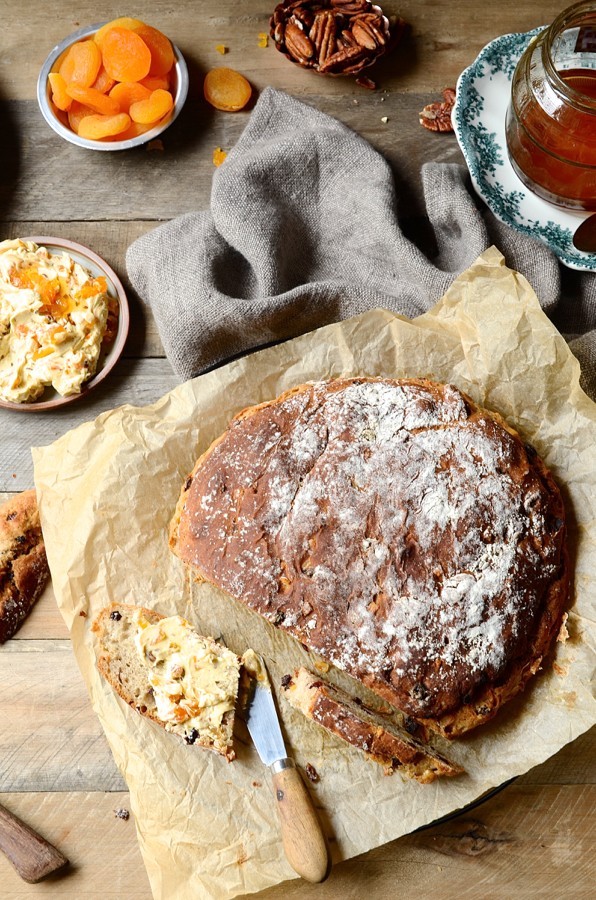 No prove hot cross bun bread
Prep time:
Cook time:
Total time:
Ingredients
No prove hot cross bun bread
500g all-purpose cake flour
1 1/2 teaspoons instant dried yeast
1 1/2 teaspoons salt
1/4 cup castor sugar
1 1/2 teaspoons ground cinnamon
1/2 teaspoon mixed spice
1 1/3 cups mixed dried fruit (cranberries, sultanas, raisins, currants and candied orange peel)
1/4 cup melted butter, cooled
500ml room temperature water
Instructions
In a large mixing bowl, sift together the flour, salt, sugar, yeast and spices.
Stir through the dried fruit.
Add the butter and water to the flour and mix until well combined.
Cover the bowl with cling film and refrigerate overnight.
Remove the bowl from the fridge and bring up to room temperature.
Preheat the oven to 200º C.
Line a 25cm round oven-proof dish or baking tray with parchment paper. Grease or flour well to prevent sticking.
With a spatula dipped in flour, scoop the dough into the prepared tin or straight onto the baking sheet.
Dust the top of the dough lightly with flour and bake for 50-55 minutes until deeply golden and cooked through.
Cool on a wire rack and serve with whipped butter.