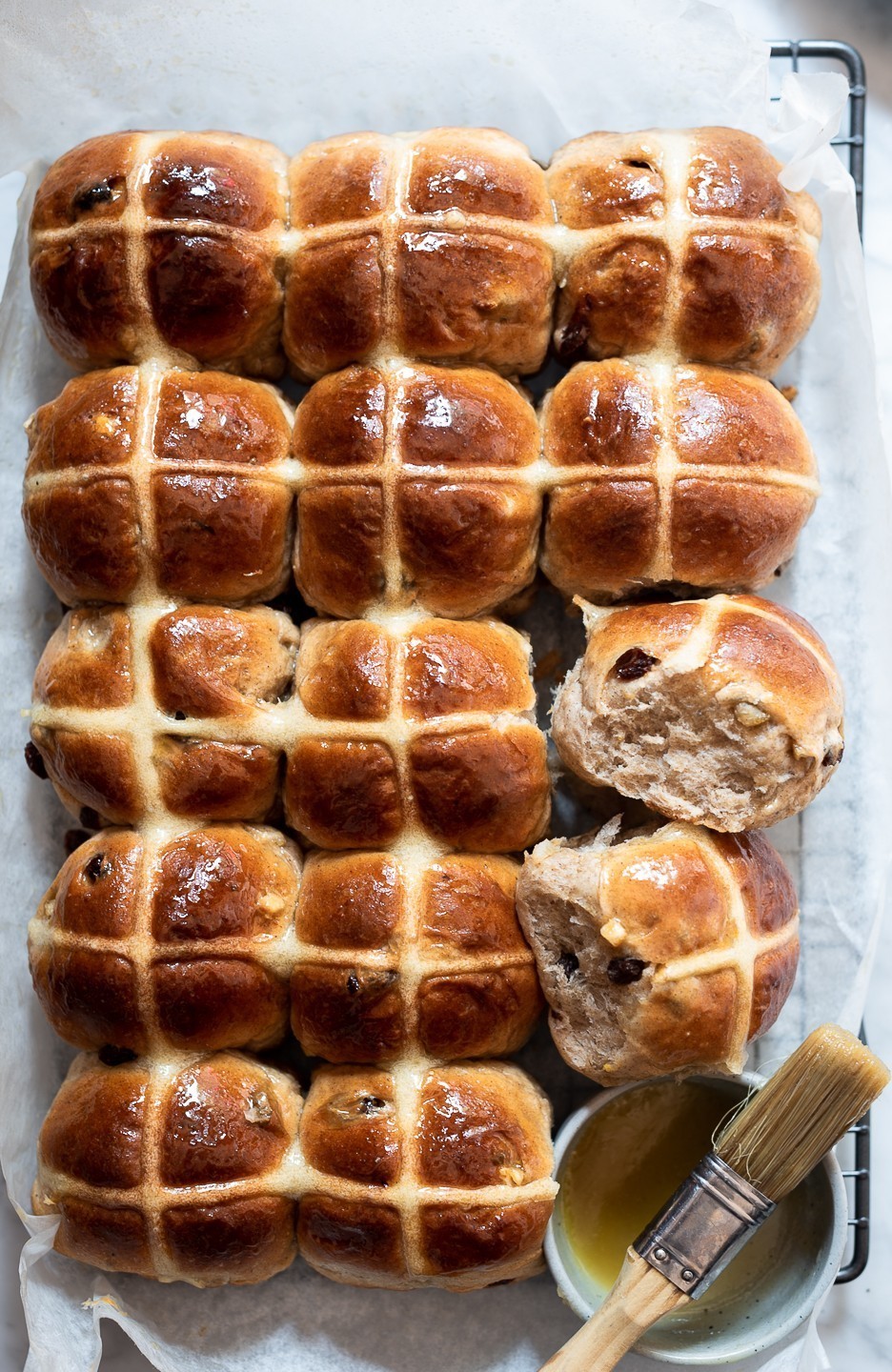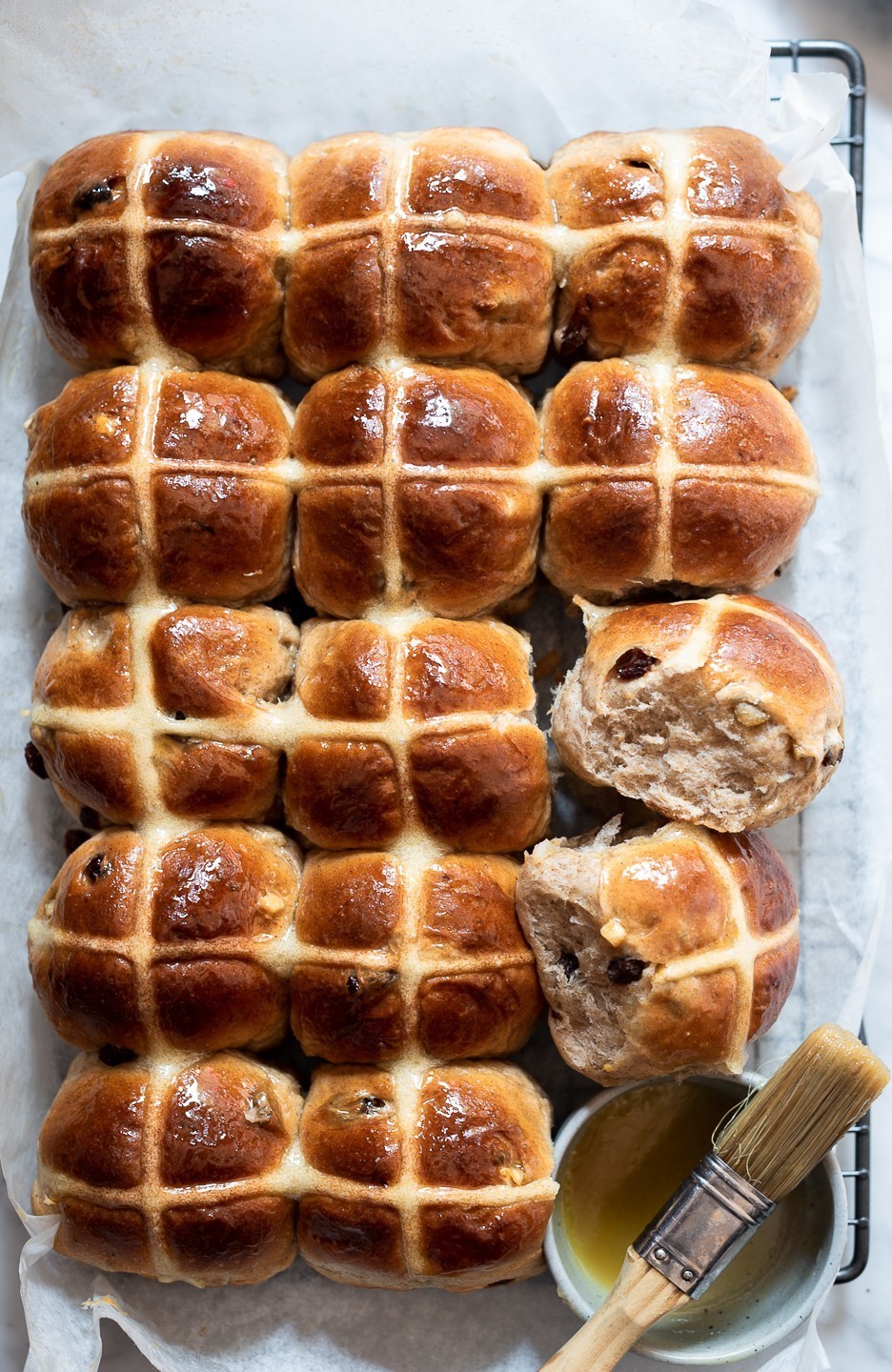 If you've been on a baking binge like the rest of the world, chances are you have a couple of loaves under your belt. These hot cross buns with honey butter should be next on your list. They're basically a sweet bread enriched with butter and egg. I've made them extra spicy with orange peel and plenty fruit. Eaten warm from the oven or toasted with salted butter and honey, they're an excellent start to the Easter weekend.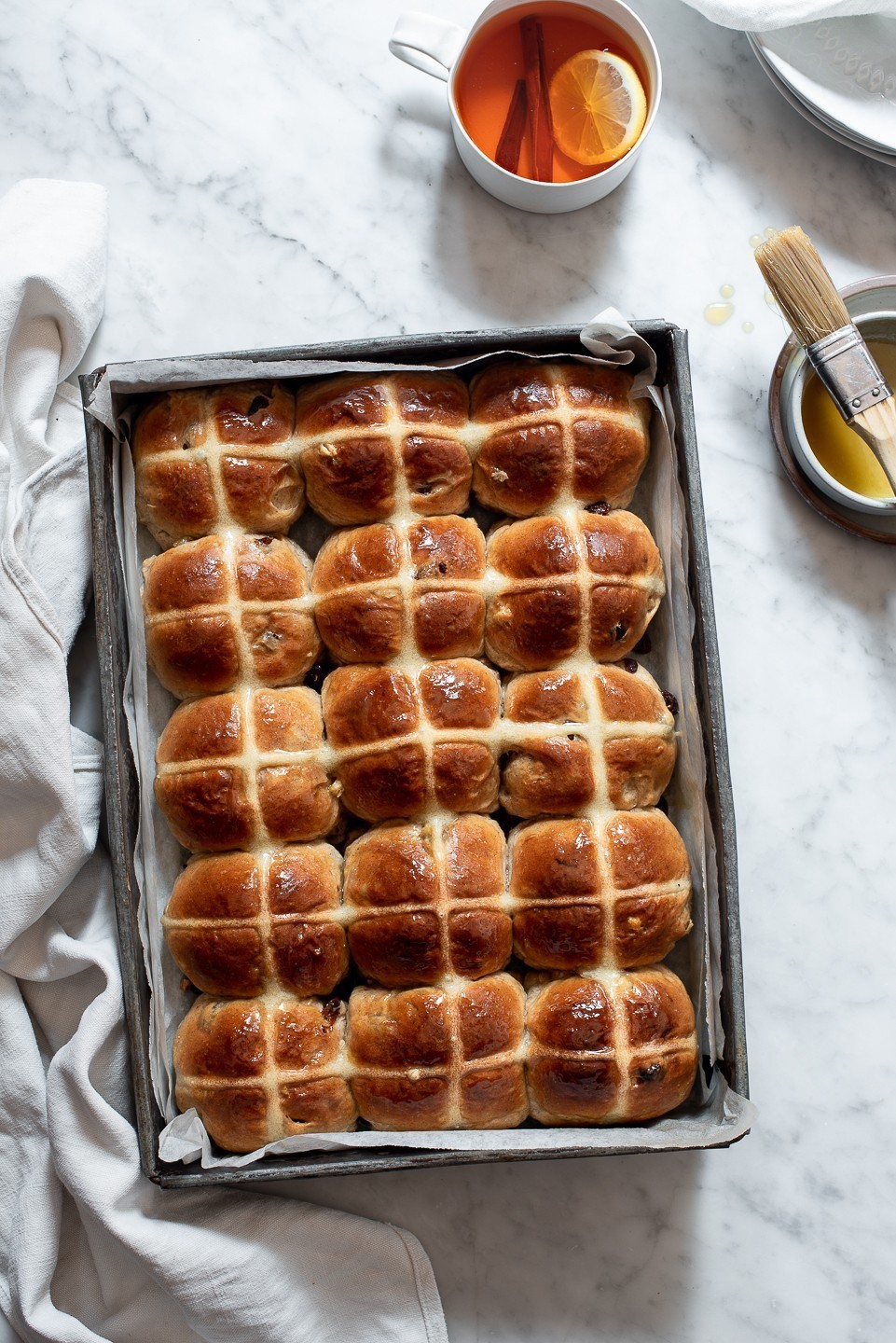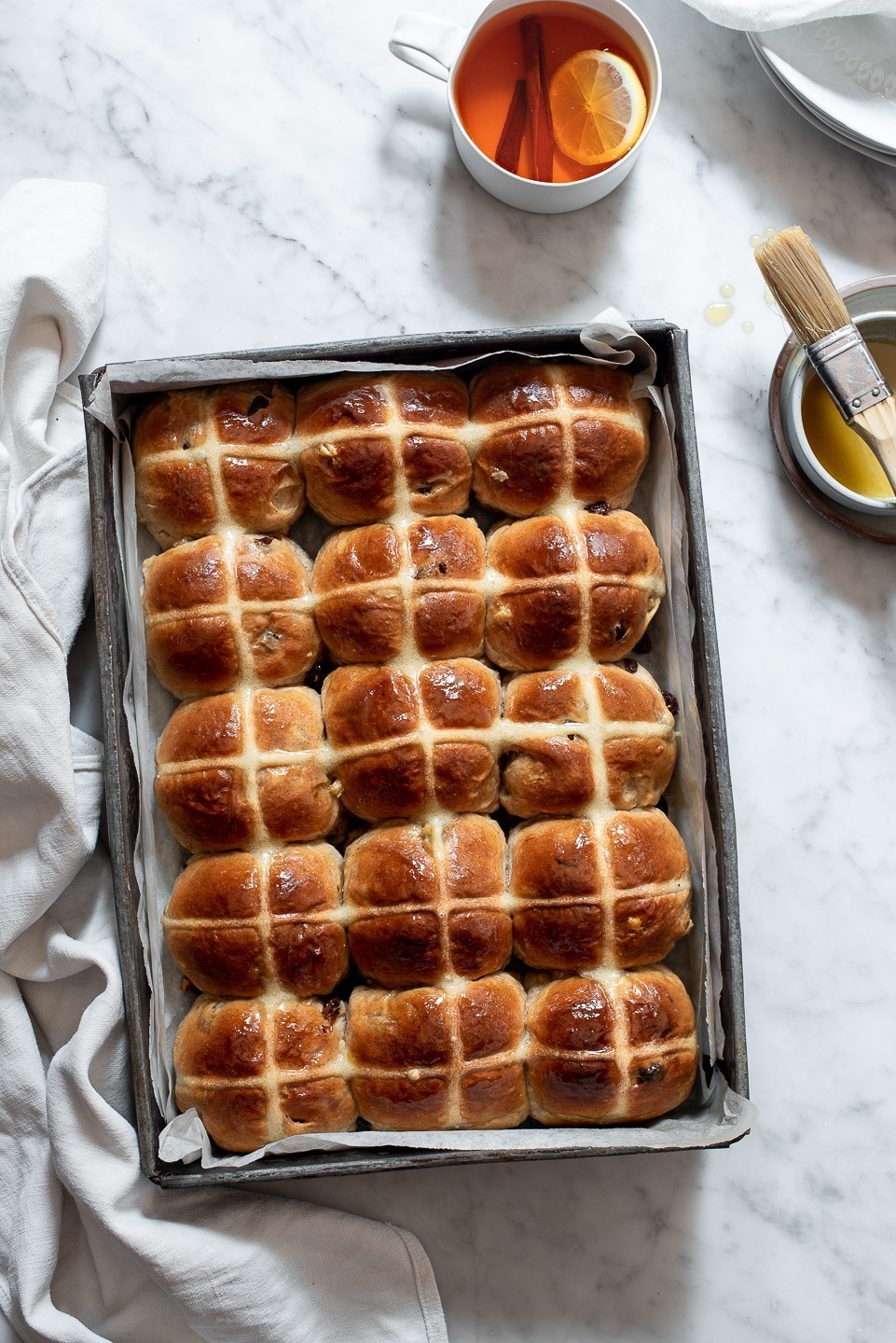 What flour is best to use for Hot cross buns with honey butter
Things being what they are, I used all-purpose cake flour for the buns (branded cake wheat flour in South Africa). If you're lucky enough to have strong white bread flour in your pantry, I'd use that instead. Bread flour has more gluten than regular cake flour and is perhaps better suited here. As for the dried fruit and orange peel, you may want or need to substitute accordingly. For the raisin averse, swap out for free-hand measures of chocolate chips or finely chopped apple. This is isolation baking so most rules can be tossed out the window while we make do.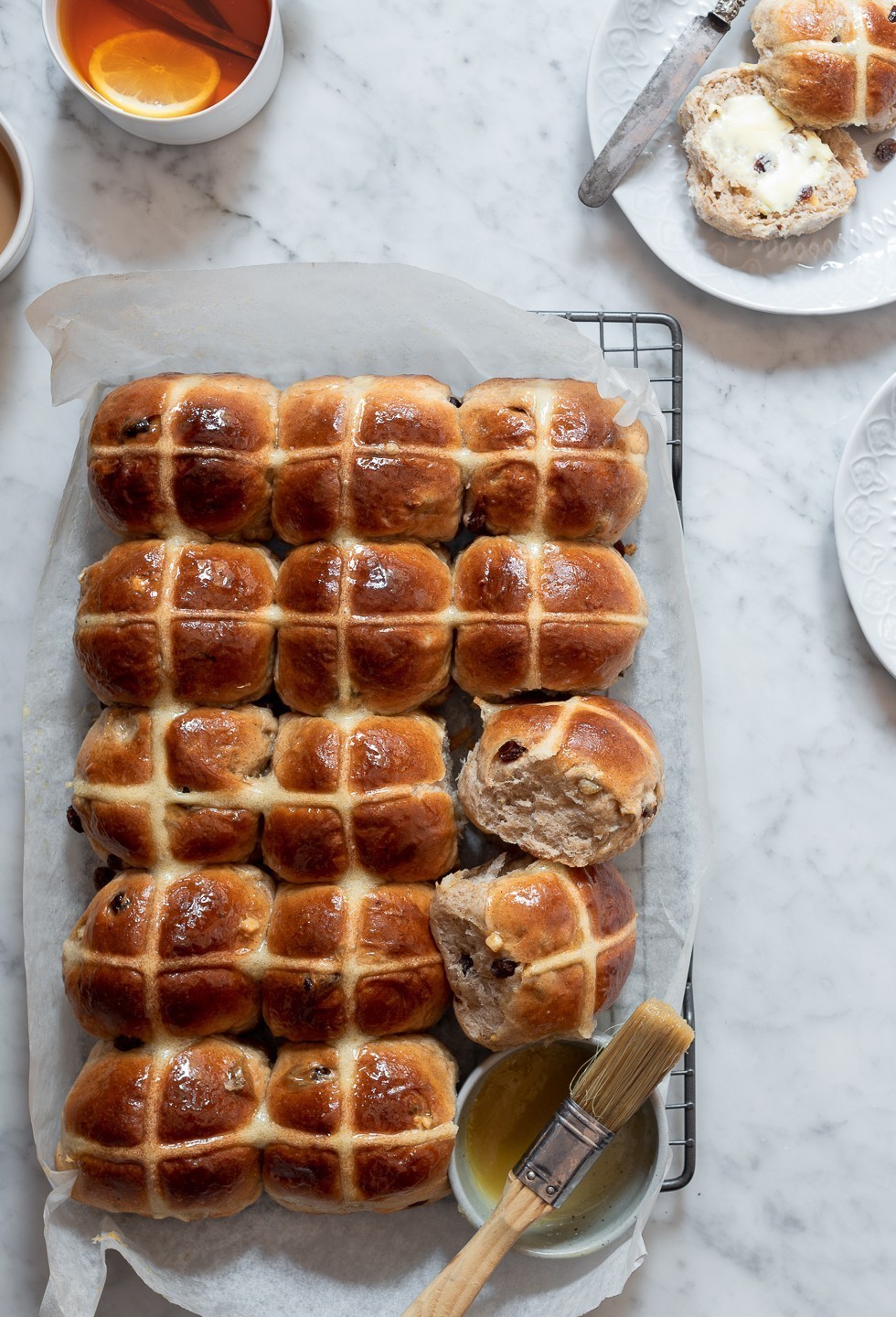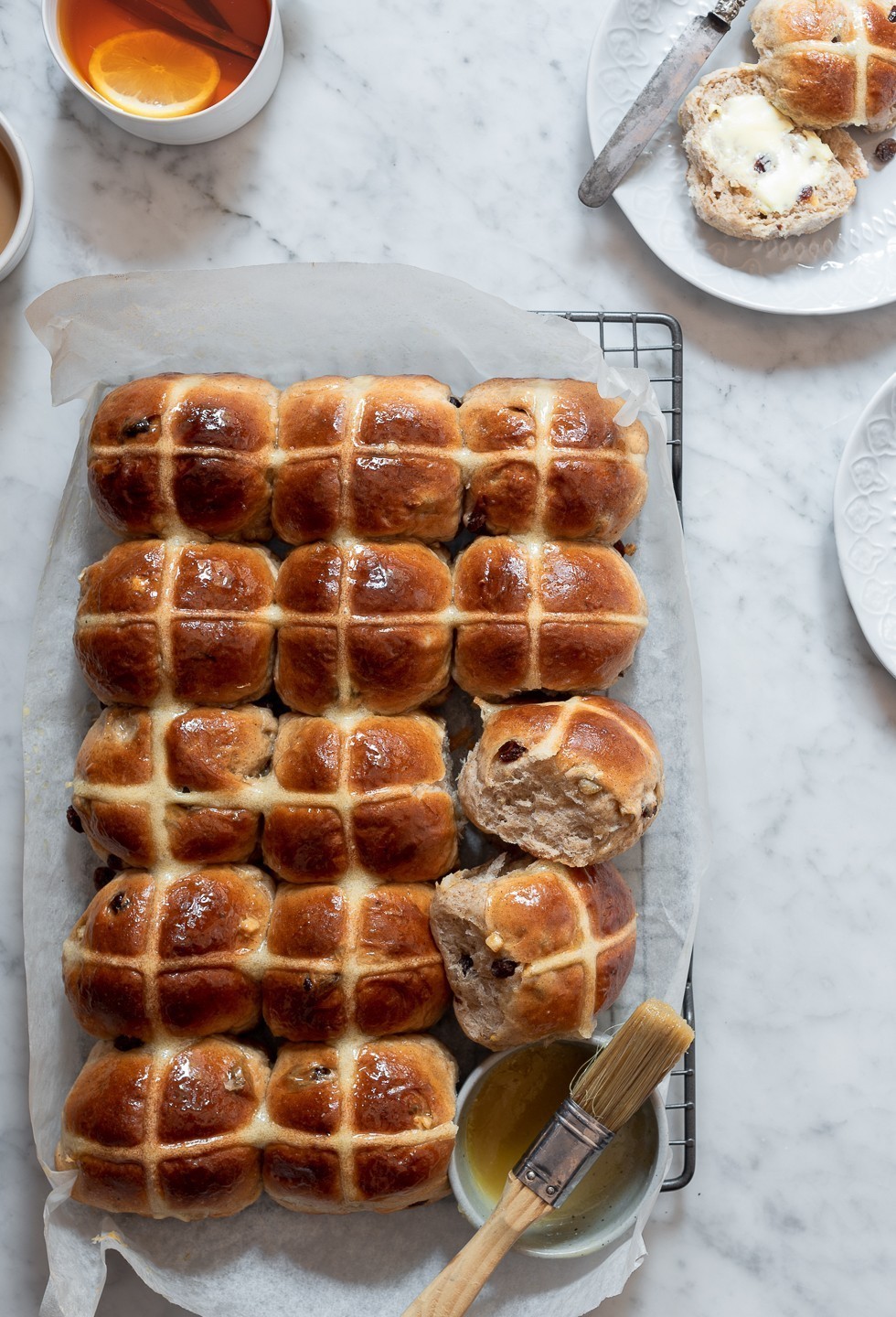 Once you've decided upon which flavourings and additions you'd like for your hot cross buns with honey butter, pretty straight forward. When making any bread, keep in mind that ambient room temperatures differ vastly, depending on the season and time of day. When proofing the buns, times are given as a guideline. Once risen, they should be plump with smooth, tight tops. As soon as they come out the oven, brush with warm honey butter. You can of course, gloss them over with thinned apricot jam or sugar syrup, if you prefer.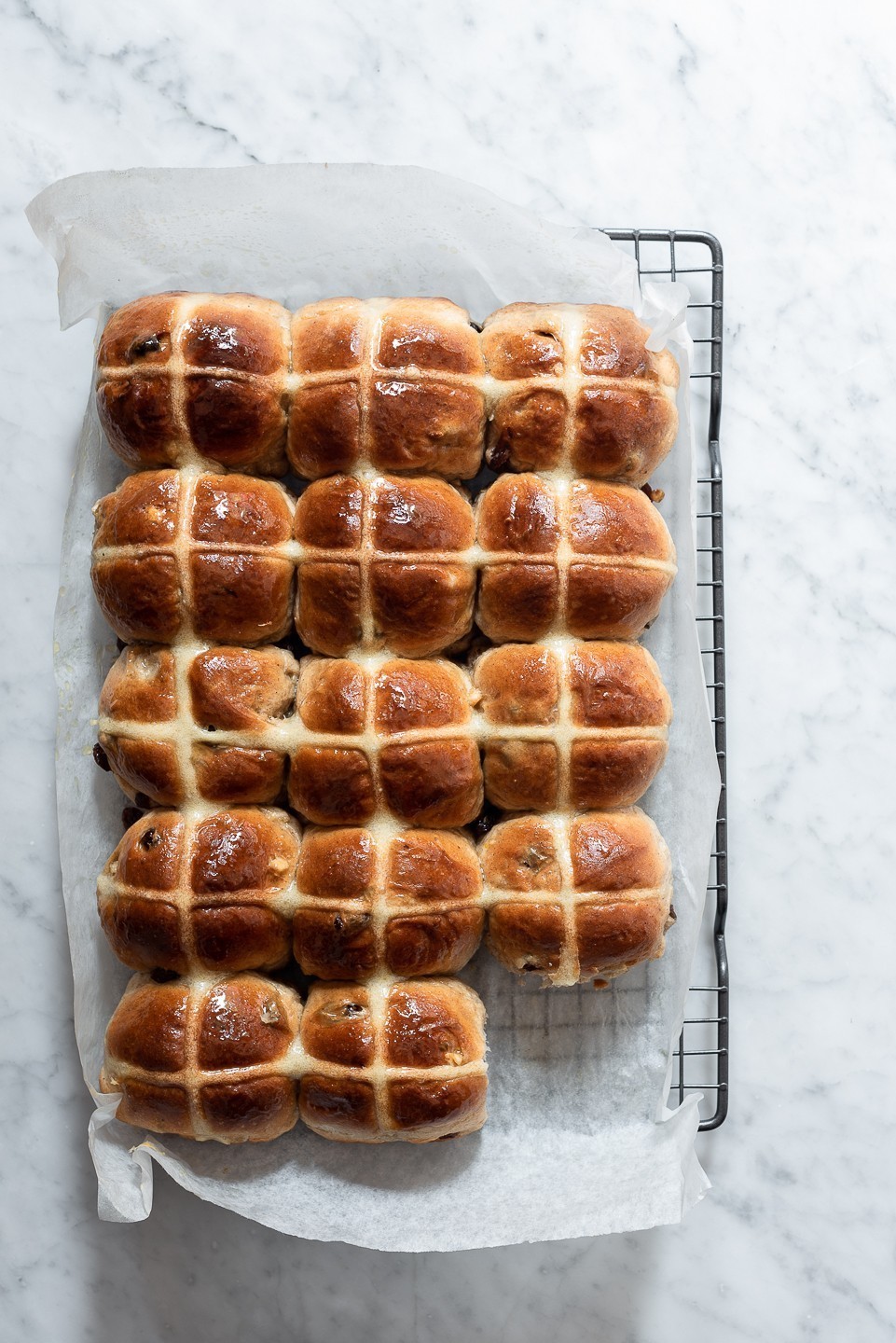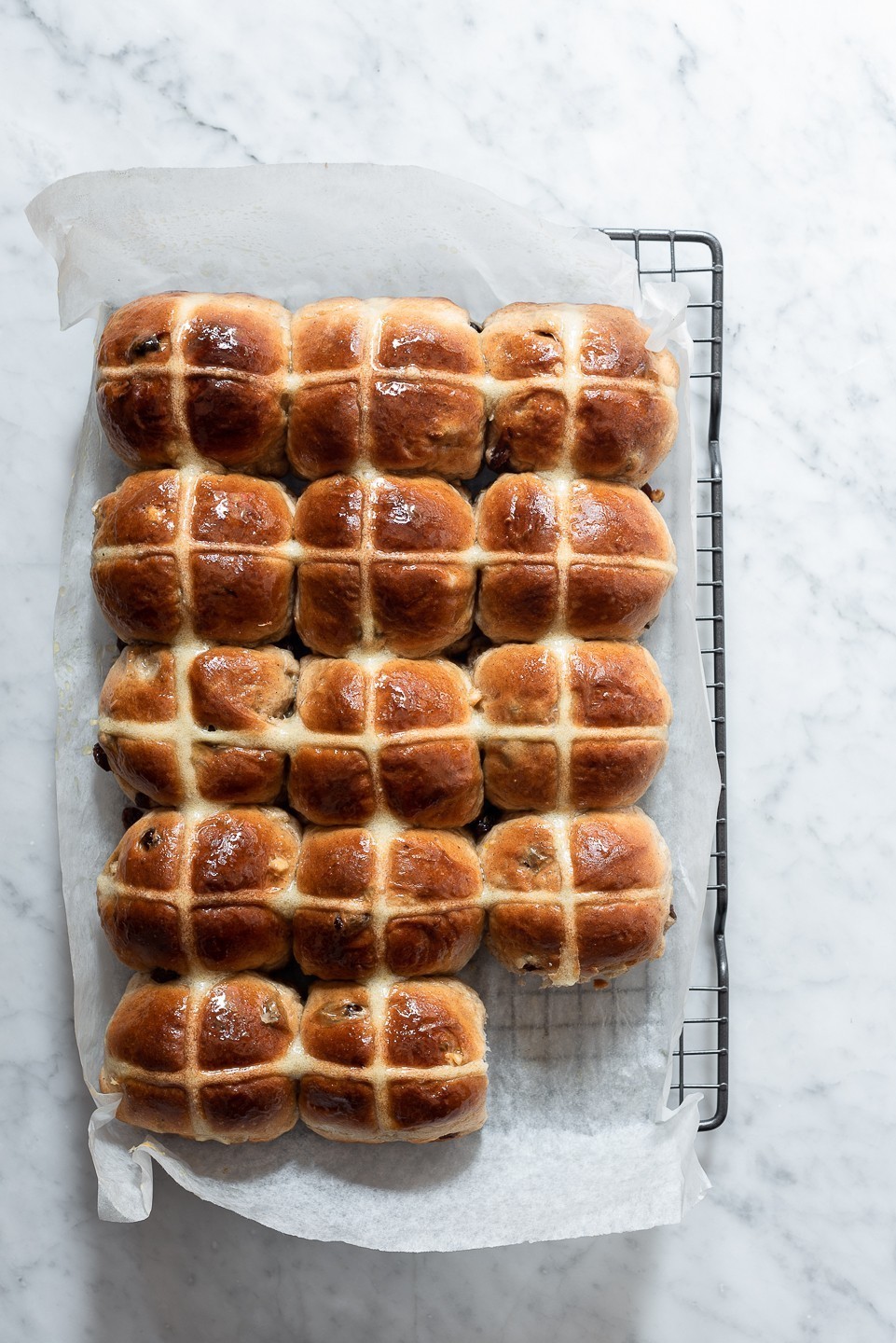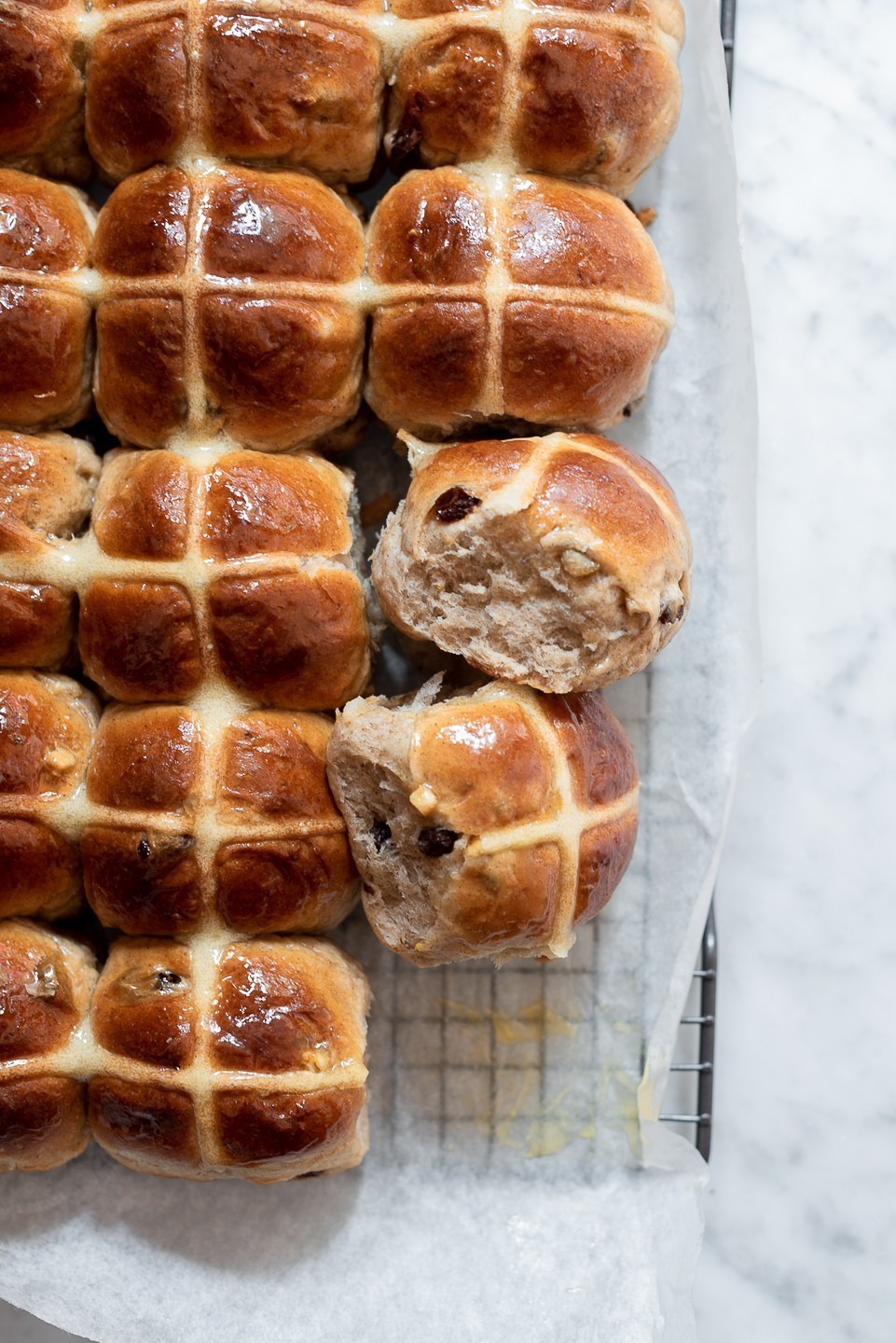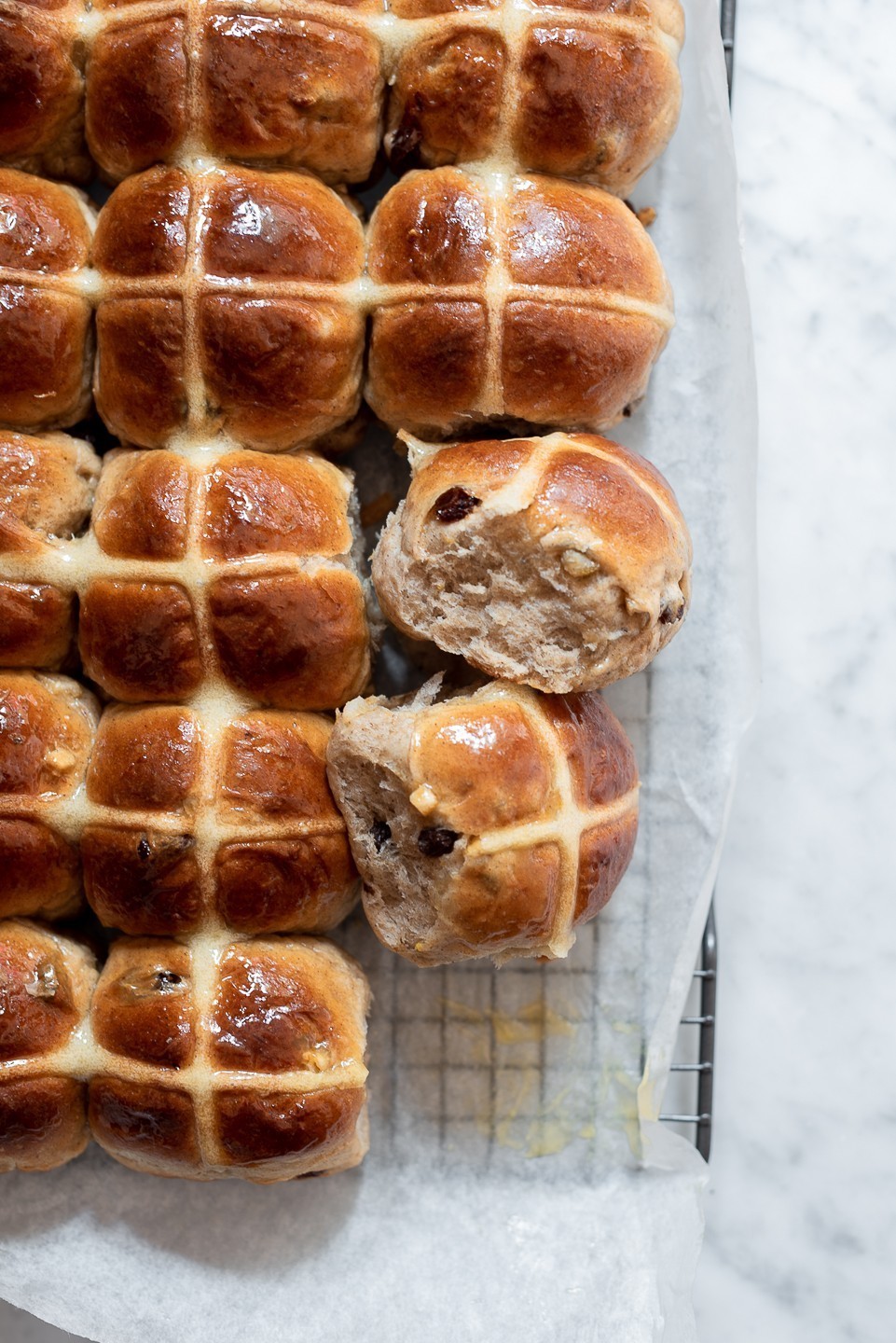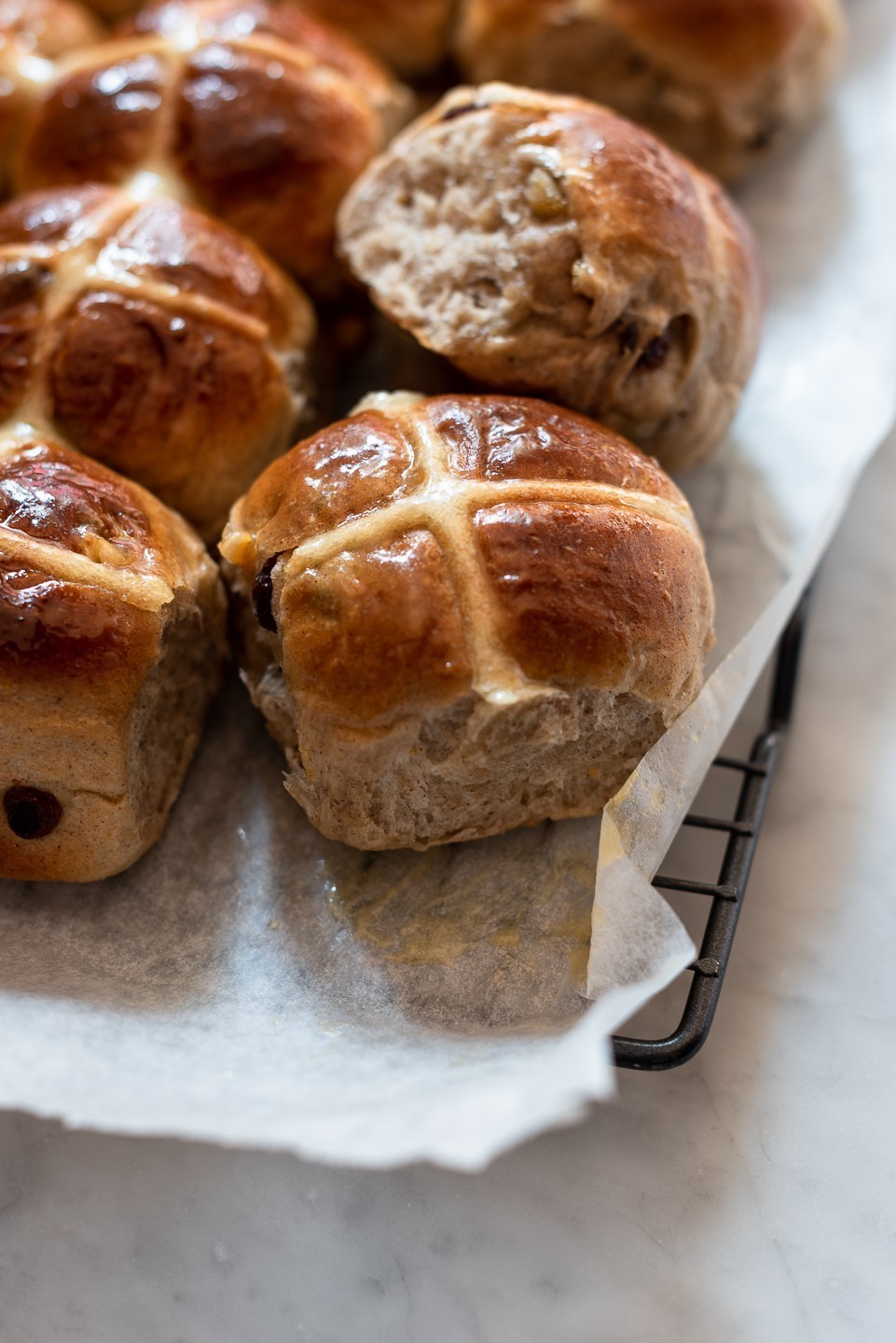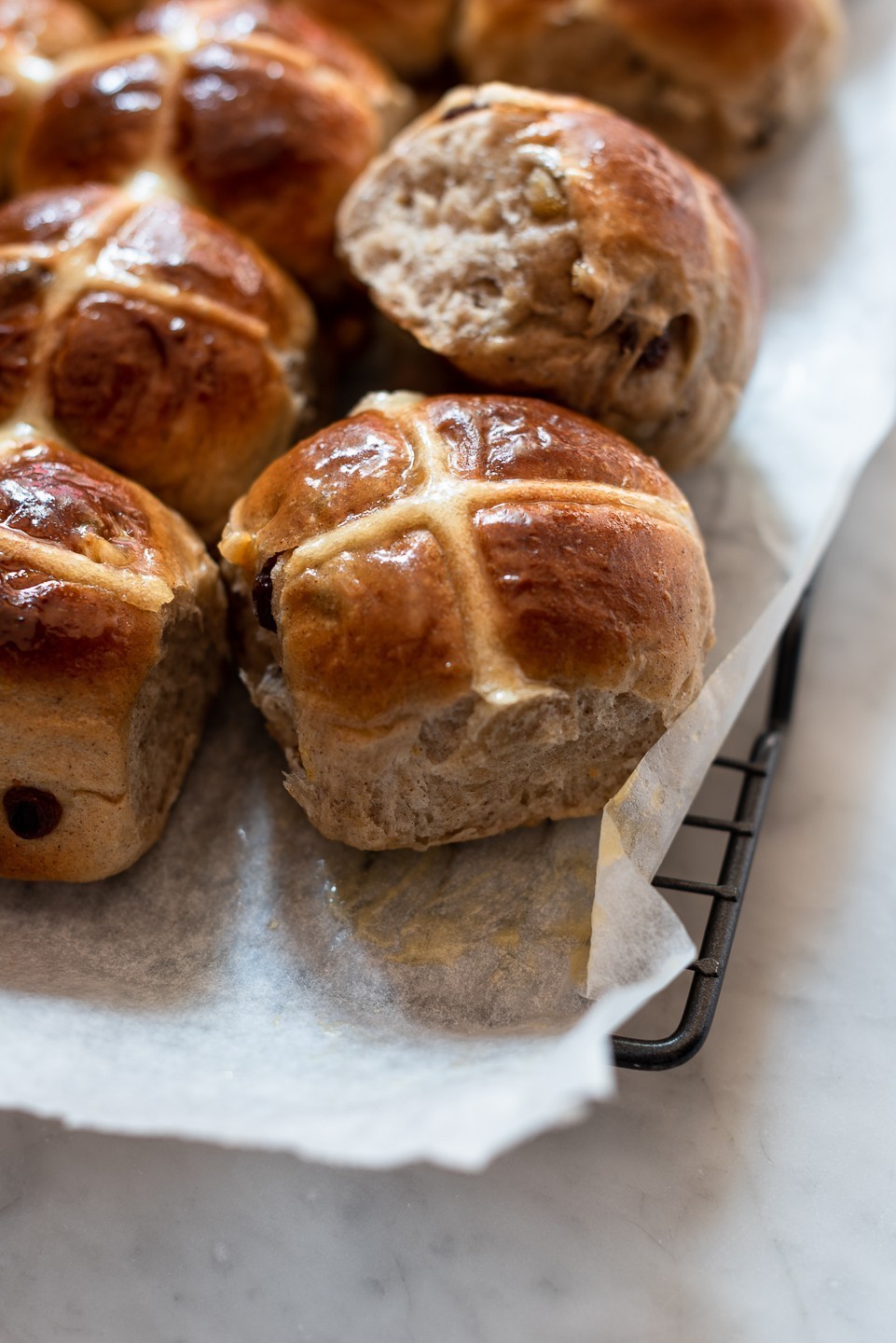 Hot cross buns with honey butter
Makes 15
550g cake wheat flour (all-purpose)
70g (1/3 cup) castor sugar
2.5ml (1/2 teaspoon) salt
12.5ml (2 1/2 teaspoons) ground cinnamon
5ml (1 teaspoon) mixed spice
1.25ml (1/4 teaspoon) nutmeg
7g (2 teaspoons) instant yeast
310ml (1 1/4 cups) full cream milk
1 egg (xl)
75g (1/2 stick plus 1 tablespoon) salted butter, softened
zest of 1 orange and 1 lemon
125g (3/4 cup) dried fruit (raisins and sultanas)
50g (1/4 cup) candied orange peel
Hot cross bun piping
75g cake wheat flour combined with 75ml (about 1/3 cup) cold water
Hot Cross Bun Glaze
30ml (2 tablespoons) butter
30ml (2 tablespoons) honey
Sift all the dry ingredients into the bowl of an electric mixer fitted with the dough hook attachment.
In a small jug, whisk together the milk and egg. Add the milk mixture and butter to the flour and mix to combine. Knead for 6-8 minutes until the dough is smooth and elastic. Add the citrus zest, dried fruit and peel. Mix together on a low speed until the fruit is evenly incorporated.
Transfer the dough to an oiled bowl, cover and set aside to proof until doubled in size, about 1 1/2 hours.
Turn the dough out onto a floured board. Divide into 15 equal portions. Roll into smooth-domed rounds. Arrange in a lined baking tin allowing a little space for spreading. Cover loosely with a clean tea towel and set aside to proof until doubled in size, about 40-50 minutes.
Preheat the oven to 200º C.
For the crosses, transfer the paste into a piping bag fitted with a fine tip nozzle. Pipe crosses over the buns. Bake for about 25 minutes until golden and cooked through.
Heat the butter and honey together until melted. Brush the honey butter over the hot buns. Rest the hot cross buns in the tin for about 10 minutes before removing to a wire rack to cool.
For more bread recipes, you might want to try your hand at these: