Hot cross bun scroll scones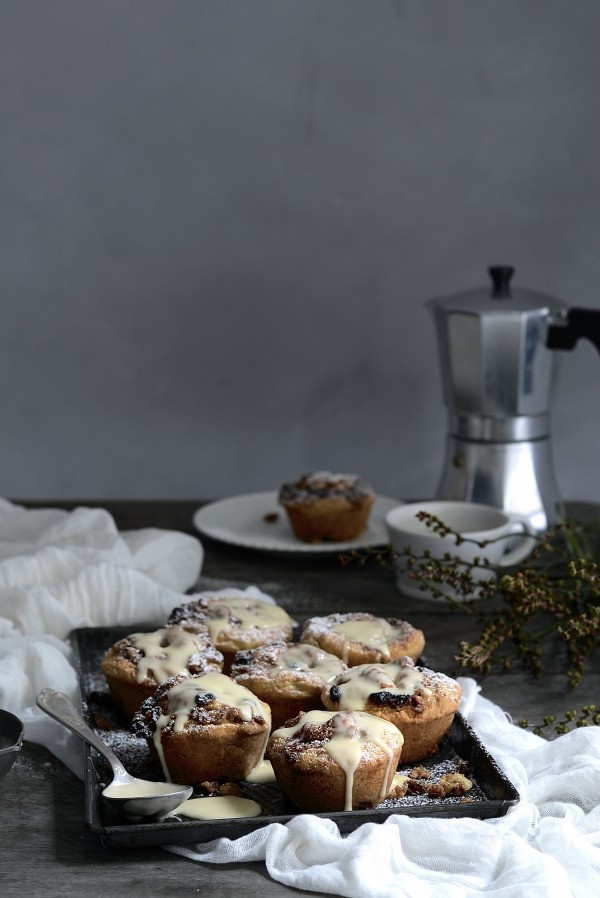 This recipe is for all the optimistic bakers out there intent on making hot cross buns, until the word 'yeast' pops up. And then they're out. Let's face it, yeast and kneading isn't everyone's cup of tea. If you'd rather be out there rummaging your way through the shrubbery foraging for Easter eggs, I get you girl friend! As a self-confessed chocolate vigilante, I'm all for getting a head start on my girls. There's no holding back here. So what are hot cross bun scroll scones, you ask? Simple. All your favourite hot cross bun flavours rolled into one, with a caramel-butter spice filling and satiny vanilla cream drizzle. Irreverently indulgent, yet so very fitting for an unforgettable Easter weekend.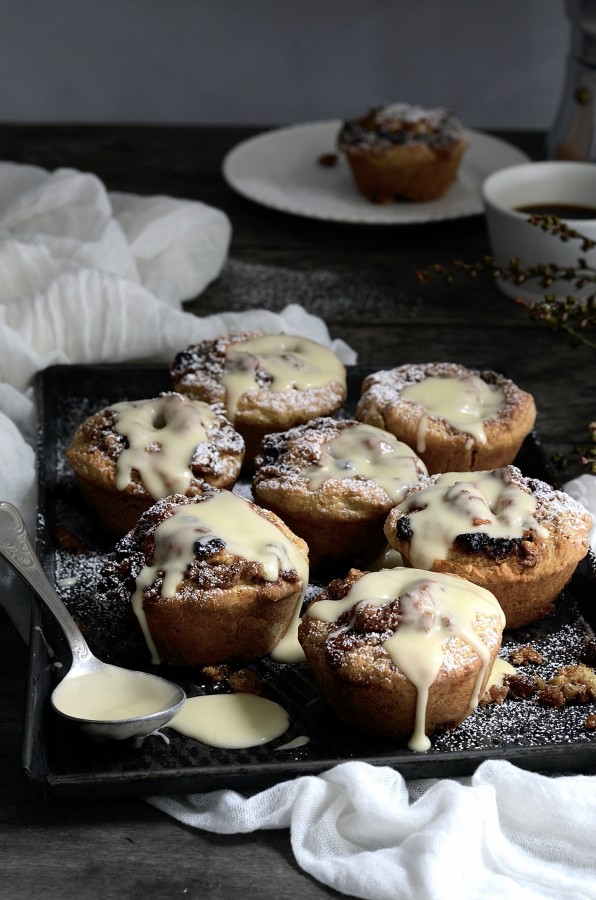 Make no mistake, these knobbly dozen won't win 1st prize at the local baking pageant. Based on looks, that is. But, in the taste department, they'll leave your average hot cross bun in the dust. The crumb is delicately light with a crisp exterior to accommodate the buttery fruit filling. I used golden sultanas, raisins, orange peel and pecan nuts. As I understand, there are people out there who aren't partial to either, and to them I say, never mind. Replace it with something you do love, like fresh apple pieces, chopped chocolate or dried figs. There's no formality or rules around here, clearly. The glaze however, is another matter. Meandering it's way over the crown and settling in sugary scone crevasses, it's a sticky affair that no one will be able to resist.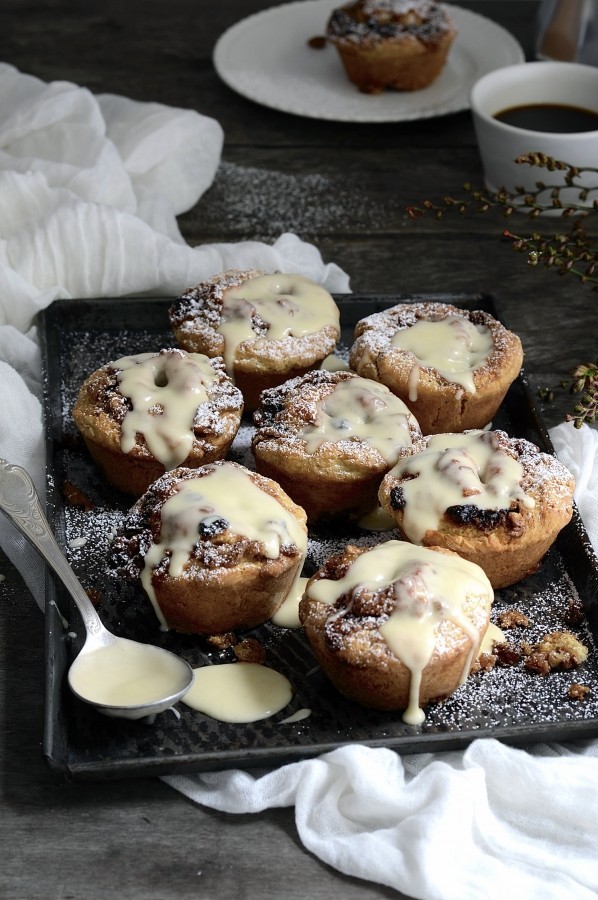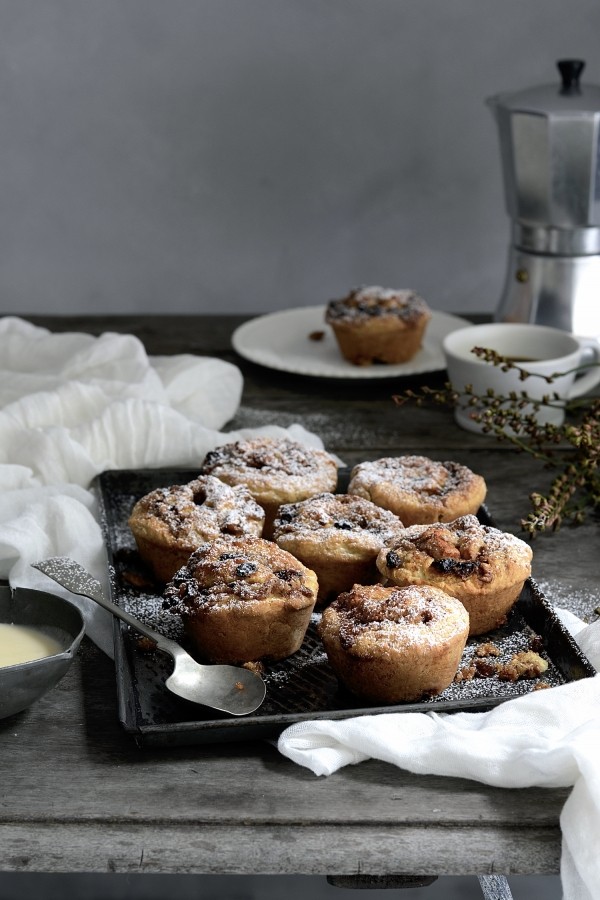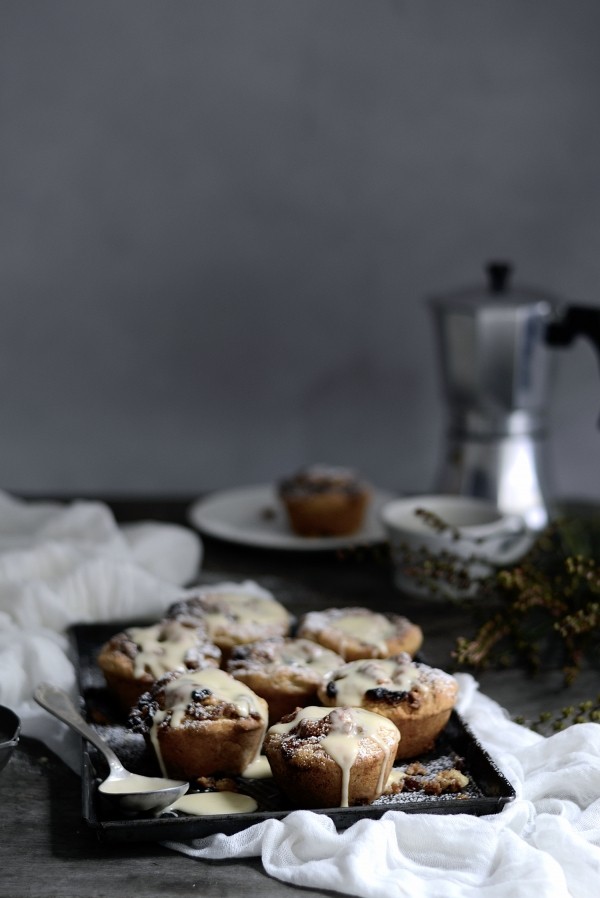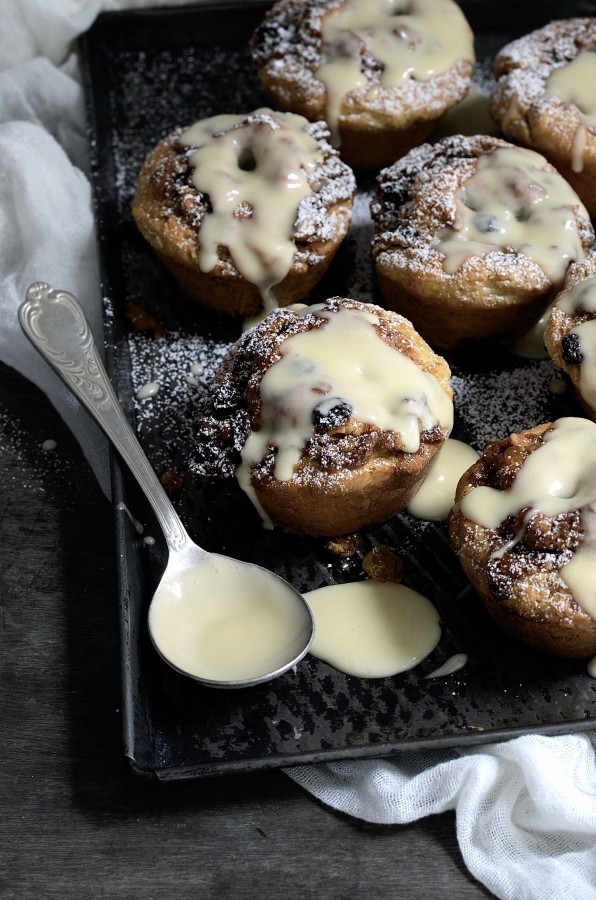 Hot cross bun scroll scones
Hot cross bun scroll scones
2 cups self-raising flour
1 teaspoon baking powder
1/2 teaspoon baking soda
1/2 teaspoon salt
3 tablespoons (45ml) tablespoons icing sugar
80g butter, chilled and cut into cubes
1 egg (xl)
180ml (3/4 cup) buttermilk
Filling
100g butter, softened
1/2 cup castor sugar
1/4 cup demerara sugar
2 teaspoons ground cinnamon
1/2 teaspoon mixed spice
1/3 cup pecan nuts, roughly chopped
1/4 cup of each, raisins and golden sultanas
2 tablespoons orange peel
For finishing
1 tablespoon melted butter mixed with 1 tablespoon milk
Glaze
3/4 cup icing sugar, sifted
1/3 cup fresh cream
1/2 teaspoon vanilla extract
Method
Preheat the oven to 200º C. Grease or spray a large 12-hole non-stick muffin tin with cooking spray.
Start by making the filling. Combine the butter, sugars and spices together to form a paste. Set aside until later.
Sift together the flour, raising agents, salt and icing sugar.
Rub the butter into the flour.
Whisk the egg and buttermilk together and add to the dry ingredients. Mix to combine, without overworking the dough.
Turn the dough out onto a well floured surface and roll into a 20 x 30cm rectangle.
Spread the butter and sugar filling evenly over the entire surface of the dough.
Scatter with dried fruit, peel and nuts. Roll the dough up from the long side, much the same as a Swiss roll.
Slice into 12 even pieces and lay each sone round into the muffin holes. Brush with butter and milk glaze.
Bake for 22-25 minutes.
Cool for 5 minutes in the tin before running a knife around the edges to loosen.
For the glaze, whisk the icing sugar, cream and vanilla together until smooth.
Spoon over the warm hot cross bun scroll scones and apply to face.
For more easy Easter bakes, this hot no knead bread is the answer.