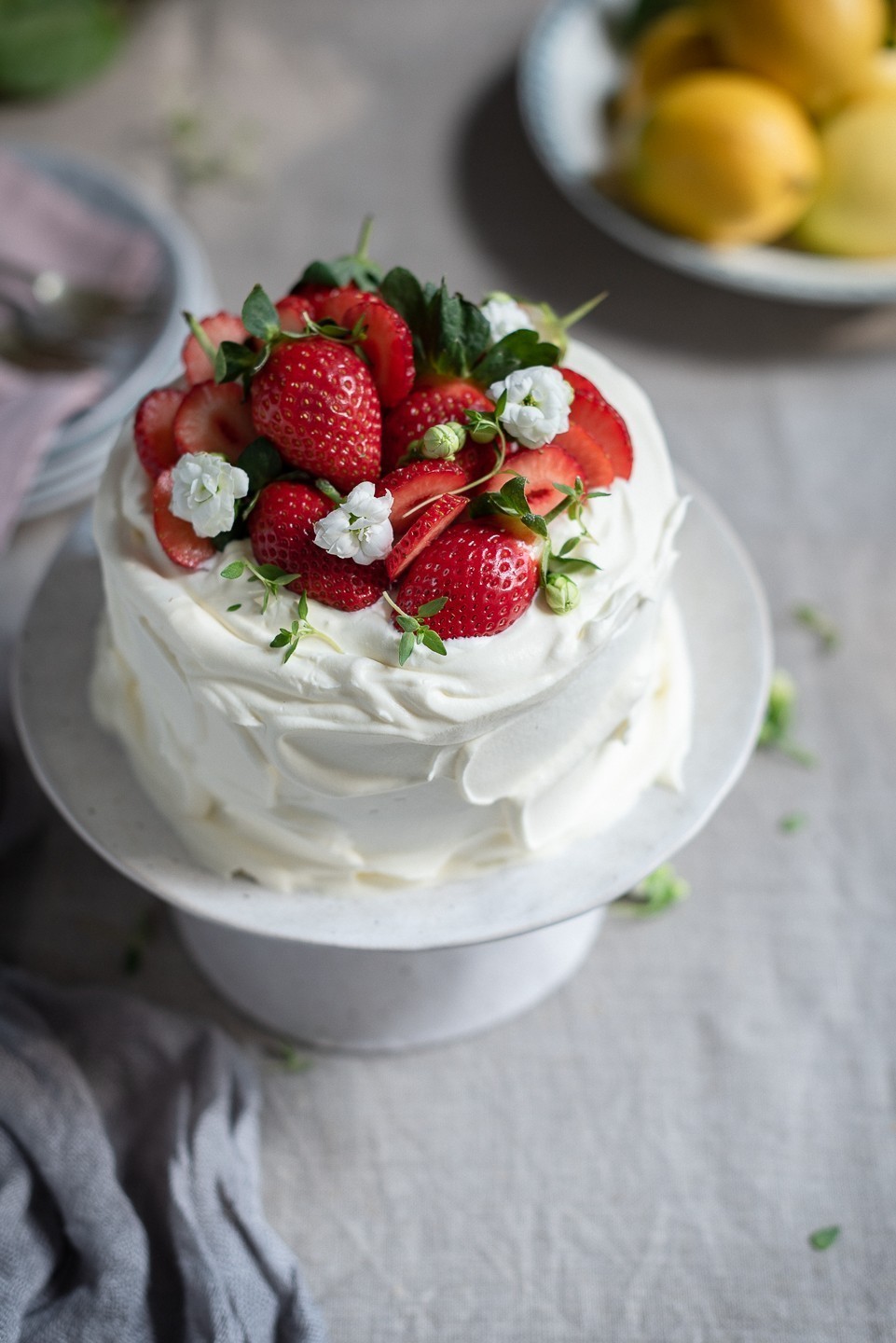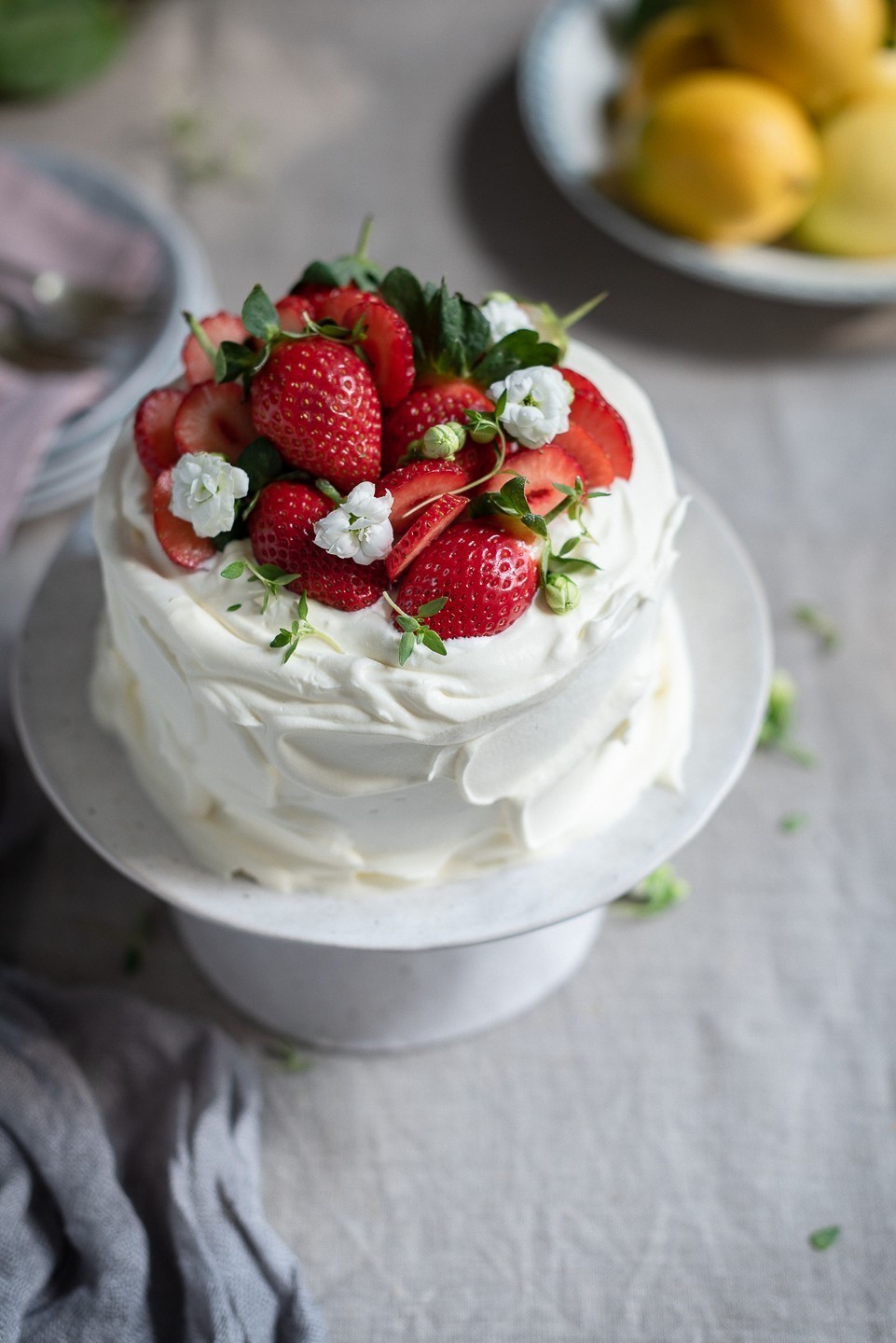 Having just returned from the briefest week in the French countryside, I find myself longing for balmy summer evening walks along quiet lanes and the juiciest, lightly perfumed summer fruits. For now though, I'm content to wrap up warmly, make all the wholesome soups that I longed to eat in summer and perhaps, console myself with a slice of this Lemon curd cream cake, piled with strawberries that hint of warmer days to come.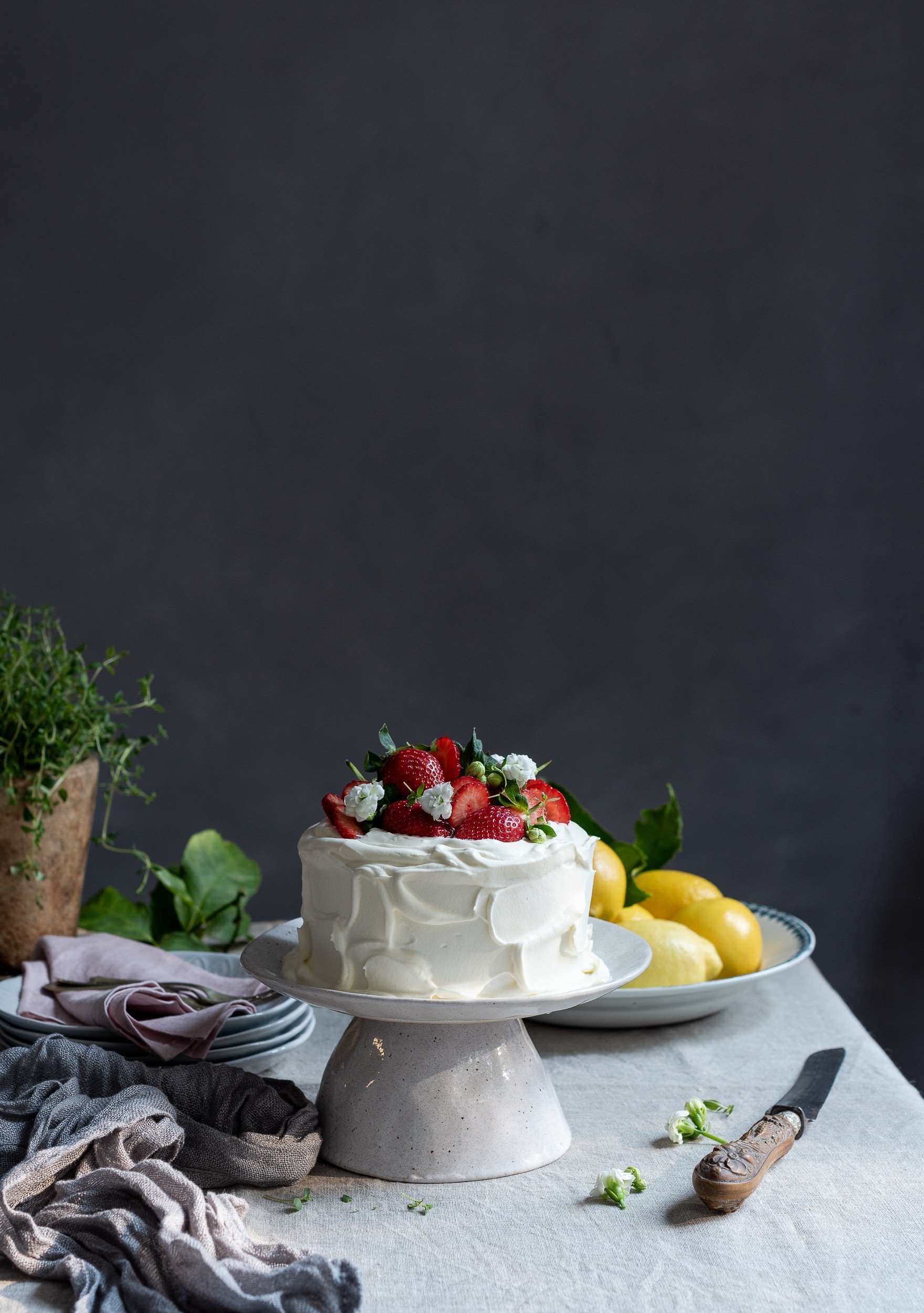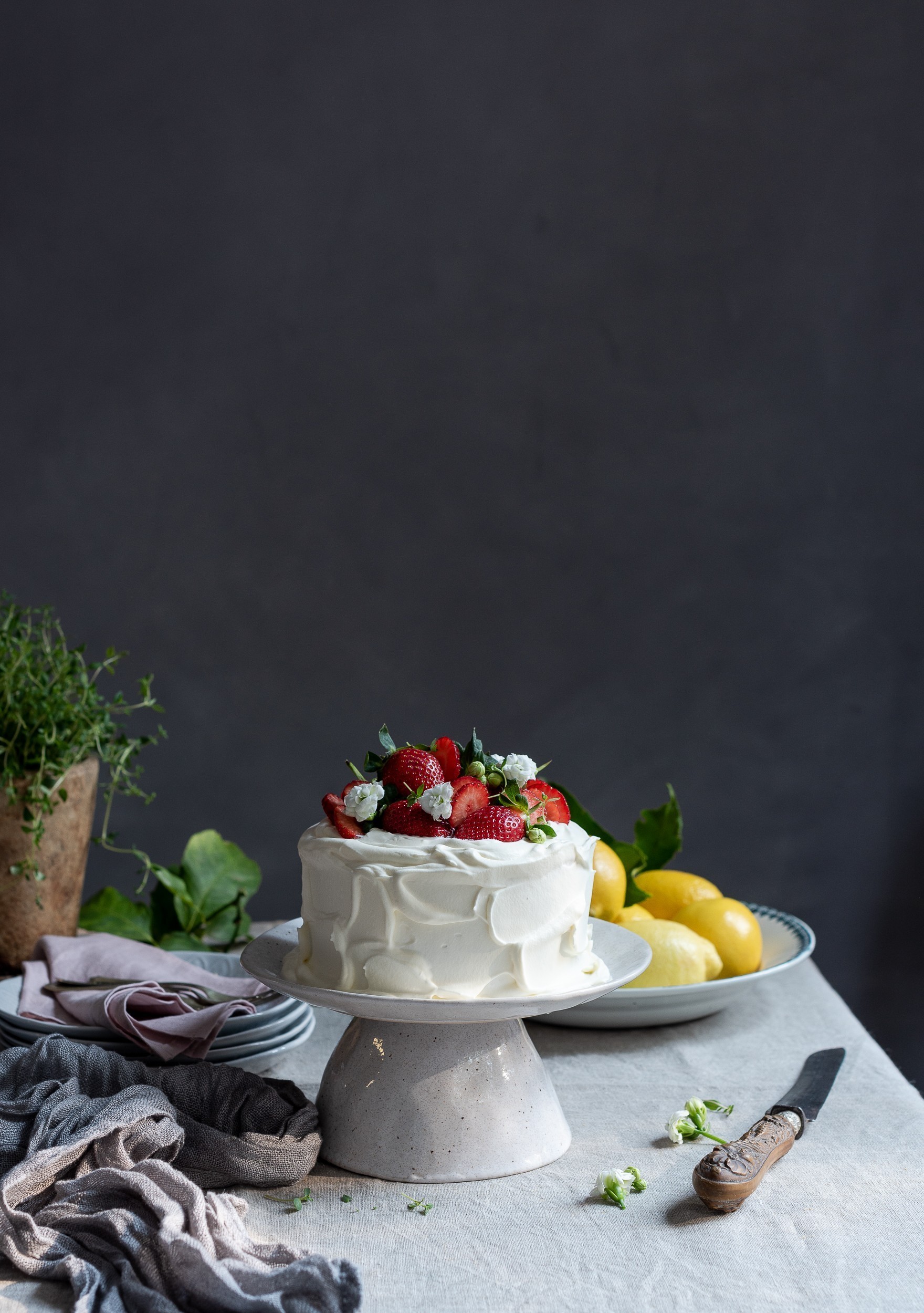 Strawberries and Cream share an illustrious partnership in food circles. This classic duo speaks of simplicity yet at the same time evokes a sense of luxurious indulgence. Making it's first appearance in English courts in the 1500's, strawberries and cream are now as much a Wimbledon tradition as tennis itself. Seductively simple and bettered only, I think, with a long-stemmed glass of bubbles.
Although not yet summer here, at the first sign of strawberries, I start thinking of interesting ways to use them, other than our usual morning ritual of yogurt, strawberries and honey. I had 2 tubs of cream in the fridge intended for ice cream and a jar of homemade lemon curd. It made me think of Meghan Markle's wedding cake, which I imagined tasted as sublime as it looked. Pity I wasn't on the guest list. I would've gone. I decided to make my own version, minus the elderflower syrup and Amalfi lemons, sadly.

The cake's not that large that you need a special occasion to make it. And with a no-nonsense whipped cream frosting, it leans towards effortless baking that's perfect for afternoon tea. I added almond meal and lemon zest to the batter for flavour and to keep the crumb moist and tender. It's buttery, rich taste is balanced by the tartness of the curd and soft, pillowy cream. Although our strawberries are not peaking in flavour, the combination of red and white is impressively dramatic and still completely delicious. There's no shame in wanting to keep this cake to yourself, but I'll tell you this, cake always tastes better when shared with friends.

Lemon curd cream cake
Serves 6 – 8
 125g butter
160g (3/4 cup) castor sugar
5ml (1 teaspoon) vanilla extract
2 eggs
zest of 1 lemon
200g (1 1/3 cup) self raising flour
50g (1/2 cup) almond meal
a pinch of salt
80ml (1/3 cup) full cream milk
Whipped vanilla cream
250ml fresh cream
125ml double cream
1 teaspoon vanilla extract
125ml (1/2 cup) lemon curd
200g strawberries, to finish
edible blooms (optional)
Preheat the oven to 180 C. Grease and line 2 x 15cm baking tins with parchment paper.
Whisk the butter and castor sugar together until pale and creamy. Add the vanilla extract, eggs and lemon zest and beat to combine.
Sift the self-raising flour, almond meal and salt together. Add the dry ingredients and milk to the egg mixture in alternate stages. Beat on a low speed to incorporate, without over-mixing.
Divide the batter into the tins and smooth over. Bake for 25-30 minutes, until a skewer comes out clean. Cool for 10 minutes in the tins before transferring to a wire rack to cool completely.
For the whipped cream, place the fresh cream, double cream and vanilla in a bowl and whisk until soft peaks form.
Lay the first sponge layer on a cake stand and spread with lemon curd. Dollop over 3 heaped tablespoons of the cream and spread gently over the curd. Place the second cake layer on top.
Cover the top and sides of cake with the remaining cream. Finish with strawberries and edible blooms.
Here are three deliciously easy ways to make citrus curd: