Korean beef stir-fry with egg noodles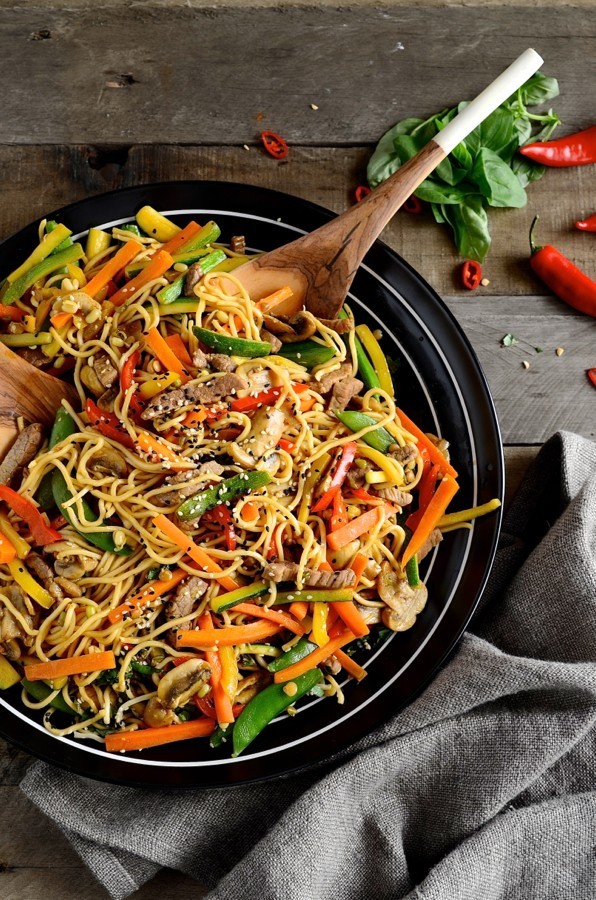 Noodles-  beef – crunchy veg. It's all in one pan with plenty of flavour to liven up your midweek suppers. If you're a regular visitor to the Bibby kitchen, you'll know I'm a huge fan of vibrant foods. Although I love spending most of my days in the kitchen, there are times that even a cook gets tired of cooking! That's when this spicy Korean beef stir try comes in handy. It's an effortless way of cooking that includes proteins, carbs and veg in one colourful dish. The key to this recipe is a punchy sauce. It's everything you'd expect from a great Asian sauce – sticky, spicy, sweet and salty.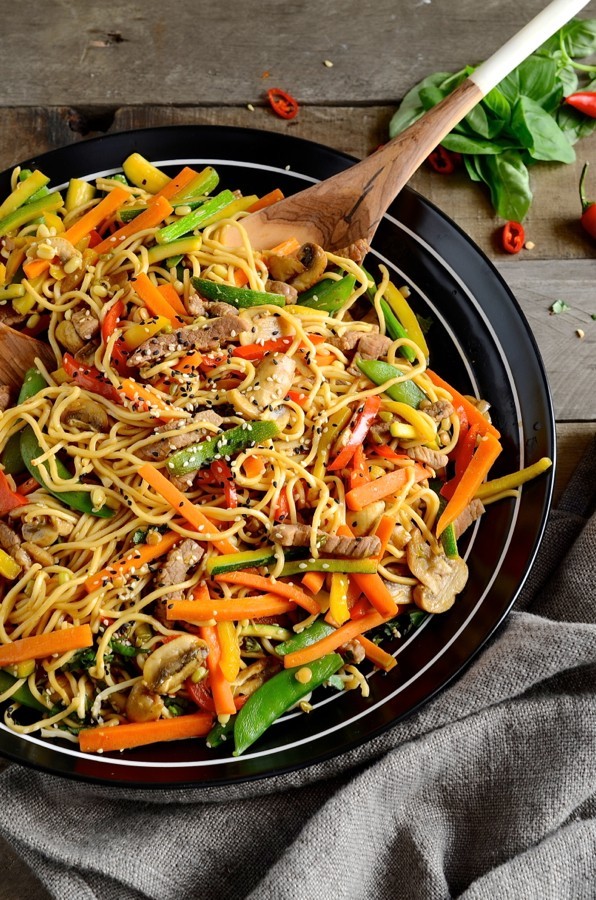 This is obviously a meat recipe, but it's easily adapted to a vegetarian option. Swap the meat out for tofu or add some baby corn, bok choi or even aubergines. Chicken, pork tenderloin or prawns also make a tasty alternative. If you're avoiding carbs, ditch the egg noodles and toss with courgette spirals.
The most challenging part is the vegetable chopping. To save time, prep the vegetables in the morning and it'll be a breeze putting it all together when you get in from work. A scattering of toasted sesame seeds adds a delicious nuttiness and is to me, completely essential. You can also try toasted cashews, which are always good with Asian style food.

Korean beef stir-fry with egg noodles
Serves 4
For the sauce
3 tablespoons soy sauce
1 scant teaspoon Sriracha sauce (or substitute with a similar hot chilli sauce)
2 teaspoons sesame oil
150ml chicken stock
2 tablespoon lime or lemon juice
1 tablespoon honey
3cm knob ginger, grated
black pepper
1 teaspoon cornflour
For the stir fry
200g egg noodles or rice noodles
2 tablespoons vegetable oil
1 tablespoon sesame seed oil
2 carrots, julienned
1  red and yellow pepper, deseeded and thinly sliced
1 pack (200g) sugar snaps
250g button mushrooms, diced
3 courgettes, julienned
350g steak, thinly sliced
handful fresh basil, roughly chopped
2 tablespoons toasted white and black sesame seeds
For the sauce, whisk all the ingredients together in a small jug and set aside. Cook the noodles in salted water until just tender but still firm enough to hold together. Drain and set aside. Heat 1 tablespoon vegetable oil in a wok or large based frying pan. Add the carrots and sweet peppers and cook for several minutes on a high heat. Season lightly and remove from the pan. Add a drop more oil before adding the sugar snaps, mushrooms and courgettes. Stir fry for several minutes, season lightly, remove from the pan and add to the carrots and peppers.
Heat the sesame oil and once hot, add the steak and cook for about 3 minutes. Pour in 1/4 cup of the sauce and stir to coat the meat. Add all the vegetables to the pan and pour over the remaining sauce. Toss gently and allow the sauce to thicken and the vegetables to heat through. Pile in the noodles and chopped basil. Give the stir fry a final toss and serve with toasted sesame seeds.