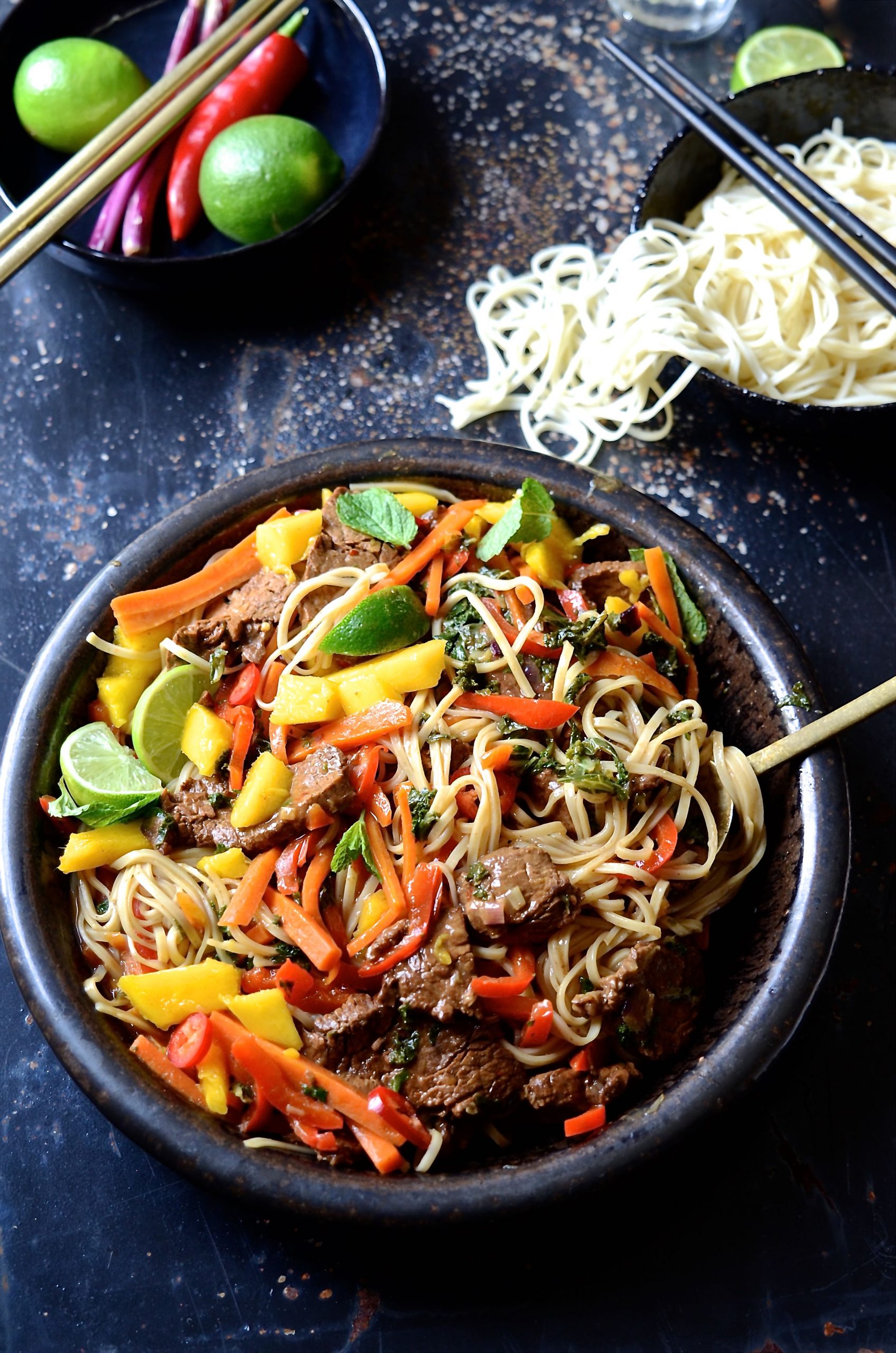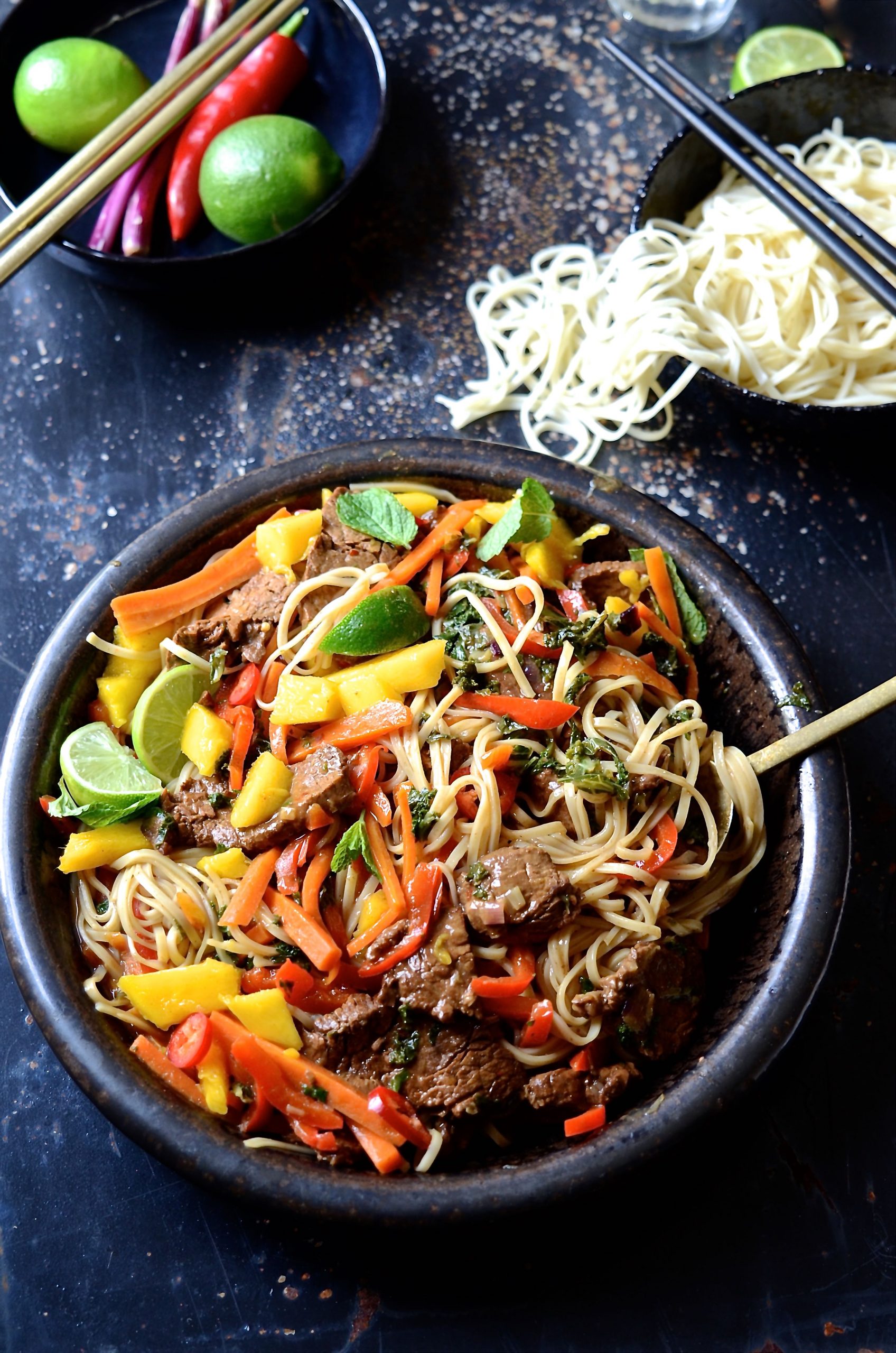 This spicy beef stir fry with sweet peppers and egg noodles is the quickest way route to easy, at home take-outs. It's vibrant, super-simple food with heaps of flavour and fresh crunchy vegetables.
Week night supper prep has to be speedy. Stir fries are easy to make, but with a fare bit of chopping. The secret to a good stir fry lies in the tender marinated strips of beef. This prime cut absorbs flavours easily and cooks in minutes. Rib eye and skirt steak are great alternatives or swap the red meat out for skinless chicken thighs. For the marinade I've combined Chinese five-spice with sesame oil, chilli for heat and lime for that tart sour balance.
Stir fries accept nearly anything a fridge clear offers up. I used carrots, sweet peppers and crispy kale. Mushrooms and beef are generally good together so I added these too. punnet of fresh mushrooms or dried shiitake mushrooms is another delicious option. Now for a sweet twist to the story. Fruit, particularly mangoes, are especially good with spicy foods. Think Asian, Indian and Mexican. A couple of months ago this lamb curry with mango atchar was voted best recipe in the South African Peppadew atchar challenge.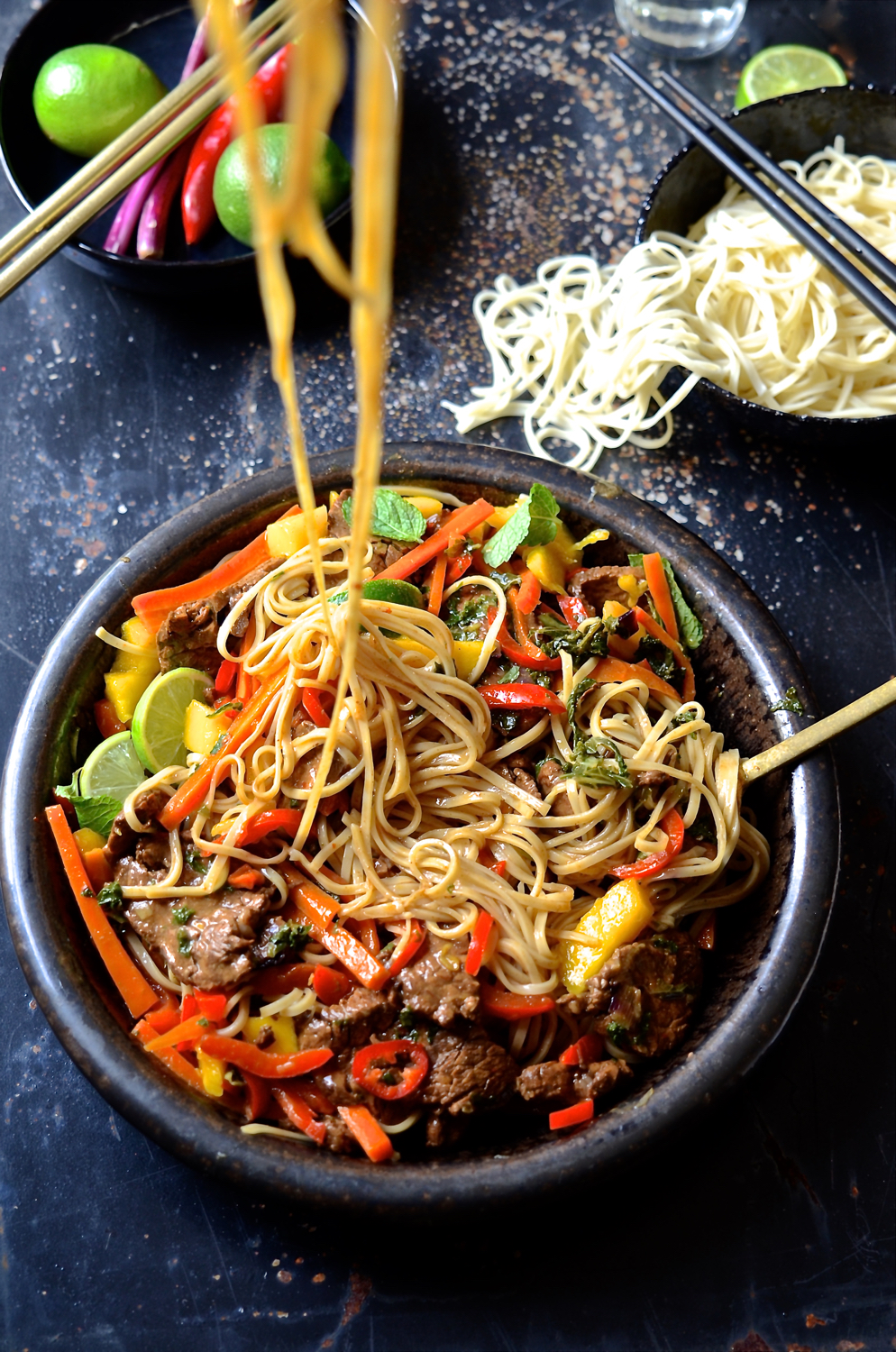 Spicy beef stir fry
3 tablespoons low sodium soy sauce
1/2 teaspoon chilli powder
1/4 teaspoon dried red chilli flakes
2 teaspoons Chinese five-spice powder
1 clove garlic, minced
1 heaping tablespoon brown sugar
2 teaspoons sesame seed oil
For the stir fry
400g beef fillet, sliced into strips
1 tablespoon vegetable oil
2-3 carrots, julienned
1 of each, red and orange sweet peppers, deseeded and finely sliced
several stems kale, centre rib removed and roughly chopped
3 scallions, sliced
egg or rice noodles, cooked as per pack instructions
1 small fresh mango, peeled and cut into bite size pieces
fresh basil and mint, to finish
fresh chilli, optional
Sauce
2 tablespoons oyster sauce
2-3 tablespoons lime or lemon juice
1 tablespoon freshly grated ginger
1 cup chicken stock
2 teaspoons corn flour mixed with 3 tablespoons cold water
Place all the ingredients for the marinade in a non-metallic bowl and stir to combine. Add the beef and toss until the meat is well coated.
Set aside for at least 30 minutes or preferably overnight.
Heat the vegetable oil in a large skillet and stir fry the carrots and peppers for several minutes.
Add the kale and scallions to the pan and cook for a further 3-4 minutes. Remove from the pan and set aside while you cook the beef.
Heat another drop of oil in the same pan and fry the meat on a very high heat for about 3-4 minutes until caramelised and nearly done. Season lightly with salt before adding the vegetables back in with the beef.
Whisk the sauce ingredients together in small jug and pour over the beef and vegetables.
Simmer for around 2 minutes until the sauce has thickened. Now tip the cooked noodles in and toss to coat in the sauce.
Add the fresh mango pieces and finish with mint leaves, basil and extra chilli if you like it hot. Serve with lime wedges.