Spicy beef stir fry with sweet peppers and mango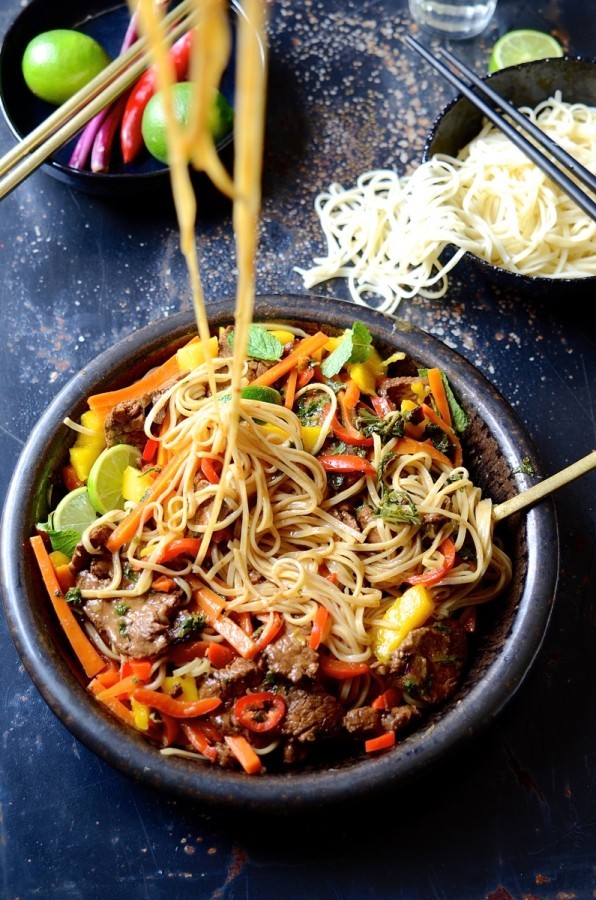 I think of noodle dishes as bowls with slurp appeal and what better than a stir fry for some noodle action. A Spicy beef stir fry with sweet peppers and fresh mango chunks to be exact. Add to that some kale and slippery strands of golden egg noodles and dinner's sorted. Who can resist this amount of yum that's on the table in less time than it takes to grab your favourite take-out? It's a big thumbs up emoji for quick, fresh and super-simple suppers recipes.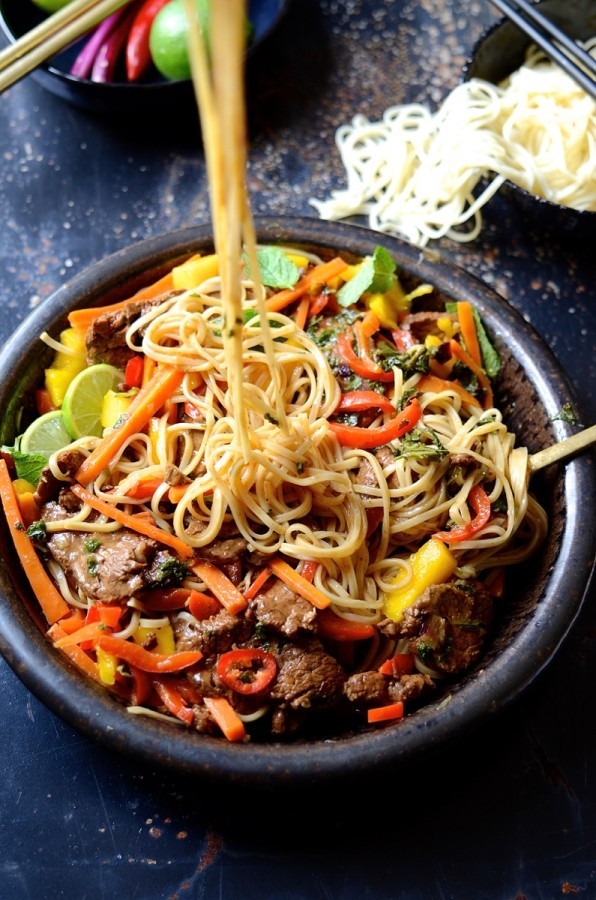 Week night supper prep has to be speedy and doable. Stir fries are easy, flash in the pan suppers with a fare bit of chopping and a couple of minutes pan time. The secret to the best spicy beef stir fry lies in the tender marinated strips of beef. This prime cut of beef absorbs flavours easily and cooks in a matter of minutes. Rib eye and skirt steak are great alternatives or swap the red meat out for skinless chicken thighs. For the marinade I've combined Chinese five-spice with the nutty taste of sesame oil, red chilli flakes for heat and lime to provide that essential sour balance.
Stir fries are the 'Harry-casuals' of cooking methods and accept nearly anything a fridge clear-out throws at them. Mine provided carrots, sweet peppers and bunches of crispy kale. Mushrooms and beef are generally good together so a punnet of fresh mushrooms or dried shiitake mushrooms is another delicious option. Now for a sweet twist to the story. I love a savoury and sweet combo and can go on about the compatibility of meat and fruit endlessly. It works a charm and is especially good with hot food cuisines. Think Asian, Indian and Mexican. A couple of months ago this lamb curry with mango atchar was voted best recipe in the South African Peppadew atchar challenge. Pin it for later. It's a sure bet winner for all curry-lovers.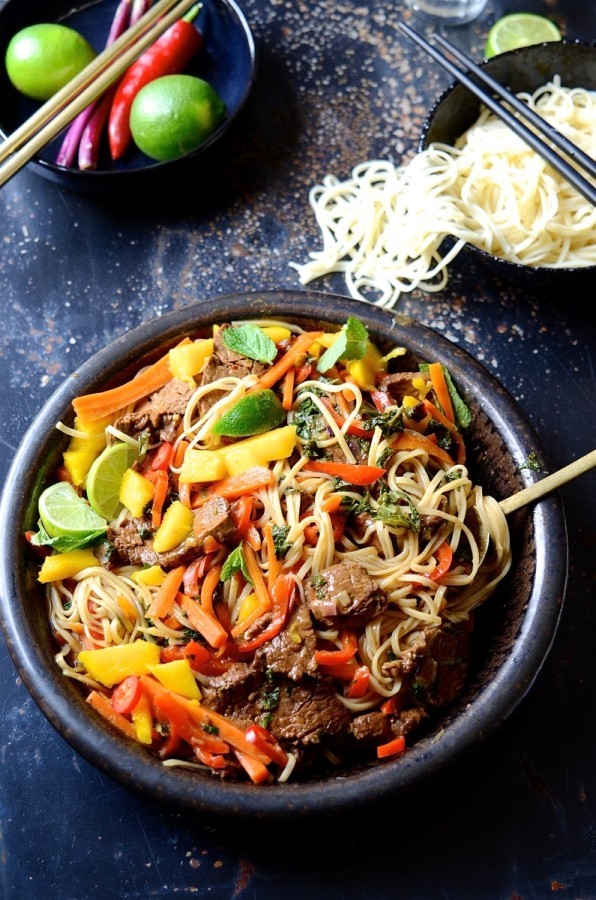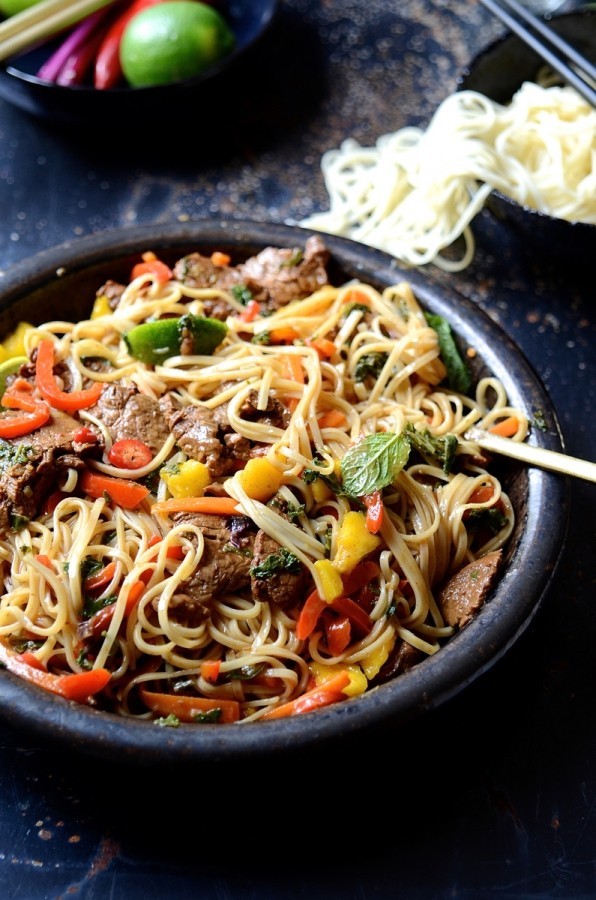 Spicy beef stir fry with sweet peppers and mango
Prep time:
Cook time:
Total time:
3 tablespoons low sodium soy sauce
1/2 teaspoon chilli powder
1/4 teaspoon dried red chilli flakes
2 teaspoons Chinese five-spice powder
1 clove garlic, minced
1 heaping tablespoon brown sugar
2 teaspoons sesame seed oil
For the stir fry
400g grass-fed beef fillet, sliced into strips
1 tablespoon vegetable oil
2-3 carrots, julienned
1 of each, red and orange sweet peppers, deseeded and finely sliced
several stems kale, centre rib removed and roughly chopped
3 scallions, sliced
egg or rice noodles, cooked as per pack instructions
1 small fresh mango, peeled and cut into bite size pieces
fresh basil and mint, to finish
fresh chilli, optional
Sauce
2 tablespoons oyster sauce
2-3 tablespoons lime or lemon juice
1 tablespoon freshly grated ginger
1 cup chicken stock
2 teaspoons corn flour mixed with 3 tablespoons cold water
Place all the ingredients for the marinade in a non-metallic bowl and stir to combine. Add the beef and toss until the meat is well coated.
Set aside for at least 30 minutes or preferably overnight.
Heat the vegetable oil in a large skillet and stir fry the carrots and peppers for several minutes.
Add the kale and scallions to the pan and cook for a further 3-4 minutes. Remove from the pan and set aside while you cook the beef.
Heat another drop of oil in the same pan and fry the meat on a very high heat for about 3-4 minutes until caramelised and nearly done. Season lightly with salt before adding the vegetables back in with the beef.
Whisk the sauce ingredients together in small jug and pour over the beef and vegetables.
Simmer for around 2 minutes until the sauce has thickened. Now tip the cooked noodles in and toss to coat in the sauce.
Add the fresh mango pieces and finish with mint leaves, basil and extra chilli if you like it hot. Serve with lime wedges.