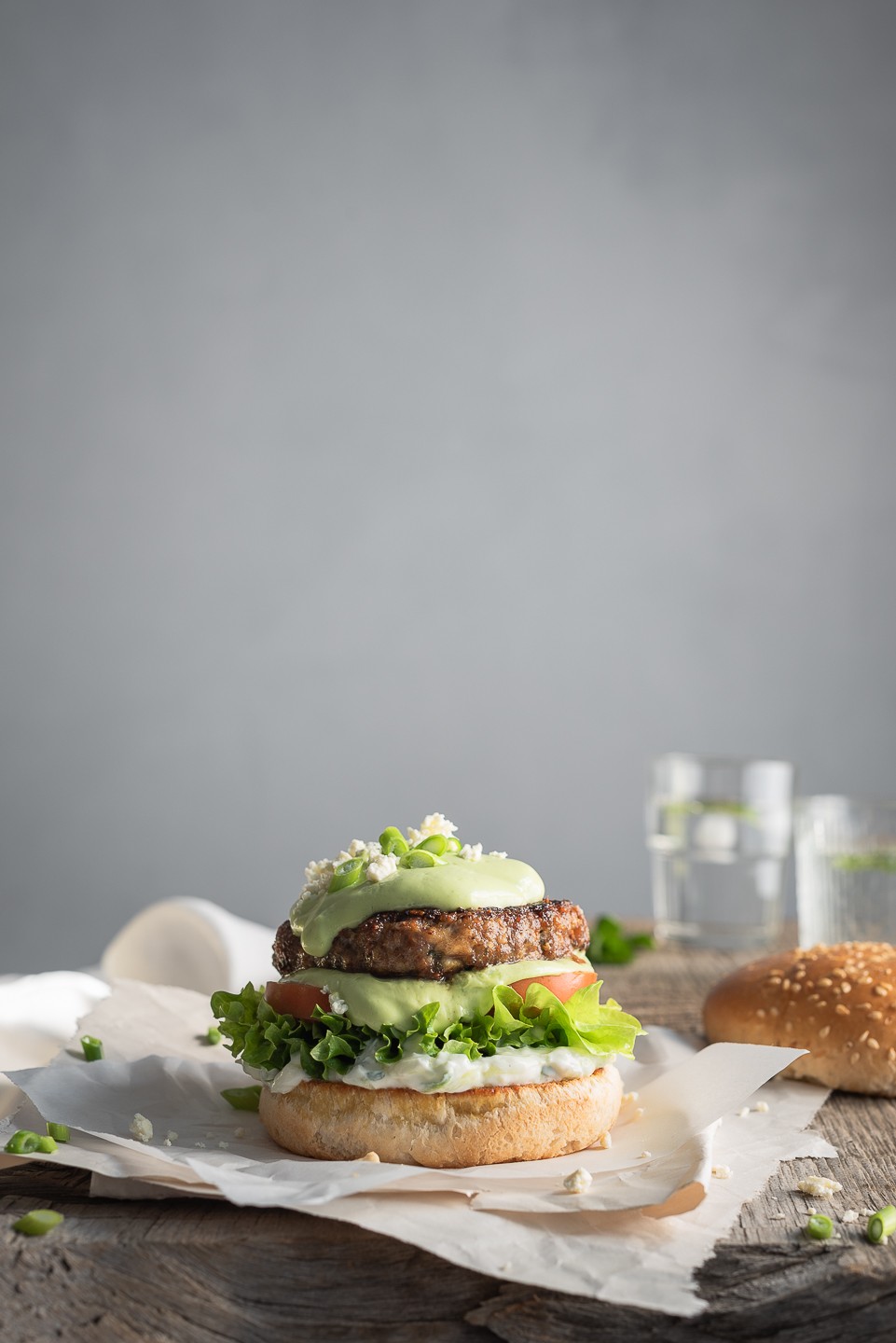 Hello again! I know it's been a little quiet around here lately. Between planning my Cookbook launches, working on some exciting new collaborations and the September cooking classes, I've fallen a little behind with sharing recipes on the blog. Hopefully these Greek-style burgers will make up for the absence? They taste like summer – bright and juicy with heaps of flavour and a green herb dressing that you'll want to slather on everything this summer, from said burgers to salads!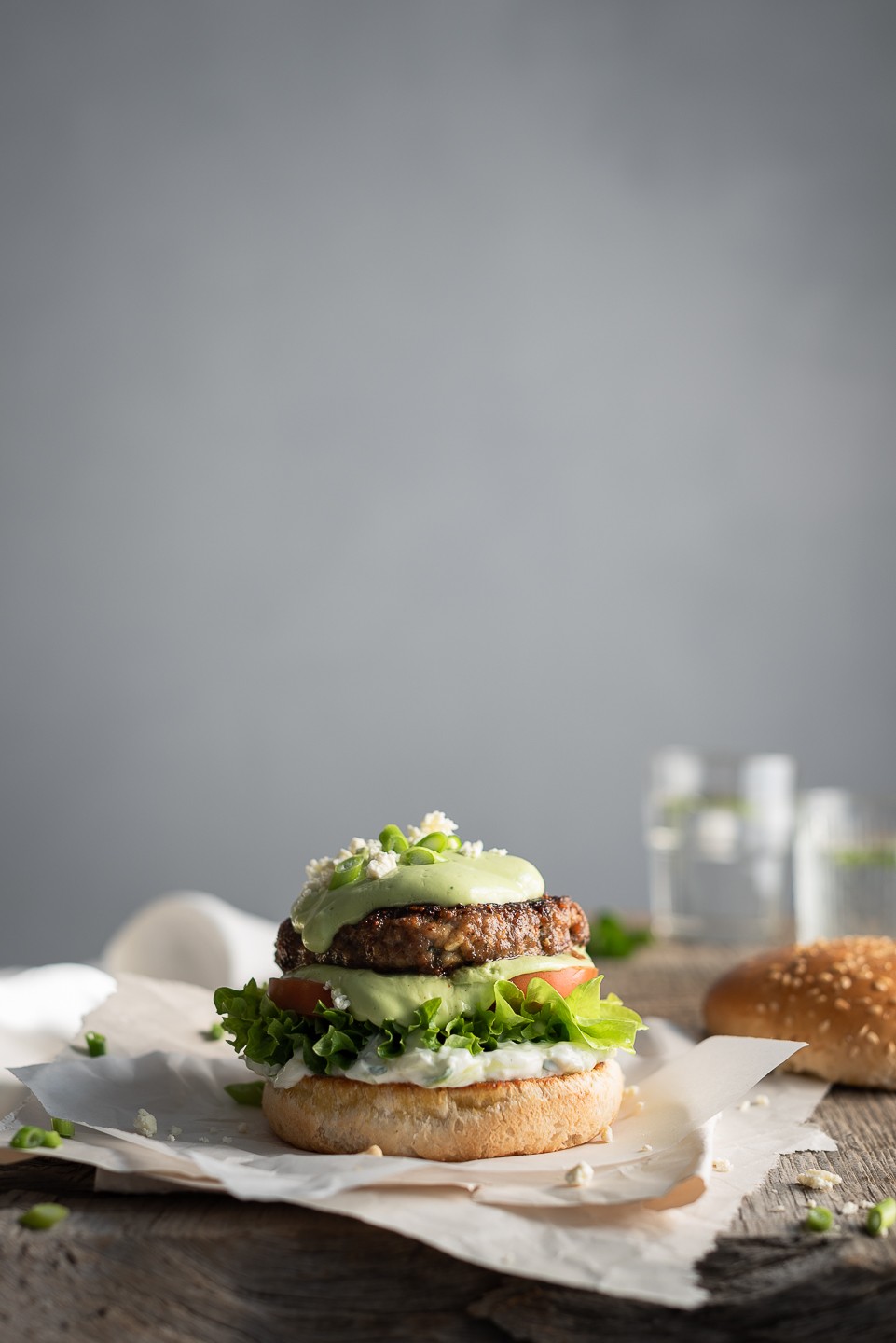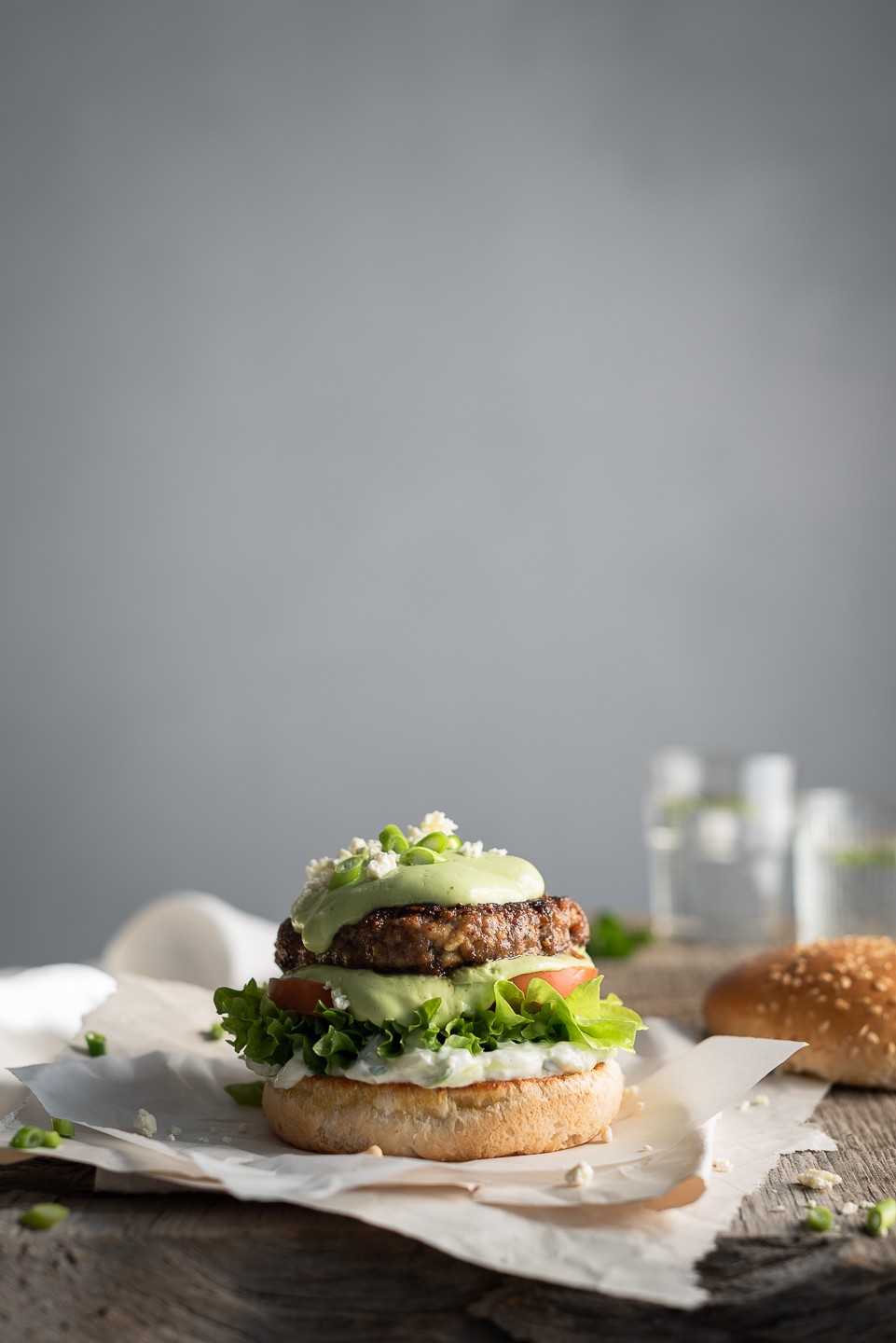 Several weeks ago, I shared a recipe for my milk bread buns. It you haven't made them yet, these burgers should spur you into action, although crisp ciabatta or buttery brioche buns are an equally delicious place to land. Whichever buns you choose, I'd suggest buttering and toasting the cut sides before stacking up. It makes all the difference.
The star of any burger, is obviously the patty. Chicken, beef and lamb lend themselves well to Greek flavourings. Minty and fresh with the salty astringency of feta and lemon. How can it be anything but good? And if you feel these Greek-style burgers need a side, a tray of oven-roasted sweet potato shoestring fries with lemon salt are the bees knees.
On another note: If you're keen to join the September cooking classes, there are just 2 places available for Saturday 14th September. The menu is crammed with wholesome goodness, bold flavours and heaps of plant-centred recipes from breakfast, lunch, dinner and dessert. For enquiries, you're welcome to email me at diannebibby@gmail.com.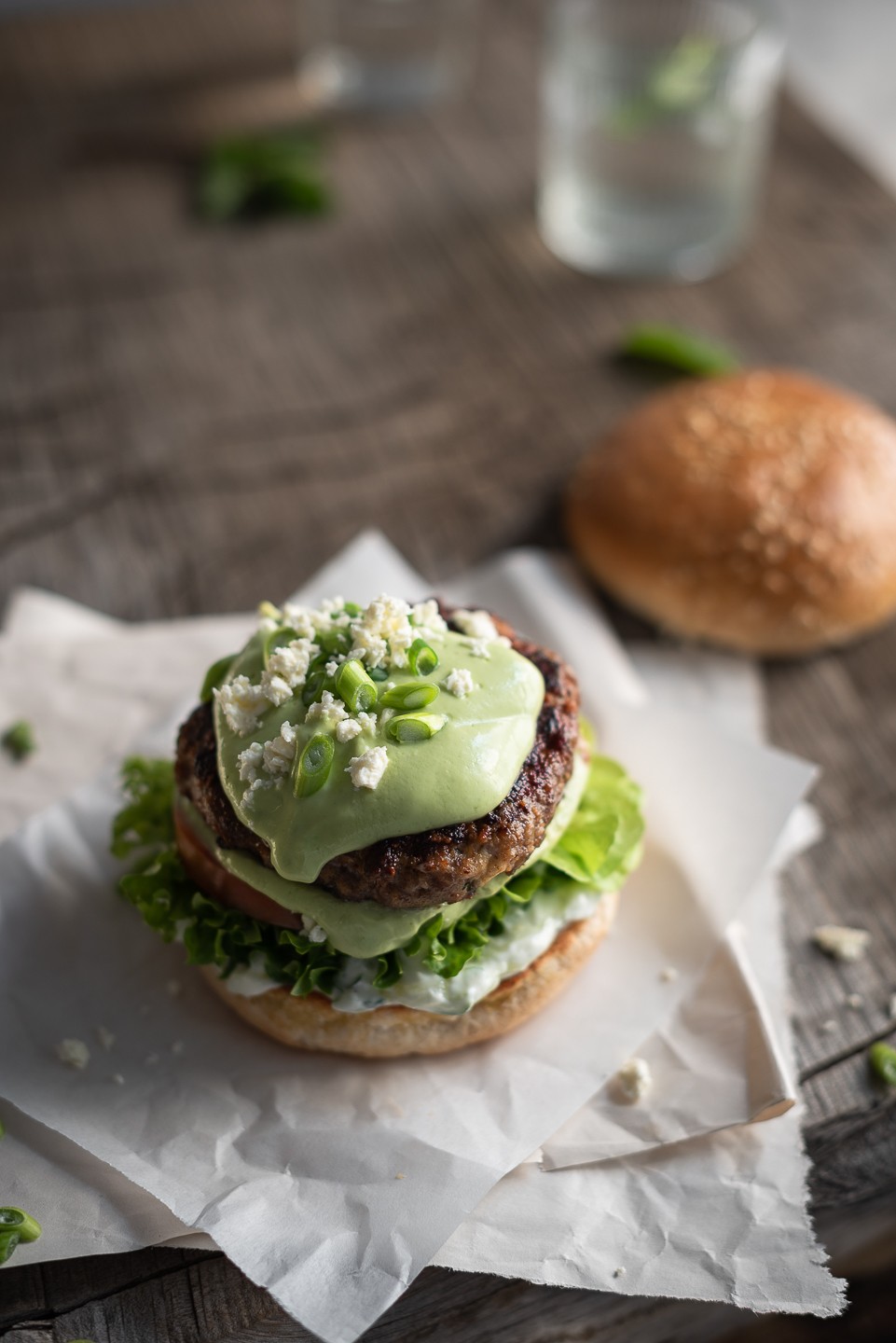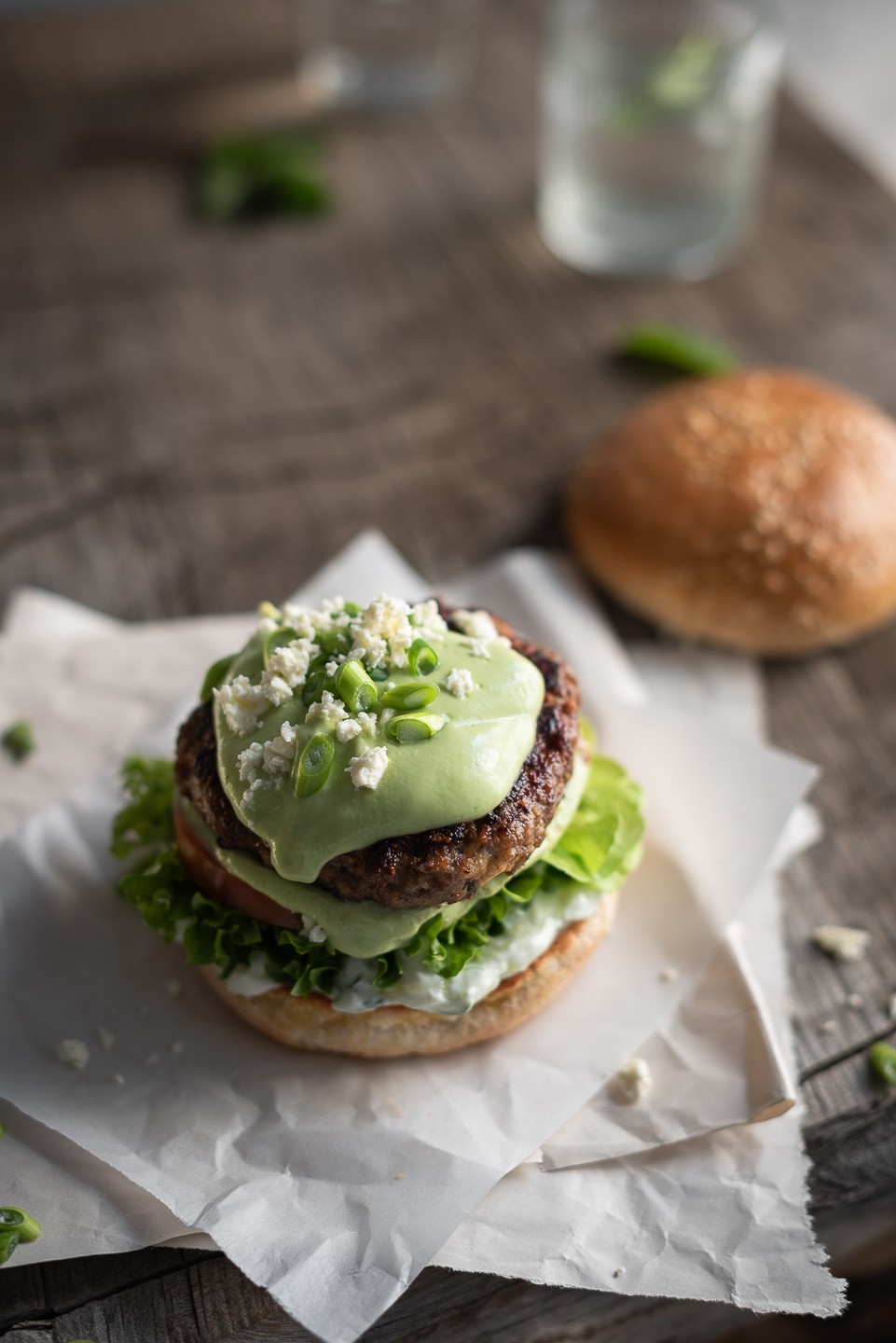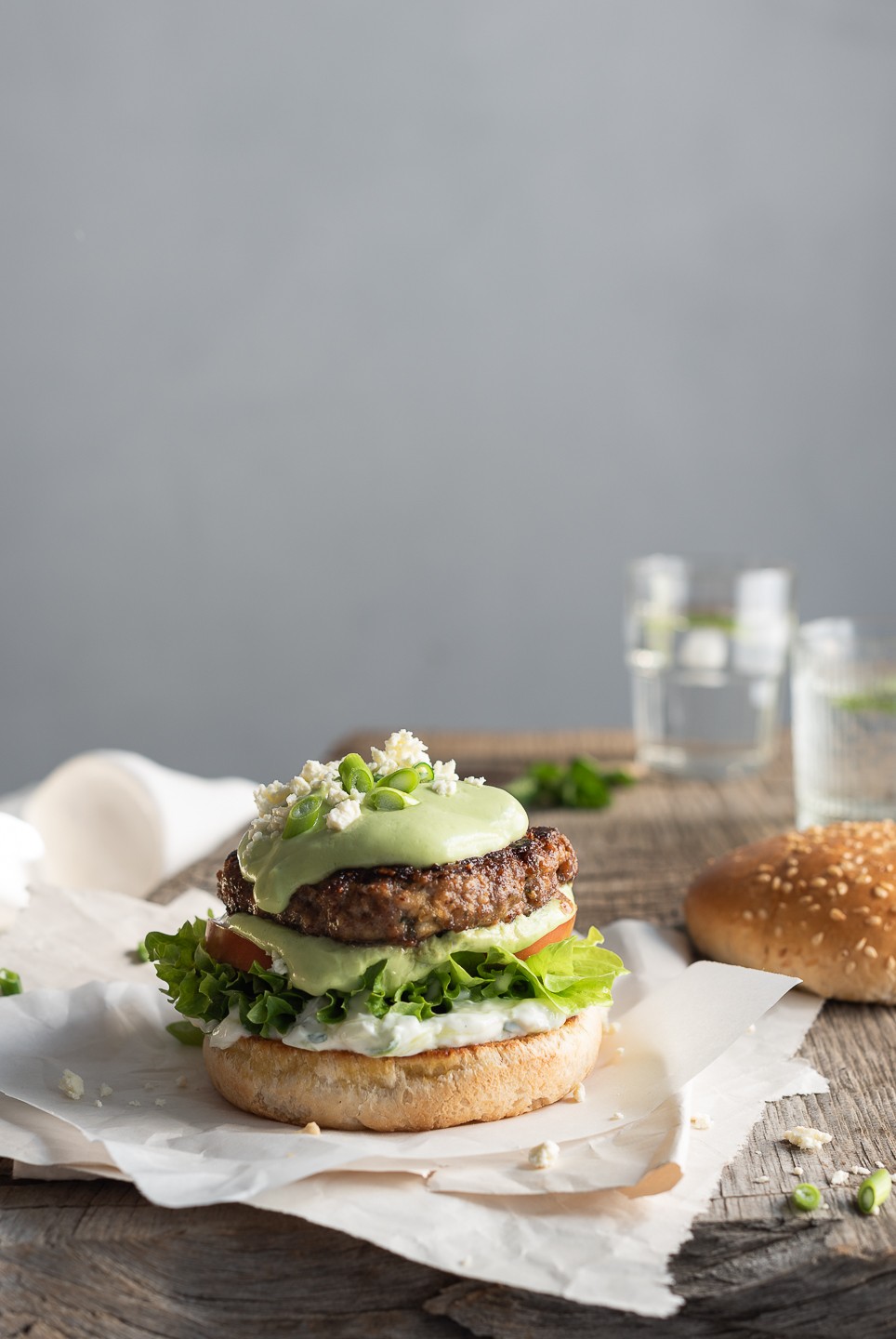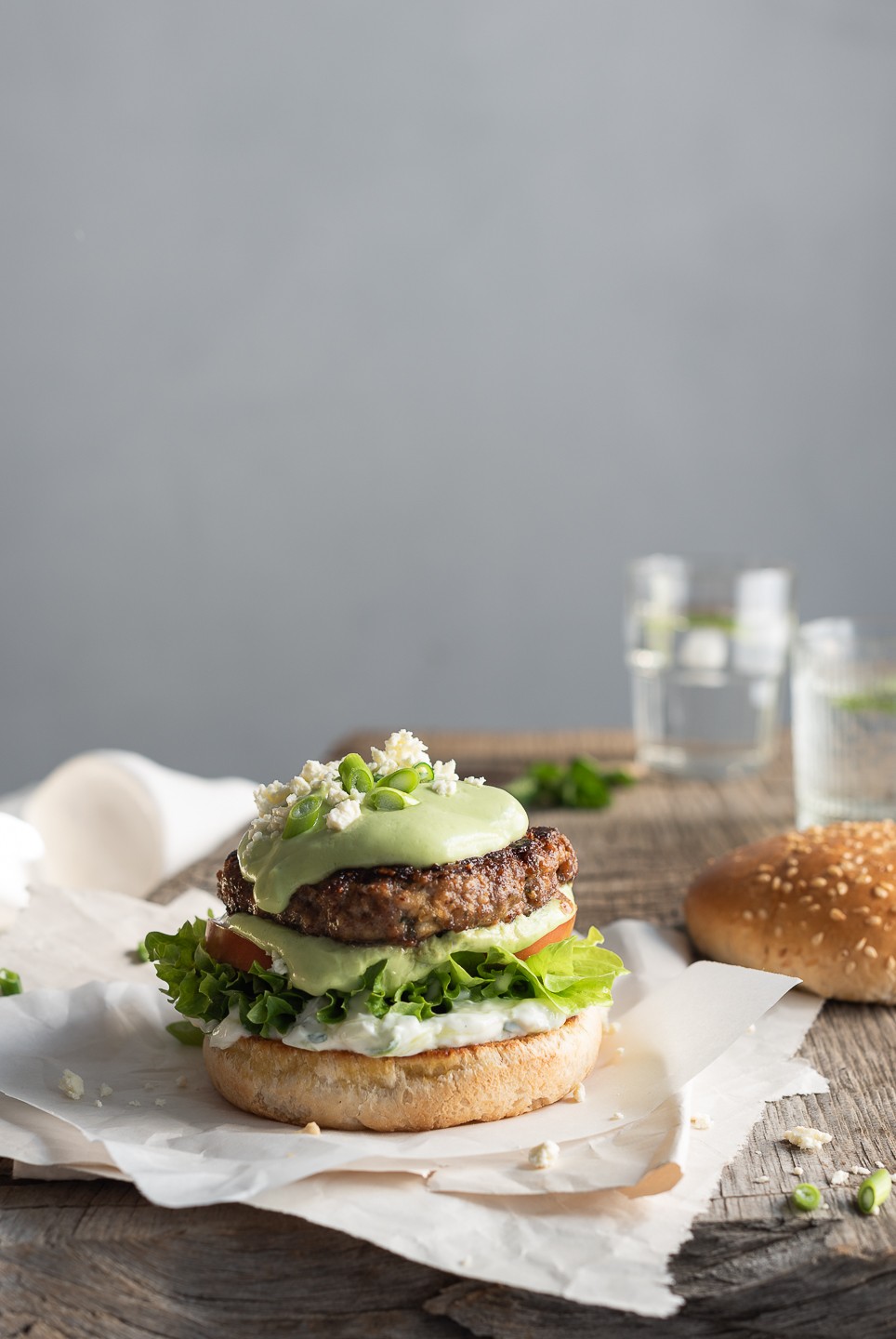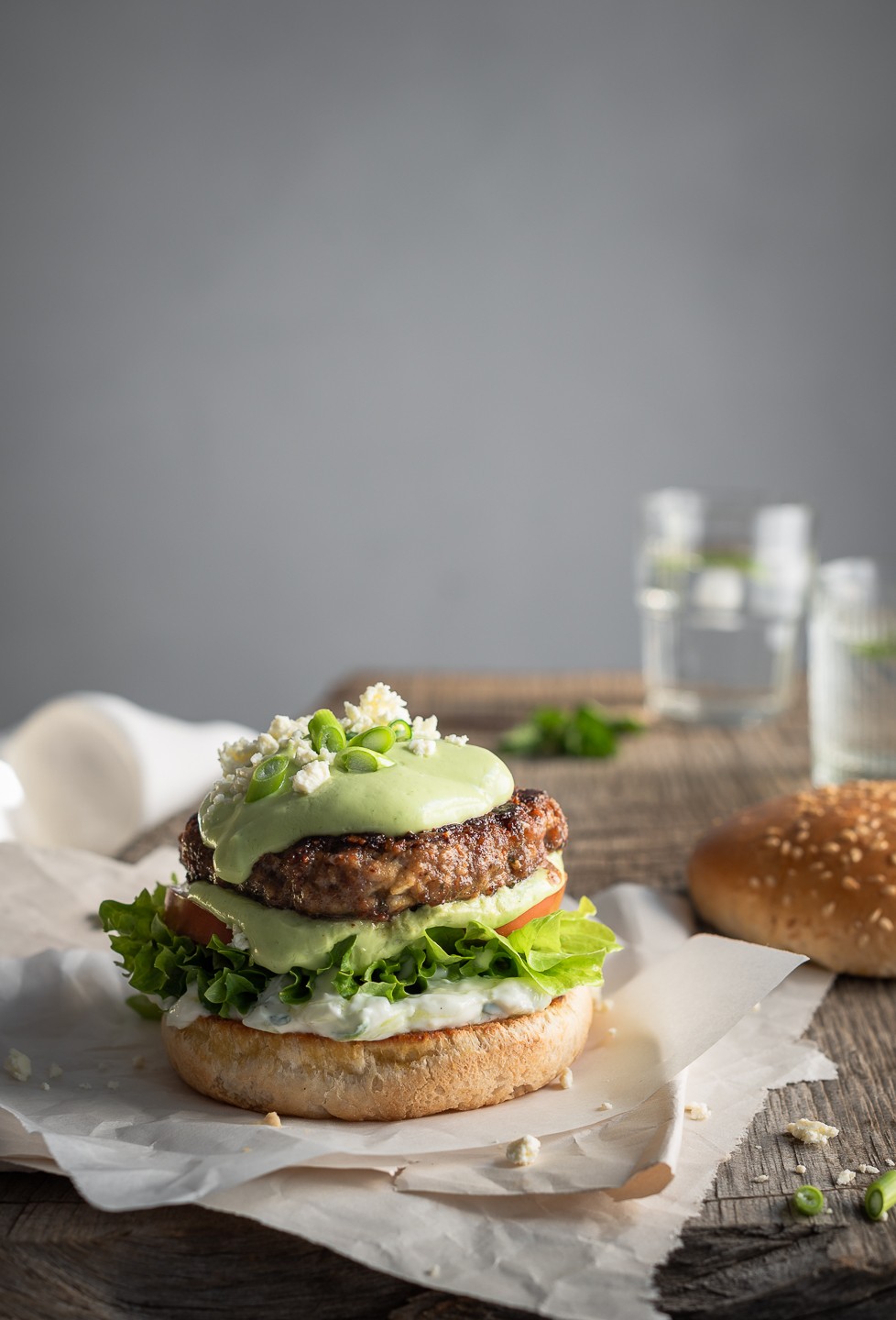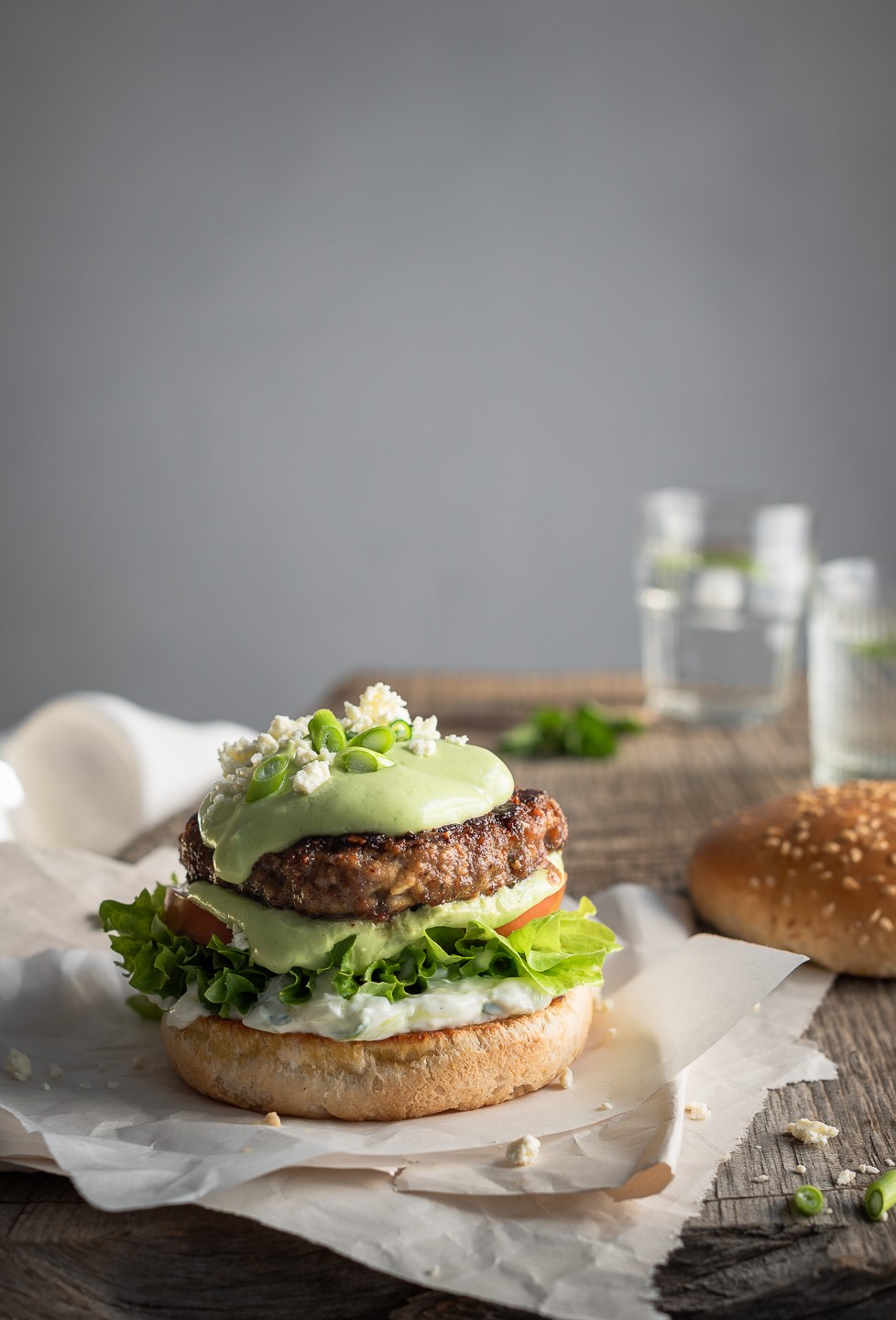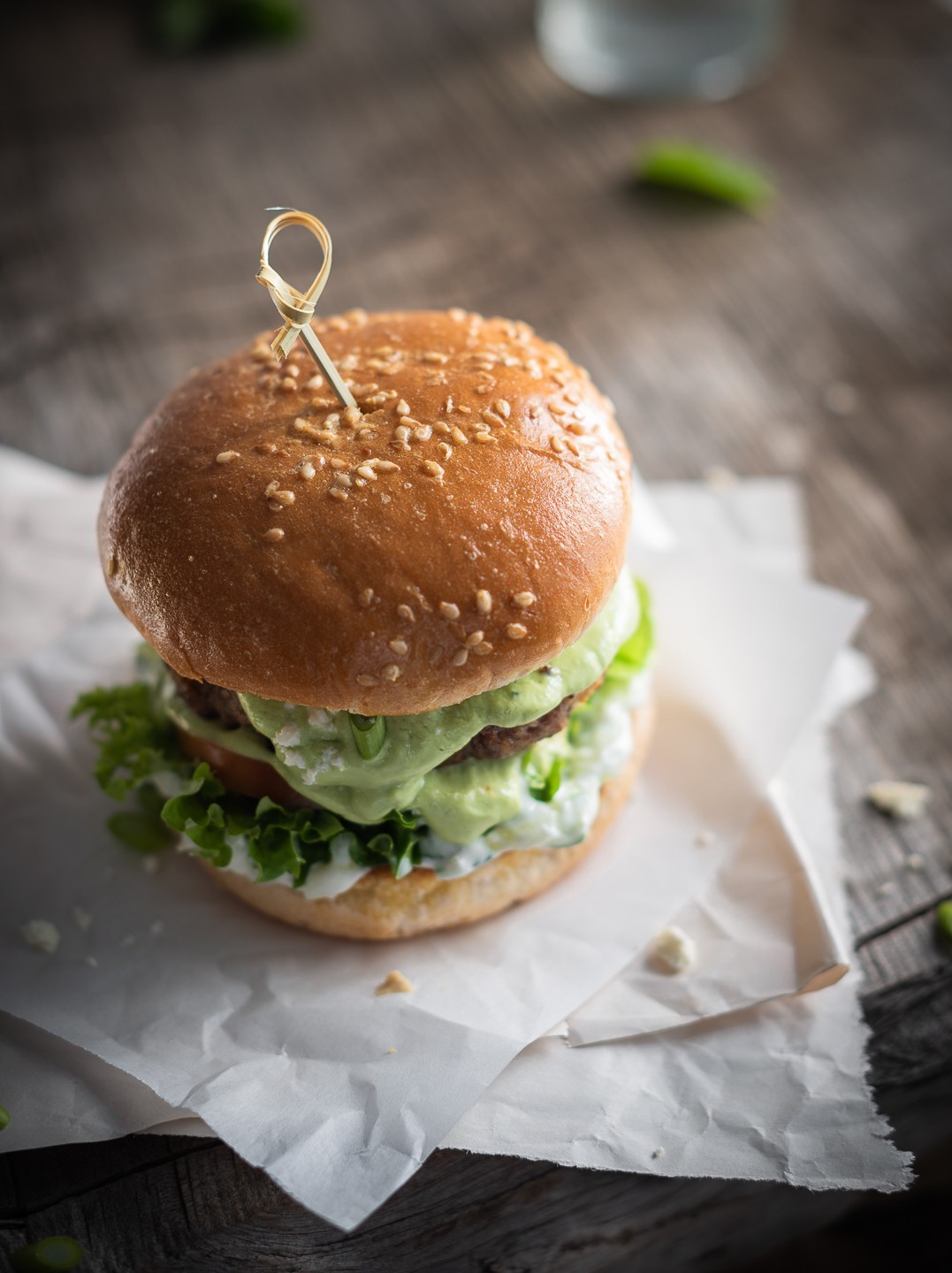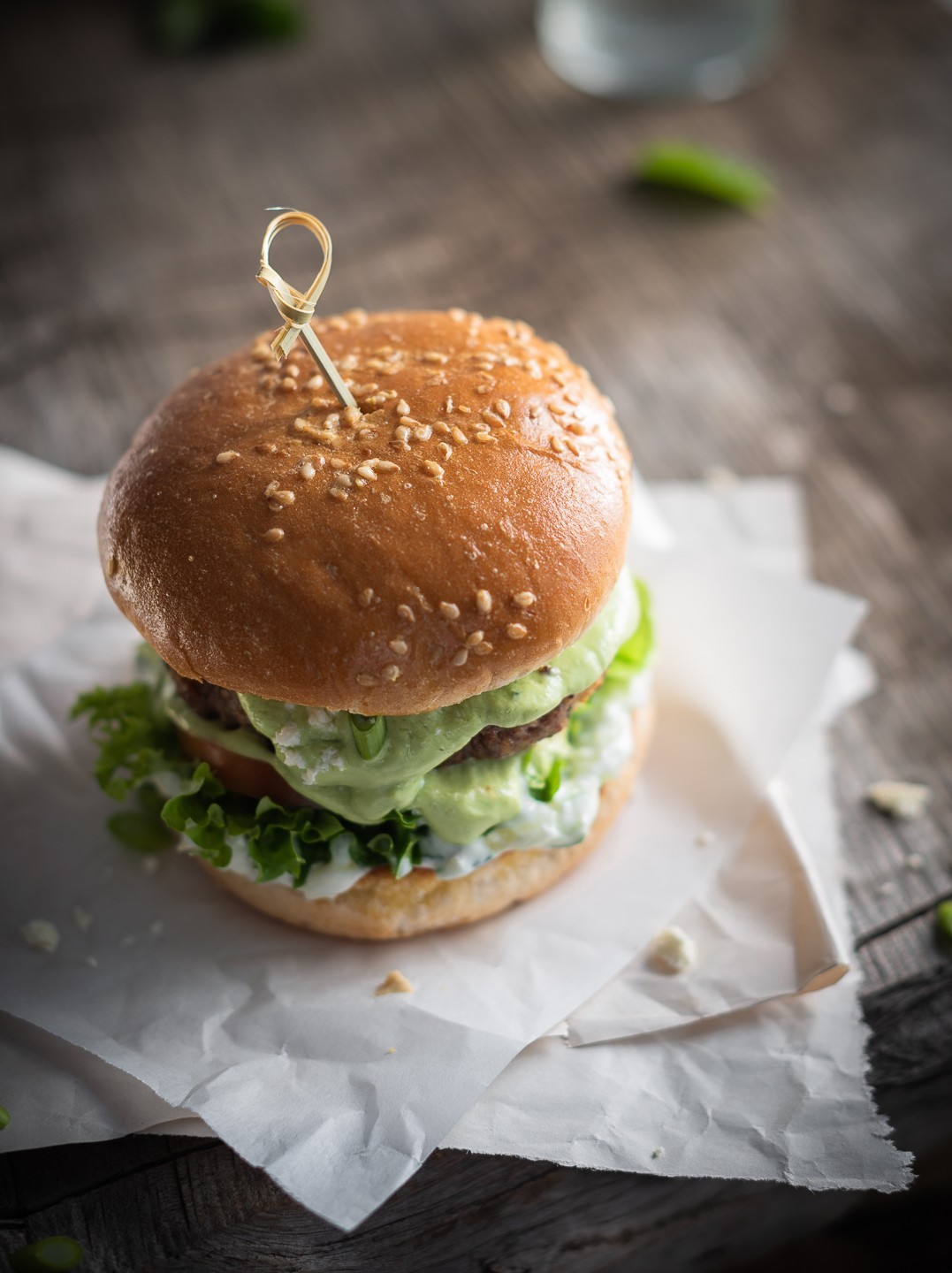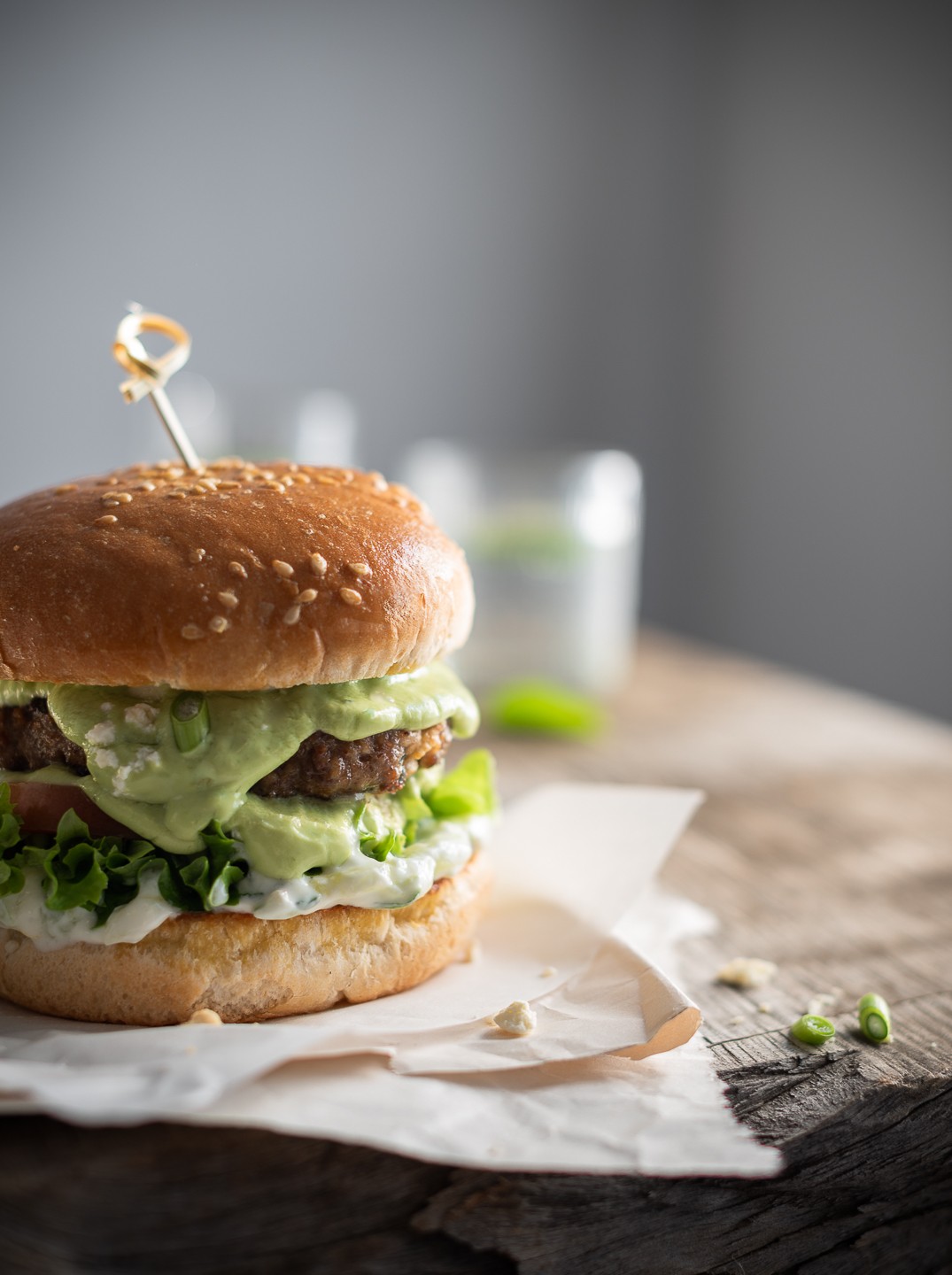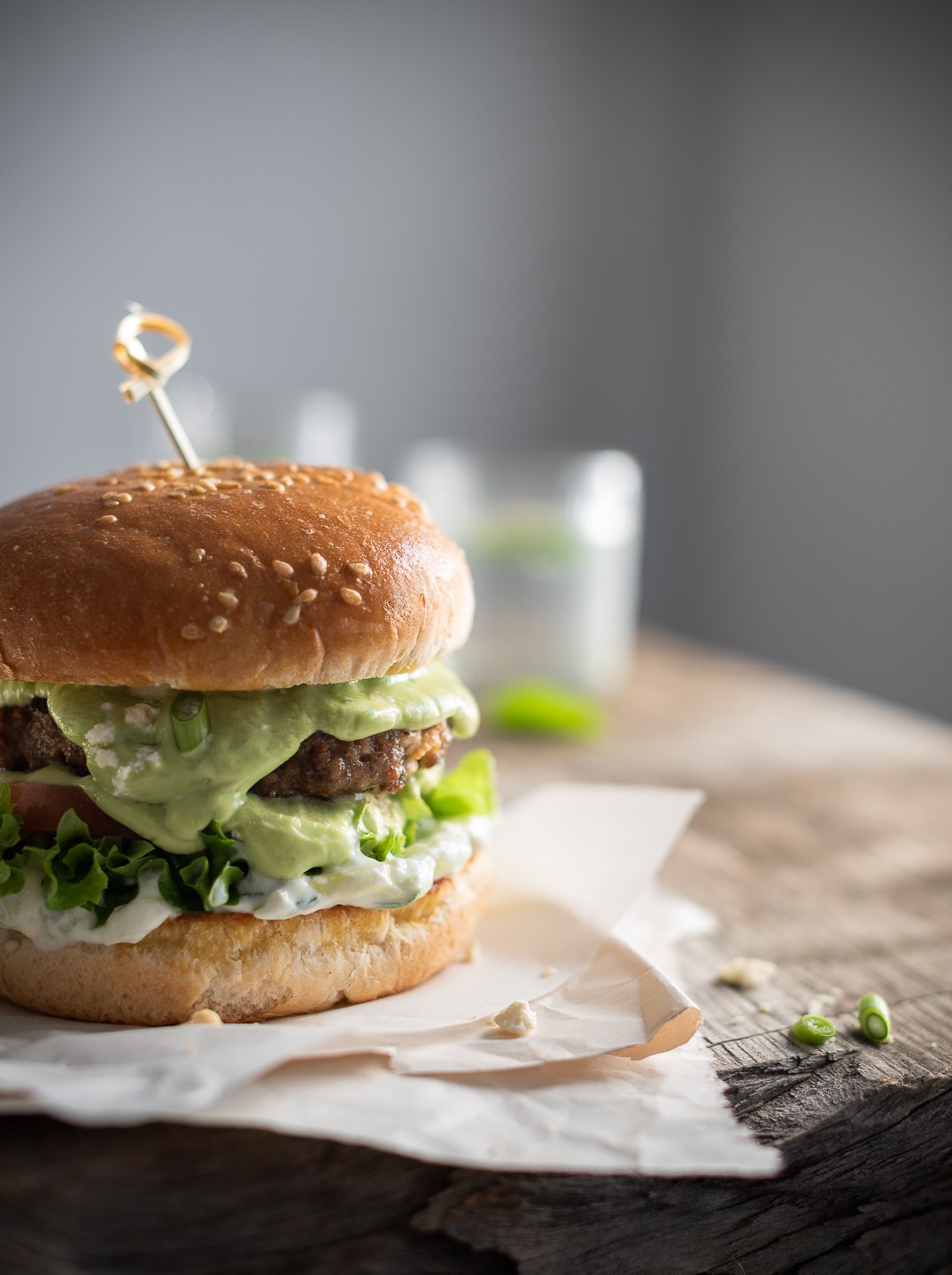 Greek-style burgers with minted tzatziki
Makes 6 
Beef patties
olive oil, for cooking
500g free-range lean beef mince
125ml (1/2 cup) fresh white or brown bread crumbs
1 egg, lightly whisked
2-3 sprigs minted, leaves finely chopped
5ml (1 teaspoon) dried oregano
2.5ml (1/2 teaspoon) ground coriander
3.75ml (3/4 teaspoon) salt
freshly ground black pepper
100g feta, roughly crumbled
2 spring onions, thinly sliced, to finish
6 Floured milk bread buns, butter and toasted
lettuce and sliced tomato, to serve
Minted tzatziki
250ml (1 cup) Greek yoghurt
half an English cucumber, deseeded and grated (large grate)
a generous handful of mint
zest of 1 lemon
salt and cracked black pepper
Herb mayo dressing
125ml (1/2 cup) Greek yoghurt
60ml (1/4 cup) thick mayonnaise
15ml (1 tablespoon) extra virgin olive oil
30ml (2 tablespoons) lemon juice
a handful of mint, flat leaf parsley and basil
salt and black pepper
For the beef patties, place all the ingredients, except the feta and spring onions, in a large bowl. Mix through until everything is well combined. Add the feta and mix in gently to retain some of the chunkier texture of the feta.
Divide into 6 evenly sized portions and shape into patties. Cover and chill for 30 minutes to firm up.
To make the tzatziki, place the grated cucumber in a muslin clothe and wring tightly to remove as much liquid as possible. Combine the yoghurt, cucumber, mint and lemon zest in a bowl. Season with salt and black pepper.
For the Herb dressing, place all the ingredients in a blender and blitz until smooth.
Heat 1 tablespoon of olive oil in a non-stick pan and cook the patties until done to your liking. Only turn once a nice crust has formed.
Layer up the burgers, starting with the tzatziki and finishing with a generous spoonful of dressing. Serve immediately.
For more burger inspiration, you might like to try these recipes too. I've also added the bun recipes that I make again and again.
Beef burgers with mushrooms and chipotle mayo