Gluten-free coconut quenelles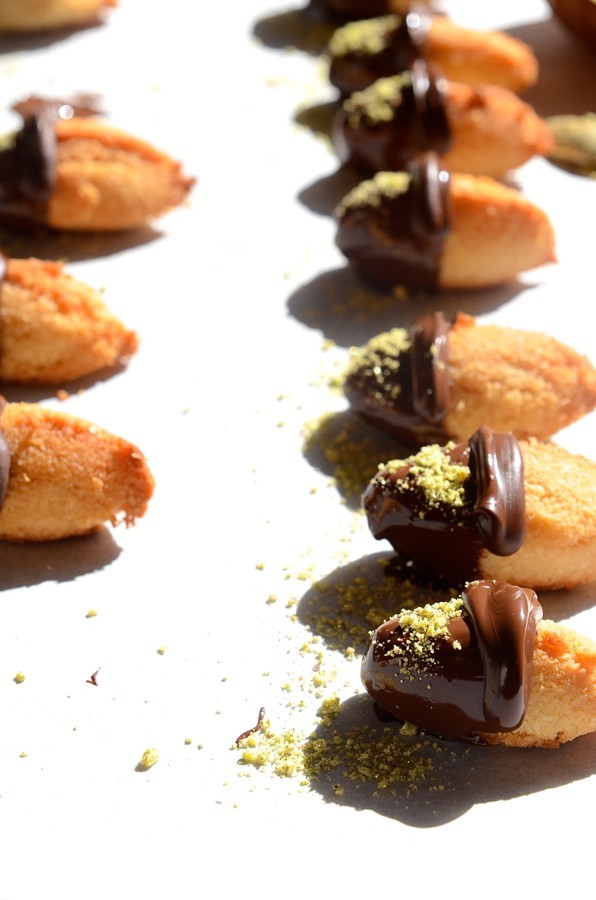 Scheduled for today was part three of our Doughnut Series. What you see on your screen is obviously not a doughnut. I've been derailed by these pop-one-in-your-mouth (and repeat) morsels, so we'll pick up on the doughnut trail again next week. In the meanwhile, here's the cause of my distraction…..
These gluten-free coconut quenelles started out as casual-style clusters, but have taken the shape of torpedo bites. A sultry submergence into chocolat noir, and gold specked pistachio dust, transforms the rustic cluster into a refined confection.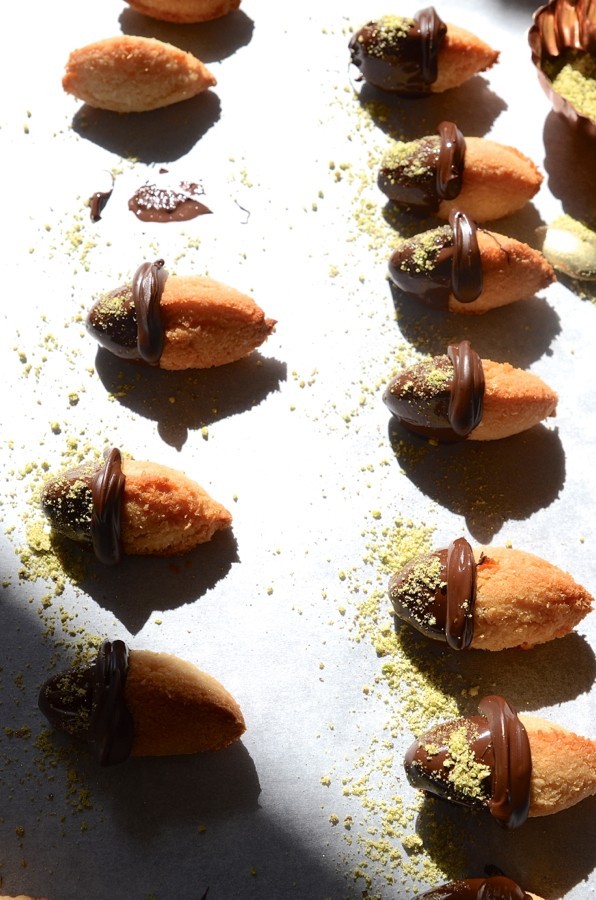 I was tempted to call these Coconut Torpedoes, partly due to their missile shape, but more so as an indication of the rate at which they fly into your mouth! The quenelles have a crunchy exterior and a chewy centre, very similar to the famous French macaroon, but nowhere near as complicated or stressful to make. Made with desiccated coconut, ground almonds and fructose, these delectable after-dinner coffee treats are insanely good and gluten-free.
I'm not going to lie. 'Quenelling' requires some serious wrist action. The thought of abandoning all that spoon work half way through crossed my mind several times, but who wants to be conquered by two teaspoons? Not me, I tell you. Forge on then, it'll be worth it! If you have better things to do with your life, as I'm sure most of you do, just shape haphazardly into rounds and be done with it.
The chocolate dipping is optional, unless of course you live in my household, where it's mandatory. Gold-specked pistachio dust adds a touch of glam, but can be substituted with finely chopped almonds or popping candy bits. I'd love to say that they'll keep well for up to one week, but seriously, we polished them on day one! Don't judge. Make them once and let me know how things turned out for you? The quenelles are best on the day they're baked as the edges are crisp and tend to soften slightly the longer they're left. This however doesn't deter from the flavour.
Without the chocolate, these coconut quenelles make for healthy lunch box treats. I would've put them in for my girls had they not eaten the entire batch the night before! For all the Banters out there, substitute the fructose with xylitol and join us on the happy-snackers bus.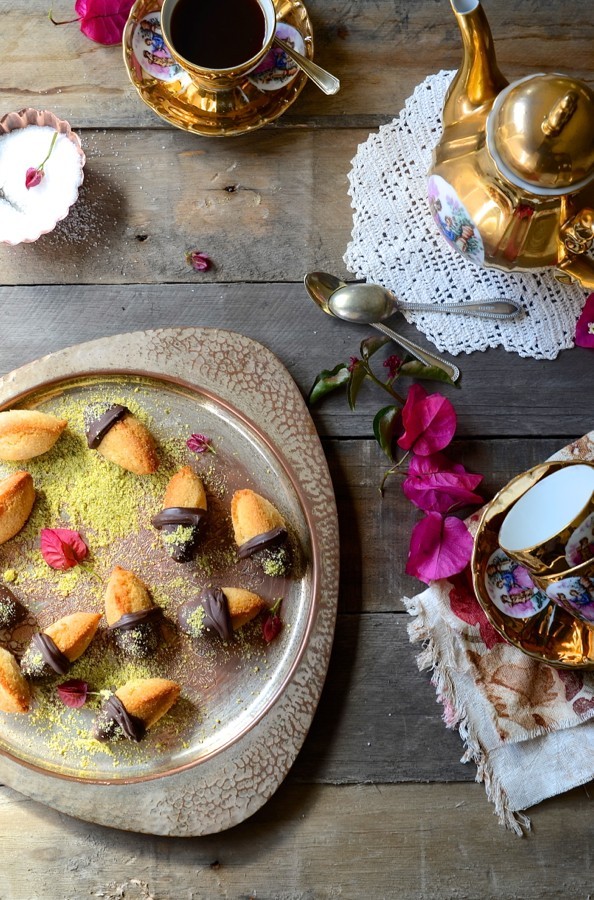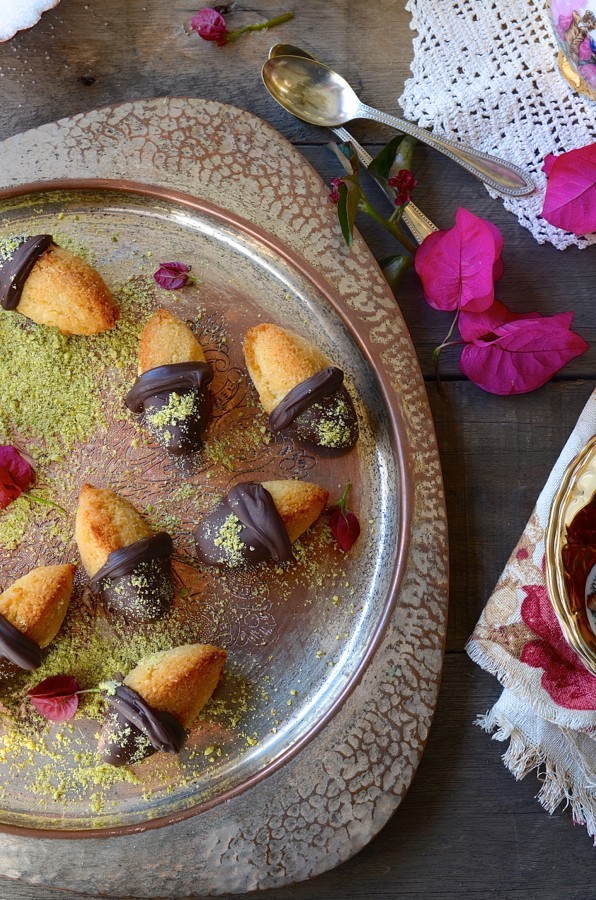 Gluten-free coconut quenelles
Makes 16
2 egg whites
70g fructose
2 tablespoons honey or maple syrup
110g desiccated coconut
3 tablespoon ground almonds
1/2 teaspoon vanilla extract
Optional finishing
80g dark chocolate (50% or 70% Lindt)
1 tablespoon roasted pistachio nuts,
edible gold dust (from speciality baking stores)
Preheat the oven to 170º C. Place the egg whites in a small saucepan and whisk lightly, just enough to break up the whites. Add the fructose, honey, coconut and ground almonds. Place over a medium heat and cook for approximately 7-8 minutes until the mixture just starts to catch on the base of the pan. Stir continuously during the cooking time. Remove from the heat, add the vanilla extract and mix through. Spoon into a bowl and allow to cool to room temperature.
Line a baking sheet with parchment paper and grease. Using two teaspoons, form the quenelles by pressing a generous teaspoon amount of the mixture firmly together and shaping until you have smooth, tight quenelle. Place on the baking sheet and continue until you've used up all the mixture. Bake for about 20-22 minutes until crisp and golden. Cool completely.
Melt the chocolate in a small bowl over a pan of simmering water, or in the microwave. Be careful not to over heat the chocolate as it burns easily. It's best to transfer the melted chocolate into a narrow cup or glass to make the dipping easier and provide better coverage. Dip each quenelle into the chocolate, allow excess to drip off  and place on baking paper.
Grind the pistachio nuts in a coffee grinder or with a rolling pin. Mix in a generous pinch of gold dust. Scatter the pistachio dust lightly over the chocolate and leave to set.