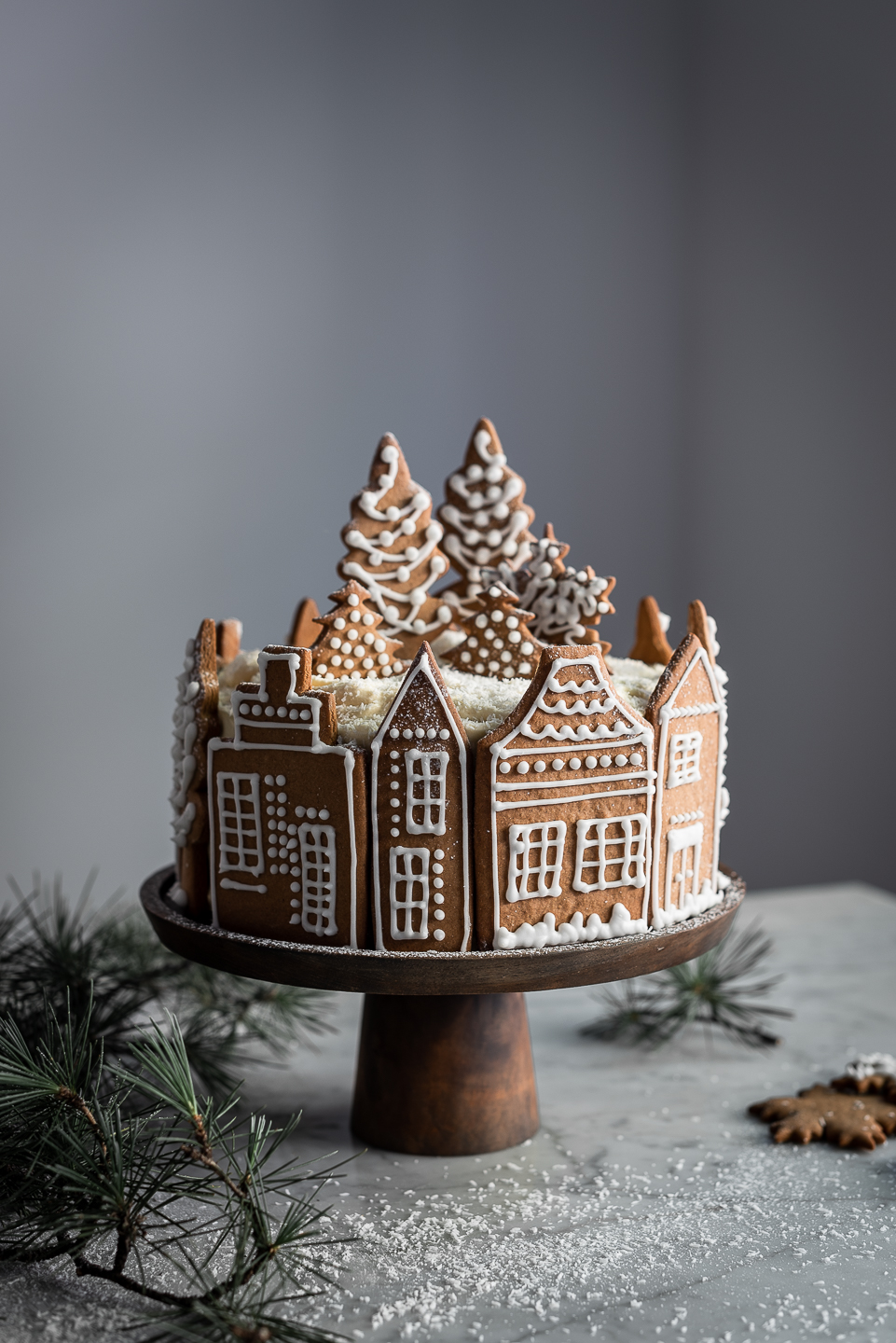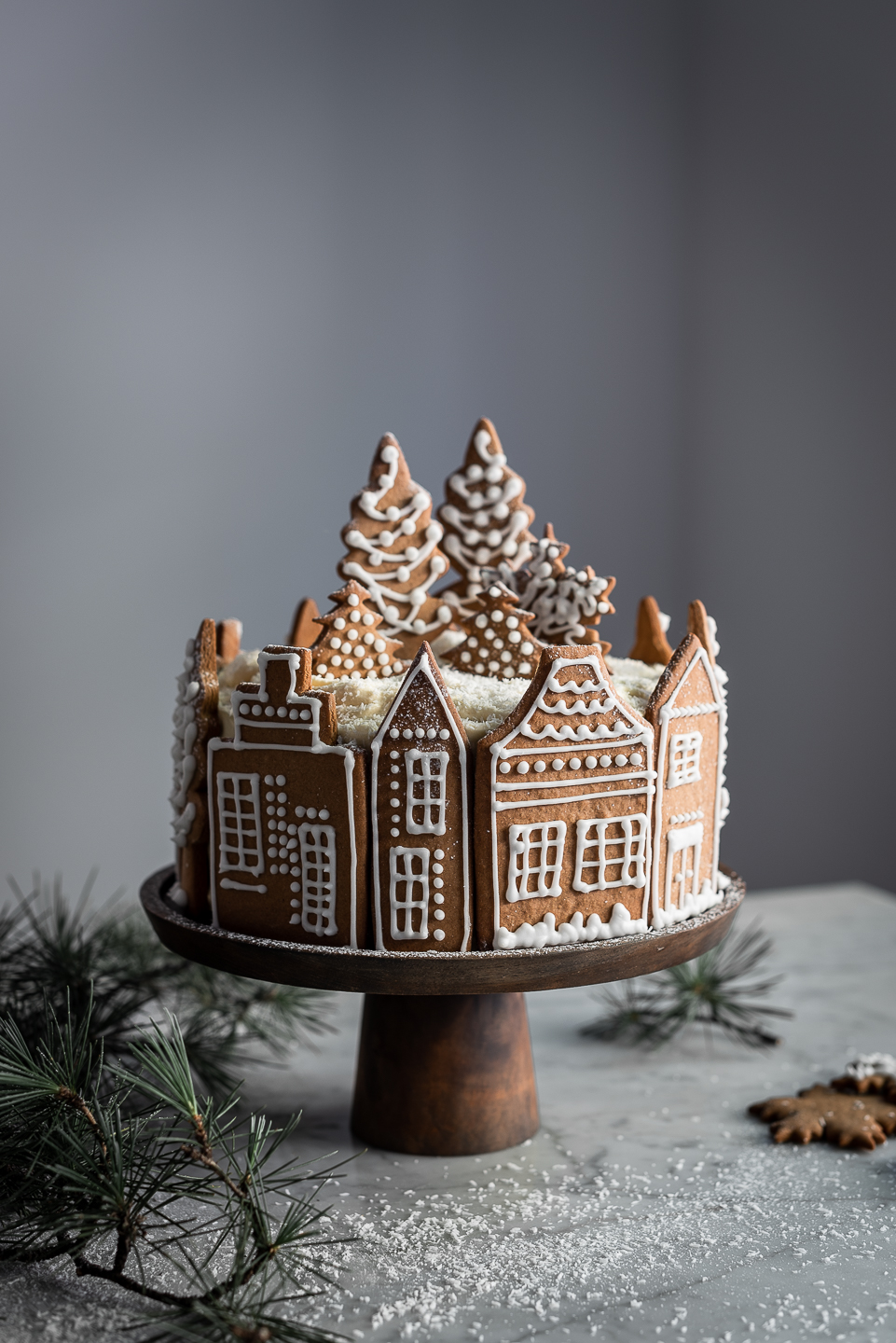 Several weeks back I shared the recipe for Bibby's Gingerbread Biscuits with the promise of a glorious Gingerbread Village cake to follow. Since posting the step by step reel on Instagram, there's been a flood of requests for a blog post with the recipe. So here it is then. In collaboration with Foodlover's Market and their famous Red Bucket Festive Fruit Cake Mix, here's the Gingerbread Village Cake. There's little else to say other than the hidden interior surpasses the whimsical biscuit clad exterior. Heavily laced with all the warming spices you'd expect from a traditional Christmas cake but with a lighter sponge texture. It tastes like Christmas should. Special.

Food Lover's Market is known for its legendary Festive Fruit Cake Mix, aka "The Red Bucket". This fruitcake is filled with raisins, sultanas, fruit peel and almond slithers.  It's available exclusively at Food Lover's Market stores nationwide and retails for R 79.99.

Gingerbread Village Cake with Maple Mascarpone Frosting
Serves 12-14
Gingerbread Village Cake – The Sponge
180g salted butter, at room temperature
200g brown sugar
2 eggs (xl)
60ml (1/4 cup) molasses
125ml (1/2  cup) sour cream
125ml (1/2 cup) buttermilk
320g cake wheat flour
5ml (1 teaspoon) baking powder
1/2 teaspoon baking soda
1/4 teaspoon fine salt
20ml (4 teaspoons)  ground ginger
10ml (2 teaspoons) ground cinnamon
5ml (1 teaspoon) mixed spice
1/2 teaspoon ground nutmeg
1/2  teaspoon ground cloves
185g (1  1/4 cup) Food Lover's Market Festive Food Cake Mix
60g (1/2 cup) pecans, toasted and roughly chopped
Gingerbread Village Cake Maple Frosting
200g butter, at room temperature
250g cream cheese
5ml (1 teaspoon) vanilla extract
30ml (2 tablespoons) maple syrup or honey
200g icing sugar
Preheat the oven to 180º C. Butter and line 3 x 20cm round baking tins with parchment paper.
In a large mixing bowl, cream the butter and sugar together until pale and fluffy. Add the eggs one at a time, whisking well between each addition. Drizzle in the molasses and whisk to combine. Add the sour cream and buttermilk and mix on a low speed to incorporate. The mixture may appear split, but corrects once the flour is added.
Sift together the flour, raising agents, salt and spices. Add the dry ingredients to the butter mixture and mix on a low speed. Tip in the Festive Food Cake Mix and pecans and fold through.
Divide the batter between the tins and smooth over. Bake for 25-27 minutes until cooked through. Cool in the tin for 10 minutes before turning out onto a wire rack.
For the maple frosting, whisk until light and pale. Add the cream cheese,  vanilla and maple syrup and whisk to combine.
Sift in the icing sugar and whisk until smooth.
To assemble the Gingerbread Cake, place one layer on a cake stand. Spread with 1/4 cup frosting, then place the second layer on top. Repeat with the third cake layer. Cover the sides and top of the gingerbread cake liberally.
Decorate the sides and top of the gingerbread cake with iced gingerbread biscuits.
For more gingerbread inspired recipes, here are several blog favourites:
Sticky toffee pudding Christmas cake
Launching today on the Bibby's Kitchen online Store – Bibby's Cooks Collection. Select your stocking fillers – The Cookbook, Harissa Paste, Smoky Spice Rub or Amber Aperol Marmalade for lazy holiday breakfasts in pyjamas with toast and tea. Orders close Thursday 16th December. Local (SA) delivery only.