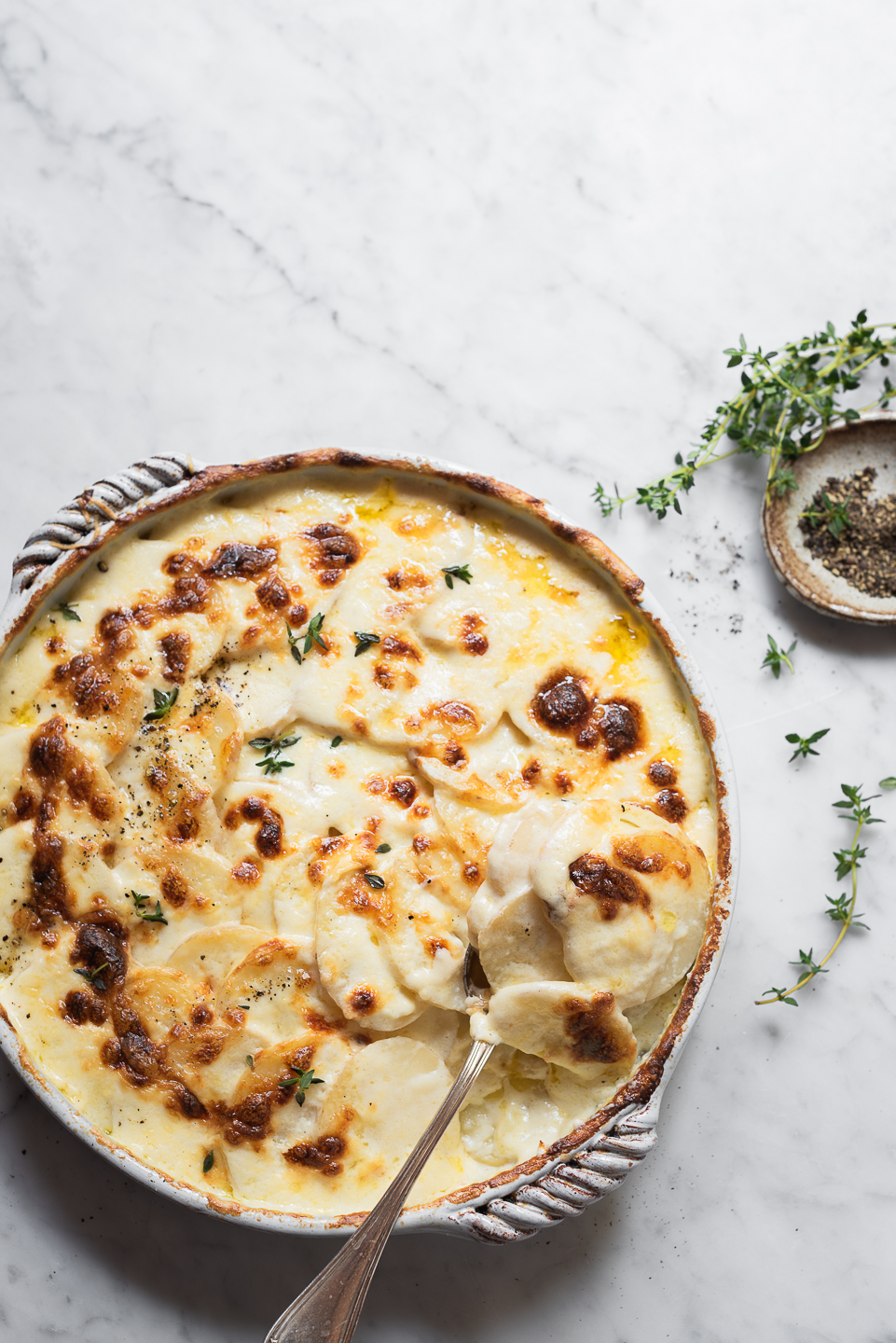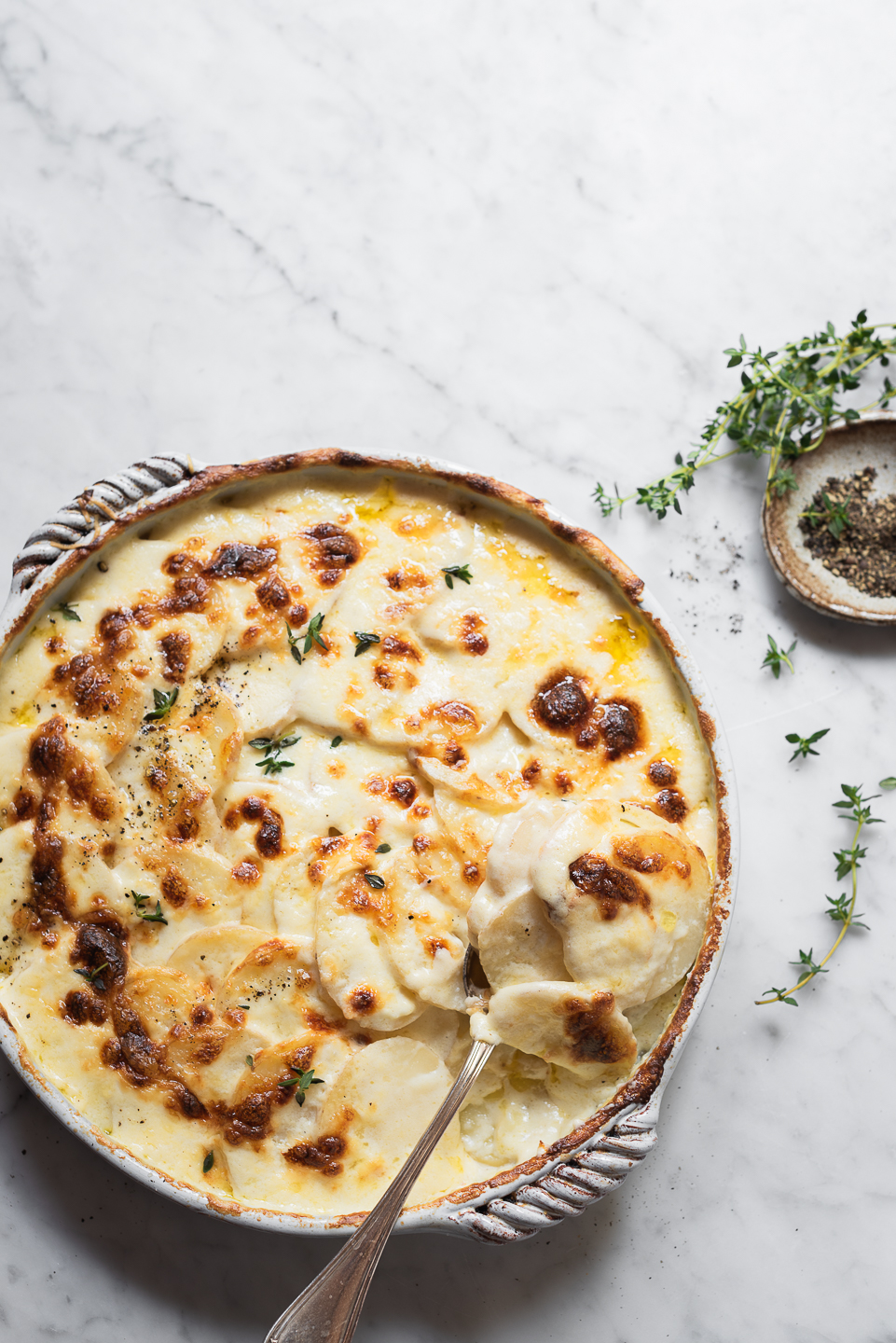 There are scalloped potato recipes and then there are these garlic cream scalloped potatoes. The sauce is unctuously smooth, with a mellow garlicky-ness that flatters rather than overwhelms. Blistered until soufflé-like and yieldingly soft, I think it might just be the ultimate potato bake.
What makes a good potato bake? It could be plenty of caramelised onions, stretchy cheese or maybe even crispy bacon bits, almost like mac and cheese but with potatoes. Here, we're leaning towards a more purist approach where it is all about Irish nobility, the potato.
For success, you'll need good potatoes that are well seasoned and a cheese that has a fair bit of complexity with the ability to melt and meld into the sauce. Like Pasteis de Natas, these scalloped potatoes love a slight charring, a blotched blackened skin that deepens the flavour contrast between pale creamy potatoes and cheese crusted topping.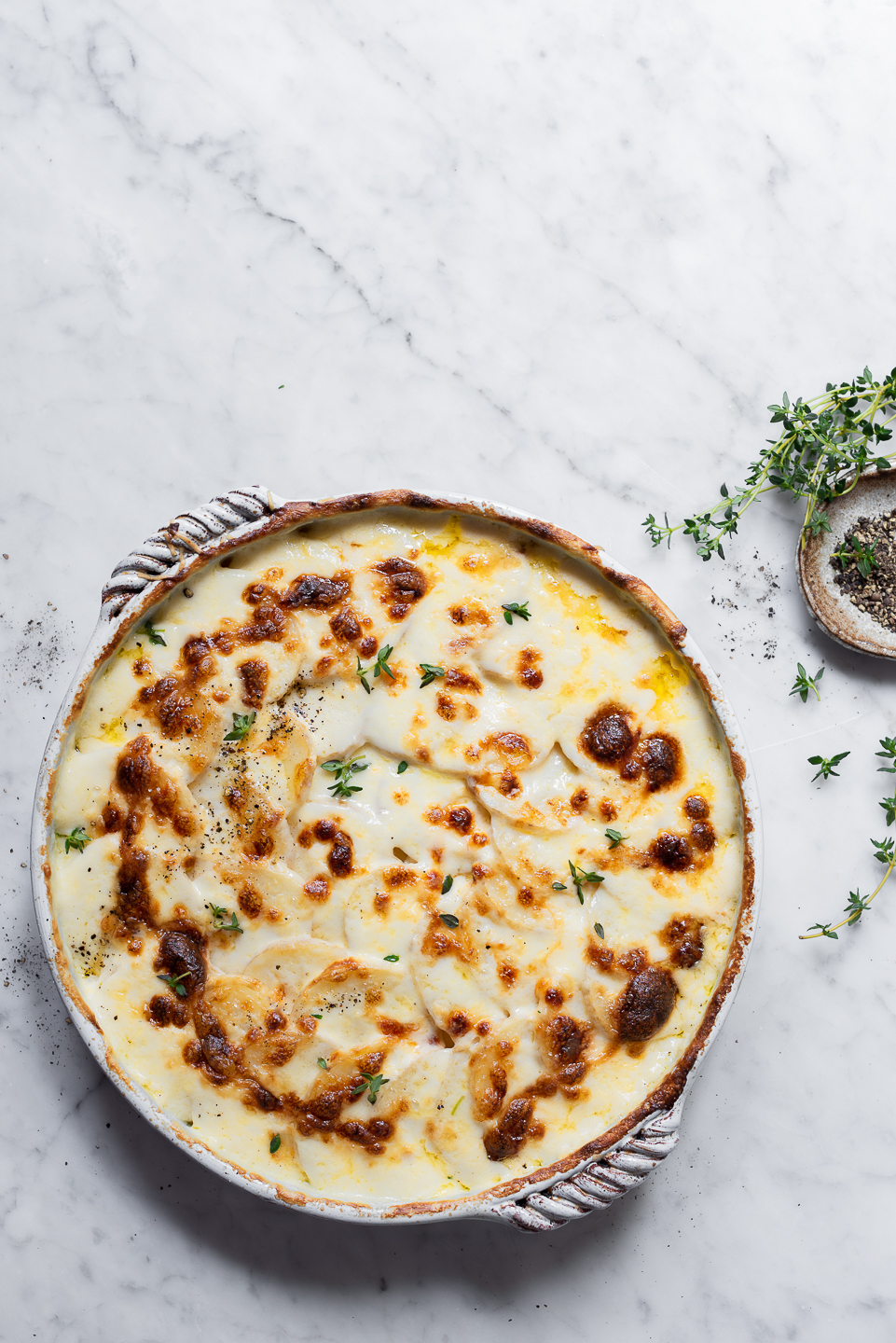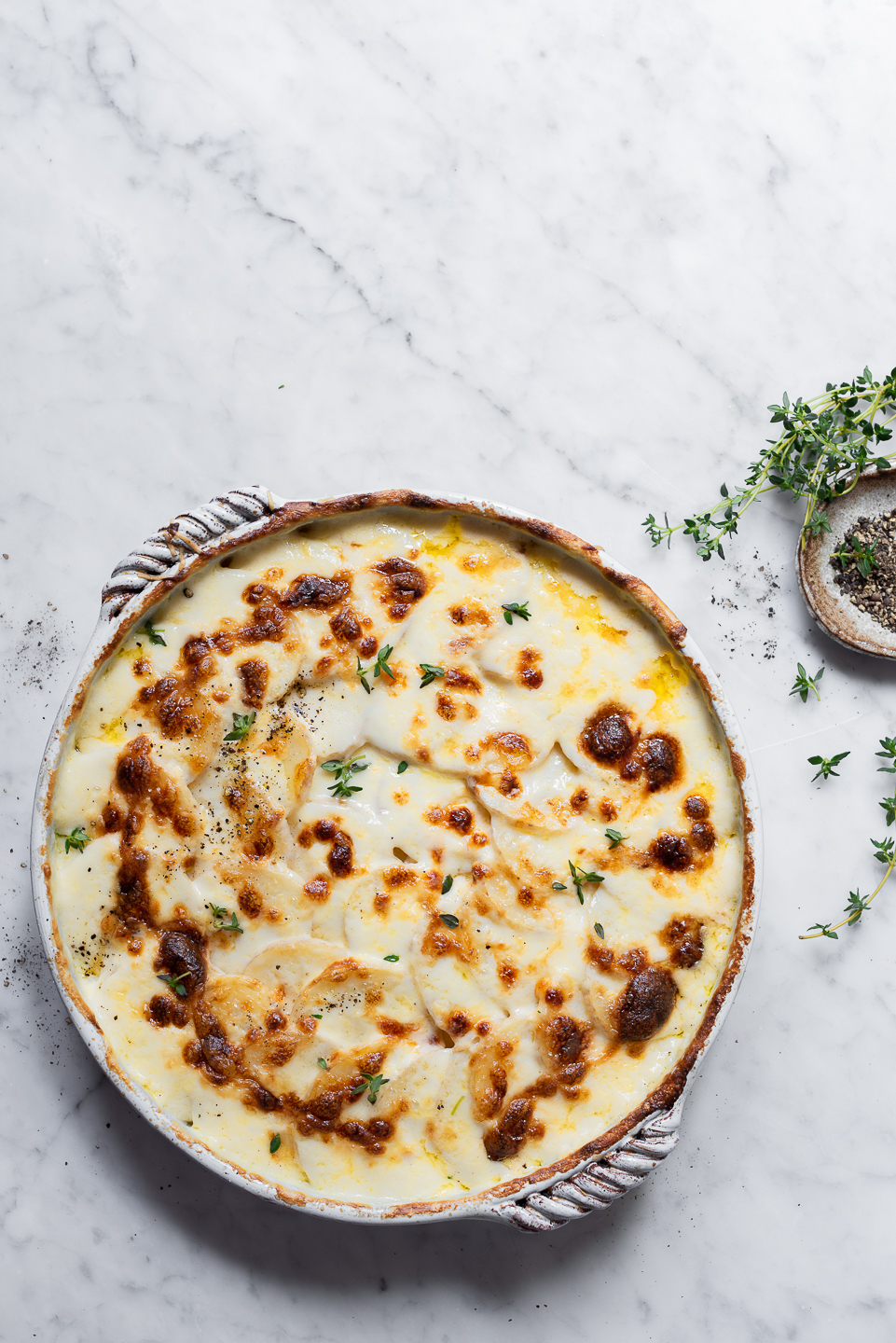 Cook's note: Starchy potatoes are best for the job. Save the Mediterranean potatoes, which are waxy and dense, for roast potato wedges or potato salad. If you're leaving the skin on, make sure you give the spuds a good scrub to remover any grit.
It's been rather quiet here on the blog lately with many exciting projects going on in the behind the scenes. Besides hosting my hosting my first cooking class since February this year, I'm absolutely delighted to be adding products to the Bibby's Kitchen online shop. We're launching with a collection of bespoke linen aprons, luxury preserves, holiday granola gift jars and hand-crafted bench scrapes. After a hugely successful launch at the cooking classes, we're in the process of restocking for the holiday season. Hopefully the range will be available online by the end of this week. Thank you to everyone for your keen interest and support of the Brand.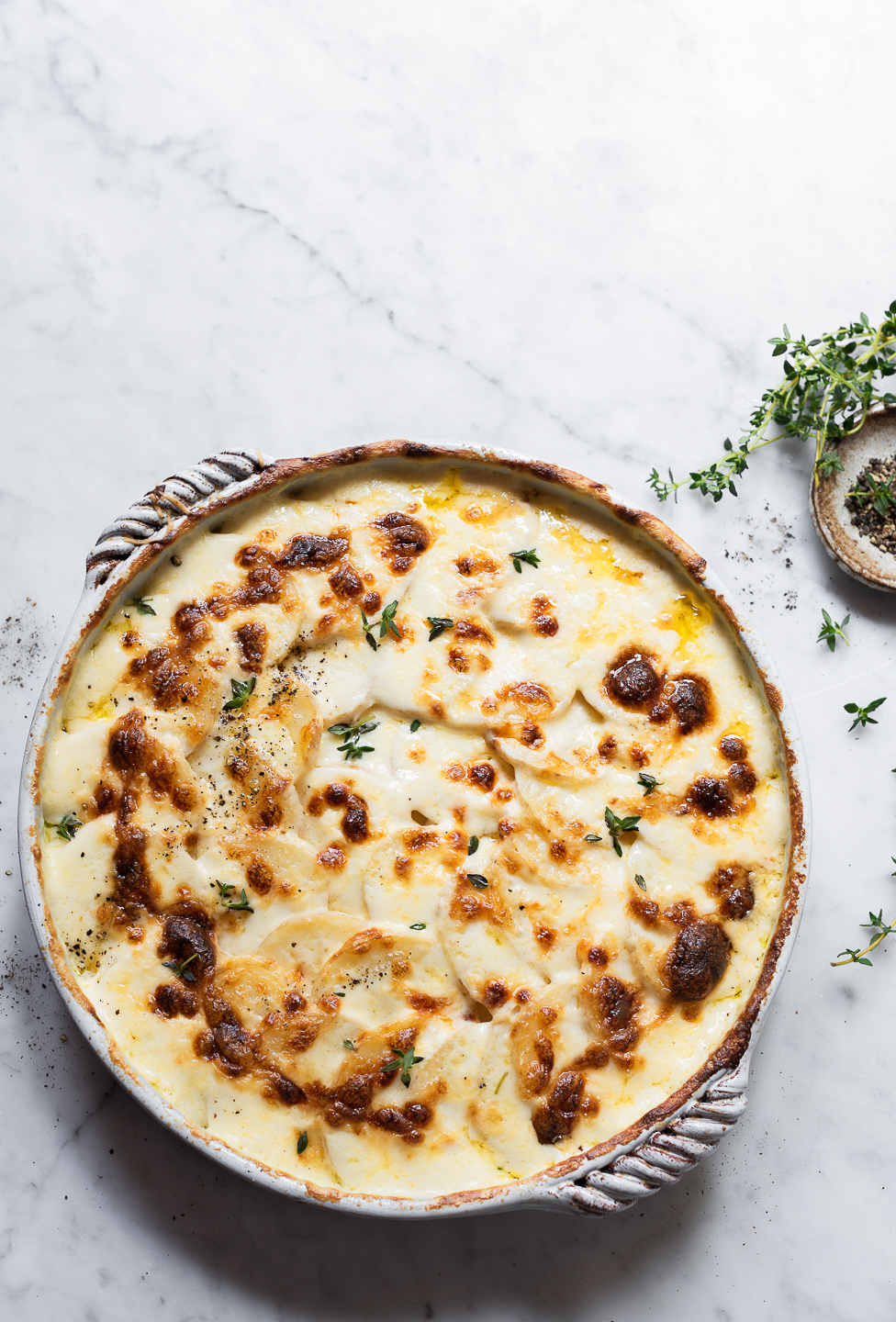 Garlic Cream Scalloped potatoes
Serves 8
1 kg starchy potatoes, rinsed and scrubbed
45ml (3 tablespoons) butter
30ml (2 tablespoons) extra virgin olive oil
1-2 cloves garlic, finely grated
2 heaping tablespoons cake wheat flour
500ml (2 cups) full cream milk
250ml (1 cup) fresh cream
a pinch of nutmeg
3/4 cup vintage cheddar cheese, grated
 1/4 cup Parmesan or Pecorino, finely grated
several sprigs fresh thyme
salt and fine white pepper
cracked black pepper, to finish
Heat 2 tablespoons butter and the olive oil together. Once the fats are frothy and bubbling, add the garlic and cook for 1-2 minutes, just until softened but not coloured. Add the flour and whisk together to form a roux.
Add the milk slowly, a little at a time, whisking well between each addition until the milk is absorbed and the roux smooth. When the mixture is smooth and silky, add the cream and bring slowly up to the boil. Season generously with salt and white pepper. Add the nutmeg and simmer over a gentle heat for 2-3 minutes.
Preheat the oven to 200º C. Butter a 25cm round baking dish with butter.
Slice the potatoes into 3mm rounds. Place in a clean tea towel to absorb any extra moisture. Arrange the first layer of potatoes into the baking dish. Dot sparsely with butter and picked thyme leaves. Season with lightly with salt, then pour over a little less than a third of the garlic cream sauce and scatter with half the vintage cheddar. Repeat, finishing with a generous layer of cream sauce. Finish with grated Parmesan.
Cover the dish loosely with foil and bake for 40 minutes. Remove the foil and bake for a further 40-50 minutes until tender throughout and deeply golden on top. Serve with cracked black pepper, if you like.
For all those who love their spuds, here are several more recipes you may like:
Roast potatoes with rosemary, garlic and lemon