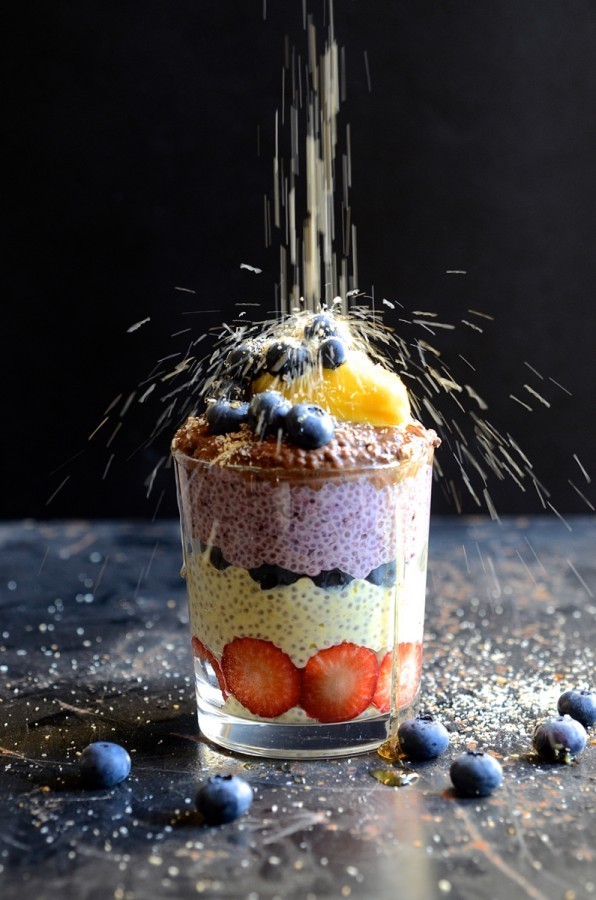 I'm on a mission and it's called – How to make healthy look HOT! Hopefully after this post, you'll be signing up….  Not only is breakfast the most important meal of the day, but it's also the most fun. Liquorice All Sorts used the slogan 'play with our food.' Good advice. So I did. While I'm always up for food-fun, a good dose of healthy is equally important. It's dessert for breakfast today with this layered fruity chia pudding parfait. And to top it off, we have mango ice cream, maple drizzle and toasted coconut sprinkles for maxed out yum. Cardboard cereal's looking a little bleak when compared to this lusciously good vegan breakfast. Here's what you can expect….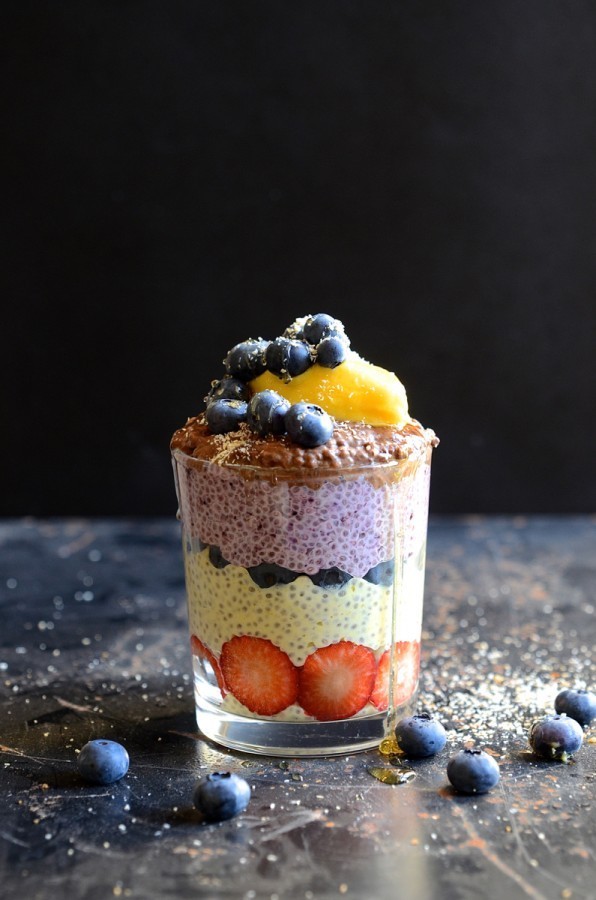 Layer upon layer of fruited bliss. If you're not yet on the chia bus, now's the perfect time to jump on. These omega-rich seeds are loaded with all the good stuff that'll feed your body and keep you fuller for longer. Soaked overnight in coconut cream, they absorb up to ten times their weight in liquid. I usually make a big batch and add a variety of pureed or chopped fruit, depending on what's in season. Today we have mango, blueberries and of course, chocolate. I've finished the puddings with a vegan no-churn ice cream and toasted coconut, because we can! Obviously mangoes aren't yet in season locally, in which case frozen will also do. Woolies and Pick n Pay stock a variety of frozen fruits which are super-handy until you can get your hands on the new season's offering.
In my head I've already left winter behind and I'm gearing up for a summer filled with the freshest produce and lighter foods. Chia puddings for breakfast are a great way to celebrate the arrival of warmer weather. These parfaits are rather special for breakfast and brunch get togethers or as grab 'n go breakfast that can be made the night before. Here's to health!
Talking breakfast, here are three more healthy ways to kickstart the day  : Creamy Bircher muesli, Cinnamon chia puds and Mac nut butter banana cream smoothies.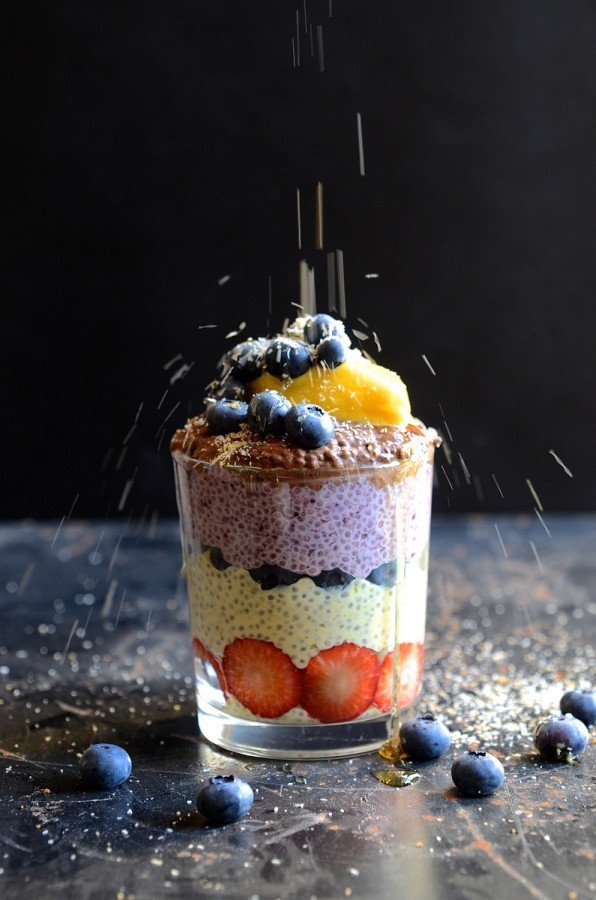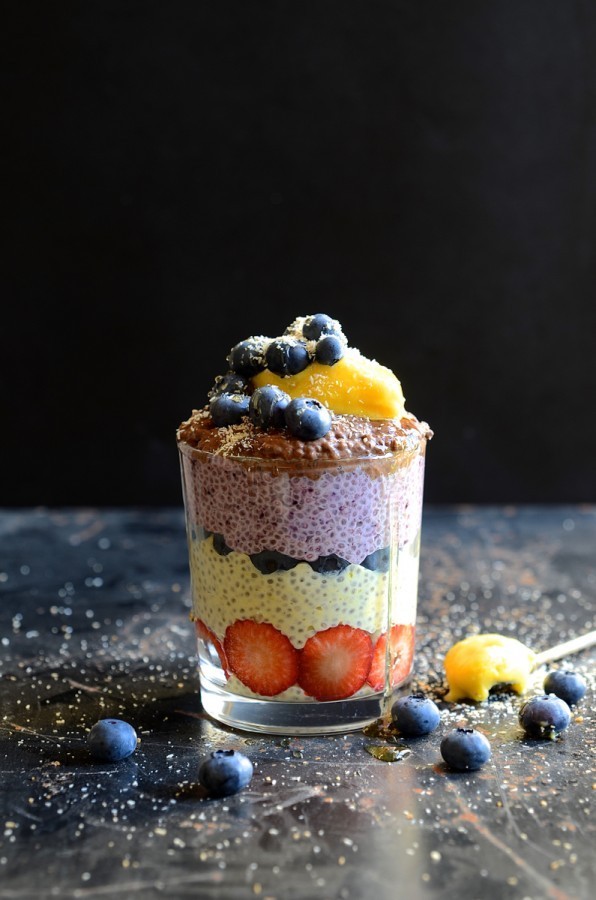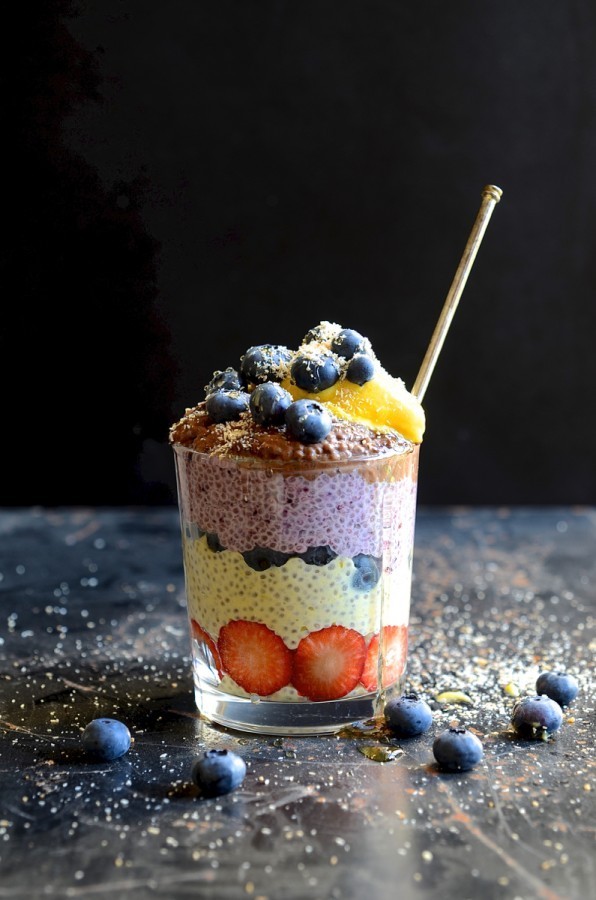 Fruity chia pudding parfaits with mango ice cream
Prep time:
Total time:
Ingredients
Fruity chia pudding parfaits with mango ice cream
5 tablespoons chia seeds
400ml coconut milk
2-3 tablespoons maple syrup
1/2 teaspoon vanilla paste or extract
pinch of salt
Flavour Additions
2 tablespoons cocoa powder
flesh of 1 small mango (or 3/4 cup frozen mango pieces), blitzed in a food processor
1/2 cup blueberries, fresh or frozen, also blitzed to form a puree
fresh strawberries, sliced
fresh blueberries
toasted coconut
Mango ice cream
2 cups frozen mango pieces
2 tablespoons maple syrup
juice of half a lemon
Instructions
Place the chia seeds, coconut milk, maple syrup, vanilla paste and salt in a mixing bowl. Whisk lightly to combine all the ingredients, cover with cling film and refrigerate for several hours or overnight.
To make the mango ice cream, place all the ingredients in a processor and blitz until smooth and creamy. You may have to scrape down the bowl several times before it combines.
Divide the chia pudding mixture between three bowls. Add the cocoa, pureed mango and blueberries alternately to each. Mix to combine.
Layer the puddings into serving glasses with the fruit of your choice. Top with a scoop of the mango ice cream, blueberries and toasted coconut.
Serve immediately.