Fillet of beef whisky Stroganoff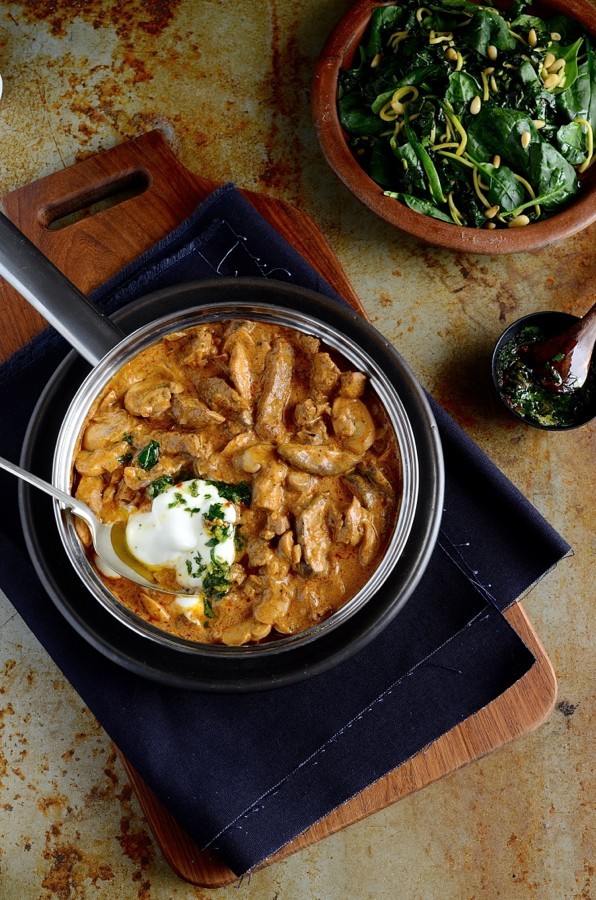 Once a month I host cooking classes. Themes range from Middle Eastern cuisines to Baking. Discussions around table are lively and loud. We also talk about the latest food trends, must visit restaurants and everything in between. Lately the topic of carb-clver meals is also up for debate. With this in mind, tonight's Fillet of beef whisky stroganoff will serve you well. Served with wilted kale, courgette spirals and toasted pine nuts, it's a carb-free way on enjoying one of South Africa's family favourites.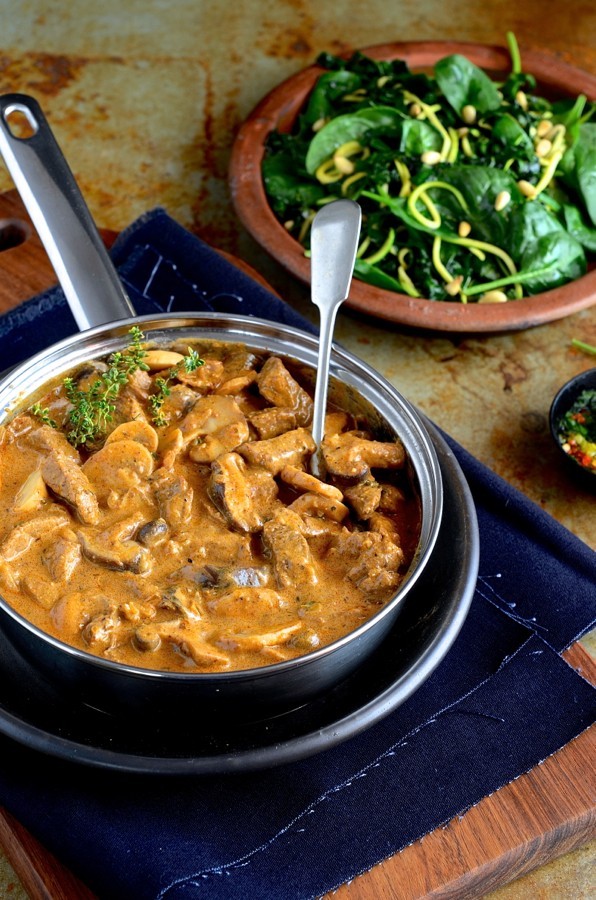 Of course there's nothing stopping you from serving this beef stroganoff with butter-coated tagliatelle or fluffy mashed potatoes. Unfortunately, I don't have a passed down stroganoff recipe so I'm making it up as I go, though I do recall my mum dusting tenderised beef strips in seasoned flour. I'm not sure where the tenderised part came in. It was anything but tender. I've chosen an expensive cut, beef fillet, but it'll change the way you make stroganoff in future.  The creamy paprika whiskey sauce is ridiculously good.
In place of dusting the meat with flour, I've used almond meal which serves a thickening agent and gives it a mild, nutty taste. A dash of whiskey adds depth of flavour, but you can substitute with dry sherry of brandy if you prefer. I serve it with a dollop of sour cream and a zesty parsley pesto which cuts through the richness of the sauce.
Fillet of Beef Whisky Stroganoff
2 tablespoon olive oil
3 tablespoons butter
1 brown onion, finely diced
1 garlic clove, minced
250g button mushrooms, sliced
125g shiitake or porcini mushrooms, sliced
several stems thyme or lemon thyme
zest and juice of half a lemon
2 tablespoons almond meal
1/2 teaspoon salt
1 teaspoon smoked paprika
plenty freshly ground black pepper
600g beef fillet, cut into strips
1/4 cup (60ml) whisky
1 tablespoon tomato paste
2 tablespoons worcestershire sauce
250ml hot water
2/3 cup sour cream or crème fraîche
Lemon Parsley pesto
generous handful flat leaf parsley, finely chopped
zest and juice of half a lemon
3 tablespoons extra virgin olive oil
1 tablespoon finely chopped roasted almonds
salt and black pepper, to taste
Heat 1 tablespoon olive oil and the butter in a large based frying pan. Sauté the onion until soft. Add the mushrooms and cook on a high heat for several minutes until all the water has evaporated. Add the garlic, thyme leaves, lemon zest and season with salt and pepper. Stir through and cook for a further 2 minutes. Remove the mushrooms from the pan and set aside until later.
Add the remaining olive oil to the same pan. Combine the almond meal, salt, paprika and black pepper in a bowl. Add the meat to the spice mix and toss to coat. Brown the meat strips in the hot oil and season lightly with sea salt. Deglaze the pan with the whiskey and reduce by two thirds. Add the tomato paste, followed by the mushrooms. Stir through the Worcestershire sauce and water. Simmer for about 10 – 12 minutes until the sauce is reduced and thickened. Fold in the crème fraîche, a squeeze of lemon juice and warm through.
While the meat is simmering, add a drop of olive oil to a pan and wilt a generous handful of julienned courgettes, shredded kale and baby spinach. Season with salt, pepper and a squeeze of fresh lemon juice. Toss through some toasted pine nuts and serve with the stroganoff.
For the lemon-parsley pesto, combine all the ingredients in bowl and serve alongside the meat, for everyone to help themselves.